Mary has requested that the daily message be given each day to the world. It is read nightly at the prayer service from her Image Building in Clearwater, Florida, U.S.A. This is according to her request. All attempts will be made to publish this daily message to the world at 11 p.m. Eastern time, U.S.A.

---

We acknowledge that the final authority regarding these messages rests with the Holy See of Rome.





---
Messenger: We desire to hope for great events to come. He truly is our hope for this is indeed a reality that God truly lives in the graced soul.
In 1 Corinthians 15 it talks about the different kinds of brightness, i.e. the brightness of the sun, the brightness of the moon. Do we realize that we have the opportunity to be filled more and more with His grace and that our souls can thus reach a greater intensity of being penetrated by His life?
His light would blind you, He is the ultimate mystery, what is His desire for me?
Adam and Eve sinned and the light was immensely dimmed. They no longer knew as much as they previously knew.
One mortal sin takes the life of sanctifying grace from the soul. If that person died without proper contrition for the sin, they would go to hell for all eternity.
It is Our Lady Clothed with the Sun that appears in the heel of Florida to step on the evil one and lead her beloved children to the light. It is absolutely necessary for our spiritual life that we study the Commandments of God and His Word and live by them.
One unrepented sin that is mortal throws a soul into the pit of hell forever.
Why on our televisions, instead of illicit sex scenes that lure the young into sensuous pleasures, could we not show a picture of Our Lady as she appears in Florida, clothed with the sun, or a picture of Our Lady of Fatima, glistening and white, telling the small children of Fatima many things, including the sad story of the souls of hell? Our Lady showed these little children a vision of hell.
If there were equal airtime on television telling the world about God and His goodness, and about the Ten Commandments, hopefully many would listen and change their ways.
It is love God comes to bring to the earth. Love is not as many of the world see it today.
Love is seen in the picture of the Savior Jesus Christ hanging on the cross. It is love that He wants to give to souls, it is love He wishes to receive from souls, it is love He wishes us to give to one another.
How many times are so many inanimate objects more important to us than the person in our family God has asked us to love?
He comes to us, the invisible God, and lives in us. He desires to live in us and that we live in Him. The prayer He gave and wishes us to pray is the Prayer for Union with Jesus.
---
The following Imprimatur applies only to the Prayer for Union with Jesus and not the message above or below.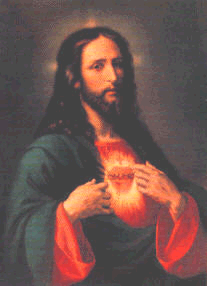 Prayer for Union with Jesus
Come to me, Lord, and possess my soul. Come into my heart and permeate my soul. Help me to sit in silence with You and let You work in my heart.
I am Yours to possess. I am Yours to use. I want to be selfless and only exist in You. Help me to spoon out all that is me and be an empty vessel ready to be filled by You. Help me to die to myself and live only for You. Use me as You will. Let me never draw my attention back to myself. I only want to operate as You do, dwelling within me.
I am Yours, Lord. I want to have my life in You. I want to do the will of the Father. Give me the strength to put aside the world and let You operate my very being. Help me to act as You desire. Strengthen me against the distractions of the devil to take me from Your work.
When I worry, I have taken my focus off of You and placed it on myself. Help me not to give in to the promptings of others to change what in my heart You are making very clear to me. I worship You, I adore You and I love You. Come and dwell in me now.
-God's Blue Book, January 17, 1994

---
In this prayer we ask Him to possess our souls.
He is invisible, but we know His life alive in so many loving people.
Adam and Eve sinned. It is our goal to be transformed by this invisible God. Jesus gives to us the Eucharist which is His Body and Blood truly present in the Mass and in the Blessed Sacrament present in our tabernacles. But we do not see Him, we see the Consecrated Host and He is present under the appearance of bread and wine.
God desires us to put on Christ in all our actions and be likened to Him.
In Genesis it says that we were created in His image and likeness.
The Bible depicts the story of man's struggle to become more one in Him, growing more and more in the image and likeness of God.
Jesus speaks: It is in endurance you will wear the white robe. I reveal Myself to those who love Me. I ask you to come to Tom's Farm tomorrow October 13, 1998. It is in Kentucky. Directions should be given here.
---
Directions to Tom Arlinghaus's Farm



Take 1-75 to Kentucky, exit 181 (Florence- Burlington exit). West on Kentucky Rt. 18, for about 11 miles.

Details: Go through Florence & Burlington. After you reach Burlington it is 7 miles. You will reach a big winding road and a hill. When you reach the bottom of the hill, you will go past a store on your right, and finally Kelly Elementary School on the right. The First driveway after the school on the right is Toms Farm. 6909 McVille Rd. Boone County. KY. There is a green barn and a white house. Note: This is for Oct.13th only.

For more information call Shepherd's of Christ Ministries at 1-888-211-3041.
---
I am Jesus, the time of 12 noon tomorrow is important to the world and Our Lady of Fatima.
---
Main Shepherds of Christ Page
---
Copyright © 1998 Shepherds of Christ.
Rights for non-commercial reproduction granted:
May be copied in its entirety, but neither re-typed nor edited.
Translations are welcome but they must be reviewed for moral and theological accuracy by a source approved by Shepherds of Christ Ministries before any distribution takes place. Please contact us for more information.
All scripture quotes are from the New Jerusalem Bible, July 1990, published by Doubleday.
Revised: October 12, 1998
URL: http://www.SofC.org
Contact Information for Shepherds of Christ
Email: info@SofC.org
---
Shepherds of Christ Ministries
PO Box 193
Morrow, Ohio 45152-0193

Telephone: (toll free) 1-888-211-3041 or (513) 932-4451
FAX: (513) 932-6791