Mary has requested that the daily message be given each day to the world. It is read nightly at the prayer service from her Image Building in Clearwater, Florida, U.S.A. This is according to her request. All attempts will be made to publish this daily message to the world at 11 p.m. Eastern time, U.S.A.

---

We acknowledge that the final authority regarding these messages rests with the Holy See of Rome.

---
---
A Prayer for Intimacy with the Lamb, the Bridegroom of the Soul

Oh Lamb of God, Who take away the sins of the world, come and act on my soul most intimately. I surrender myself, as I ask for the grace to let go, to just be as I exist in You and You act most intimately on my soul. You are the Initiator. I am the soul waiting Your favors as You act in me. I love You. I adore You. I worship You. Come and possess my soul with Your Divine Grace, as I experience You most intimately.
---
Messenger: Include Our Lady of the Holy Spirit Center in 6:20 prayers.
---
Messenger: Please pray for 3 urgent intentions.
---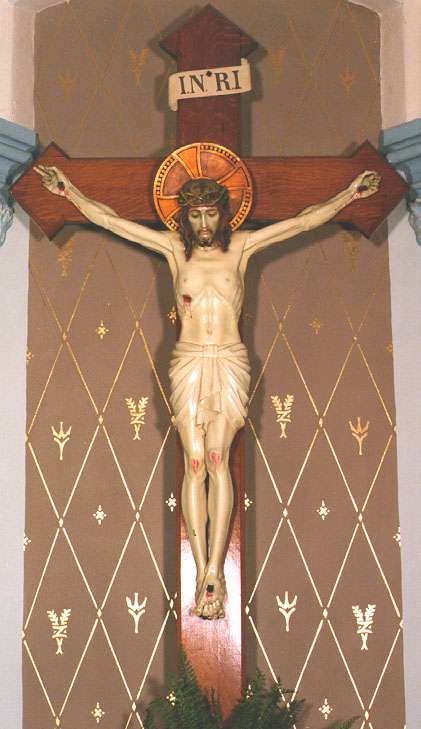 Messenger: Dear apostles,
I give my heart to Jesus and Mary with you in love. Included are the Scriptures Jesus asked us to study so we will have more faith. Study them and pray for faith. We must have faith, praying as a body that our founder will get better and write again and say Mass again.
Let's plead to God and say the Infant of Prague Novena hourly praying as a body. We must have faith and TRUST in God as we pray for Father. We must implore God to hear us. I look at all the things we prayed for and see how our God has answered our prayers. I had a wreck once on January 2, 1999, when I got the little message from Mary. They told me my car was totaled and I prayed and prayed and they changed their minds and fixed it. I include that little message from Mary I got that day. We prayed we would get in the Florida building and we did. We prayed for the Imprimatur on the Mass Book and Children's Rosary Book and we got it. We prayed for the money we needed and it came. Every Mass Father would pray for vocations to all seven categories and look at all the apostles, servants and handmaids we have. We prayed for certain books to be published and they were. We prayed about the house in China, Indiana, and the van. Look at all the things we prayed for and how He has answered our prayers, especially when we pray the Infant of Prague Novena hourly.
God has this to say to us today, "PUT AWAY YOUR NEGATIVE ATTITUDES"—Study the words of Scripture as directed by Jesus: ISAIAH 12: 2, MARK 11: 20-25, LUKE 11: 5-13.
I love you so much—Yesterday, October 13, 2000, in China, Indiana, and the other days of retreat there were a gift from God. We were gifted by all the priests saying Mass for us for the retreat. We must thank God. Thank Him and adore Him and PRAISE HIM and LOVE HIM like little children saying, "Daddy, help us."
Daddy, help us. Daddy, we love You—we pray our rosary and offer sacrifice. We are Yours. Daddy, help us.
I love you and thank all who work daily helping with these messages. It is a lot of work sometimes. We do it for Him.
Jesus speaks: Why do all the work and then be nasty? Do the work and don't complain, thank Me that I called you to work!! I know you are weary. I was weary on the way to the cross. I did it for souls. You are doing good work. Praise your Father in heaven.
I love you,
Jesus
---
The following Infant of Prague Novena is from the prayer booklet, Devotion To The INFANT JESUS OF PRAGUE with Nihil Obstat by William W. Baum, S.T.D. and Imprimatur by Charles H. Helmsing, Bishop of Kansas City - St. Joseph.
Novena to the Infant of Prague (to be prayed hourly if possible)

O Jesus, who said, "Ask and you shall receive, seek and you shall find, knock and it shall be opened to you," through the intercession of Mary, Your most holy Mother, I knock, I seek, I ask that my prayer be granted. (for the Shepherds of Christ intentions and all your private intentions)

O Jesus, who said, "All that you ask of the Father in My Name He will grant you," through the intercession of Mary, Your most holy Mother, I humbly and urgently ask Your Father in Your Name that my prayer be granted. (for the Shepherds of Christ intentions and all your private intentions)

O Jesus, who said, "Heaven and earth shall pass away, but My word shall not pass," through the intercession of Mary, Your most holy Mother, I feel confident that my prayer will be granted. (for the Shepherds of Christ intentions and all your private intentions)
---
---
Excerpt from January 2, 1999 Daily Message
Mary speaks: I am Our Lady of Snows. I come to cover the earth with a soft white blanket of my love.

I come to bring peace to the earth. I tell you to let go of the anxiety in your heart and experience my peace and His love.

I am your heavenly Mother. I come to hold you and caress you and take you to my Immaculate Heart.
(End of Excerpt from January 2, 1999 Daily Message)
---
Messenger: FAITH—READ ALL DAY. SAY INFANT OF PRAGUE NOVENA.
---
Excerpt from October 12, 2000 Daily Message
---

Isaiah 12: 2

Look, he is the God of my salvation:
I shall have faith and not be afraid,
for Yahweh is my strength and my song,
he has been my salvation.'

---

Messenger: Faith you must have faith. Pray the Infant of Prague Novena hourly and believe.

---

Mark 11: 20-25

The fig tree withered. Faith and prayer

Next morning, as they passed by, they saw the fig tree withered to the roots. Peter remembered. 'Look, Rabbi,' he said to Jesus, 'the fig tree that you cursed has withered away.' Jesus answered, 'Have faith in God. In truth I tell you, if anyone says to this mountain, "Be pulled up and thrown into the sea," with no doubt in his heart, but believing that what he says will happen, it will be done for him. I tell you, therefore, everything you ask and pray for, believe that you have it already, and it will be yours. And when you stand in prayer, forgive whatever you have against anybody, so that your Father in heaven may forgive your failings too.'

---

Luke 11: 5-13

The importunate friend

He also said to them, 'Suppose one of you has a friend and goes to him in the middle of the night to say, "My friend, lend me three loaves, because a friend of mine on his travels has just arrived at my house and I have nothing to offer him;" and the man answers from inside the house, "Do not bother me. The door is bolted now, and my children are with me in bed; I cannot get up to give it to you." I tell you, if the man does not get up and give it to him for friendship's sake, persistence will make him get up and give his friend all he wants.


Effective prayer

'So I say to you: Ask, and it will be given to you; search, and you will find; knock, and the door will be opened to you. For everyone who asks receives; everyone who searches finds; everyone who knocks will have the door opened. What father among you, if his son asked for a fish, would hand him a snake? Or if he asked for an egg, hand him a scorpion? If you then, evil as you are, know how to give your children what is good, how much more will the heavenly Father give the Holy Spirit to those who ask him!'

---
(End of Excerpt from October 12, 2000 Daily Message)
---
Prayer List for apostles for interior use in the Movement. Pray hourly.
Pray Father Carter is healed through Our Lady of Clearwater.
Pray for designated priests, Fr. Mike, Fr. Smith, Fr. Ken, all priests involved in the Imprimaturs translations including all bishops. Pray for Fr. Joe, Bishop Ed, Fr. Don, Father at Tuesday Masses, Fr. Tom, Fr. Bill and all priests involved with Walter.
Pray for Father's sister Merle, for all of us servants, handmaids, apostles and vocations to all 7 categories.
Pray for all Jesuits involved, all those over us. Pray for the 4 urgent intentions.
Pray for the rights to the books.
Pray for the Imprimatur on the Priestly Newsletter Book II.
Pray we can send it to all bishops and Jesuits.
Pray for Perry and family and discernment.
Pray for all sub-centers and all out-of-state rosaries.
Pray for the sisters' mailing, nursing home mailing, bus mailing.
Pray for Rosary Factory.
Pray for Genevieve's daughter and Sheila's mom and Jerry's dad, Bernice's daughter.
Pray for Paul and Joan discernment.
Pray for all involved in buying the building.
Pray for all book covers.
Pray for B & M and Tina and Terry, all printing jobs, companies involved.
Pray for 5th, the 13th, the 17th.
Pray for Sidney Rosary, October 24, 2000.
Pray for building up of Morrow, Ohio, Dale, Indiana, other sub-centers.
Pray for all our families, children in school, college mailing.
Pray for lots of rosary makers and rosaries for the schools.
Pray for funds and grace.
Pray for Paul C., Margaret Mary, Steve and Sheila, Marian, Cathy, Joe, Nick, Mary, Glaci, Dunkers.
Pray for Fred doing the paper and all involved in priestly "start-up".
Spread the Blood of Jesus on everyone, consecrate their hearts, cast the devil out, pray for coming of the Holy Spirit in a special way.
I love you.
---
Messenger: There is a live rosary in Sidney, Ohio, for healing Tuesday, October 24, 2000. Prayers begin 6:20 p.m.
---
Messenger: Pray for Perry
---
Messenger: Social at Morrow, Ohio, Center October 17, 2000.
---
Mass Book II Entry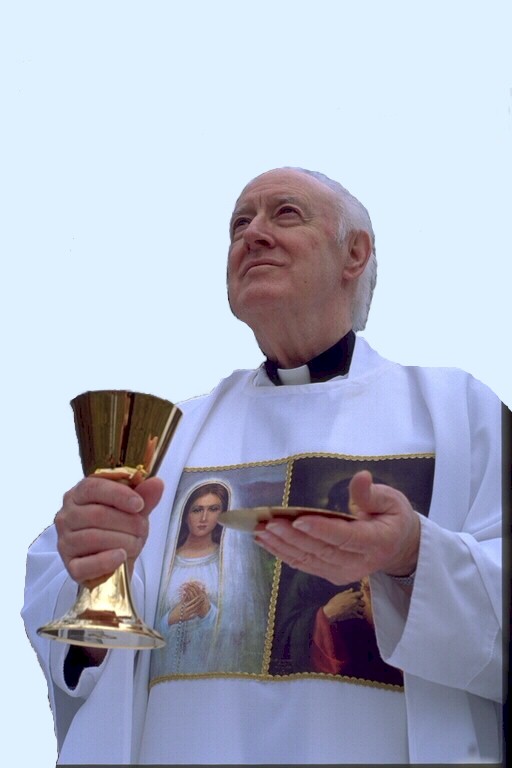 Through Him, With Him and In Him
---
Excerpt from Response in Christ - Chapter 3 - The Christian Life of Grace
c) Relationship with the Holy Spirit
After the glorified Christ was established in power and glory with the Father, He sent the Holy Spirit to sanctify the world. The task of the Holy Spirit is to imprint the mystery of Christ ever more deeply upon the whole of creation. The Holy Spirit gradually is leading man and his universe to a greater Christo-finalization. This Christo-finalization will reach its completion at the time of Christ's second coming. Then creation will receive its final transformation. Then the movement of creation to the Father, in Christ, by the Holy Spirit will be complete.

As this process evolves, the Holy Spirit concentrates His action upon the Church of Christ; for this evolutionary movement of creation in Christ has as its dynamic center the evolution of the Church. The Church progressively evolves by assimilating more perfectly the mystery of Christ. The Holy Spirit guides this process. He is the soul of the Church because He constantly labors to unite the diversified elements of the Church into a more perfect image of Christ.

The Holy Spirit as sanctifier not only guides the entire Church, but He also guides each member of the Church. Here again His task is basically the same. He strives to deepen the image of Christ which has been indelibly imprinted upon the Christian. He labors to Christo-finalize more radically all areas of the Christian's existence. In this regard we notice the biblical distinction of living according to the Spirit rather than according to the flesh. To live according to the flesh does not refer only to sins against chastity. It refers to anything in my life which is not according to the Spirit. Therefore, intellectual pride, something very "spiritual," would be living according to the flesh in the biblical sense.

On the other hand, to live according to the Spirit can include the most intense involvement with material creation or use of the senses. All of this can be profoundly Christian as long as we are following the lead of the Holy Spirit. In this context we again emphasize that everything about the Christian has been elevated by grace, not merely his spiritual nature.

To live fully according to the Spirit demands a growing realization of the manner in which the Holy Spirit leads the Christian to a greater Christ-likeness. This involves discernment of spirits. This concept will be developed at some length in a later chapter.

In summary, the Holy Spirit promotes the process of our becoming sons in the Son. The Christian's response to the Spirit measures his degree of incorporation into the adoptive sonship of the Christ-life. "Everyone moved by the Spirit is a son of God. The spirit you received is not the spirit of slaves bringing fear into your lives again; it is the spirit of sons, and it makes us cry out, 'Abba, Father!' " (Rm 8:14-15).

d) Relationship with Mary
Karl Rahner tells us that devotion to Mary is one of the great signs of final perseverance.11 By such a statement Rahner emphasizes for us the great role Mary exercises in the life of the Christian. Really, the emphasis of Rahner is merely a continuation of the great importance attributed to Mary by the Fathers, doctors, and saints of the Church throughout the ages.

Mary assumes such a concrete importance in the life of each of us because she is the mother of the Church and the mother of each Christian. She is a mother to all men, but in a special way to the Christian.12

Mary's spiritual motherhood toward us had its beginnings at the time of the Incarnation. As Mary conceived Christ in a physical manner, she at the same time conceived us in a spiritual manner. In her holy womb she bore both Christ, the Head, and us, His members.

The second great stage in Mary's maternal relationship toward us was accomplished upon Calvary. There, in extreme spiritual suffering, she offered Christ to the Father. From the pierced side of Christ the Church was born. Mary, in the extreme anguish of spiritual childbirth, brought us forth to supernatural life. "Seeing his mother and the disciple he loved standing near her, Jesus said to his mother, 'Woman, this is your son'. Then to the disciple he said, 'This is your mother.' " (Jn 19:26).

The third and final phase of Mary's spiritual motherhood is a continuing process. Under God, she gives us our life of grace. In her maternal love she protects and nourishes this life. She intercedes for all the graces necessary for its proper growth. As Mary cooperated with the Holy Spirit in first giving Christ to men, so she continues the same cooperation in regard to each Christian. Through the life of grace Christ is meant to take deeper and deeper possession of each one of us. Mary and the Holy Spirit continually labor to achieve this. Mary's only desire for us is that we grow more and more into the full stature of Christ. Her overwhelming love for us is evident. We manifest our love for her by committing ourselves to her maternal love and care so that she can achieve her desired purpose. That purpose, again, is to form Christ in us.

e) Relationship with Members of the Church
There is but one true Church of Christ. Yet this one Church has three different states of existence. There is the pilgrim Church, the Church of this world, composed of members who have received the grace of Christ and strive for its development. They have not yet obtained the goal of their efforts, as have the members of the heavenly Church, who enjoy God in eternal happiness. The Church suffering is an intermediate state of existence necessary for those who had not achieved the required purification as members of the pilgrim Church. Although there are these three phases of the Church's existence, there is a profound union existing between all the members. All these members possess the same basic life of grace in Christ, and this common life establishes the most intimate bonds of love. In our preceding chapter, we discussed the pilgrim Church. Let us now consider the Church suffering and the heavenly Church.

The members of the Church suffering are those who have departed from this life in an incomplete state of Christian development. Their development is incomplete in the sense that grace has not fully taken possession of them, and, as a result, they are yet closed in upon themselves to a greater or lesser degree. They as yet cannot open themselves out in complete love to the Triune God in the beatific vision. They must undergo a further purification, a purification which could have been achieved upon earth with merit. Now the purification must be achieved with no merit attached. The pain of this purification is mixed with the certain expectation of achieving the vision of God. We can hasten the advent of this vision for this people by the offering of prayers and other good works. Scripture itself refers to our action on behalf of those in purgatory in Chapter 12 of the Second Book of Maccabees beginning with verse 38.

The members of the heavenly Church are those in whom the life of grace has taken full possession and has reached its completion in the life of glory. Faith now is unnecessary, as the light of glory gives the human intellect a new strength and capacity for seeing God face-to-face. While the Christian was a wayfarer, he received the imprint of the indwelling Trinity as he shared in God's own life. Now in heaven that grace-life and possession of God reaches its completion—the absolute completion is not achieved, however, until the resurrection of the body. The divine persons give Themselves to the beatified in a profound union far surpassing that of the indwelling of the Trinity experienced here below.

This life of heaven is still the Christ-life, for just as we possess a share in Trinitarian life here below as mediated by Christ, and exercise this grace-life as structured by Him, so also in heaven is the mediation of Christ present. In the words of Rahner, "One always sees the Father through Jesus. Just as immediately as this, for the directness of the vision of God is not a denial of the mediatorship of Christ as man."13 And not only does the humanity of Christ unite the blessed to God, but also, in some way, to the whole of creation. This is merely a completion of what is begun here below, namely, the union with Christ in His humanity establishing the Christian in a special relationship with God, with other men, and with the whole of creation. We have a glimpse, therefore, of the fullness of life which members of the heavenly Church possess.

The heavenly Church, as St. Thomas says, is the true Church.14 The Church of this earth and the Church of purgatory are, each in its own way, reaching out in loving hope for the heavenly Jerusalem. Vatican II puts it very simply: "The Church, to which we are called in Christ Jesus, and in which we acquire sanctity through the grace of God, will attain her full perfection only in the glory of heaven."15

The members of the heavenly Church can help us in living our life of grace until we too share its fullness with them. Their power of intercession on our behalf is but another ramification of the communal aspect of Christianity. We are meant to help others grow in Christ. We, in turn, are intended by God to receive aid from others—yes, from members of the heavenly Church, as well as from those with whom we dwell here below.

Not only can we be aided by the saints' intercession, but the example of the canonized saints can also be of great value to us. They have concretely proved that full holiness is possible. Such an inspiration is of real worth when we are tempted to think that Christian sanctity in its higher degrees is impossible of attainment. Moreover, the canonized saints, in their diversity, teach us that there are many authentic versions of Christian holiness. They can be innovators in showing us that there are numerous possibilities in assimilating the mystery of Christ, although the basic assimilation remains the same for all Christians of all times. In the opinion of Rahner this is one of the chief roles the canonized saints exert in the life of the Church.16

f) Relationship with Man and His World
The Christian's Christ-life also establishes a special relationship between himself and all other men and the world in which both are situated. This is so because of the basic nature of grace—the fact that it is a share in God's life. The object of life in God is not only Himself, but also His creation. The Christian, through his life of grace, shares in this double dimension of God's life. Just as God not only loves Himself, but also His creation, so also must the Christian love both God and His creation. The Christian is called in a special way to further the creative and redemptive work of God.

This aspect of the Christian's grace-life is also mediated by Christ. Christ, through His human enfleshment, has immersed Himself into man's world. Through His humanity he unites all men and all authentic human and temporal values to Himself. Through His redemptive love Christ has elevated the Father's creation to a new level of existence. Christ has initiated a process of gathering up all of creation for the glory of His Father. This process will reach its completion at the parousia. Meanwhile the Christian labors with Christ to further this evolutionary process of creation and redemption. Consequently, in faith, hope and love, the Christian assumes a new responsibility and privilege toward man and his world.

He must take this privilege and responsibility seriously. Men of our era such as Bonhoeffer and Teilhard de Chardin have strikingly placed this responsibility before Christianity. Christianity has to show the contemporary world that it is profoundly interested in all its authentic values and aspirations. Christianity must further demonstrate that the principles of Christ are the only ones which can guarantee the true progress of man's world. The world belongs to Christ and it is impossible for it to develop authentically outside of Christ.

We have traversed a rather wide area in this chapter dealing with the life of Christian grace. Grace, in its inner reality, and in its various relationships and ramifications, is complex to a certain extent. But ultimately it has a profound simplicity and unity. Christ is the one who gathers up and unifies. He is the one who makes grace tangible, concrete and personal to the Christian. Radically, the life of grace is life in God as mediated by Christ. "We can be sure that we are in God only when the one who claims to be living in him is living the same kind of life as Christ lived." (1 Jn 2:5-6).

_____
11Cf. Karl Rahner, Spiritual Exercises (New York: Herder & Herder, 1965), p. 283.
12Cf. Edward Schillebeeckx, Mary, Mother of the Redemption (New York: Sheed & Ward, 1964), p. 128.
13Karl Rahner, Theological Investigations, Vol. III (Baltimore: Helicon, 1967), p. 44.
14Cf. St. Thomas Aquinas, In Ad Ephes., c. 3, Lect. 3.
15Second Vatican Council, Constitution on the Church, No. 48.
16Cf. Karl Rahner, Op. cit., pp. 100-101.
(End of excerpt from Response in Christ)
---
Mary speaks: PRAY THROUGH THE POWERFUL INTERCESSION OF OUR LADY OF CLEARWATER. CARRY THE PHOTO OF MY PICTURE WITH YOU. LOOK AT THE PHOTO WHEN YOU PRAY. PRAY THROUGH MY POWERFUL INTERCESSION AS OUR LADY OF CLEARWATER. I AM OUR LADY OF FATIMA IN THE AMERICAS. LOOK AT MY IMAGE AND PRAY THROUGH MY POWERFUL INTERCESSION. I AM OUR LADY OF CLEARWATER.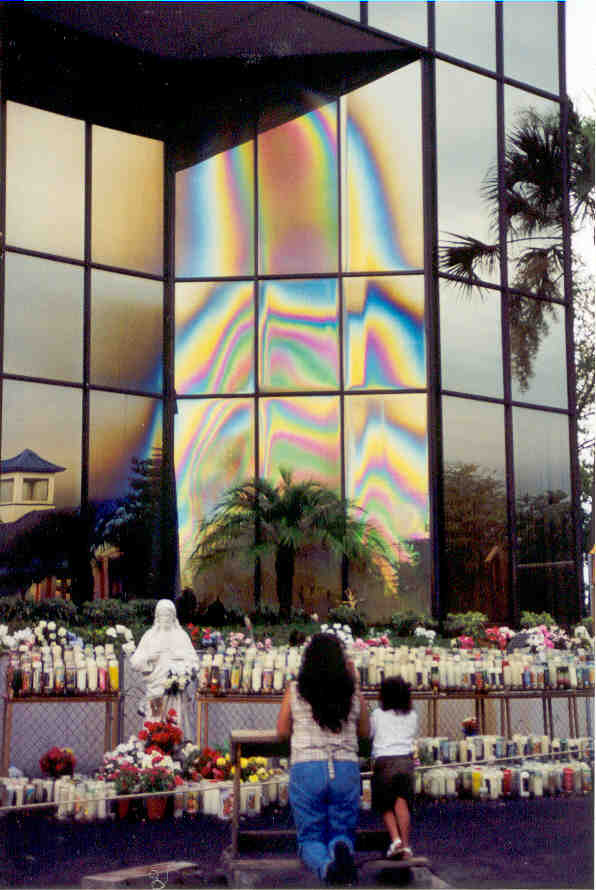 ---
Messenger: Bernice gave me this idea to add these petitions to our rosary. We prayed the rosary during the Mass going on in China, Indiana. We prayed for Fr. Carter.
---
A Rosary for Healing or for Someone with Cancer.
On one Hail Mary bead or as many as you desire, say: (this is given for Fr. Carter, you can replace your loved one's name).
May God heal Fr. Carter through the intercession of Our Lady of Clearwater in union with the Mass and all the Masses being celebrated around the world.
Pray the Hail Mary or Hail Mary's then pray this after the Hail Mary.
May the cancer be uprooted and thrown into the sea.

We believe with all our hearts.
After the Glory Be— pray the following petition.
May Fr. Carter be healed through the intercession of Our Lady of Clearwater if it be the holy will of God.
Note: You can look at Mary on the image rosary while you pray this rosary.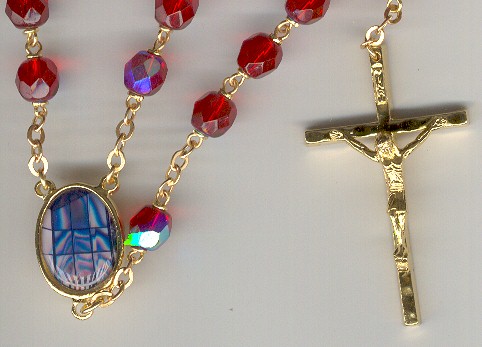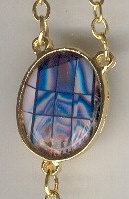 ---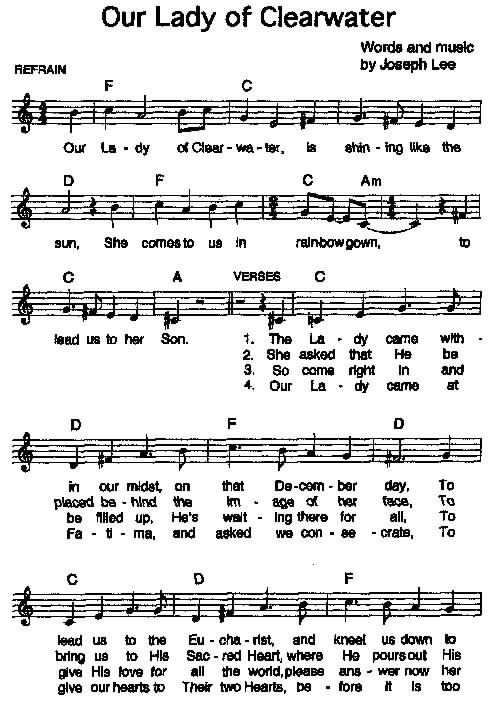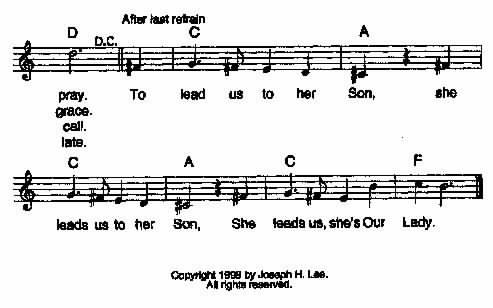 ---
Excerpt from August 14, 2000 daily message
Mary speaks: I desire the following photo pictures be circulated.

The picture of Mother and child.

The picture July 5, 2000.

Mary speaks: I ask anyone that can to help with this.

The website on a sticker, phone number, Shepherds of Christ Ministries can be placed on the back of the photo.

I wish this message to be made available.
(End of Excerpt from August 14, 2000 daily message)
---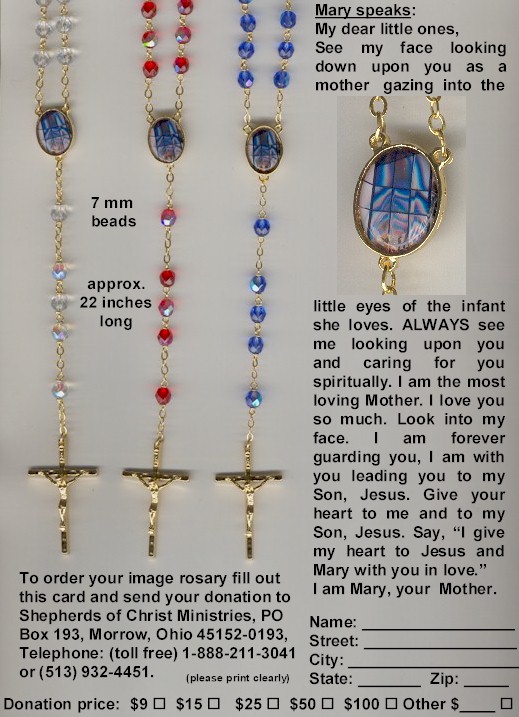 (Please copy and pass out to family and friends.)
---
Mary's Message from the Rosary of August 27, 1996
Mary speaks: I stood beneath the cross of my Son, and my Heart was in such pain for I saw Him before my eyes. I saw Him covered with blood. I saw Him die. My Heart, my children, my Heart to watch my Son, but my Heart, my Heart, how I suffered for my little children of the world that give in to this world and give up the love of my Son. O my little children of light, I give you this message. Carry this light into the darkness for your Mother Mary, for I stood beneath the cross and I cried. I cried for the little ones. I cried for the young ones, the ones that do not care and will lose their souls. How do I make you see for you will not listen to me? What can I do? I come. I appear. I beg. I plead. I give you these gifts from my Son, and you reject me. I do not deliver messages very often anymore for I have been ignored. The message is the same. You do not read the messages I have given to you. Please help me. Help the little children. I appear. I appear. I appear, and I am ignored. I stood beneath the cross, and I cried. I cried, and my Heart was in such anguish for my little children, for I am searching for them this day as I searched for the Child Jesus. Please, please help me. I cannot hold back the hand of my Son any longer. I am Mary, your Mother. I ask you to help my children. You are my children of light.

Song: O Lady of Light, shining so bright, be with us this day, guiding our way, O Lady, O Lady of Light.

Mary speaks: I appear to you as Our Mother of Sorrows.
(End of Mary's Message)
---
MY VALENTINE FOR JESUS AND MARY
AND THE WORLD

I _________________ give my heart to
You Jesus and Mary on this day
_________________
I promise to help spread the devotion to
the Hearts of Jesus and Mary.
---
Question for married couples and others in intimate relationships:
Q: How did my Blue Book message today help me to be a more feeling person and a greater lover of God and of you?
---
---
---
Copyright © 2000 Shepherds of Christ.
Rights for non-commercial reproduction granted:
May be copied in its entirety, but neither re-typed nor edited.
Translations are welcome but they must be reviewed for moral and theological accuracy by a source approved by Shepherds of Christ Ministries before any distribution takes place. Please contact us for more information.
All scripture quotes are from the New Jerusalem Bible, July 1990, published by Doubleday.
Revised: October 14, 2000
URL: http://www.SofC.org
Contact Information for Shepherds of Christ
Email: info@SofC.org
---
Shepherds of Christ Ministries
PO Box 193
Morrow, Ohio 45152-0193

Telephone: (toll free) 1-888-211-3041 or (513) 932-4451
FAX: (513) 932-6791