Mary has requested that the daily message be given each day to the world. It is read nightly at the prayer service from her Image Building in Clearwater, Florida, U.S.A. This is according to her request. All attempts will be made to publish this daily message to the world at 11 p.m. Eastern time, U.S.A.

---

We acknowledge that the final authority regarding these messages rests with the Holy See of Rome.

---
---
A Prayer for Intimacy with the Lamb, the Bridegroom of the Soul

Oh Lamb of God, Who take away the sins of the world, come and act on my soul most intimately. I surrender myself, as I ask for the grace to let go, to just be as I exist in You and You act most intimately on my soul. You are the Initiator. I am the soul waiting Your favors as You act in me. I love You. I adore You. I worship You. Come and possess my soul with Your Divine Grace, as I experience You most intimately.
---
Messenger: Include Our Lady of the Holy Spirit Center in 6:20 prayers.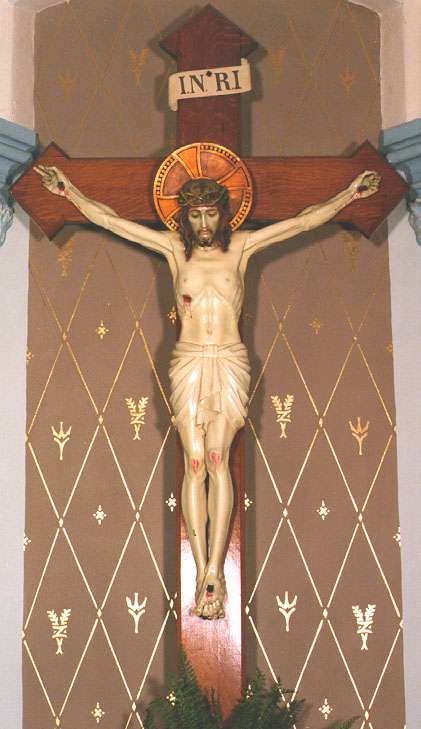 Mary the perfect disciple stood beneath the cross.
WE MUST BE UNDER HIS FEET.
Jesus speaks: Any person in authority must love those under him.
It is not right for a man to accept a position of authority, if his intention is not love of those under him.
With every direction from one in authority must be that desire to promote love, to act in My name, according to the Father's will.
Many parents have hurt their children by being brutally authoritative for their own foolish wills, and the children were forced to comply.
All authority comes from Me.
You act in My name.
I showed you the way, I loved all to My death on the cross. I loved every soul under Me and gave My life in love for them.
Power should not be exercised by one in authority if it is not because of love.
In this structure of life in communities where men come together to serve God, those in authority must love those beneath them.
Because of so many unloving ways taught to those in authority and to children by parents, today some may feel they can brutally enforce power. The idea of love should dominate the heart.
Authority will not be right if love is missing.
I loved all under Me to My death on the cross.
Priests must love their flock.
Policeman must love those they serve.
Leaders must love those under them.
I give you power, I want you to have this power if I call you as a person in authority. You must love, that is how I showed you to act.
I am your Brother. Adults in communities should have mutual brotherly love, not a parent-child dependent type, a needy type.
Those in authority should be evocative in their behavior, helping those under them to be as God wills them to be.
I want all to serve freely. They give themselves to the mission. I do not want force; they should willingly want God's will and do it.
I give you structure. It must be followed for authoritative power to flow. Those in authority must act in My name, in love.
Many bring their roles as father or mother to other settings.
One must model their ways after Me, not after dysfunctional ways of the past. There should never be brutality, but love from one who acts in My name.
You act for Me, I am the authority, power given to you is from Me. I want you to help Me. Who will help Me do as I request?
I have molded you in the palm of My hand.
---
October 18, 1999 - 2nd message
CONTEMPLATIVE IN ACTION
Jesus speaks: My child,
The honeymoon is over, the tender, gentle new love has been deepened with a mature tough love of surrendering more to the will of the Father and acting for love of Me. Your day is spent in an active role of being the contemplative in action. I need you to do this work. My child, I work through you. Every day it is important to spend that private time with Me. I want this union, but you must actively pray, praying as a body, teaching others how I have instructed you to pray. I do not want you to sit before the tabernacle all day, I want you to reach out to others. There is sacrifice in denying yourself that which your heart desires, private uninterrupted time with Me for extensive periods every day. I call you to be a soldier, I call you to the proper time of private prayer. I call you to be the contemplative in action. You make reparation to My Heart and the Heart of My Mother through your commitment to spread the consecration and My teachings on the Mass. Who would learn if the Teacher took His knowledge and kept it to Himself? I am teaching this world to be as the New Earth through these revelations. Great personal gifts were given to My spouses, but it is not a monastic life I desire from the Shepherds of Christ. You are soldiers in action, marching, your weapons are your prayers. You were a child, now you put away the ways of a child. You are in battle. Souls are at stake. You are fighting in My army. I give you what you need to lead men closer to My Sacred Heart. I am the Victory. The reign of My Sacred Heart is at hand. You fight a mighty battle. You already know the winner, you want as few casualties as possible. My Sacred Heart will reign, the Heart of My Mother will triumph.
---
October 18, 1999 - Nursing Home Message - Third Message Jesus speaks: I wish large print meditations of some rosaries in the Red Rosary Book be included in the nursing home book.

I will tell My messenger which meditations so that people will hear the heartfelt love We have for them.

I wish the Nursing Home Ministry to expand.

I have given directions to My messenger.
---
Messenger: When visiting a nursing home this is a plan you can follow to pray a little part of the rosary with the elderly or sick residents.

What is usually done and tolerated by the elderly folks is one Our Father, five Hail Mary's and another Our Father. The song, A Song from Jesus can be sung before and after these prayers.

It is desirable to have a big picture of the Agony in the Garden when doing these meditations. Also it is recommended that you have pictures of the Sacred Heart and the Immaculate Heart of Mary.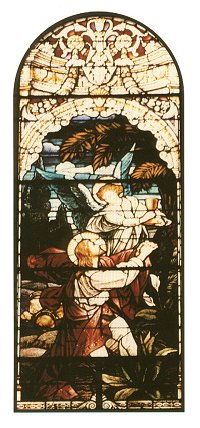 Excerpt from March 17, 1995 rosary from Rosaries from the Hearts of Jesus and Mary
Jesus speaks:
I am an endless furnace of love. My Heart is beating for each one of you here. See My Heart as it beats. Think of this beating. Think of the beating Heart!
Jesus speaks:
I pour out to you My endless love constantly. I never leave you. I am forever with you, second by second, minute by minute. Be alone with Me. Empty your mind of any distractions, of any concerns. Be totally wrapped in the love that I am giving to you. Open your hearts wide and let Me unite ever so closely within your heart. I am Jesus, your most ardent Lover, on fire for love of you, My beloved ones. As I knelt in the Garden, I pondered the ways of your heart. My Heart ached for all the souls that would treat Me with such indifference and neglect. Comfort My aching Heart with your love for Me.
Jesus speaks:
I call out to you to take My plea seriously. My plea involves the salvation of souls. Open your hearts and let Me unite closely to you so that I can live in you. Through you I will touch My beloved ones that I love so dearly. How I love you this day, My precious ones. Be alone with Me, totally wrapped in My embrace. I am Jesus, your Savior, and I love you with the deepest, tenderest love. I pour My love out to you. Harken to Me. Let go!
Jesus speaks:
Open wide the portals of your heart. Let Me penetrate every cell of your being. I want such oneness with you. You do not comprehend My immense love. You must surrender!
Jesus speaks:
Consecrate yourself totally to My Heart and that of My Mother. (End of rosary excerpt)
---
October 18, 1999 - Fourth Message
August 16, 1995 - Nursing Home Message
Jesus speaks: My dear sweet ones in the nursing homes in America,

I am writing to you this day to tell you of My tender love for you, My beloved ones. I am waiting for your time with Me. You have so many hours in the day, but so few talk to Me and tell me of their pain, their sorrow, their joys, their love. I am waiting to be so close to your heart and know all the little details of your day.
Tenderly, I wait by your bed to talk to you. Do you feel Me forever with you, sweet ones? Are you cold? Do you feel tired and old? Do you want someone to love you and tell you they care for you?
I care for you! I love you so much. I wait for you every second and you do not talk to Me. You are not old - you are living and growing every day in your life with Me. This is a special time for Me to be with you.
All day we can share our love, deeper and deeper. The Father's plan is for you to have this special time to grow in your love of God.
This is a special gift given to you this day. As you spend more time with Me, talking to Me every day, you will know that I am truly your best Friend. Oh, you will never have a friend as I want to be to you. I love you, I love you, I love you, My dear, dear, little beloved children of the Father. You are living in your heart when you live in My Heart.
You are exactly where you are to be. You are given this gift to grow in your love with Me.
Song: I am Jesus little one, I wait for you.
Come to My Heart. These will be the best years of your life. This is the true treasure. It is the time you spend alone with Me every day.
I love you, I love you, I love you.
I am Jesus, your best Friend.
---
Question for married couples and others in intimate relationships:
Q: How has our love for each other helped us to grow in love for others?
---
---
---
Copyright © 1999 Shepherds of Christ.
Rights for non-commercial reproduction granted:
May be copied in its entirety, but neither re-typed nor edited.
Translations are welcome but they must be reviewed for moral and theological accuracy by a source approved by Shepherds of Christ Ministries before any distribution takes place. Please contact us for more information.
All scripture quotes are from the New Jerusalem Bible, July 1990, published by Doubleday.
Revised: October 18, 1999
URL: http://www.SofC.org
Contact Information for Shepherds of Christ
Email: info@SofC.org
---
Shepherds of Christ Ministries
PO Box 193
Morrow, Ohio 45152-0193

Telephone: (toll free) 1-888-211-3041 or (513) 932-4451
FAX: (513) 932-6791