Mary has requested that the daily message be given each day to the world. It is read nightly at the prayer service from her Image Building in Clearwater, Florida, U.S.A. This is according to her request. All attempts will be made to publish this daily message to the world at 11 p.m. Eastern time, U.S.A.

---

We acknowledge that the final authority regarding these messages rests with the Holy See of Rome.

---
---
A Prayer for Intimacy with the Lamb, the Bridegroom of the Soul

Oh Lamb of God, Who take away the sins of the world, come and act on my soul most intimately. I surrender myself, as I ask for the grace to let go, to just be as I exist in You and You act most intimately on my soul. You are the Initiator. I am the soul waiting Your favors as You act in me. I love You. I adore You. I worship You. Come and possess my soul with Your Divine Grace, as I experience You most intimately.
---
Messenger: Include Our Lady of the Holy Spirit Center in 6:20 prayers.
Little People and the Elderly
(Messenger: I had a vision of a little child and a grandma next to each other.)
Jesus speaks: I love all My souls. I love the elderly and the children. They are hungry for this material. Get very small children, teach them to pray and love Me.
I wish the Little People's Rosary Book to be published as soon as possible. It should appear on the Internet as soon as possible. It should appear in daily messages and with the books. It needs to be submitted for the Imprimatur as soon as possible, but copies can be circulated before this is granted. It must be carefully checked that all is as it appeared on the Internet, that no errors have crept in.
I want elderly people praying for the children, I want children praying for the elderly. A major source of prayer power is missing because you have not been able to reach the elderly or the children. Little children's prayers are so powerful. The elderly have time to pray and need to pray. Their lives are not finished, they must know that I want them to pray for My Movement. They do not all have to pray all the prayers, just offer their lives for this intention.
You must develop this aspect of the Ministry, prayer power and funds will come from this.
I want you to act as angels loving and serving God with all your hearts and souls.
I want holiness in the Movement. Holiness!
You must feed the hungry, go to the sick, the starving, those who are elderly, those in foreign underprivileged countries. Get people praying. You must get masses of people praying. Where are My associates? I love you, Jesus.
---
October 24, 1999 - Second Message
---
Romans 7:18-25
And really, I know of nothing good living in me -- in my natural self, that is -- for though the will to do what is good is in me, the power to do it is not: the good thing I want to do, I never do; the evil thing which I do not want -- that is what I do. But every time I do what I do not want to, then it is not myself acting, but the sin that lives in me.

So I find this rule: that for me, where I want to do nothing but good, evil is close at my side. In my inmost self I dearly love God's law, but I see that acting on my body there is a different law which battles against the law in my mind. So I am brought to be a prisoner of that law of sin which lives inside my body.

What a wretched man I am! Who will rescue me from this body doomed to death? God -- thanks be to him -- through Jesus Christ our Lord.

So it is that I myself with my mind obey the law of God, but in my disordered nature I obey the law of sin.
---
Jesus speaks: Say: "Come to me Lord and possess my soul."
Open the Blue Book for direction.
---
October 23, 1999 - Nursing Home Message - Third Message: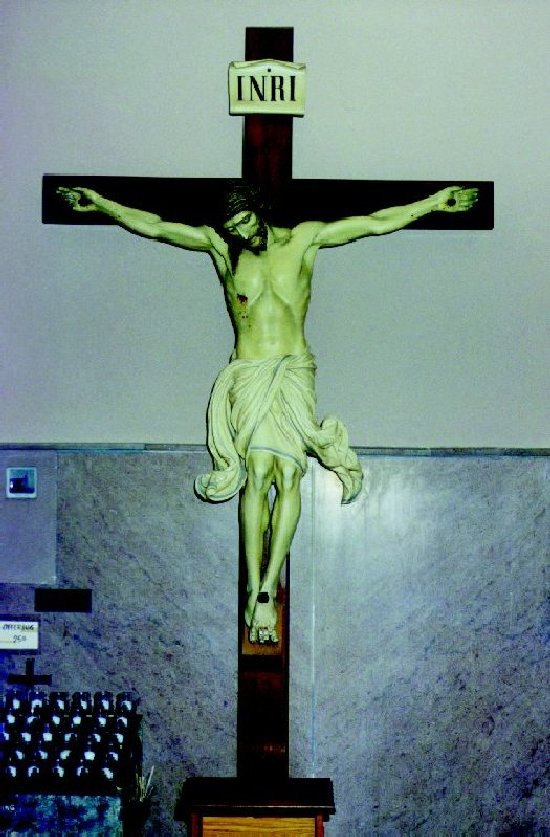 Jesus speaks:
I was crucified. I DIED FOR YOU.
I DIED FOR YOU.
I want you to hear Me say over and over again to you,
"I LOVE YOU", "I LOVE YOU",
I AM ALIVE, I AM WITH YOU TODAY.
YOU DO NOT SEE ME, BUT I AM HERE.
TALK TO ME NOW.
PRAY TO ME.
I AM YOUR BEST FRIEND.
I LOVE YOU SO MUCH.
Hear Me say this over and over again. Tell yourself all day,
"Jesus is with me now, Jesus loves me so much He died for me."
"Jesus wants me to be with Him in heaven, I will offer up my little trials for His Movement, Shepherds of Christ, and for souls and for the priests and the Church and the world.
"My life given as an offering to God can help the souls that are hurting. I can help the whole world by staying close to Jesus and offering up my life sufferings and joys for these intentions. My life is helping the world, the children, the Church, the priests."
Jesus speaks: My sweet one, I love you so much, I love you so much, will you help Me today? Will you talk to Me? Oh, I want to be with you, you are so precious to Me. I love you so, so much, my beautiful soul. I love you, Jesus.
CRUCIFIXION

Excerpt from March 17, 1995 Rosary from Rosaries from the Hearts of Jesus and Mary
Jesus speaks: My Mother stood under My cross. My beloved Mother! How she loves each one of you. Go to the Heart of Mary and reside in her arms. Rest in her Heart. This is Her House. She is with each one of you on your journey. We love you with the tenderest love.
Jesus speaks: As she stood by Me all through My life, she stands by your side. Think of that! Where you are sitting now, Mary is right by you. Do you feel her presence? Put yourself on the other side. Be alone with Us now. Let go of this world. Be touched by the grace of God, special grace that I am giving to you alone. The angels and saints are so present here at this Center. They are in the halls. You do not realize because you do not see. You must be alone with Me and let go of your world to be united ever closer and to see these things that I want to show you.
Jesus speaks: See Me hanging on the cross. Do you see that? Do you need to see with your eyes? Do you know what you feel when you receive the Eucharist? You must reach more and more beyond your vision. Reach into your heart. I communicate in your heart. Such oneness I have with you in your heart! See beyond your eyes, beyond your ears, and go inside into your heart. Minute by minute, second by second, I am there! Mary is with you. My Father and the Holy Spirit are inside of you. You just do not see. Pray more for grace to partake in the life I want to give you.
Jesus speaks: Let Me pour My life out to you. Feel its vibrancy within you. I am truly with you this day and longing for closer union with you. Let go! Let go! Let go!
Jesus speaks: It is in this time that you spend alone with Me that I can work in your heart. Do not look for visions. Do not look to hear things. Go inside of your heart and be alone with Me. Spend this time with Me each day and, through the day, spend short periods, minutes when you just close your eyes and focus on My presence with you, for I am truly present. I will work in your heart when you come to Me in these special moments.
(End of rosary excerpt)
---
Question for married couples and others in intimate relationships:
Q: How do you feel we can help carry out Mary's mission begun at Fatima?
---
---
---
Copyright © 1999 Shepherds of Christ.
Rights for non-commercial reproduction granted:
May be copied in its entirety, but neither re-typed nor edited.
Translations are welcome but they must be reviewed for moral and theological accuracy by a source approved by Shepherds of Christ Ministries before any distribution takes place. Please contact us for more information.
All scripture quotes are from the New Jerusalem Bible, July 1990, published by Doubleday.
Revised: October 23, 1999
URL: http://www.SofC.org
Contact Information for Shepherds of Christ
Email: info@SofC.org
---
Shepherds of Christ Ministries
PO Box 193
Morrow, Ohio 45152-0193

Telephone: (toll free) 1-888-211-3041 or (513) 932-4451
FAX: (513) 932-6791