Mary has requested that the daily message be given each day to the world. It is read nightly at the prayer service from her Image Building in Clearwater, Florida, U.S.A. This is according to her request. All attempts will be made to publish this daily message to the world at 11 p.m. Eastern time, U.S.A.

---

We acknowledge that the final authority regarding these messages rests with the Holy See of Rome.

---
---
A Prayer for Intimacy with the Lamb, the Bridegroom of the Soul

Oh Lamb of God, Who take away the sins of the world, come and act on my soul most intimately. I surrender myself, as I ask for the grace to let go, to just be as I exist in You and You act most intimately on my soul. You are the Initiator. I am the soul waiting Your favors as You act in me. I love You. I adore You. I worship You. Come and possess my soul with Your Divine Grace, as I experience You most intimately.
---
Messenger: Include Our Lady of the Holy Spirit Center in 6:20 prayers.
July 11, 1994 - Blue Book IV
Put God First
Messenger: If I live to do what God wants, if I live to love God, this should be my measuring stick as to how I act.
Do I act to impress you? Who are you that I judge my actions by you? God is my Master. He is the King. It is He for Whom I operate. I must always act out of the love of God. What does God want me to do? When I talk to you, I must operate to do the will of the Father. The end result is that I operate for love of God.
When I am talking to you about any matter, we are sharing the love of God that powers each of us. It is not that I must impress you. If you are in authority, you are in authority, but I still operate from the love of God within, to do His will and do my work. If you tell me not to do something, if you are my superior, I must obey you (unless something sinful is involved) because God tells me to obey my superiors, but my actions are directed by His love and to please Him, not to please you and impress you.
People can be fickle. God is consistent. We should operate for love of God. This is such freedom! I must be kind and loving as Christ is loving. I operate to do His will.
God, help me to always follow You. You are my God and I shall have no other gods.
Reflection:
My God, You are truly present in the Eucharist. You are the same Jesus in Your Divinity and Humanity that died on the cross. You are no less present in the consecrated Host as you were present the day You died on Calvary. My precious God, help me to spread belief in Your true presence. Help me to always reverence You and never offend You when I receive you or touch the Sacred Host! You are truly Jesus Christ, the Son of God. Give us vision to live for the love of God, to put Him first in our lives, to not make other persons and things gods, but to realize you are God and treat all others with the love and respect they deserve as Your creation. Open our eyes, oh Holy Spirit, to see where we are so blind, to know the truths that God has given to us.
Help me to live to put God first in my life and love my brothers as myself. You are God. To You I bow and give You praise. Who am I that God comes to me in the Eucharist and waits for me in the tabernacle? Who am I that God dwells in me in my heart? Oh, I love You so, my precious God.
---
October 28, 1999 - Second Message
Jesus speaks: My dear nursing home ones,
I love you so dearly.
Please pray for the priests, the Church and the world and the Shepherds of Christ Movement.
Your life offered to Me is a prayer.
I love you,
Jesus
KEEP THIS BY YOUR CHAIR AND BED ALL DAY.
---
Messenger: When visiting a nursing home this is a plan you can follow to pray a little part of the rosary with the elderly or sick residents.
What is usually done and tolerated by the elderly folks is one Our Father, five Hail Mary's and another Our Father. The song, A Song from Jesus, can be sung before and after these prayers.
It is desirable to have a big picture of the Coronation of Our Lady when doing these meditations. Also it is recommended that you have pictures of the Sacred Heart and the Immaculate Heart of Mary.
---
Excerpt from April 16, 1995 rosary from
Rosaries from the Hearts of Jesus and Mary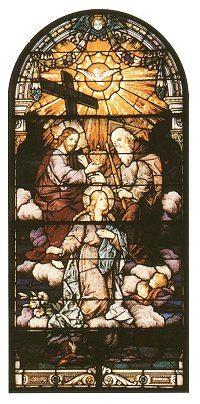 Messenger: How the Heart of Mary knows the Heart of Jesus. How she stands by our side and mothers with the most maternal love. How do we turn to Mary? Do we realize that she is here at every second waiting to take us to the Heart of her Son? She reigns in heaven with her Son Jesus. He loves His Mother so much. Ought we not put our faith and trust and love in His Mother so that she might lead us closer to His Sacred Heart?
Messenger: We are the children of God. God is our Father. Let us realize how we must live in connection with the Father, that our every action is to please Him and to do His Will, that Mary is our Mother and by our side with love to lead us to greatest union with God.
Messenger: Mary is there to lead us to the Heart of her Son.
Messenger: The Heart of Jesus is waiting to be united with us in such deep love. Help us, Jesus, as little children being held by our loving mother, to realize the immense love that the Father, the Son and the Holy Spirit outpour to us. Help us to realize how Mary is our Mother who guards us and protects us under her mantle, how she watches over us and leads us ever closer to the Heart of her Son.
Jesus: Consecrate your lives to the Sacred Heart of Jesus and the Immaculate Heart of Mary and pray fervently for your priests, for I live this day in the Church. Pray for the priests and the Church. I love you, My beloved ones, and I love My Church.
---
Question for married couples and others in intimate relationships:
Q: How do I feel when I am filled with love for you and expressing it and you unite with me by expressing your feelings from deep within your heart?
---
---
---
Copyright © 1999 Shepherds of Christ.
Rights for non-commercial reproduction granted:
May be copied in its entirety, but neither re-typed nor edited.
Translations are welcome but they must be reviewed for moral and theological accuracy by a source approved by Shepherds of Christ Ministries before any distribution takes place. Please contact us for more information.
All scripture quotes are from the New Jerusalem Bible, July 1990, published by Doubleday.
Revised: October 28, 1999
URL: http://www.SofC.org
Contact Information for Shepherds of Christ
Email: info@SofC.org
---
Shepherds of Christ Ministries
PO Box 193
Morrow, Ohio 45152-0193

Telephone: (toll free) 1-888-211-3041 or (513) 932-4451
FAX: (513) 932-6791