Message from Jesus and Mary
Come to Florida
December 17, 2013
17th Anniversary of Mary
China Retreat
November 10th - 13th
Mass November 12th - 12 noon
Mass November 13th - 12 noon
Mass November 14th - 11:00 a.m.
Please come and pray with us!
Pray for funds to do what
Jesus asked us to do.


We have completed Blue Book 11
Jesus wants us to print it
We need a donation of 1/2
to print 5000 copies
In Spanish with the Imprimatur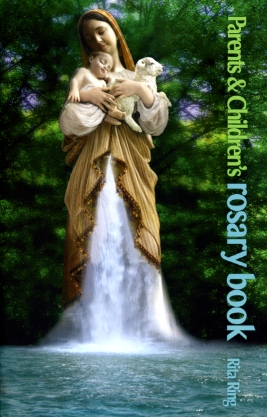 Also we are ready to print
5000 copies of the
Parents and Children's Rosary Book
in SPANISH.
Can you help with a donation?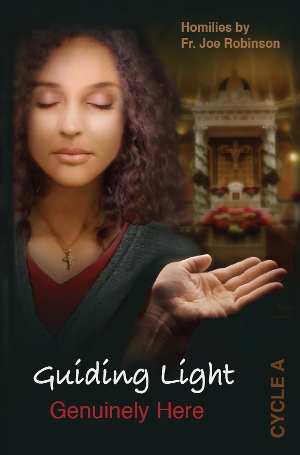 Fr. Joe's New Cycle A
is now Available.
$10.00 plus postage
Call Rosie 1-888-211-3041
Pray for Fr. Joe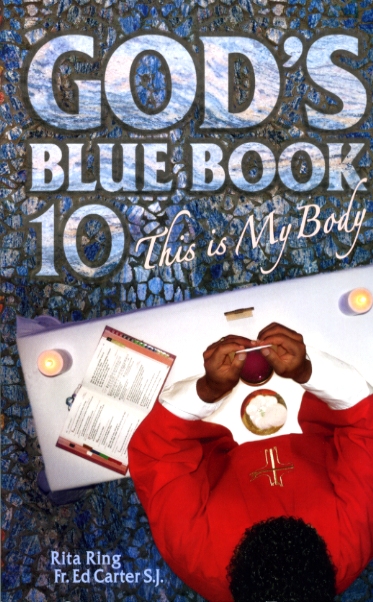 $4.00 plus postage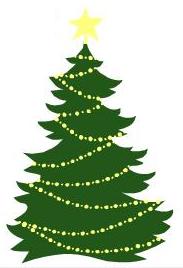 Big Sale for Christmas
Give the gifts that count.
plus postage
Call Rosie
1-888-211-3041
Check after message


Fr. Carter -

Tell My People

$5.00
Response to God's Love
$8.00
Response in Christ
$8.00

God's Blue Books IV, V, VIA, B, C; 7, 8, 9, 10

$4.00 each
Old Mass Books with the Imprimatur
$2.00
New Mass Book with Imprimatur

$8.00

New Parents & Children's Book w/Imprimatur
$8.00
Fr. Joe's Cycle A, Steadfast to the Sun
$5.00

Fr. Carter's Priestly Newsletters

Book II
$6.00
November 11, 2013
R. God loves us, We have dignity. Jesus died
for us.
We are so used to seeing ourselves through
our imperfect eyes, we operate from our
wounded human nature in seeing with
distorted vision. We see God with distorted
vision, we see others with distorted vision,
we see ourselves with our distorted vision.
When we are filled more and more abundantly
with His life - we see through God's eyes
and it is beautiful, we are the beautiful
creation of Our Father in heaven.
Our ransom is the Blood of Jesus.
We are precious like the Song from Jesus
says.
Sing: A Song from Jesus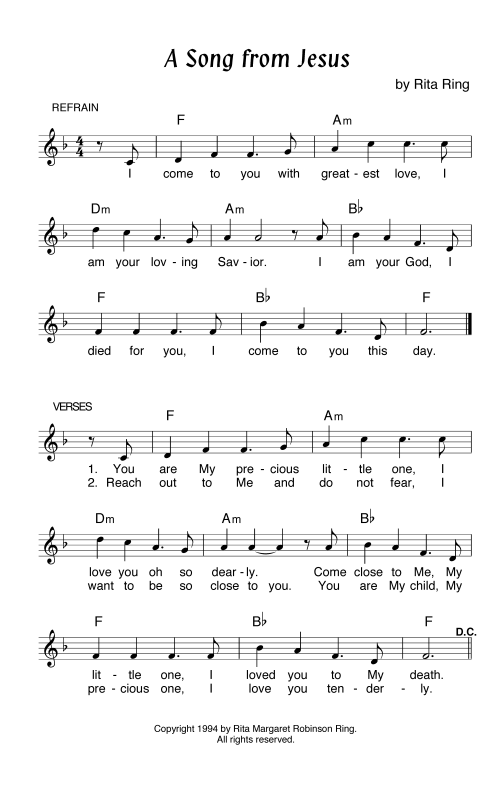 R. Do we believe the Blue Books? We pray
for an increase in faith, hope and love to
strengthen us in Him.
A man of the world seeks to gratify
himself and bring himself in greater
perfection in the eyes of the world.
A man of the world sees through the vision
of men - very imperfectly.
Reality is seen, as it really is, through
the eyes of the Heavenly Maker. We see the
Plan of God, The Plan of Salvation, The
true treasure. We see the wide vision,
not living 70, 80, 90 years among men –
We see ourselves as being called by Him
to live now in salvation history.
We see ourselves becoming as God wants
us to be, not focusing on the minds of
men, focusing on the Divine Master –
His Plan in making us, His Plan in
putting us on the earth at this particular
time in Salvation History.
Look at the Preparation before Jesus
was born. He fulfilled the Prophesies.
The Jews had to be the way they were
for Him to come. They believed in the one,
true God. There was preparation, there
was prophets, there was the formation
of the chosen people – God worked among
them. Some rebelled, Some said no
and did their own thing. We see God
working on Jonah, God working with
Noah, God working with Moses,
Abraham, Jacob. We see God
calling Jeremiah –
At the destined moment of human history
Jesus came. Mary was conceived without
sin. It was a heavenly Plan, a Plan
of God in Salvation History.
Jesus came to teach us about His vision,
His love. Jesus taught us. Jesus taught
us about love and His love for us.
He taught us about Sacrifice, the most
pure and holy sacrifice given to the Father,
Himself, His life, how He gave every day,
living in love according to the Father's will.
Jesus taught us about the Prophets on the
way to Emmaus.
Jesus taught –
Jesus came a little King in Bethlehem,
honored by the Kings of the world –
adored – what was important was
Jesus, not riches, not status.
Herod wanted to kill Jesus –
The 3 Kings came to Him in poverty
to worship – The star a sign from God the
Father, the grandeur of that holy event
for mankind.
Every star since hangs in the sky,
a reminder of God's precious light
shining in the darkness on us.
We are so important to the heavenly Father
too. But satan wants us to see through
the eyes of man, the eyes of the world
and miss the heavenly plan of God
the Father.
Let us come before God and worship.
Jesus truly present in the Eucharist, in
the Church in China, the heavenly King,
the world is busy – God calls us to
worship Him – not in Churches of
grandeur, but in poverty and simplicity,
to love Him.
The Kings came to Bethlehem to worship
and adore Jesus. Bethlehem was a stable
of dire poverty - not a castle, not ivory
or gold. The star shown above the crib
and these Kings of the earth bowed to
the Divine King, they followed the star,
their eyes were on the Plan of the Heavenly
Father. They presented the small little
King, the Christ Child, gifts of gold,
franecense and myrrh. They bowed before
God in this poverty, Jesus, the King of heaven
and earth; Jesus the Divine King.
Herod's plan was one of making himself
over at any expense. He was threatened –
his power by anyone in the world over
him.
That is the way of satan - envy - anything
good others do - even according to God's plan –
brings the envious person down, they think.
They are wounded by original justice.
They do not see the dignity of their fellows
and they are envious when others excel.
Jealousy is another one of the wounded
vision. The jealous person doesn't
like a person who looks good. This
is how satan uses people to try to
take out those doing God's work - jealous
eyes!!
We see the pride of Eve in the garden -
She wanted to be equal to God – She wasn't
bowing before God – She listened to satan –
She wanted to be equal to the Divine God.
She wasn't bowing before God in humility.
The man who wants to alter the order
God wants and raise himself above
God and those He places over them
is acting from his woundedness –
rebelling against authority – not bowing
before the King.
Excerpt of The Spiritual Exercises of St. Ignatius, by Louis J. Puhl, S.J. P.60-61


136. THE FOURTH DAY

A MEDITATION ON TWO STANDARDS

The one of Christ, our supreme leader and lord, the other of Lucifer, the deadly enemy of our human nature

PRAYER. The usual preparatory prayer.

window at a former Jesuit Seminary

137. FIRST PRELUDE. This is the history. Here it will be that Christ calls and wants all beneath His standard, and Lucifer, on the other hand, wants all under his.

138. SECOND PRELUDE. This is a mental representation of the place. It will be here to see a great plain, comprising the whole region about Jerusalem, where the sovereign Commander-in-Chief of all the good is Christ our Lord; and another plain about the region of Babylon, where the chief of the enemy is Lucifer.

139. THIRD PRELUDE. This is to ask for what I desire. Here it will be to ask for a knowledge of the deceits of the rebel chief and help to guard myself against them; and also to ask for a knowledge of the true life exemplified in the sovereign and true Commander, and the grace to imitate Him.


FIRST PART

THE STANDARD OF SATAN

140. FIRST POINT. Imagine you see the chief of all the enemy in the vast plain about Babylon, seated on a great throne of fire and smoke, his appearance inspiring horror and terror.

141. SECOND POINT. Consider how he summons innumerable demons, and scatters them, some to one city and some to another, throughout the whole world, so that no province, no place, no state of life, no individual is overlooked.

142. THIRD POINT. Consider the address he makes to them, how he goads them on to lay snares for men and bind them with chains. First they are to tempt them to covet riches (as Satan himself is accustomed to do in most cases) that they may the more easily attain the empty honors of this world, and then come to overweening pride.

The first step, then, will be riches, the second honor, the third pride. From these three steps the evil one leads to all other vices.


SECOND PART

THE STANDARD OF CHRIST

143. In a similar way, we are to picture to ourselves the sovereign and true Commander, Christ our Lord.

144. FIRST POINT. Consider Christ our Lord, standing in a lowly place in a great plain about the region of Jerusalem, His appearance beautiful and attractive.

145. SECOND POINT. Consider how the Lord of all the world chooses so many persons, apostles, disciples, etc., and sends them throughout the whole world to spread His sacred doctrine among all men, no matter what their state or condition.

146. THIRD POINT. . . .


end of excerpt of The Spiritual Exercises of St. Ignatius
R. Jesus came and He walked without
showing His Might. We see the teaching
before the doctors in the temple when
He was 12. He showed His wisdom in
answering their questions. To us it
shows that He was God in the hidden
years He chose to live with Mary and
Joseph – It was part of God's Plan for
Jesus to live this quiet life.
We see the Baptism of Jesus by John.
We hear the voice of the Father
"This is My beloved Son in whom I am well
pleased."
We know the Holy Spirit was seen above His
head.
This reminds us of the great gift of
baptism for us.
We receive a sharing in His life.
Our knowing and loving capacity
is elevated.
God the Father, Son and Holy Spirit remain
in our graced baptized soul. WOW WOW
God dwells in us.
We can see more and more clearly as we are
filled more abundantly with His
life in us.
---
We see His first miracle, the Marriage
at Cana - and Jesus changed
water into wine.
I saw what Mary taught us –
to love Jesus –
to love our brothers –
to live in unity and
to respect the dignity of all men.
But God gives us the Commandments.
God gives us His teachings –
We have the Church, Christ instituted
the Church.
We have the bread of life – the Word
and the Eucharist.
Because of our distorted vision and our
wounded human nature - we
make bad choices –
We act unlovingly –
We don't even see ourselves as
God does –
Fr. Carter said, we would fall over if
we saw our own graced soul.
God calls us and we are to respond to
God's call as He wants us to be –
obedience to God's will.
If we really saw, reality as it is through
God's eyes, we would not stoop to
step on the head of our brother
doing God's will because we don't
recognize our calling and seeing
how precious we are to God.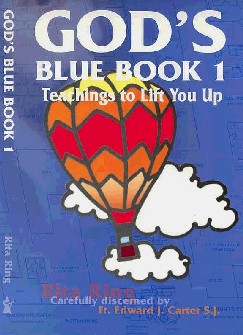 October 3, 1993 Use Your Talents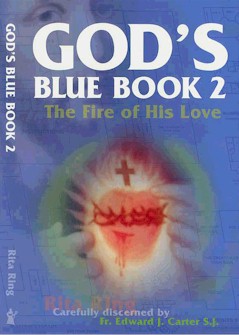 February 17, 1994 Seek True Treasures
R. See through the eyes of God - not distorted
vision –
We don't see as we should –

In the Annunciation we see the angel
appear to Mary.
We see how Mary, the sinless one,
responded.
Mary always did the will of
the Father –
She obeyed the Father's Plan –
She pondered things in her
heart.
Mary, the Spouse of the Holy Spirit.
Mary, full of grace.
Mary, the perfect handmaid
of the Lord.
We see Mary goes to her cousin
Elizabeth. We see the picture
unfolding through the eyes of God.
Elizabeth is old, Elizabeth thought
barren and yet she is carrying
John the Baptist, who is to prepare
the way for Jesus.
John lost his head – Jesus
is the head – John said I must
decrease, He must increase –
John lost his head.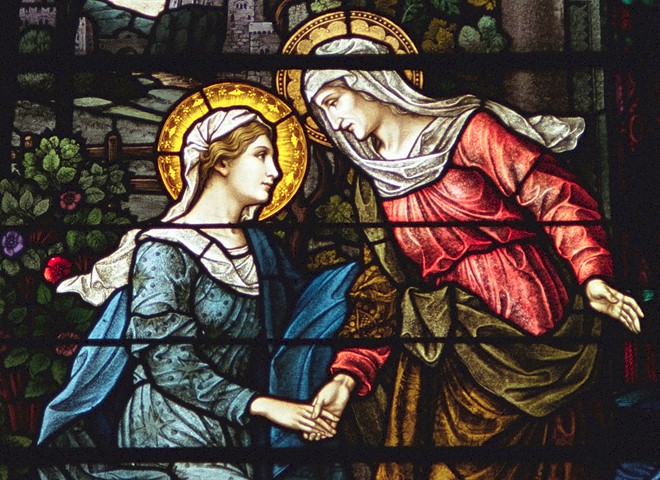 R. In the Visitation Mary is filled
with the Holy Spirit – she is carrying
Jesus in her womb –
She cries out the Magnificat –
Vision - she gives us vision in this
She speaks of generations –
She sees salvation history, the Plan
of the Father, she sees herself
in the eyes of God –
she is under Him –
she rejoices in her place –
she is open –
she is His instrument –
the Holy Spirit speaks through her –
We see Elizabeth recognizes
Mary and Jesus - even John
in her womb jumps for
joy –
The vision is not on the worldly
eyes - it is the vision
of the heavenly Father.
Call - Response according to God's will
Call - Response → Mary
Call - Response → Elizabeth
Call - Response → John
Perfect obedience to God –
Perfect adherence to the will of God,
in love –
Dignity!!
Jesus is born in Bethlehem –
The census brings them to Bethlehem
Jesus comes from the house of David!
The animals adore the Lord –
The Shepherds –
Jesus sleeps on hay
The angels sing –
The Presentation in the Temple –
Simeon tells Mary of the
sufferings to come –
Jesus shows His wisdom in the
temple –
He tells us He must be about
His Father's business,
but He goes down and is obedient
to Mary and Joseph.
A sign for us about His Divinity.
We see the Marriage at Cana as
the beginning of His public life.
And we see Jesus call the Apostles,
work in this community,
eat with them, sleep with
them, spend time with them,
working miracles, teaching
them –
What a gift He taught
them for 3 years to be
able to see God's Plan
for us and we live
by His teachings today!
Jesus is the way, the truth and the life!!
We see a sign of His glory in the
Transfiguration –
Here He shows the 3 apostles
who will be sleeping in the
garden –
a sign of His glory –
And the Father speaks
"This is My beloved Son, in
whom I am well pleased,
Listen to Him"
The Father says now –
Listen to Him –
After so many teachings – the
Father tells us to listen to
Jesus –
We have the Last Supper –
the Apostles are gathered
and Jesus teaches them –
"Do this in remembrance of
Me"
Jesus gives us His Body and His Blood
to eat and drink –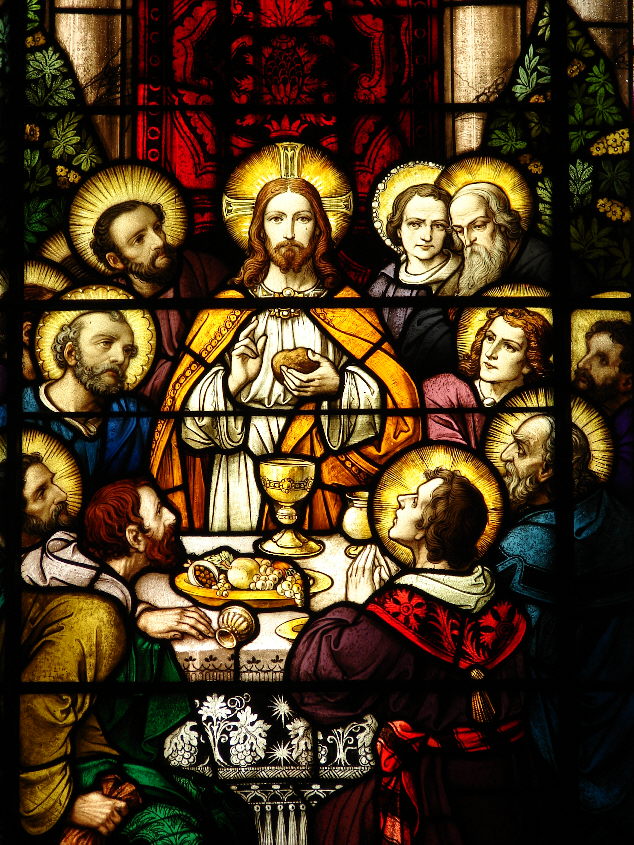 R. Jesus is God –
He did the Father's will –
He allowed Himself to be apprehended
Excerpt from May 9, 1995 Rosary

The Agony in the Garden

1. Jesus: My dear ones, you do not understand how I suffered in the Garden such intense agony to My Most Sacred Heart for the precious souls. Each and every soul I love with the deepest love, I gave My life for you.
end of excerpt

R. He knew in the garden all the
sins of men and the ages to
come of disobedience and
the souls that would be
lost and
He suffered for us to help us
in our role today in
salvation history!
Jesus enlists our help!
Jesus wants us to focus on
the heavenly Father's
vision, His Plan
Not see ourselves as needing recognition
from the world –
but focused on God's vision and
our plan in salvation history.
He gives us our bodies here to help us
do it. Our bodies are not the
end – It is to purify our hearts,
to advance in the spiritual
life - to be more and more in
the image of Jesus.
Excerpt from May 9, 1995 Rosary

Scourging at the Pillar

8. Jesus: Pray for healing and for grace to rid yourself of any debris in your heart that keeps you from union with Me. Any person that you hold a grudge against, any anger or resentment on your part that you harbor in your heart, will keep you from union with My Heart. My Heart is a Heart of Love. You cannot unite closely to My Heart when your heart is angry. Pray for the grace to let go of any anger, resentment, unkindness that you have toward any man. end of excerpt

R. They whipped Jesus' body – He
suffered lacerations for
our sins – beatings to His
body for our pride and envy and
jealousy and anger and slothfulness.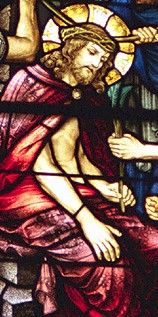 Given November 10, 2013
R. Do you know how tender is your
head - with hair –
a pin prick in the head
is so painful –
pulling the hair –
What about nerve endings,
What about a small paper cut –
a cut in ones chapped hands
by the fingernail –
Blood is right behind the open
cut –
There is such a gift in
sensitivity behind the skin –
The face is our precious gift –
If someone does anything to the
head, the face, it is so
offensive to us –
In our face is our eyes –
In our face is our mouth –
In our face is our smelling –
In our head is our ears –
Behind the head of hair we
find the brain –
We use our face to show
ourselves to others –
We take pictures of our face –
We can smile with our face
to the world –
We can cry and see and show emotions
with our eyes –
Our head is so important –
Christ allowed His head to be
crowned by human men –
Christ allowed them to pound
thorns into His skull –
Christ was whipped on His eyes –
punched and kicked in His
Head and face –
Christ was bloodied in His mouth –
teeth going through His lip –
Bloodied nose –
Lacerated face
Christ suffered to His face
and head for love of us –
Christ gave His all to us –
Now He gives us His Body
and Blood in the Mass –
Christ loves us so much –
Christ wants us with Him
in heaven –
We have a wounded human nature –
Christ is showing us we
must recognize our
fallen human nature –
and be converted –
Pride keeps us from this –
Jealousy keeps us from this –
Anger keeps us from this –
Envy keeps us from this –
Slothfulness keeps us from this –
What a price Christ paid for
our sins of pride, envy,
anger, slothfulness, greed –
Jesus loves us –
to His death on the cross
He loves us –
He is the teacher –
He teaches us about love –
He teaches us about Himself –
He teaches us about doing the
Father's will –
God commands us to love

Matthew 22: 36-40

'Master, which is the greatest commandment of the Law?' Jesus said to him, 'You must love the Lord your God with all your heart, with all your soul, and with all your mind. This is the greatest and the first commandment. The second resembles it: You must love your neighbour as yourself. On these two commandments hang the whole Law, and the Prophets too.'
R. God is love –
We were created in God's
image and likeness

Genesis 1: 26-27
God said, 'Let us make man in our own image, in the likeness of ourselves, and let them be masters of the fish of the sea, the birds of heaven, the cattle, all the wild animals and all the creatures that creep along the ground.'

God created man in the image of himself,
in the image of God he created him,
male and female he created them.
Song: Give Me Your Heart Oh Jesus
end of excerpt
November 11, 2013 continues
R. Jesus was crowned for our pride,
our anger, our jealousies and
envy –
Jesus suffered Blood to His
eyes for our mistakes
in worldly, jealous
prideful eyes!
Excerpts from May 9, 1995 Rosary

Crowning with Thorns

1. Jesus: You do not know how important your prayers and sacrifices are for souls. There are souls that are on their way to eternal damnation, souls that will die this evening and will be condemned forever and ever to the fires in hell. My children, how I love each precious soul. How important your life is, every action that you perform offered to the Father in union with the Mass.

3. Jesus: I give to man a free will. This is love. Heaven is a reward promised to those this day.

6. Jesus: I am the Way, the Truth and the Life. I came to show you the way. It is in meditating on these mysteries of the rosary that you will be drawn ever closer to My Heart.

7. Jesus: This rosary is My gift to you, My beloved ones, given from the Hearts of Jesus and Mary. I want to be close to you. I outpour to you My abundant love. I love you! I love you! I love you!

8. Jesus: Let go of all pride in your heart. Come to Me with a heart of a child, pure and kind. Let go! Your life is so short. Here today - gone tomorrow. Love, Love, Love.
Carrying of the Cross

8. Jesus: As I walked every step of the way with the cross on My back My thoughts were of you. I fell under the weight of the cross. How I love you. To My death on the cross I loved you. I am telling you from My burning Heart on fire for love of you.
end of excerpts
Stations of the Cross
February 22, 1995
1. Jesus Is Condemned to Death

Jesus: My dear child, with angry hearts and hatred on their faces, they poked at Me and condemned Me to death. I stood so silent, My hands tied, in perfect peace, because I knew the Father's love. I knew the Father's Will. You too will stand your trials in perfect peace, the more you realize the immense love the Father, Son and Holy Spirit have for you. Pray to the Spirit to transform you more and more into My image and, through this transformation, you will be led ever closer to the Father. Oh, how I love you!


2. They Give Jesus the Cross

Jesus: They gave Me a heavy cross, laden with the sins of the world. They placed it on My shoulder. It was so heavy I felt as if My shoulder would break. I ask you to carry little crosses, to experience little pains. I could not remove this cross from My shoulder. The weight was unbearable. It is through My suffering and death that you receive new life. It is through your sufferings this day that you will grow in your life with Me. Oh, child, I loved you so much that I took up the cross of salvation. I love you. Please realize that I am talking to you here. To My death I loved you. Oh, how I love you!


3. Jesus Falls the First Time

Jesus: The cross was so heavy I could hardly walk. I held on to My cross for greatest love of you and in compliance with the Will of My Father. It became so hard to walk! The cross was so heavy! I fell. I fell and the cross fell on Me. They poked at Me, they struck Me, they demanded I get up. The pain from the instruments they used to poke Me and strike Me was so great! I somehow managed to get up.

When you fall under the weight of your cross, come to My Eucharistic Heart. I am no less present in the tabernacle and in the Eucharist than on the day I carried My cross. I wait with the same love that I had for you when I carried this cross and suffered such agony. Oh, how I love you!


4. Jesus and Mary Meet

Jesus: I saw the face of My beautiful Mother. She was weak, her face reddened and full of tears. I saw her tender heart, her love, her anguish, her pain. I saw My dear Mother Mary. My Heart was comforted by the sight of her, but torn by her suffering.

Mary: As I looked into the eyes of my beloved Son, I saw His love. His head, bleeding and wounded. His body weak. His clothes covered with blood. I looked into His eyes and I saw His love for you. I call out to you today. I appear today with a face full of anguish and tears. I appear to call you back to the love of my Son. See through my eyes, as I peer into His eyes, the love He has for you this day to give of Himself for you. Oh, He loves you so much, my little children. See through my eyes the love of my Son. Oh, how He loves you!

5. Simon of Cyrene Is Forced to Help Jesus Carry His Cross

Jesus: The cross was so heavy I could not move. My persecutors became angry and forced a man to help Me. The cross was so heavy the two of us could barely move it. How is your cross today? Does it seem so heavy you cannot go on? I am forever watching you. When you are suffering the greatest, I am very close to you. It is in immense suffering that you realize My great love for you. Pray for grace to do always the Father's Will. Pray for grace to grow in your knowledge and love of Me.

6. Veronica Wipes the Face of Jesus

Jesus: My face was covered with blood. From the crowd Veronica came forward with a cloth to wipe My face. On the cloth I gave to you an imprint of My bloodied face. This, My children, remains with you this day as a sign of My immense love for you. But more than any cloth, look beyond the visible consecrated host. I, Jesus Christ, the Son of God, remain with you, Body, Blood, Soul and Divinity, in the Eucharist this day, waiting and longing to be with you. Oh, how I love you!

7. Jesus Falls the Second Time

Jesus: Oh, dear ones, the road became harder and harder to walk. The cross was becoming heavier, My body weaker and weaker. My shoulders and arms hurt so much! My head throbbed as I walked. The blood came from My body, from My head to My feet. I was covered with open wounds. I could not go any farther. I stumbled and fell. Again they poked at Me, only harder, and with such hatred they kicked Me. Such vileness in the hearts of men! My greatest agony was not the agonies of My body, but the agonies of My heart for the love I have for all My precious souls. I loved them so dearly. I loved those who persecuted Me. Oh, how I love you!

8. Jesus Meets the Women of Jerusalem

Jesus: The women came to Me with their children, their tender hearts crying and wanting to comfort Me. I saw their love, their care. I saw the coldness of men's hearts for all time, the hatred, the anger, the sins, all the souls that, despite all of My sufferings and death, would be condemned to eternal damnation. I told the women to weep not for Me, but for themselves and their children. My greatest agonies were the agonies of My Most Sacred Heart. Oh, how I love you!

9. Jesus Falls the Third Time

Jesus: I fell hard the third time. I was so weakened I could not go on. My body collapsed under the cross from such exhaustion! My child, My child, My greatest agonies were not the wounds to the body. They were the wounds I experienced to My heart. Do you know a little more now how I love you? It is in meditating on My Passion and death that you will realize My immense love for you. When you fall, when you struggle, I give you the grace to get up. I never give you more than you can handle. Your strength will come from Me. Come to My Eucharistic Heart. I am waiting for you this day. Oh, how I love you!

10. Jesus Is Stripped of His Garments

Jesus: They took Me to the hill to crucify Me. They angrily stripped Me of My garments. They took off My clothes to whip Me. They had covered My bloody wounds with a dirty purple robe. Now, total surrender-they took off My clothes. I showed you the way to surrender, always complying with the Will of the Father. It is in living in His Will that you will have peace and joy, and life eternal some day. Oh, how I love you!
11. They Nail Him to the Cross

R. See Mary as she holds the little Baby Jesus. See her as she washes His tender hands and feet. See her now as she watches as they pound into those same hands and feet the gigantic nails that fix Jesus to the cross.

Mary: Oh, my dear ones, my heart was torn in my chest as they nailed His hands and feet to the cross. I ask you this day to walk the Passion with me and see through my eyes the love He has for you. He truly was nailed to the cross.

Jesus: They pounded the nails into My first hand, then they stretched My body and nailed My other hand. The blood poured from these wounds that went totally through My hands. My pain was so immense, but then they nailed My feet! You do not know what pain I suffered, My child. My children, My children, for each one of you I suffered this pain. Oh, how I loved you!
12. Jesus Dies on the Cross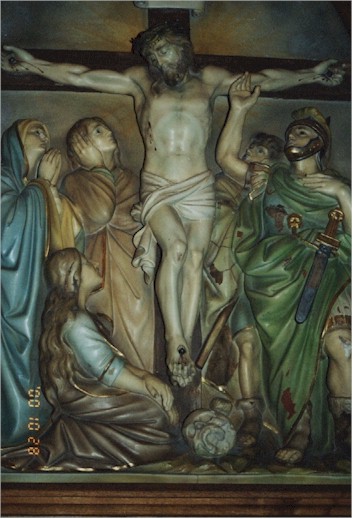 (Silence.)

R. He hung for three agonizing hours on the cross against the darkened sky. His greatest agonies were not the agonies of His body, but those of His Heart for the great love He has for each and every soul.

Jesus: I gave Myself to you, My dear ones. I gave My all. I hung with My arms spread in total surrender. My head was punctured; My hands and feet were nailed to the cross. I gave Myself to you. I give Myself to you this day in the Eucharist. I give Myself to you. I, God, give you Myself! What more do you want?

Song: Oh, burning Heart, oh, Love divine, etc.

R. They pierced His Heart with a lance and what flowed forth was blood and water, the sacramental life of the Church, water for Baptism and blood for the Eucharist. His life, death and resurrection live on in the Church this day.

13. Jesus Is Taken Down from the Cross and Placed in the Arms of His Mother

R. His totally lifeless body was placed in the arms of His most loving Mother. As she had held the little baby body in her arms, she now received His bloodied, bruised body in her arms. This is how He obeyed the Father's Will. Jesus gave His life for us. The Father gave His only Son because He loves us so much. Mary, His Mother, our Mother and the Mother of the Church, is forever by His side. See Jesus in the arms of His loving Mother under the cross. This is love.

Mary: I held His lifeless body in my arms. See through my eyes the love He has for you this day. He gives Himself to you today in the Eucharist. He loves you so much!
14. Jesus Is Locked in the Tomb

R. His enemies rolled the stone up to the tomb and were pleased to have buried Jesus. Mary, outside the tomb, wept bitterly. The cold reality that He was dead! But death has no power over Jesus for on the third day He rose, triumphant, from the tomb! We are partakers in His divine life. Death has no power over Jesus. He is with us this day. He comes to bring us life to the full. He loves us so much!
Jesus appeared when I received this.
A person's own acts seem right to the doer, but Yahweh is the weigher of souls.