Nov. 13th - Mass 11:00am
Please tune in!

November 12, 2012
R. The power of word
over the power of
the sword —
Religious Freedom
Non-violent way
The way of love
Ezekiel 34: 11-16
"For the Lord Yahweh says this: Look, I myself shall take care of my flock and look after it. As a shepherd looks after his flock when he is with his scattered sheep, so shall I look after my sheep. I shall rescue them from wherever they have been scattered on the day of clouds and darkness. I shall bring them back from the peoples where they are; I shall gather them back from the countries and bring them back to their own land. I shall pasture them on the mountains of Israel, in the ravines and in all the inhabited parts of the country. I shall feed them in good pasturage; the highest mountains of Israel will be their grazing ground. There they will rest in good grazing grounds; they will browse in rich pastures on the mountains of Israel. I myself shall pasture my sheep, I myself shall give them rest–declares the Lord Yahweh. I shall look for the lost one, bring back the stray, bandage the injured and make the sick strong. I shall watch over the fat and healthy. I shall be a true shepherd to them."
R. God has given us so many
talents
They are from God and
we must thank Him and
use them —
God has a Plan for us.
We are all to be
great in His eyes
in following His
Plan —
We look at the person
we are and
we look at the person
God wants us to be —
We want to be great in
God's eyes —
Doing exactly what God
wants - not holding
out some for our
own control —
Total Consecration
Seeking God's will —
Putting on Christ —
Living as He desires
us to live —
Being as He wants us
to be —
We see ourselves as
loved by God
We see ourselves
doing God's will —
We know He wants us
to do this work —
It's not about us —
It's seeing through the
eyes of God what
our part in His
Plan is —
It's putting Jesus
first —
Not having low self-
esteem —
Knowing God in relationship
Loving God
Giving love to the souls
He died for —
One precious soul going
to heaven means
so much to God.
We pray for healing
in relationships
that hurt us —
We don't settle in
punishing others
or acting addictively
when the pain
comes up —
Or controlling others to
guard our pain —
Or manipulating others
for our loss of
power in other
situations and the
need to get it back —
We know God is with us —
Our strength lies in
knowing this
centered, rooted
in God in our hearts
Being a child of God —
Knowing the world needs
us thinking of the
children of this earth and
not being selfish,
but living strongly
in Jesus —
Putting on Christ —
Living His will —
Living more as the Father intended —
Jesus: I am the way, the
truth and the life —
R. There is one truth —
To follow Jesus —
We need to work through
relationships - deaths,
betrayals
or a person can keep acting
out on others —
being in a mode
of projection —
Turning others into our
unfinished play —
Same play —
new players
Working out the drama
of our wrecked
relationships on
other innocent people —
A person using passive-
aggressive attacks —
most of the time,
does not validate his
behavior or
come clean —
Luke 17: 1-6
He said to his disciples, 'Causes of falling are sure to come, but alas for the one through whom they occur! It would be better for such a person to be thrown into the sea with a millstone round the neck than to be the downfall of a single one of these little ones. Keep watch on yourselves!

'If your brother does something wrong, rebuke him and, if he is sorry, forgive him. And if he wrongs you seven times a day and seven times comes back to you and says, "I am sorry," you must forgive him.'

The apostles said to the Lord, 'Increase our faith.' The Lord replied, 'If you had faith like a mustard seed you could say to this mulberry tree, "Be uprooted and planted in the sea," and it would obey you.
R. In the Gospel, it says
the person returns
to say they are sorry —
The passive-aggressive
person can manipulate and
attack to act out
on another they have
justified, whether true
or not, that they
can wage a war on
them for their anger —
They are led by their
anger and they can
project that on an
innocent other —
priding themselves on
their meekness and
ability to be in
control themselves —
Anger like a hungry dog
in the basement
that builds up and
then they attack
passively for a
reaction.
For the passive-aggressive person
wages a war on another
they hold responsible
for their anger, whether
it is true or not, they
have justified why they
deserve their anger,
the person being acted on
has a problem if they
are in any way vulnerable
to the passive-aggressive attacker.
If the passive-aggressive person
can control money,
information, files, materials,
contacts, they can withhold
what is needed to passively
attack the other where and
when it will hurt them the most.
The passive-aggressive person
prides themselves on not losing
control while they provoke
others to act out their anger
and lose control. The purpose
of the passive-aggressive person
who is sad and angry gets
relief in power over others.
The passive-aggressive person
is relieved when they reach
their mark, of trying to get
another to lose control, thus
it is called passive-aggressive
because they passively and
many times in secret attack
or provoke.
Passive-aggressive actors
procrastinate, hold out, make others
wait, lie to manipulate
in whatever way they need to,
to get a reaction —
The passive-aggressive needs
relief from their
anger - so they like
the vulnerability of those
they are attacking, with
money, services, information
then they hit when it
hurts most for satisfaction
of watching the other
react to their under-handed
attack —
The purpose of the passive-aggressor
is to control, to punish,
to watch others act
out their anger —
It is the most difficult to
deal with, for it is rooted
in provoking secretly many times —
the purpose is to stir up,
to act out their own
aggression, Jesus says —
"I am meek and gentle of Heart"
"I am love"
Jesus: The passive-aggressive
attacker gets worse and worse
for many times they lie to themselves
about their anger and their offenses
of being unloving —
So they go deeper and deeper
into their vices and more
adapt at these, then in
loving which would draw
them closer to Me, who
is the source of love —
The attacks that are passive becomes
more hidden and the
procrastination becomes a
way of life to them —
When they feel anger raising —
they project that in
negative ways on their
surrogate partner — they
believe - who deserves the
war they have against
them —
The model for the passive-aggressor
is satan who is relentless,
secretive and has a negative-
energy likened to the serpent
in the garden who never
let up on Eve —
A person consumed with
pent-up anger does not
want to see their victim
free, doing good, or
engaging with others
in simple conversation —
They are possessive and
wishing to discredit the
other for their own
disgusting anger held
onto from another or
others in their past —
God the Father allowed Mary to appear
at Fatima with this
message
1) Conversion
being more and more
in My image
and likeness
2) Reparation to Our
Two Hearts
3) Devotion to Our Two
Hearts of Pure and
Perfect love
4) Praying the Rosary
A person who procrastinates
to punish another —
who is stiff with anger
breeds a negative spirit
when they are attacking —
My 13ths and 5ths were called
by Me to bring to China and
Florida people to experience
the unity and love of the
2 Hearts —
The working of the Holy Spirit —
The unity in prayer of those
dedicating their lives
in Consecration to Our
2 Hearts —
A person attacking passively
challenges authority
because they need to be
up and put others down —
1 Corinthians 15: 20-28
In fact, however, Christ has been raised from the dead, as the first–fruits of all who have fallen asleep. As it was by one man that death came, so through one man has come the resurrection of the dead. Just as all die in Adam, so in Christ all will be brought to life; but all of them in their proper order: Christ the first–fruits, and next, at his coming, those who belong to him. After that will come the end, when he will hand over the kingdom to God the Father, having abolished every principality, every ruling force and power. For he is to be king until he has made his enemies his footstool, and the last of the enemies to be done away with is death, for he has put all things under his feet. But when it is said everything is subjected, this obviously cannot include the One who subjected everything to him. When everything has been subjected to him, then the Son himself will be subjected to the One who has subjected everything to him, so that God may be all in all.
Jesus: I am the head of the body —
A person involved in building
My Kingdom is focused
on Me — they live to
serve Me — They live to
"put on Christ"
They live in the Holy Spirit —
They have a relationship
with Mary, their
spiritual Mother —
Their system of operation is
rooted in Christ, not
in their dysfunction,
the dysfunction of
their family and wanting
to mold all systems
like that dysfunction —
not My system —
Their life is lived to
remain the same and
make others fit their
mold —
They attack passively
and pride themselves on
never losing control —
They are angry, but act
out their anger
provoking others to
lose control.
You are to be witnesses
of hope —
Of opening your arms
as I did on the cross —
to the whole world —
of never lying as many
do to build satan's
kingdom —
Attacking in secret to act
out anger in oneself —
I read the hearts —
The passive-aggressor sees
through eyes of putting
oneself up and all others
down and
those who pushes down
are to come and tell
him how good he
is so he feels better —
The passive-aggressor
is focused on attack and
he sees distortedly —
with tainted vision —
he justifies
why in his wrong
behavior
he is right and justified —
his anger is so great inside
he wants to destroy or
take out —
And yet he lies to himself
about his bounded,
angry heart and tells
himself he is a
man of integrity —
He expects others he abuses
to come and tell him
of his goodness —
Passive - aggressive
people get worse and worse
in their sorted
behavior —
If they procrastinated for a
month - it is nothing
to hold out what
is needed —
2 months —
3 months etc. —
as long as they are hurting
and stopping the
building of My Kingdom —
Their negative energy is fueled
by satan —
like pride and anger and
envy, greed —
there is a destructive
energy - fueled by
satan —
Satan is relentless — he wants
war — he wants division —
He wants hearts of hate
that say - I will
not love —
I will not serve God —
I have given you the Holy Sacrifice
of the Mass to fight
satan and his attacks —
Members of the body of Christ
are to say their Morning
Offering —
Praying the rosary, not with
a prideful heart, but a
heart of love and peace —
And they conquered him (satan)
with the blood of the Lamb —
Mary said at Fatima
(1) Consecration
(2) Conversion
(3) Reparation
(4) Praying the Rosary
---
Mary appeared in Clearwater and gave
this message —
When Mary appears you are to
listen to her, it is a
great gift from God —
Only in holiness, can
you fight satan —
The bloodshed in the Church
will continue unless
the messages of My love
will circulate —
No man is an island —
A man that stays locked in
a tomb of doing his
own will —
not only hurts those
he touches, but
his choice is to hold out
when he is called to obey —
to serve God —
Satan said "I will not serve God"
When you give into this
punishment to manipulate
and block God's Plan to
reach the world with
the consecration and these
messages —
you have hurt lots of
souls - I died for —
I came to this earth to
teach love —
I know your heart and it's
ways —
I died for your sins —
I was beaten for your
lies and My flesh
torn from My body —
My head pounded with
thorns.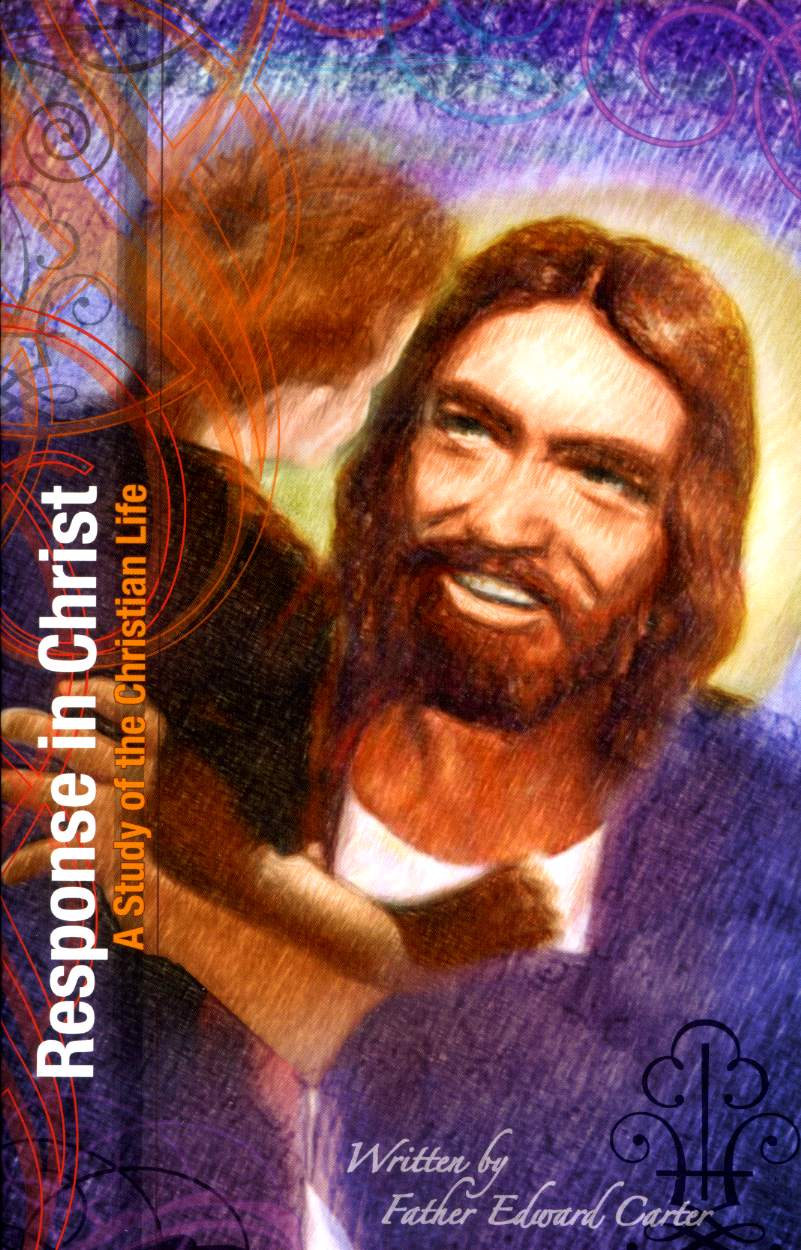 Excerpt from Response in Christ by Fr. Edward Carter, S.J.
e) Relationship with Members of the Church

There is but one true Church of Christ. Yet this one Church has three different states of existence. There is the pilgrim Church, the Church of this world, composed of members who have received the grace of Christ and strive for its development. They have not yet obtained the goal of their efforts, as have the members of the heavenly Church, who enjoy God in eternal happiness. The Church suffering is an intermediate state of existence necessary for those who had not achieved the required purification as members of the pilgrim Church. Although there are these three phases of the Church's existence, there is a profound union existing between all the members. All these members possess the same basic life of grace in Christ, and this common life establishes the most intimate bonds of love. In our preceding chapter, we discussed the pilgrim Church. Let us now consider the Church suffering and the heavenly Church.

The members of the Church suffering are those who have departed from this life in an incomplete state of Christian development. Their development is incomplete in the sense that grace has not fully taken possession of them, and, as a result, they are yet closed in upon themselves to a greater or lesser degree. They as yet cannot open themselves out in complete love to the Triune God in the beatific vision. They must undergo a further purification, a purification which could have been achieved upon earth with merit. Now the purification must be achieved with no merit attached. The pain of this purification is mixed with the certain expectation of achieving the vision of God. We can hasten the advent of this vision for this people by the offering of prayers and other good works. Scripture itself refers to our action on behalf of those in purgatory in Chapter 12 of the Second Book of Maccabees beginning with verse 38.

The members of the heavenly Church are those in whom the life of grace has taken full possession and has reached its completion in the life of glory. Faith now is unnecessary, as the light of glory gives the human intellect a new strength and capacity for seeing God face-to-face. While the Christian was a wayfarer, he received the imprint of the indwelling Trinity as he shared in God's own life. Now in heaven that grace-life and possession of God reaches its completion—the absolute completion is not achieved, however, until the resurrection of the body. The divine persons give Themselves to the beatified in a profound union far surpassing that of the indwelling of the Trinity experienced here below.

This life of heaven is still the Christ-life, for just as we possess a share in Trinitarian life here below as mediated by Christ, and exercise this grace-life as structured by Him, so also in heaven is the mediation of Christ present. In the words of Rahner, "One always sees the Father through Jesus. Just as immediately as this, for the directness of the vision of God is not a denial of the mediatorship of Christ as man."14 And not only does the humanity of Christ unite the blessed to God, but also, in some way, to the whole of creation. This is merely a completion of what is begun here below, namely, the union with Christ in His humanity establishing the Christian in a special relationship with God, with other men, and with the whole of creation. We have a glimpse, therefore, of the fullness of life which members of the heavenly Church possess.

The heavenly Church, as St. Thomas says, is the true Church.15 The Church of this earth and the Church of purgatory are, each in its own way, reaching out in loving hope for the heavenly Jerusalem. Vatican II puts it very simply: "The Church, to which we are called in Christ Jesus, and in which we acquire sanctity through the grace of God, will attain her full perfection only in the glory of heaven."16

The members of the heavenly Church can help us in living our life of grace until we too share its fullness with them. Their power of intercession on our behalf is but another ramification of the communal aspect of Christianity. We are meant to help others grow in Christ. We, in turn, are intended by God to receive aid from others—yes, from members of the heavenly Church, as well as from those with whom we dwell here below.

Not only can we be aided by the saints' intercession, but the example of the canonized saints can also be of great value to us. They have concretely proved that full holiness is possible. Such an inspiration is of real worth when we are tempted to think that Christian sanctity in its higher degrees is impossible of attainment. Moreover, the canonized saints, in their diversity, teach us that there are many authentic versions of Christian holiness. They can be innovators in showing us that there are numerous possibilities in assimilating the mystery of Christ, although the basic assimilation remains the same for all Christians of all times. In the opinion of Rahner this is one of the chief roles the canonized saints exert in the life of the Church.17

---

NOTES:

14Karl Rahner, Theological Investigations, Vol. III (Baltimore: Helicon, 1967), p. 44.
15 Cf. St. Thomas Aquinas, In Ad Ephes., c. 3, Lect. 3.
16Second Vatican Council, Constitution on the Church, No. 48.
17Cf. Karl Rahner, Op. cit., pp. 100-101.
Jesus: You will suffer for your
sins —
I give you My
Blue Books —
My Writings
My Mass Book —
My messages of love
I enter your body on
your tongue —
Let the sweetness of
your heart
consume your
soul —
Let you walk in the
way of God —
Walk in My footprints —
Lest your foot slip
and you fall in
a pit of destruction