November 2, 2012

Rosary in the Afternoon
Transcribed Live from a tape

Clearwater, Florida
R. In the name of the Father, the Son, and the Holy Spirit. Amen.

Dear God the Father, in the name of Your Son Jesus, in the Holy Spirit, with all the angels and the saints and the souls in purgatory, through the powerful intercession of Our Lady of Clearwater, we are here to pray as God has asked us to, for this election, to pray for our country, to ask that the blood of Jesus is spread on all these people, to consecrate their hearts, to cast the devil out, and to ask for a special outpouring of the Holy Spirit. We pray for all of us. We pray for all of our members and our donors. We pray for their families and anybody that touches them. We pray for special healing, pray for Mike, pray for Dan, pray for Catherine and her husband. Pray for Jimmy, pray for all the people that we promised to pray for, and have asked us to pray for them, pray for Don.

We ask you dear Lady, Queen of Peace, that you will please hear the prayers that Jesus has asked me to come and to do here. We want to be united to the Masses going on around the world. The Mass is the sacrifice of Calvary sacramentally made present. And so we focus on the gift of Jesus who died on the cross for our sins. We focus on this special day, the Feast of All Souls, and we thank You dear Jesus, for dying for our sins. We thank You dear Jesus for the gifts that You have given to us and we ask You please, that graces be outpoured to souls in purgatory, that as we pray here, that they may know eternal rest in Your heavenly Kingdom.

Dear God, forgive us for our sins and help us to be one. Help the Church and the world and the individual Christians to be more and more in that image of Jesus. As the Incarnation goes on in us, let us realize that the great message that God has given to us, the message of how Our Lady is so important in our lives, in the life of the Church, in the life of the world, that the individual Christian, the Church and the world is in the state of becoming. And so we ask you, Our heavenly Mother, Queen of Peace, Our Lady of Clearwater, to wrap your arms, your mantle around us, that as we go to the Immaculate Heart of our Spiritual Mother, that the Holy Spirit indeed will outpour, will shower His graces upon us, for all of our needs, that the will of God be done on this earth as it is in heaven.

Dear God, we are sorry for our sins, we are sorry for those that have not understood in the Church and in the world, how important the role of Our Lady is. That she is the Mother of the Church, that she is our heavenly Mother, that as we go to the Immaculate Heart of Our Mother that the Holy Spirit works more and more, forming us in that Christic image, for which the Church and the world and the individual Christian exist for.

Dear God, it is a pilgrim Church. Dear God, as we look to the world, we see all the secularism and the killing of the babies, the killing of the babies in the womb of their mother, the tearing of the arms and their legs and their head in abortion. And we cry out to you in great pain to hear our sorrow, as Mary has appeared to me since 1994 - 18 years, with these messages. The messages that God wants us to do today are found in the Blue Book 9. It's actually a rosary that I was given in front of the Blessed Sacrament on October 13, 1995, in Jackson, Michigan. In doing this retreat and meditating on the Joyful Mysteries now, we begin.

Song: The Rosary Song

R. And we pray dear God, please look into our hearts and hear our plaintiff cry, for our country, for this election, that Thy will be done on earth as it is in heaven. Please dear God, hear our prayer, please dear God, please dear Jesus, You have called us here to this building in Clearwater to pray, where Our Lady appeared as Our Lady of Clearwater. Please heavenly Mother, intercede for us to God the Father, Son and Holy Spirit, to forgive us for our sins, to help make reparation for our offenses against God and to look upon those in the country that are trying to raise their families, that are trying to be united, that are trying to live and do what God wants, even though they may not do it perfectly, but their hearts are willing and open and wanting this country to be the land of Our Lady, the land that God wants it to be. Dear God hear our prayer.

The Nicene Creed

R. For Our Holy Father

R. For Faith, Hope and Charity

R. And I want to pray for Betty, and for Sophie and for Jerry's mom. Glory Be

Sing: Ave, Ave, Ave Maria

From the Rosary of October 13, 1995 -

Jackson, Michigan - Before the Tabernacle

Joyful Mysteries

The Annunciation

1. R. Put yourself in the presence of Almighty God. Jesus is truly here, in His Divinity and humanity, no less present than the day He walked this earth and He is longing and thirsting and waiting for us to open our hearts and to join ever closer to His Heart in such oneness. He longs and thirsts for our love. He wants us to come to Him with hearts that are burning and in love with Him. Think of this: think of Jesus hanging on the cross, His head crowned. His arms hanging from the nails covered with blood. This is love: that He gave Himself on the cross and that He gives Himself to us this day and remains with us here in this room, the same Jesus that we know in the Scriptures, the same Jesus that walked the earth is here in this room!

R. Let us feel the presence of the Almighty God in this room and within our hearts for when we are baptized and in the state of grace the Father, Son and Holy Spirit dwell within us. Let us feel this presence and open our hearts wide to feel the graces that He is giving to us as we are present before the tabernacle. (And this was 17 years ago.)

2. R. My dear Jesus, how tenderly I love you, to give me these great gifts! Let us put ourselves in the room with Mary at the Annunciation. The angel appeared to Mary. Mary was a young virgin. Mary loved the Father so dearly and wanted only to please her beloved Father. And, the angel came to Mary and Mary said "yes" to the angel to be the Mother of God.

3. Luke 1: 35 The angel answered, 'The Holy Spirit will come upon you, and the power of the Most High will cover you with its shadow. And so the child will be holy and will be called Son of God.

4. R. This day, October 13th, is a very, very special day for the Blessed Mother appeared at Fatima and gave to us such promises on the 13th. Mary is our Mother at our side, our spiritual Mother with us at every moment. I think of how many times we go through the day and we feel so alone sometimes and then we focus on our Mother, so loving. As she walked beside Christ all through His life, she walks with us in this valley of tears and in our joy she is constantly there.

Feel her with us this evening and in this rosary and be more aware of her motherly presence within us and that she is guarding us and protecting us with her mantle. Let us surrender at this moment to the Hearts of Jesus and Mary. We see the statue of Jesus and Mary. Jesus wants these images in our homes and Churches and schools. We see Them in the pictures, with Their hands beside Their Hearts, the Hearts of love. It is not a lip service love that Jesus and Mary speak about but a love that comes from our heart. Let us lift our hearts in deep love to the Almighty God. God in all of His goodness, created us in His image and likeness and loves us with such love.

5. R. How tenderly we are loved?

end of excerpt

November 2, 2012 continues

6. Song: A Song from Jesus

Mary: I am Our Lady of Fatima in the Americas and Jesus has called you here to pray this day, to pray for your country and for the election, to pray for the babies that are aborted, the babies that are torn from their Mother's womb. For it is so offensive to God what has happened and the way that many have treated the commandments of God, the way that they have disrespected the great gifts that God has given to them, the secularism. And I call to you as Our Lady of Fatima in the Americas, Our Lady of Clearwater to hear my prayers this day. And I will pray with you my children, but you must keep your focus on Jesus, meditate on the mysteries of the rosary, meditate on the mysteries of the rosary and see that connection in the relationship and Our love, the love of my Immaculate Heart, the love of Jesus' Sacred Heart, the interaction, the relationship, the relationship in love for you. Come to my Immaculate Heart, that you will dwell most abundantly in the Heart of Jesus, for I will take you to His Heart and you will know peace, love and joy. And to those that add to the confusion, to those that are pompous and prideful in their ways, they have lost the greatest gift of all, the gift of being drawn closer and closer to that for which they were created, to be united in the deepest love with the Almighty God.

R. And she is appearing. Mary we love you so much. Despite all the turmoil and all the rebellion, and all of the ingratitude for the gifts that you have given, we are sorry and we ask for your assistance as our heavenly Mother, for you are so beautiful, and your praying with us is so important. We have come here to give ourselves entirely to you, to depend upon you, to see you in this light, and to know you Mary is a joy in my heart of knowing you with me now.

7. R. And she prays with us and she has this beautiful light that surrounds her, for it is that we are weak and we focus on so many things, so many times and

God silently is saying: Let go to Me. Let go to the love that I have for you. Unite to the Holy Sacrifice of the Mass, pray for the souls in purgatory, for it is a day of special prayers for these, the souls in purgatory.

R. Oh heavenly Mother, how beautiful is the light that surrounds you, and it is beyond any words that I could ever say, for to see you is such a gift, to hear you speak is a gift, to know that you are here in all this turmoil in the world and the culture of death, and the pride and the rebellion, and the envy and the jealousies, and the anger, and the fact that people do so many, not nice things, and that you love. That this is the story of love, that this is a Movement of love, that God has called us to be one in Their Hearts, for 21 years, receiving this message of unity, of love, of beauty, seeing the Mother of God appearing before me, 18 years, such beauty in this room. Beauty and light - telling me that she is here in all the turmoil. Oh heavenly Mother, how beautiful you are indeed, in this your building in Clearwater, who are so precious. Help us heavenly Mother, help this world to be surrounded by your mantle, dwelling in your Immaculate Heart, consecrating ourselves and the world to your heart and to the Heart of Jesus. Please hear these prayers, heavenly Mother, the prayers from my heart, pleading and begging, for I know you are there, in your beauty and light.

8. Sing: Hail Holy Queen Enthroned Above
Sing: Immaculate Mary
Mary: You are not alone my child for I am with you in this time of turmoil. The seeds of time move exceedingly slow, and it is for the foolish that hold tighter and tighter to their pride, rebelling against the very thing that God is calling them to do, in using it to ease the pain within. When God has allowed men to suffer in this world, as your heavenly Mother, I will stand by your side in these sufferings. I will be with you when you call. My presence is always with you, and I will tell you what God wants you to hear, that you will be made more holy, for it is in being holy that you will truly be happy.
R. She is just appearing so beautiful, so beautiful. Such beauty, and such light in her face, and that which surrounds her.
9. Mary: And I have spoken to you all these years, telling you exactly what you need to hear, for God has allowed you to receive such a great gift, and many turn away and will not listen. And I continue to deliver the messages, that are the messages, the medicine that will help you. And my little ones are suffering so. Today they suffer so. Tomorrow they suffer so. The next day they suffer so. How will it be? I will pray with you my child, but you must abandoned yourself to do the will of God and to love. For it is useless to do things for your own vain glory. It is useless for you to spend your lives trying to prove that you are right, when in fact, you have offended God in so many ways. For it is the humble heart, the one that is truthful, the one that will admit to God their sins and their faults, and will live thanking God for the good that they have been able to accomplish, recognizing that the grace came from God, loving Him. Oh precious one, I am here, indeed I am here, as I have been here for so long, and you fail to feel the comfort that I am with you. I am Mary, your heavenly Mother, and I love you.
10. R. She just is so, so, so, so, so beautiful.
R. As we bring our hearts together in one heart, we must focus on why God has called us here. We must give ourselves to Him in loving surrender, and knowing that all through this whole time, that she has appeared for 18 years. They have consistently stood behind us and the messages given. The light is just so gorgeous and she is so pretty.
Hear our prayer, oh heavenly Mother, and intercede to our beloved God, for the children of America, that America will be the land of the plenty, the land of the free, that men will be able to say — In God We Trust — and mean it with all of their hearts, that men will put God as the Master of their lives, that they will obey the commandments, loving God first before all things. For this prayer, oh heavenly Mother, I pray.
Take this prayer to our Heavenly Father and ask Him to please help us to be a country that is of His choice. Help our beloved priests to focus on the Word and the Eucharist, that as we send this homily book to them, that they will love the Word ever more, and that they will be more intimately united in their union with God. And the Incarnation goes on in us, as we go to her Immaculate Heart, the spiritual womb of the Virgin Mary, and the Holy Spirit works within this spiritual womb, forming us more and more in the image of Jesus. Jesus is the Son of God. Jesus shows us His Heart of love. God is love. There is nothing more to say, that when bitterness and anger and envy and jealousies are the very reason for why we perform our actions, we are offending our God in sin. In the actions that we perform should be the actions of virtuous living, of doing what God is calling us to do in love, of putting God first, in doing things for His honor and glory, not for glory of pride or envy or jealousy or punishment. All the different things that the devil tries to tempt people with, when God simply calls us to do the Father's will in love.
Mary: And I call you now to focus on what Jesus has asked of you, to be soft and gentle in your ways, to be strong against the strongest storm. And so the storms came and they buffeted the house, and they were higher than anyone could ever imagine, leaving behind the destruction that was terrifying for many.
R. And I remember a message that I got several days after Mary had appeared on the building in 1996, and the message said that the moon would turn to blood and that many would be scared to fright except those that remembered the message. That it is by the blood of the Lamb that we are saved, that they cast satan out by the blood of the Lamb, and then Jesus gave the message again, to reiterate the other message, that we would know that it is by the blood of the Lamb that we will be able to fight satan.
And then I read the Father's message today of January 18th, of 1997, and He said do you remember the accounts of Noah and the flood, and then He said that there would be many chastisements because we were ignoring what He is telling us. And He told us how our Heavenly Mother was such a gift, and He was offended by the way Mary was mistreated. And the mission of the Shepherds of Christ is to tell the world, to tell the Church, how important her role is in our lives, in the role of the Church, in the role of the world, that she wraps us in her heavenly mantle, and that the Incarnation goes on in us as we are molded more and more in that image and likeness of Jesus, but if they throw God out of the picture, and they focus on the secularism, they are rebelling against the plan of Our Heavenly Father for why He created man and it is useless.
As a messenger of God, I deliver this message to you and to the world, that we are to be molded more and more in the image and likeness of God, as we go to the Immaculate Heart of our Mother and we beg the Holy Spirit to outpour His grace upon us for this likeness, for we were created in the image and likeness of God. And God wants us to desire this for our lives.
R. And satan comes and he says, "may the best tongue win". And so in craftiness and ways of dialogue, there is the twisting of the truth and outright lies, and so many times, and none of which will ever win, ever win! For the only thing that wins is serving our God and doing His will in love.
Jesus: And I give to you a heart, for the heart was made for love, and the heart was made to be in oneness with the Almighty God. And as you grow in the image and likeness, that you become even more united in oneness to God, that you are preparing yourself for your heavenly reward. This is the message that I deliver to you. And no matter how many challenges come your way in people that want to fight, they will not win for the victory is in God alone.
The Visitation
R. We see the baby Jesus within the womb of the Virgin Mary. She carried Him to her cousin, Elizabeth's. And the Word was made Flesh, we hear in the scriptures at the Annunciation. And so it is such a sin against God, this abortion, especially when we recognize that God, the Son of God, came in the womb of the Virgin Mary, and she carried Him. Was it for this day for us to meditate on the Visitation, that we are so aware of the presence of God within the womb, that we miss the mystery because we do not meditate on the rosary. What is this mystery about, that she went with haste to visit her cousin, Elizabeth, who was already in her 6th month, carrying the child Jesus. Has it not told us right there, that the baby within her womb, was a baby!
1. R. But satan comes in his craftiness, with his distorted reasoning, which is what happens, the more we bend the commandments, the more that we decide to disobey the commandments, and to tell ourselves that it is right, which is what satan does. He says what's wrong is right and what's right is wrong. That's what satan does. So we can see that people do this, this, this, this, and this, that's wrong, and then they come back and they want to prove that they are right. And even sometimes, besides the lies, to punish, to enforce the wrong that they have done in trying to prove that it is right - twisting, and twisting, and twisting the truth, lying. This is what satan is all about, manipulating the truth, to make right look wrong, and wrong look right.
2. R. And just in the scripture, about last week, it was opening the door to the thief, if you would have known that the thief was going to come in the night, would you have left him in? Would you not have locked the door? When we lie, we open up that door, satan is aggressive. He wants destruction, division, tearing apart, tearing the family apart, tearing apart people in churches that are needed to work with one another, tearing apart wherever there is the building of the Kingdom, satan is there with his fallacious reasoning, trying to turn the tables upside down and to tear apart.
3. R. The double-tongued theory - saying one thing out of one side of the mouth, and another out of the other side of the mouth - to manipulate, confuse and distort the truth, that is simply found in being rooted in God.
4. R. There is no mystery for a man that is focused on his ego and doing what he wants, which is a rival to God's will. There is no mystery in that. Being a rival to God's will is foolish. And the story at the beginning of the Bible of Adam and Eve, show us how that sin of rebellion against God's will has far reaching affects to the children, generation after generation. Like ripples on a pond, the love that we give to our children, lives on in their hearts and helps to build the Kingdom of God. Into those that stoop in fear and woundedness, to tear down others, to make themselves seem supreme to the world, they have fooled themselves the greatest of all.
5. R. And Mary said my soul proclaims the greatness of the Lord and my spirit rejoices in God my Savior — in God my Savior, always that honor and glory is given to God, for that reason, this is why we act. There are two reasons why we can act - one is to do the good, the other is to oppose God. We are in control of our actions. We can choose the good or choose the bad. God wants us to choose the good and has given to us a free will, in choosing the good reaching out to others and helping to build the Kingdom, giving good example and uniting more and more, in Him as we operate in the world to serve Him, and to bring His message of love to the world. But doing the bad has its far reaching affects. As we see the world become more worldly and more secular, and the aggressiveness of satan is there, in a way that it is stronger than ever before, the lying, when things that are done that are wrong, and then satan comes to say, tell them "Oh I didn't know. It was a mistake. I am not responsible." and blame your brother. Jesus hung on the cross to His death. His body torn and bleeding, His head crowned with thorns, and His head crowned for the sins of men.
(The computer went out here. We have another source in Florida that we will fill in later.)
6. R. . . . priests and we say we are sorry for our sins. We go to Mass, and if it's venial sins at the beginning of Mass, saying that I have done this, this and this. Fr. Carter said we say the examin twice a day. We go to bed and say the Act of Contrition. Or we can listen to satan, who says lie about the sins that you did, blame them on others, give a bad example and divide the already working unity of those promoting the Kingdom of God.
7. Hail Mary
8. Hail Mary
9. Hail Mary
10. Hail Mary
Song: A Song from Jesus
R. And so 4 years ago today, before the election, Our Lord appeared to me in this very room as the Divine Mercy Jesus. Now I don't recall seeing a vision of the Divine Mercy Jesus. I may have had smaller ones, but this was a magnificent one, in which I could not even describe how He appeared. But to me at the time, it was a great gift, because afterwards looking back, as I had prayed in the prayer services, for mercy, for the human race, and for our sins, it was a confirmation that He was saying to me —
Jesus: Rita, I am there and I want to pour My mercy to My beloved ones. I am showing you Myself as Jesus, the Divine Mercy Jesus, that you will tell the people of My mercy.
R. And so He asked me this year, on October the 12th to send this rosary out, and to ask the people to pray this rosary as much as they could before the election. And I thought that was really a gift as I read the rosary, I could see how well it was articulated, in the words of Jesus and Mary to help us pray for this election.
Doris, do you have that story - Patricia's Story. So I was on the Internet one day and I came across a story, that was on there, that I thought was so important to read, and it's called Patricia's Story. I got this off the Internet. I got it off of Spirit Daily. And I'm sure they wouldn't mind if I read it here. But in Patricia's Story, it's a story of a young woman, very, very, very young, caught up in this secularism that we have here in our country - missing that component, of putting God first in our lives, being confronted with the issues that are out there, not from the old rule, where sex would be saved for marriage, but where it is accepted, among the young in many circles, even without love.
The consequences of abortion we saw in a movie that was called Octoberbaby. These are gifts that we are given to help us to see how terrible the sin of abortion is, and how far reaching the affects, on the mother, on the people that are forced to help in the abortion. In this case, this Octoberbaby, where she was a twin, how her brother, who was the one that was trying to be aborted, was mangled with his arm torn off, and the abortion was a failure, because, I assume there were twins. And she suffered many health affects, to find out when she was 19, that she was aborted by her mother, wanting to be a business woman, successful.
And the attempt failed and another couple that had lost their twin babies, took care of the little boy in the hospital for 3 months until he finally died, and took her on as their very own daughter. It shows one thing, that a baby in the womb is a person. It shows this girl many years later, after the failed abortion attempt, a beautiful, beautiful girl, suffering - looking for her mother, who had tried to abort her, for her own success. As we think about the sin of abortion we further must put in our mind, God who blessed the world with this unique soul, from all the people that He could have chosen, chose this person, breathed life into them, gave that baby as a gift to someone and the baby was killed, usually for some very selfish reason.
I would like to meditate on this mystery of the rosary. And I will read this story in a minute. But this is the mystery of the Birth of Jesus.
Birth of Jesus
1. Reading Patricia's Story. October 13, 2012
From October 13, 1995 Rosary - Jackson, Michigan - Before the Tabernacle
2. R. Mary, our dear Mother, help us to feel more and more your working in our lives so that we may be closer and closer to the Heart of your beloved Son, the Heart of deepest love.
3. R. Mary and Joseph came to the temple with the Child Jesus. Simeon prophesied the sufferings of Jesus and Mary to come. He says, "a sword too shall pierce your soul, Mary."
4. R. The pain and the joy in our lives, living out His life, death and resurrection in our lives. We live the Paschal mystery. We meditate on Mary as she traveled to Bethlehem with the child Jesus in her womb. Mary arrived at Bethlehem. There was not room for Jesus to be born in the Inn.
5. R. Jesus came into this world, not a king adorned in gold and silver, but He came into this world, the Son of God, the King of all Kings. He came into this world a little baby, in the town of Bethlehem, born in a cave, surrounded by the beasts of the earth and He is laid in a manger.
6. R. Jesus came into this world. Jesus was rejected by men. Is not this how it is today - that Jesus is rejected this day, that Jesus is alive and He is here with us and He is rejected? The sports events are filled. The music halls are filled. They are so concerned about all the details of all the celebrities and the Son of God is here and with us.
We read in the Psalm, "let our hearts sing with joy, let us talk about God." Do we talk about God? God is here! He wants us to love Him with our whole heart and our whole soul and our whole being. Do we talk about God to one another?
7. R. Jesus cries out that the bloodshed in the Church will continue until the messages of His love are transmitted in the members. Let us open our hearts wide and let Him pour into our hearts His Life. His grace abundantly in us. We are open, ready for His touch, His life and love in us. We go into this world and in this oneness with Him, He will operate in us and He will minister to the world that is hurting and in pain. The Almighty God came into this world a little baby in the town of Bethlehem. Jesus took on flesh. Let us meditate on this mystery. This is the love that God has for us and how do we return this love to Him?
8. Mary: I call out to you my children, this day, to come to the Heart of my Son, Jesus, to unite in deepest union with Him. It is in your union that your prayers will become more and more powerful. We are with you in a special way. You do not know the great gifts that you are being given. Open your hearts and you will be touched deeply with the grace of God. My little children, this day, are suffering and in pain and they do not know my Son Jesus. It is through you that they will know His love. It is through your prayers. Let Jesus live in your hearts. As you are one in your hearts so shall you be in this world. Unite even closer to my Son. Jesus wants to operate in this world through you. The Kingdom of God is at hand. (She is just so beautiful - sing Our Lady of Fatima for peace and unity.)
end of excerpt
9. October 27, 2012 - 17 Years Later
Jesus: America, your Mother appeared every day July 5, 1994 until September 5, 1995 and then in Clearwater for 7 and 1/2 years.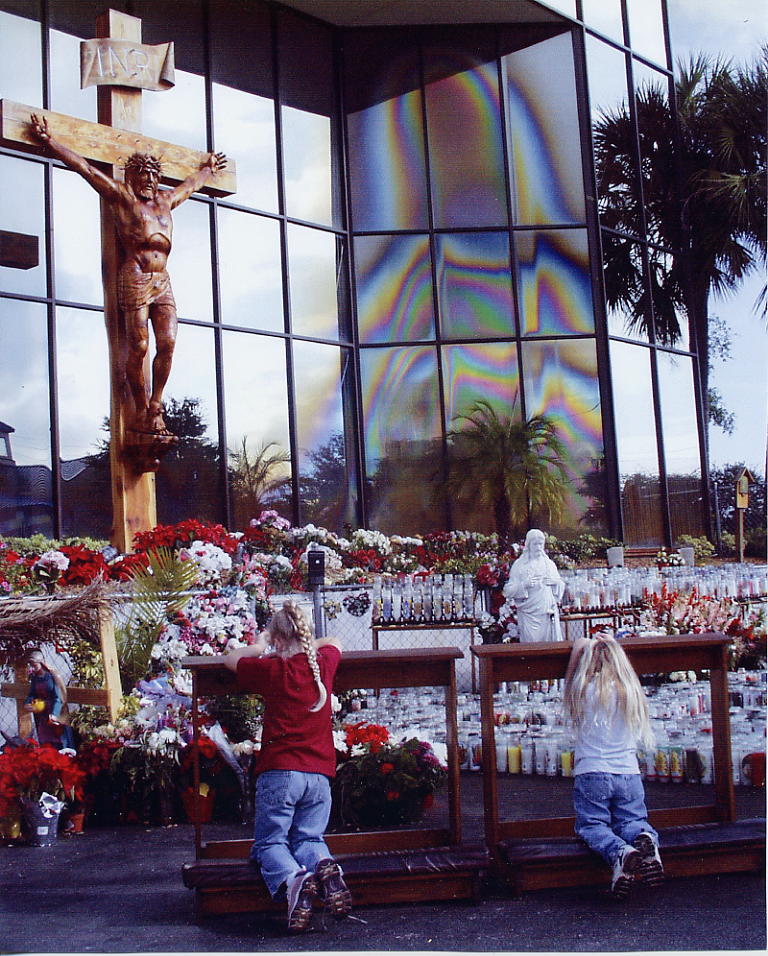 Jesus: Here is her message - you have ignored her plea and your babies are murdered. Her children sinning mortally and not repenting will go to hell.
Mary: The blood of the aborted babies is on the United States, but the death of my precious children going to hell is real.

end of excerpt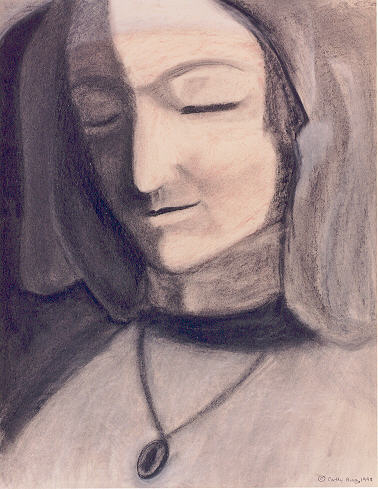 Mary's Message - from the Rosary of August 27, 1996
Mary: I stood beneath the cross of my Son, and my Heart was in such pain for I saw Him before my eyes. I saw Him covered with blood. I saw Him die. My Heart, my children, my Heart to watch my Son, but my Heart, my Heart, how I suffered for my little children of the world that give in to this world and give up the love of my Son. O my little children of light, I give you this message. Carry this light into the darkness for your Mother Mary, for I stood beneath the cross and I cried. I cried for the little ones. I cried for the young ones, the ones that do not care and will lose their souls. How do I make you see for you will not listen to me? What can I do? I come. I appear. I beg. I plead. I give you these gifts from my Son, and you reject me. I do not deliver messages very often anymore for I have been ignored. The message is the same. You do not read the messages I have given to you. Please help me. Help the little children. I appear. I appear. I appear, and I am ignored. I stood beneath the cross, and I cried. I cried, and my Heart was in such anguish for my little children, for I am searching for them this day as I searched for the Child Jesus. Please, please help me. I cannot hold back the hand of my Son any longer. I am Mary, your Mother. I ask you to help my children. You are my children of light.
end of Mary's Message
10. Hail Mary
The Presentation in the Temple
From the Rosary of October 31, 1995
1. Jesus: Die to yourselves My beloved ones and live in Me.
Jesus: So as you are in your heart, you will be in this world. Let go of any debris, trade any bitterness or anger for My love.
Jesus: I am with you at every second at every moment. I am guarding you and I am watching you. I am asking you to trust in Me, trust in Me. You must discipline your thoughts, for the days ahead will be hard and dark. You are My soldiers that I am sending into this world to carry the message of My love you must be strong soldiers. It is in your weaknesses that you are strengthened, for within your breast you know God dwells in your graced baptized soul and is giving you grace when you come and ask to love. Love God and love neighbor and love yourself as God wants. I give you grace to be holy when you come to Me and ask in docility and with a contrite, truthful, humble heart.
How can you feel afraid when you know God is within you? If your body is burned and you are handed over to your oppressors you will know peace in your hearts for the Almighty God lives and dwells in the graced baptized soul. I am truly Jesus Christ the Son of God and I am giving to you great graces to carry out the Plan of the Father. Surrender, let your hearts be gentle and your ways meek and humble. Be motivated only by the love of God.
2. Jesus: I am your spouse, I am your lover you are wed to the Almighty God. Do you take our marriage lightly? No commitment - IN and OUT behavior. I am attentive to your every need and ever with you. You miss our love affair, minute by minute, second by second, I love you. You must trust and surrender, pray for faith, My dear sweet, sweet children. You must have faith, do not give in to the temptations of satan to lead you from My Heart through pride and jealousy and anger, I am the Almighty God and I am present and with you in every trial and every struggle. In your trials you will know My presence with you if you depend on Me for your every breath.
3. Jesus: See Me as I sat on the throne crowned, with a crown of thorns and the blood poured down My face. My way is peace. My dear ones the Father loves you, surrender, come to My Heart I will bathe you in a bath of My love. Enter through the wound in My Heart, it is through this wound that you will fall into the great abyss, of My burning love and dwell there. When the world presses on you from all sides lay your head against My chest and enter My Heart through My wound and you will be secure in My burning love.
Jesus: Close your eyes and focus on your interior life, for I dwell within you. I am guarding you. I am watching you and I am giving you My abundant love.
4. Jesus: The heart and its ways. I know the ways of your heart far more than you yourself.
end of excerpts from October 31, 1995
5. R. And so there was a movie that was out, or a documentary - it was talking about the holocaust. We see all those people, of the Jewish race were killed and we see today this holocaust of abortion.
6. R. Mary gave this message on July 13, 1917 and she said if you don't do what I am telling you there is going to be a war and that's where this happened, that all these people were murdered, and her message was telling 3 children —
From Our Lady's Apparitions at Fatima
July 13, 1917
"During this same July apparition, Mary showed the three children a vision of Hell. She told them:
"You have seen Hell, where the souls of poor sinners go. To save them, God wishes to establish, in the world, devotion to my Immaculate Heart. If people do what I tell you, many souls will be saved and there will be peace.
"The war (World War I, then raging) is going to end. But if people do not stop offending God, another and worse one will begin in the reign of Pius XI. When you shall see a night illuminated by an unknown light [January 2, 1938], know that this is the great sign that God gives you that He is going to punish the world for its many crimes by means of war, hunger, and persecution of the Church and the Holy Father. (12)
"To prevent this, I shall come to ask for the consecration of Russia to my Immaculate Heart and the Communion of Reparation on the five first Saturdays. If my requests are granted, Russia will be converted and there will be peace. If not, she will scatter her errors throughout the world, provoking wars and persecutions of the Church. The good will be martyred, the Holy Father will have much to suffer, and various nations will be destroyed....
"But in the end, my Immaculate Heart will triumph, the Holy Father will consecrate Russia to me, Russia will be converted, and a certain period of peace will be granted to the world." (13)

12. For background material on Fatima, I am particularly indebted to Our Lady of Fatima's Peace Plan from Heaven (Rockford: TAN Books and Publishers, Inc., 1983). pp.4-5.
13. Ibid., p.5.
R. So we see her promise for this era of peace, but we also see that they didn't do what she said and there was World War II. At the end of the century, Our Lady appeared here as Our Lady of Clearwater. She told us what to do and her plea has really been ignored.
7. R. And we see the sufferings, that we face today in the holocaust of abortion, because we haven't listened to our Lady.
From the Rosary of October 31, 1995
Mary: I stood beneath the cross of my Son Jesus and my heart was torn within my chest as I watched His face covered with blood His hands pierced His feet pierced and my heart, in such anguish for the children that would lose their souls because of their mortal sins. I am Mary your Mother and I am begging you to help me to reach the children with these messages, messages of my Son, Jesus. Help us, help us, to lead the children to the Holy Sacrifice of the Mass. Help us to lead the children to the rosary. To know about God you must ask Him for His knowledge and love. You must seek God my sweet, sweet children. You must reach the children of this world. I am Mary your Mother and I am calling out to you to reach the children of this world.
8. Jesus: Unless the messages of My burning love are circulated within the members of My Church the bloodshed will continue. I am Jesus and I am calling out to you to help Me to spread these messages to this world to help spread the Second Blue Book to the priest and the religious to tell them of My burning love and to reach the children and to pray as you have never prayed before. To come to the Eucharist with a heart that is holy. As you unite deeper and deeper to Me your prayers will become stronger and stronger. You are My soldiers. You are My lights, that I am sending out to light up the darkened world, My apostles, I am calling out to you. Reach the children and you will reach the world.
9. Jesus: I am calling you to pray for your priests and your religious pray for the priests and give them these messages, for when the priests come to the tabernacle, when they spend one hour a day in adoration then their lives will be focused on Jesus.
end of excerpts from October 31, 1995
10. Hail Mary
The Finding of Jesus in the Temple
1. R. One of the most devastating things that a person can go through is really being divided from Jesus, because God is the source of life. And when we choose to rebel against Him, to give into the deadly sins, the anger, the bitterness, the envy, the jealousy, it just leads us more and more - slothfulness, addictions, addictive behavior - it just leads us more away, from why we were created. Happiness comes in being united to God. So what a priest told me once, he said that the more that they drive themselves away by sin, then the more angry they become and then they act on this anger, but the anger is because of the fact that, they have driven themselves away from God, that's why they get angry, because they are not experiencing that for which they were created.
2. Hail Mary
3. Hail Mary
4. Hail Mary
5. Hail Mary
6. Hail Mary
7. Hail Mary
8. Hail Mary
9. Hail Mary
10. Hail Mary
R. In the name of the Father, the Son and the Holy Spirit. Amen. We will be back here today at 6:20. Thank you.
R. Jesus has told us to pray these prayers at 6:30.
PRZEWODNIK PO MODLITWIE

Wydawnictwa Pasterzy Chrystusa
China, Indiana

Spotkania Grupy Modlitewnej Forma Modlitwy

Podaną poniżej formułą modlitwy należy kierować się na spotkaniach grup modlitewnych Zgromadzenia Pasterzy Chrystusa. Wszystkie modlitwy, nie tylko te odmawiane szczególnie za duszpasterzy, powinny zawierać prośby o spełnienie wszystkich potrzeb kapłanów na całym świecie.

1. Hymny. Hymny można śpiewać w każdej chwili podczas części modlitewnej spotkania.

2. Modlitwa do Ducha Świętego. Przybądź, Duchu Święty, wszechmocny Ożywicielu, Boże miłości, któryś napełnił łaską Dziewicę Maryję, któryś cudownie przemienił serca Apostołów, któryś obdarzył męczenników cudownym heroizmem, przyjdź, aby nas uświęcić. Oświeć nasze umysły, umocnij naszą wolę, oczyść nasze sumienia, sprostuj nasze sądy, zapal nasze serca i nie dozwól, byśmy się kiedy sprzeciwili Twoim natchnieniom. Amen.

3. Różaniec.

4. Salve Regina (Witaj Królowo). Witaj królowo, Matko miłosierdzia, życie, słodyczy i nadziejo nasza, witaj. Do Ciebie wołamy wygnańcy, synowie Ewy. Do Ciebie wzdychamy, jęcząc i płacząc na tym łez padole. Przeto Orędowniczko nasza, one miłosierne oczy Twoje na nas zwróć, a Jezusa błogosławiony owoc żywota Twojego, po tym wygnaniu nam okaż. O łaskawa, o litościwa, o słodka Panno Maryjo. Amen.

5. Memorare. Pomnij, o Najdobrotliwsza Panno Maryjo, że nigdy nie słyszano, abyś opuściła tego, kto się do Ciebie ucieka, Twej pomocy wzywa, Ciebie o przyczynę prosi. Tą ufnością ożywiony, do Ciebie, o Panno nad pannami i Matko, biegnę, do Ciebie przychodzę, przed Tobą jako grzesznik płaczący staję. O Matko Słowa, racz nie gardzić słowami moimi, ale usłysz je łaskawie i wysłuchaj. Amen.

6. Siedem Zdrowaś Mario na cześć Siedmiu Boleści Matki Bożej. Matka Boska obiecała szczególne łaski tym, którzy codziennie odmówią tę modlitwę. Wśród danych im obietnic jest przyrzeczenie szczególnej pomocy w godzinie śmierci, łącznie z ukazaniem im swego oblicza. Te siedem boleści to:

(1) Pierwsza boleść: Przepowiednia Symeona (Zdrowaś Mario)
(2) Druga boleść: Ucieczka do Egiptu (Zdrowaś Mario)
(3) Trzecia boleść: Pozostawienie Jezusa w świątyni (Zdrowaś Mario)
(5) Piąta boleść: Śmierć Jezusa na krzyżu (Zdrowaś Mario)
(6) Szósta boleść: Zdjęcie Jezusa z krzyża i złożenie w ramionach Matki (Zdrowaś Mario)
(7) Siódma boleść: Pogrzebanie Jezusa (Zdrowaś Mario)

7. Litania do Najświętszej Marii Panny

Kyrie Elejson
Chryste elejson
Kyrie elejson. Chryste usłysz nas
Chryste wysłuchaj nas.
Ojcze z nieba, Boże, zmiłuj się nad nami.
Synu, Odkupicielu świata, Boże,
zmiłuj się nad nami.
Duchu święty, Boże, zmiłuj się nad nami.
Święta Trójco, Jedyny Boże, zmiłuj się nad nami.

Święta Mario, módl się za nami. (powtarzać po każdej inwokacji)
Święta Boża Rodzicielko,
Święta Panno nad pannami,
Matko Chrystusowa,
Matko Kościoła,
Matko łaski Bożej,
Matko nieskalna,
Matko najczystsza,
Matko dziewicza,
Matko nienaruszona,
Matko najmilsza,
Matko przedziwna,
Matko dobrej rady,
Matko Stworzyciela,
Matko Zbawiciela,
Panno roztropna,
Panno czcigodna,
Panno wsławiona,
Panno można,
Panno laskawa,
Panno wierna,
Zwierciadło sprawiedliwości,
Stolico mądrości,
Przyczyno naszej radości,
Przybytku Ducha Świętego,
Przybytku chwalebny,
Przybytku sławny pobożności,
Różo duchowna,
Wieżo Dawidowa,
Wieżo z kości słoniowej,
Domie złoty,
Arko przymierza,
Bramo niebieska,
Gwiazdo zaranna,
Uzdrowienie chorych,
Ucieczko grzesznych,
Pocieszycielko strapionych,
Wspomożenie wiernych,
Królowo Aniołów,
Królowo Patriarchów,
Królowo Proroków,
Królowo Apostołów,
Królowo Męczenników,
Królowo Wyznawców,
Królowo Dziewic,
Królowo Wszystkich Świętych,
Królowo bez zmazy pierworodnej poczęta,
Królowo Wniebowzięta,
Królowo Różańca świętego,
Królowo pokoju,
Królowo Polski,

Baranku Boży, który gładzisz grzechy świata, przepuść nam, Panie!
Baranku Boży, który gładzisz grzechy świata, wysłuchaj nas, Panie!
Baranku Boży, który gładzisz grzechy świata, zmiłuj się nad nami.


Módlmy się: Prosimy Cię, Panie Boże, dozwól nam, sługom Swoim, cieszyć się trwałym zdrowiem duszy i ciała, a za przyczyną Najświętszej Marii, zawsze Dziewicy, racz nas uwolnić od doczesnych utrapień i obdarzyć wieczną radością. Przez Chrystusa Pana naszego. Amen.

Pod Twoją obronę uciekamy się, święta Boża Rodzicielko. Naszymi prośbami racz nie gardzić w potrzebach naszych, ale od wszelakich złych przygód racz nas zawsze wybawiać Panno chwalebna i błogosławiona. Amen.

8. Modlitwa do Św. Józefa. O święty Józefie, Opiekunie Dzieciątka Jezus, przeczysty Oblubieńcze Maryi, który całe życie wypełniając wiernie swoje obowiązki, pracą rąk zarabiałeś na utrzymanie Świętej Rodziny Nazaretańskiej, weź w swoją opiekę tych, którzy z ufnością się do Ciebie zwracają. Ty znasz nasze potrzeby, troski, nadzieje; zwracamy się do Ciebie, wiedząc, że nas zrozumiesz i otoczysz opieką. Ty również przeżywałeś chwile próby, doświadczenia i niepokoju. Lecz nawet wśród rozlicznych zajęć codziennego życia dusza Twoja znajdowała głęboki spokój i radość w zjednoczeniu z Synem Bożym i Matką Jego Maryją, Twojej pieczy powierzonym. Amen (Papież Jan XXIII)

9. Litania do Najświętszego Serca Pana Jezusa, obietnice Najświętszego Serca

Kyrie Elejson
Chryste elejson
Kyrie elejson. Chryste usłysz nas
Chryste wysłuchaj nas.
Ojcze z nieba, Boże,
zmiłuj się nad nami. (powtarzać po każdej inwokacji)
Synu, Odkupicielu świata, Boże,
Duchu Święty, Boże,
Święta Trójco, Jedyny Boże,

Serce Jezusa, Syna Ojca przedwiecznego,
Serce Jezusa, w łonie Matki Dziewicy przez Ducha Świętego utworzone.
Serce Jezusa, ze Słowem Bożym istotnie zjednoczone,
Serce Jezusa, nieskończonego majestatu,
Serce Jezusa, świątynio Boga,
Serce Jezusa, przybytku Najwyższego,
Serce Jezusa, domie Boży i bramo niebios,
Serce Jezusa, gorejące ognisko miłości,
Serce Jezusa, sprawiedliwości i miłości skarbnico,
Serce Jezusa, dobroci i miłości pełne.
Serce Jezusa, cnót wszelkich bezdenna głębino,
Serce Jezusa, wszelkiej chwały najgodniejsze,
Serce Jezusa, królu i zjednoczenie serc wszystkich,
Serce Jezusa, w którym są wszystkie skarby mądrości i umiejętności,
Serce Jezusa, w którym mieszka cała pełnia Bóstwa,
Serce Jezusa, w którym sobie Ojciec bardzo upodobał,
Serce Jezusa, z którego pełni wszyscyśmy otrzymali,
Serce Jezusa, odwieczne upragnienie świata,
Serce Jezusa, cierpliwe i wielkiego miłosierdzia,
Serce Jezusa, hojne dla wszystkich, którzy Cię wzywają,
Serce Jezusa, źródło życia i świętości,
Serce Jezusa, przebłaganie za grzechy nasze,
Serce Jezusa, zelżywością napełnione,
Serce Jezusa, dla nieprawości naszych starte,
Serce Jezusa, aż do śmierci posłuszne,
Serce Jezusa, włócznią przebite,
Serce Jezusa, źródło wszelkiej pociechy,
Serce Jezusa, życie i zmartwychwstanie nasze,
Serce Jezusa, pokoju i pojednanie nasze,
Serce Jezusa, krwawa ofiaro grzeszników,
Serce Jezusa, zbawienie ufających Tobie,
Serce Jezusa, nadziejo w Tobie umierających,
Serce Jezusa, rozkoszy wszystkich Świętych.

Baranku Boży, który gładzisz grzechy świata, przepuść nam, Panie!
Baranku Boży, który gładzisz grzechy świata, wysłuchaj nas, Panie!
Baranku Boży, który gładzisz grzechy świata, zmiłuj się nad nami.

Jezu cichy i pokornego serca,
uczyń serca nasze według Serca twego.

Módlmy się. Wszechmogący wieczny Boże, wejrzyj na Serce najmilszego Syna swego i na chwałę i zadośćuczynienie, jakie w imieniu grzeszników Ci składa, daj się przebłagać tym, którzy żebrzą Twego miłosierdzia i racz udzielić przebaczenia w imię tegoż Syna swego Jezusa Chrystusa, który z Tobą żyje i króluje na wieki wieków. Amen.

Obietnice Pana Naszego uczynione czcicielom Jego Najświętszego Serca (powinny być odczytane przez prowadzącego modlitwę):

1. Dam im wszystkie łaski potrzebne w ich stanie.
2. Zgoda i pokój będą panowały w ich rodzinach.
3. Będę ich pocieszał we wszystkich ich utrapieniach.
4. Będę im bezpieczną ucieczką w życiu, a szczególnie przy śmierci.
5. Wyleję obfite błogosławieństwa na wszystkie ich przedsięwzięcia.
6. Grzesznicy znajdą w mym Sercu źródło nieskończonego miłosierdzia.
7. Dusze oziębłe staną się gorliwymi.
8. Dusze gorliwe dojdą szybko do doskonałości.
9. Błogosławić będę domy, w których wizerunek Serca mego będzie czczony.
10. Kapłanom dam dar kruszenia serc najbardziej zatwardziałych.
11. Osoby, które będą to nabożeństwo rozszerzały, będą miały imię swoje zapisane w mym Sercu i na zawsze w nim pozostaną.
12. Przyrzekam w nadmiarze miłosierdzia Serca mojego, że wszechmocna miłość moja udzieli tym wszystkim, którzy przyjmą komunię św. w pierwsze piętki przez dziewięć miesięcy z rzędu, łaskę pokuty, iż nie umrą w niełasce mojej ani bez sakramentów świętych, a Serce moje będzie im pewną ucieczką w ostatniej godzinie ich życia.

10. Modlitwa za kapłanów. Panie Jezu, Królu Pasterzy, prosimy Cię, abyś w niezmierzonej miłości i łaskawości Swego Najświętszego Serca zatroszczył się o wszelkie potrzeby Swoich kapłanów - pasterzy na całym świecie. Prosimy Cię, abyś przygarnął z powrotem do Serca Swego tych wszystkich Kapłanów, którzy zeszli z Twojej drogi, abyś na nowo rozpalił pragnienie świętości w sercach tych kapłanów, w których to pragnienie przygasło, abyś nieustannie obdarowywał Swoich żarliwych kapłanów pragnieniem największej świętości. Zjednoczeni w Twoim Sercu i w Sercu Maryi, prosimy Cię, abyś zaniósł naszą prośbę do Swego Ojca Niebieskiego w jedności z Duchem Świętym. Amen.

11. Modlitwa za wszystkich członków Wspólnoty Pasterzy Chrystusa. Drogi Jezu, prosimy Cię o szczególne błogosławieństwo dla wszystkich członków Wspólnoty Pasterzy Chrystusa. Oświecaj nas nieustannie odnośnie tego szczególnego przywileju i odpowiedzialności jakie nam dałeś jako członkom Twojego ruchu Wspólnoty Pasterzy Chrystusa. Przygarnij nas blisko do Swego Serca i Serca Matki Swojej. Pozwól nam odczuć tę wielką i szczególną miłość Serca Swego, jaką obdarowujesz każdego z nas z osobna. Udziel nam łaski, abyśmy tym większą miłością mogli odwzajemnić miłość Twoją i Maryi. Kiedy zamieszkamy w Twoim Sercu i w Sercu Maryi, zatroszcz się nieskończenie o wszelkie potrzeby nasze i naszych bliskich. Zanosimy te modły za Twoim pośrednictwem do Boga Ojca, w Duchu Świętym, z Maryją, Matką naszą u boku. Amen.

12. Modlitwa za duchowe i finansowe powodzenie naszego biuletynu kapłańskiego. Ojcze, prosimy Cię o szczególne błogosławieństwo dla naszego biuletynu kapłańskiego Pasterze Chrystusa. Prosimy Cię, spraw, aby kapłani, którzy go czytają otwarli się na łaski, którymi pragniesz ich obdarować za szczególnym pośrednictwem Syna Twego. Prosimy Cię również, zadbaj o potrzeby finansowe biuletynu Pasterze Chrystusa. Zanosimy te modły przez Jezusa w Duchu Świętym, z Maryją, Matką naszą u boku. Amen.

13. Modlitwa za całą ludzkość. Ojcze Niebieski, prosimy Cię o błogosławieństwo dla Twojej dziatwy na całym świecie. Zatroszcz się o wszelkie nasze potrzeby. Prosimy Cię, okaż szczególną pomoc wszystkim odsuniętym, zaniedbanym i zapomnianym. Zjednoczeni z Matką Bożą, składamy naszą prośbę do Ciebie przez Jezusa i Ducha Świętego. Amen.

14. Modlitwa do Św. Michała i Anioła Stróża:

Święty Michale Archaniele, broń nas w walce. Przeciw niegodziwościom i zasadzkom złego ducha bądź nam ochroną. Niech mu rozkaże Bóg, pokornie błagamy, a Ty, Książę wojska niebieskiego, Szatana i inne duchy złe, na zgubę dusz ludzkich krążące po świecie, Mocą Bożą strąć do piekła. Amen.

Aniele Boży, Stróżu mój drogi, mnie, Tobie z dobroci Bożej zleconego, oświecaj, strzeż, prowadź i rządź mną i zawsze przy mnie bądź. Amen.

15. Przerwa na cichą, osobistą modlitwę. Powinna trwać przynajmniej pięć minut.

16. Akt oddania Najświętszemu Sercu Pana Jezusa i Niepokalanemu Sercu Maryi

Panie Jezu, Królu Pasterzy, oddaję się Twemu Najświętszemu Sercu. Z przebitego Serca Twego narodził się Kościół, któremu nakazałeś mi służyć jako członkowi Wspólnoty Pasterzy Chrystusa w najszczególniejszy sposób. Ukazujesz Swe Serce jako symbol Swojej miłości we wszelkich jej przejawach, wraz z Twoją szczególną miłością do mnie, którego wybrałeś jako Swego towarzysza w tym ważnym zadaniu. Pomóż mi zawsze odpłacać Ci za to miłością. Pomóż mi całkowicie oddać się Tobie. Pomóż mi przeżyć życie w miłości Bożej i miłości bliźniego. Serce Jezusa, w Tobie pokładam nadzieję!

Najświętsza Maryjo Dziewico, oddaję się twemu matczynemu i Niepokalanemu Sercu, Sercu, które stanowi symbol twego życia w miłości. Ty jesteś Matką mego Zbawiciela. Jesteś też Matką moją. Obdarzasz mnie swoją szczególną miłością jako członka Wspólnoty Pasterzy Chrystusa, ruchu, który stworzył Twój Syn jako potężne narzędzie odnowy Kościoła i świata. W zamian za miłość, oddaję się całkowicie Twojej matczynej miłości i opiece. Ty najdoskonalej podążałaś za Jezusem. Ty jesteś Jego pierwszym i doskonałym uczniem. Naucz mnie jak naśladować Ciebie w podążaniu za Nim. Bądź mi matczyną orędowniczką, abym za pośrednictwem Twego Niepokalanego Serca dał się poprowadzić do jeszcze bliższej jedności z przebitym Sercem Jezusa, Królem Pasterzy.

17. Codzienna modlitwa. Wszyscy członkowie codziennie powinni odmawiać modlitwę do Ducha Świętego oraz dokonać aktu oddania. Powinni również codziennie odmawiać różaniec. Jeśli pozwala na to czas, zachęcamy także do odmawiania innych wyżej podanych modlitw.