Mary has requested that the daily message be given each day to the world. It is read nightly at the prayer service from her Image Building in Clearwater, Florida, U.S.A. This is according to her request. All attempts will be made to publish this daily message to the world at 11 p.m. Eastern time, U.S.A.

---

We acknowledge that the final authority regarding these messages rests with the Holy See of Rome.

---
---
A Prayer for Intimacy with the Lamb, the Bridegroom of the Soul

Oh Lamb of God, Who take away the sins of the world, come and act on my soul most intimately. I surrender myself, as I ask for the grace to let go, to just be as I exist in You and You act most intimately on my soul. You are the Initiator. I am the soul waiting Your favors as You act in me. I love You. I adore You. I worship You. Come and possess my soul with Your Divine Grace, as I experience You most intimately.
---
Messenger: Include Our Lady of the Holy Spirit Center in 6:20 prayers.
---
Messenger: Please pray for 5 urgent intentions!
---
Messenger: Please pray for the healing of Father Carter through the intercession of Our Lady of Clearwater.
---
Jesus speaks: Pray for all the bishops in the world. Pray that they have light to lead the Church the way God desires. Consecrate their hearts, cast the devil away from them, spread the Blood of Jesus on them and ask for the Holy Spirit to come to them in a special way.
I desire all priests, bishops and leaders especially to pray the Prayer for Union with Jesus, please give your priests the following prayers... Prayer for Union with Jesus, Prayer before the Holy Sacrifice of the Mass, Prayer for Priests, LITTLE CARDS that say, "God, I give you my life in union with the Mass as an offering for the souls, the Church and the priests." Please give them the prayer manuals and tell them that people all over the world pray these prayers for them. Please give them the Holy Spirit Novena.
Please pray for the daily message and the priestly newsletter and prayer chapters hourly.
---
Excerpt from November 15, 2000 Daily Message
Messenger: Response to God's Love is a book written by Fr. Carter and used as a text book for about 16 years at Xavier University. He taught there for over 30 years. He has authored some 17 books and written six years of priestly newsletters which have been circulated around the world.

Jesus desires this section to be included. This book is so important to Jesus. You will have greater insights into the Divine Mysteries if you read slowly as Jesus requests and pray for vision and grace. Oh God, thank You for this great work.

The moment Fr. Carter took his pen in hand God was giving the world a great body of knowledge to help renew the Church and the world.

Fr. Carter has spiritually directed all of us through his writings and Jesus has directed him his whole life to help renew the Church and the world.

St. Claude de la Colombiere, St. Margaret Mary, St. Francis, St. Clare, St. Ignatius and St. Xavier intercede for us, especially for the Jesuits to help us do this work to help bring about the Reign of the Sacred Heart and triumph of Mary's Heart.
(End of Excerpt from November 15, 2000 Daily Message)
---
November 16, 2000 - Second Message
Jesus speaks: I ask you to include this important section from the book Response to God's Love.
The Christian's Personal Uniqueness - Chapter 2.
I also ask you to include the following Blue Book message from October 3, 1993, "Use Your Talents" from Blue Book I. This was given in Chicago.
Please study these entries. You are so precious to Me. I ask you to love yourself as a beautiful person created by God.
You are so precious to Me.
I LOVE YOU SO VERY MUCH.
BUILD UP MY BODY.
BE LOVING TO EACH OTHER.
DO WHAT YOU DO LOVINGLY –
PEOPLE ARE PRECIOUS TO ME – WHO DO YOU THINK YOU ARE HOLLERING AT PEOPLE – YOU ARE TALKING TO ME WHEN YOU SPEAK TO YOUR BROTHERS.
Messenger: After Jesus said, "You are so precious to Me. I ask you to love yourself as a beautiful creation by God.", this happened in church.
The Lord had delivered this message to me. As I sat quietly after Communion and Jesus spoke, the 8th grade boys and girls came into church.
Talk about personal uniqueness.
They were to sing a song of praise to God, the words of the song were so beautiful and they were to sing with joy and clap their hands.
It was quiet and beautiful in church and Jesus spoke strong to me the last message. I repeat it here.
Jesus speaks: I LOVE YOU SO VERY MUCH.
BUILD UP MY BODY.
BE LOVING TO EACH OTHER.
DO WHAT YOU DO LOVINGLY –
PEOPLE ARE PRECIOUS TO ME – WHO DO YOU THINK YOU ARE HOLLERING AT PEOPLE – YOU ARE TALKING TO ME WHEN YOU SPEAK TO YOUR BROTHERS.
Messenger: The youth were lined up to sing and shamed and hollered at.
The other two teachers entered in. They told them they looked like they all had a stomach virus and they were shamed over and over again. I wanted to cry after hearing what Jesus said and how gentle and loving He is and how He puts up with all our unloving, bossy ways.
After they were degraded by the singing teacher preparing them for the all school Mass tomorrow as she stood right before the tabernacle, the other teachers "chimed in" supporting her crude ways.
Nothing was mentioned about praising God or the Mass, it made me feel so sad inside. I wanted to tell them about Jesus and how beautiful the song was and how He would love to hear them sing and about the Mass and how wonderful it would be.
People who are leaders have authority, they act in His name. We must pray for our teachers and try more than ever to get the rosary and consecration in the schools as Mary requested.
Power comes from God, it is never God's way to be unloving. Being loving means doing God's will, being Christ to one another. The students were not even acting up. What a dish of "junk" to feed the children in church with the gentle Jesus there.
WE MUST BEGIN PRAYER CHAPTERS AND PRAY FOR THE CHURCH AND THE WORLD.
PLEASE HELP US.
BUILD UP THE BODY.
THE CHURCH IS THE HOUSE OF GOD.
---
Messenger: It is in this church they are struggling to keep the tabernacle behind the altar in the center of the church. Jesus spoke to me from this church. I include these words he gave me in l994.
Please pray that this church and all churches will keep the tabernacle where Jesus wants it. He is the King and Center of the church. He is the Chief Priest of every Mass. He is God.
I include the excerpt from Fr. Carter's book Jesus requested on Personal Uniqueness and the message Jesus requested October 3, l993.
---

A Rosary for Healing or for Someone with Cancer.
On one Hail Mary bead or as many as you desire, say: (this is given for Fr. Carter, you can replace your loved one's name).

May God heal Fr. Carter through the intercession of Our Lady of Clearwater in union with the Mass and all the Masses being celebrated around the world.

Pray the Hail Mary or Hail Mary's then pray this after the Hail Mary.

May the cancer be uprooted and thrown into the sea.

We believe with all our hearts.

After the Glory Be— pray the following petition.

May Fr. Carter be healed through the intercession of Our Lady of Clearwater if it be the holy will of God.
| | | |
| --- | --- | --- |
| | Note: You can look at Mary on the image rosary while you pray this rosary. | |
---
Messenger: CAN YOU HELP US BY GIVING US ROSARIES FOR THE SCHOOLS REQUESTING THEM?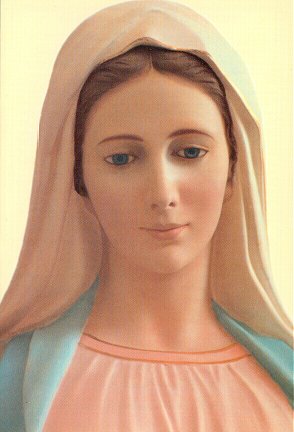 Mary speaks: PLEASE MAKE WALTER'S ROSARIES. THE SCHOOLS WANT ROSARIES AND THERE ARE NOT ANY ROSARIES LEFT.
---
Mass Book II Entry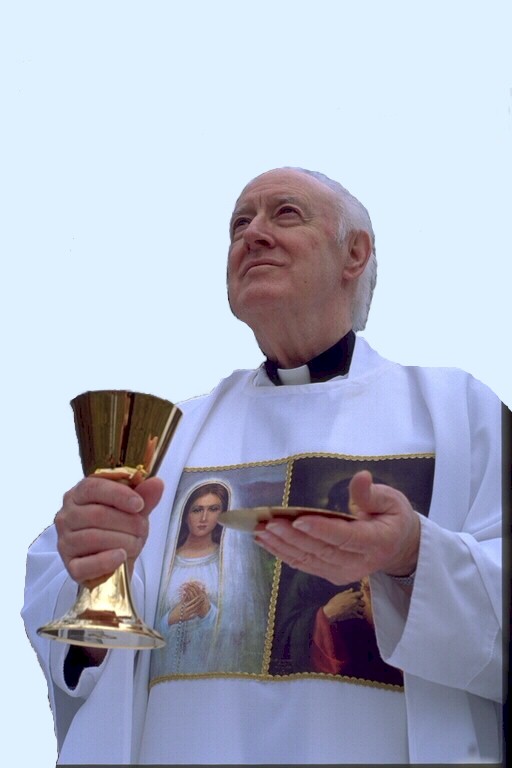 Through Him, With Him and In Him
---
Excerpt from Response to God's Love
2

The Christian's Personal
Uniqueness
Obviously, we all assimilate the mystery of Christ in basically the same way. There are, however, significant differences in how each person puts on Christ that result from the uniqueness of each individual. Each person is a unique expression of God's creative love. Each person can truthfully say that there has never before been anyone like himself or herself, there is now no one like him or her, and there never will be.

The personal uniqueness of each human being increases in proportion to one's assimilation to Jesus. That is to say, the more I put on Christ, the more I lose myself in Christ, the more I become myself. This is true because grace perfects nature, and, consequently, the more I grow in grace, the more perfect all dimensions of my person become—and this includes uniqueness. We see, then, how fallacious is the reasoning of those who think that the more they give themselves to the practice of religion, the more their personalities will be subdued. Actually, the opposite is true—the more one grows in Christ, the more his or her unique personality emerges in all its attractiveness.

As I grow in the realization of my own uniqueness, I should also grow in developing a sense of self-identity and self-acceptance. If God in his tremendous love for me has created the uniqueness that I am, should I not rejoice in who I am and avoid morbidly comparing myself to others? Should I not have a healthy self-image? Of course, self-acceptance does not mean self-complacency. Honest self-reflection will always reveal to me that there are weaknesses that must be further curbed and strengths that must be further developed.

As God gives each person his or her uniqueness, he attaches to it a unique mission or role that is to be accomplished. Cardinal Newman tells us: "Everyone who breathes, high and low, educated and ignorant, young and old, man and woman, has a mission, has a work. We are not sent into this world for nothing; we are not born at random. . . . God sees every one of us; He creates every soul, He lodges it in a body, one by one, for a purpose. He needs, He deigns to need, every one of us" (Discourses Addressed to Mixed Congregations, pp. 111-112).

Because of the uniqueness of each Christian's existence, he or she presents Christ with a unique opportunity. Each Christian has the vocation to offer Christ his or her humanity so that Jesus can re-incarnate himself in a new way. Jesus wants to continue his redemptive work through the not-to-be-repeated newness that is each Christian's uniqueness. To the extent that an individual Christian offers his or her humanity to Jesus, he or she has a unique opportunity to continue the redemption—an opportunity that no one else can offer him or her. Likewise, to the extent that an individual Christian fails to offer his or her humanity to Christ, Jesus loses the opportunity that is this Christian's uniqueness.

Each of us, consequently, no matter what his or her occupation or status in life might be, has both the great privilege and the great responsibility to properly utilize his or her life according to God's Christic design. No one else can fulfill your unique mission, and, in turn, you cannot accomplish the unique mission of another. At times we can become somewhat fearful or anxious about the task that God has entrusted to us as we more deeply realize what it demands. We can feel the same reluctance that Jeremiah the prophet voiced when Yahweh called him:

The word of the LORD came to me thus:
"Before I formed you in the womb I
knew you,
before you were born I dedicated
you,
a prophet to the nations I appointed
you."
"Ah, LORD GOD!" I said,
"I know not how to speak; I am too
young."
But the LORD answered me,
"Say not, 'I am too young.'
To whomever I send you, you shall
go;
Whatever I command you, you shall
speak.
Have no fear before them,
because I am with you to deliver
you, says the LORD."
—Jer 1:4-8

Jeremiah initially shrank back from the mission that God was giving him. He complained that he was not capable of accomplishing it. God answered him, however, and told Jeremiah that he was perfectly capable of fulfilling his appointed role, for he, Yahweh, would be with Jeremiah. God would work through Jeremiah, and Jeremiah, for his part, was to be open to God, allowing Yahweh to work through him according to the divine will.

We, too, can be guilty of reacting to God's call in the same way that Jeremiah had originally reacted. This can happen as God calls one to a basic state of life. Once a person is within a fundamental vocation, one can be tempted to resist God's call to higher things, to a more complete accomplishment of his or her mission, and to a greater Christian maturity. When so tempted, a person must control his or her fears and trustingly give himself or herself to God's will. Only then will the person become convinced that God never requests anything without granting abundant grace to accomplish his design, and that, moreover, to answer God's call as consistently as possible is the only true path to peace, happiness, and fulfillment, despite the pain that is necessarily involved.

We are aided in remaining faithful to the unique role in life that God has given us if we strive to remain aware of the great value that one life has to Christ, to the Church, and to the world. History tells us of the great difference that just one life can have regarding Christ's work; there are outstanding examples from all walks of life. Surely the Church has been enriched, and countless lay people have been inspired because of the life of a man named Thomas More. He was a layman who realized the deepest meaning of life—and he did not fail to confront the true purpose of human existence, even when that confrontation meant sacrificing his life for what he believed. Surely this life—the one life of St. Thomas More—has made a difference. In our own times, we have been enriched and inspired by an outstanding lay witness—the beloved Dorothy Day. What an inspiration she has been! Surely her life, though it was only one life, made a difference—and such a great difference. There are, too, the examples of men and women who have established religious orders and congregations. Surely the life of each of them has made an overwhelming contribution toward a better Church and a better world. Consider also the life of Angelo Giuseppe Roncalli, a person from a peasant background who eventually came to be called Pope John XXIII. Surely the world is so much better for Pope John's having given it his love, kindness, joy, and constant concern. Of course one life does make a difference.

At this point, however, many will object that the above examples highlight the lives of persons who have achieved outstanding recognition in the external order of things and have commanded great public attention. People who voice this objection often say that their own lives are so mundane, so hidden, so incapable of making headlines. Surely, they continue, this rather too ordinary kind of life makes little difference to Christ, to the Church, and to the world. Surely it does not much matter whether a person living this kind of existence fulfills his or her God-given mission. At first glance, many of us would tend to agree with this reasoning, a reasoning that is really the exact opposite temptation of what we considered when we likened ourselves to Jeremiah. In that context there was a question of being tempted to do nothing because we feared the greatness to which we were called; in the present context, however, it is a question of being tempted to do nothing because we think we really have nothing to contribute. Yet, as we begin to reflect in mature faith, we soon see the fallacy of this objection. We realize that great external accomplishments or a life that attracts public attention do not, in and of themselves, make that life great and truly worthwhile. If a Christian life that is characterized by notable external achievement is truly great and meaningful for mankind, we know that it is so because the external achievement has sprung forth from an attitude of deep faith, hope, and love. This, then, is the ultimate answer to the above objection—every Christian's life, no matter how ordinary it might be in its external framework, can be tremendously important and can make an outstanding contribution toward the work of ongoing redemption as long as it is increasingly consistent with God's will.

God's ways are not always our ways, and his thoughts are not always our thoughts. God can take a life that seems so ordinary, so prosaic, so uneventful, and achieve wonders with it as long as the person is striving to fulfill his or her role in life according to God's designs. We cannot, then, use the ordinariness of our lives as an excuse for not making our existence truly great, truly significant for both Christ and humanity—a life that truly makes a difference. Karl Rahner has advice for us when the ordinariness of our lives tempts us to think that our existence is unimportant and almost useless: "Let us take a good look at Jesus who had the courage to lead an apparently useless life for thirty years. We should ask him for the grace to give us to understand what his hidden life means for our religious existence" (Spiritual Exercises, p. 160). Notice that Rahner describes the first thirty years of Jesus' life as "apparently useless." In reality, of course, Christ's very ordinary existence at Nazareth was not actually useless but was, on the contrary, tremendously important—it was part of his redemptive effort. No, it is not the ordinary setting of our lives that is an obstacle to our making a unique and important contribution to the cause of Christ. The real obstacle, if we allow it, is our failure to relate to life's ordinariness as God intends.

The realization of the greatness of our own lives, however, must be balanced with a realization of the limitations that are attached to that greatness. We are finite creatures who have various limitations that emanate from our finitude. A sense of limitations, then, should accompany the fulfillment of our mission in life.

What are some of these limitations? First, it is important to realize there are false limitations—limitations that need not be—as opposed to inevitable limitations—limitations that spring forth from the fact that we are finite creatures who are immersed in the human condition. An example of a false limitation is demonstrated by the person who succumbs to the temptation of wanting to be someone else. This person looks at the physical and intellectual gifts of one person, the pleasing personality of another, and so forth and so on, and convinces himself or herself, that, if only he or she were endowed with such qualities, well, yes, then it would be possible to really accomplish something with his or her life. In other words, the person fails to accept himself or herself as God has made him or her. This person fails to accept his or her God-given uniqueness and wastes precious time looking at what he or she does not have, rather than appreciating that with which God has actually endowed him or her. Such a person must accept himself or herself, once and for all, in his or her fundamental uniqueness. Moreover, this person must develop the gifts, strengths, and capacities of his or her uniqueness and strive to control its weaknesses as much as possible. He or she should also realize that only by accepting his or her uniqueness as coming from God's creative love and constantly striving to allow that same love to bring his or her uniqueness to fulfillment will he or she achieve ultimate peace and happiness. Then, and only then, can a person properly make his or her contribution to continued redemption.

Surrounding our uniqueness, then, are limitations that need not be; similarly, there are also limitations that are inevitable. We possess certain talents, for example, but present circumstances do not allow us to exercise these talents here and now. Even at those times when we can exercise our talents, we often feel limited because we realize that we have only a certain amount of energy; that there are only a certain number of concrete opportunities and a certain amount of time for us to use our talents. At other times we feel limited because the persons we are trying to serve are hostile to our efforts and shut themselves off from what we desire to so generously offer.

These, then, are some examples of limitations we can experience in our efforts to fulfill our mission. To balance the realization of the greatness of our call with the realization that we will be variously limited—sometimes painfully so—in our striving to implement our mission is as necessary as it is challenging.

Each Christian, therefore, because of his or her personal uniqueness, has a unique mission to fulfill in helping continue the work of Jesus. Each Christian is given the opportunity to contribute as he or she receives the call from God, and, obviously, there are varying degrees according to which a Christian may respond or not respond to God's call. There are, first, those who hardly respond at all, who seem to be barely Christian. They may have faith, but it is a dead faith, for they refuse to be guided by God even in serious matters. They want to be complete masters of their own existence; the less they have to think about God, the better. Originally, some of these people may have been given a call to magnificent Christian greatness in this or that state of life. They may have turned a deaf ear to true greatness, however, and determined to be makers of their own self-conceived greatness; their concept of greatness may never have transcended the limits of space and time—they may have thought and acted as if their temporal existence would extend forever.

Second, there are other Christians who essentially respond to God, but not as completely as possible. Their lives seem to be an average mixture of both continuing faithfulness to God and occasional disloyalty to him; periodically they accomplish much good, but they also mix in a considerable degree of mediocrity. They do, however, seem to be basically sincere Christians who do, in fact, promote the work of Christ and essentially fulfill their roles in life.

And finally, there are those Christians who initially answer God's call and continue to answer it in an eminently generous manner. They develop their uniqueness marvelously and become forceful shapers of the world's Christic destiny. Their good actions are deeply etched into the human process, although they may well be hidden from public acclaim. Because of them and their actions, the world's goodness is enhanced, and mankind has come considerably closer to fulfilling its temporal and eternal destinies.

Today's Church needs more of this type of Christian. The Church and the world in which she is situated are experiencing a time of crisis—perhaps the most critical time of all history, for at what other time in human history could life as we know it on this earth end so suddenly in a nuclear holocaust? Yet, although we live in an age of special crisis that has tremendous and numerous problems, we also live in an age of great opportunity. God, for his part, always provides for the needs of both the Church and the world in which the Church is meant to serve. Surely, in this age of great need and opportunity, God will not fail to call Christians of all vocations to completely and eminently dedicate themselves to the task at hand. We should pray that everyone will respond according to their own uniqueness and make their own special contribution to the work of Christ.
(End of Excerpt from Response to God's Love)
---
Use Your Talents

October 3, 1993 Chicago 11:30a.m.

I am your Savior, Son of the Living God. I come to you that you might have life, not as the world gives you life, but My life which is life eternal. I carved you from My special carving and made you little less than an angel. I love you and cherish all the moments when you, My special child, come to sit with Me. I wait here and I hope you will choose to come, but I never force you. Your will is totally free and I give it to you because of My love and the will of the Father. I inform you in numerous ways. You do not have to guess and wonder. Come be with Me in this silence and all you need to know will be told to you. Your life is unfolding as a beautiful rose. Each petal falls and you plant My odors about as I so desire. I make your life full and sure as you trust in Me. No need for worrying, My little flower. My ways give you freedom if you listen to your heart. I am a personal God and you know Me as giving you fullness and life. You know there is some magnetism to Me and the way you crave to be part of Me. This is the work of the one, true God Who created you with a thirst that can only be quenched by Me. All roads that lead to Me give you fullness, worth, peace and joy, not as the world thinks, but as you yourself know true peace and joy. When I really touch you, you do not remain the same. I shed My Blood for you that you will have the life only I can give. What friend in this world would die for you? You, My child, were worth My dying for. I came that you will have life eternal and the gift I give is My Precious Blood for your sins. Come to Me in trouble and when you are bowed down. Come to Me in joy. Come to Me every day that you live and I will give you all you need. Seek to know Me more and more. Knowledge of Me, being with Me, are the only way to perfect peace. They lead to eternal life.

I have a divine plan for you. I created you with special gifts and talents to be used to do My work. They are not for your own self-promotion. You, My child, are nothing except as I created you. Why try to promote yourself? It is none of your own doing. I gave you the talents you are using. You had nothing to do with it. These talents were given to you to do My work. To use these talents to make yourself feel better than your brother is indeed a sin. You must realize they are loaned to you to work for Me. As you give someone a car, or loan them a place to stay, I loan you your talents to use to work for Me. If you do not work for Me and use them to make yourself better than your brother, you are offending Me. Likewise, if I give you talents and you do not use them because you think you are not as good as your brother, you are not being thankful to Me for My gifts to you. You are not using My gifts and that offends Me greatly. Each person was created by Me to do My work. Each person has all he needs to do My work. To be envious of others is fruitless. They have their job. You have yours. You are not supposed to do their work. That is why you were not given their talents.

Do your own work. Don't be envious of your brothers. Don't hide your talents. You did not earn them. I gave you your talents. You must sing because I will it. Others must do as I will them to do. It displeases Me to give you a gift and watch you hide it and make light of it. I give the gift. You must use all your gifts. They were given to you to do My work. Your brother has his gifts. Be grateful for your brother and he should be for you. You are all chosen by Me for a special mission. You know what to do. It feels right. I plant little seeds in your heart and all you do that is for you in the end feels right. You are not to be doing your brother's work or he yours. Talk to Me that you might know just what your work is and do it.

Do not hide your talents. Praise your God Who gave you these talents. Embrace and use them. This is not pride. This is My plan. I love you. I give to each of you, My precious children, as a mother who buys special Christmas gifts for each child. To buy gifts all the same for all your children is not to respect their specialness, their individuality.

Oh, I love you, little ones, so much. Please come to Me. I am so good and I wait to be with you and share My love with you. Come now. This is your top priority. All else will work when you come to Me first. I love you. You are My chosen children. Come and be filled and I make your loads light and I fill you with the Spirit of Salvation.

All roads that lead to Me are the right roads. Praise Me for I am good and I love you, little dear ones.
(End of Blue Book message)
---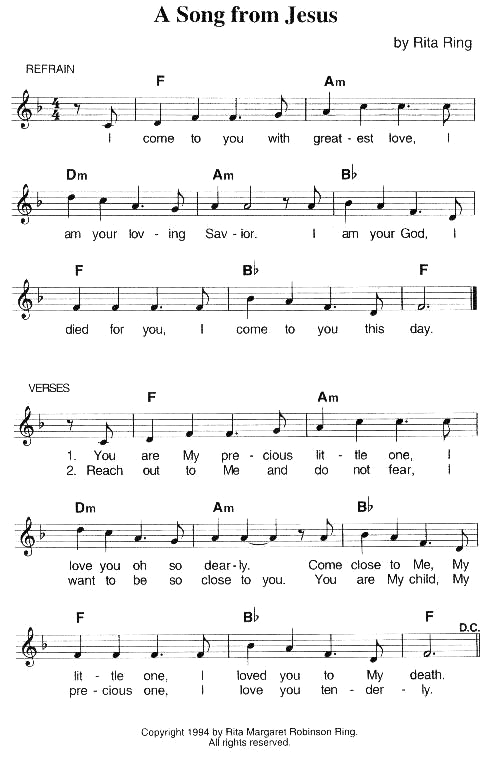 ---
Messenger: Social at the Morrow, Ohio, Center after 6:20 p.m. prayers and rosary on Friday, November 17, 2000.
Messenger: There is a special rosary in Sidney, Ohio, for healing Tuesday, November 21, 2000. Prayers begin 6:20 p.m. Please call 1-888-211-3041 for more information.
---
Messenger: Rosary in Clearwater, Florida - December 5, 2000.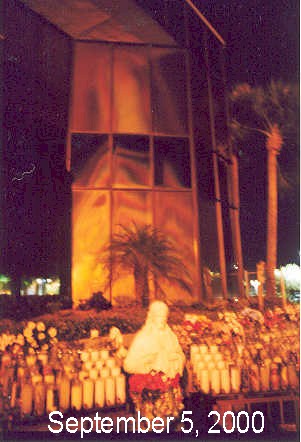 ---
Messenger: Mary wants the Red Rosary Book printed. It will cost $12,000 - $14,000 to get them reprinted.

---
Messenger: Pray for Perry.
---
Prayer List for apostles for interior use in the Movement. Pray hourly.

Spread the Blood of Jesus on everyone, consecrate their hearts, cast the devil out, pray for coming of the Holy Spirit in a special way for all people involved on this list.
Pray Father Carter is healed through Our Lady of Clearwater.
Pray for Father Carter's doctors.
Please pray for one new very important intention.
Pray for all involved in buying the building.
Pray for designated priests, Fr. Mike, Fr. Smith, Fr. Ken, all priests involved in the Imprimaturs translations including all bishops. Pray for Fr. Joe, Bishop Ed, Fr. Don, Father at Tuesday Masses, Fr. Tom, Fr. Bill, all priests involved with Walter, Fr. Hagee and special priests.
Pray for Father's sister Merle, for all of us servants, handmaids, apostles and vocations to all 7 categories.
Pray for the elections.
Pray for an audience with the Pope.
Pray for all Jesuits involved, all those over us. Pray for the 4 urgent intentions.
Pray for the rights to the books.
Pray for the process of getting Father's books on the Internet.
Pray for money to reprint the books.
Pray for the Imprimatur on the Priestly Newsletter Book II.
Pray we can send it to all bishops and Jesuits.
Pray for Perry and family and discernment.
Pray for all sub-centers and all out-of-state rosaries.
Pray for the sisters' mailing, nursing home mailing, bus mailing.
Pray for Rosary Factory.
Pray for Genevieve's daughter and Sheila's mom and Jerry's dad, Bernice's daughter.
Pray for Paul and Joan discernment.
Pray for all book covers.
Pray for B & M and Tina and Terry, all printing jobs, companies involved.
Pray for 5th, the 13th, the 17th.
Pray for the Internet team and the daily messages.
Pray for building up of Morrow, Ohio, Dale, Indiana, other sub-centers.
Pray for the Holy Spirit Center and all involved.
Pray for all our families, children in school, college mailing.
Pray for lots of rosary makers and rosaries for the schools.
Pray for funds and grace.
Pray for Paul C., Margaret Mary, Steve and Sheila, Monica, Angie, Marian, Cathy, Joe, Nick, Mary, Emily, Joe, Doris, Glaci, Dunkers, Joan R., Morgan, Mark, Walter, Janice, Mike A., Margaret, Ron, and Harold.
Pray for Fred doing the paper and all involved in priestly "start-up".
Please pray for all Shepherds of Christ children.
---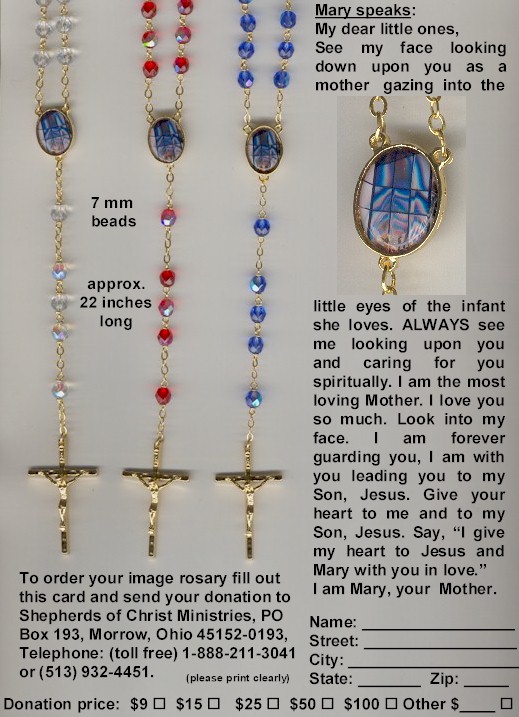 (Please copy and pass out to family and friends.)
---
Mary's Message from the Rosary of August 27, 1996
Mary speaks: I stood beneath the cross of my Son, and my Heart was in such pain for I saw Him before my eyes. I saw Him covered with blood. I saw Him die. My Heart, my children, my Heart to watch my Son, but my Heart, my Heart, how I suffered for my little children of the world that give in to this world and give up the love of my Son. O my little children of light, I give you this message. Carry this light into the darkness for your Mother Mary, for I stood beneath the cross and I cried. I cried for the little ones. I cried for the young ones, the ones that do not care and will lose their souls. How do I make you see for you will not listen to me? What can I do? I come. I appear. I beg. I plead. I give you these gifts from my Son, and you reject me. I do not deliver messages very often anymore for I have been ignored. The message is the same. You do not read the messages I have given to you. Please help me. Help the little children. I appear. I appear. I appear, and I am ignored. I stood beneath the cross, and I cried. I cried, and my Heart was in such anguish for my little children, for I am searching for them this day as I searched for the Child Jesus. Please, please help me. I cannot hold back the hand of my Son any longer. I am Mary, your Mother. I ask you to help my children. You are my children of light.

Song: O Lady of Light, shining so bright, be with us this day, guiding our way, O Lady, O Lady of Light.

Mary speaks: I appear to you as Our Mother of Sorrows.
(End of Mary's Message)
---
MY VALENTINE FOR JESUS AND MARY
AND THE WORLD

I _________________ give my heart to
You Jesus and Mary on this day
_________________
I promise to help spread the devotion to
the Hearts of Jesus and Mary.
---
Question for married couples and others in intimate relationships:
Q: How do I feel in my heart when I am divided with you?
---
---
---
Copyright © 2000 Shepherds of Christ.
Rights for non-commercial reproduction granted:
May be copied in its entirety, but neither re-typed nor edited.
Translations are welcome but they must be reviewed for moral and theological accuracy by a source approved by Shepherds of Christ Ministries before any distribution takes place. Please contact us for more information.
All scripture quotes are from the New Jerusalem Bible, July 1990, published by Doubleday.
Revised: November 16, 2000
URL: http://www.SofC.org
Contact Information for Shepherds of Christ
Email: info@SofC.org
---
Shepherds of Christ Ministries
PO Box 193
Morrow, Ohio 45152-0193

Telephone: (toll free) 1-888-211-3041 or (513) 932-4451
FAX: (513) 932-6791