Mary has requested that the daily message be given each day to the world. It is read nightly at the prayer service from her Image Building in Clearwater, Florida, U.S.A. This is according to her request. All attempts will be made to publish this daily message to the world at 11 p.m. Eastern time, U.S.A.

---

We acknowledge that the final authority regarding these messages rests with the Holy See of Rome.



---
Jesus speaks: I wish the messages given on November 17, 1998 to be put on the Internet.
---
Message from November 17, 1998
Jesus speaks: My dear ones,
I give to you the vision of Lucia, 1929, as painted by Harold Kellner.
I ask this of you, to study this vision and read the second message of November 17, 1998.
My desire is that priests join with the people and the angels and saints and the souls in purgatory in the Hearts of Jesus and Mary, in the Holy Spirit, pleading and praying as indicated in the following message (Second message of November 17, 1998.)
Messenger: On the day of November 15, 1998, at 12:30 p.m. Mass at St. Gertrude's I was taken into immense ecstasy. From the Offertory to the Consecration, I felt as if I would burst inside from the realization of what would take place at the Consecration. I was filled with such emotion and crying at the Consecration. At the point the Host was raised high by this most holy priest, three complete, golden transparent Hosts came forth instantly from the raised Host.

They looked as this (see diagram) transparent and golden color as when I see the sanctuary covered with a golden aura. They were distinctly outlined in gold.
Jesus speaks: I wish the picture of Lucia's vision to appear before the second message.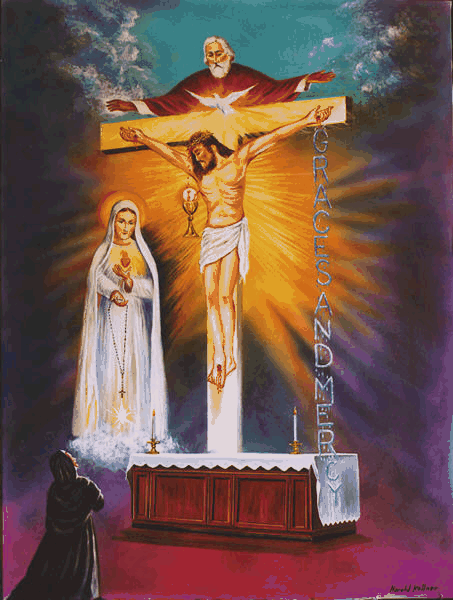 ---
Second message given November 17, 1998.
Jesus speaks: I beg you now, My beloved priests, to consecrate your hearts to My Heart and to My Mother's Heart so that you will offer a most pure and holy sacrifice.
I wish you to mount the altar and cry out from the depth of your hearts to the Father, "Father forgive us for our sins and the sins of the whole world."
Priests, I beg you and I beg you to join with the people in begging for forgiveness as a body.
You are so blind and you do not see. This is the Holy Sacrifice of the Mass in which the greatest grace is released, but you must be attentive. You come as if you are half asleep and stiff. This is your prayer to petition the Father to please forgive the human race, to grant you mercy, to help you to praise and worship and thank God, your Almighty God. This is how you must pray: with emotion and deep sorrow for your sins.
You come to offer sacrifice and plead for mercy to the Father. You are to unite in such oneness with Me in this Holy Sacrifice. I offer Myself to the Father for forgiveness of men's sins.
Oh My people, it is so important that you listen. I say to My churches if you have ears to hear, hear Me.
---
Revelation 3:1-6,12

'Write to the angel of the church in Sardis and say, "Here is the message of the one who holds the seven spirits of God and the seven stars: I know about your behaviour: how you are reputed to be alive and yet are dead. Wake up; put some resolve into what little vigour you have left: it is dying fast. So far I have failed to notice anything in your behaviour that my God could possibly call perfect; remember how you first heard the message. Hold on to that. Repent! If you do not wake up, I shall come to you like a thief, and you will have no idea at what hour I shall come upon you. There are a few in Sardis, it is true, who have kept their robes unstained, and they are fit to come with me, dressed in white. Anyone who proves victorious will be dressed, like these, in white robes; I shall not blot that name out of the book of life, but acknowledge it in the presence of my Father and his angels. Let anyone who can hear, listen to what the Spirit is saying to the churches."

Anyone who proves victorious I will make into a pillar in the sanctuary of my God, and it will stay there for ever; I will inscribe on it the name of my God and the name of the city of my God, the new Jerusalem which is coming down from my God in heaven, and my own new name as well.
---
Jesus speaks: My Mother cries to you, My beloved priests, from the building in Florida. She begs her children to consecrate their hearts and attend Mass worthily.

How it wounds Me, that so many of My priests and people come to the Holy Sacrifice and have no emotion in their hearts. They do not have any thoughts of love for Me. They do not even see themselves as sinners and in need of forgiveness. They come as the lukewarm souls to worship, their hearts are so far from Me. They come with their busy schedules, with intellectual thoughts in their heads, and they miss our love affair. I give Myself to them. I give Myself to them. I give Myself completely to them. NO EMOTION! NO LOVE!
---
Main Shepherds of Christ Page
---
Copyright © 2000Shepherds of Christ.
Rights for non-commercial reproduction granted:
May be copied in its entirety, but neither re-typed nor edited.
Translations are welcome but they must be reviewed for moral and theological accuracy by a source approved by Shepherds of Christ Ministries before any distribution takes place. Please contact us for more information.
All scripture quotes are from the New Jerusalem Bible, July 1990, published by Doubleday.
Revised: November 18, 1998
URL: http://www.SofC.org
Contact Information for Shepherds of Christ
Email: info@SofC.org
---
Shepherds of Christ Ministries
PO Box 193
Morrow, Ohio 45152-0193

Telephone: (toll free) 1-888-211-3041 or (513) 932-4451
FAX: (513) 932-6791