Mary has requested that the daily message be given each day to the world. It is read nightly at the prayer service from her Image Building in Clearwater, Florida, U.S.A. This is according to her request. All attempts will be made to publish this daily message to the world at 11 p.m. Eastern time, U.S.A.

---

We acknowledge that the final authority regarding these messages rests with the Holy See of Rome.



---
Jesus speaks: Jealousy is not from God. I will not have anger in My Movement. You must be instruments of love operating as the children of God, all according to the Father's will.
I want the Reign of Peace to come to My children. I want love in their hearts. I want total dependency on Me.
When all else is removed from you, then you will come to My Heart, for it is all that you will have left.
How much more glorious it would have been for you if you would have obeyed your God when you lived in the land of plenty, but you would not listen to Me.
I speak now to the nursing mothers. The day will come when the children no longer nurse at the breast and then you will see that the time was most precious when you could have instructed them. If you contemplate the deep love a mother has for the child of her womb, you will understand a little the love the Virgin Mary has for her little ones. I am the Divine Lover. How precious to Me is the death of My precious ones. You give and give to your children and hope and pray they will be saved. You must let go to Me. I am the Divine Lover. I gave My life for them and for you. I desire the precious ones to live forever with Me in heaven. You must pray to Me. I speak now of peace My children, for you want some. Peace will be found in a deep union with God. Through the recitation of the rosary, you will be able to keep your focus on God. I tell you to teach all the rosary. Many scorn the rosary acting as if it is a petty thing. My children, you will cry for something to occupy your troubled mind. I have asked and your Mother has asked you to circulate the rosaries, books and tapes. You are helping the children of the world, for they will be tested beyond all measure and many will not be able to stand it because they would not listen. As the little pig that tooted on the flute and had no time to build a sturdy dwelling, your house of straw will collapse and some of My precious ones will be in the eternal pit of hell. But it was of their own making, for when I told them to obey the Commandments, they ignored Me. The First Commandment commands that you love your God above all things. I will deal harshly with the ones who ignored and persecuted you. They will suffer for their sneers and misgivings. Our Lady appeared and I prodded you and many ignored you and persecuted you. I am so disgruntled at the earth. Children, spread the rosary. Many of My precious ones will suffer the loss of their souls.
You will suffer as never before, Satan will be permitted to test you in so many ways, internally and externally. You will find the greatest difficulty praying and you will turn to the rosary. Consecration will be the way you will stay united. The single line "I give my heart to Jesus and Mary with you in love" will help you to remain one in love.
You will be tested and you will find special protection in Mary's Immaculate Heart and dwelling in Me.
Though the powers of hell come against you, it is through your interior union with God that you will survive. You will be tested and cry out, you will want to escape, sister will turn on sister, brother on brother, mother on child and you will want to escape. You will find special refuge in Our Hearts. This deep union with God will help you in the turmoil and confusion. Since the days of Fatima, the earth has been told to prepare their hearts through consecration and they have ignored their Mother. Today she appears in Florida and you in your brazen ways still ignore the sign God sends you.
I ask you to include the First Blue Book message.
---

Cling to Me

May 13, 1993
My dear child, if you stay close to Me, then I live in you and you live in Me. I am He Who created you and I love you with such an intensity that you will never know. My words are your truth. You must abide in My heart in all things. There is no room for doubt. My ways are steadfast, direct, and without error.
You must stay rooted in Me to ward off the power of the evil one. His grip is paralyzing and crippling. His power is stronger every day.
When you live in Me, I am in your heart and he has no power over Me. I am your God. I am your true lover. I want to protect you. I want to guard you from this force. Stay rooted firmly in Me and he will have no power.
I am He Who comforts you. My hand is upon you. Hold tight to Me, My child. My eyes are fixed right on you. You are My most precious child. I love you as no other can. My arms are about you. My tenderness surrounds you. My love is in your heart. You go not alone. I walk with you.
I share every aspect of your life with you. Cling to Me, feel My presence. It is warm and secure within your chest. There is no room for fear, for I cast out fear and bring you comfort and joy.
---
Jesus speaks: Satan's grip is paralyzing and crippling. I want to dwell in you. I want you to live in Me. I give you the prayer for Union with Jesus so that you will stay one in Me.
Please include Prayer for Union with Jesus.
---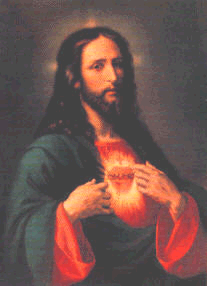 The following Imprimatur applies only to the Prayer for Union with Jesus and not to the message above or below.
Prayer for Union with Jesus
Come to me, Lord, and possess my soul. Come into my heart and permeate my soul. Help me to sit in silence with You and let You work in my heart.
I am Yours to possess. I am Yours to use. I want to be selfless and only exist in You. Help me to spoon out all that is me and be an empty vessel ready to be filled by You. Help me to die to myself and live only for You. Use me as You will. Let me never draw my attention back to myself. I only want to operate as You do, dwelling within me.
I am Yours, Lord. I want to have my life in You. I want to do the will of the Father. Give me the strength to put aside the world and let You operate my very being. Help me to act as You desire. Strengthen me against the distractions of the devil to take me from Your work.
When I worry, I have taken my focus off of You and placed it on myself. Help me not to give in to the promptings of others to change what in my heart You are making very clear to me. I worship You, I adore You and I love You. Come and dwell in me now.
-God's Blue Book, January 17, 1994

---
Jesus speaks:You will receive great grace when you endure the sufferings. Satan will attack you, you will receive great grace for withstanding his attacks for God's sake. Pray that you will be strong and not sin. I am preparing you so that your hearts will be totally focused on Me, so that your desire is for your God. You want to be with Him for all eternity. My holy ones, I have prepared you for the days of My wrath. You must love and continue to die to your imperfections and grow in the ways of love. Writing is a tremendous help to express your feelings from your heart. Only those rooted in their hearts in love will be able to withstand the day of My wrath. You may be martyred and suffer tremendous persecution. I wish you to sing in joy, admitting your faults, loving your God above all things. More and more the hatred will surface in your hearts, the division for one another, and you will have to depend on prayer and love to fight off satanic attacks.
I ask the Holy Spirit Novena be placed on a tape and circulated and recited daily by all. It will help you in this time of testing. I am teaching you now so you learn to depend on Me and prayer. I am Jesus, oh how I love you, to My death, I loved you.
You must look inward. You must communicate in love and humility from your hearts, wishing to connect in love. When your brothers come to you in tears, listen and love them, for it is Me you comfort. Pray to love and respond from the heart, not to give solutions, but to genuinely understand another's wounded heart. Do not criticize one another. Recognize the good in one another and praise each other for deeds well done. Build up the body through encouragement and love, centering always in oneness and brotherhood. Praise, sing, love and be as God's children helping one another in distress and trials. You must pray the rosary and pray for the Holy Spirit to descend on you and heal your wounded hearts. He will fill you with the fire of God's love. In suffering, pray. You will suffer. Recognize it as being permitted by God so that you grow in greater life. Identify your suffering with My suffering. You will suffer immensely interiorly. You must live by the Blue Book messages. Blue Book III will help diffuse hate and anger and help you to love as God wills. When in conflict, open the Blue Book anywhere and read the message aloud. Say the Prayer for Union with Jesus. Mothers, read the messages to your children when very small. Give your children rosaries and Blue Books for Christmas. Tell them to pray and open them. Ask honorary children to read a message from the Blue Book.
You will fall, you must bear with one another. Only in love will you survive. You are all sinners, no one amongst you is perfect. Pray for God's mercy. I am Jesus your Savior
---
John 15:11-17
I have told you this so that my own joy may be in you and your joy be complete. This is my commandment: love one another, as I have loved you. No one can have greater love than to lay down his life for his friends. You are my friends, if you do what I command you. I shall no longer call you servants, because a servant does not know his master's business; I call you friends, because I have made known to you everything I have learnt from my Father. You did not choose me, no, I chose you; and I commissioned you to go out and to bear fruit, fruit that will last; so that the Father will give you anything you ask him in my name. My command to you is to love one another.
---
Messenger: Jesus then gave me a song in a few moments. He said to include it with this writing and to put it on the Internet. Included here is the song as it was given in very rough form. He asked that Joe put it in published form as soon as possible.
Included here is the song.
---
November 19, l998

Dedicated to Father Carter
I AM A CHILD OF GOD
VS. 1
OH I AM A CHILD OF GOD
OH I GIVE MY LIFE TO YOU
I SEE YOUR HEART UP-ON YOUR BREAST
AND HOPE I CAN DWELL IN THEE.

VS. 2
OH I AM A CHILD OF GOD
I KNOW OF MY LOVE FOR THEE
I KNOW MY LIFE DE-PENDS ON YOU
AND KNOW I WILL STRUGGLE FOR THEE.

VS. 3
OH LITTLE SON OF HIM
OH COME WITH HU-MIL-I-TY
AND ASK HIM NOW TO GRACE YOUR SOUL
WITH LOVE THAT IS LIKENED TO GOD
---
---
Main Shepherds of Christ Page
---
Copyright © 2000Shepherds of Christ.
Rights for non-commercial reproduction granted:
May be copied in its entirety, but neither re-typed nor edited.
Translations are welcome but they must be reviewed for moral and theological accuracy by a source approved by Shepherds of Christ Ministries before any distribution takes place. Please contact us for more information.
All scripture quotes are from the New Jerusalem Bible, July 1990, published by Doubleday.
Revised: November 19, 1998
URL: http://www.SofC.org
Contact Information for Shepherds of Christ
Email: info@SofC.org
---
Shepherds of Christ Ministries
PO Box 193
Morrow, Ohio 45152-0193

Telephone: (toll free) 1-888-211-3041 or (513) 932-4451
FAX: (513) 932-6791