We need 1/2 to publish Blue Book 11
Can you help - prayers and donations
Message from Jesus and Mary
Come to Florida
December 17, 2013
17th Anniversary of Mary
Please pray for special healing.

Pray for funds to do what
Jesus asked us to do.


In Spanish with the Imprimatur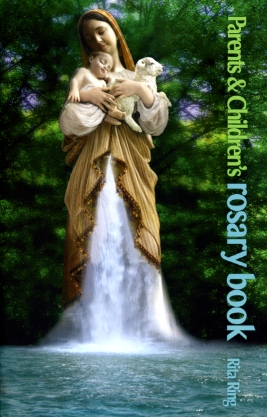 Also we are ready to print
5000 copies of the
Parents and Children's Rosary Book
in SPANISH.
Can you help with a donation?
Fr. Joe's New Cycle A
is now Available.
$10.00 plus postage
Call Rosie 1-888-211-3041
Pray for Fr. Joe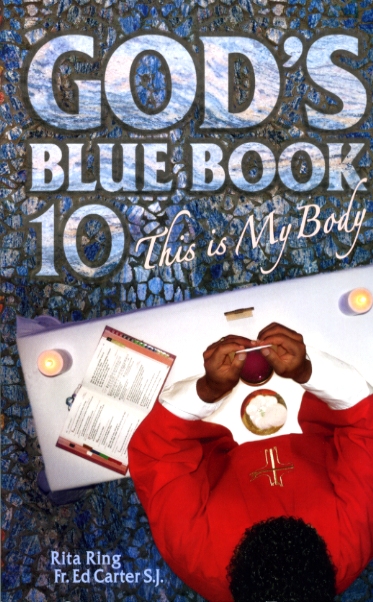 $4.00 plus postage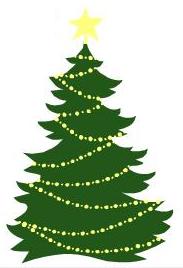 Big Sale for Christmas
Give the gifts that count.
plus postage
Call Rosie
1-888-211-3041
Check after message


Fr. Carter -

Tell My People

$5.00
Response to God's Love
$8.00
Response in Christ
$8.00

God's Blue Books IV, V, VIA, B, C; 7, 8, 9, 10

$4.00 each
Old Mass Books with the Imprimatur
$2.00
New Mass Book with Imprimatur

$8.00

New Parents & Children's Book w/Imprimatur
$8.00
Fr. Joe's Cycle A, Steadfast to the Sun
$5.00

Fr. Carter's Priestly Newsletters

Book II
$6.00
November 22, 2013
Readings from Today
1 Maccabees 4: 36-37, 52-59
Judas and his brothers then said, 'Now that our enemies have been defeated, let us go up to purify the sanctuary and dedicate it.' So they marshalled the whole army, and went up to Mount Zion.

On the twenty-fifth of the ninth month, Chislev, in the year 148 they rose at dawn and offered a lawful sacrifice on the new altar of burnt offering which they had made. The altar was dedicated, to the sound of hymns, zithers, lyres and cymbals, at the same time of year and on the same day on which the gentiles had originally profaned it. The whole people fell prostrate in adoration and then praised Heaven who had granted them success. For eight days they celebrated the dedication of the altar, joyfully offering burnt offerings, communion and thanksgiving sacrifices. They ornamented the front of the Temple with crowns and bosses of gold, renovated the gates and storerooms, providing the latter with doors. There was no end to the rejoicing among the people, since the disgrace inflicted by the gentiles had been effaced. Judas, with his brothers and the whole assembly of Israel, made it a law that the days of the dedication of the altar should be celebrated yearly at the proper season, for eight days beginning on the twenty-fifth of the month of Chislev, with rejoicing and gladness.
1 Chronicles 29: 10-12
Hence, in the presence of the whole assembly David blessed Yahweh. David said:
'May you be blessed, Yahweh, God of Israel our ancestor, for ever and for ever! Yours, Yahweh, is the greatness, the power, the splendour, length of days and glory, everything in heaven and on earth is yours. Yours is the sovereignty, Yahweh; you are exalted, supreme over all. Wealth and riches come from you, you are ruler of all, in your hand lie strength and power, and you bestow greatness and might on whomsoever you please.
Luke 19: 45-48
Then he went into the Temple and began driving out those who were busy trading, saying to them, 'According to scripture, my house shall be a house of prayer but you have turned it into a bandits' den.'

He taught in the Temple every day. The chief priests and the scribes, in company with the leading citizens, tried to do away with him, but they could not find a way to carry this out because the whole people hung on his words.
R. In the first reading, Maccabees wanted to get
rid of the Greeks –
then they wanted to rebuild and redo
the altar – because the altar
was desecrated –
The Jews still celebrate Hanukkah –
The temple was a symbol of God's
presence with His people –
They believed God was with them
and He would protect them –
In the Gospel - Jesus is finally in
Jerusalem and
Jesus goes to the temple – the place
of His Father –
Jesus sees the money changers there –
They needed to be there to change money,
but there was an area to do that.
They made the house of prayers
into a den of thieves.
A special prophet –
Jesus was a special prophet –
Eventually they put Jesus to death –
Jesus started in the temple –
He came to bring peace and love –
Many believed in Him –
But some wanted Him dead –
Violence – the devil wants violence –
God brings healing of violence –
God brings life –
The devil wants obstinacies,
disharmony, control, pride,
argumentation, disobedience,
jealousies, greed, envy,
hatred, division.
God wants love, obedience, joy,
sacrifice, harmony,
doing God's will, life.
Our participation at Mass and united to
the Mass all day is a sacrifice,
a giving of ourselves united to
Jesus who gave Himself to His death –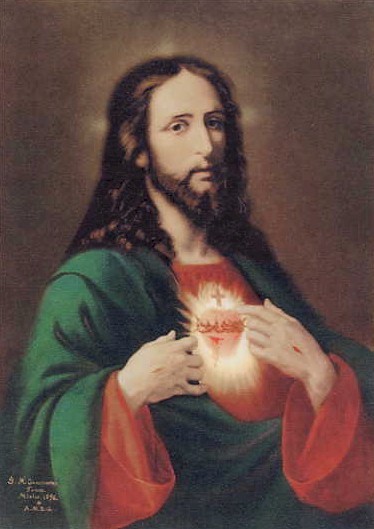 Jesus I place my trust in You
R. And we are trustworthy –
Jesus wants us to do God's will –
not control things so we
can feel over everything –
Open –
God wants us open –
The devil wants people closed –

1 Corinthians 3: 9-13, 16-17


After all, we do share in God's work; you are God's farm, God's building.

By the grace of God which was given to me, I laid the foundations like a trained master–builder, and someone else is building on them. Now each one must be careful how he does the building. For nobody can lay down any other foundation than the one which is there already, namely Jesus Christ. On this foundation, different people may build in gold, silver, jewels, wood, hay or straw but each person's handiwork will be shown for what it is. The Day which dawns in fire will make it clear and the fire itself will test the quality of each person's work.

Do you not realise that you are a temple of God with the Spirit of God living in you? If anybody should destroy the temple of God, God will destroy that person, because God's temple is holy; and you are that temple.
R. We are building the Kingdom of God –
so we build on Christ our foundation.
Christ must be the foundation –
or the house will cave in like
one built on sand –
He gives us His Body and His Blood
to nourish us –
The Pascal Mystery is death/resurrection.
We must die to our selfish ways.
Not being closed in,
disharmonious and controlling
in our ways –
In yesterday's first reading we
see the Greeks wanted to force
their ways of worshipping
gods and goddesses on the Jews –
Building the Kingdom of Jesus means I do
it God's way –
not satan's way
The Our Father
Our Father, Who art in heaven, hallowed be Thy name. Thy Kingdom come, Thy will be done on earth as it is in heaven. Give us this day our daily bread and forgive us our trespasses as we forgive those who trespass against us. And lead us not into temptation, but deliver us from evil. Amen.

R. The body and the spirit are not
separate –
Think of what a man does to himself
that lives in harmony and love –
Think of what a man does to his
heart who is closed in,
angry, controlling, tight
his whole life –
combatal not meek
and harmonious –
Like Jesus –
Jesus, kind and meek in Heart –
Loving, obedient –
Dear Jesus,
I eat your body,
I drink your blood,
Help me to be like You –
Sing: Give Me your Heart oh Jesus!
Jesus: Love is the answer –
Giving one's heart –
Praying to know God's will –
Letting go of control –
The Greeks wanted to force the Jews
to worship their gods and goddesses –
The devil wants you to worship yourself
as a false god –
Who do you put on your throne?
Who do you focus on first?

Matthew 22: 36-40

'Master, which is the greatest commandment of the Law?' Jesus said to him, 'You must love the Lord your God with all your heart, with all your soul, and with all your mind. This is the greatest and the first commandment. The second resembles it: You must love your neighbour as yourself. On these two commandments hang the whole Law, and the Prophets too.'
Jesus: My way brings you peace and joy
and bearing fruit for the Kingdom.
I am the way, the truth and the life.
Who is your god or God?
The devil cripples with fear and
control –
Open your heart and surrender to
God – Be loving –
Surrender –
When you try to block God's will in
others' behavior –
you get the mess you can
make –
The Greeks used force –
Pharaoh tried to force Moses and
the Jews –
Pharaoh had a bad end –
he wouldn't listen even when
he received all the Plagues –
Building the Kingdom of God must be
rooted on a foundation
of the One True God –
Fr. Carter says
"Fortitude allows us to relate properly
to the difficult and temperance
permits us to regulate properly
the pleasurable in our lives"
Jesus: Satan wants a person to misuse their lives.
Satan wants people to throw away tremendous
opportunities to die to selfish ways
by trying to force one's way on others –
Humility is truth –
Humility leads a person to seek and fulfill
God's appointed task for
his life. To recognize oneself as
God's creature. To use prayer to
the Holy Spirit to recognize God's will for
your life.
Knowing God's will for you, you give your
reasonable best each day despite
monotony, frustration or
hiddenness of our work.
You are called to live in the present.
Not be tempted to live in the past or
too much in the future.
R. Grace is such a gift. God gives to us
a sharing in His life in baptism. I love
the Eucharist – I love to be with the
Eucharist in Church. I love to be there.
R. We see that the Father, Son and Holy
Spirit live in the graced-baptized
soul. This indwelling of the Trinity
is such a gift. If I can meditate
on this, I can ponder what the beatific
vision is a little more.
I see our distorted vision –
Not seeing God as we should –
Not seeing others as we should
Not seeing ourselves as we should –
The Blue Books help us to see through God's
eyes.
The more I am abundantly filled
with God's grace, the clearer I can see
as God wants me to see –
To be likened to God –
IS TO LOVE –
God is love!!
We were created in His image and likeness!
I am so grateful for these writings about the
Love of Their Two Hearts.
I see God's love for us in coming to this
earth and taking flesh
John 3: 16
For this is how God loved the world:
he gave his only Son,
so that everyone who believes in him
may not perish
but may have eternal life.
R. God first loved us.
We respond to God's love –
We were created to know, love and serve God.
I am in awe at the gifts God gives to
us –
The gift of baptism –
The gift of the Eucharist –
The gift of the priest –
The gift of the sacraments –
I love the sacraments –
I love Jesus, I love Jesus, I love Jesus,
I love the Father and the Holy Spirit –
God dwells in my graced baptized soul –
God the Father created me –
I have a purpose –
I have a unique calling to help contribute
in salvation history –
God chose each one of us when He
created us.
Jesus died for us.
The Holy Spirit wants to fill us with the
fire of God's love –
The world is oh so hungry for love.
I love to think of the unity that is real –
beyond what we see –
we know unity and love in heaven –
the communion of the saints –
We can pray through their powerful
intercession.
We can pray for the souls in purgatory.
We can pray with the souls in purgatory.

Excerpt from Response in Christ by Fr. Edward Carter, S.J.

e) Relationship with Members of the Church

There is but one true Church of Christ. Yet this one Church has three different states of existence. There is the pilgrim Church, the Church of this world, composed of members who have received the grace of Christ and strive for its development. They have not yet obtained the goal of their efforts, as have the members of the heavenly Church, who enjoy God in eternal happiness. The Church suffering is an intermediate state of existence necessary for those who had not achieved the required purification as members of the pilgrim Church. Although there are these three phases of the Church's existence, there is a profound union existing between all the members. All these members possess the same basic life of grace in Christ, and this common life establishes the most intimate bonds of love. In our preceding chapter, we discussed the pilgrim Church. Let us now consider the Church suffering and the heavenly Church.

The members of the Church suffering are those who have departed from this life in an incomplete state of Christian development. Their development is incomplete in the sense that grace has not fully taken possession of them, and, as a result, they are yet closed in upon themselves to a greater or lesser degree. They as yet cannot open themselves out in complete love to the Triune God in the beatific vision. They must undergo a further purification, a purification which could have been achieved upon earth with merit. Now the purification must be achieved with no merit attached. The pain of this purification is mixed with the certain expectation of achieving the vision of God. We can hasten the advent of this vision for this people by the offering of prayers and other good works. Scripture itself refers to our action on behalf of those in purgatory in Chapter 12 of the Second Book of Maccabees beginning with verse 38.

The members of the heavenly Church are those in whom the life of grace has taken full possession and has reached its completion in the life of glory. Faith now is unnecessary, as the light of glory gives the human intellect a new strength and capacity for seeing God face-to-face. While the Christian was a wayfarer, he received the imprint of the indwelling Trinity as he shared in God's own life. Now in heaven that grace-life and possession of God reaches its completion—the absolute completion is not achieved, however, until the resurrection of the body. The divine persons give Themselves to the beatified in a profound union far surpassing that of the indwelling of the Trinity experienced here below.

This life of heaven is still the Christ-life, for just as we possess a share in Trinitarian life here below as mediated by Christ, and exercise this grace-life as structured by Him, so also in heaven is the mediation of Christ present. In the words of Rahner, "One always sees the Father through Jesus. Just as immediately as this, for the directness of the vision of God is not a denial of the mediatorship of Christ as man."14 And not only does the humanity of Christ unite the blessed to God, but also, in some way, to the whole of creation. This is merely a completion of what is begun here below, namely, the union with Christ in His humanity establishing the Christian in a special relationship with God, with other men, and with the whole of creation. We have a glimpse, therefore, of the fullness of life which members of the heavenly Church possess.

The heavenly Church, as St. Thomas says, is the true Church.15 The Church of this earth and the Church of purgatory are, each in its own way, reaching out in loving hope for the heavenly Jerusalem. Vatican II puts it very simply: "The Church, to which we are called in Christ Jesus, and in which we acquire sanctity through the grace of God, will attain her full perfection only in the glory of heaven."16

The members of the heavenly Church can help us in living our life of grace until we too share its fullness with them. Their power of intercession on our behalf is but another ramification of the communal aspect of Christianity. We are meant to help others grow in Christ. We, in turn, are intended by God to receive aid from others—yes, from members of the heavenly Church, as well as from those with whom we dwell here below.

Not only can we be aided by the saints' intercession, but the example of the canonized saints can also be of great value to us. They have concretely proved that full holiness is possible. Such an inspiration is of real worth when we are tempted to think that Christian sanctity in its higher degrees is impossible of attainment. Moreover, the canonized saints, in their diversity, teach us that there are many authentic versions of Christian holiness. They can be innovators in showing us that there are numerous possibilities in assimilating the mystery of Christ, although the basic assimilation remains the same for all Christians of all times. In the opinion of Rahner this is one of the chief roles the canonized saints exert in the life of the Church.17

---

NOTES:

14Karl Rahner, Theological Investigations, Vol. III (Baltimore: Helicon, 1967), p. 44.
15 Cf. St. Thomas Aquinas, In Ad Ephes., c. 3, Lect. 3.
16Second Vatican Council, Constitution on the Church, No. 48.
17Cf. Karl Rahner, Op. cit., pp. 100-101.
John 10: 16
And there are other sheep I have
that are not of this fold,
and I must lead these too.
They too will listen to my voice,
and there will be only one flock,
one shepherd.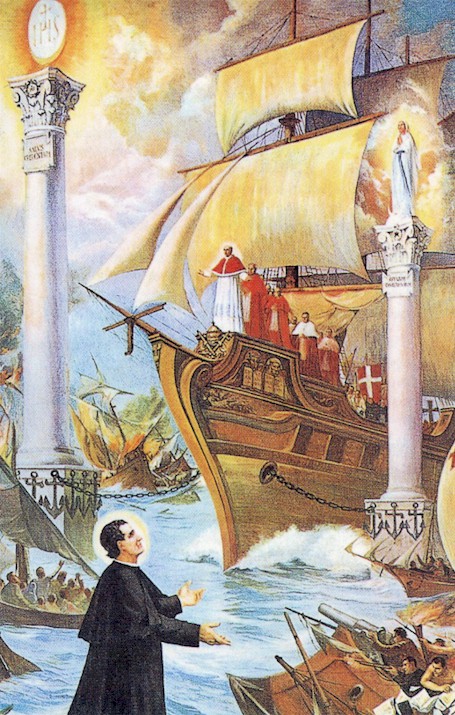 R. We live the life, death and resurrection of
Christ is our lives –

Acts 2: 3-4
and there appeared to them tongues as of fire; these separated and came to rest on the head of each of them. They were all filled with the Holy Spirit and began to speak different languages as the Spirit gave them power to express themselves.
1 Corinthians 15: 54-58
And after this perishable nature has put on imperishability and this mortal nature has put on immortality, then will the words of scripture come true: Death is swallowed up in victory. Death, where is your victory? Death, where is your sting? The sting of death is sin, and the power of sin comes from the Law. Thank God, then, for giving us the victory through Jesus Christ our Lord.

So, my dear brothers, keep firm and immovable, always abounding in energy for the Lord's work, being sure that in the Lord none of your labours is wasted.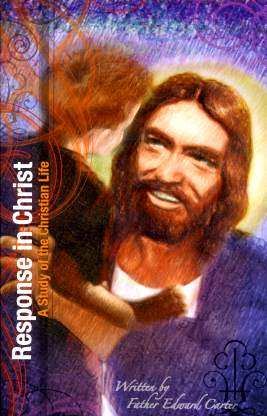 Excerpt from Response in Christ - Chapter 6 by Fr. Edward J. Carter, S.J.
The Nature of Sin

What is the nature of sin? Contemporary theology emphasizes that sin is not primarily a violation of a law, but a disruption of personal relationships. Sin is a refusal to love. Serious sin is a radical refusal to love. Venial sin is a partial refusal to love.
The most obvious personal relationship that is affected by sin is that between God and the sinner. In sinning a man fails, to a lesser or greater degree, to accept God's loving gift of Himself. He fails also to respond with his own gift of love. In serious sin man refuses intimate friendship with God. In venial sin he dulls the ardor of that friendship. Man, in so far as he sins, maintains that he does not want his life to be directed by the loving hand of his heavenly Father. He wants to be a law for himself; he wants to be the one who decides what is good for himself and what is not. Schoonenberg observes: "Especially in the prophets sin is an aversion from and an unfaithfulness to Yahweh himself; hence it is placed in the heart rather than in the wrong deed. We see that aversion, that rebelliousness, that lack of faith which precede the act of transgressing the Law already in the story of the sin in paradise, where it is presented as the wish of possessing autonomously the knowledge of good and evil, of being independently the Law unto oneself. . ."1

As we sin and fail to love God, we close in upon ourselves. We prevent a further growth in openness to transcendence, to God and to His grace. We block off the source of our only real self-development and fulfillment. To the extent that we close in upon ourselves in sin, to that extent we feel the misery of sin. This misery of spiritual "self-enclosedness" is a faint participation in the essential pain of hell. The damned are eternally and completely closed in upon themselves, completely deprived of God and other personal relationships. This, then, is hell – the damned really experiencing no one but themselves. Hell is God's ratification of the choice which the unrepentant serious sinner has himself made. This choice is one of radical self-isolation.

Sin is primarily a refusal to love God, a refusal to be loved by Him, to be guided by Him. In sinning, man seeks for a false fulfillment, and therefore actually becomes impoverished. The great St. Augustine puts it this way: "For when the soul loves its own power, it slips from the common whole to its own particular part. Had it followed God as its ruler in the universal creature, it could have been most excellently governed by His laws. But in that apostatizing pride, which is called 'the beginning of sin', it sought for something more that the whole; and while it struggled to govern by its own laws, it was thrust into caring for a part, since there is nothing more than the whole; and so by desiring something more, it becomes less. . ."2

Yes, sin is an act disruptive of one's relationship with God. But sin has other dimensions also. It is a refusal to love other men as we should. For the Christian, sin is an offense against the covenant life of the People of God. In some way the sinfulness of the individual Christian makes itself felt in the corporate body which is the Church. The Christian, in sinning, is failing to love the corporate good of the People of God. He is failing to contribute his share to the progressive maturation in Christ of the total Christian community. The Christian in his sin becomes a burden to the People of God.

Sin also is an obvious refusal to love others in those instances when one directly harms others through his transgression. So many sins come under this category: theft, all forms of uncharity, social injustice, scandal, detraction. Furthermore, not only does one man often sin against another, but he frequently leads another into sin. In God's plan man is supposed to help his neighbor achieve his temporal and eternal happiness, but how often, even among Christians, the opposite is true. Not to make a positive contribution to the true growth of others is failure enough, but to be a positive hindrance is a far greater evil.

There is still another way in which the sinner refuses love to his fellowmen; when man sins he makes his contribution to the "sin of the world."3 He thus adds to that huge, negative weight, nourished by the sins of the centuries, a weight which is always trying to draw man away from his God-given destiny. This mass of sinful ugliness, this "sin of the world," always has its considerable influence, but at times its hideousness makes itself especially manifest. The great race riots which have tragically risen up recently in various parts of the United States are examples of these special manifestations of the "sin of the world." Such events are not isolated instances of sins connected with race. In back of such tragedies there is a long history of grave social and racial sins, of seething hatred of white for black, and black for white. Such accumulated sinfulness in regard to race is part of the "sin of the world."

There are many other examples of these special manifestations of the "sin of the world." There are the world wars and the lesser wars, with their share of unbelievable accounts of the hatred which man can impose upon his fellowman. There are the histories of the various crime syndicates throughout the world with all their blatant categories of human degradation – narcotics, prostitution, terrorization and the rest. There are the sins of colonialism and the sins of communism.

The "sin of the world" with its stark and bold manifestations is a sickening reality. But a reality it is. And each man's sinfulness adds a little to this universal world sin. Each man's sinfulness contributes to sin's divisiveness. Man is intended to help Christ progressively unify all creation more and more into Himself. When man sins, he contributes to the disruptive and disunifying force of the "sin of the world."

Sin, then, because it is a failure to love God, man and the world, is selfishness. Sin seems to offer some sort of happiness, or advantage, or fulfillment. But this is a delusion. Sin can accomplish none of these things, because man's only real happiness and fulfillment comes from his authentic relationship in love with God, his fellowman and the rest of creation. Sin works against all these relationships.

Sin is so hard to understand because it is an absurdity. But if we are to grow properly in the Christian life, we must have some basic realization of what sin is, and of God's attitude towards sin and the sinner. Our best source for such a mature realization is given to us in the crucified Christ. In this figure we can know all the Father wants us to comprehend concerning sin. First of all, Christ crucified tells us very starkly of the overwhelming heinousness of sin. We know that sin is overwhelmingly evil because it alone could nail Incarnate Goodness to the cross. Secondly, Christ crucified speaks to us concerning the justice of God. God's justice does ask satisfaction for sin – yes, even that satisfaction which is the death of His Son. Thirdly, and very importantly for us poor sinners, the crucified Christ speaks to us unmistakably and overwhelmingly of the Father's great love and mercy towards us. Because of this love and mercy we can be so positive about human existence, for great as is the power of sin, the love and mercy of the Father, incarnated in His Son, is infinitely greater. This is our peace and consolation.

God's love and mercy moves the sinner toward repentance, and when the sinner repents, God's love changes him. In Isaiah the prophet we read: " 'Come now, let us talk this over, says Yahweh. Though your sins are like scarlet, they shall be as white as snow; though they are red as crimson, they shall be like wool.' " (Is 1:18).

Included in our sorrow for sin is a resolve to take the proper means and precautions to avoid sin in the future. One of the reasons we fall into the same sins with the same frequency is that we tend often enough not to go to the root causes of our failures, and, consequently, we often fail to apply the more efficacious remedies. All this not to say that we should become morbidly introspective in looking at sinfulness. However, without succumbing to this type of introspection, we all must allow for appropriate self-examination and self-knowledge.

Part of this self-examination and self-knowledge includes the manner in which I handle temptation in my life. The proper attitude toward temptation lies between two extremes. The person at one extreme is overly fearful of temptation, concentrates too much on avoiding it, and can even tend to equate temptation with sin. Such an attitude toward temptation breeds a negative mentality toward the Christian life, and detracts from the peace, joy and happiness which Christ wants us to experience.

The opposite attitude is that which is careless towards temptation. To take reasonable and grace-inspired precautions against temptation is not to be negativistic, but realistic. It is to realize that I am a sinner, and that there are various ways by which I can be led to sin. I cannot avoid all temptations, but out of loyalty to Christ, man and the world, I should not recklessly bring temptation upon myself.

Despite our best efforts there will always be some sin in our lives, unless God were to give extraordinary graces. There is only one human person, as far as our certain knowledge goes, who has been preserved from all sin. This person is Christ's mother, Mary. Let us remember this very important point, however. The Church's teaching that we cannot avoid all venial sin without a very special assistance from God refers to semi-deliberate venial sin. With God's ordinary graces we can avoid all fully deliberate sin, both serious and venial. It is this fully deliberate sin which is such an obstacle to our proper growth in the Christian life. Finally, let us remember that as we grow in Christ, even the number of semi-deliberate sins become fewer.
______

1. P. Schoonenberg, Man and Sin (Notre Dame, Indiana: Fides, 1965), p. 8.
2. St. Augustine, The Trinity, Bk. 12, Ch. 14 (Washington: Fathers of the Church, 1963), p. 356.
3. For one description of the "sin of the world", see Schoonenberg, Op. cit., pp. 98-123.
R. God's Word is our truth!
Live by His Commandments and Word!
Outpour Your grace, Oh my God –
Increase in us faith, hope and love –
Dear God help us
Outpour Your grace, Oh my God –
Increase in us faith, hope and love –
Outpour Your grace, oh my God –
Increase in us faith, hope and love –
Many times we forget all our blessings come
from You –
God helps us to be holy –
to share our love with others –
Father Your gifts for us are countless –
infinite, we thank You for
Your kindness and love –

Sirach 50: 22-24
And now bless the God of all things,
the doer of great deeds everywhere,
who has exalted our days from the womb
and has acted mercifully towards us.
May he grant us cheerful hearts
and bring peace in our time,
in Israel for ages on ages.
May his mercy be faithfully with us,
may he redeem us in our own times!
R. Blessed be the Name of the Lord
forever and ever.
Dear God, please bless us, we
want to see your power –
You are all powerful –
Jesus: Sing to Me of your love –
Sing to Me in joyful songs –
Whoever is greatest among you will
serve the rest. All who humble
themselves shall be exalted.
Sing praise to God – love God.

Luke 17: 11-19
Now it happened that on the way to Jerusalem he was travelling in the borderlands of Samaria and Galilee. As he entered one of the villages, ten men suffering from a virulent skin–disease came to meet him. They stood some way off and called to him, 'Jesus! Master! Take pity on us.' When he saw them he said, 'Go and show yourselves to the priests.' Now as they were going away they were cleansed. Finding himself cured, one of them turned back praising God at the top of his voice and threw himself prostrate at the feet of Jesus and thanked him. The man was a Samaritan. This led Jesus to say, 'Were not all ten made clean? The other nine, where are they? It seems that no one has come back to give praise to God, except this foreigner.' And he said to the man, 'Stand up and go on your way. Your faith has saved you.'
R. Pray to God to Shower His Grace –
St. Cecilia was martyred
She was converted to Jesus –
She helped her friends to convert to Jesus –
And like the Romans they said to her
give up your faith or we will put
you to death.
St. Cecilia was martyred for her faith
She was a musician.
God allows us to suffer sometimes and
we even lose our heat in our homes –
sometimes in our houses –
we take so much for granted,
like comforts, heat, a roof, food etc..
Leprosy is a terrible skin disease –
Lepers were not allowed to be around
anybody –
They had to be isolated –
They heard about Jesus and they called
out to Him –
Jesus healed them and told them to show
themselves to the priest –
The priest gave official clearance to go
back to society for a leper, so
Jesus told them to show themselves
to the priest.
Only one leper came back to thank Jesus –
Jesus gives us so many gifts and we forget
to thank Him –
Fr. Joe says if you want to be a happy
person, be a grateful person –
Every night before bed, tell yourself
one thing that day, that made
you so happy.
A happy person is one who know how
much God has blessed him –
God is happy, He doesn't need us to
thank Him –
We need to be thankful and thank God
for all His blessings - He has
given us.
We are to do all we do for the honor and
glory of God –
Pray for people of the Philippines –
Pray for the tornado victims –
Lord God, we thank You for our clothes,
our food, the roof over our
heads, our friends –
Dear God you are gracious to us –
Sing: Jesus in the Morning –
Praise Him –
Jesus is always with us –
Praise and love Jesus –
Thank Him for this Movement.
Thank Him for the priests.
Thank Him for the hierarchy.
Thank Him for the pope.
Praise Jesus, Praise Him all day.
God our Father You have given us generous
gifts – help us to be closer to
our brothers in the human family.
God You have given us the gift of freedom.
We find our redemption in Jesus.
We sing Glory and Praise to You
Oh God and we thank You
for all You give us.
Hosanna, Hosanna to God –
God we love You so much –
You are all holy –
You are the fountain of all holiness –
You give us so many gifts –
Oh God we love You –
Thank You for the Holy Eucharist, Lord Jesus.
Thank You for Your Body, Lord Jesus.
Thank You for Your Blood, Lord Jesus.
We eat Your Body and drink Your Blood, Thank You, Jesus.
Oh God thank You for our priests!
Oh God we love You help us to die
to our selfishness and rise in You.
Father we unite to the Holy Sacrifice of Jesus
in the Mass, in the Holy Spirit,
through the intercession of Mary our Mother
and with the angels and saints and souls in
purgatory. Oh God outpour Your grace
to us and to the world.
Excerpt from Response in Christ - Chapter 4 by Fr. Carter J. Carter, S.J.

In schematic outline we have discussed the manner in which the baptized Christian extends his Mass to his daily existence. As he so lives out his Mass, he is becoming more Christlike. He becomes a more perfect priest and victim for his next participation in the eucharistic sacrifice.42 The beautiful cycle which the Mass contains lies exposed before us. As part of this cycle the Christian is intimately involved in the process of continued redemption. The Mass is the center of the Christian life: ". . . the liturgy is the summit toward which the activity of the Church is directed; at the same time it is the fount from which all her power flows."43

42. For a current treatment of the varied richness of the Eucharist, cf. J. Wicks, "The Movement of Eucharistic Theology" in Chicago Studies, Vol. 10 (1971), pp. 267-284.
43. The Constitution on the Sacred Liturgy, No. 10.
The Our Father
Our Father, Who art in heaven, hallowed be Thy name. Thy Kingdom come, Thy will be done on earth as it is in heaven. Give us this day our daily bread and forgive us our trespasses as we forgive those who trespass against us. And lead us not into temptation, but deliver us from evil. Amen.
R. We love You Father –
Thank You for the Church and for the
sacraments and the priest –
We love You.
Peace, Love and Joy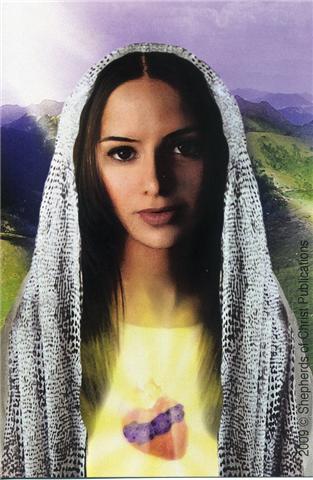 A Prayer for Intimacy with the Lamb, the Bridegroom of the Soul
Oh Lamb of God, Who take away the sins of the world, come and act on my soul most intimately. I surrender myself, as I ask for the grace to let go, to just be as I exist in You and You act most intimately on my soul. You are the Initiator. I am the soul waiting Your favors as You act in me. I love You. I adore You. I worship You. Come and possess my soul with Your Divine Grace, as I experience You most intimately.
Lamb of God
Lamb of God, Who takes away the sins of the world, have mercy on us.
Lamb of God, Who takes away the sins of the world, have mercy on us.
Lamb of God, Who takes away the sins of the world, grant us peace.
Lord I am not worthy that you should enter under my roof,
but only say the word and my soul shall be healed.
Spiritual Communion Prayer
Dear Jesus – we want to make a spiritual
communion, we cannot receive You
now, but we want to know Your
presence deep in our heart –
deep in our soul – Oh God fill us
with Your presence that we can
just focus on You and Your love
for us now – Love deep in us –
Oneness with You –
Quiet surrender to be alone in
this moment with You in our heart
in deep love –
We love You so much our beloved
God –
R. I eat Your Body –
I drink Your Blood –
Sacrifice - God loves us
Thanks be to God for those who love us
and help us and care for us –
Thanks be to God forever and ever –
Thanks for our food and home for
our health and laughter, for
love.
We pray to be safe and for our
health –
Thank God forever and ever –
Thanks for peace –
teach us how to be
loving to You and others –
Help us to see through Your vision
for the world –
God help our hearts to be pure and
loving and open to grow in
love –
Thanks be to God forever and ever –
God outpour Your grace on the
world –
Help us to have health and safety –
Thanks God –
Praise to God –
We thank You God –
We don't want to be like the Lepers –
We celebrate in the Mass –
Help us God to reach out to others
in love –
May God bless you and keep you –
Think of others and
see through the eyes of love –
God is awesome –
Jesus is King of Heaven and Earth –
We consecrate our hearts to Jesus and Mary –
God is awesome –

Give what counts this Christmas
Call Rosie 1-888-211-3041
Christmas Sale!!!
Give the gift that counts.
Give to your priests Fr. Carter's Books plus postage.
Tell My People $5.00
Response to God's Love $8.00
Response in Christ $8.00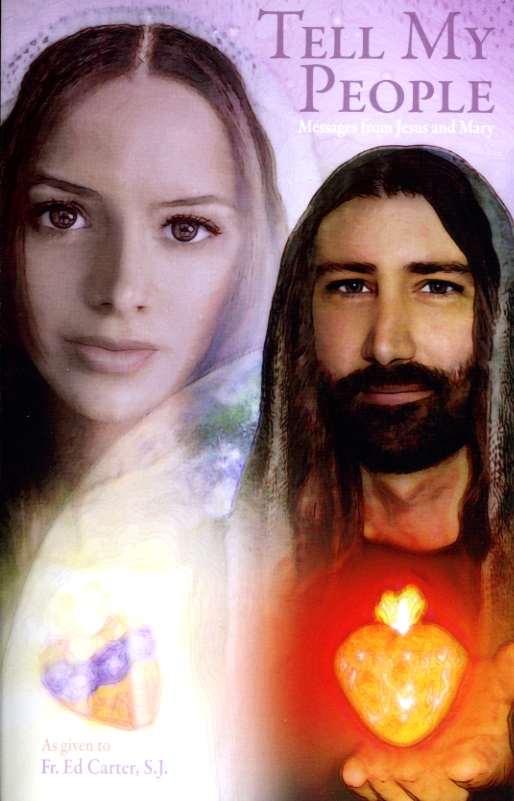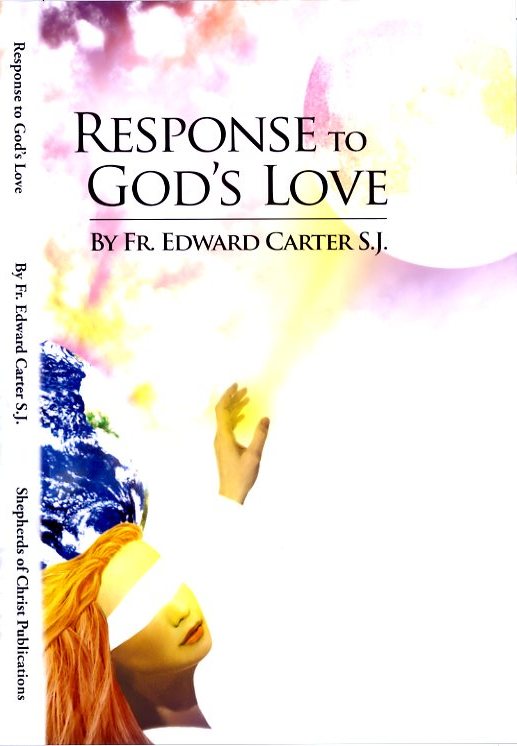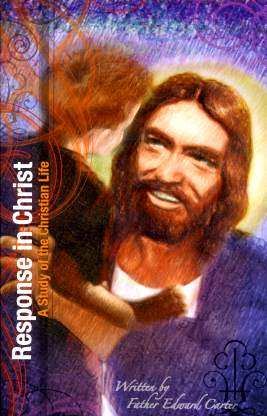 God's Blue Books
4, 5, 6A, 6B, 6C, 7, 8, 9, 10
$4.00 each plus postage
| | | | | |
| --- | --- | --- | --- | --- |
| Blue Book 4 | Blue Book 5 | Blue Book 6A | Blue Book 6B | Blue Book 6C |
| Blue Book 7 | Blue Book 8 | Blue Book 9 | Blue Book 10 | |
Old Mass Books with the Imprimatur
$2.00 plus postage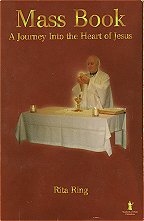 New Mass Book with Imprimatur
$8.00 plus postage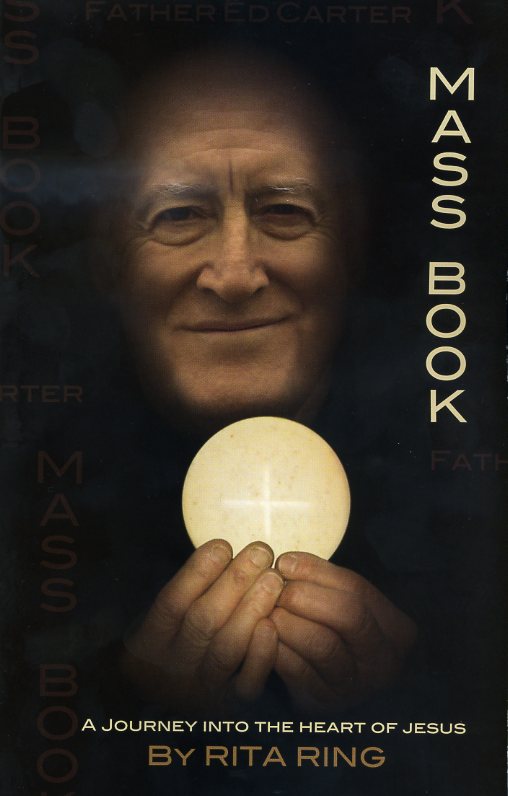 New Parents & Children's Book with the Imprimatur
$8.00 plus postage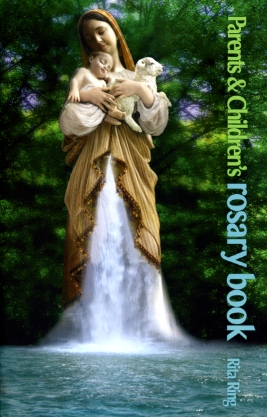 Fr. Joe's Cycle A - Steadfast to the Sun - Starts in Advent
$5.00 plus postage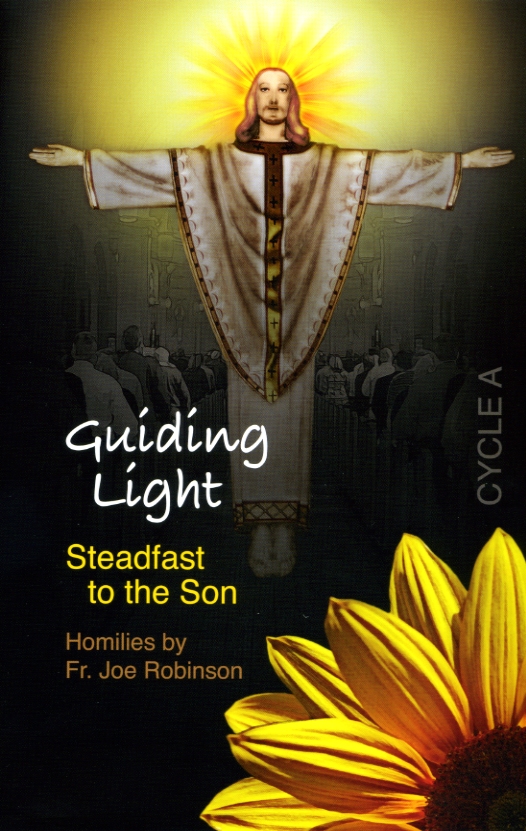 Give the gift that keeps on giving!
Give to your priest.
Fr. Carter's Priestly Newsletters Book II
$6.00 plus postage
Special sale statue with glass
15" Pilgrim Virgin Fatima
12" Infant of Prague
11" Our Lady of Fatima
12" Our Lady of Guadalupe
$50 plus shipping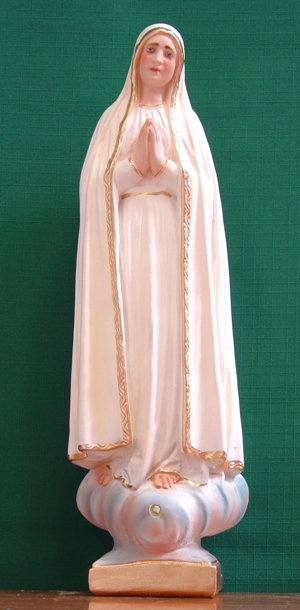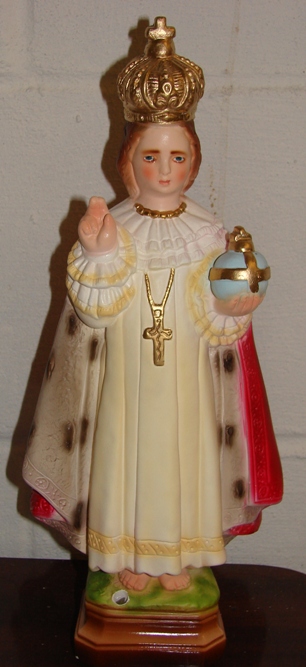 18" Pilgrim Virgin Fatima
$75 plus shipping (crown not included)
12" Our Lady of Lourdes - $70
12" Sacred Heart of Jesus - $100

Holy Family statue is $125
27" Statue of Our Lady of Fatima
$175 plus postage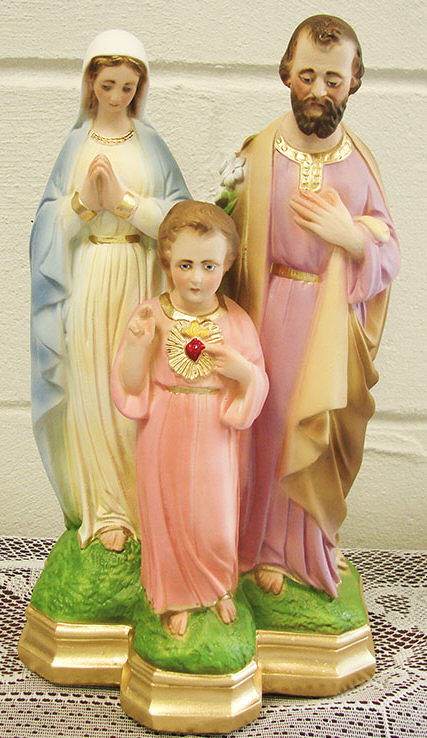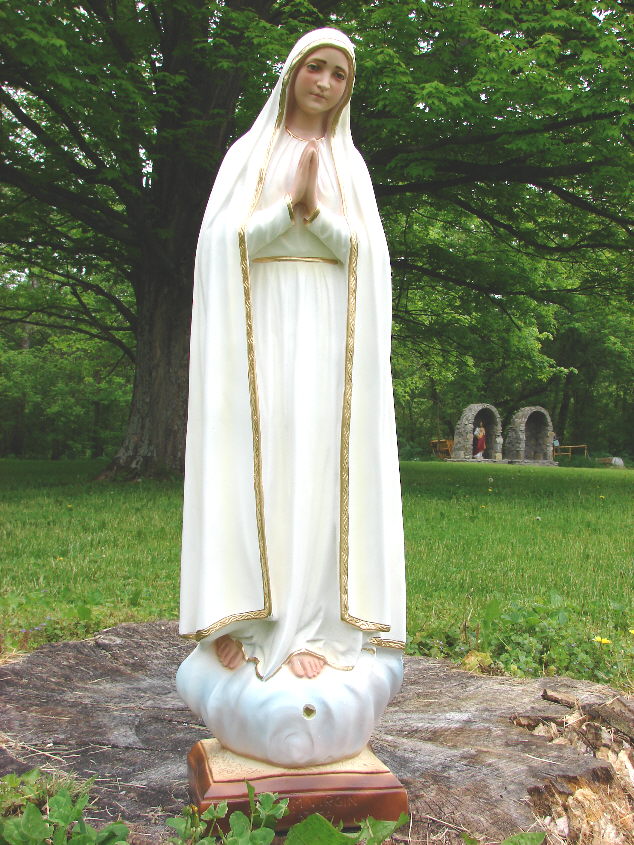 Get a canvas print of Mary's image
with a sliver of glass and a little
bottle of Jesus and Mary water.
The glass will be fixed behind the
back of the picture.
$200.00 plus postage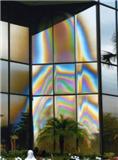 Dan called and gave the report to me, when I hung up I saw this rainbow and took a picture for him.