R. God has called us to begin this
network of prayer chapters
all over the world.
I can see when we are in heaven (if
we make it to heaven), we can look
to the earth and see this network of
prayer chapters dedicated to the Sacred
Heart and Immaculate Heart. This prayer
can help to strengthen our priests, the
Church and the world, because it is all
over the world dedicated to just
this.
We can become pros at
electronic communication but
God does not have an e-mail address.
We were created with the longing
in us that can only be satisfied
by God. We will never be satisfied
here on earth.
We can search for this on earth,
but it is a futile search.
People love us, our moms and dads,
our brothers and sisters, teachers,
wives, husbands, children,
but there is always a passing
in relationships to something
deeper.
Some have been hurt deeply in love —
like my mom died when I was 5,
people die, people leave and
can abandoned and hurt us who we
opened-up-to in love.
But love means we open the
doors to our hearts.
Jesus shows us His Heart
exposed on His Chest — It has a
fire and a cross, it is surrounded
by thorns, but it is still
exposed.
Now look at yesterday's sketch
of the heart and open and closed doors.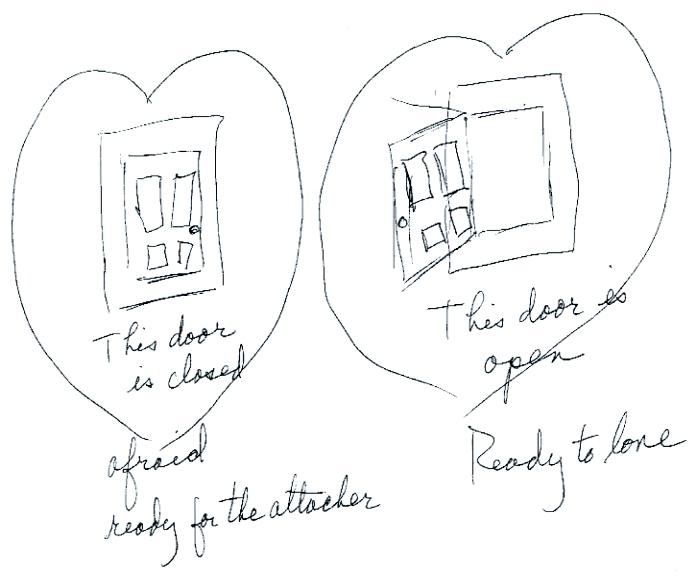 R. We can lock up our hearts because
of wounds, abandonment, these
people who we loved who died,
or like children grew up —
We will only be satisfied by God —
This is reality —
God made it this way
My little granddaughter has
a cute little nose like my
husband's deceased mother, her
great-grandma —
My mom died when I was 5 and
Fr. Joe was 14
I had a wonderful step-mother —
she lived until 95 and then
she died.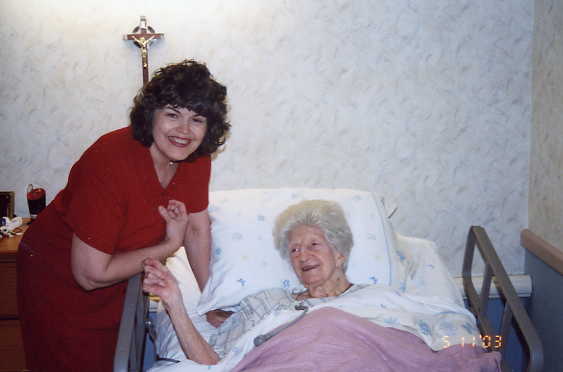 Rosella Robinson
Funeral November 12, 2005
In Rosella we have all had a good friend. Offering sympathy is in order, because we've lost a step-mother, a grandmother, an aunt, a friend, a wonderful lady. At the same time we are not here to grieve but to celebrate. We celebrate that Rosella lived a good and full life for 95 years, that she died a peaceful death, that she lived and died filled with God's grace. We also celebrate our faith that she is now enjoying the rewards of eternal life. As our first reading says: "The souls of the just are in the hand of God, and no torment shall touch them. They seemed in the view of the foolish to be dead…but they are in peace." For the bible, a fool is someone who doesn't believe in God. Their vision of reality is limited. Their mind is closed to anything they cannot discover for themselves. So death is the end of life in the view of a foolish person, since they have no belief in God. But for one who has faith, there is more to life than just the few years we spend on this earth. There is unending life with God. If a fool is someone who doesn't believe in God, then by those standards, Rosella was a person with profound and extraordinary wisdom. Her life was centered on God and her prayers were for those she loved that they too would live a life centered on God.

I was talking with George the other evening and he said whenever she called him she would introduce herself as: "This is Rosella, your godmother." She took her role seriously. George said by reminding him she was his godmother, he thinks she was also reminding him that she had the responsibility and the authority to straighten him out if he needed it. I'm sure all her godchildren got gentle reminders at times and I'm sure they got lots of extra prayers as well.

The gospel I chose for our Mass today was on the Eucharist. The Eucharist was so important to Rosella. She would come to Mass every day when she could. Jesus tells us "Whoever eats my flesh and drinks my blood has eternal life, and I will raise him on the last day." It is in this faith that I can say we are here to celebrate, knowing Rosella was well nourished with the bread of life, the body and blood of Jesus who promised: "whoever eats this bread will live forever."

In 1952 our mother, Alice, died. Rosella knew Alice and often Rosella told me that because of the friendship they shared, she felt she should step in and help out after Alice died. And she did when she married my father in February, 1953. For over 52 years she has been with us. She was a caregiver through and through. When she was finished caring for us, she cared for her sister, Catherine, and she cared for her grandchildren. It was what made her happy, to be needed by someone. And she didn't want to inconvenience anyone. She would always tell me, "Now if you have something planned and something happens to me, don't change your plans. Just go ahead with what you were going to do."

All kinds of great things could be said about Rosella, her kindness, her gentleness, her faith, her dedication to family. One thing I always remarked about was that I seldom heard her say a negative thing about anyone. Dad would often get frustrated with her when he wanted to complain about someone and she would make excuses for them or stand up for them.

I have no worries about where she is now. I'm sure she can say with St. Paul: " I have fought the good fight, I have finished the race, I have kept the faith. From now on a merited crown awaits me…" I believe she now must have a double crown, the first for living with my father (I loved my father, but those who knew him will understand what I mean). The second crown would be for taking over the care of five children, four in grade school and me in high school.

Since she's been at the Little Sisters, who took wonderful care of her, I would try to visit her every week. Whenever I was about to leave she would say "If I don't see you next week, I'll be on my way to heaven." She was peaceful with her God, with herself and with those who knew her. She was ready to go. So I can't grieve. I can only say thank you God for giving us a good woman to take care of us when we needed her, a good woman to inspire us in the way of holiness and a good woman to pray for us and whom I am sure will continue to pray for us until we're all together.

When she died a week ago we were enjoying the beautiful colors of fall. The red and yellow and gold trees were telling us that summer is over. But we do not grieve that the green leaves are gone and that nature is shutting down for we know it's only temporary. Spring will return and so will a new life for Rosella and for all of us, a life that will never end. Amen.
R. Jesus has written to me for 21 years
in Blue Book messages.
I received this letter in the
Morrow P O Box yesterday —
Jesus wants the Blue Books
out of the US — so the whole
world knows His love letters —
October 31, 2012

Dear Sir/Madam:

I have read and reread God's Blue Book, Vol. 2 - The Fire of His Love messages received by Rita Ring. It has been my source of inspiration and strength. I found a copy of it (photocopy) at the Adoration Chapel in the adjoining province which is miles away from our place. I have long wanted to have a copy of it. (I have not seen the Volume 1 yet.) Last week I visited my 96 year old mother and I'm glad I noticed the address for those interested for copies. I took time to browse at the photocopy praying some day I can have a copy of it. I have a prayer community at the hospital and I share the messages to those who are weary and sick. It's my wish that I can avail of the complete copy (Vol. 1 and Vol. 2). I would like to request for a copy - please tell me how much it would cost me. I believe only Jesus' chosen ones are blessed to have it. Thank you if this request be granted.

I'm a guidance counselor by profession and I also give testimonies in prayer meetings. It is my prayer that God will use me to bring his love to others. Thank you so much and God bless!

Yours in Christ,
Philippines
R. Lets spread the Blue Books —
We need to be soldiers of love — helping
others to really know about
the Sacred Heart.
We would always say —
give the Consecration to the Sacred Heart
and Immaculate Heart to the children in
a classroom of 50 children
with different plans and
There will be unity if they
all give their hearts to the
Sacred Heart and Immaculate Heart



The world is like a big
classroom and
the people were
all created by God —
There is a lot of willfulness —
They need to consecrate their
hearts to Jesus and Mary.
The world is divided, disunited, disharmonious,
They need to give their hearts to the Sacred
Heart and Immaculate Heart
Please help us spread these prayer chapters —
praying for the priests, the Church and
the world with such devotion to the
Sacred Heart and Immaculate Heart with
the Litanies, Seven Sorrows, Promises of the
Sacred Heart to St. Margaret Mary and the
Consecration to the Sacred Heart and Immaculate
Heart.
1 Corinthians 3: 9-13, 16-17
After all, we do share in God's work; you are God's farm, God's building.

By the grace of God which was given to me, I laid the foundations like a trained master–builder, and someone else is building on them. Now each one must be careful how he does the building. For nobody can lay down any other foundation than the one which is there already, namely Jesus Christ. On this foundation, different people may build in gold, silver, jewels, wood, hay or straw but each person's handiwork will be shown for what it is. The Day which dawns in fire will make it clear and the fire itself will test the quality of each person's work.

Do you not realise that you are a temple of God with the Spirit of God living in you? If anybody should destroy the temple of God, God will destroy that person, because God's temple is holy; and you are that temple.
R. The Father has a Plan. This is the time
He chose us to be here to help the
souls that Jesus died for. We are
brothers in Christ. We are to live
in love of God and others. We are to
recognize our part in uniquely loving
and building God's Kingdom here and now.

From Mary's Apparitions at Fatima
July 13, 1917
"During this same July apparition, Mary showed the three children a vision of Hell. She told them:

"You have seen Hell, where the souls of poor sinners go. To save them, God wishes to establish, in the world, devotion to my Immaculate Heart. If people do what I tell you, many souls will be saved and there will be peace.

"The war (World War I, then raging) is going to end. But if people do not stop offending God, another and worse one will begin in the reign of Pius XI. When you shall see a night illuminated by an unknown light [January 2, 1938], know that this is the great sign that God gives you that He is going to punish the world for its many crimes by means of war, hunger, and persecution of the Church and the Holy Father. (12)

"To prevent this, I shall come to ask for the consecration of Russia to my Immaculate Heart and the Communion of Reparation on the five first Saturdays. If my requests are granted, Russia will be converted and there will be peace. If not, she will scatter her errors throughout the world, provoking wars and persecutions of the Church. The good will be martyred, the Holy Father will have much to suffer, and various nations will be destroyed....

"But in the end, my Immaculate Heart will triumph, the Holy Father will consecrate Russia to me, Russia will be converted, and a certain period of peace will be granted to the world." (13)

13. For background material on Fatima, I am particularly indebted to Our Lady of Fatima's Peace Plan from Heaven (Rockford: TAN Books and Publishers, Inc., 1983).
R. On April 13, 1985 Pope John Paul II said
"The Apostleship of Prayer can bring a meaningful
and concrete contribution to the diffusion, at
all levels, of the great and consoling truth that
all Christians can be intimately united to Christ
the Redeemer through the offering of their own
lives, united and lived with the Heart of Christ,
in total consecration to his love and reparation
for the sins of the world. All this through the
Immaculate Heart of Mary Most Holy."
In the Heart of Christ - we think
of the love He had for His Father,
His Mother, all the souls created
that He gave Himself for and He
died for —
In the depth of His Person
as He gave Himself on the
cross —
This knowledge of the love of the
Sacred Heart begs us to open the door
of our hearts to Him who died
for us and to the love of the Father
and the Holy Spirit.
To open our hearts to Mary
our Mother in great love.
Loving is giving
Not closing down in fear —
like the man who buried
his talents —
far worse to lock our hearts
up because of what others
have done to hurt us —
instead of living the will
of God which is opening
our hearts to love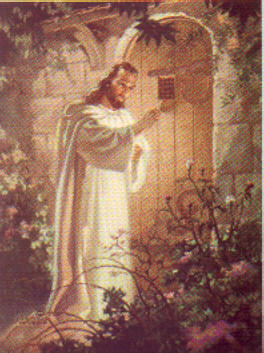 R. Love of the Sacred Heart of Jesus calls us
to be actors, not reactors —
to be enthusiastically and zealously
in love with Christ who
died for our sins.
It is love why Christ died for us.
It is love He wants from us.
To live our lives not loving
Christ is not really living —
Only in Him do we have
real life as the Father intends
us to be.
Singing, praying, meditating
helps us to get in our
hearts — open the door to
love with SONG —
Song: A Song from Jesus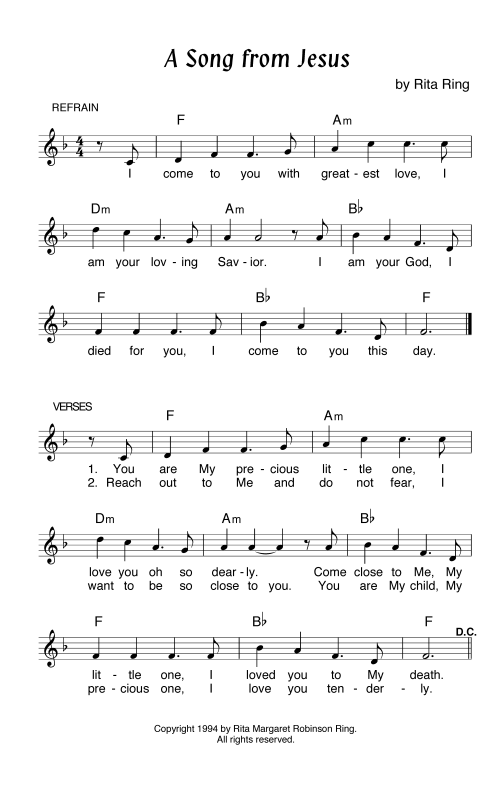 R. One who has devotion to the Sacred Heart
is totally dedicated to Him!!
We respond to Christ by devotion —
God who first loved us —
Response in Christ by devotion
to His Heart
We open the door of our hearts WIDE.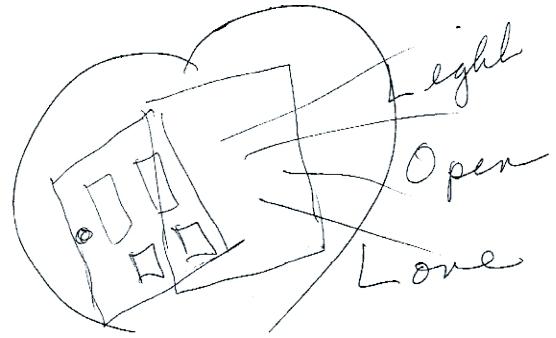 R. Christ took on flesh —
His Heart beat in His body —
He loved —
He felt
He had an interior life
We speak of our heart when we
speak of love —
Oh that my heart be open, my God,
and that You fill me with
love, that I am an empty
vessel ready to be filled
by Thee my God —
I know my Redeemer lives —
I know God the source of love
and life and in Him I
know life —
We see the entrance antiphon at
the Mass of the Sacred Heart.
"The thoughts of his heart last through every generation,
that he will rescue them from death and feed them
in time of famine."
Fr. Carter loved the Mass of the Sacred Heart
Fr. Carter said the Mass of the Sacred Heart
whenever it was an option —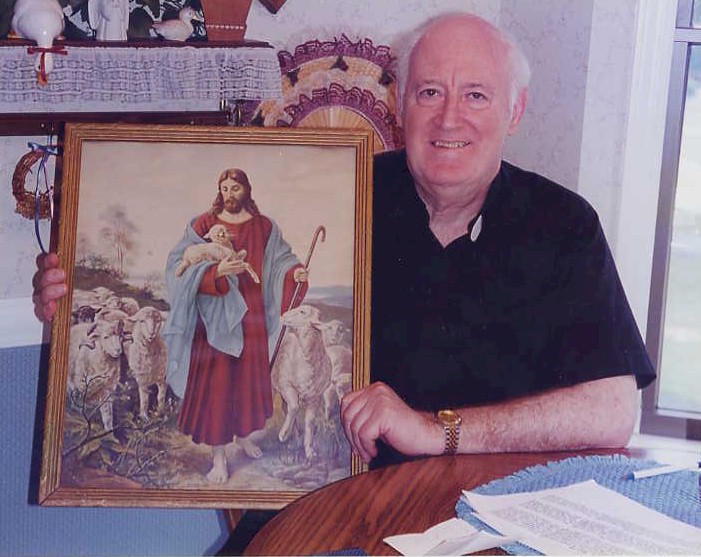 R. On August 23, 1856 the Church made
the Feast of the Sacred Heart the Friday
after Corpus Christi.
This came from a revelation to
St. Margaret Mary —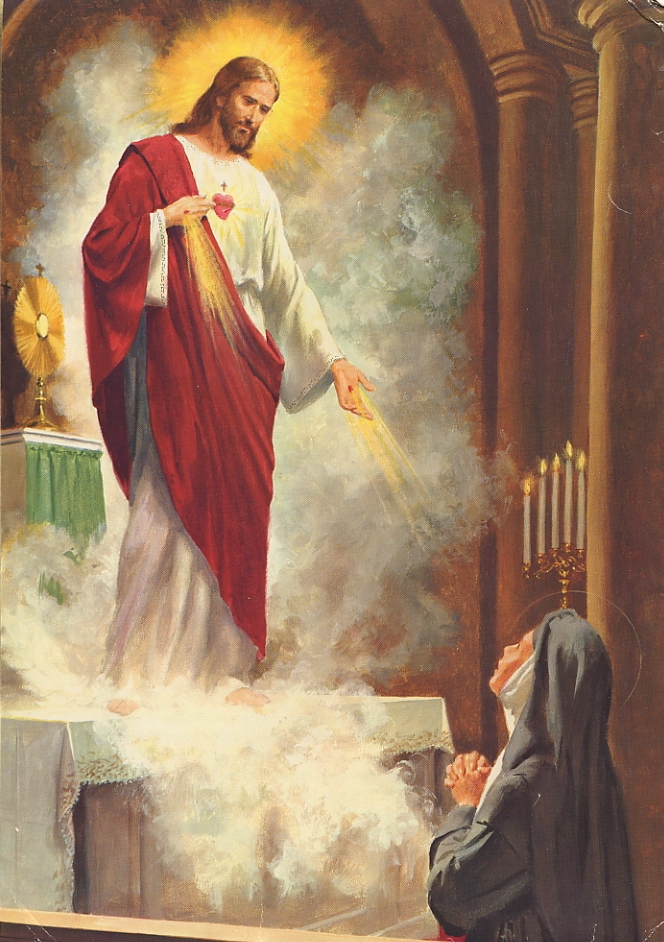 R. almost 200 years before when
Jesus asked for this feast.
Every possible rejection was
raised against this feast of the Sacred Heart.
Pope Pius XII stated about Jesus' and
Mary's Hearts.
At the end of Pius XII Encyclical on the
Sacred Heart (1956) he states:
"By the will of God, the Most Blessed Virgin Mary
was inseparably joined with Christ in
accomplishing the work of man's
redemption, so that our salvation flows
from the love and sorrows of His Mother.
It is, then, highly fitting that after
due homage has been paid to the
Most Sacred Heart of Jesus, Christian people
who have obtained divine life from Christ
through Mary, manifest similarly
piety and love of their grateful
souls for the most loving heart
of our heavenly Mother."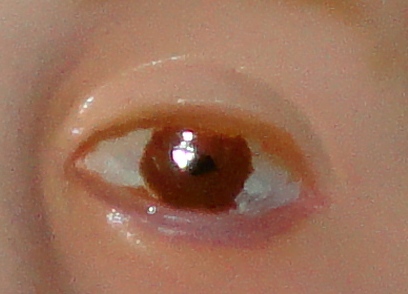 Jesus' Heart is in Mary's eye
John 19: 34
one of the soldiers pierced His side with a lance: and immediately there came out blood and water.
From the Litany
Heart of Jesus, pierced with a lance
R. The pierced Heart of Christ is a symbol
of new life given
to man through the
Holy Spirit and the
Sacraments —
John 19: 34
... there came out blood and water.
R. We receive a sharing in His life
in baptism —
that life is fed by the Eucharist.
Water a symbol of baptism —
Blood a symbol of the Eucharist —
Isaiah 12: 3
Joyfully you will draw water
from the springs of salvation
John 7: 38
Let anyone who believes in me
come and drink!

As scripture says, "From his heart shall flow streams of living water." '
R. We hear the heart in the Old Testament
Deuteronomy 6: 4-6
'Listen, Israel: Yahweh our God is the one, the only Yahweh. You must love Yahweh your God with all your heart, with all your soul, with all your strength. Let the words I enjoin on you today stay in your heart.
Song: Give Me your Heart Oh Jesus
Give me a Heart like Yours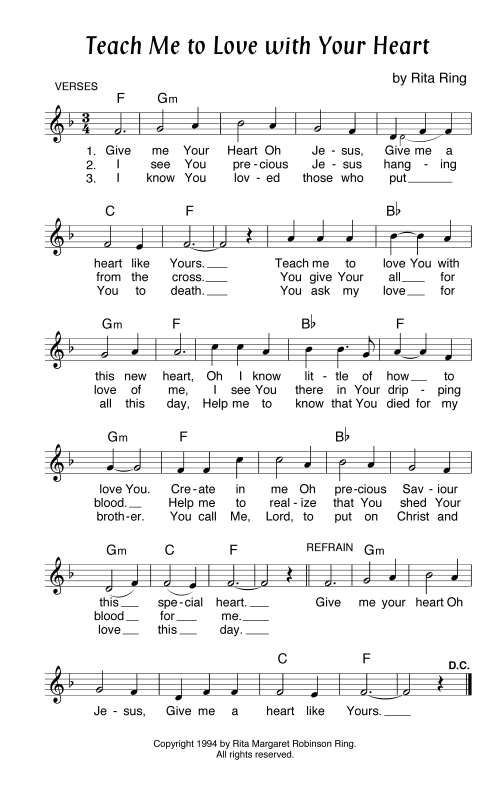 R.
We are to make Christ the
King and Center of our
lives.
We consecrate the world to the
Sacred Heart of Jesus on this Feast
of Christ the King in
as far as we are able.
We consecrate the Church to the
Sacred Heart of Jesus on this Feast
of Christ the King in
as far as we are able.
We consecrate all priests and hierarchy and the
pope and all deacons and religious to the
Sacred Heart of Jesus on this Feast
of Christ the King in
as far as we are able.
We consecrate ourselves, our families,
all peoples of the world to the
Sacred Heart of Jesus on this Feast
of Christ the King in
as far as we are able.
We ask that the Blood of Jesus
be spread on all these
people!!
We cast the devil to the fires
of hell away from
all of us —
We pray for an enormous
outpouring of the Holy Spirit on
all of us.
John 15: 13
No one can have greater love
than to lay down his life for his friends.
December 3, 2004 - Feast of St. Xavier

R. My dear friends

Today the Feast of St. Xavier,
First Friday, Jesus appeared to me
as the King on His Throne at the
Cathedral where He told me to go
to Church.
He was smiling and His
mouth moved and moved and moved.
He looked happy and the vision was
all aglow. He gave me a message to sit
in the first pew and He appeared
and talked about 20 minutes, He
was smiling.
end of excerpt
R. The Morning Offering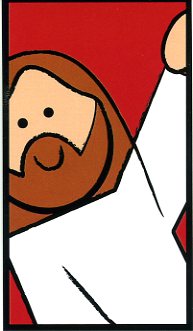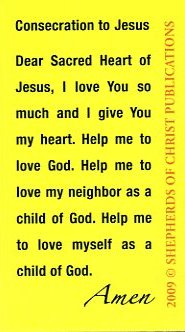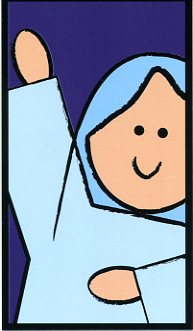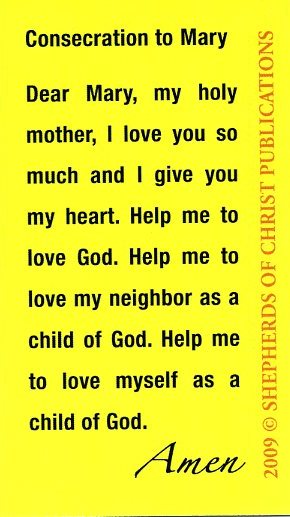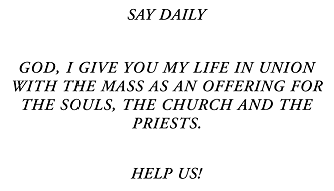 Song: I Am Your Sacred Heart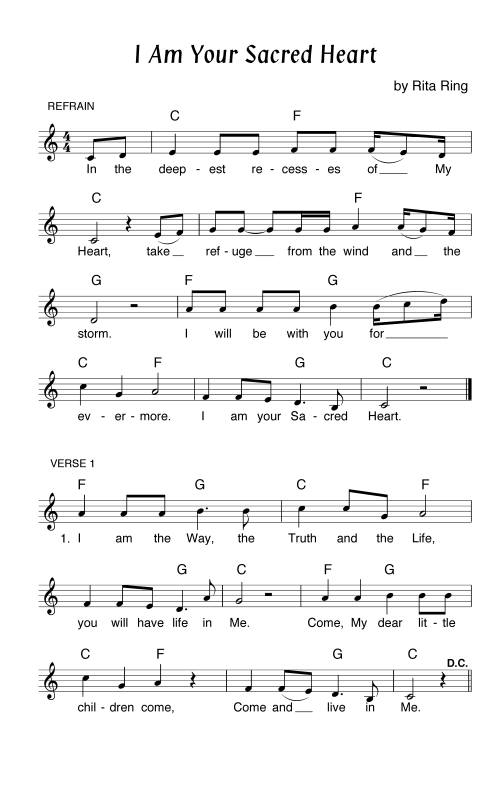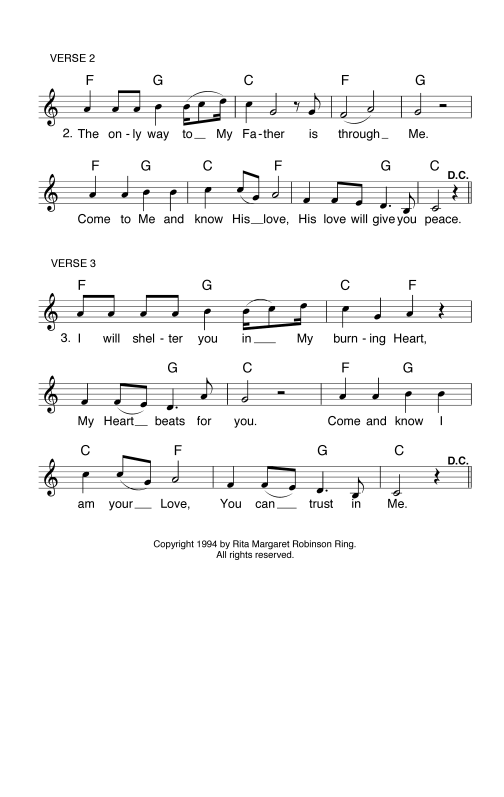 Song: In My Heart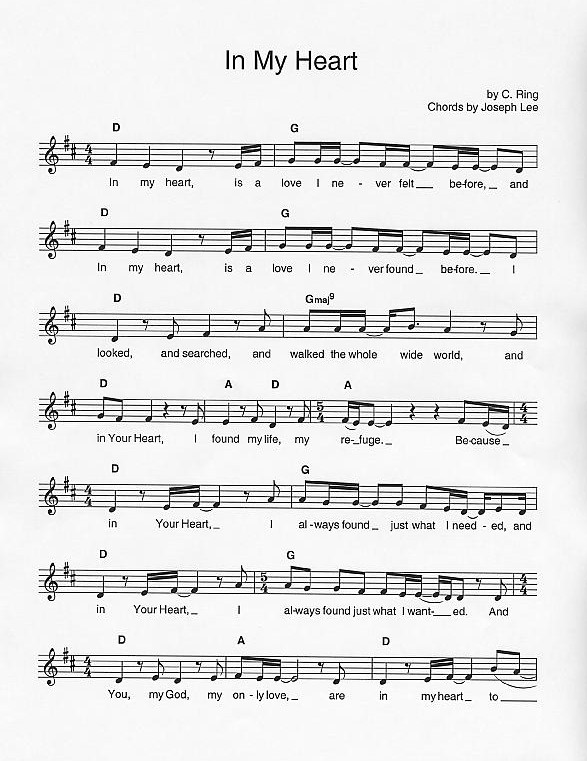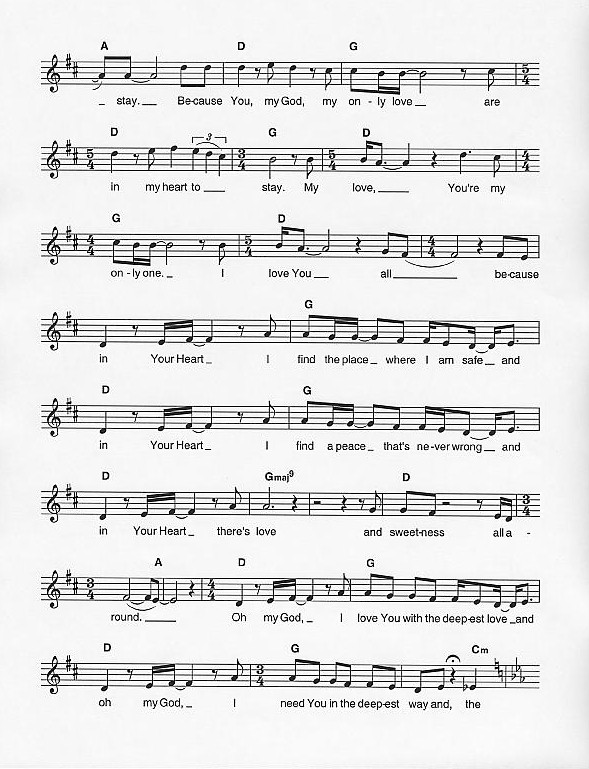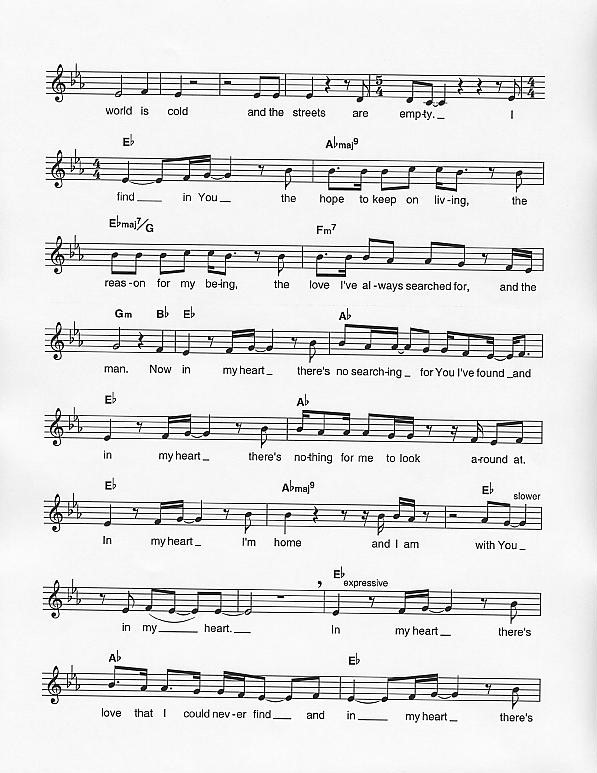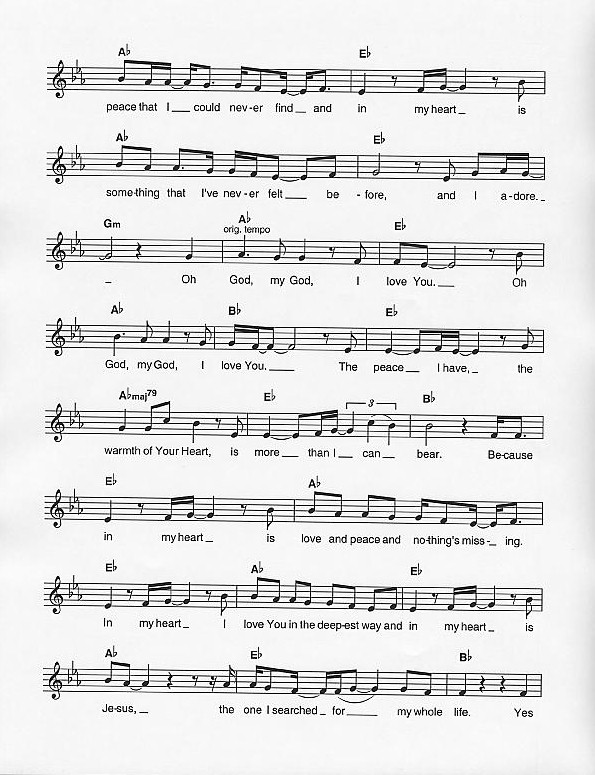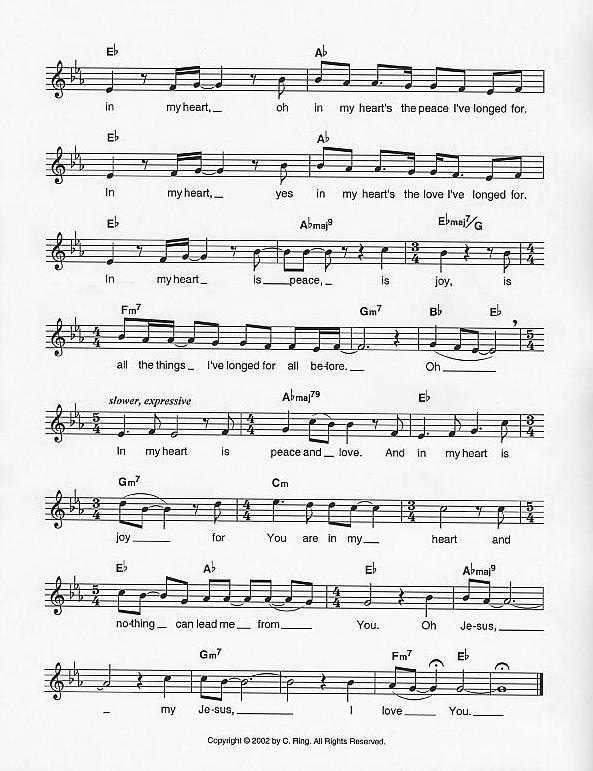 R. Jesus is our love —
The Heart of Jesus denotes love —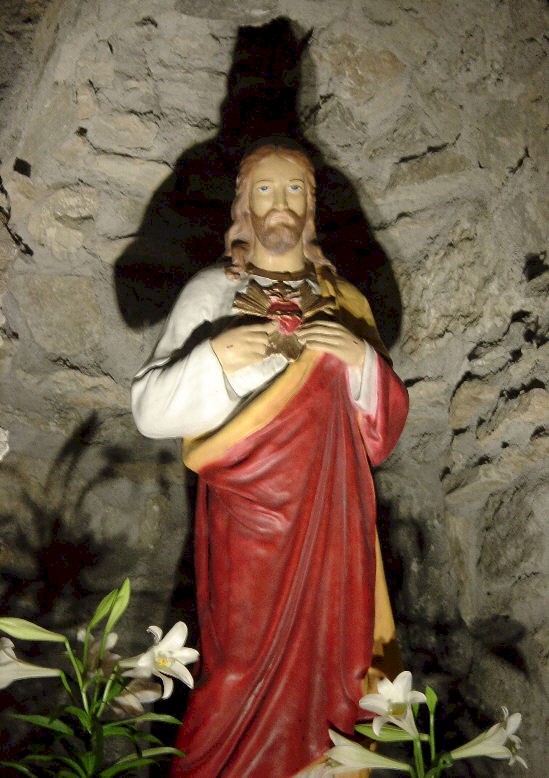 | | | | | | |
| --- | --- | --- | --- | --- | --- |
| | Espaρol | Franηais | Portuguκs | Italiano | Polska |
R. St. Augustine
"The side of the dead Christ
was struck with a lance
that the sacraments might
flow forth, from which
the Church is formed."
Let us focus on the riches found
in the Heart of Christ.
On December 27, 1995 from the Mass Book
and Blue Book 9.
L
ET US LOVE THE TWO HEARTS OF JESUS AND MARY
IN THE RECEPTION OF THE HOLY EUCHARIST.
HE GAVE HIMSELF TO US ON THE CROSS. HE GIVES HIMSELF TO US IN THE EUCHARIST.
How great was the act of love, God gave to this world, when He gave Himself and died on the cross. He gives Himself to us this day in the Holy Eucharist.

The greatest commandment is that we must love God with our whole heart, our whole soul, and our whole being. This is a commandment. If we are to enter heaven, we must follow the commandments. They are commands given by God for us to follow.

The greatest act we can do on this earth is an act of loving God. The reason for our existence is to love God. In the sacrament of His greatest love, He gives Himself to us. This is an act of love on His part. We are called to respond by giving ourselves in love to Him.

This is the purpose of the Holy Eucharist: to unite in such oneness with our Holy, Loving God. Our all consuming passion should be that of loving God. How many go to the Eucharist with the sole purpose of giving great love to God? He wants us to love Him. He wants souls to tell Him how much they truly love Him. This is the most intimate act of love when Jesus gives Himself-Body, Blood, Soul, and Divinity to man. If it is such an act of love, how are we receiving Him in Communion? We should beg God, in this most intimate union with Him, to help us to love Him with greatest love.

Jesus is a Person. He wants our love. The Holy Spirit wants such intimacy with us. Our Father wants us to love Him. In the Eucharist, we unite with God. In this intimate act of uniting with our beloved God, with Divinity, we must pour out our love to God. We must pour out our heart to the most adorable Heart of Jesus. Jesus is so unjustly treated by many of His beloved souls He loves so much. Let us help make reparation to the Almighty God by loving God with our whole heart, our whole soul, and our whole being in the sacrament of His greatest love. This is the Gift of Himself.

Think of how it is to love someone and give your all for that person, to pour out your heart to him or her and then be treated with coldness and neglect. It hurts our heart so much more when we deeply love someone to be rejected by that person. Jesus loves us with the deepest love. We cannot fully comprehend this love. Let us love Him with the deepest love. Let us love Mary and her Immaculate Heart. Let us love her as the Mother of God. Let us love her as the virgin who bore the Son of God. May we, in the reception of the Eucharist pour out our love to Him, to this adorable Heart. May we pour out our love to His Holy Mother.

Mary said at Fatima that Jesus wants His Heart venerated next to the heart of His Mother. Let us love these two Hearts as we receive the Sacrament of the Eucharist. Then we are so deeply united with God. We see Their two Hearts surrounded with thorns for the injustices against Their Hearts. Let us help make reparation daily as we receive Him in the Eucharist. This is a special time to help make reparation to Their wounded Hearts.

Let us remember how He poured His love out to us on the cross and how He pours out His love to us now when He gives us Himself in the Eucharist, the Eucharist which contains His Heart of burning love. His Heart was pierced with a lance. Her heart was invisibly pierced with a sword. As the wounds in Their Hearts are deep, so too is Their love so deep.

He does not want "surface love". He wants hearts filled with deep burning love.

end of December 27, 1995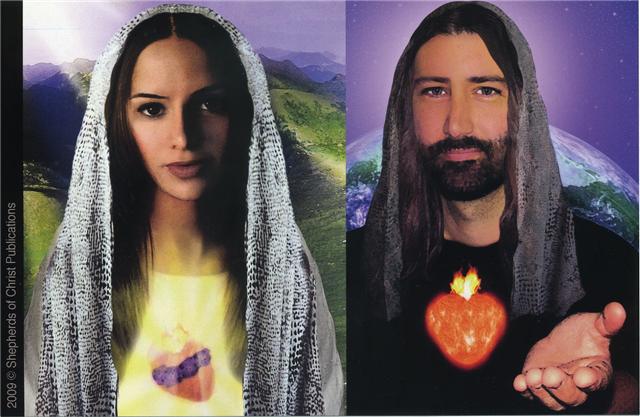 A Prayer before the Holy Sacrifice of the Mass
Let me be a holy sacrifice and unite with God in the sacrament of His greatest love.

I want to be one in Him in this act of love, where He gives Himself to me and I give myself as a sacrifice to Him. Let me be a holy sacrifice as I become one with Him in this my act of greatest love to Him.

Let me unite with Him more, that I may more deeply love Him. May I help make reparation to His adorable Heart and the heart of His Mother, Mary. With greatest love, I offer myself to You and pray that You will accept my sacrifice of greatest love. I give myself to You and unite in Your gift of Yourself to me. Come and possess my soul.

Cleanse me, strengthen me, heal me. Dear Holy Spirit act in the heart of Mary to make me more and more like Jesus.

Father, I offer this my sacrifice, myself united to Jesus in the Holy Spirit to You. Help me to love God more deeply in this act of my greatest love.

Give me the grace to grow in my knowledge, love and service of You and for this to be my greatest participation in the Mass. Give me the greatest graces to love You so deeply in this Mass, You who are so worthy of my love.

-Mass Book, December 27, 1995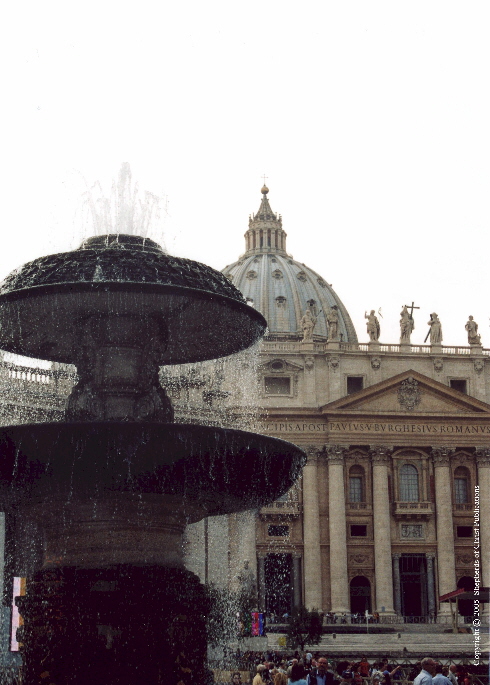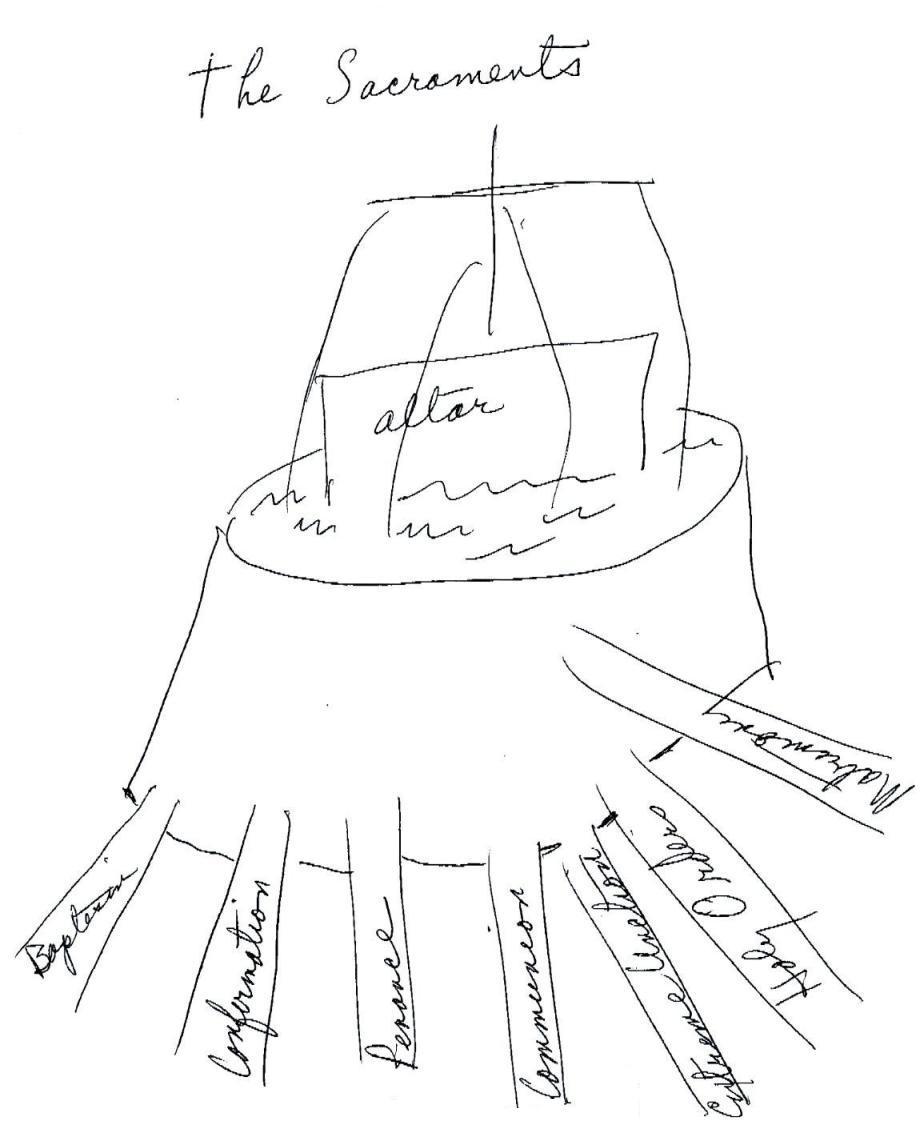 R. The interior offering of ourselves
at Mass —
Through baptism the Christian
becomes incorporated
into Christ and the Church —
Although Baptism primarily incorporates
us into Christ's Death and Resurrection,
it also unites us with Christ in
all His mysteries.
None of them stands separately
by itself. One cannot
be initiated into Christ's
Paschal Mystery without
simultaneously being incorporated
into all of His mysteries.
Pius XII in Mediator Dei
told us that all Christ's various
mysteries are contained in the
total Mystery of Christ. In the
Liturgy we encounter the
whole Christ, that is, Christ
in all His mysteries.
I had a vision once while
Fr. Carter was saying Mass —
It was Ascension Thursday and I
kept seeing Jesus ascend into
heaven —
then I knew all the mysteries
as one, His birth, life, death
and resurrection — I knew Him
in the Eucharist — I knew
Him as I have an intimate
relationship with Him
now —
May 25, 1995 - Ascension Thursday

The Christ Event

R. At Mass that day, I had a revelation of Jesus in so many mysteries, His Ascension, His birth, and so forth, and how I know Him now. It was as if my whole relationship was one with His whole life, I knew Jesus. In that I knew Him in His birth, the Eucharist, as my Bridegroom. In such experiences it is the fullness of His life I experience, the depth of the mystery.

R. On Ascension Thursday 1995, I had such a deep experience at Mass. I saw Him ascending into heaven. I saw before me Jesus. I had deep insight into the Mystery of Christ. I knew Him in my deep intimate union I experience in the Eucharist, I knew Him so deeply in the Divine Mysteries. I knew Him so deep in my soul.

I will never forget the deep and vivid vision I had of Him ascending into heaven, it is planted most deeply on my soul. He was clothed in a red tunic and a white gown. His hands were extended upward and there was rays of light coming down from above in the form of an upside down funnel (little end up). He was up a little from the bottom wide side, then I saw Him going upward. He ascended upward. The rays of light were bright and beautiful.

I was in a very deep state of ecstasy. When I left Fr. Carter's Jesuit house I could hardly walk. The mud looked so dirty and the trees so plain. It was hard to go from this experience to the world outside. I saw this vision and was taken so deeply into this experience and then I saw the world as it was. It was such a let down.

This was May 25, 1995, but I remember it all so vividly and I see the vision clearly as I saw it that day. Whenever I meditate on the ascension I can see this vision. It fills my heart with joy.

May 25, 1995—I left Church and was in such a weakened state. When I got home I experienced deeper and deeper revelations. I was made so aware that the Father would answer my prayers. Here is the writing I received.

Then I went into an ecstatic experience and terrible suffering and I heard Jesus call out. I am alive, I am alive, I am alive. Here is the message I received that day It was very strong and for days afterwards I just wanted to cry from the experience of hearing Him shout this out.
Prayer for Union with Jesus

Come to me, Lord, and possess my soul. Come into my heart and permeate my soul. Help me to sit in silence with You and let You work in my heart.

I am Yours to possess. I am Yours to use. I want to be selfless and only exist in You. Help me to spoon out all that is me and be an empty vessel ready to be filled by You. Help me to die to myself and live only for You. Use me as You will. Let me never draw my attention back to myself. I only want to operate as You do, dwelling within me.

I am Yours, Lord. I want to have my life in You. I want to do the will of the Father. Give me the strength to put aside the world and let You operate my very being. Help me to act as You desire. Strengthen me against the distractions of the devil to take me from Your work.

When I worry, I have taken my focus off of You and placed it on myself. Help me not to give in to the promptings of others to change what in my heart You are making very clear to me. I worship You, I adore You and I love You. Come and dwell in me now.

-God's Blue Book, January 17, 1994

A Prayer for Intimacy with the Lamb, the Bridegroom of the Soul
Oh Lamb of God, Who take away the sins of the world, come and act on my soul most intimately. I surrender myself, as I ask for the grace to let go, to just be as I exist in You and You act most intimately on my soul. You are the Initiator. I am the soul waiting Your favors as You act in me. I love You. I adore You. I worship You. Come and possess my soul with Your Divine Grace, as I experience You most intimately.
Prayer for Spiritual Communion
Dear Jesus — we want to make a spiritual
communion, we cannot receive You
now, but we want to know Your
presence deep in our heart —
deep in our soul — Oh God fill us
with Your presence that we can
just focus on You and Your love
for us now — Love deep in us —
Oneness with You —
Quiet surrender to be alone in
this moment with You in our heart
in deep love —
We love You so much our beloved
God —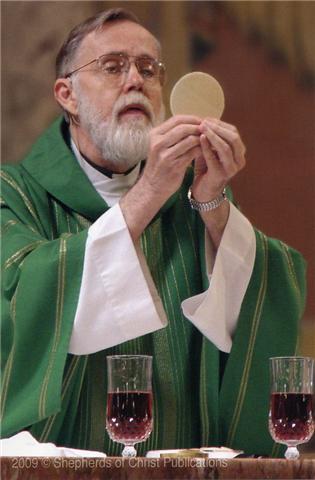 R. Jesus is the source of
love and life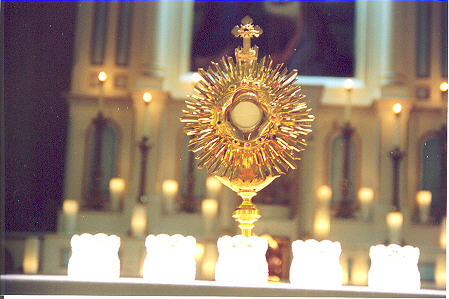 "I AM THE SACRED HEART OF JESUS,
I LOVE YOU SO MUCH"
June 1, 2000 - MONTH of the SACRED HEART
A Burning Heart I give you
SORROWFUL MYSTERIES
(to be used on June 2, 2000)
(PRAY ON RED IMAGE ROSARY IF AVAILABLE)
Agony in the garden

Jesus:

I loved you so much I gave Myself for you.

You do not fully comprehend how real I am.

You wander a barren desert.

You make this world your God.

This is My Mission to help bring about the Reign of My Heart.

Look at My red rosary, think of the drops of red Blood I shed in the garden for you.

Blood coming from My pores.

Blood mixed with water.

You are the temple of the Holy Spirit.

I give you such dignity - you do not comprehend.
Scourging at the Pillar

Jesus:

I was whipped for your sins of hatred and disharmony, the stubborn ways you act that come from deep in your heart.

Look at My red rosary, think of My Precious Blood I shed for you.

My Heart is an endless furnace of love.

The men were full of hatred in their hearts, they whipped Me and I loved them so much.

I love the souls today that laugh at Me and make fun of Jesus, fun of My Name, that raise themselves indignantly over Me.

They whip Me today, the way they treat Me.

They tear My Flesh.

My Heart beats for My beloved ones.

I am the Sacred Heart of Jesus.

Look at the picture of My Heart on Blue Book II - It is a furnace of endless love.

Crowning with Thorns

Jesus:

In this month of the Sacred Heart spend time reading My personal love letters to you in My Blue Books.

Hear Me whisper My gentle words of love.

See My red Blood pour down My cheeks from the thorns. Look at the red rosary, think how much I love you. Carry it with you. Look at My picture, think of My deep love. Let My Sacred Heart remind you of My burning love.

Look at My Mother's picture on the building. God loves you so much, He gave you this gift of Mary on the building. Are you grateful?

See My pierced head.

See the Blood on My cheek.

See the Consecrated Host in the Mass.

See My Blood poured out for you.

Gaze upon the Exposed Eucharist.

I am there, I remain with you in such love.

Carrying of the Cross

Jesus:

A heavy cross I carried on My back.

Why do you think you should not suffer?

My Blood was red, My Heart is a symbol of My great love.

My walk to Calvary was painful.

I paid the price for the sins of today.

Do you have to go with the world? Quit watching the filthy movies and the dirt on television.

It hurts My Heart to see you won't take a stand for Me.

Don't visit places where people are sinning. It hurts My Heart that you do that.

My Heart bleeds when you say yes when you mean no, and no when you mean yes. Don't confuse matters, that is from Satan. Tell the truth.

I called you to be an Apostle of My Sacred Heart. Will you serve Me?

Crucifixion

Jesus:

My dear soul, I love you to say to Me when receiving the Eucharist, "I scarce can breathe when You come into Me."

My dear soul, I do love you so, so much, see My red Blood shed for you.

My dear soul, see My bleeding hands and feet.

My dear soul, look at the crucifix.

My dear soul, the most important thing you do everyday is going to Mass and receiving Me.

My dear soul, tell others of the gift of Myself in the Eucharist.

My dear soul, do you like favors, ice cream, candy? My dear soul, I give you Myself, I am the Son of God.

My dear soul, during this month of the Sacred Heart, pray this rosary, look at My red rosary, think of My drops of Blood. Oh My soul, it is Blood I shed for you.

Unite to the Mass at every moment. Feel united as a body.

My dear soul, My Mass is a gift I give to you. Love your priests, pray for them, the Church and the world. Oh My dear soul, the more you do for Me the more you will unite to Me. I am the Chief Shepherd of the Flock, I give My prayers to you. I will give the greatest graces to anyone who says My prayers and promotes My prayers. Churches that have prayer chapters, even small, will experience the greatest grace. They will turn into little cities of light, run by Me to give honor to Me and devotion to My Eucharistic Heart. I will bless abundantly all churches which have prayer chapters. In this month of June, the month of My Sacred Heart, I implore you to spread My prayer chapters. This is My plan to help enormously to renew the Church and the world.

I am Jesus Christ, the Son of God, Chief Shepherd of the Flock. My Heart is on fire for love of you, I loved you to My death on the cross. What did I think of on the cross? I thought of you. I knew you by name, I gave Myself as a sacrifice for you. Oh I love you, I am the Sacred Heart, I love you so much. My Heart is a burning furnace of love.
Give what counts this Christmas
Call Rosie 1-888-211-3041

Please pray for Gene, Dan, Beth, Amanda,
Betty, Adeline, Jimmy, Mike, Doris,
Andrew & Monsignor & all the people.

Give Christmas presents that count

For a limited time only

24" Pilgrim Virgin Fatima Statue without crown
w/glass from image face
Extended Sale -
$175 plus shipping
while supplies last
We need funds for Fr. Joe's book.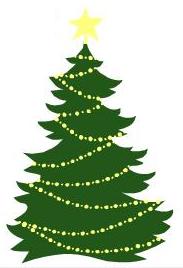 Get a canvas print of Mary's image
with a sliver of glass and
a little bottle of
Jesus and Mary water.
The glass will be fixed behind the
back of the picture.
Cost — $200.00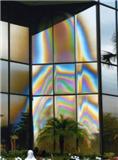 Call Rosie
1-888-211-3041
$10.00 plus postage

Call Rosie
1-888-211-3041
Introductory Offer
Order Your Blue Book 7 Today

1 - Blue Book 7 - $10
2 - Blue Book 7s - $17
plus postage
450 pages

Call Rosie
1-888-211-3041


Christmas gifts available

Call Rosie
1-888-211-3041



Give your Grandma
a set of Nursing Home books
2 for the price of one - $10.00 plus shipping