Mary has requested that the daily message be given each day to the world. It is read nightly at the prayer service from her Image Building in Clearwater, Florida, U.S.A. This is according to her request. All attempts will be made to publish this daily message to the world at 11 p.m. Eastern time, U.S.A.

---

We acknowledge that the final authority regarding these messages rests with the Holy See of Rome.

---
---
A Prayer for Intimacy with the Lamb, the Bridegroom of the Soul

Oh Lamb of God, Who take away the sins of the world, come and act on my soul most intimately. I surrender myself, as I ask for the grace to let go, to just be as I exist in You and You act most intimately on my soul. You are the Initiator. I am the soul waiting Your favors as You act in me. I love You. I adore You. I worship You. Come and possess my soul with Your Divine Grace, as I experience You most intimately.
---
Messenger: Include Our Lady of the Holy Spirit Center in 6:20 prayers.
---
Given November 27, 1999 - Saturday Morning
Jesus speaks: Instead of your planning to fast from food, My shepherds, I ask you to fast from negative thinking. I ask you to daily fast from negative thinking.
I ask you to trust in Me.
---
Don't Ever Close Your Heart (excerpt)

November 2, 1993 - 4:00a.m.

Jesus speaks: Step-by-step you ascend the stairs and you get closer each time to trusting more in Me. It is your taking each little step that counts. Ascend My steps each day, every day. A million times a day you can trust or worry. You choose, "Do I trust or not trust?" How could you not trust after all I did to prove My love for you? Focus on My passion, on My wounds, on My love, on Me, the one, true God, Who loves you this much! You are precious to Me, My little baby. Come and let Me comfort you. Lose yourself in My arms. "And they came and they were given His peace and love deep in their souls."
---
Jesus speaks: I ask you to trust in Me.
I ask you to have faith.
I ask you to see Mary on the building.
If I gave you the building, if I painted her on the window with the hand of God, do you not think that I would listen to your lamenting cries coming from hearts on fire for love of God?
My people do not show Me love.
They do not come with eager hearts to love Me.
They do not treasure the Eucharist as they ought.
You must see yourselves as a body united with Jesus and Mary on Calvary.
See yourself as helping to make reparation for sin.
See every moment as so important.
Oh My children, I love you, you must see with the vision of God.
---
You Are Special (excerpt #1)

November 28, 1993 4:30a.m.

Jesus speaks: Wake up, My people. See what value you are to Me. God loves you this way. I am such a good God to you. I am filled to the brim with My love for you. The Father loved you, My little child, no less than that He gave His only Son for love of you. Do you understand Me at all, child? How can you, at any moment, doubt your specialness? Embrace your value to God. God the Father to send His only Son, God the Son to comply, and God the Holy Spirit to give His consent to such an undertaking, all for love of thee!
---
November 28, 1999 - Second Message
Given November 27, 1999 - Saturday, 6:20 prayers
Messenger: Oh, my hungry soul wants My beloved God as I knew Him in all those ecstasies. I want to see Mary again and again. I can see her beautiful face, the mystical light, the aura of God's golden veil in the sanctuary and I want Him so much. I know this state of unrest from knowing oneness and this deep love that He had allowed me to experience. In my heart, I beg, beg that grace be released for the souls. I want the world as He wants it. I know it is good for me to be here and to endure whatever for the sake of souls. Oh my God, my palate longs to be quenched with things only You can give. Nothing satisfies me but You. The desire within me for You to possess me is so strong. Oh sweet Heart, oh sweet and tender Heart of Jesus, I trust in Thee. I beg for souls and for grace to do what you ask. Oh God, I love Thee so, so much. I remember all the beautiful times you gave me special favors and my heart aches, for I want You so much. I remember when you gave me the Stations and you appeared on the cross at the point of death and also as glorified. I remember the Father said, "This is My beloved Son, listen to Him." Oh Jesus, I love Thee so, I can see You transfigured and I see the celestial lights of the visions of March 26, 1996, Holy Saturday 1996, and the third vision and the celestial aura and visions of August 12, & 13, 1996, of Jesus. I remember standing under the 12th Station at Holy Cross-Immaculata Church and knowing her Heart, her joy, her suffering, her love for all her children. I remember the sufferings from the Seven Sorrows. I remember all her visits, the glory, the splendor, Mary Immaculate before me in lustrous light. Oh sweet Mary, my Mother, I love you. I thank You, Father, for all You have given to me and to all of us. Oh God, I want to be Your messenger. I say "yes" to You, "yes, yes, yes, God." For the sake of souls, I give myself to You. Oh God, have mercy on me and the whole human race. We are sorry we have sinned. I love You.
---
November 28, 1999 - Third Message
Given November 27, 1999 - Saturday, 6:20 prayers
Jesus speaks: You can fast from grumbling.
You can eat for health reasons because it is the Father's will you take care of yourself.
You can do what you must do as I have asked you when it is hard, instead of grumbling and majorly affecting others' productivity by your bad attitude.
I want you to fast from these things, My shepherds, and not skip meals and fast from food.
A shepherd apostles' schedule is so rigorous. It is rooted in prayer. You fast from doing your own will when you pray and do what I am asking you to do.
Being holy means doing God's will, not a lot of things you decide to do so you can be in control.
Fasting from doing things that are not God's will, fasting from grumbling, fasting from trying to be right for the sake of just trying to be right when it is for personal power and satisfaction, all of these are forms of fasting.
I love you so much, Jesus.
---
You Are Special (excerpt #2)

November 28, 1993 4:30a.m.

Jesus speaks: Oh, ye of little faith, quit looking for recognition in your brothers. Their affirmations are momentary and wane in time. They love you today and hate you tomorrow. When they are tired they love you less. If you use your brothers to measure your worth, your worth is never the same-some days good, some days not so good. You are the same beautiful creation of God, but your human brothers only measure by their human ways. They cannot love beyond their limits. But God can love you, only as God can, in a divine way. God's love never falters. It never changes. It is not good today and not so good tomorrow. It is the same as the day He chose to be born and die for love of you!

Oh you, so precious of the Father, out of love of the Holy Spirit, I was born to give you life, life eternal, life forever. Why would you go to a human and ask, "How am I doing? Was I good today?" Go to God. Ask and you shall receive, knock and it shall be opened unto you, seek and you shall find. My love is endless, unbounded. I proved your worth and value by My birth, death and resurrection. Do you need more than this to convince yourself of your value? Oh, little ones, come and forget yourselves. You need not ever try to measure your worth again. Come and be alive in Me. Love Me. Be busy about this task. Forget yourself. Your value has been proven by Me. Be busy about your union with Me. Forget your unworthiness, your recognition. Forget yourself. Die to yourself that you may truly live.
---
November 28, 1999 - Fourth Message
Given October 26, 1999 - Excerpt from God the Father's message.
God the Father speaks: ...I wish this invitation be extended daily on the Internet to come and pray during the Christmas Novena at the image site. If this is impossible, pray at home for the coming of Jesus in the hearts of men...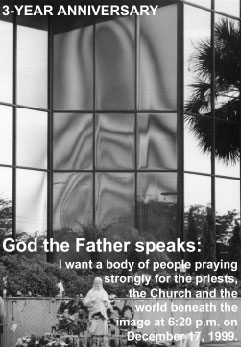 God the Father, Jesus, and Mary are calling all to pray in front of Mary's image in Clearwater, Florida, on December 17, 1999.This important day marks the 3-year anniversary of Mary's appearance on the building. God is asking us to gather for this special day, praying for peace, and especially to make reparation to God, the Sacred Heart of Jesus, and the Immaculate Heart of Mary.

October 11, 1999 - Jesus speaks: …I want all who can come to Florida December 17, 1999, to come there. Mary wants the apostles gathered in prayer, but if you cannot come, then you pray fervently.

October 15, 1999 - Mary speaks: My dear children, I invite you to come to my Image site to pray December 17, 1999. I am Mary your Mother. Please come.

October 15, 1999 - Jesus speaks: I wish you to come and pray with the greatest fervor before the image of My Mother December 17, 1999. …Please come and pray. If this is impossible, pray as a body before the tabernacle and at all Centers including: Toledo, Ohio; California; Kansas; Pennsylvania; Delaware; wherever one is able to pray. I love you, Jesus.

October 26, 1999 - God the Father speaks: You are the children of Eve. You are sons of that woman and I send you the Woman, your Mother and you ignore her.

I want a body of people praying strongly for the priests, the Church and the world beneath the image at 6:20 p.m. on December 17, 1999, and all others praying as a body united to the Holy Sacrifice of the Mass throughout the world. I wish all priests who can to celebrate Mass at 6:20 p.m. on December 17, 1999, and every day after, until Christmas. I wish all to pray this novena for these days December 17, 1999-December 25, 1999 at 6:20 praying for the coming of the Holy Spirit, healing, oneness, to be spread with the Blood of Jesus as directed by My Son in a message February 23, 1999. I want this. I want fervent prayer. I want unity in the hearts. I want men praying as a body at 6:20 p.m. as requested by Jesus and Mary. I want communal reparation by all receiving Communion and/or making a spiritual Communion united to the Mass.

I wish an invitation to this gathering to be circulated, stressing making reparation to God, reparation to the Hearts of Jesus and Mary.

January 5, 1999 - God the Father speaks: It is because of your fervor to pray here that you have held back the hand of My Son from punishing the earth with just punishment for the crimes committed against your God.
Please come and join us for prayer at the site in Clearwater, Florida, the other sites mentioned in this invitation, or from wherever you can. Thank you and God bless you,
Shepherds of Christ Ministries.
December 17, 1999 Planned Activities:

Holy Spirit Novena at 6:20 p.m.

Shepherds of Christ Prayers

Rosary

Fatima Procession

Songs

For more information contact: Shepherds of Christ Ministries, P.O. Box 193, Morrow, OH 45152-0193, U.S.A. Tel: (513) 932-4451, Toll Free: (888) 211-3041. FAX: (513) 943-6792.
Internet: http://www.SofC.org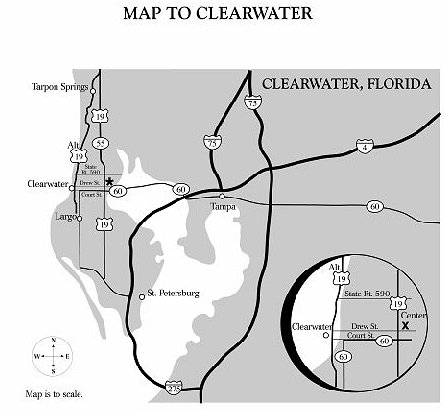 ---
November 28, 1999 - Nursing Home Message - Fifth Message
For Nursing Home Residents, The Sick and All Others
Messenger: It is our pleading cry that God grant grace to the earth and have mercy on us. We want the souls to be reached and that they quit sinning.
Jesus speaks: My chosen ones, in your sufferings I release great grace to the earth when you unite everything you do everyday with the Holy Sacrifice of the Mass.
My holy ones in the nursing homes, the ill and all others, your sufferings when offered in love to God are powerful prayers. I hear your cries. I am pleased you are pleading as members of the human race and addressing Me to have mercy on you. This helps make reparation for your sins and the sins of men.
Your life today is of the greatest importance to the Church and the world.
Oh, please pray for them by offering up your sufferings. Pray for My Movement, Shepherds of Christ, that great grace is given to them to be able to do what I have asked them to do and that great grace is given to all to respond. I have called you. I am Jesus.
I stand by your bedside.
I stand by your chair.
I am in your brothers.
When you love them, you love Me.
Praying for them is love given to all.
I want this. I want you to pray that they will be one.
Prayer of Jesus before He suffered the bitter Passion:
---
John 17:21
May they all be one,
just as, Father, you are in me
and I am in you,
so that they also may be in us,
so that the world may believe
it was you who sent me.
---
Messenger: When visiting a nursing home this is a plan you can follow to pray a little part of the rosary with the elderly or sick residents.

What is usually done and tolerated by the elderly folks is one Our Father, five Hail Mary's and another Our Father. The song, A Song from Jesus, can be sung before and after these prayers.

It is desirable to have a big picture of The Agony in the Garden when doing these meditations. Also it is recommended that you have pictures of the Sacred Heart and the Immaculate Heart of Mary.
---
Excerpt from July 28, 1995 rosary, "The Agony in the Garden" from the Rosaries from the Hearts of Jesus and Mary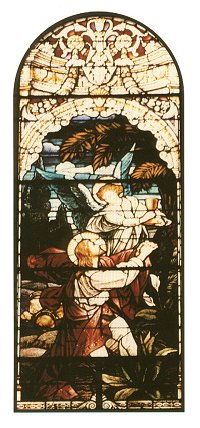 The Agony in the Garden
Jesus speaks: ...Let Me fill you with My love so you feel within you My burning love. Although the earth be shaken and not give its light, you will know that the Almighty God dwells within your heart and that you have nothing to fear, for a graced soul is constantly filled with the presence of the Father, the Son and the Holy Spirit. I am Jesus, your beloved Savior...
In the garden I knelt with such agony in My Heart, for in My divine knowing I saw before Me all of the events about to happen... As I suffered in the garden for the souls that beat Me and treated Me with indifference, I was comforted by the acts of love that you are giving to Me this day.
Love is giving, My dear ones, giving of yourself for the sake of others. Many this day do not know the meaning of love. To love means to give of yourself, to give for the other. Many times it is hard to love and keep giving love for, as you are self-giving, the other continues to be selfish, but I am calling you to love. As you meditate on this passion, focus on My love, given for all, how I was persecuted and suffered and still loved. My way is love. Focus on the meaning of the word love and what it means to you.
I give to you great graces to help you to love in this world that is hurting and in pain... You must go to My Heart and take refuge there and focus on My love for you...
...Let go of any kind of selfishness that you feel within yourself and vow to love and to give. Let go, release. If you let go you will feel tremendous freedom and My grace will pour into your heart and you will be filled with My burning love.
---
Question for married couples and others in intimate relationships:
Q: How can I express my mystical, loving union with you and God more fully?
Jesus speaks: I ask you to reach deep into your heart and express your deep love for Me and each other in this writing. I love you, Jesus.
---
---
---
Copyright © 1999 Shepherds of Christ.
Rights for non-commercial reproduction granted:
May be copied in its entirety, but neither re-typed nor edited.
Translations are welcome but they must be reviewed for moral and theological accuracy by a source approved by Shepherds of Christ Ministries before any distribution takes place. Please contact us for more information.
All scripture quotes are from the New Jerusalem Bible, July 1990, published by Doubleday.
Revised: December 3, 1999
URL: http://www.SofC.org
Contact Information for Shepherds of Christ
Email: info@SofC.org
---
Shepherds of Christ Ministries
PO Box 193
Morrow, Ohio 45152-0193

Telephone: (toll free) 1-888-211-3041 or (513) 932-4451
FAX: (513) 932-6791