Mary has requested that the daily message be given each day to the world. It is read nightly at the prayer service from her Image Building in Clearwater, Florida, U.S.A. This is according to her request. All attempts will be made to publish this daily message to the world at 11 p.m. Eastern time, U.S.A.

---

We acknowledge that the final authority regarding these messages rests with the Holy See of Rome.

---
---
A Prayer for Intimacy with the Lamb, the Bridegroom of the Soul

Oh Lamb of God, Who take away the sins of the world, come and act on my soul most intimately. I surrender myself, as I ask for the grace to let go, to just be as I exist in You and You act most intimately on my soul. You are the Initiator. I am the soul waiting Your favors as You act in me. I love You. I adore You. I worship You. Come and possess my soul with Your Divine Grace, as I experience You most intimately.
---
Messenger: Include Our Lady of the Holy Spirit Center in 6:20 prayers.
---
Messenger: Please pray for 5 urgent intentions!
---
Messenger: Please pray for the healing of Father Carter through the intercession of Our Lady of Clearwater.
---
This is an outline from Father Carter's class.
It is not complete - it is only an outline.
Theme III - Scriptural Foundations of the
Christian Life
C. Gospel of Matthew

1) Matthew 7: 7-11

---

Matthew 7: 7-11

Effective prayer

'Ask, and it will be given to you; search, and you will find; knock, and the door will be opened to you. Everyone who asks receives; everyone who searches finds; everyone who knocks will have the door opened. Is there anyone among you who would hand his son a stone when he asked for bread? Or would hand him a snake when he asked for a fish? If you, then, evil as you are, know how to give your children what is good, how much more will your Father in heaven give good things to those who ask him!

---

2) Matthew 6: 22-23

---

Matthew 6: 22-23

The eye, the lamp of the body

'The lamp of the body is the eye. It follows that if your eye is clear, your whole body will be filled with light. But if your eye is diseased, your whole body will be darkness. If then, the light inside you is darkened, what darkness that will be!

---

3) Matthew 7: 21-29

---

Matthew 7: 21-29

The true disciple

'It is not anyone who says to me, "Lord, Lord," who will enter the kingdom of Heaven, but the person who does the will of my Father in heaven. When the day comes many will say to me, "Lord, Lord, did we not prophesy in your name, drive out demons in your name, work many miracles in your name?" Then I shall tell them to their faces: I have never known you; away from me, all evil doers!
Therefore, everyone who listens to these words of mine and acts on them will be like a sensible man who built his house on rock. Rain came down, floods rose, gales blew and hurled themselves against that house, and it did not fall: it was founded on rock. But everyone who listens to these words of mine and does not act on them will be like a stupid man who built his house on sand. Rain came down, floods rose, gales blew and struck that house, and it fell; and what a fall it had!'

The amazement of the crowds

Jesus had now finished what he wanted to say, and his teaching made a deep impression on the people because he taught them with authority, unlike their own scribes.

---

4) Reference: Matthew 8: 7-12; 11: 28-30

Matthew 12: 46-50

---

Matthew 12: 46-50

The true kinsfolk of Jesus

He was still speaking to the crowds when suddenly his mother and his brothers were standing outside and were anxious to have a word with him. But to the man who told him this Jesus replied, 'Who is my mother? Who are my brothers?' And stretching out his hand towards his disciples he said, 'Here are my mother and my brothers. Anyone who does the will of my Father in heaven is my brother and sister and mother.'

---

Reference: Matthew 13: 1-23

We must live according to God's will

A wise man builds his house on ROCK

If we do not build our lives on the will of God we can collapse spiritually


Jesus taught with authority
---
Excerpt from Response in Christ, by Father Edward Carter, S.J.

2. The Church in Relation to Christ in His Threefold Mission

a) Christ as Prophet

The historical Christ was the central figure in the long list of God's prophets who have assumed such a vital role throughout the course of salvation history. As Moses, Jeremiah, Isaiah and the rest of the Old Testament prophets were the spokesmen for Yahweh, so most perfectly is Christ the spokesman for His Father. A prophet, then, in terms of salvation history is a specially commissioned teacher sent by God to His People. What is the task of the prophet? His role is in some way to reveal God and God's plan for man's salvation and sanctification.

Christ accomplished the task of the prophet in an eminently perfect manner. Through His unique words of wisdom He made a deep impression upon His hearers: "Jesus had now finished what he wanted to say, and his teaching made a deep impression on the people because he taught them with authority, and not like their own scribes." (Mt 7:28-29). Through this teaching Christ gradually revealed the nature of God. He revealed this nature, not only as It is in Itself, but also as It is in Its relationship to men. Above all, He taught men the love and mercy which their Heavenly Father has for them. He did this in a manner which was radically adapted to their understanding, using the language and mode of speech which was familiar to them. Through the use of the most simple story Christ would often bring out the most sublime truths concerning God. His story of the Prodigal Son as given in St. Luke is an exquisite, graphic presentation of the loving and merciful attitude of God toward the repentant sinner.

Yet Christ did not reveal the Father and the Father's plan only through word. He also did so through His actions. At times the events of His life were a more eloquent revelation than His words. The crucified Christ, as He hangs in silence upon the cross, speaks volumes to the world concerning the love and mercy of God, the justice of God, and the heinousness of sin. In short, it is the total person of Christ in all His words, actions, gestures – in everything – who reveals the Father to men.1 This revelation of the Father includes within itself God's desire for man's response. For God does not reveal Himself in Christ to man for any empty purpose. God tells us He loves us, that He gives Himself to us in Christ, and that He wants us to respond with a love of our own as we live the way Our Father wants us to live: in Christ, Who is the way, the truth and the life.

The Church, the People of God, is destined to continue Christ's prophetic, revelatory office.2 The most obvious way she does this is through her official teaching mission. Primarily through the pope and the bishops, the Church has the responsibility of continually presenting the message of Christ in a manner which is relevant to the men of various ages. Yet it is not only the pope and the other bishops who accomplish this teaching mission. The theologian, the priest in the pulpit, the teacher of religion and theology, the mother and father educating their children according to the principles of Christ – all such people offer examples of the various ways in which the members of the People of God contribute to the continuation of Christ's prophetic or teaching office.

There is another manner in which the entire People of God contribute to the Church's teaching mission. The official teachers in the Church, namely the pope and bishops, depend to a considerable extent upon how the Holy Spirit is operating within the entire People of God. The People of God in their universal grasp of matters relating to faith and morals assist the official teachers of the Church in their duty of correctly projecting the truth of Christ to the Church and world. An example of this is contained in the procedure which preceded the definition of the Assumption of the Blessed Virgin Mary. Pope Pius XII speaks about this procedure: ". . . We considered it opportune to ask all Our venerable brethren in the episcopate directly and authoritatively, that each of them should make known to Us his mind in a formal statement. Hence, We gave them Our letter 'Deiparae Virginis Mariae', a letter in which these words are contained: 'Do you, Venerable Brethren, in your outstanding wisdom and prudence, judge that the bodily Assumption of the Blessed Virgin can be proposed and defined as a dogma of faith? Do you, with your clergy and people, desire it? ' "3

Consequently, we see the soundness of the newly discovered dialogue within the Church. The more open are the lines of communication between the pope and the bishops of the world, between bishops and their priests, between priests and their people, between religious superiors and subjects, the better is the possibility that the truth of Christ the teacher will more perfectly permeate the entire life of the People of God, and ultimately the life of the world.

We have said that the historical Christ taught the truth of God not only through His words, but through His actions, His attitude, His gestures. In brief, He taught through everything He was and did. So it must be with the Church. The Church continues the teaching mission of Christ, not only through her verbal and written teaching, but also through her actions and attitude, and, summarily, through her total being as it is visible to men.

We see, consequently, why the Church must concretely show her concern for the poor, the oppressed, the one who suffers from racial prejudice. The truth which the Church preaches concerning social justice must become incarnated in the visible, concrete action she undertakes for such a cause. Since the Church is the continuation of Christ, she must act as He did. Christ not only told men that He loved them, He proved that love in a concrete, tangible, incarnate manner.

It is entirely appropriate that Christians be present at demonstrations concerned with a true and just cause, even though, of course, they are not usually representing the Church in an official capacity. The witness of priests, religious and laity demonstrating for racial justice is a powerful witness of the truth of Christ that all men are created equal. Sometimes such action is much more effective in projecting to the world the Church's concern for the racially oppressed than are the pastoral letters of bishops regarding racial equality.

Every member of the People of God is called upon to continue the teaching mission of Christ. The baptized Christian is incorporated into Christ who is prophet, king and priest. This incorporation is further perfected through confirmation. Therefore each member within the Church receives a real share in the prophetic, kingly and priestly mission of Christ. In relation to our present topic concerning Christ as prophet or teacher, no member of the Church can excuse himself from carrying forward this particular mission of Christ. Some of the various possibilities open to all within the Church have already been suggested. We now emphasize a constant and ever available opportunity which is present to all, namely, the witness of a truly Christian life. A life constantly lived according to the truth and example of Christ is a powerful, persuasive witness to Christ and His message. Perhaps because there are too few such Christian witnesses, Christianity has failed to make the desired imprint upon civilization. For it is only when mankind sees the truth of Christ concretely lived out by Christians that such truth has the power to draw men to Christ and His Church in any great numbers.4

________
1. Cf. R. Latourelle, The Theology of Revelation (New York: Alba House, 1966), p. 359.
2. For a contemporary, creative approach to the Church's prophetic office, cf. H. Nouwen, Creative Ministry (New York: Doubleday, 1971), pp. 1-40.
3. Pius XII, Munificentissimus Deus, cited in The Encyclicals of a Century (Boston: Daughters of St. Paul), pp. 386-387.
4. Cf. Edward Schillebeeckx, Christ the Sacrament of the Encounter with God (New York: Sheed & Ward, 1963), p. 209.
(End of excerpt from Response in Christ)
---
A rosary can be used to pray for healing. It is powerful to unite our prayers to the Holy Sacrifice of the Mass and pray through the powerful intercession of Our Lady of Clearwater.

In times of trouble, for special prayer, we can use our rosary and pray as follows.
A Rosary for Healing or for Someone with Cancer.
On one Hail Mary bead or as many as you desire, say:

May God heal through the intercession of Our Lady of Clearwater in union with the Mass and all the Masses being celebrated around the world.

Pray the Hail Mary or Hail Mary's then pray this after the Hail Mary.

May the cancer be uprooted and thrown into the sea.

We believe with all our hearts.

After the Glory Be— pray the following petition.

May be healed through the intercession of Our Lady of Clearwater if it be the holy will of God.
| | | |
| --- | --- | --- |
| | Note: You can look at Mary on the image rosary while you pray this rosary. | |
Note: The above section can be printed out from a PDF file, and you can pray the rosary looking at the pictures.
---
Messenger: Rosary in Clearwater, Florida - December 5, 2000.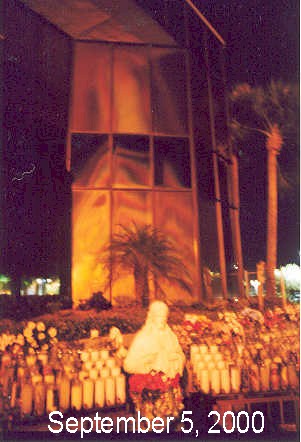 ---
Messenger: ALL APOSTLES THAT CAN COME ON DECEMBER 17, 2000 TO FLORIDA - 4TH ANNIVERSARY OF MARY'S APPARITION ON THE BUILDING IN CLEARWATER, FLORIDA.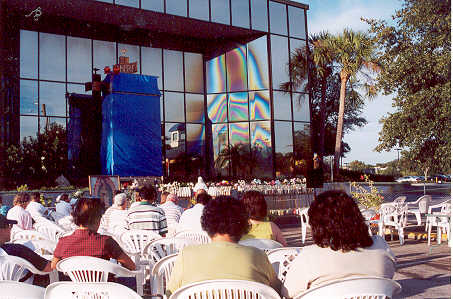 ---
Messenger: Mary wants the Red Rosary Book printed. It will cost $12,000 - $14,000 to get them reprinted. We are out of Red Rosary books. Mary has asked us to always circulate them. They go with the apparition in Florida.

Messenger: Can you help with the printing of the new Blue Rosary Book Volume II of Rosaries from the Hearts of Jesus and Mary?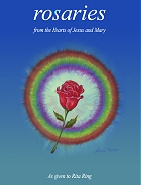 ---
Messenger: CAN YOU HELP US BY GIVING US ROSARIES FOR THE SCHOOLS REQUESTING THEM?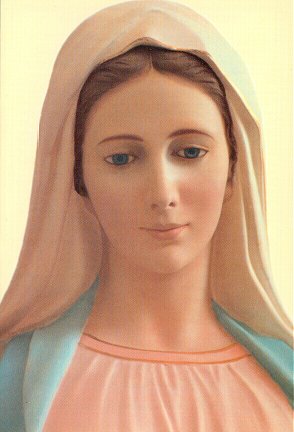 Mary speaks: PLEASE MAKE WALTER'S ROSARIES. THE SCHOOLS WANT ROSARIES AND THERE ARE NOT ANY ROSARIES LEFT.
---
Messenger: Pray for Perry.
---
Prayer List for apostles for interior use in the Movement. Pray hourly.

Spread the Blood of Jesus on everyone, consecrate their hearts, cast the devil out, pray for coming of the Holy Spirit in a special way for all people involved on this list.
Pray Father Carter is healed through Our Lady of Clearwater.
Pray for Father Carter's doctors.
Please pray for one new very important intention.
Pray for all involved in buying the building.
Pray for designated priests, Fr. Mike, Fr. Smith, Fr. Ken, all priests involved in the Imprimaturs translations including all bishops. Pray for Fr. Joe, Bishop Ed, Fr. Don, Father at Tuesday Masses, Fr. Tom, Fr. Bill, all priests involved with Walter, Fr. Hagee and special priests.
Pray for Father's sister Merle, for all of us servants, handmaids, apostles and vocations to all 7 categories.
Pray for the elections.
Pray for an audience with the Pope.
Pray for all Jesuits involved, all those over us. Pray for the 4 urgent intentions.
Pray for the rights to the books.
Pray for the process of getting Father's books on the Internet.
Pray for money to reprint the books.
Pray for the Imprimatur on the Priestly Newsletter Book II.
Pray we can send it to all bishops and Jesuits.
Pray for Perry and family and discernment.
Pray for all sub-centers and all out-of-state rosaries.
Pray for the sisters' mailing, nursing home mailing, bus mailing.
Pray for Rosary Factory.
Pray for Genevieve's daughter and Sheila's mom and Jerry's dad, Bernice's daughter.
Pray for Paul and Joan discernment.
Pray for all book covers.
Pray for B & M and Tina and Terry, all printing jobs, companies involved.
Pray for 5th, the 13th, the 17th.
Pray for the Internet team and the daily messages.
Pray for building up of Morrow, Ohio, Dale, Indiana, other sub-centers.
Pray for the Holy Spirit Center and all involved.
Pray for all our families, children in school, college mailing.
Pray for lots of rosary makers and rosaries for the schools.
Pray for funds and grace.
Pray for Paul C., Margaret Mary, Steve and Sheila, Monica, Angie, Marian, Cathy, Joe, Nick, Mary, Emily, Joe, Doris, Glaci, Dunkers, Joan R., Morgan, Mark, Walter, Janice, Mike A., Margaret, Ron, and Harold, Tommie.
Pray for Fred doing the paper and all involved in priestly "start-up".
Please pray for all Shepherds of Christ children.
Pray for Victor's son, Michael and a girl missing.
---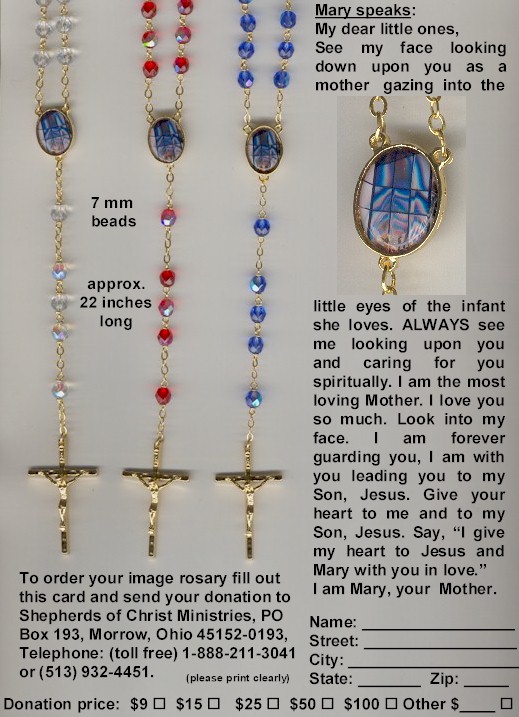 (Please copy and pass out to family and friends.)
---
Mary's Message from the Rosary of August 27, 1996
Mary speaks: I stood beneath the cross of my Son, and my Heart was in such pain for I saw Him before my eyes. I saw Him covered with blood. I saw Him die. My Heart, my children, my Heart to watch my Son, but my Heart, my Heart, how I suffered for my little children of the world that give in to this world and give up the love of my Son. O my little children of light, I give you this message. Carry this light into the darkness for your Mother Mary, for I stood beneath the cross and I cried. I cried for the little ones. I cried for the young ones, the ones that do not care and will lose their souls. How do I make you see for you will not listen to me? What can I do? I come. I appear. I beg. I plead. I give you these gifts from my Son, and you reject me. I do not deliver messages very often anymore for I have been ignored. The message is the same. You do not read the messages I have given to you. Please help me. Help the little children. I appear. I appear. I appear, and I am ignored. I stood beneath the cross, and I cried. I cried, and my Heart was in such anguish for my little children, for I am searching for them this day as I searched for the Child Jesus. Please, please help me. I cannot hold back the hand of my Son any longer. I am Mary, your Mother. I ask you to help my children. You are my children of light.

Song: O Lady of Light, shining so bright, be with us this day, guiding our way, O Lady, O Lady of Light.

Mary speaks: I appear to you as Our Mother of Sorrows.
(End of Mary's Message)
---
MY VALENTINE FOR JESUS AND MARY
AND THE WORLD

I _________________ give my heart to
You Jesus and Mary on this day
_________________
I promise to help spread the devotion to
the Hearts of Jesus and Mary.
---
Question for married couples and others in intimate relationships:
Q: How do I feel when I am treated dishonorably or persecuted by someone? How do I think Jesus felt being so abused by ones He loved?
---
---
---
Copyright © 2000 Shepherds of Christ.
Rights for non-commercial reproduction granted:
May be copied in its entirety, but neither re-typed nor edited.
Translations are welcome but they must be reviewed for moral and theological accuracy by a source approved by Shepherds of Christ Ministries before any distribution takes place. Please contact us for more information.
All scripture quotes are from the New Jerusalem Bible, July 1990, published by Doubleday.
Revised: November 29, 2000
URL: http://www.SofC.org
Contact Information for Shepherds of Christ
Email: info@SofC.org
---
Shepherds of Christ Ministries
PO Box 193
Morrow, Ohio 45152-0193

Telephone: (toll free) 1-888-211-3041 or (513) 932-4451
FAX: (513) 932-6791