November 3, 2012
R. Roles
It's being what God wants us to be.
In dysfunctional families it can be
all white and all black.
A painter chooses his colors.
If he wishes to paint the sky, autumn
leaves - he mixes the paint. For the
sky he uses blues and whites
and yellows until he has the
right mixture — there may be a little
orange or even a tinge of red —
He uses the colors needed. Children
learned how to solve problems, mix
with others, work in relationships
in homes.
A child may have had a dysfunctional
family, unpredictability, where they
did not see others working together —
all black and white, maybe dad ruled
or mom ruled and they toed the line —
they didn't see constructive problem
solving — people using all they
could in their calling — Dad had
his role, mom her role and they
were children in the family —
The dad may have ruled, the
son or daughter tried to raise up
over the wife for second place —
constant tension — people working
against each other in competition and
raising up. A hero child, a scapegoat
child.
Mary teaches us an important
lesson at the wedding of Cana.
She teaches us about her role in
supporting Jesus. She says
"Do whatever He tells you"
People who all want to be
chiefs don't work together — they
are all in competition — they can see
two roles: 1) somebody up 2) and
somebody down and they will be
up so they push in anyway and
manipulate others not be in any
other position. All black, all white —
Life is lived to never be under anybody —
A person can further go to work, be
supportive and then because of
lessons learned at home where
there was competition and pain —
go into an army tank when they
leave work — to never be under
on the home front — from what
they learned, or fear of ever having
a man or woman over them from
experiences they were forced to live
in, in home life. So they are always
ready to fight, controlling in fear
things may ever get away from them
and they get wounded again.
People can make walls, causing
conflicts so they can control a place
before they get there because they
don't want people free to
just live together interacting
and enjoying the moments as they
come — spontaneous, harmony,
trust and love among the family.
People in dysfunctional families
can be guarded, afraid when the
other shoe could drop. Unpredictability
from the past and survival tactics
may dictate why they are so guarded,
always up and full of fear to
just live and enjoy each other's
company.
People who are guarded and
tense are repelled when others
are laughing and enjoying themselves
They can see from afar a need to
start conflict against others
so they can be up and control —
An invisible wall, a way to
prevent anything unpredictable
from happening.
What happens is they never
let down, they must control
situations and others to not ever
get wounded again or be
taken off guard.
Roles are shown as means
of working in harmony. Joseph
supported Jesus and Mary.
Mary always did the Father's will —
Luke 1: 46-55
And Mary said:

My soul proclaims
the greatness of the Lord
and my spirit rejoices
in God my Saviour;
because he has looked upon
the humiliation of his servant.
Yes, from now onwards
all generations will call me blessed,
for the Almighty
has done great things for me.
Holy is his name,
and his faithful love extends age after age
to those who fear him.
He has used the power of his arm,
he has routed the arrogant of heart.
He has pulled down princes
from their thrones
and raised high the lowly.
He has filled the starving with good things,
sent the rich away empty.
He has come to the help
of Israel his servant,
mindful of his faithful love
—according to the promise
he made to our ancestors—
of his mercy to Abraham
and to his descendants for ever.
R. If a person has baggage and wounds
from the past and denies them —
they are still in denial.
In dysfunctional homes,
like an alcoholic home there
is the elephant in the living
room, everybody is forced to
ignore and tip-toe around an
alcoholic or it can be an
abusive person or it can be
what is called a "dry-drunk"
who has alcoholic behaviors.
Children are taught things - even
in the womb — disharmony, anger,
tension and from the earliest age
before they even talked, they are taught
about problem solving, roles, anger,
love and life.
Children learn survival tactics
in these homes, where other children
in homes not like this were taught
to mix paint and come up with the
right color. But children in
dysfunctional homes are wounded,
learned its black and white and may
run in adult life at the first sign
of anybody even looking like
their angry father or mother —
Jesus has taught us about love —
Jesus wants us to be open —
Humility is recognizing the truth,
not forcing others to put up with
our dysfunctional way.
Love is giving —
Not being afraid to live and try to
make invisible walls to
control things —
lack of trust of anyone we
still live out because of
a wounded past.
October 5, 2012
R. Jesus was brought into the
world in the womb of
Mary through the power
of the Holy Spirit.
A perfect unity shines forth
from Divine works —
We are created in the image and
likeness of God —
At the beginning we are an embryo, a child
ready to bud in this image
and likeness —
Jesus was the fruit of Mary's
womb —
We go to the spiritual womb
of the Mother —
We are brought forth
more and more as the Holy
Spirit works to mold us in the
image of God —
Jesus is the Light of the World —
The Divine Seed —
We come forth children of the
light —
We need the Holy Spirit working in
our lives —
We have been given our spiritual
Mother, Mary.
The world, the Church, the
individual Christian is in
the state of becoming.
We know Mary is the Mother
of the Church —
the Church is a pilgrim
Church —
We consecrate ourselves, the
Church and the world
to our spiritual Mother in
as far as we are able —
Father, Son and Holy Spirit dwell
in our graced baptized soul
In His miraculous birth
Jesus was the fruit of
heaven and earth —
The Holy Spirit conveyed the Divine
fruitfulness of the Father
to Mary —
In Mary, our loving Savior was
brought forth in her virginal soil —
Jesus, the Divine Seed!!
Jesus comes to us in the Eucharist
Jesus the fruit of the womb —
The Holy Spirit and Mary work to
bring us forth more and
more in the image of
Jesus —
The Holy Spirit is the Sanctifier —
Mary cooperates with the
Holy Spirit —
The Mystical body of Christ
is being formed —
Mary is the Mother —
We sing to Mary —
Sing: Immaculate Mary
Sing: See the Eyes That Look at Mary
R. The Holy Spirit pours love into
our hearts —
We need the Holy Spirit and Mary —
We need the Holy Spirit for virtue.
God pours out love in our
hearts.
The Holy Spirit and the Virgin Mary
matter in Christian
sanctification —
The priest needs this union
with Jesus —
The priest needs this deep
knowledge of Christ —
The priest must surrender
to Christ —
to decrease as Jesus
increases —
Prayer for Union with Jesus

Come to me, Lord, and possess my soul. Come into my heart and permeate my soul. Help me to sit in silence with You and let You work in my heart.

I am Yours to possess. I am Yours to use. I want to be selfless and only exist in You. Help me to spoon out all that is me and be an empty vessel ready to be filled by You. Help me to die to myself and live only for You. Use me as You will. Let me never draw my attention back to myself. I only want to operate as You do, dwelling within me.

I am Yours, Lord. I want to have my life in You. I want to do the will of the Father. Give me the strength to put aside the world and let You operate my very being. Help me to act as You desire. Strengthen me against the distractions of the devil to take me from Your work.

When I worry, I have taken my focus off of You and placed it on myself. Help me not to give in to the promptings of others to change what in my heart You are making very clear to me. I worship You, I adore You and I love You. Come and dwell in me now.

-God's Blue Book, January 17, 1994
R. Let us focus on Mary's
maternal relation to the
body of Christ —
From Blue Book 8
July 11, 1995
Jesus: You, My child, are nursed at the breast of My beloved Mother. Come and drink her motherly milk. Mary is the Mediatrix of all graces. In all the coldness in the world, you will find comfort in the arms of Mary. As she nurses you, you will receive a healing balm as a child at the breast. Mary is your spiritual Mother.
In the arms of your Mother you will be caressed and cuddled. Your Father, fathers you as the dearest father. Little child, come as a baby at the breast, totally dependent on your Father.
God the Father: I am the Father. How I love My little children - the children I have created and molded with such love!
Jesus: I can stop you dead in your tracks.
R. I see a car on its side blocking Me from going anywhere.
July 13, 1995 - 6:30am
Love
R. I love. To know you is to love. To explore more and more the mystery of love. To know the state of existence of love.
To love you, my dear Savior, is to love You deeply. My heart pants for more and more knowledge of You. I long and thirst and want deeper and deeper union with you.
To know You, Jesus, is to love You and Mary. You are so closely united to Mary. I love so deeply my beautiful Mother. I want more and more to know her and be present, dwelling in Jesus and Mary's Hearts at every second.
I want to be so wrapped in the love of my Father - as a little, tiny child that lives only to please Him. I love Him so much.
I realize a little the constant presence of the Almighty God within me. This is the secret to be one in this relationship with the Trinity, and Mary.
When I love, I love deeply. I want every moment to be a moment planned by my Father. I do not want any wasted moments and I surrender to Him. He has control of my life.
I consecrate my heart totally and completely to the Hearts of Jesus and Mary, I consecrate myself to the Holy Spirit.
As I live, I live deeply in Them, for to live in Them is to be one more and more with God and all others. Jesus' love is infinite.
To love is to give unconditionally. To love is to realize the unending source of God's love and to give freely for the sake of loving.
The more I am one with the Trinity and Mary that dwells within me, the more I am filled with the Divine Love and Mary's love and I am capable of giving love from the love of my dwelling in the Two Hearts.
This is the greatest day of my life: an opportunity to grow more and more in my life with God and an opportunity to be molded more into His image in the heart of Mary, through the Holy Spirit.
My biggest fear is not that I have not received love, but that I have wasted the opportunity to realize more and more the great Divine love that He wants to fill me with.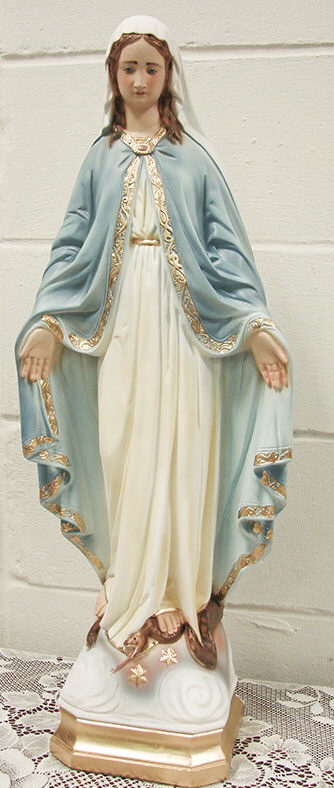 Help me to not ask to receive from my fellows but to give love to them as You dwell in Me.
The heart is the Life of the Body.
Mary is the Mediatrix of all grace.
R. As the Lady of Grace, Mary shows us rays coming out of her hands and pouring out to her children.

Console Him for agonies during the Passion.
Jesus allowed me to experience His agonies of His Heart
one Friday after I received our Lord in Holy Communion.
From His Birth - I knew more of the sufferings to His Heart.
Love - to promote the real good of the other.
Live for the present moment - Present Moment!
Gentleness - softly fallen snow
- green grass
- a gentle breeze