Mary has requested that the daily message be given each day to the world. It is read nightly at the prayer service from her Image Building in Clearwater, Florida, U.S.A. This is according to her request. All attempts will be made to publish this daily message to the world at 11 p.m. Eastern time, U.S.A.

---

We acknowledge that the final authority regarding these messages rests with the Holy See of Rome.

---
---
A Prayer for Intimacy with the Lamb, the Bridegroom of the Soul

Oh Lamb of God, Who take away the sins of the world, come and act on my soul most intimately. I surrender myself, as I ask for the grace to let go, to just be as I exist in You and You act most intimately on my soul. You are the Initiator. I am the soul waiting Your favors as You act in me. I love You. I adore You. I worship You. Come and possess my soul with Your Divine Grace, as I experience You most intimately.
---
Messenger: Include Our Lady of the Holy Spirit Center in 6:20 prayers.
---
Messenger: Dear apostles,
I give my heart to Jesus and Mary with you in love. A woman had a big house, but it was cluttered and she didn't know where to go with it all. She prayed and realized that things could not be organized in that small space. On touring her own house she went upstairs and to the far end, there was a room she forgot she had, it was spacious with lots of shelves, beds, plants, a desk, ready to be used.
There is a room that is open and ready to be used in our lives. It is God's plan and we must live out what He is giving us today. If we only see everything as it was, we will not be able to work in God's plan for us today. There is a big room, open and empty and ready for us to work in.
Every day God gives us a big new room to work in. He wants us to help reach the ends of the earth. We may whine outside the sheep-gate, like the lame and the sick, but we have to pick up the cross and enter in. It is in dying to our old ways not like Him that we will grow in greater life.
Look at the new room, the new friendships, the new doors He is opening. We cannot be afraid to pick up the cross and carry it, He carried it to His death, then He rose on the third day.
Death-resurrection.
God's way is the way.
Sometimes we try to stop God's way by holding on to the familiar because it feels good. We carry in ourselves the dying and rising of Christ in our lives.
We open a new door every day. We must grow more and more in our trust in Him, surrendering to His way.
Our gifts given to us today are cherished memories. Our life for tomorrow depends on Him. We may cry within our souls, but our life comes in death-resurrection. Carrying the cross, mounting it, dying on it and rising in Him. We can't be concerned with how it feels, we must surrender to the plan of God.
The autumn in all its beauty decorates the land, but the beauty of the fresh fallen snow graces our eyes in the chilly days of winter and spring comes anew with the growth and beauty of the buds and flowers that color the earth.
How is our God the Creator? He is the God of new growth, He is the One Who prunes the vines for the new growth, He is the One that allows beautiful trees to go dormant all winter that they can burst forth in brilliant beauty in the spring.
God is God! He has the plan, we are the creatures. He is in control, we must bend and not be as the stiff-necked trees of winter. We must see the brilliance of God's hand always at work even in a dark dismal twig of a barren winter tree.
| | | | |
| --- | --- | --- | --- |
| We must see God - see His dead Body on the cross - | | We must see God - see Him come forth from the tomb, He is Victorious - | |
We play on the surface of the earth, there is not growth in the man who buries his treasure.
We were meant for life, cutting back, budding forth.
We were meant for new growth.
We were given a mission to reach the far ends of the earth.
Who likes the first dip in a cool pond?
Who would carry the cross as Jesus did and mount it and die on it?
Jesus did! He followed the plan of the Father.
Our plan is to live according to God's will.
He gives us what we need today, it is His plan for us.
Why holler at a closed door when God is opening a door behind our head?
Death-resurrection.
The writings of our founder are gifts given to the Church and the world from the hand of God.
Our life in Him will grow as we follow the messages daily and open our hearts to His teaching in the way our founder wrote for Him, giving us deep insights into His mysteries.
God is so good to us. We must trust Him and continue to follow His lead, pray as He has told us and not be afraid to go across the threshold into a new room every day. God opens the door, we must follow Him and say YES TO HIS WILL FOR US - EVEN IN TEARS.
We continue to pray for the healing of Fr.Carter through the powerful intercession of Our Lady of Clearwater, united to the Mass. Suffering is suffering. Jesus suffered in the Passion so we would share His life.
---
Philippians 1: 18-26
But what does it matter? Only that in both ways, whether with false motives or true, Christ is proclaimed, and for that I am happy; and I shall go on being happy, too, because I know that this is what will save me, with your prayers and with the support of the Spirit of Jesus Christ; all in accordance with my most confident hope and trust that I shall never have to admit defeat, but with complete fearlessness I shall go on, so that now, as always, Christ will be glorified in my body, whether by my life or my death. Life to me, of course, is Christ, but then death would be a positive gain. On the other hand again, if to be alive in the body gives me an opportunity for fruitful work, I do not know which I should choose. I am caught in this dilemma: I want to be gone and to be with Christ, and this is by far the stronger desire— and yet for your sake to stay alive in this body is a more urgent need. This much I know for certain, that I shall stay and stand by you all, to encourage your advance and your joy in the faith, so that my return to be among you may increase to overflowing your pride in Jesus Christ on my account.

---
Psalm 42: 2,3,5,6
I thirst for God,
the living God;
when shall I go to see
the face of God?

I have no food but tears
day and night,
as all day long I am taunted,
'Where is your God?'

Why be so downcast,
why all these sighs?
Hope in God! I will praise him still,
my Saviour, my God.
---
---
February 27, 1997 Message from the Apostles Manual
After the Death, There is the Resurrection
My love affair is with You, my crucified Lord. I kiss Your cross and caress You tenderly. I smoother You with kisses and I know Your love.
This is love - to kiss the cross of Christ. I cursed the darkness and the light came across the sky, ever so gently as if it grew in intensity to a bright brilliant shade of glistening light. And in this I beheld my Beloved. I saw His glory in the wonders of the earth and I embraced Him, the divine, all-powerful, all Almighty Lord!
He took away those things I was attached to. I held on with a gripping hand. Oh, I cried out in pain and I heard the words in my heart: beyond the surrender is the real gift.
Is it not after the death there is the resurrection, after the dying, there is the glory?
Oh, my Divine Lord, I feel as if my eyes have crusted over. I laid down on the floor and pounded my fists to the earth. I did not see the miracle in the grass that touched my hand. I did not see the power and the might behind the work of endless beauty. A blade of grass, you say? Oh, yes indeed, for it lives and is not life the real miracle? For I am not a rock, but a living creature, created in the image and likeness of God and oh, you say, how much do you share in the life of the Divine Being? And I say, "I share through Baptism. He, God, gives me a sharing in His divine life!"
I pounded the earth and I cursed the darkness. I scoffed and I complained and beyond the horizon the sun slowly stole across the sky and the light appeared in glistening glory. The darkness was black and the night was cold. I heard the clamor of fear in my heart. I felt like screaming in that night and oh, I beheld the crucified Lord. He spoke no words to me, the Holy Spirit filled my heart with light and I saw the glory. I saw the resurrection, not with my earthly eyes, but with the awakening of a joyous heart within.
I saw the glorified wounds, the wounds once covered with blood, inflamed and red, gushing with deep, red blood. I saw the glistening wounds in the hands and feet and I knew behind His robe was the most tender of all wounds, the piercing wound to His side. It was there, the pierced wound of His most precious Heart. It was the wound of glory, from which His divine life would pour forth to a hungry Church. It would rain and fall as gently as the new fallen snow. It would go across the sky like the light and the souls would be transformed into the whitest light. The graced soul, oh, the glory of this soul, the soul that is filled with His divine life!
Oh, need I say more, my Lord? I see the life in a blade of grass. I see the tiniest potato bug with its dots and beauty and I behold the face of God. I behold life, His life, alive in us and in the world.
Well, the night was black, as black as black could be and the cold pierced my bones. I felt its chill go through my entire body and I wanted to scream and it happened--He gave me an outpouring of His life in my soul and my darkness was truly turned to light, another light, not the light of the eyes, a light of knowing God, the joy of beholding His heavenly embrace, the great illumination of another mystery. Oh, sweet gifts He gives when He gives me new knowledge of Himself. Sweet gifts He gives when, in an instant, I pray my rosary and the Holy Spirit fills my heart with lights and the mystery lights up and I know, I just know and I experience a great insight into God.
This is the reason for this letter, for I laid in my bed and I wanted to cry and I was deeply afraid for the devils pressed in as rocks poking at me and hurting my precious skin. I laid in bed and I went into the womb of my Mother and I asked for the Holy Spirit to flood me with His light and it came. I speak His words to you, they are the words He gives: death-resurrection, darkness-light, sorrow-joy, suffering and pain, but oh, the joy of His light, the joy of His glory, the sacrifice I offer to Him that He turns into blessings and I experience His glory. It is in the death there is the resurrection. It is in the anguishing days of lent we come to the glory of Easter.
So, my dear brothers, I walk the road to Calvary. I mount the cross and I die. I offer sacrifice and in the morning when the night is done I see the glory of the resurrection. I experience His joy in my heart.
So I went to bed and went into the womb of my Mother and the Holy Spirit flooded me with light and I united deeply to my precious Jesus on the cross. I knew Him and His love. I reminisced on all the places of deepest intimacy I had shared with Him and my heart burned. I wanted Him so close and I loved Him so much. I cried out, "I love You, I love You, I love You." In that moment I knew and wanted only Him. He had removed my bonds and set me free to be engulfed by His divine love. I then knew Him as never before, the most Holy One, in this union with Jesus.
I felt my great love for God the Father. I have been experiencing my littleness as a child and knowing my Father, seeing myself real little and knowing my Father and wanting, as a little child, to please Him. Then tonight I realized more His Fatherly love. I see myself depending on Him, needing Him, crying to Him, loving Him and then I realized His power and might and love coming to me.
So I knew in an instant. He just gives you a light and you know, you experience--I knew, I experienced the Trinity. I loved Them, all three Persons, so much and I loved Them as one, my heart, being consumed with the presence of God and sharing the love of each Person--love beyond all love, and I stopped to be in this embrace, wanting it to never end, for in this embrace I felt peace, a peace I had not felt before, so different from the days that proceeded this moment, the days of suffering and trial.
I mounted the cross. I felt the nails press deeply into my hands and feet. I felt the crown of thorns on my head. I said to Him, "Oh, why, my God, if You love me, do You make it so hard?"
And then I saw Him on the cross. I saw His mouth with blood running from the corner of it. I saw the body of a man, close to death. I saw His wounds, blistery and red, pouring out His precious blood. I saw the hollowness of His cheeks and the exhaustion of a body ready to expire in death. I saw the anguishing Lord who came to show us His way. His way is death and resurrection. His way is pain and glory. His way is the way to eternal life.
---
Messenger: Our Lord desires us to read the Letter to the Hebrews. It is important to understanding the Mass.
Messenger: Here is an excerpt from Father's book, Response to God's Love. It shows how we may close the door because we are expecting too much of others loving us.
---
Excerpt from Response to God's Love
Whether we are married people, celibates in the priestly and religious life, or single persons in the world, all of us have to be aware lest we be more concerned with receiving love than in giving it. God wants us to receive love, and we have a need to receive love; however, we must not allow this legitimate desire to degenerate into a morbid preoccupation whereby we always enumerate all the different ways that others should be manifesting love toward us while, at the same time, we ourselves might be guilty of neglecting numerous opportunities for loving them. If our main concern is to love others rather than to be loved by them, I think we will more often than not be surprised at the love others show us over a lifetime. Nonetheless, even in the event that we might feel slighted in this regard, our vocation as Christians is eminently clear: we ourselves must continue to love even when it is extremely difficult to do so, thus following the example of Jesus who loved even those who nailed him to the cross.
---
A Rosary for Healing or for Someone with Cancer.
On one Hail Mary bead or as many as you desire, say: (this is given for Fr. Carter, you can replace your loved one's name).

May God heal Fr. Carter through the intercession of Our Lady of Clearwater in union with the Mass and all the Masses being celebrated around the world.

Pray the Hail Mary or Hail Mary's then pray this after the Hail Mary.

May the cancer be uprooted and thrown into the sea.

We believe with all our hearts.

After the Glory Be— pray the following petition.

May Fr. Carter be healed through the intercession of Our Lady of Clearwater if it be the holy will of God.
| | | |
| --- | --- | --- |
| | Note: You can look at Mary on the image rosary while you pray this rosary. | |
---
Note: The above section can be printed out from a PDF file, and you can pray the rosary looking at the pictures.
---
Messenger: Please pray for the healing of Father Carter through the intercession of Our Lady of Clearwater.
---
Messenger: CAN YOU HELP US BY GIVING US ROSARIES FOR THE SCHOOLS REQUESTING THEM?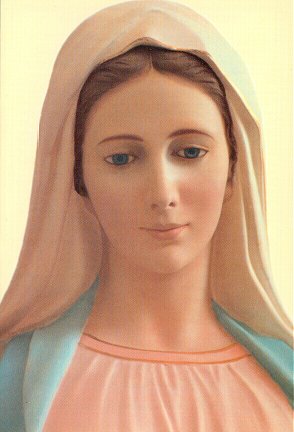 Mary speaks: PLEASE MAKE WALTER'S ROSARIES. THE SCHOOLS WANT ROSARIES AND THERE ARE NOT ANY ROSARIES LEFT.
---
Prayer List for apostles for interior use in the Movement. Pray hourly.

Spread the Blood of Jesus on everyone, consecrate their hearts, cast the devil out, pray for coming of the Holy Spirit in a special way for all people involved on this list.

Pray Father Carter is healed through Our Lady of Clearwater.
Pray for Father Carter's doctors.
Please pray for one new very important intention.
Pray for all involved in buying the building.
Pray for designated priests, Fr. Mike, Fr. Smith, Fr. Ken, all priests involved in the Imprimaturs translations including all bishops. Pray for Fr. Joe, Bishop Ed, Fr. Don, Father at Tuesday Masses, Fr. Tom, Fr. Bill, all priests involved with Walter, Fr. Hagee and special priests.
Pray for Father's sister Merle, for all of us servants, handmaids, apostles and vocations to all 7 categories.
Pray for the elections.
Pray for an audience with the Pope.
Pray for all Jesuits involved, all those over us. Pray for the 4 urgent intentions.
Pray for the rights to the books.
Pray for the process of getting Father's books on the Internet.
Pray for money to reprint the books.
Pray for the Imprimatur on the Priestly Newsletter Book II.
Pray we can send it to all bishops and Jesuits.
Pray for Perry and family and discernment.
Pray for all sub-centers and all out-of-state rosaries.
Pray for the sisters' mailing, nursing home mailing, bus mailing.
Pray for Rosary Factory.
Pray for Genevieve's daughter and Sheila's mom and Jerry's dad, Bernice's daughter.
Pray for Paul and Joan discernment.
Pray for all book covers.
Pray for B & M and Tina and Terry, all printing jobs, companies involved.
Pray for 5th, the 13th, the 17th.
Pray for the Internet team and the daily messages.
Pray for building up of Morrow, Ohio, Dale, Indiana, other sub-centers.
Pray for the Holy Spirit Center and all involved.
Pray for all our families, children in school, college mailing.
Pray for lots of rosary makers and rosaries for the schools.
Pray for funds and grace.
Pray for Paul C., Margaret Mary, Steve and Sheila, Monica, Angie, Marian, Cathy, Joe, Nick, Mary, Emily, Joe, Doris, Glaci, Dunkers, Joan R., Morgan, Mark, Walter, Janice, Mike A., Margaret, Ron, and Harold.
Pray for Fred doing the paper and all involved in priestly "start-up".
Please pray for all Shepherds of Christ children.
---
Messenger: Rosary in Clearwater, Florida - November 5, 2000.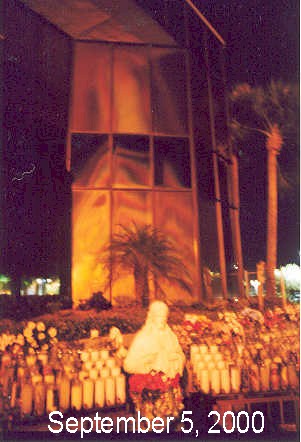 ---
Messenger: Mary wants the Red Rosary Book printed. It will cost $12,000 - $14,000 to get them reprinted.

---
Messenger: Pray for Perry.
---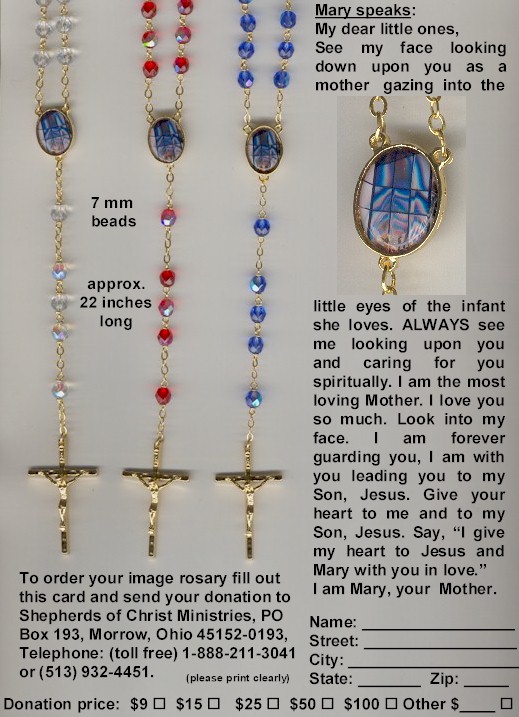 (Please copy and pass out to family and friends.)
---
Mary's Message from the Rosary of August 27, 1996
Mary speaks: I stood beneath the cross of my Son, and my Heart was in such pain for I saw Him before my eyes. I saw Him covered with blood. I saw Him die. My Heart, my children, my Heart to watch my Son, but my Heart, my Heart, how I suffered for my little children of the world that give in to this world and give up the love of my Son. O my little children of light, I give you this message. Carry this light into the darkness for your Mother Mary, for I stood beneath the cross and I cried. I cried for the little ones. I cried for the young ones, the ones that do not care and will lose their souls. How do I make you see for you will not listen to me? What can I do? I come. I appear. I beg. I plead. I give you these gifts from my Son, and you reject me. I do not deliver messages very often anymore for I have been ignored. The message is the same. You do not read the messages I have given to you. Please help me. Help the little children. I appear. I appear. I appear, and I am ignored. I stood beneath the cross, and I cried. I cried, and my Heart was in such anguish for my little children, for I am searching for them this day as I searched for the Child Jesus. Please, please help me. I cannot hold back the hand of my Son any longer. I am Mary, your Mother. I ask you to help my children. You are my children of light.

Song: O Lady of Light, shining so bright, be with us this day, guiding our way, O Lady, O Lady of Light.

Mary speaks: I appear to you as Our Mother of Sorrows.
(End of Mary's Message)
---
MY VALENTINE FOR JESUS AND MARY
AND THE WORLD
I _________________ give my heart to
You Jesus and Mary on this day
_________________
I promise to help spread the devotion to
the Hearts of Jesus and Mary.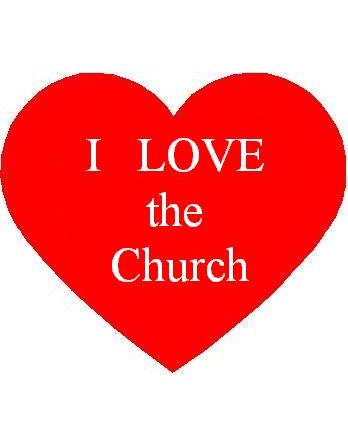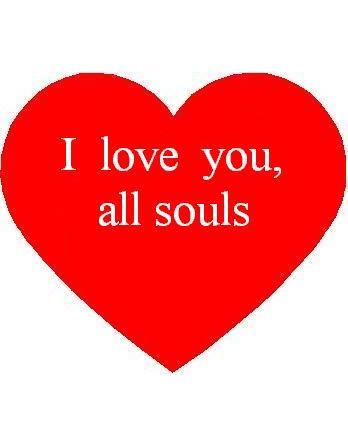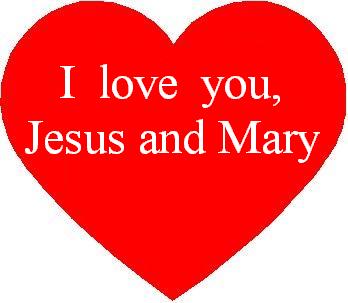 ---
Question for married couples and others in intimate relationships:
Q: How has my focus on myself receiving love, stopped me from giving love to others?
Messenger: God is love. He loved to His death on the cross.
---
---
---
Copyright © 2000 Shepherds of Christ.
Rights for non-commercial reproduction granted:
May be copied in its entirety, but neither re-typed nor edited.
Translations are welcome but they must be reviewed for moral and theological accuracy by a source approved by Shepherds of Christ Ministries before any distribution takes place. Please contact us for more information.
All scripture quotes are from the New Jerusalem Bible, July 1990, published by Doubleday.
Revised: November 4, 2000
URL: http://www.SofC.org
Contact Information for Shepherds of Christ
Email: info@SofC.org
---
Shepherds of Christ Ministries
PO Box 193
Morrow, Ohio 45152-0193

Telephone: (toll free) 1-888-211-3041 or (513) 932-4451
FAX: (513) 932-6791