Mary has requested that the daily message be given each day to the world. It is read nightly at the prayer service from her Image Building in Clearwater, Florida, U.S.A. This is according to her request. All attempts will be made to publish this daily message to the world at 11 p.m. Eastern time, U.S.A.

---

We acknowledge that the final authority regarding these messages rests with the Holy See of Rome.

---
---
A Prayer for Intimacy with the Lamb, the Bridegroom of the Soul

Oh Lamb of God, Who take away the sins of the world, come and act on my soul most intimately. I surrender myself, as I ask for the grace to let go, to just be as I exist in You and You act most intimately on my soul. You are the Initiator. I am the soul waiting Your favors as You act in me. I love You. I adore You. I worship You. Come and possess my soul with Your Divine Grace, as I experience You most intimately.
---
Messenger: Include Our Lady of the Holy Spirit Center in 6:20 prayers.
---
Jesus speaks: Dear apostles,
I wish all apostles to begin their day with the Holy Spirit Novena, also the Shepherds of Christ prayers. If you can pray as directed for the 6:20 prayers, it will help you with satanic attacks. If this is not possible, pray as much of 6:20 prayers as possible upon rising. You do not have to pray the rosary if it is impossible, but at least pray the Holy Spirit Novena. I would wish you could pray the 6:20 prayers whenever possible in the morning as soon as possible after rising.

I love you so much. I know you are suffering and it is hard. Spread yourselves with My Blood and pray fervently to the Holy Spirit. Do

your own interior work as I have directed you, this will help you work against the traps of Satan as you grow in holiness.

I love you so much, Jesus
---
Excerpt from the August 31, 1999 Daily Message

Messenger: I also have been told to pray to Our Lady of the Holy Spirit.

He (Jesus) says to say it three times:

Our Lady of the Holy Spirit, pray for us.
Our Lady of the Holy Spirit, pray for us.
Our Lady of the Holy Spirit, pray for us.
---
November 5, 1999 - First Friday and Feast of All Saints and Blessed of the Society of Jesus - Second Message
Messenger: My dear God, I am such a sinner and yet you come to me.
Jesus speaks: My dear child, I come to the lowly, the ones in pain, I come to the earth for the love that I have for men, to reign in their hearts and to reign in the world.
I see your imperfections and I use you as My instrument, for I come to set the world ablaze with the fire of My love.
On this day November 5, 1999, First Friday, Feast of the Jesuit Saints and Blessed, I call all Jesuits to give ear to Me to help spread the priestly newsletter, My newsletter for priests, to all Jesuit priests and all other priests of the earth. I am Jesus "You did not choose Me, but I have chosen you, says the Lord. I have sent you out to bear fruit that will last." I call the Jesuits to spread this devotion to My Sacred Heart, I have called your Jesuit brother, Father Edward J. Carter, S.J., a prominent theologian and holy priest, to write My newsletter to bring about the reign of My Sacred Heart. I have given to all Jesuit priests this commission to help spread devotion to My Heart. I have given them My prayers of consecration for priests, I have given them the prayers for the priests and the renewal of the Church and the world. Read My newsletter and prayers. They come, not primarily from a human person, but from Me. I beg you, My beautiful Jesuit priests, to help Me, please help Me, I cry out to you, I want to reach the priests with My Shepherds of Christ Movement to help bring about the reign of My most tender, loving Sacred Heart. On this First Friday and this special feast, I beg you to hear My cry. Oh, how I love you, I have chosen you, I have called you by name. I died for you, My beautiful priests, help Me bring about the Reign of My Sacred Heart. Hear the cries of the Lady of Fatima. Pray the rosary, My priests, and consecrate your hearts to Our Hearts, spread the First Saturday devotion and make reparation to Our Hearts.
---
November 5, 1999 - Third Message

A STAR OVER MARY'S HOUSE Jesus speaks: Subtitle the video A Star over Mary's House:My Movement, the Shepherds of Christ Is Born. I desire fully that the video Messages from Jesus April 17, 1994, be made available all over the world. It must be made available at the Florida site. It should be noted the message December 17, 1993, is read 3 years before Mary appeared.

I wish a generous supply be kept always at the Florida site. I wish Bob V. to be making these. Pray that money is donated for this purpose.

I strongly wish this to happen and the tapes be made available at all 3 sites and circulated by all.

I wish the Blue Books to be made readily available, especially one along with each video. Make it clear on the video how more information can be obtained from Shepherds of Christ, with correct address.
---
November 5, 1999 - Fourth Message FEED THE HUNGRY
---
To The Reader (excerpt)

Messenger: All of us possess everything we need to have an intimate union with Him. He has written to me since October of 1991. For at least a year I sat in front of the tabernacle and begged him to talk to me. I wanted words. I prayed to the Holy Spirit and begged and begged Him to baptize me. After a long and seemingly endless search, trying to hear God, He told me to "feed the hungry." For six weeks this was all I heard. I thought maybe I wasn't feeding my children well or eating well enough myself. What a long wait for three words! At long last one day, as I was writing to Jesus, I received a letter back. He told me, "I am Jesus, Son of the Living God." I did not want to write this but it kept coming-and so many other messages. I knew nothing of anyone getting messages. I wrote them, reluctantly, and hid my notebooks. The letters kept coming-a lot in the night-and I would be awakened by long letters which I felt compelled to get up and write down. I read these letters privately and my life began to change. I felt a new life within me.
---
Jesus speaks: I told you to FEED THE HUNGRY.
I tell you to go after those who are open, so they will listen and pray with you.
Many elderly are waiting for someone to come and share My messages with them.
A Song from Jesus
Refrain: I come to you with greatest love, I am your loving Savior.
I am your God, I died for you, I come to you this day.
---
November 5, 1999 - Fifth Message
Jesus speaks: What is your temptation? It may be sex or alcohol, it may be control, it may be arguing to get what you want. Unless people communicate, and love one another, My work cannot get done. I am the Way, the Truth, the Life.
I want you to write about past relationships so that this exercise will shed light on your own dysfunctional ways of relating.
I want you to work through anger and hate and resentment so that your hearts will see the good and end being hearts of love.
A heart dedicated to God loves all people in your past lives and all present people in your lives. You have to forgive and let go of hidden resentment.
See it as a gift for you to lead you to greater holiness.
Be sorry for your sins, ask God for forgiveness for your sins.
Controlling can be a demon that lurks at the heart and soul.
In My Church all must abide by My rules. Power comes from Me. I give you My rules.
In the Reign of the Sacred Heart, all will come willingly, acting according to the Father's will.
Those under authority must respond willingly to serve and follow the Father's plan.
Those in authority must act only as God wills.
The more you work to rid yourselves of imperfections, the more purely you will act.
---
November 5, 1999 - Nursing Home Message - Sixth Message Jesus speaks: My beloved nursing home members,
I am with you and I love you. Give your heart to Me. Pray for this ministry that people in retired-living and nursing homes will be reached with these messages of My love and that they will offer their days as a sacrifice to help save souls. Will you offer your life as a sacrifice to help save souls?

My beloved, you are precious to Me. Sing A Song from Jesus all day. It is My song for you. I request the tapes made from My songs recorded by My messenger be circulated to those in nursing homes.

I wish tape recorders be given to nursing home members. Tell them to request them for Christmas presents, then Shepherds of Christ can provide tapes of these songs and messages as gifts for them.

Tell them tapes are available just for nursing homes.

I wish the taped sessions for nursing home people be made available as I originally requested with the booklets for those in nursing homes.

I wish booklets of nursing homes messages be made available or small little books as the elderly prayer manual be made available for them with the messages in large print.

8 1/2 x 11 books can be made with soft covers and stapled as a magazine-type size.

I want to reach the nursing homes.

I want them to have the pictures of My Sacred Heart and My Mother's Heart. Pass out little prayer cards with Father Carter's Jesus and Bridal Mary.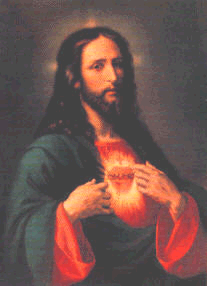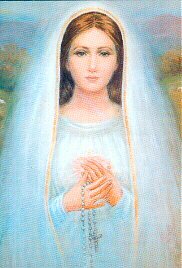 Tell them to keep them in their rooms and give their hearts and their rooms and the place they live to the Sacred Heart and the Immaculate Heart. Wherever you speak in nursing homes, bring a small picture and ask if you can leave it there. Consecrate that home and room to the Sacred Heart and the Immaculate Heart and spread holy water.
Always begin every session with,
"I give my heart to Jesus and Mary with you, in love."
Teach them to say it often. Tell them to say it to each other, it will bring them greater peace and love.
Give them an 8 1/2 x 11 paper with it on.
Put it at the beginning of all nursing home books in large print.
I love you so much.
Your leaders for the nursing home are Rev. Bill B. and Ann M., assisted by others -- Melanie N. and Emily L. -- directed by Me through the messages.
---
Messenger: When visiting a nursing home this is a plan you can follow to pray a little part of the rosary with the elderly or sick residents.
What is usually done and tolerated by the elderly folks is one Our Father, five Hail Mary's and another Our Father. The song, A Song from Jesus, can be sung before and after these prayers.
It is desirable to have a big picture of Jesus is Crowned with a Crown of Thorns when doing these meditations. Also it is recommended that you have pictures of the Sacred Heart and the Immaculate Heart of Mary.
---
Excerpt from March 21, 1995 rosary, "Jesus is Crowned with a Crown of Thorns" from Rosaries from the Hearts of Jesus and Mary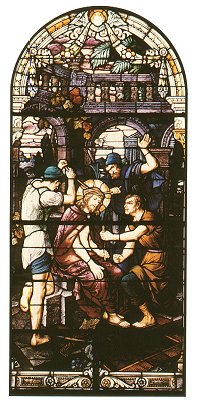 Jesus Is Crowned with a Crown of Thorns
Messenger: Jesus, You bled for love of each one of us. Help us to realize during this Lenten season the immensity of Your love as we meditate on Your wounds, the wounds to Your most precious Head, the wounds that you suffered to Your hands and feet. How would it be to rub our hands across Jesus' head, to touch the puncture wounds from the thorns! He truly suffered this for love of us!
Let me kiss your wounds, dear Jesus, the wounds that you suffered for love of me! Let me enter into the wound in Your side. The more deeply I enter into this wound, the more I enter the abyss of the endless love of Your Most Sacred Heart.
We look for love in so many places when, minute by minute, second by second, Jesus is inside of our hearts telling us how He is truly there and loving us.
If you put your fingers into the nail marks in His hands and into His side, would you believe that, minute by minute, second by second, He loves you so much, and that He is God and will provide you with all your needs?
Minute by minute, second by second, hear the soft, gentle voice within your heart say, "I love you, I love you, I love you. It is in realizing this immense love that there is love to give to others.
---
Question for married couples and others in intimate relationships:
Q: How do I feel our writing our daily letters and having daily dialogue about our feelings help us to stay more loving toward one another?
---
---
---
Copyright © 1999 Shepherds of Christ.
Rights for non-commercial reproduction granted:
May be copied in its entirety, but neither re-typed nor edited.
Translations are welcome but they must be reviewed for moral and theological accuracy by a source approved by Shepherds of Christ Ministries before any distribution takes place. Please contact us for more information.
All scripture quotes are from the New Jerusalem Bible, July 1990, published by Doubleday.
Revised: November 5, 1999
URL: http://www.SofC.org
Contact Information for Shepherds of Christ
Email: info@SofC.org
---
Shepherds of Christ Ministries
PO Box 193
Morrow, Ohio 45152-0193

Telephone: (toll free) 1-888-211-3041 or (513) 932-4451
FAX: (513) 932-6791