Given November 30, 2012
Jesus says: I have called you by name.
You belong to Me. I love you.
I want you to follow Me.
To live with a heart of love
and to not be bitter.
You can answer Me or
ignore Me.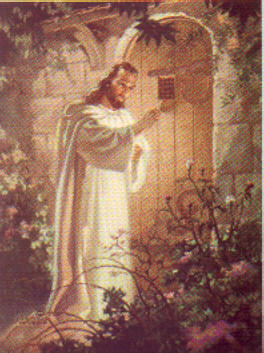 Jesus: You can answer with zeal
and enthusiasm or you can
come with an angry heart.
Who can fix your heart?
Do you want to let your wounds
behind and live or are you
standing in a bucket of your
wounds and angry.
Who can help you today - to live?
Say "yes" to Me.
Come to Florida for the Anniversary,
Come to China, come and I will
promise you great graces.
Come now, don't put it off
I want you to pray, I have called
you by name.
Look at the Apostles —
Matthew 4: 18-22

As he was walking by the Lake of Galilee he saw two brothers, Simon, who was called Peter, and his brother Andrew; they were making a cast into the lake with their net, for they were fishermen. And he said to them, 'Come after me and I will make you fishers of people.' And at once they left their nets and followed him.

Going on from there he saw another pair of brothers, James son of Zebedee and his brother John; they were in their boat with their father Zebedee, mending their nets, and he called them. And at once, leaving the boat and their father, they followed him.
Jesus: Servants serve and love —
Handmaids follow Mary —
I am calling you.
Do you follow Me —
In this time before Christmas —
preparing your hearts in love —
giving love to Me and to others —
How will your heart be on Christmas?
Did you prepare your heart for
Christmas?
Do you focus on this great gift
I have given on Christmas,
that I came to this earth and
I took flesh —
So you could be saved.
Are you ready to spread this
news of preparing during Advent
so you have a heart of extreme love
for Christmas.
Open your heart now!!
Open your heart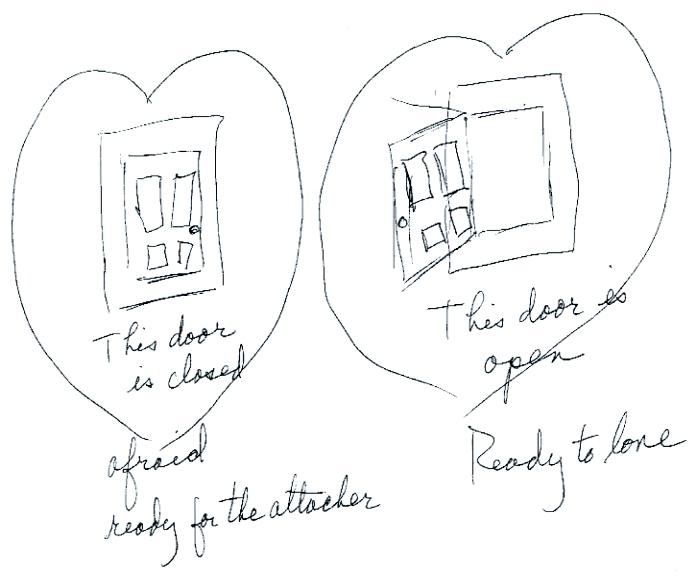 R. Today Feast of St. Andrew - Andrew, Apostle
brother to Peter. We know Andrew as
crucified on an X shaped cross. A
reminder to us to say
"yes" even in suffering,
for these saints who
followed Jesus and shed
their blood too.
Soon you will have the Feast of
St. Francis Xavier - one of the
first Jesuits
Romans 10: 9-18
that if you declare with your mouth that Jesus is Lord, and if you believe with your heart that God raised him from the dead, then you will be saved. It is by believing with the heart that you are justified, and by making the declaration with your lips that you are saved. When scripture says: No one who relies on this will be brought to disgrace, it makes no distinction between Jew and Greek: the same Lord is the Lord of all, and his generosity is offered to all who appeal to him, for all who call on the name of the Lord will be saved.

Israel has no excuse

How then are they to call on him if they have not come to believe in him? And how can they believe in him if they have never heard of him? And how will they hear of him unless there is a preacher for them? And how will there be preachers if they are not sent? As scripture says: How beautiful are the feet of the messenger of good news. But in fact they have not all responded to the good news. As Isaiah says: Lord, who has given credence to what they have heard from us? But it is in that way faith comes, from hearing, and that means hearing the word of Christ. Well then, I say, is it possible that they have not heard? Indeed they have: in the entire earth their voice stands out, their message reaches the whole world.
R. St. Nicholas - Bishop - he was
very generous
the Feast of the Immaculate Conception
Mary was Immaculately conceived.
the Feast of Our Lady of Guadalupe
the Feast of St. Lucy - we
pray through her intercession
for our blindness
Jesus: I love you so very much - I give you
My Movement Shepherds of Christ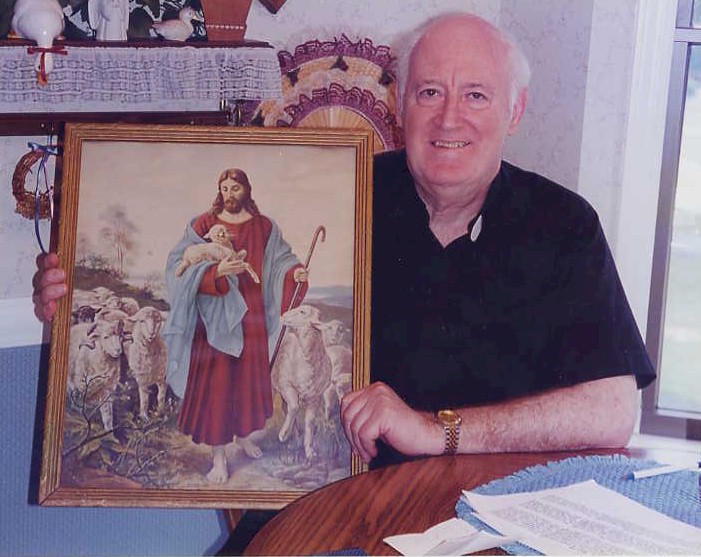 Ezekiel 34: 11-16
"For the Lord Yahweh says this: Look, I myself shall take care of my flock and look after it. As a shepherd looks after his flock when he is with his scattered sheep, so shall I look after my sheep. I shall rescue them from wherever they have been scattered on the day of clouds and darkness. I shall bring them back from the peoples where they are; I shall gather them back from the countries and bring them back to their own land. I shall pasture them on the mountains of Israel, in the ravines and in all the inhabited parts of the country. I shall feed them in good pasturage; the highest mountains of Israel will be their grazing ground. There they will rest in good grazing grounds; they will browse in rich pastures on the mountains of Israel. I myself shall pasture my sheep, I myself shall give them rest–declares the Lord Yahweh. I shall look for the lost one, bring back the stray, bandage the injured and make the sick strong. I shall watch over the fat and healthy. I shall be a true shepherd to them."
Sing: Valleys of Green
Romans 5: 5-11
and a hope which will not let us down, because the love of God has been poured into our hearts by the Holy Spirit which has been given to us. When we were still helpless, at the appointed time, Christ died for the godless. You could hardly find anyone ready to die even for someone upright; though it is just possible that, for a really good person, someone might undertake to die. So it is proof of God's own love for us, that Christ died for us while we were still sinners. How much more can we be sure, therefore, that, now that we have been justified by his death, we shall be saved through him from the retribution of God. For if, while we were enemies, we were reconciled to God through the death of his Son, how much more can we be sure that, being now reconciled, we shall be saved by his life. What is more, we are filled with exultant trust in God, through our Lord Jesus Christ, through whom we have already gained our reconciliation.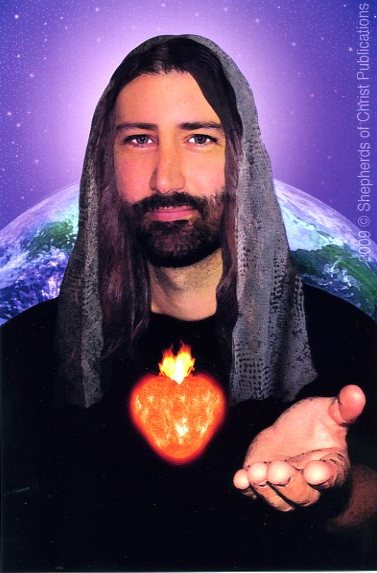 Luke 15: 3-7
So he told them this parable:

The lost sheep

'Which one of you with a hundred sheep, if he lost one, would fail to leave the ninety–nine in the desert and go after the missing one till he found it? And when he found it, would he not joyfully take it on his shoulders and then, when he got home, call together his friends and neighbours, saying to them, "Rejoice with me, I have found my sheep that was lost." In the same way, I tell you, there will be more rejoicing in heaven over one sinner repenting than over ninety–nine upright people who have no need of repentance.
Sing: I Am Your Sacred Heart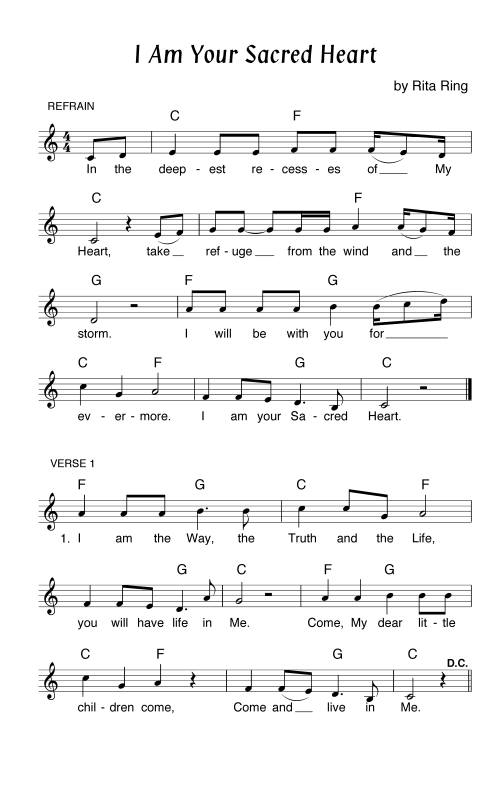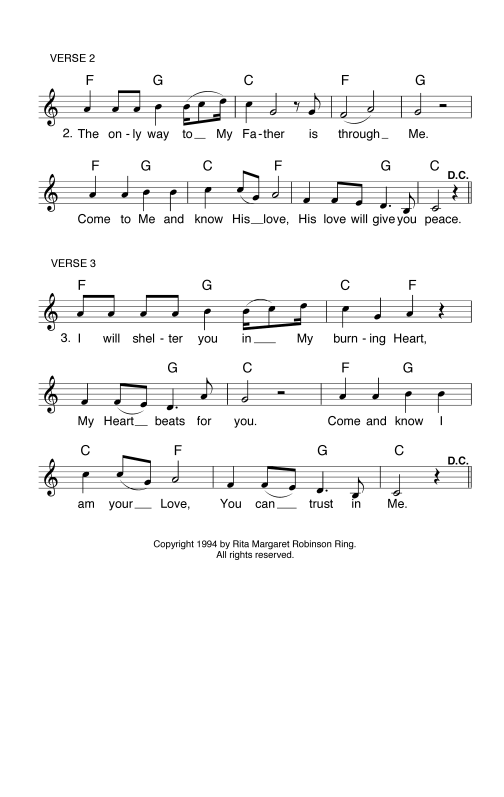 Sing: Give Me Your Heart Oh Jesus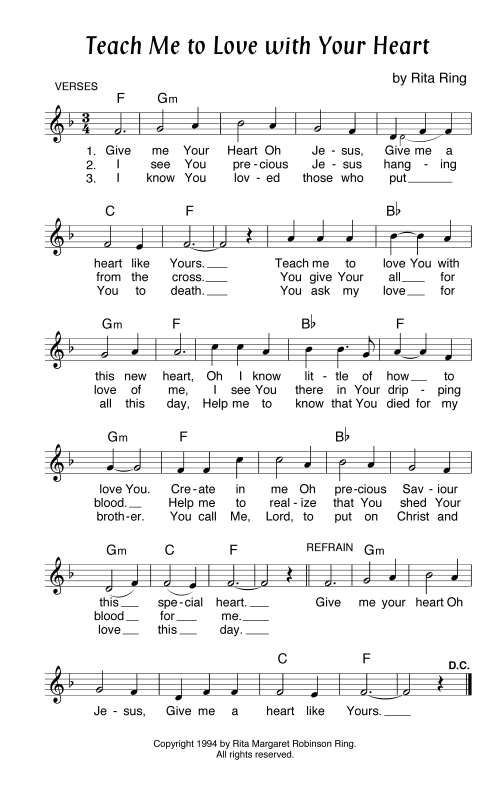 R. Jesus calls us to come to the fountain
of His grace —
Come and drink —
Drink streams of flowing
water coming from
His pierced Heart —

John 19: 34
one of the soldiers pierced his side with a lance; and immediately there came out blood and water.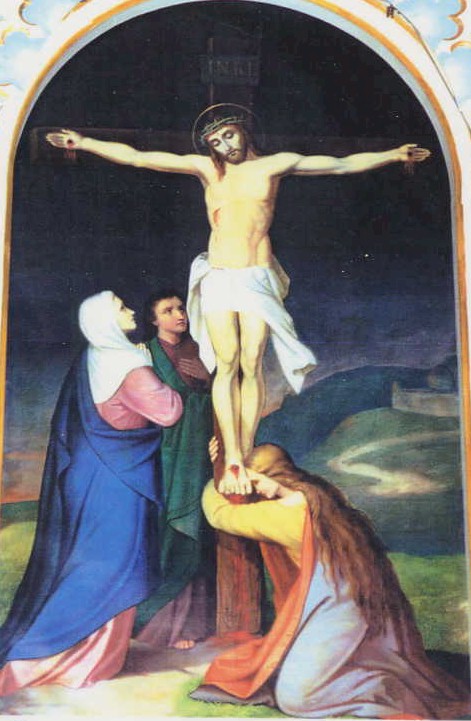 R. Dear Jesus, we want to help make
reparation to Your Most Adorable
Sacred Heart
We are sorry that Your love is
repaid with neglect by
so many, forgetfulness
and hatred.
We bow before your most Sacred Heart.
We bow before the Blessed Sacrament —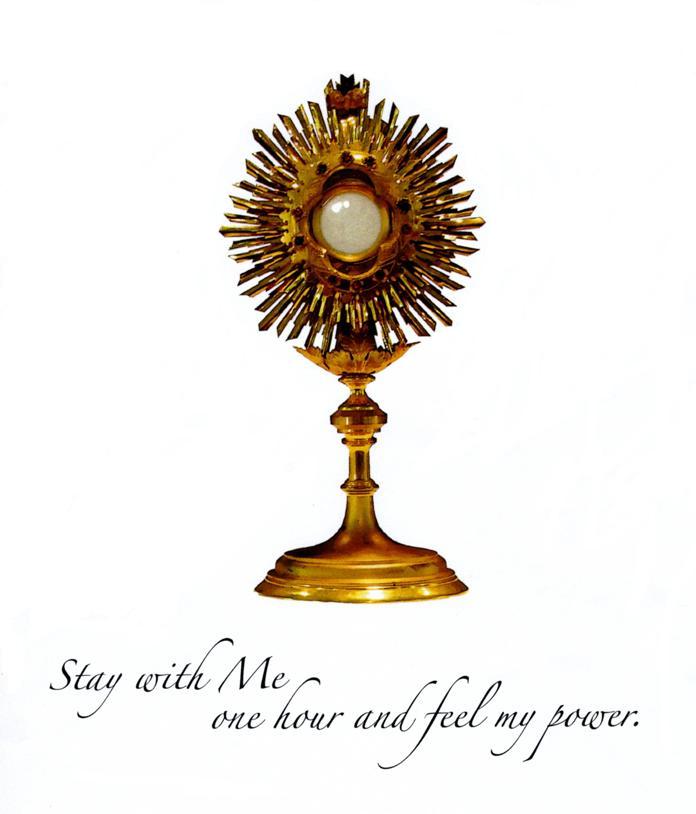 R. We are sorry for the indifferences
of men in the world —
We are sorry for focusing on our
petty wounds when Your Sacred Heart
is and was so wounded by
man's ingratitude and neglect.
We love You God —
You who are so worthy of all our love.
Let us venerate Your loving Heart
in our homes and lives,
every day —
Keep us in Your loving care Jesus —
We have offended Your Sacred Heart —
We are sorry for our pettiness
in not loving You and others
as You have commanded us to do.
Help us to be humble and
to realize if
confronted with a choice —
is it God's will —
we say yes to God's will and
if it isn't God's will we don't
do it.
Act of consecration to the Sacred Heart of Jesus


and the Immaculate Heart of Mary.

"Lord Jesus, Chief Shepherd of the flock, I consecrate myself to Your most Sacred Heart. From Your pierced Heart the Church was born, the Church You have called me, as a member of Shepherds of Christ Associates, to serve in a most special way. You reveal Your Heart as a symbol of Your love in all its aspects, including Your most special love for me, whom You have chosen as Your companion in this most important work. Help me to always love You in return. Help me to give myself entirely to You. Help me always to pour out my life in love of God and neighbor! Heart of Jesus, I place my trust in You!

"Dear Blessed Virgin Mary, I consecrate myself to your maternal and Immaculate Heart, this Heart which is symbol of your life of love. You are the Mother of my Savior. You are also my Mother. You love me with a most special love as a member of Shepherds of Christ Associates, a movement created by your Son as a powerful instrument for the renewal of the Church and the world. In a return of love, I give myself entirely to your motherly love and protection. You followed Jesus perfectly. You are His first and perfect disciple. Teach me to imitate you in the putting on of Christ. Be my motherly intercessor so that, through your Immaculate Heart, I may be guided to an ever closer union with the pierced Heart of Jesus, Chief Shepherd of the flock."
| | | | | | |
| --- | --- | --- | --- | --- | --- |
| | Español | Français | Português | Italiano | Polska |