Dec
ember 15, 2012
December 16th Holy Spirit Novena
Scripture selection is Day 4 Period I.

The Novena Rosary Mysteries
for December 16th are Sorrowful.
Come to Clearwater!
December 17th -
Prayer Service at 6:20pm
Fr. Joe's new Cycle C book is here.
We need $4,000 postage
for Ohio, Indiana, Kentucky & Florida.
Please help us.
Call Rosie 1-888-211-3041
Buy Blue Books for Christmas
Fr. Joe's Cycle "C" Book for Christmas
Statues for Christmas etc.

December 15, 2012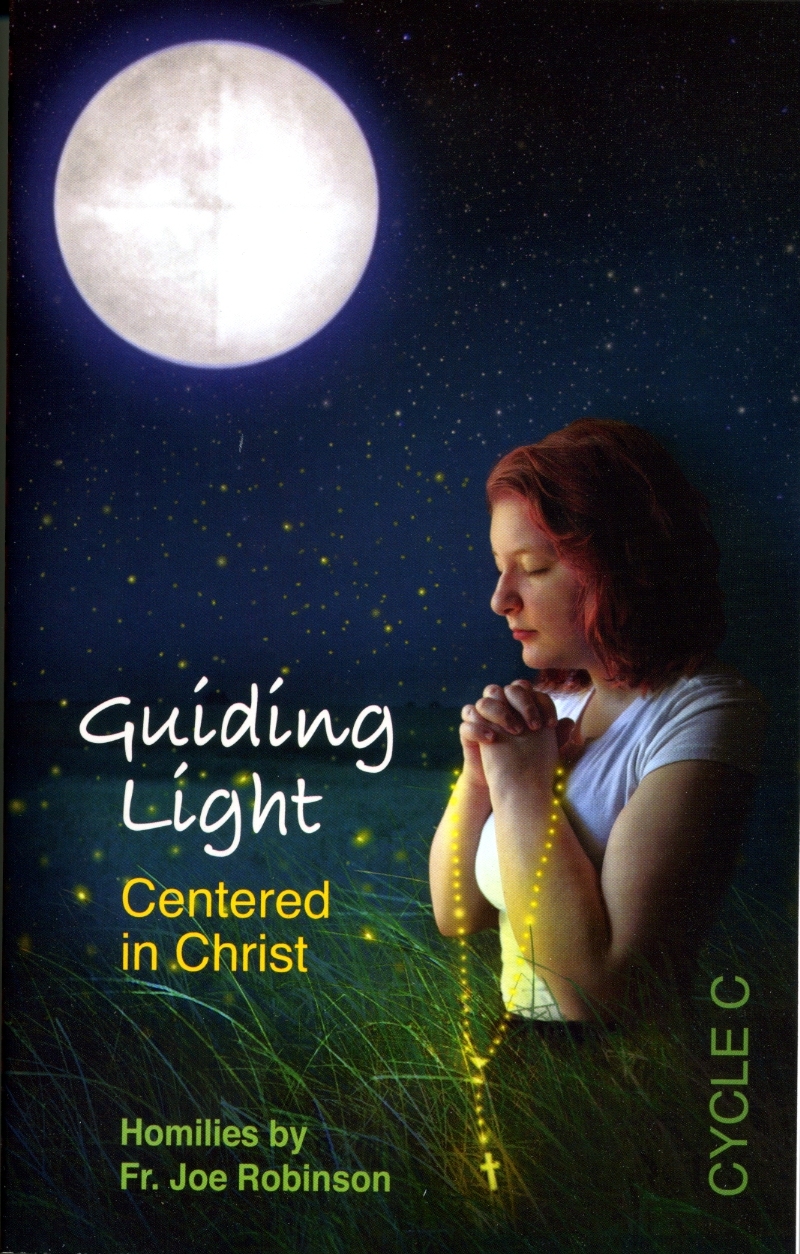 New Cycle C Homily Book Available
$15.00 plus postage
Call Rosie 1-888-211-3041
Help us get Fr. Joe's book to the priests.
We need postage money.
3rd Sunday of Advent


Zephaniah 3: 14-18

Shout for joy, daughter of Zion,
Israel, shout aloud!
Rejoice, exult with all your heart,
daughter of Jerusalem!
Yahweh has repealed your sentence;
he has turned your enemy away.
Yahweh is king among you, Israel,
you have nothing more to fear.

When that Day comes,
the message for Jerusalem will be:
Zion, have no fear,
do not let your hands fall limp.
Yahweh your God is there with you,
the warrior–Saviour.
He will rejoice over you with happy song,
he will renew you by his love,
he will dance with shouts of joy for you,
as on a day of festival.

Philippians 4: 4-7

Always be joyful, then, in the Lord; I repeat, be joyful. Let your good sense be obvious to everybody. The Lord is near. Never worry about anything; but tell God all your desires of every kind in prayer and petition shot through with gratitude, and the peace of God which is beyond our understanding will guard your hearts and your thoughts in Christ Jesus.

Luke 3: 10-18

When all the people asked him, 'What must we do, then?' he answered, 'Anyone who has two tunics must share with the one who has none, and anyone with something to eat must do the same.' There were tax collectors, too, who came for baptism, and these said to him, 'Master, what must we do?' He said to them, 'Exact no more than the appointed rate.' Some soldiers asked him in their turn, 'What about us? What must we do?' He said to them, 'No intimidation! No extortion! Be content with your pay!'

A feeling of expectancy had grown among the people, who were beginning to wonder whether John might be the Christ, so John declared before them all, 'I baptise you with water, but someone is coming, who is more powerful than me, and I am not fit to undo the strap of his sandals; he will baptise you with the Holy Spirit and fire. His winnowing-fan is in his hand, to clear his threshing-floor and to gather the wheat into his barn; but the chaff he will burn in a fire that will never go out.' And he proclaimed the good news to the people with many other exhortations too.
3rd Sunday of Advent
December 13, 2009
INTRODUCTION
– (Zephaniah 3:14-18; Philippians 4:4-7; Luke 3:10-18) Our theme for today, as it often is, is summed up in the Psalm Refrain: "Cry out with joy and gladness, for among you is the great and holy one of Israel." Our first reading from the prophet Zephaniah goes back about 700 years before Christ. The Assyrians were the dominant force in the Middle East and were an unusually warlike, brutal people. Their capital city was in northern Iraq near modern day Mosul. Our first reading comes from a time shortly after the Assyrians wiped out the northern part of Israel. They brought severe suffering upon the southern part of Israel too, the area around Jerusalem, but they did not conquer it. Jerusalem would still be around for another 130 years until the Babylonians conquered it. But the Assyrians did inflict a lot of pain on Jerusalem. Yet Jerusalem didn't learn from what happened to them. Idolatry and immorality were rampant among the Jews. The king of Judah himself offered his own son as a human sacrifice to the pagan gods. Most of what is written in the Book of Zephaniah records his efforts to correct abuses among God's people. His book ends on a note of hope, however, as he addresses those who are faithful to God. He tells them to rejoice and assures them God will rejoice and sing too because of his love for them and for all the blessings that will be theirs. Can we imagine how beautiful it would be to hear God singing?

There is something we should be aware of when we hear the second reading too. St. Paul is sitting in prison somewhere when he wrote this, and prisons in those days were really bad. Today's prisons would look like a luxury hotel by comparison. Yet Paul can be joyful and he is able to encourage the Philippians to have no anxiety and to rejoice always.

HOMILY

– In the days when we had Mass in Latin, today was known as Gaudete Sunday. That means "Be Joyful." The liturgy continues to communicate that theme of joy with rose colored vestments and readings telling us to rejoice. So on this Gaudete Sunday, I thought we should start off with a couple of laughs.

First is about a guy driving down a country road and hears a loud thud. He gets out of the car and there is not another car in sight. So he drives on home. The next day the sheriff shows up at his door and arrests him for a hit and run accident. He ran over a pig and didn't stop and that was against the law. He protested it wasn't him and asked the sheriff how he could possibly know he was guilty. The sheriff said: "the pig squealed."

The local minister had to give a talk at a banquet and told a few funny stories. There was a news reporter there taking notes. The minister planned to give the same talk the next day at a meeting and asked the reporter not to print his jokes and stories in the newspaper the next day. So the well-meaning reporter ended his article with the following observation: "The minister told a few stories that cannot be published."

It's good to have a sense of humor and enjoy a few laughs but it's even better to have a sense of joy in our hearts. Laughter may fade away, but joy stays with us. We heard the prophet Zephaniah in today's first reading telling God's people, during an especially difficult time in their history, to "sing for joy." They should sing for joy, not because things were wonderful, but because God was in their midst. We heard Paul, in prison, telling the Philippians to rejoice always. If we listen to the media, we get the impression that joy springs from having lots of things. The scriptures tell us our joy comes from knowing the Lord is in our midst. We have an advantage over the Jews of Zephaniah's time (700 years before Christ) because we also know and believe we will enjoy being with God for all eternity. The Jews had no knowledge of heaven or hell at that time, so we have more reasons to rejoice than even holy prophets.

If we don't have joy within us, perhaps some of these enemies of joy might be at work stealing it from us:

* Feeling sorry for oneself.

* Constantly putting other people down to make ourselves look smarter or better.

* Putting ourselves down all the time. Because we're human we all make mistakes or do wrong. There are healthy ways of dealing with guilt or shame. Incidentally, the sacrament of confession is one of those ways – and this week we have four priests to hear confession at our Penance Service. Constantly beating ourselves up, though, does not get rid of guilt and it does not help us experience joy.

* Holding on to anger and resentment. It only eats us up inside and does not produce joy. We have to forgive.

* Thinking that having more things is going to make us happy. It satisfies us only momentarily.

* And then there's fear and worry. Paul says have no anxiety at all. That might sound impossible, but there are ways we create anxiety for ourselves that we do not need. On the other hand there are many things that cause us anxiety, which we can do nothing about and we have to leave in God's hands.

If self pity, guilt, unforgiveness, anger, resentment, fear, and worry work against our having joy, then what will lead to joy? We must choose to be joyful. Paul tells the Philippians "rejoice" as if it is something for them to choose to do rather than it being something that just happens to them. I think it was Abraham Lincoln who said most people are about as happy as they make up their minds to be. Dr. Hans Selye, the scientist who developed and researched the concept of stress, would agree. He said: it's generally not the things outside of us that create stress for us, but it's the way we respond to these things. Next we need to be good and to do good. Otherwise we won't feel good about ourselves. The people in today's gospel ask the Baptist, "what should we do?" John gave them a few specific ideas. All we have to do is read the gospels or the 10 Commandments and we'll get the idea that there's more to a good life than just saying "I believe!" Lastly, I think gratitude is the final key to unlocking the way to joy. Again, being grateful is an intentional thing; it is an attitude we must develop. St. Paul said: "in everything, by prayer and petition, with thanksgiving, make your requests known to God." A heart that is ungrateful is not happy. This is not all that could be said about joy, but it's probably enough for us to think about today. My closing words for today are don't make yourselves so anxious this season that you lose the joy that can be found only in knowing Jesus' love. "The Lord, your God, is in your midst."
Books written by the cofounder of Shepherds of Christ Ministries
Mass Book
A Journey Into the Heart of Jesus - Author: Rita Ring. Discerned by: Fr. Edward J. Carter S.J. Imprimatur
$ 12.00 plus postage

Mass Book, by Rita Ring: Many of the entries in the Priestly Newsletter Volume II from a spiritual journal came from this book. These entries
are to help people to be more deeply united to God in the Mass. This book is available in English and Spanish with the Church's Imprimatur.
$12
Rosary Meditations for Parents and Children, by Rita Ring, Short Meditations for both parents and children to be used when praying the
rosary. These meditations will help all to know the lives of Jesus and Mary alive in their Hearts. Available in both English and Spanish with
the Church's Imprimatur. $10
God's Blue Book I
Teachings to Lift You Up. Author: Rita Ring. Discerned by: Fr. Edward J. Carter S.J.
$ 10.00 plus postage

God's Blue Book I by Rita Ring. Open Anywhere — This book will change your life. These are beautiful love letters to us from Jesus. A million books have been printed and circulated. Jesus loves us so much — He wants a personal relationship with us — He wants us to go to the Eucharist and be with Him before the tabernacle. $10
God's Blue Book II
The Fire of His Love. Author: Rita Ring. Discerned by Fr. Edward J. Carter S. J.
$ 10.00 plus postage

God's Blue Book II by Rita Ring. Letters from Jesus about His on fire love — Jesus wants this great intimacy with us — On fire love — Personal love letters from Jesus about the love of His Heart — A book on surrender Fr. Carter said! $10
God's Blue Book III
Love God, Love One Another. Author: Rita Ring. Discerned by Fr. Edward J. Carter S.J.
$ 10.00 plus postage

God's Blue Book III by Rita Ring. Fr. Carter's favorite book — It is about loving and forgiving each other — Being pure in heart — A book for unity in family, community, in life!! $10
God's Blue Book 4
The Love of the Hearts of Jesus and Mary Author: Rita Ring
$ 5.00 plus postage

God's Blue Book IV by Rita Ring. This book is about the love Jesus has for Mary and Mary has for Jesus and Jesus and Mary have for us — It is truly the Love of the Two Hearts. Mary appeared every day at the Holy Spirit Center — Fr. Carter was there. Mary's first apparition July 5, 1994. $5
God's Blue Book 5
So Deep Is the Love of His Heart. Author: Rita Ring.
$ 5.00 plus postage

God's Blue Book V by Rita Ring. Jesus wants to be the bridegroom of our soul — He is our beloved — Jesus tells us about pure love — how we are to be pure of heart and love God and love others. It is a must, to hear about love from Jesus — Jesus is love — $5
God's Blue Book 6A by Rita Ring. Rosaries from Their Hearts during apparitions. Jesus and Mary appeared every day and I received rosaries from Them and They were transcribed from a tape. Also messages of love from Jesus on days of January, 1995 — About Baptism — writings from Fr. Carter and the Scriptures. $10
God's Blue Book 6B by Rita Ring. Jesus and Mary appeared every day in February, 1995 — So beautiful — transcribed from a tape — the Stations, 7 Sorrows, prayers in the Prayer Manual, the Holy Spirit Novena Book and the Song Book. Pure love — loving and forgiving — a book about Jesus' love, baptism, grace and Fr. Carter's Newsletter. $10

Rosaries from the Hearts of Jesus and Mary Book 1. Mary appeared in Clearwater December 17, 1996 in rainbow color and these rosaries left the printer the same day from Apparitions of Jesus and Mary — transcribed from a tape. $10
Blue Rosary Book
Rosaries From the Hearts of Jesus and Mary - Volume II
$ 12.00 plus postage

Rosaries from the Hearts of Jesus and Mary Book 2. This is a book of so many rosaries - transcribed from a tape. So many beautiful rosaries. pages $12
Short Rosary Meditations for the Elderly, Ill and Homebound. This book is so important with pictures they can open it and lay it on their laps and pray the rosary. $10
Messages From Jesus
Given by Jesus to His Messenger Author: Rita Ring. Discerned by: Fr. Edward J. Carter S.J.
This book is 8 1/2" by 11" and you can open it up and sit it on your lap.

$ 10.00 plus postage

Messages for the Elderly, Ill and Homebound. This is a big book of loving messages for nursing home people and homebound from Jesus and Mary — Their lives are so important — united to the Mass offering up their suffering, their lives for the souls of this earth. $10
Daily Messages from Heaven. First book of Daily Messages. $10
Color the Lives of Jesus and Mary. Volumes 1 through 7. Coloring books and meditations for grade school children and others on the mysteries of the rosary - really good. $5 each.
| | | |
| --- | --- | --- |
| | | Guiding Light homily series - Reflect on the Word - Cycle B — The Word leaves an impression on our souls. In my thoughts and reflections are born a more tangible understanding of these eternal concepts presented in the Gospels and the readings. Anyone can read a sentence, but not anyone can absorb it's true meaning. Truth, in this day and age, is almost a matter of opinion or individual entitlement. We believe that Christ's truth is our Roman Catholic Church. We, as priests, champion it's teachings; we are ambassadors for the Pope and Christ to those faces looking at us. We are the light by which our congregation reads to reflect upon real truth and we do it hand in hand. $15 |
Guiding Light homily series - Steadfast to the Son - Cycle A — The sunflower is a great example of how we should be steadfastly guided by light. What a powerful thought that this exceptional plant is not stuck in one pose day in and day out, yet adaptable and magnetized to the sun. We feel the same about our Son. Our heads turns to face Christ as each day presents its challenges to find light. We join together like plants in a field and soak up the Son through the pulpit. We are a warm circle of strength using the wind of our breath to carry our priests' words, Christ's words, to new rich soil. $15

Guiding Light - Feed My Soul - Cycle C — In a world rapidly advancing and encouraging personal gain, we are faced with modern problems. There is a challenge to find time in our busy schedules for Sunday Mass or a family meal. We are able to research, shop, bank and even work without hearing one human voice. It is no wonder that we may often feel disconnected and famished at our week's end. In Fr. Joe's third book of homilies from Cycle C, we are reminded of the charity that Christ intended us to show each other. We have a calling to turn the other cheek and be the Good Samaritan to others. We are rewarded with the Father's kingdom and love when we are not worthy. We are not left alone or hungry. $15
| | |
| --- | --- |
| | Guiding Light - Focusing on the Word - Cycle B — At times we may feel that our path to Christ is a bit "out of focus". Like the disciples in the Book of Mark, this ordinary life clouds our vision of Christ's Divinity. We may doubt the practicality or possibility of applying His teachings and example to our modern life. Cycle B's homilies are a "guiding light" to help us realize Jesus' Messianic greatness and His promise of better things to come. $15 |
| | | |
| --- | --- | --- |
| | | Guiding Light - The Word Alive in Our Hearts. - Cycle A (partial) — Homilies by the Reverend Joe Robinson given at St. Boniface Church in Cincinnati, Ohio. It is a tremendous honor Fr. Joe has allowed us to share these great gifts with you – for greater holiness and knowing more and more about God. $10 |
Books written by the founder of Shepherds of Christ Ministries
Response to God's Love by Fr. Edward J. Carter, S.J. In this book Fr. Carter speaks of God as the ultimate mystery. We can meditate on the interior life of the Trinity. Fr. Carter tells us about our uniqueness in the Father's Plan for us, how the individual Christian, the Church and the world are in the state of becoming. Imprimatur. $10

Shepherds of Christ - Selected Writings on Spirituality for all People as Published in Shepherds of Christ Newsletter for Priests. Contains 12 issues of the newsletter from July/August 1994 to May/June 1996. $15

Shepherds of Christ - Volume 2: by Fr. Edward J. Carter, S.J. Contains issues 13-29 of the newsletter (September/October 1996 - Issue 5, 1999) $15

Shepherds of Christ - Volume 3 by Fr. Edward J. Carter, S.J. Contains Newsletter Issues 1 through 4 of 2000 including Fr. Carter's tremendous Overview of the Spiritual Life $10

Tell My People
Messages from Jesus and Mary Author: Fr. Edward J. Carter S.J. Imprimi Potest
$ 10.00 plus postage

Tell My People. Messages from Jesus and Mary (As given to Fr. Edward Carter, S.J.) — One of Fr. Edward Carter, S.J.'s Synopsis of the Spiritual Life — From Jesus to Fr. Carter "On Holy Saturday, 1994, Jesus told me that on the following day, Easter, I would also begin to receive messages for others. Our Lord also told me that some of these were eventually to be published in a book—and here is that book." $10

Spirituality Handbook
Shepherds of Christ Associates Spirituality Handbook - A Way of Spiritual Life
Author: Fr. Edward J. Carter S.J. Imprimi Potest
$ 3.00 plus postage

Spirituality Handbook. Fr. Edward Carter, S.J. did 3 synopsis of the spiritual life. The Spirituality Handbook, the Priestly Newsletter 20he Tell My People book. The way of spiritual life proposed to the members of Shepherds of Christ Associates is centered in consecration to the Hearts of Jesus and Mary. All aspects of the spiritual life discussed below should be viewed as means to help members develop their lives in consecration to Christ, the Sacred Heart, and to Mary, the Immaculate Heart. $3

The Spirituality of Fatima by Fr. Edward J. Carter, S.J. The Fatima apparitions and messages received official Church approval in 1930. In giving her official approval to the Fatima event, the Church tells us that what took place at Fatima involving the three young visionaries is worthy of our belief. $5

Shepherds of Christ Prayer Manual
Shepherds of Christ Associates Prayers
Author: Fr. Edward J. Carter S.J.
$ .50 plus postage

Shepherds of Christ Prayer Manual. The Shepherds of Christ has prayer chapters all over the world praying for the priests, the Church and the world. These prayers that Father Carter compiled in the summer of 1994 began this worldwide network of prayer. Currently the prayers are in eight languages with the Church's Imprimatur. We have prayed daily for the priests, the Church, and the world since 1994. Associates are called to join prayer Chapters and help us circulate the newsletter centered on spreading devotion to the Sacred Heart and Immaculate Heart and helping to renew the Church through greater holiness. Please form a Prayer Chapter & order a Prayer Manual.

Priestly Newsletter - 2000 #1 - CD. - Christ is Our Strength - Fr. Edward Carter, S.J. read it the year he died. It is so beautiful. "This brief passage contains one of the greatest lessons of the spiritual life. As we progress along our spiritual journey, we become increasingly aware of how weak we are in our-selves, but how strong we are in Christ. To experience our weakness involves suffering. The degree and kind of suffering can vary. The suffering can include the experience of the classical dark night of the spirit as described by St. John of the Cross. One of the main purposes of the dark night is to make a person keenly aware of his or her helplessness without God." quote by Fr. Carter from the newsletter $10

Priestly Newsletter 2000 Issue 2
Audio CD - Read by Father Edward J. Carter
$ 10.00 plus postage

Priestly Newsletter - 2000 #2 - CD. - Suffering: A Source of Life - Fr. Edward Carter, S.J. read it the year he died. Fr. Carter knew suffering that year. His voice is so powerful as he read each Newsletter from his heart and soul. "Every man has his own share in the redemption. Each one is also called to share in that suffering through which the redemption was accomplished. He is called to share in that suffering through which all human suffering has also been redeemed. In bringing about the redemption through suffering, Christ has also raised human suffering to the level of the redemption. Thus each man in his suffering can also become a sharer in the redemptive suffering of Christ..." quote by Fr. Carter from the newsletter $10
Lucia's Vision
Giclee Art Print on Canvas by Harold Kellner
$ 150.00 plus shipping
Call Rosie
1-888-211-3041
or
1-727-725-9312

Statues

OL-Guadalupe
w/glass - 28


OL-Grace
w/glass - 24


OL-Mt. Carmel
w/glass - 24


OL-Lourdes
w/glass - 24


IH-Mary
w/glass - 24


IH-Ivory
w/glass - 24


SH-Jesus
w/glass - 24


SH-Blessing
w/glass - 24


Sorrow M
w/glass - 24


Inf.-Prague
w/glass - 24


OL-Lourdes
w/glass - 18

OL-Mt. Carmel
w/glass - 18


I Heart
w/glass - 18

I Heart - Ivory
w/glass - 18

OL-Grace
w/glass - 18

SH-Jesus
w/glass - 18


OL-Guadalupe
w/glass - 12


PV-Fatima
w/glass - 27


PV-Fatima
w/glass - 18


PV-Fatima
w/glass - 15


OL-Fatima
w/glass - 18


PV-Fatima
w/glass - 12


OL-Fatima
w/glass - 11


St. Padre Pio


St. Joseph


St. Therese


St. Francis


St. Anthony


St. Claire


Limpias


St. Jude


Divine Mercy


Holy Family


Angel


St. Philomena


Pieta - Marble


Pieta - Color


Holy Family 12


St. Anthony - 18


St. Francis - 18


St. Joseph - 18


St. Therese - 18


St. Rita - 18


St. Clare - 12


St. Rita - 12


St. Padre Pio - 12


Divine Mercy - 12


St. Michael - 11


Limpias - 8



Shepherds of Christ Ministries
P. O. Box 627
China, IN 47250

Toll free - 1-888-211-3041
Local - 1-812-273-8405
fax - 1-812-273-3182
web: www.sofc.org
e-mail: info@sofc.org


| | | | |
| --- | --- | --- | --- |
| | Size | Price | Quantity |
| Holy Family | 24" | $180 | |
| Limpias | 24" | $125 | |
| St. Anthony | 24" | $125 | |
| St. Claire | 24" | $125 | |
| St. Francis | 24" | $125 | |
| St. Joseph | 24" | $125 | |
| St. Jude | 24" | $125 | |
| St. Padre Pio | 24" | $125 | |
| St. Therese | 24" | $125 | |
| Divine Mercy | 22" | $125 | |
| Angel | 22" | $100 | |
| St. Philomena | 20" | $100 | |
| St. Philomena | 16" | $65 | |
| St. Joseph | 18" | $65 | |
| St. Francis | 18" | $65 | |
| St. Anthony | 18" | $65 | |
| St. Rita | 18" | $65 | |
| St. Therese | 18" | $65 | |
| Pieta - Color | 15" | $125 | |
| Pieta - Marble | 15" | $125 | |
| Holy Family | 12" | $75 | |
| St. Padre Pio - standing | 12" | $100 | |
| St. Padre Pio - sitting | 9" | $100 | |
| St. Michael | 11" | $40 | |
| St. Rita | 12" | $40 | |
| Divine Mercy | 12" | $50 | |
| St. Claire | 12" | $40 | |
| Pieta - Color | 8" | $75 | |
| Pieta - Marble | 8" | $75 | |
| Limpias | 8" | $25 | |
| Our Lady of Guadalupe w/glass | 28" | $500 | |
| Our Lady of Mt. Carmel w/glass | 24" | $500 | |
| Immaculate Heart of Mary w/glass | 24" | $500 | |
| Immaculate Heart - Ivory w/glass | 24" | $500 | |
| Infant of Prague w/glass | 24" | $500 | |
| Our Lady of Grace w/glass | 24" | $500 | |
| Our Lady of Lourdes w/glass | 24" | $500 | |
| Sacred Heart of Jesus w/glass | 24" | $500 | |
| Sacred Heart -Blessing w/glass | 24" | $500 | |
| Sorrowful Mother w/glass | 24" | $500 | |
| Immaculate Heart of Mary w/glass | 18" | $300 | |
| Immaculate Heart - Ivory w/glass | 18" | $300 | |
| Sacred Heart of Jesus w/glass | 18" | $300 | |
| Our Lady of Lourdes w/glass | 18" | $300 | |
| Our Lady of Grace w/glass | 18" | $300 | |
| Our Lady of Mt. Carmel w/glass | 18" | $300 | |
| Our Lady of Guadalupe w/glass | 12" | $200 | |
| Fatima w/glass | 11" | $150 | |
| Fatima w/glass | 18" | $250 | |
| Pilgrim Virgin w/glass | 12" | $160 | |
| Pilgrim Virgin w/glass | 15" | $200 | |
| Pilgrim Virgin w/glass | 18" | $250 | |
| Pilgrim Virgin w/glass | 27" | $450 | |


Call for Shipping Price (1-888-211-3041)


Name


Sub-Total

Address


IN Tax (7%)

City


Shipping

State Zip


Donation

Telephone


Order Total
Call Rosie
1-888-211-3041
or
1-727-725-9312



Immaculate Heart and Sacred Heart Pictures Available
with & without frames - different sizes available
---
---
---

Copyright © 2012 Shepherds of Christ.
Rights for non-commercial reproduction granted:
May be copied in its entirety, but neither re-typed nor edited.
Translations are welcome but they must be reviewed for moral and
theological accuracy by a source approved by Shepherds of Christ Ministries
before any distribution takes place. Please contact us for more information.
All scripture quotes are from the New Jerusalem Bible, July 1990, published by Doubleday.
Revised: January 1, 2012
URL: http://www.sofc.org
Contact Information for Shepherds of Christ
Email: info@SofC.org
---
Shepherds of Christ Ministries
P.O. Box 627
China, Indiana 47250

Telephone: (toll free) 1-888-211-3041 or (812) 273-8405
FAX: (812) 273-3182