December 9, 2012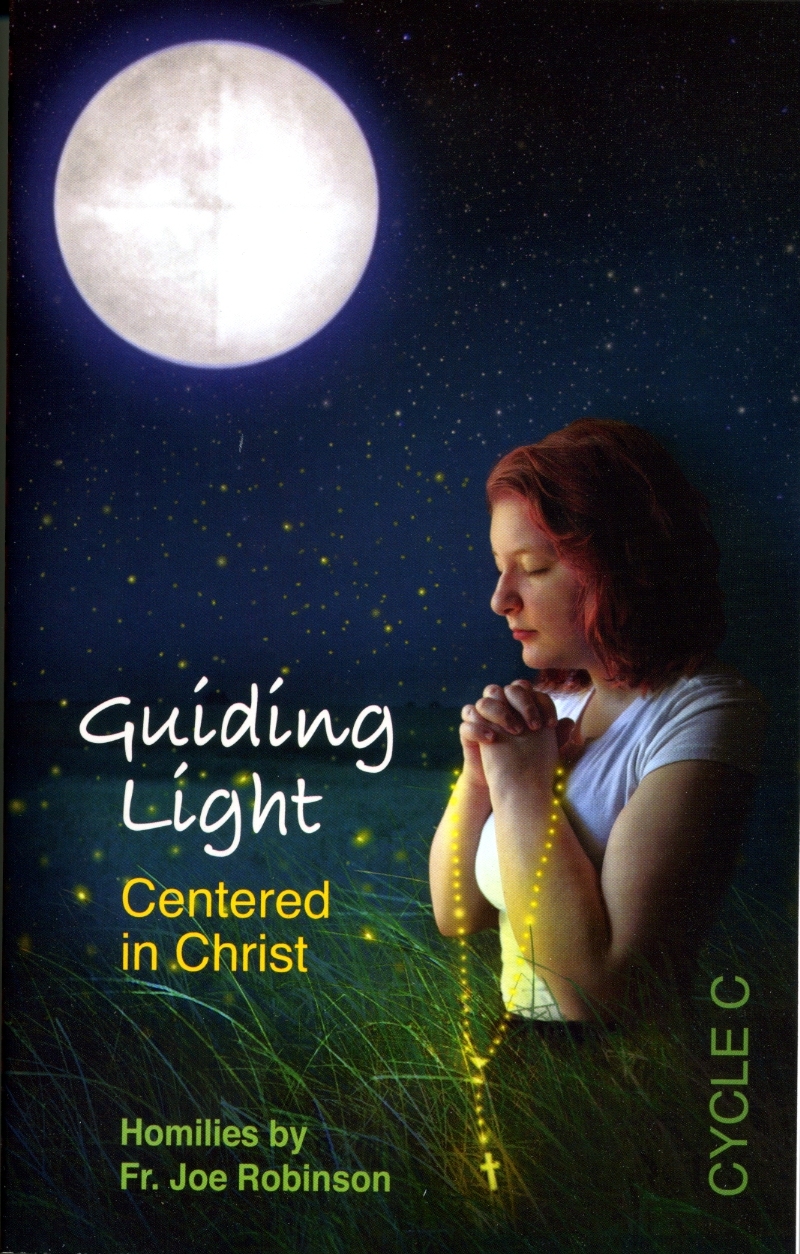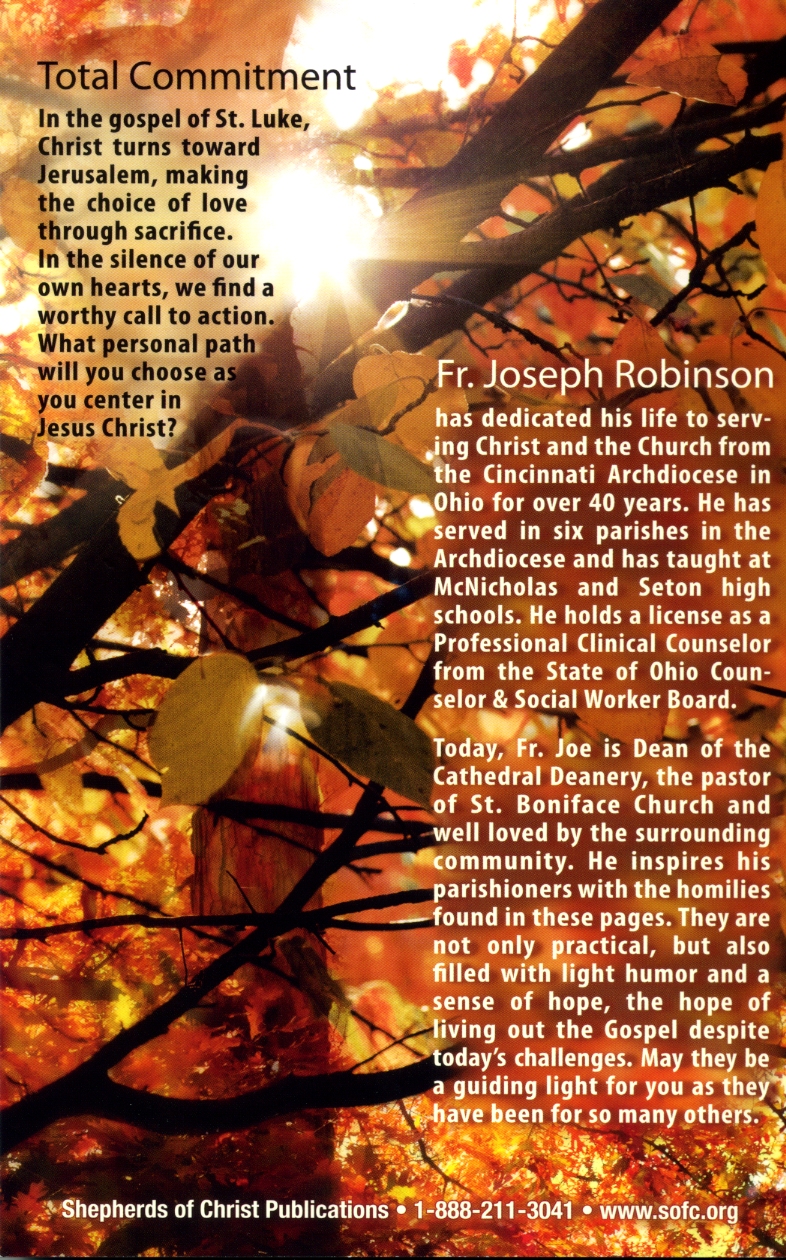 New Cycle C Homily Book Available
$15.00 plus postage
Call Rosie 1-888-211-3041
3rd Sunday of Advent


Zephaniah 3: 14-18

Shout for joy, daughter of Zion,
Israel, shout aloud!
Rejoice, exult with all your heart,
daughter of Jerusalem!
Yahweh has repealed your sentence;
he has turned your enemy away.
Yahweh is king among you, Israel,
you have nothing more to fear.

When that Day comes,
the message for Jerusalem will be:
Zion, have no fear,
do not let your hands fall limp.
Yahweh your God is there with you,
the warrior–Saviour.
He will rejoice over you with happy song,
he will renew you by his love,
he will dance with shouts of joy for you,
as on a day of festival.

Philippians 4: 4-7

Always be joyful, then, in the Lord; I repeat, be joyful. Let your good sense be obvious to everybody. The Lord is near. Never worry about anything; but tell God all your desires of every kind in prayer and petition shot through with gratitude, and the peace of God which is beyond our understanding will guard your hearts and your thoughts in Christ Jesus.

Luke 3: 10-18

When all the people asked him, 'What must we do, then?' he answered, 'Anyone who has two tunics must share with the one who has none, and anyone with something to eat must do the same.' There were tax collectors, too, who came for baptism, and these said to him, 'Master, what must we do?' He said to them, 'Exact no more than the appointed rate.' Some soldiers asked him in their turn, 'What about us? What must we do?' He said to them, 'No intimidation! No extortion! Be content with your pay!'

A feeling of expectancy had grown among the people, who were beginning to wonder whether John might be the Christ, so John declared before them all, 'I baptise you with water, but someone is coming, who is more powerful than me, and I am not fit to undo the strap of his sandals; he will baptise you with the Holy Spirit and fire. His winnowing-fan is in his hand, to clear his threshing-floor and to gather the wheat into his barn; but the chaff he will burn in a fire that will never go out.' And he proclaimed the good news to the people with many other exhortations too.
3rd Sunday of Advent
December 13, 2009
INTRODUCTION
– (Zephaniah 3:14-18; Philippians 4:4-7; Luke 3:10-18) Our theme for today, as it often is, is summed up in the Psalm Refrain: "Cry out with joy and gladness, for among you is the great and holy one of Israel." Our first reading from the prophet Zephaniah goes back about 700 years before Christ. The Assyrians were the dominant force in the Middle East and were an unusually warlike, brutal people. Their capital city was in northern Iraq near modern day Mosul. Our first reading comes from a time shortly after the Assyrians wiped out the northern part of Israel. They brought severe suffering upon the southern part of Israel too, the area around Jerusalem, but they did not conquer it. Jerusalem would still be around for another 130 years until the Babylonians conquered it. But the Assyrians did inflict a lot of pain on Jerusalem. Yet Jerusalem didn't learn from what happened to them. Idolatry and immorality were rampant among the Jews. The king of Judah himself offered his own son as a human sacrifice to the pagan gods. Most of what is written in the Book of Zephaniah records his efforts to correct abuses among God's people. His book ends on a note of hope, however, as he addresses those who are faithful to God. He tells them to rejoice and assures them God will rejoice and sing too because of his love for them and for all the blessings that will be theirs. Can we imagine how beautiful it would be to hear God singing?
There is something we should be aware of when we hear the second reading too. St. Paul is sitting in prison somewhere when he wrote this, and prisons in those days were really bad. Today's prisons would look like a luxury hotel by comparison. Yet Paul can be joyful and he is able to encourage the Philippians to have no anxiety and to rejoice always.
HOMILY
– In the days when we had Mass in Latin, today was known as Gaudete Sunday. That means "Be Joyful." The liturgy continues to communicate that theme of joy with rose colored vestments and readings telling us to rejoice. So on this Gaudete Sunday, I thought we should start off with a couple of laughs.
First is about a guy driving down a country road and hears a loud thud. He gets out of the car and there is not another car in sight. So he drives on home. The next day the sheriff shows up at his door and arrests him for a hit and run accident. He ran over a pig and didn't stop and that was against the law. He protested it wasn't him and asked the sheriff how he could possibly know he was guilty. The sheriff said: "the pig squealed."
The local minister had to give a talk at a banquet and told a few funny stories. There was a news reporter there taking notes. The minister planned to give the same talk the next day at a meeting and asked the reporter not to print his jokes and stories in the newspaper the next day. So the well-meaning reporter ended his article with the following observation: "The minister told a few stories that cannot be published."
It's good to have a sense of humor and enjoy a few laughs but it's even better to have a sense of joy in our hearts. Laughter may fade away, but joy stays with us. We heard the prophet Zephaniah in today's first reading telling God's people, during an especially difficult time in their history, to "sing for joy." They should sing for joy, not because things were wonderful, but because God was in their midst. We heard Paul, in prison, telling the Philippians to rejoice always. If we listen to the media, we get the impression that joy springs from having lots of things. The scriptures tell us our joy comes from knowing the Lord is in our midst. We have an advantage over the Jews of Zephaniah's time (700 years before Christ) because we also know and believe we will enjoy being with God for all eternity. The Jews had no knowledge of heaven or hell at that time, so we have more reasons to rejoice than even holy prophets.
If we don't have joy within us, perhaps some of these enemies of joy might be at work stealing it from us:
* Feeling sorry for oneself.
* Constantly putting other people down to make ourselves look smarter or better.
* Putting ourselves down all the time. Because we're human we all make mistakes or do wrong. There are healthy ways of dealing with guilt or shame. Incidentally, the sacrament of confession is one of those ways – and this week we have four priests to hear confession at our Penance Service. Constantly beating ourselves up, though, does not get rid of guilt and it does not help us experience joy.
* Holding on to anger and resentment. It only eats us up inside and does not produce joy. We have to forgive.
* Thinking that having more things is going to make us happy. It satisfies us only momentarily.
* And then there's fear and worry. Paul says have no anxiety at all. That might sound impossible, but there are ways we create anxiety for ourselves that we do not need. On the other hand there are many things that cause us anxiety, which we can do nothing about and we have to leave in God's hands.
If self pity, guilt, unforgiveness, anger, resentment, fear, and worry work against our having joy, then what will lead to joy? We must choose to be joyful. Paul tells the Philippians "rejoice" as if it is something for them to choose to do rather than it being something that just happens to them. I think it was Abraham Lincoln who said most people are about as happy as they make up their minds to be. Dr. Hans Selye, the scientist who developed and researched the concept of stress, would agree. He said: it's generally not the things outside of us that create stress for us, but it's the way we respond to these things. Next we need to be good and to do good. Otherwise we won't feel good about ourselves. The people in today's gospel ask the Baptist, "what should we do?" John gave them a few specific ideas. All we have to do is read the gospels or the 10 Commandments and we'll get the idea that there's more to a good life than just saying "I believe!" Lastly, I think gratitude is the final key to unlocking the way to joy. Again, being grateful is an intentional thing; it is an attitude we must develop. St. Paul said: "in everything, by prayer and petition, with thanksgiving, make your requests known to God." A heart that is ungrateful is not happy. This is not all that could be said about joy, but it's probably enough for us to think about today. My closing words for today are don't make yourselves so anxious this season that you lose the joy that can be found only in knowing Jesus' love. "The Lord, your God, is in your midst."
Give what counts this Christmas
Call Rosie 1-888-211-3041
Please pray for Gene, Dan, Beth, Amanda,
Betty, Adeline, Jimmy, Mike, Doris,
Andrew & Monsignor & all the people.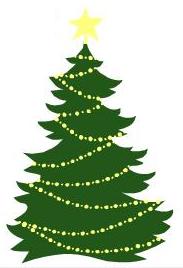 For a limited time only

24" Pilgrim Virgin Fatima Statue without crown
w/glass from image face
Extended Sale -
$175 plus shipping
while supplies last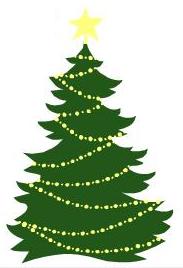 Get a canvas print of Mary's image
with a sliver of glass and
a little bottle of
Jesus and Mary water.
The glass will be fixed behind the
back of the picture.
Cost — $200.00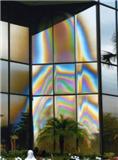 Call Rosie
1-888-211-3041
$10.00 plus postage

Call Rosie
1-888-211-3041
Introductory Offer
Order Your Blue Book 7 Today

1 - Blue Book 7 - $10
2 - Blue Book 7s - $17
plus postage


Call Rosie
1-888-211-3041


Christmas gifts available

Call Rosie
1-888-211-3041



Give your Grandma
a set of Nursing Home books
2 for the price of one - $10.00 plus shipping