February 11, 2013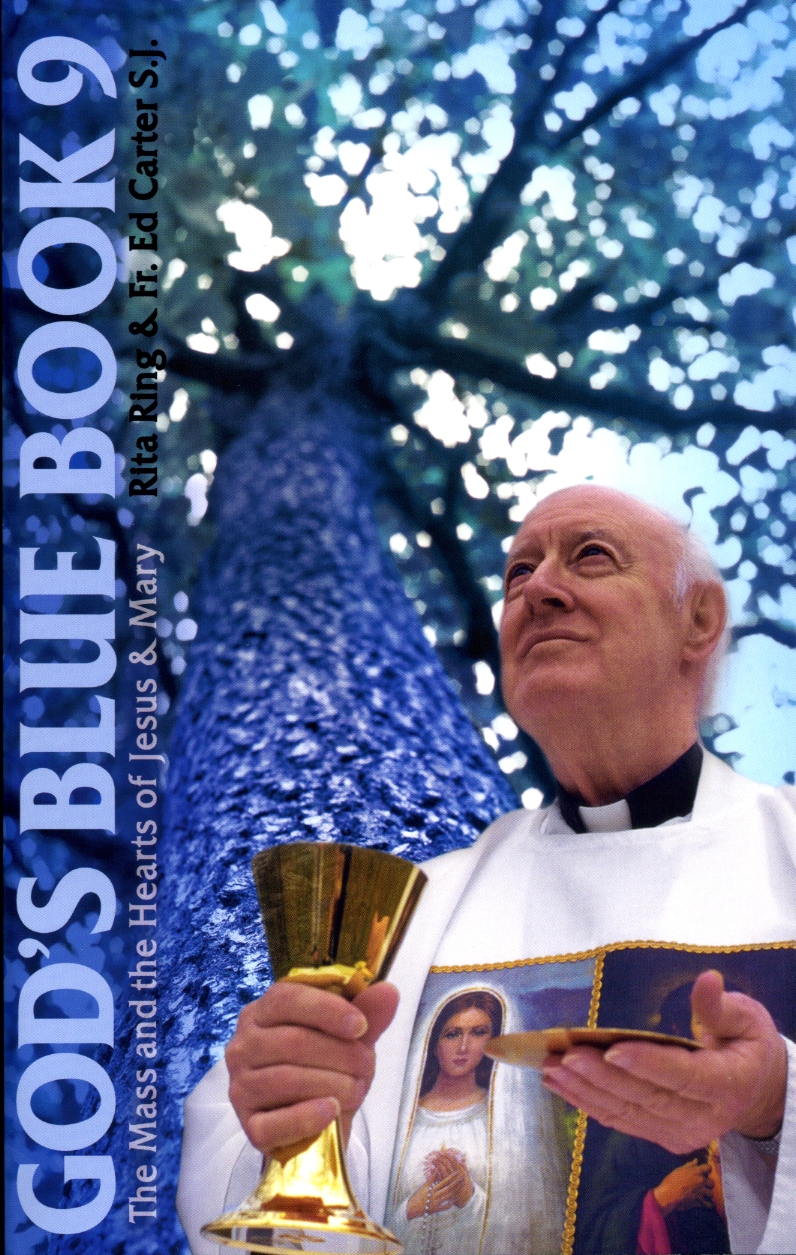 Blue Book 9 is now available!!
Call Rosie and order!
1-888-211-3041
Blue Book 8 will be out real soon.
Order your copy now!

February 11, 2013 - Feast of Our Lady of Lourdes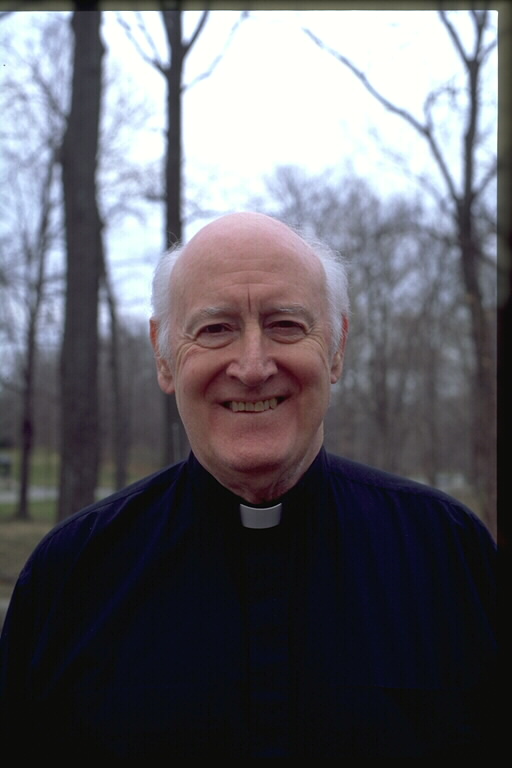 Excerpt from Mother at Our Side
by Fr. Edward J. Carter, S.J.
twenty-three
Lourdes—And My Own
Marian Experience

Since my first pilgrimage to Lourdes marked a very definitive stage in Mary's dealings with me—in her call to me—I am going to utilize this entry on Lourdes to share with you certain aspects of my Marian experience. In none of my previous books have I shared my spiritual experience in such a direct fashion. I am doing so now only because I believe it is Mary's wish that I do so. May my sharing of Mary's maternal love manifested to me be an occasion for your own reflection on Mary's goodness to you.

I have always been blessed with a strong devotion to Mary. I feel this gift is one of God's greatest graces given to me. I remember at an early age often repeating the Hail Mary. Later, I was very much attracted to Our Lady's requests at Fatima. I made the five first Saturdays and practiced what I was told were the other aspects of Mary's Fatima message.


After graduating from college I entered the Jesuits. Our first phase of training consists of two years of novitiate—a period in which one is introduced into the spiritual life according to the Jesuit tradition. This first period of Jesuit training marked a very significant growth in my devotion to Mary.

As I progressed in my Jesuit life over the years, Mary was always a loving, caring mother. I always felt, among other things, that she was a lifeline—always there in a special way at particularly difficult stages of the spiritual journey, not only then, but certainly then. I was not always as loyal a child of Mary as I should have been, but she always kept me aware of her very important role in our lives.

In early 1989 I was in Europe—destination Rome. As I was traveling toward Italy from Northern Europe, I made plans to stop at Lourdes. I considered this a very special stop on my itinerary.

As I left Toulouse on the train for Lourdes, it was raining. Not very far from Toulouse, the rain stopped and the sun appeared. I considered this a gift from Mary.


I walked from the Lourdes train station to the Shrine. It was a day in January, sunny and pleasant, but, as would be expected at that time of the year, there were less than 25 pilgrims at the grotto site. The atmosphere was very special. One realized this was a very holy place. I sat on one of the benches and began to pray. All of a sudden, I was deeply impressed with this thought: "I have finally come home." The thought seemed to come from outside of me, similar to an infused idea. I did not fully understand what this idea meant. I had not seriously strayed from God, so the idea of "coming home" did not mean I was returning as a prodigal son. Nor did the idea mean that I had finally found Mary, since, as I have stated above, I have always been blessed with a strong devotion to her. I was, then, somewhat puzzled at what the words "I have finally come home" meant. My experience, however, was a very profound one as I sat there before the grotto of Mary. I wept tears of peace and consolation. This was to be my first experience of the gift of tears at a Marian shrine. Later I would also experience this gift at Fatima, Guadalupe, and Medjugorje. The gift of tears on these occasions would always be in confirmation of a special interior enlightenment.

In the months that followed, whenever I recalled these words impressed upon me at Lourdes, I was still not sure of their meaning. I did, though, decide to write this book on Mary. I had long wanted to write such a book, but did not feel prepared to do so until now.


I was privileged to be at Fatima for the 75th anniversary of the October 13 apparition of Mary to the three young visionaries—Lucia, Jacinta, and Francisco. I had a conviction that Mary wanted me there at that particular time. That I was able to be present for this momentous occasion was another special gift of Mary to me.


On October 12, the eve of the anniversary day, I was praying in the basilica at Fatima. I was close to the altar. In the sanctuary was a statue of Our Lady of Fatima. I prayed that Mary would draw me closer than ever to the Heart of Jesus and to her own Immaculate Heart. I also prayed that I would be able, as never before, to work for the spread of devotion to the Hearts of Jesus and Mary.

As I prayed I would often glance at Mary's statue, and when I did, I was often given the gift of tears—I know it was a special gift because I myself had no control over when this would or would not take place. The same thing happened the next day. It was a most profound spiritual experience—even more so than the one at Lourdes.

On the 13th itself, there were about one million pilgrims present for the anniversary occasion. At communion time of the outdoor Mass I felt a special confirmation of the above-mentioned experience.

From Fatima I went to Lourdes. This time, unlike my first visit, I was present along with thousands of other pilgrims. It is indeed a special experience to be at Lourdes with so many others for the impressive candlelight rosary procession at night and for other activities. Being personally present amidst all this gives one a sense of why Lourdes has been such an attraction for millions and millions of pilgrims over the years. Again, my experience at the grotto of Our Lady was very special, as was the making of the Way of the Cross on the hill high above the basilicas and the grotto.


A few months after my visits to Fatima and Lourdes I was at the Shrine of Our Lady of Guadalupe in Mexico City. It was another special gift to be able to be there for the Feast of Our Lady of Guadalupe on December 12. What an inspiration it is to be there on this most special day—to see the Mexican people come from miles and miles away for this feast which is so dear to their hearts. Their devotion to Our Lady is most remarkable. Regarding myself, the entire pilgrimage prior to the feast day was rather subdued—peaceful, but no special experience. I remained in such a state on the feast itself up to and including most of the Mass at the Shrine. Then at communion time I was gifted with the same type of deep experience which had occurred at Lourdes and Fatima. I was rather suddenly struck with a deep conviction that I am protected by Mary's mantle and that I should not be afraid or worry. Again, this interior enlightenment was accompanied by the gift of tears.

My final pilgrimage was to Medjugorje—December 28, 1992, to January 4, 1993. Again, after prayer, I had developed the conviction that Mary wanted me there for her great feast of January 1st—which, of course, is the feast of Mary, Mother of God. I thought something special would happen on that day, although I did not know precisely what.

As was the case at Guadalupe, nothing out of the ordinary happened to me on the days previous to January 1. I did not see any phenomena concerning the sun which many pilgrims have observed over the years at Medjugorje. The chain on my rosary did not change to gold—as has occurred with many of the Medjugorje pilgrims. But Mary did have her gift for me. Just as I had hoped, something special did occur on the feast of January 1. At Mass, after receiving communion, I received a profound experience of Mary's motherhood toward me and also a profound conviction of Jesus' love for me. This conviction of Jesus' love for me may be the most special I have ever experienced. Again, these interior enlightenments were accompanied by the gift of tears.

Later that day I had the great privilege of being present in the choir loft for the daily apparition of Our Lady. Ivan was the only visionary present in Church this particular day. Although I felt extremely blessed to be present for the apparition—which, of course, only Ivan himself could see—I had no special inner experience at this time. Others in our group said they did have a special personal experience at the time of the apparition. My special experience of the day had indeed occurred earlier at Mass.


Since that first visit to Lourdes when I was suddenly struck with the thought, "I have finally come home," much has happened regarding my relationship with Mary. I now believe I know the meaning of those words impressed upon me at Lourdes in January, 1989. More than three years later Mary began to instruct me regarding the precise meaning of those words. She has, in her maternal love for me, entered my life as never before. She has led me to consecrate myself to the Heart of Christ and to her Immaculate Heart in a very meaningful manner. In an extraordinary fashion she has given me a mission to fulfill in the service of Jesus. As she cooperates with the Holy Spirit in my ongoing transformation in Christ, she is leading me along paths which I have never traveled before. I can never thank her adequately for her goodness to me.

The above constitutes some of the main aspects of my personal Marian pilgrimage over the years. You also have your own Marian experience, and I am sure you have shed your own tears of joy and peace along the way.

If you have not yet done so, I strongly encourage you to consecrate yourself to the Heart of Jesus and to the Immaculate Heart of Mary. In consecrating yourself to Mary—in entrusting yourself entirely to her—you will be enabling her to lead you ever closer to the Heart of Christ. She will accomplish marvels in you as she aids you, in cooperation with the Holy Spirit, in living out your consecration to the Sacred Heart. Indeed, she will ever be Mother at your side as you come closer to the Father through Christ and in the Holy Spirit.

I have never been happier, never more at peace, than I presently am. Since Mary has drawn me to consecrate myself to her Immaculate Heart, marvelous changes have taken place within me. She has brought me to the Heart of Jesus in a way I had not experienced before.


If you have given yourself totally to Mary—and this is what consecration to her Immaculate Heart means—you have had similar experiences.

Having consecrated ourselves to Mary, we feel secure as we rest in her loving, maternal Heart. There she comforts us when we are sad—there she wipes away our tears. There she rejoices with us when we rejoice. There she smiles as we share with her our accomplishments for Christ. There she encourages us when we are fearful. There she strengthens us for the most difficult tasks.

What a great gift Jesus has bestowed upon us in giving Mary to us as our mother! Let us thank Him each day for this Mother who loves us with an unfathomable love. We must try to grow in the appreciation of this love. The more we do so, the more we want to cry out, "O Mother, how loving, caring, and tender you are! Draw us ever closer to your Immaculate Heart where you accomplish your marvels within us."
end of excerpt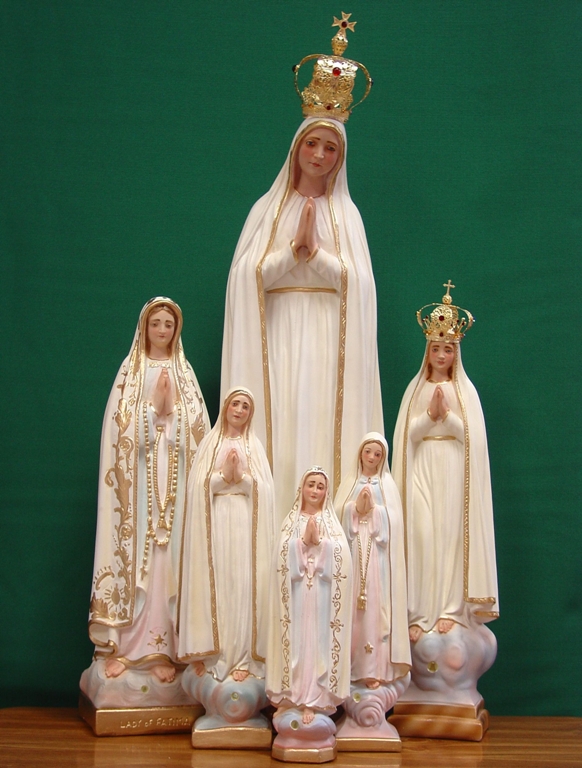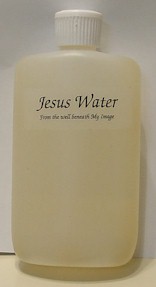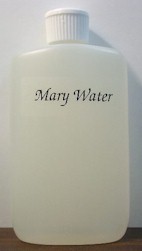 Healings

from

The Building of the Two Hearts

1. A gentleman from Florida called and said since he got the Fatima Statue with glass his life has been transformed. 3/3/2009

2. After using the Jesus water, pain and non-movement (for 3 years) in my fingers was healed instantly. Now fingers are cracking and working and no pain. Has taken x-rays. 10-19-2008

3. Ruptured ACL Ligament and PCL ligament left leg (knee) and damaged meniscus. 3-4 weeks excruciating pain. MRI showed damaged ligaments - went to do surgery and scopes revealed no damage other than meniscus injury. Day before surgery we came here to pray for healing. Wife anointed knee with Jesus water. Were told prior to surgery that would be out of work 3-6 months and surgery would be 4 hours. Surgery was only 40 minutes and recovery time is 1-2 weeks. 8/13/2008

4. My best friend (a couple) was granted a son, which now is my godson. They've been married for a long time but never had a child until they both came to see the Virgin Mary's image. 8/4/2007

5. I just wanted to tell you we have had so many prayers answered most especially since we have had the image statue in our home a few months ago. Prayers being miraculously answered for our children & grandchildren, our daughter's heart has literally almost healed ... she is also pregnant and that is also a miracle that she carried the baby this far, she is so thankful and also her cardiologist can't figure out how she is doing so well, and even agreed with her it must be prayers being said for her. He also told her in her 4th month to abort the baby, maybe he will have a conversion, we hope. Others in my family have changed since we got the statue. They are more understanding and patient and love being a Catholic more than ever before ...We thank Jesus, Mary, Rita and you all. Praise all of heaven. We are also so eager to have many more prayers answered. We are giving our married children a 10 inch statue each for their homes and red prayer manual if they would also like to say the prayers if they so choose to. The statue we know will help them with many graces as they pray before it as it has helped us in our home and lives. Love you all. 8/3/2007

6. Pregnancy. (A long note about how a woman got pregnant after she came to the Virgin Mary Building.) 3/21/2008

7. My mother was diagnosed with Acute Myeloid Leukemia in April 2005. She received the Jesus water of Clearwater that my brother brought to El Salvador. She was treated at Instituto Salvadoreno del Segino Social. She was expected to live 3-6 months. She lived well for 2 years. Now she rests in peace with Lord Jesus and Virgin Mary. She died of Pneumonia March 21, 2007. 4/27/2007

8. The CAT scan showed a dark spot and they thought they would have to remove my right kidney. My family went to the Blessed Mother and asked for prayers and help. They also got the healing water. Well all our prayers were answered. There was no cancer or tumor. Thanks for all your prayers and help, and thanks to the Lord above. 4/18/2007
9. Knees were injured from motorcycle accident July/August 2006. His mom got the water in Florida right after the accident and took it to him and he used it every day and now his knees are completely healed. He knows Jesus water did it. 1/9/2007
10. Suspected blood clot. Pain in leg with swelling. Jesus water was used and pain went away and swelling. 12/31/2006
11. Barretrs — My husband brought Jesus water to hospital and put on my stomach. Biopsy came back fine. 12/27/06
12. A man from South Carolina came to thank Jesus and Mary for his healing. His brother sent him Jesus' water when he was diagnosed with terminal cancer. Three doctors told him there was nothing they could do for him. He started using Jesus' water and started feeling better (He could hardly walk, he was using a wheelchair a lot). He went back to the doctor and tests showed no more cancer — gone! The doctor told him he never saw this happen before. He is around 70 years old and walks and feels normal. 2006
13. A lady from Egypt wrote asking St. Mary for a baby for 3 years. She helped me and now I have a little daughter. Her name is Mariam after St. Mary name by my language. Thank God and Thank St. Mary. She always remembers me. - Egypt 10/25/2006
14. This woman filled out a healing form at the site. I am so blessed by the Blessed Mother that she has been there for me on more than several occasions. She performed a miracle on all occasions, one in particular was cancer of the right leg. The doctors wanted to cut my leg off the cancer was in the bone. When I returned to New York and went to a plastic surgeon he saw the cat scan and said my chances weren't good. When he did the surgery the cancer was not in the bone. It was superficial. 9/2/2006
15. Stroke. Healed August 2006. 9/2/2006
16. A year ago he went to Orlando for a test on his prostate. It was positive. He came here in May and got some Jesus water out of the trough. He went back to the doctor and he was healed. - Venezuela 8/25/2006
17. Infertility. Conceived and gave birth exactly 9 months after our first visit to Clearwater in August 2000. Our son was born exactly 9 months after our visit (May 20, 2001). I've had surgeries on both ovaries in 1998 and had very little chance of conceiving. Mother Mary gave us our blessing and wish. 7/21/2006
18. Peter was operated on for cancer he had for 10 years on his leg and because the wound was so big, they had to take some skin from another part of his leg to be able to fix it but it did split. So Monday the doctor said that another surgery was needed but thanks to Jesus water on Wednesday on that same week he was healed. - Argentina 7/2/2006
19. Cancer of the lungs. A friend of ours who we visit from Canada. He told us of his illness and we came and prayed at the Virgin Mary's appearance on March 28, 2006. He had Jesus' water put on him the night before his surgery. His surgery was on March 31 and the cancer was gone. Thank you for your blessings. 4/2/2006
20. Lower back muscle strain. After straining my back I used the Jesus water before using pain crčme. After putting on the water I no longer needed the crčme. The strain was gone. 3/16/2006
21. Neuropathy. He had gotten Jesus water a few days ago and went to the doctor yesterday. 3/15/2006
22. Pregnancy. I could not become pregnant. I came here to ask Mary to extend her hands on me, to be able to have a child. The miracle happened. I did not know that other women had become pregnant by asking Mary. My son is 3 years old. I am convinced that he is called to be special in his life, he has a mission. When she went to see the doctor, specialists, they said forget it, she couldn't have a baby, and she went to many different ones. Came here to pray and became pregnant. All the doctors never understood what had happened. They said he is a miracle child. 3/8/2006
23. Pregnancy. Became pregnant of twin girls after we prayed in 2005 and even have a statue of the Virgin Mary in our yard. After 15 years of concubinage Virgin Mary finally blessed us. Thanks. Thanks. Thanks. Jesus water was used to help conceive. 2/2/2006
24. A woman came in today from New York and said she was here last March (2005) and got the Jesus water. Her cousin who was very healthy and had just retired at age 60 suffered a massive stroke. He was taken to the best neurological hospital in New York and the doctors said he had no chance of recovery. He had a blood clot at the base of his brain stem. He was in intensive care and the woman with the other family members were visiting him and she put Jesus water on him and they prayed over him, while he was laying in bed in a fetal position unable to talk was paralyzed. After she had left (only 30 minutes of visitation in Intensive Care) the woman received a call from her cousin's wife saying the man had sat up in bed after they left and was miraculously healed. He is back at home now. The doctors came in and said this was a miracle. This was 2 months ago. 1/24/2006
25. Dermatomyositis (a form of Muscular Dystrophy). I was given 6 months to live. I was really depressed ready to give up when, while being in town for my girlfriends niece's Christmas Party. I heard it on the news. (December 17, 1996) Decided why not let's go, when I got here I was not expecting to see what I saw. I couldn't believe what I saw. Within an hour I put the cane down, slowly but surely got better enough where I wasn't paralyzed or dead. Thank you Jesus and Mary. 12/16/2005
26. Small Bowel Syndrome. Infant acquired surgical intervention at birth. 4 months care at home. Healed completely as of May 2005. 11/24/2005
27. Newborn very sick - 2 lbs. My mother came to visit me. We used to live in the post apartments by Target. I brought my Mother to the Virgin Mary Building in Clearwater and she prayed for my niece, who was in Guatemala. When my Mother returned to Guatemala she took the picture of Virgin Mary and put it in my niece's room. When my niece was born, she needed a tube feeding. She couldn't eat on her own. She was very thin and very sick. Many people told my sister and my mother (including the doctors) that my niece was so sick that she probably would died. Thank to our Lady Virgin Mary, my niece is a healthy gifted 9 year old girl. - Guatemala - Healing was at 6 months old. 11-22-2005
28. My daughter was told she had thyroid cancer, after having one side of the thyroid removed they found the cancer was gone. This had to be due to Mary and Jesus Water and her belief in the Mother and Son. 9/17/2005
29. Virus. He was in Egypt. His relatives came to the site and asked for prayers for healing for him. That same day they were here he was completely healed of his Liver virus. He is a physician. 8/31/2005
30. After waiting about 8 months for the baby to get bigger for the surgery, the doctor checked him and couldn't believe it, but she said, "It just fixed itself." He was 4 months premature and this surgery would have lowered his sperm count significantly and its already been lowered by a double inguinal hernia surgery. 6-14-2005
31. Burst tube with unexpected pregnancy. Was internal bleeding. Doctor told was miracle, surviving from this kind of operation. She (the mother) had come to the site and prayed to God if this Image (Our Lady of Clearwater) was from God to grant her a miracle. Her daughter who was in Lithuania at the time was in the hospital and the above miracle happened during the 2 hours the mother was praying at the site. 5/4/2005
32. Heart failure. He was not breathing. Jesus water was poured on him while praying. He started breathing again. 4/23/2005
33. When I was pregnant, my baby was sick. My baby born was well. Thanks. 4/18/2005
34. Flu. Both sitting in car, praying rosary both sick of flu. He very sick, not getting better. Both used the water, felt pain leave body, didn't say anything, but after few minutes he said "I feel pain is gone." They drove back to tell us that they were healed. 4/18/2005
35. Asthma. Put Jesus water on neck. Breathing much better. 4/17/2005
36. Severe back pain. Have a bad back from laying brick for years and sometimes I bend over and the pain is severe and it takes at least 3 or 4 or more weeks for it to go away. I put Jesus water on it and it went away in 2 days. Alleluia. 4/16/2005
37. I must admit that some days I forget to wash in the water. But I have felt the same feeling once again a few days ago as I did on March 2nd, the first time I applied it to my knees. On the movie that you took, I am walking on the beach without a cane. I don't know if you noticed. I didn't use the cane yesterday, and I have no pain. I'm still slow at climbing the stairs, but I'm seeing a tremendous improvement. I'll keep a journal, and continue updating you I pray a lot, as I'm applying the medicine. Part of my prayer is "If it be your will." Thank you. I'll be in touch soon. 3/11/2005
38. My husband had a good friend and he was diagnosed with cancer and given less than a few weeks to live. Jesus told me to take him the Jesus water. I never really met him, but I went to the hospital. He was so sick. He bounced up and said I knew it - I will be healed. And he lived over two years longer.
39. Leukemia went into remission February 7, 2003. Her doctor can't believe how well she is doing. She has the worse kind of Leukemia there is and she is doing extremely well. He said this does not happen, so soon, we told him its because of all the prayers, everyone is saying for her. The day after we visited the Blessed Mother Building, her blood count was excellent. Thank you so much. As of 11/3/2004 she is still in remission and doing very well, a happy 10 year old little girl. We are all so thankful for all the prayers from everyone, we truly believe, if we hadn't had our faith and by going to the Virgin Mary building so often, we wouldn't have been so fortunate to have her. Prayer is still the most powerful and healing process. Thank you so much. 11/3/2004
40. Spinal Manangitas. December 16th, 2002 we almost lost our little grandson. He was taken flight for life to Madison where they worked on him for hours. They told us he would either be blind - deaf - brain damage, or he might not walk. Today he is a happy - healthy little boy full of life. Thanks to everyone's prayers to our Blessed Virgin and our heavenly Father, without them we would not have him. Thank you. As of this date November 3, 2004 our little grandson is doing very well, a healthy happy little boy, and so full of life, and without any complications. Our prayers and by going to the Virgin Mary building truly helped this little boy. Thanks to everyone for all their prayers. 11/3/2004
41. After my family visited the Virgin Mary and returned to hospital, I showed no sign of having a stroke. Doctors at hospital said I would not recover. 4/2001
Ash Wednesday
Wisdom 11: 24-26
Yes, you love everything that exists,
and nothing that you have made disgusts you,
since, if you had hated something, you would not have made it.
And how could a thing subsist, had you not willed it?
Or how be preserved, if not called forth by you?
No, you spare all, since all is yours, Lord, lover of life!
Galatians 2: 12-18
Before certain people from James came, he used to eat with gentiles; but as soon as these came, he backed out and kept apart from them, out of fear of the circumcised. And the rest of the Jews put on the same act as he did, so that even Barnabas was carried away by their insincerity.

When I saw, though, that their behavior was not true to the gospel, I said to Cephas in front of all of them, 'Since you, though you are a Jew, live like the gentiles and not like the Jews, how can you compel the gentiles to live like the Jews?'

We who were born Jews and not gentile sinners have nevertheless learnt that someone is reckoned as upright not by practising the Law but by faith in Jesus Christ; and we too came to believe in Christ Jesus so as to be reckoned as upright by faith in Christ and not by practising the Law: since no human being can be found upright by keeping the Law. Now if we too are found to be sinners on the grounds that we seek our justification in Christ, it would surely follow that Christ was at the service of sin. Out of the question! If I now rebuild everything I once demolished, I prove that I was wrong before.
Psalm 51: 3-4, 5-6, 12-13, 14, 17
A prayer of contrition
For I am well aware of my offences,
my sin is constantly in mind.
Against you, you alone, I have sinned,
I have done what you see to be wrong,
that you may show your saving justice when you pass sentence,
and your victory may appear when you give judgement,
remember, I was born guilty,
a sinner from the moment of conception.
But you delight in sincerity of heart,
and in secret you teach me wisdom.
Give me back the joy of your salvation,
sustain in me a generous spirit.
I shall teach the wicked your paths,
and sinners will return to you.
Deliver me from bloodshed, God, God of my salvation,
and my tongue will acclaim your saving justice.
Sacrifice to God is a broken spirit,
a broken, contrite heart you never scorn.
Sing: Be Merciful oh God for we have sinned

2 Corinthians 5: 20 - 6: 2
So we are ambassadors for Christ; it is as though God were urging you through us, and in the name of Christ we appeal to you to be reconciled to God. For our sake he made the sinless one a victim for sin, so that in him we might become the uprightness of God.

As his fellow-workers, we urge you not to let your acceptance of his grace come to nothing. As he said, 'At the time of my favour I have answered you; on the day of salvation I have helped you'; well, now is the real time of favour, now the day of salvation is here.
Matthew 6: 1-6, 16-18
'Be careful not to parade your uprightness in public to attract attention; otherwise you will lose all reward from your Father in heaven. So when you give alms, do not have it trumpeted before you; this is what the hypocrites do in the synagogues and in the streets to win human admiration. In truth I tell you, they have had their reward. But when you give alms, your left hand must not know what your right is doing; your almsgiving must be secret, and your Father who sees all that is done in secret will reward you. 'And when you pray, do not imitate the hypocrites: they love to say their prayers standing up in the synagogues and at the street corners for people to see them. In truth I tell you, they have had their reward. But when you pray, go to your private room, shut yourself in, and so pray to your Father who is in that secret place, and your Father who sees all that is done in secret will reward you.

'When you are fasting, do not put on a gloomy look as the hypocrites do: they go about looking unsightly to let people know they are fasting. In truth I tell you, they have had their reward. But when you fast, put scent on your head and wash your face, so that no one will know you are fasting except your Father who sees all that is done in secret; and your Father who sees all that is done in secret will reward you.
R. We have been called by God to choose good –
but we have a free will –
We make a choice if we live to please
God and do what is good or
do evil and serve the devil.
God rewards virtue.
God loves what is right.
Sing Song: Choose Life
The man who hopes in God is happy
and he is rewarded in his life
here and in the next –
He will have a bountiful harvest
in the land of the living –
The wicked vanishes it says
in Psalm 1
Jesus tells of His Passion and death and
He tells the Apostles they will suffer
and will imitate Him in
suffering –
Whoever would want to save his life
for himself will lose it
and he who loses himself
for God's sake will save it.
Luke 9: 22-25
He said, 'The Son of man is destined to suffer grievously, to be rejected by the elders and chief priests and scribes and to be put to death, and to be raised up on the third day.'

Then, speaking to all, he said, 'If anyone wants to be a follower of mine, let him renounce himself and take up his cross every day and follow me. Anyone who wants to save his life will lose it; but anyone who loses his life for my sake, will save it. What benefit is it to anyone to win the whole world and forfeit or lose his very self?
R. Sorrow for sins should be in us
and we make reparation by
doing acts of love with
sincerity and for the honor and
glory of God.
Jesus: The righteous man is a running
spring to all men and a delight
of My Heart Be righteous
and truthful so you live to please
your heavenly Father.
Beg God for mercy, for what a man
wishes is to be in union
with God –
This takes telling the truth and
not disobeying God's will –
truthfulness and faith in God and
trusting in Him.
I call you to love and serve God with
your whole heart, your whole soul and
your whole being and to love your
neighbor as yourself –
Do unto others as you would have
them do unto you –
R. We are bound to love our neighbor in
our thoughts and our words and
our deeds –
We are to purify ourselves of our sins.
We are to do good works with
a humble, loving, pure heart –
our motives pure to show love
to God and others.
God is holy –
We are to be holy because we were
created in the image and likeness
of God –
Men are not to cheat.
Men are not to lie.
We will be judged by God, finally,
on how we lived.
What we do to others – we do to Jesus.
We will be judged on our actions –
We are to be accountable and
lovable
Matthew 25: 40, 34
And the King will answer, "In truth I tell you, in so far as you did this to one of the least of these brothers of mine, you did it to me."

Then the King will say to those on his right hand, "Come, you whom my Father has blessed, take as your heritage the kingdom prepared for you since the foundation of the world.
R. Say Our Father
Our Father
Our Father, Who art in heaven, hallowed be Thy name. Thy Kingdom come, Thy will be done on earth as it is in heaven. Give us this day our daily bread and forgive us our trespasses as we forgive those who trespass against us. And lead us not into temptation, but deliver us from evil. Amen.
R. Jesus loves us so much and we are
to love Him in return –