Mary has requested that the daily message be given each day to the world. It is read nightly at the prayer service from her Image Building in Clearwater, Florida, U.S.A. This is according to her request. All attempts will be made to publish this daily message to the world at 11 p.m. Eastern time, U.S.A.

---

We acknowledge that the final authority regarding these messages
rests with the Holy See of Rome.

---
February 12, 2006
February 13th Holy Spirit Novena
Scripture selection is Day 8 Period I.
The Novena Rosary Mysteries for February 13th are Luminous.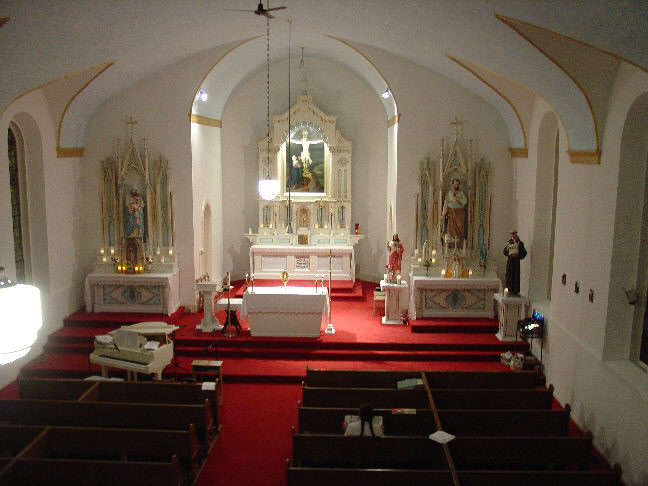 Retreat in China, Indiana
February 10th - 13th
Day of prayer February 14th
Sidney Rosary at 6:20p.m.
A Healing Rosary
Valentine's Day February 14
February 12, 2006 - 6:30am
Messenger: There are ways God makes His will clear to us
in our hearts. We have a chance to obey or not
to obey. Doing God's will may be hard, maybe
a certain pleasure, but whenever we do not
do God's will we cause a chain reaction that
blocks others from doing God's will and that
goes on and on because we do not live in a
vacuum.
When I give a retreat God usually wants
me to distance myself and be alone with
Him. Things may seem to be predictable.
Because God gives me and other's free will
and since I am a person with a body — I
cannot predict exactly what my plan
will be.
I try to do God's will, but in the
end some events may cause me to deviate
or another to act irrationally actually
blocking the course I desire to make my
own and I am thereby subject to follow
another plan because someone has
actually blocked my path as this example —
Jesus speaks: Mary Lou went into the dark night, her mother
very ill and needing immediate medical
help — Mary Lou traveled the shortest
route between her home and her mothers,
it was now midnight and it usually took her
15 minutes to get to her mothers, but a
bridge was under repair and the entrance
to it blocked with boards and a big
brown fence — straight across — boarded up —
she could not pass.
Mary Lou being a holy soul began to pray
as she began the long-way around taking
now three-fourths of an hour and she
cried and prayed the whole way.
Her mother having a kidney stone was able
to pass the stone and all seemed to be in
good shape when Mary Lou finally got there.
Her mother's pain caused Mary Lou immediate
alarm and with fear and love she traveled
in the dark night toward her mother's —
crying and praying, crying and praying.
Her sufferings having been blocked
from her destination was a time of
trial, but she prayed and cried and
hung in there being very close to Me.
The outcome was very good for Mary Lou and
her mother, but lets talk about the period
of endurance.
I gave My life for you, enduring the suffering
for three hours on the cross. I endured the
bitter suffering to the hill of Calvary.
My body was wrenched with excruciating pain
and I could have stopped at any moment
and let go of that pain being God, but I
tell you of the lesson of enduring the sufferings,
the unpredictable pain - you are asked to bear.
Suffering is suffering and I have shown you
how I suffered to bring you new life. I am
guiding you now and helping you with My grace
to endure your trials when you pray and ask
Me to help you.
A man went to a ball game —
he traveled a 30 minute drive and intended
to meet his friends, when he was very
close a man in a white car pulled into his
red car and it was a big wreck. The
men were not injured, but the man going
to the ball game was jolted, stopped by the
accident, waiting for a police, a wrecker
and his "nerves" he felt all shook-up. He
had his daughter come and take him home.
He loved the ball game, he and his
men friends would have some spirits
and a hot-dog and sit and laugh and
root for their best team and players. He
really enjoyed it so much and anticipated
it for a long time.
Stopped in his tracks by an unwanted car
making an illegal left turn before him.
Now his body ached, his car was wrecked and
he just had to go home and settle
down, praying and thanking Me for things
not being worse, a person near the game
could have been hit in the accident
where the wreck took place — there were
always lots of people around, but nothing
happened.
Messenger: I remember once years ago we were
putting up a big fence in the yard. It had
6' by 8' pieces and my daughter and I
picked up 8 of those in a truck.
I told the man to tie them down — he
said "Oh it is heavy, no problem,
you don't need them tied down."
My daughter watched out the back of
the truck and I began to pray. All of a
sudden she said "mom there they go" —
the pieces of fence were caught by a
wind — stood up gracefully and like
cards were dealt across the road and
laid out on the hill next to each other —
like this
<![if !vml]>
<![endif]><![if !vml]>
<![endif]><![if !vml]>
<![endif]>
<![if !vml]>
<![endif]>

<![if !mso]><![endif]> <![if !vml]>
<![endif]><![if !vml]>
<![endif]><![if !vml]>
<![endif]><![if !vml]>
<![endif]>

Messenger: I was still praying and we swung the truck
around and went over to the hill. I
had to go back and tell them what happened.

I was praying and the good news is they
could have unpredictably blew off and
hit another car. The road was a short path
between my house and the lumber company,
but it was like an expressway, divided
and no houses around, just the big
highway.

I thanked God that nothing happened
to anyone and that they were laid out
so pretty on the hill.

Unpredictability — I didn't like the
fact the guy wouldn't tie them down —
You may think well you should have known,
but sometimes people are so strong they
want their will imposed on you against your
good sense and you may give in like I
did and have your daughter watch and
keep praying. I believe my prayers helped
us from a trauma, but I had a problem
because I listened to the man who was not
going to tie them down one bit.

Jesus speaks: Dealing with others may cause us tremendous
pain — Some people play games to get attention
and they manipulate others out of habits.

Every person is responsible for their actions.
Your interior is like a pipe — when the debris
is cleared — the pipe flows. Let My light
shine in you and get rid of the secrets,
plugs, bitterness, hatred, anger —

I know the condition of the heart, I
know the sins of malice of your brothers,
I carried My cross and bled for them. You must
discipline your will and not give into satan
who wants you stopped. You must endure
many trials, you will suffer and you
will know great joy if you stay
rooted in Me.

The road to holiness is paved by the
sufferings of the saints. Endurance is part
of the spiritual life. To endure and to love — as I
did when I carried My cross to the hill of
Calvary. I loved you, I loved you every
step of the way, I saw your face, I heard
your cries of love, I knew your efforts to
do My work in love, forgiving and building
the bridge. As you sow, so shall you
reap.

A man had a big hole in his back yard. He
filled it up so people wouldn't fall in it. It was
hard work filling the hole, but he endured until
the job was done. His grandchildren came soon
to play!!

Fill up the holes in your life and trust
in Me. The people who endured the hurricanes
have learned endurance when their roofs
were damaged and water leaked in "big-time"
all over the entire home and all their
possessions.

The world preaches pleasure, and yet a
catastrophe can strike, an illness, etc.

February 12, 2006 - After Communion

Messenger: Strengthen me God in these moments
with You. As I gaze upon Your face I
behold Your precious gift of Yourself
to me.

Not as a labored moment in my life, but
my moments of greatest joy for I know
the true presence of Jesus in my soul
when I receive Him in Holy Communion.

I speak as a messenger, but the pain
of the dark night presses in as the world
dances on the roof-tops and fail to see that
the night is at hand.

A trumpet blare may not wake them
from their blinded way.

A trumpet that plays a disharmonious
tune they would dance to.

Oh lights of heaven that as the morning
steels across a darkened sky that the
lid would be unrolled like a can of
sardines and the once motionless bodies
would rise and jump to the tune of
the mockingbird singing the notes
of heaven.

But my embrace of Thy Divine Eucharist
swells in my soul and the city sleeps
like curtains drawn with a chord
that seems to be broken.

Jesus speaks: But your prayers My child in
this retreat will open more that
curtain of what seems such nightly
darkness, encased on the sleeping
city.

In the city, the streets are paved
with the darkness of a night of sin,
of lust and debauchery, of lies, deception,
lust, greed, envy, jealousy, lust, envy,
jealousy, anger, anger and more anger —
a kiss in the night turns to a house
shut with hurricane shutters after
the affair. Talk of betrayal — how
many a young virgin gave her
virginity to a man who took it then
took down his sign and hid his
awful sin.

But from My eyes — you hid no
sin, sin is sin, betrayal is wrong.
A young girl may experience such
lust by one and work her pain
out on others, lying of the real
nature of her sordid ways.

The work of satan is mask, the
work of satan is deception and lies,
where there could have been peace and love —
an evil worm rises like one trapped
in a can — dancing a dance of darkness
to get out and spread its evil seed
where it leaves a rut in the ground
not one inch deep, but the depth
of a rut that mares a heart with
a sword of pain.

Swords penetrate hearts, but woe
to he who turns the pedestal to fill
their greed and act out their pain.

A night of darkness is unknown
to an angel of light but to those
who carouse by the dim light it
is enough light to do their grim
deeds.

Unnoticed it is not, for it is
the beckoning call of the evil one
to spread his evil seed in hearts
and to turn swords in the hearts
filled with love.

Mary speaks: My heart was pierced with a
sword, I watched the bitter passion
of my Son for the deceptive ways
of those tuned to dark nights
and sin.

My children, His flesh was
torn for your sins of pride and getting
even.

In the end it will be put to light —
all the evil deeds brought out like
trophies in the case, but they will
not shine, they will have a stench
and be covered with dark dried
blood.

My Son shed His blood for your
sins and He offers you forgiveness
through the priest — go to him —
tell him your sin of deception and
beg for the grace to live always in
the truth. Live a life of purity.
Go to confession, tell of your sins
of anger, lust, tell God you are
sorry —

If you lie to yourself — your lie gets
bigger and bigger and your house
(your interior self, Mary means)
gets filled with a bolder so big
and it grows like a snowball everyday
going down a hill.

Truth — is the way —

The more you walk in truth your
light will shine and you will
become more deeply united to
God.

How many teachers so focused on
themselves and their own pride have
led young people away from the
truth.

Eve wanted to be equal to God.

How many teachers of religious
matters who think first of their
own glory and the world is crying
like babies for the truth —
crying and crying —

Give the babies their medicine —
Give them these writings of God's Blue
Book and the other writing
on the rosary we give you.

I am Mary your Mother —
I am all pure.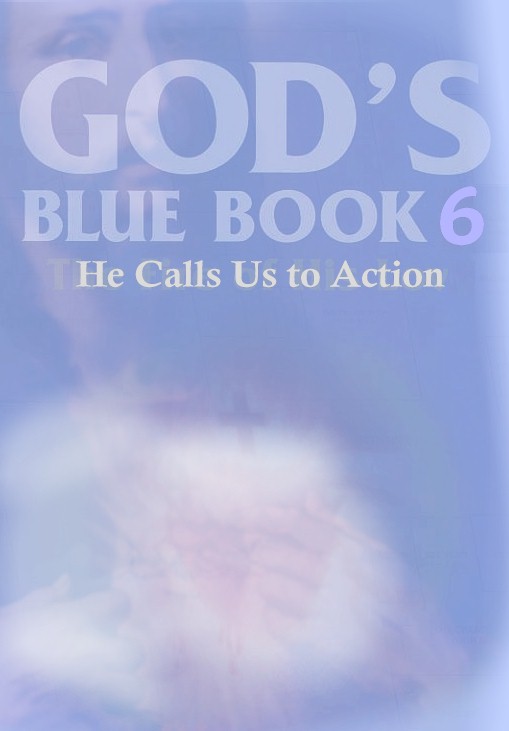 God's Blue Book 6
February 14, 1995

Jesus: I am Jesus, Son of the Living God, you will know such trials, but I will hold you up. I will watch you and you will grow ever closer to Me. I will be so close to you in these trials.

Rita, let go, you must release yourself. I want to do My work through you. YOU ARE NOT ALONE - I AM OPERATING YOU.

Messenger: A voice cries out in the wilderness prepare the way of the Lord. How can we who have such good news remain speechless about God — Go into the highways and the byways and preach the good news, we are being called to prepare the way of the Lord.

God calls us to obedience, He took away Zechariah's voice. Zechariah told them his name will be John. God allows us to experience blocks sometimes. We must do the will of the Father. He took my voice away.

From the day we are born, God has been with us. Before we were born He knew us.

Jesus was carried in Mary's womb. Mary is a woman, Jesus was conceived in her womb through the Holy Spirit.

Woman must be respected, Mary is our model, so pure, so obedient to the Father's will.

We must live in His will, as a little child obeying His Father.

The Lady is calling.

We are given a special sharing in His life through the sacrament of baptism. We grow in greater life in Him.

He took Zechariah's voice away, I was teaching math — he wants us to go out and spread the good news.

The Church is in the state of becoming.

He came as a baby, born of the Virgin Mary.

In all His Majesty — He comes as a baby.

He comes to us in love.

Christ had a human body, blood like ours — Jesus takes us to His Heavenly Father.

John 14: 6

Jesus said:

I am the Way; I am Truth and Life.
No one can come to the Father
except through me.

Just as all die in Adam, so in Christ all will be brought to life; 1 Corinthians 15: 22

Messenger: Jesus stands night and day knocking at the door of our hearts, knocking and wanting entrance "Behold I stand at the door of your hearts and knock." Jesus gives us His grace.

He calls us to action.

LOVE IS ACTION FROM THE HEART.

HIS LOVE IS A MIGHTY FORCE TOO POWERFUL TO BE CONTAINED.

HE CALLS US TO DIE TO SELF — LIVE IN HIM.

POWER IS IN THE EUCHARISTIC HEART OF JESUS through Mary's heart.

Song: I Love You Jesus

Jesus: SURRENDER, SURRENDER, SURRENDER.

GO TO THE TABERNACLE, YOUR ANSWERS ARE FOUND THERE.

I CALL, I PLEAD, SPREAD MY LOVE THIS DAY.

Resurrection

Song: Now We Remain

Messenger: We cannot do it without Him. They were afraid after His death they locked themselves in a room. They knew Jesus, they lived with Him, they were afraid.

Blessed are they who have not seen and have believed.

Luke 24: 13-35

Now that very same day, two of them were on their way to a village called Emmaus, seven miles from Jerusalem, and they were talking together about all that had happened. And it happened that as they were talking together and discussing it, Jesus himself came up and walked by their side; but their eyes were prevented from recognising him. He said to them, 'What are all these things that you are discussing as you walk along?' They stopped, their faces downcast.

Then one of them, called Cleopas, answered him, 'You must be the only person staying in Jerusalem who does not know the things that have been happening there these last few days.' He asked, 'What things?' They answered, 'All about Jesus of Nazareth, who showed himself a prophet powerful in action and speech before God and the whole people; and how our chief priests and our leaders handed him over to be sentenced to death, and had him crucified. Our own hope had been that he would be the one to set Israel free. And this is not all: two whole days have now gone by since it all happened; and some women from our group have astounded us: they went to the tomb in the early morning, and when they could not find the body, they came back to tell us they had seen a vision of angels who declared he was alive. Some of our friends went to the tomb and found everything exactly as the women had reported, but of him they saw nothing.'

Then he said to them, 'You foolish men! So slow to believe all that the prophets have said! Was it not necessary that the Christ should suffer before entering into his glory?' Then, starting with Moses and going through all the prophets, he explained to them the passages throughout the scriptures that were about himself.

When they drew near to the village to which they were going, he made as if to go on; but they pressed him to stay with them saying, 'It is nearly evening, and the day is almost over.' So he went in to stay with them. Now while he was with them at table, he took the bread and said the blessing; then he broke it and handed it to them. And their eyes were opened and they recognised him; but he had vanished from their sight. Then they said to each other, 'Did not our hearts burn within us as he talked to us on the road and explained the scriptures to us?'

They set out that instant and returned to Jerusalem. There they found the Eleven assembled together with their companions, who said to them, 'The Lord has indeed risen and has appeared to Simon.' Then they told their story of what had happened on the road and how they had recognised him at the breaking of bread.

Messenger: They did not recognize Jesus, how many times do I not recognize Jesus.

Song: Look beyond the Bread you eat

Matthew 16: 17-19

Jesus replied, 'Simon son of Jonah, you are a blessed man! Because it was no human agency that revealed this to you but my Father in heaven. So I now say to you: You are Peter and on this rock I will build my community. And the gates of the underworld can never overpower it. I will give you the keys of the kingdom of Heaven: whatever you bind on earth will be bound in heaven; whatever you loose on earth will be loosed in heaven.' It is through baptism we are made children of God and heirs of heaven.

Ascension

Messenger: He came to give us life that we might have it to the full — He gives us Himself. God gives us His Word, He gives us each other. Love God. Souls are hungry, they are starving for His love, go out to the highways and the byways, go into the world — He died for each and every soul, how can I hold my arms closed across my chest when I know the good news. Christ has died, He has risen, He will come again. Jesus remains with us this day in His Divinity and humanity. Spread the good news to this world.

Song: I am the Bread of Life

Messenger: We too will be united to the Father, Son and Holy Spirit in heaven soon if we do what God wants us to do, spread the good news, souls will be lost.

Descent of the Holy Spirit

Messenger: Holy Spirit transform me into fearlessness.

Spread the Gospel.

You are all brothers in Christ.

Christ is Mediator between us and the Father.

He gives us a special sharing of His life in baptism. God is with us this day. Spread the love of Jesus burning Heart.

Assumption

Messenger: Mary remained on the earth many years after Jesus ascended into heaven. Mary was taken into heaven. We remain on this earth, we will someday be in heaven if we love and serve God as He desires.

Fight a good fight.

Song: Eyes has not Seen

Messenger: It is through Her heart we are led so closely to the Heart of Jesus.

Mary hold us so tenderly in your arms and place us in the heart of Jesus.

Mary is our spiritual Mother. Mary mother's us and leads us to Christ.

Song: Our Lady of Medjugorje

Song: New Life
Shepherds of Christ
P O Box 193
Morrow, OH 45152
1-888-211-3041
info@sofc.org
We take Credit Cards
---
---
---

Copyright © 2006 Shepherds of Christ.
Rights for non-commercial reproduction granted:
May be copied in its entirety, but neither re-typed nor edited.
Translations are welcome but they must be reviewed for moral and
theological accuracy by a source approved by Shepherds of Christ Ministries
before any distribution takes place. Please contact us for more information.