Mary has requested that the daily message be given each day to the world. It is read nightly at the prayer service from her Image Building in Clearwater, Florida, U.S.A. This is according to her request. All attempts will be made to publish this daily message to the world at 11 p.m. Eastern time, U.S.A.

---

We acknowledge that the final authority regarding these messages rests with the Holy See of Rome.

---
---
A Prayer for Intimacy with the Lamb, the Bridegroom of the Soul

Oh Lamb of God, Who take away the sins of the world, come and act on my soul most intimately. I surrender myself, as I ask for the grace to let go, to just be as I exist in You and You act most intimately on my soul. You are the Initiator. I am the soul waiting Your favors as You act in me. I love You. I adore You. I worship You. Come and possess my soul with Your Divine Grace, as I experience You most intimately.
---
Messenger: Include Our Lady of the Holy Spirit Center in 6:20 prayers.
---
Messenger: I have known heaven-like heights. My soul thirsts, for I have known places of deepest agony and now I write to you as my Master and Bridegroom prescribes.
Jesus speaks: My child, before prayer and important meetings are times of greatest attack for the evil one.
My child, I prompt you to act as prescribed by Me through messages. Timing is crucial. The devil wants to divide your Movement and tear it to shreds. My child, he works in the "he said/she said" of the evil one, as an innocent tongue may spread a dart of fire to a wounded soul. My child, he reads the heart, he knows the wounds, the weaknesses of the wounded soul. He convicts the person in the chambers of a mind, he manipulates events around the situation to create a slander. A slander he wants. He works in the emotions of a person and with all the wounds of that chosen soul he creates a similar wound by a present party. The emotions can be manipulated by the devil when he presses in on the soul. You may undergo tremendous torture, but the will is always there to "hang in with your God." My child, I say this, communication will become more difficult than ever before and I will allow such testing, for your souls will be drawn closer to Me as you endure and say yes to love and trust those I have sent to you. You must say often, "Sacred Heart of Jesus I trust in You." Do you want peace or division? Do you want love and peace or turmoil and stress? My child, I speak to you of the ancient serpent of which Revelation speaks.
---
Revelation 12: 11
They have triumphed over him by the blood of the Lamb and by the word to which they bore witness, because even in the face of death they did not cling to life.
---
Jesus speaks: You must fight the temptation to tear another apart because of your own insecurity. You must write of your own insecurities and feelings in times of great temptation.
The devil may attack when you are off guard, you must always spend your time daily before the tabernacle, always go to daily Mass and Communion. My apostles cannot endure without this grace. They will spiral down a path in which they feel victimized and believe everyone else is at fault.
All must look at themselves. The tapes and writings given between October 15, 1999 - December 17, 1999, will help you to work on yourselves. Leaders may be led into a trap to fix everyone else and play the rescue game as they become busier and busier. You are fooling yourselves, if you miss your own self-inventory. An examination of conscience is necessary at least twice daily if you want true holiness.
You should ask for the grace to see the hidden ways in your own personalities in which you cause disharmony.
I want all apostles saying the leader's prayer daily.
As you choose Me over Satan's distractions before prayer, as you choose gratitude and appreciation for the gift I am giving you know that I am speaking to you and have called you to this mission.
As you truly see that it is gratitude your God desires for His gift to you of Himself, gratitude for these revelations and for the Eucharist, you will be able to work better together. All in Morrow need to practice the love circle, saying you are sorry for hurting each other. Because of the location of all the various homes, you do not say this enough to one another. Say it in love to all you work with. Fax a note in the early evening. Fax a note of consecration during the day.
Oh My children, I love you so much. There have been other ministries that have folded or almost folded because the people within could not love each other.
I will let you be tested so you will learn to work in peace and love. People who work together and have experienced conflict should consecrate daily and express love and ask forgiveness every day in early evening to stay united. This is essential to forgive each other.
I am the Director of this Movement. I direct through the messages. To press on My messenger displeases Me. You must have the faith to work together in love.
I give you this direction, I wish the following books to be printed in large print as they appear on the printed page in 8 1/2 x 11 form in PDF files for all wishing these books and for the elderly.
This should be accomplished as soon as reasonably possible.
It should be done so with the following message.
Give your mother in the nursing home a gift to warm her heart. Give her the books, Tell My People, God's Blue Book I, II, III, The Red Rosary Book, Rosaries for Little People and Elderly, Coloring Books, and the Mass Book.
I wish the Nursing Home rosary book to appear first and then the message books for the elderly. Call it the Nursing Home file.
These books can be printed and the person can take the printings to a duplication company and have books made to circulate to elderly and others, with a spiral binding and a plastic cover.
I wish only the material in the book be printed as I indicate on this web site. I do not wish additions added to the books.
These books can be gotten from Shepherds of Christ. Depending on the book and its size it should cost about $25.
The book with spiral binding can be laid flat on the nursing home persons' laps. They can read God's Blue Book all day or pray their rosary with the rosary meditations on their laps.
If any person can help finance the printing of these books, especially for the Nursing Home program, it would please Me greatly.
The books will help the elderly better prepare for the last days of their lives and create tremendous prayer power for the Movement.
All books should carry a sign in the front requesting they pray for the Shepherds of Christ intentions, all through the day united to the Mass.
All books should carry the consecration slogan in big print.
The messages I have given in March, 1995, are important to review concerning reaching the nursing homes, elderly, homebound and the sick.
I want you to do so through this method.
People working with elderly and sick can print these books for their patients and friends.
All books must carry the wording that nothing is to be changed in the books. The books should be printed and bound as directed without adding other materials from sources outside of Shepherds of Christ materials.
I only want Shepherds of Christ materials bound in these books.
I wish the large print Prayer Manuals and large print Holy Spirit Novena books also to be included on these PDF files for the use of the elderly and homebound and sick.
I wish these booklets be made available in large print upon request and I wish them to know they can order them.
The large print books, with some form of spiral binding, will enormously increase your ability to reach the elderly.
Those who are financially able can circulate these books to your relatives and friends. This will be a great gift for holidays and birthdays.
You must teach them to use them and try to pray the rosary with them and read the Blue Books.
I want the elderly reached through this method, large books that can lay flat on their laps.
I want you to move ahead positively, thanking God for your gifts, helping one another.
I want more servants and handmaids, but only the ones I am sending. I will prepare them in their hearts. They are living the Blue Book messages now and the way of life of the Shepherds of Christ Ministries.
I want as many image rosaries ordered as possible. I am very pleased with the large colored beads you are using with Mary's image medal.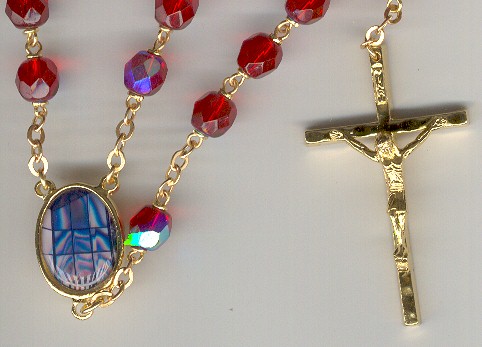 I wish this type ordered. The gold chains and silver chains can be used, but the gold chained rosaries and large colored crystal beads are My choice for this mission.
I truly want these rosaries to be a gift and one that all will treasure.
The beauty of the present image rosaries is what I desire, that all will truly treasure it and use it.
All rosaries should be blessed.
Little pretty rosaries should be given to little children.
The rosaries may need to be manufactured now for quick delivery.
I wish the world to become rosary makers of beautiful image rosaries.
I wish the message Mary gave to accompany these rosaries.
I wish all rosaries going through the Shepherds of Christ Movement to say "A rosary from the Hearts of Jesus and Mary." This can be printed on a medal or can be printed on some plastic material like a tablecloth that it is permanently attached. This is to My liking and the desire of your Mother so that Rosaries from the Hearts of Jesus and Mary be circulated and associated with her image in Florida.
Rosary makers of the world, will you donate a small number, at least, of your rosaries to Mary that she may give them to others?
I want Shepherds of Christ to be the biggest distributor of rosaries in the world.
The rosary book, Rosaries from the Hearts of Jesus and Mary, that arrived from the publisher December 17, 1996, is no longer available because of lack of funds.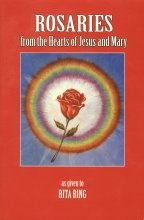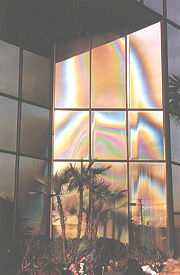 Jesus speaks: This rainbow on the book matches the image of Mary as she appeared the same day as the book's arrival.
If anyone can help get these books in print, I ask you to help get them in the hands of all. Most books, thousands and thousands, far beyond your knowledge have been given away free. It is because of this and the lack of donations that there are no more available.
Only 3000 Mass Books were printed. This is a main book that will help lead souls to deeper union in the Mass. If they use the book and attend Mass with great love for God in union with Him, enormous grace will be released as you see here in Lucia's vision of 1929. (Lucia is the main visionary of Fatima).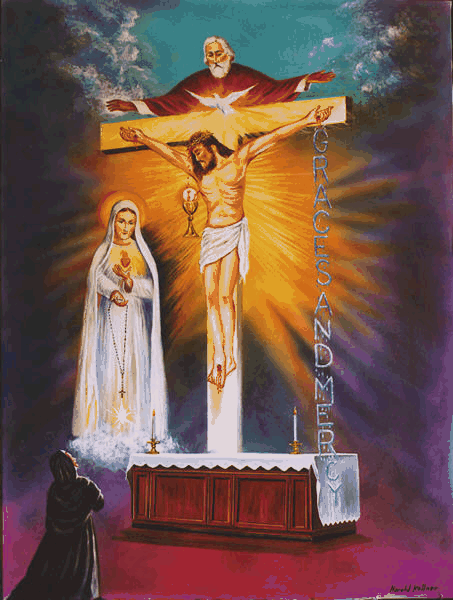 Jesus speaks: My people, My Mother appeared to Rita and her two children, a little boy and girl, daily for 14 months. I call this a Little Fatima. It was the source I used to give the meditations from Our Hearts.
In these apparitions, Rita received messages as rosary meditations from Our Hearts - the Hearts of Jesus and Mary.
These meditations were given to take you into the depth of Our Hearts.
In the beginning I asked Fr. Carter to be present. There were 5 days of apparitions before he was instructed by Me to attend. Later a beautiful soul, Marty, was there who transcribed so many of these rosaries.
So many tapes and treasures are left still to be transcribed of well over 800 rosaries. There are rosaries for all types of people. Rosary meditations for a burning love affair with Me, rosary meditations for married couples, rosary meditations for parents and children and elderly, rosary meditations to lead apostles into following their mission, rosary meditations to deepen the understanding of the scriptures and tell about the treasures of the Mass and sacraments. Rosaries are given for the formed communities of apostles, handmaids and servants.
I end this message with this: I have given you My Movement for the renewal of the Church and the world. The primary work I wish circulated is My priestly newsletter to the priests. I wish the world to pray the prayers.
All the messages I have given work together as a whole.
This is the plan of the Father given through Me to help bring about the great era of purity and peace in which My Heart will reign in hearts and Mary's Heart will triumph.
These revelations are to help in the completion of the Fatima mission.
I love you, I am God, come to Me in the depth of My Heart and give yourself to Me.
I love you so much.
I am Jesus, the Bridegroom of your soul.
---
Letter from Image Building site in Florida, February 27, 2000
Rita,
I give my heart to Jesus and Mary with you in love!
Tonight was so GLORIOUS! It was wonderful! The graces seemed to flow! The two priests came to the 6:20 prayer service and stayed the whole time and just loved it! The message had the priest song in it and they really liked it! Margaret said they went to the rosary factory and were really impressed. One was a monsignor and he received the first image rosary made in the rosary factory! They were so special! The whole prayer service was so wonderful!
Mary was so bright during the prayers - it was beautiful!
God is doing wonders in the hearts that come!
You are changing the world and the face of the earth is truly different because of your continual "yes" to the Lord - our sweet and beautiful Savior, our Spouse and Lover! What more could we ask for?
I'm so in love with it all!
God is so good! I love you from the bottom of my heart!
Emily
---
Question for married couples and others in intimate relationships:
Q: How does my love for Jesus help me love you more?
---
---
---
Copyright © 2000 Shepherds of Christ.
Rights for non-commercial reproduction granted:
May be copied in its entirety, but neither re-typed nor edited.
Translations are welcome but they must be reviewed for moral and theological accuracy by a source approved by Shepherds of Christ Ministries before any distribution takes place. Please contact us for more information.
All scripture quotes are from the New Jerusalem Bible, July 1990, published by Doubleday.
Revised: February 28, 2000
URL: http://www.SofC.org
Contact Information for Shepherds of Christ
Email: info@SofC.org
---
Shepherds of Christ Ministries
PO Box 193
Morrow, Ohio 45152-0193

Telephone: (toll free) 1-888-211-3041 or (513) 932-4451
FAX: (513) 932-6791