Florida Retreat
February 2nd - February 5th

China Retreat
February 10th - 14th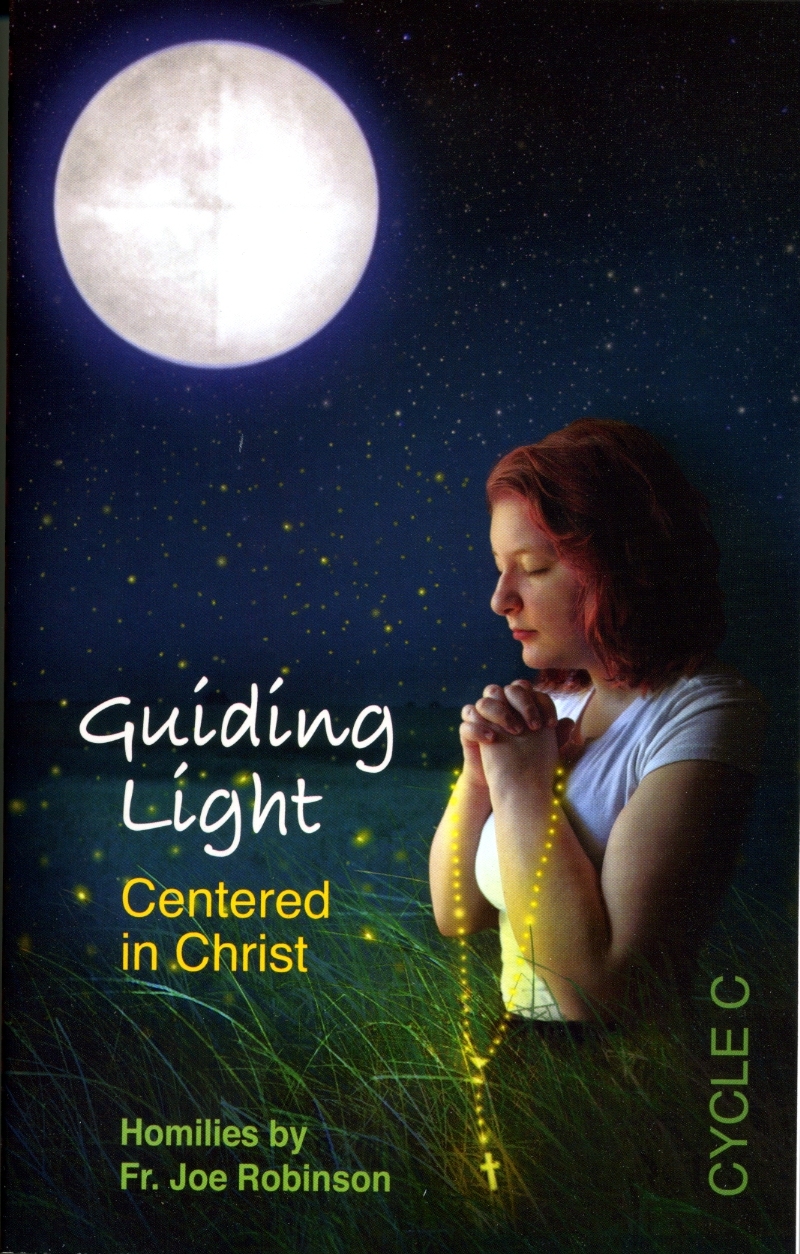 New Cycle C Homily Book Available
$15.00 plus postage
Call Rosie 1-888-211-3041
We are printing another 16,000
Can anyone help us with postage?
February 4, 2013
R. We see in the first reading from Hebrews

Hebrews 11: 32-40

What more shall I say? There is not time for me to give an account of Gideon, Barak, Samson, Jephthah, or of David, Samuel and the prophets. These were men who through faith conquered kingdoms, did what was upright and earned the promises. They could keep a lion's mouth shut, put out blazing fires and emerge unscathed from battle. They were weak people who were given strength to be brave in war and drive back foreign invaders. Some returned to their wives from the dead by resurrection; and others submitted to torture, refusing release so that they would rise again to a better life. Some had to bear being pilloried and flogged, or even chained up in prison. They were stoned, or sawn in half, or killed by the sword; they were homeless, and wore only the skins of sheep and goats; they were in want and hardship, and maltreated. They were too good for the world and they wandered in deserts and mountains and in caves and ravines. These all won acknowledgment through their faith, but they did not receive what was promised, since God had made provision for us to have something better, and they were not to reach perfection except with us.
R. How the men were filled with faith
and zeal to accomplish what they knew
God asked of them: Gideon, Barak,
Samson, Jephthah of David, Samuel.
They endured, they suffered, they served.
They had faith to do what God wanted,
they were righteous, they received signs
from God, they accomplished much –
In the Gospel Mark 5: 1-20
Mark 5: 1-20
They reached the territory of the Gerasenes on the other side of the lake, and when he disembarked, a man with an unclean spirit at once came out from the tombs towards him. The man lived in the tombs and no one could secure him any more, even with a chain, because he had often been secured with fetters and chains but had snapped the chains and broken the fetters, and no one had the strength to control him. All night and all day, among the tombs and in the mountains, he would howl and gash himself with stones. Catching sight of Jesus from a distance, he ran up and fell at his feet and shouted at the top of his voice, 'What do you want with me, Jesus, son of the Most High God? In God's name do not torture me!' For Jesus had been saying to him, 'Come out of the man, unclean spirit.' Then he asked, 'What is your name?' He answered, 'My name is Legion, for there are many of us.' And he begged him earnestly not to send them out of the district. Now on the mountainside there was a great herd of pigs feeding, and the unclean spirits begged him, 'Send us to the pigs, let us go into them.' So he gave them leave. With that, the unclean spirits came out and went into the pigs, and the herd of about two thousand pigs charged down the cliff into the lake, and there they were drowned. The men looking after them ran off and told their story in the city and in the country round about; and the people came to see what had really happened. They came to Jesus and saw the demoniac sitting there — the man who had had the legion in him — properly dressed and in his full senses, and they were afraid. And those who had witnessed it reported what had happened to the demoniac and what had become of the pigs. Then they began to implore Jesus to leave their neighbourhood. As he was getting into the boat, the man who had been possessed begged to be allowed to stay with him. Jesus would not let him but said to him, 'Go home to your people and tell them all that the Lord in his mercy has done for you.' So the man went off and proceeded to proclaim in the Decapolis all that Jesus had done for him. And everyone was amazed.
R. We see the man with a devil is healed
by Jesus. We see he had come from
the tombs. The devil many times leads
the person he is working on to isolation,
but we see in another reading this week
how Jesus sends His disciples out two by two.
The man with the devil could not
be restrained by chains, shackles. There
is a negative energy when satan attacks.
The person can act like an angry dog and
does not see the consequences of his actions.
Anger is his god. The negative energy is just
that, an energy, and it says the man with
the unclean spirit kept bruising
himself. A man who acts for satan
hurts himself, wounds himself
spiritually and hurts others as the
man being led by the devil tries
to block God's Plan. Satan hates,
he does not love – He wants all love
and worship of God to stop – today,
satan is repelled by people before the
Eucharist. Satan hates the Mass
and people praying and doing good.
Satan wants to press on someone to cause
confusion, disharmony, hate and
stop love. Satan wants love in families,
in communities, among friends to
stop.
We see in the Gospel, the man is healed
by Jesus and returns to his family.

Hebrews 12: 1-4
With so many witnesses in a great cloud all around us, we too, then, should throw off everything that weighs us down and the sin that clings so closely, and with perseverance keep running in the race which lies ahead of us. Let us keep our eyes fixed on Jesus, who leads us in our faith and brings it to perfection: for the sake of the joy which lay ahead of him, he endured the cross, disregarding the shame of it, and has taken his seat at the right of God's throne. Think of the way he persevered against such opposition from sinners and then you will not lose heart and come to grief. In the fight against sin, you have not yet had to keep fighting to the point of bloodshed.
R. Jesus wants us to keep our eyes on Him –
not be off to the right or left –
Focus on Jesus! We must be aware satan
is always there to tempt and take us from
the work God wants with distractions. Doing
a good work is not our focus, but doing
the good work God wants us to do. Not
doing any good work, we choose submitting
to God's will and serving God as He desires.
We are to pray for the increase of faith, to
see the vision of God. The martyrs
shed their blood doing God's will.
We have a cloud of witnesses who gave their
lives for God. We have the saints who show
us selflessness and love. Saints with faith,
Saints who kept their focus on Jesus and
endured persecution, some died to spread
the Gospel! Jesus shows us, if we follow Him
we must take up the cross, besides the joy
we experience. We are here to do God's will.
We must struggle against sin and do God's
will. We are to know, love and serve God
with all our heart, all our soul and our
whole being!

Mark 5: 21-43
When Jesus had crossed again in the boat to the other side, a large crowd gathered round him and he stayed by the lake. Then the president of the synagogue came up, named Jairus, and seeing him, fell at his feet and begged him earnestly, saying, 'My little daughter is desperately sick. Do come and lay your hands on her that she may be saved and may live.' Jesus went with him and a large crowd followed him; they were pressing all round him.

Now there was a woman who had suffered from a haemorrhage for twelve years; after long and painful treatment under various doctors, she had spent all she had without being any the better for it; in fact, she was getting worse. She had heard about Jesus, and she came up through the crowd and touched his cloak from behind, thinking, 'If I can just touch his clothes, I shall be saved.' And at once the source of the bleeding dried up, and she felt in herself that she was cured of her complaint. And at once aware of the power that had gone out from him, Jesus turned round in the crowd and said, 'Who touched my clothes?' His disciples said to him, 'You see how the crowd is pressing round you; how can you ask, "Who touched me?" ' But he continued to look all round to see who had done it. Then the woman came forward, frightened and trembling because she knew what had happened to her, and she fell at his feet and told him the whole truth. 'My daughter,' he said, 'your faith has restored you to health; go in peace and be free of your complaint.'

While he was still speaking some people arrived from the house of the president of the synagogue to say, 'Your daughter is dead; why put the Master to any further trouble?' But Jesus overheard what they said and he said to the president of the synagogue, 'Do not be afraid; only have faith.' And he allowed no one to go with him except Peter and James and John the brother of James. So they came to the house of the president of the synagogue, and Jesus noticed all the commotion, with people weeping and wailing unrestrainedly. He went in and said to them, 'Why all this commotion and crying? The child is not dead, but asleep.' But they ridiculed him. So he turned them all out and, taking with him the child's father and mother and his own companions, he went into the place where the child lay. And taking the child by the hand he said to her, 'Talitha kum!' which means, 'Little girl, I tell you to get up.' The little girl got up at once and began to walk about, for she was twelve years old. At once they were overcome with astonishment, and he gave them strict orders not to let anyone know about it, and told them to give her something to eat.
R. Jesus rose Jairus' daughter from death to life.
Jesus performed miracles.
Jesus healed the woman sick for years.
She had faith touching His cloak.
Jesus told them to have faith.
God allows us to struggle to lead us to
a better place, to teach us.

Hebrews 12: 4-7, 11-15
In the fight against sin, you have not yet had to keep fighting to the point of bloodshed.

Have you forgotten that encouraging text in which you are addressed as sons?

My son, do not scorn correction
from the Lord,
do not resent his training,
for the Lord trains those he loves,
and chastises every son he accepts.

Perseverance is part of your training; God is treating you as his sons. Has there ever been any son whose father did not train him?

Of course, any discipline is at the time a matter for grief, not joy; but later, in those who have undergone it, it bears fruit in peace and uprightness. So steady all weary hands and trembling knees and make your crooked paths straight; then the injured limb will not be maimed, it will get better instead. Seek peace with all people, and the holiness without which no one can ever see the Lord. Be careful that no one is deprived of the grace of God and that no root of bitterness should begin to grow and make trouble; this can poison a large number.
Mark 6: 1-6
Leaving that district, he went to his home town, and his disciples accompanied him. With the coming of the Sabbath he began teaching in the synagogue, and most of them were astonished when they heard him. They said, 'Where did the man get all this? What is this wisdom that has been granted him, and these miracles that are worked through him? This is the carpenter, surely, the son of Mary, the brother of James and Joset and Jude and Simon? His sisters, too, are they not here with us?' And they would not accept him. And Jesus said to them, 'A prophet is despised only in his own country, among his own relations and in his own house'; and he could work no miracle there, except that he cured a few sick people by laying his hands on them. He was amazed at their lack of faith. He made a tour round the villages, teaching.
R. We see Jesus referred to as "son of Mary" –
This could have been an insult.
They were astounded at Jesus' teachings.
Jesus said
"A prophet is not without honor
except in his native place
and among his own kin and
in his own house" (Mark 6)
Jesus is the Mediator of a new
covenant!
Hebrews 12: 18-19, 21-24
What you have come to is nothing known to the senses: not a blazing fire, or gloom or total darkness, or a storm; or trumpet-blast or the sound of a voice speaking which made everyone that heard it beg that no more should be said to them.
The whole scene was so terrible that Moses said, 'I am afraid and trembling.' But what you have come to is Mount Zion and the city of the living God, the heavenly Jerusalem where the millions of angels have gathered for the festival, with the whole Church of first-born sons, enrolled as citizens of heaven. You have come to God himself, the supreme Judge, and to the spirits of the upright who have been made perfect; and to Jesus, the mediator of a new covenant, and to purifying blood which pleads more insistently than Abel's.
R. Jesus sent His disciples out in pairs.
Mark 6: 7-13

Then he summoned the Twelve and began to send them out in pairs, giving them authority over unclean spirits. And he instructed them to take nothing for the journey except a staff—no bread, no haversack, no coppers for their purses. They were to wear sandals but, he added, 'Don't take a spare tunic.' And he said to them, 'If you enter a house anywhere, stay there until you leave the district. And if any place does not welcome you and people refuse to listen to you, as you walk away shake off the dust under your feet as evidence to them.' So they set off to proclaim repentance; and they cast out many devils, and anointed many sick people with oil and cured them.
R. We are to love our neighbor as ourselves –
To be hospitable - it says so in
Hebrews 13: 1-8

Hebrews 13: 1-8
Continue to love each other like brothers, and remember always to welcome strangers, for by doing this, some people have entertained angels without knowing it. Keep in mind those who are in prison, as though you were in prison with them; and those who are being badly treated, since you too are in the body. Marriage must be honoured by all, and marriages must be kept undefiled, because the sexually immoral and adulterers will come under God's judgement. Put avarice out of your lives and be content with whatever you have; God himself has said: I shall not fail you or desert you, and so we can say with confidence: With the Lord on my side, I fear nothing: what can human beings do to me?

Remember your leaders, who preached the word of God to you, and as you reflect on the outcome of their lives, take their faith as your model. Jesus Christ is the same today as he was yesterday and as he will be for ever.
Mark 6: 14-29
King Herod had heard about him, since by now his name was well known. Some were saying, 'John the Baptist has risen from the dead, and that is why miraculous powers are at work in him.' Others said, 'He is Elijah,' others again, 'He is a prophet, like the prophets we used to have.' But when Herod heard this he said, 'It is John whose head I cut off; he has risen from the dead.'
Now it was this same Herod who had sent to have John arrested, and had had him chained up in prison because of Herodias, his brother Philip's wife whom he had married. For John had told Herod, 'It is against the law for you to have your brother's wife.' As for Herodias, she was furious with him and wanted to kill him, but she was not able to do so, because Herod was in awe of John, knowing him to be a good and upright man, and gave him his protection. When he had heard him speak he was greatly perplexed, and yet he liked to listen to him.

An opportunity came on Herod's birthday when he gave a banquet for the nobles of his court, for his army officers and for the leading figures in Galilee. When the daughter of this same Herodias came in and danced, she delighted Herod and his guests; so the king said to the girl, 'Ask me anything you like and I will give it you.' And he swore her an oath, 'I will give you anything you ask, even half my kingdom.' She went out and said to her mother, 'What shall I ask for?' She replied, 'The head of John the Baptist.' The girl at once rushed back to the king and made her request, 'I want you to give me John the Baptist's head, immediately, on a dish.' The king was deeply distressed but, thinking of the oaths he had sworn and of his guests, he was reluctant to break his word to her. At once the king sent one of the bodyguard with orders to bring John's head. The man went off and beheaded him in the prison; then he brought the head on a dish and gave it to the girl, and the girl gave it to her mother. When John's disciples heard about this, they came and took his body and laid it in a tomb.
R. We see John who addressed Herod's
adultery, made himself at risk
and he was put to death and lost
his head.
Jesus is the head, we see John lives
the message "Christ must
increase, I must decrease."
But when John corrects Herod he
is put to death.
Satan doesn't want the wrong a
man is doing to be stopped.
Satan wants the sinner to fight
and be prideful of the man
admonishing him –
Satan wants the sinner to
attack a righteous man
and discredit the righteous one.
The martyrs suffered, shedding their
blood for Christ.
The early Christians were put to
death. They showed great
faith.
We see Paul persecuted the Christians,
had Stephen martyred and
we see the conversion of Paul
and his contribution to the
Church in the First
Readings all week.
We see St. Augustine and how
Monica, his mother, prayed
for his conversion.
These saints show us the mercy and
forgiveness of God for the
contrite sinner.
God loves us and wants us to
put away bad ways and walk
righteously.
Hebrews 13: 15-17, 20-21
Through him, let us offer God an unending sacrifice of praise, the fruit of the lips of those who acknowledge his name. Keep doing good works and sharing your resources, for these are the kinds of sacrifice that please God.

Obey your leaders and give way to them; they watch over your souls because they must give an account of them; make this a joy for them to do, and not a grief-you yourselves would be the losers.
I pray that the God of peace, who brought back from the dead our Lord Jesus, the great Shepherd of the sheep, by the blood that sealed an eternal covenant, may prepare you to do his will in every kind of good action; effecting in us all whatever is acceptable to himself through Jesus Christ, to whom be glory for ever and ever. Amen.
R. This is a powerful reading, Paul
is telling them to obey their leaders
and to pray for them, to offer
sacrifice of praise, to do good.

Mark 6: 30-34

The apostles rejoined Jesus and told him all they had done and taught. And he said to them, 'Come away to some lonely place all by yourselves and rest for a while'; for there were so many coming and going that there was no time for them even to eat. So they went off in the boat to a lonely place where they could be by themselves. But people saw them going, and many recognised them; and from every town they all hurried to the place on foot and reached it before them. So as he stepped ashore he saw a large crowd; and he took pity on them because they were like sheep without a shepherd, and he set himself to teach them at some length.
R. Jesus teaches the Apostles.
Please pray for Gene, Dan, Beth, Doris,
Amanda, Betty, Adeline, Jimmy, Andrew,
Monsignor and all the people.
For a limited time only

24" Pilgrim Virgin Fatima Statue without crown
w/glass from image face

Extended Sale -

$175 plus shipping

while supplies last

Get a canvas print of Mary's image with
a sliver of glass and a little bottle of
Jesus and Mary water.

The glass will be fixed behind the
back of the picture.

Cost — $200.00

Call Rosie

1-888-211-3041
Books written by the cofounder of Shepherds of Christ Ministries
Mass Book
A Journey Into the Heart of Jesus - Author: Rita Ring. Discerned by: Fr. Edward J. Carter S.J. Imprimatur
$ 12.00 plus postage

Mass Book, by Rita Ring: Many of the entries in the Priestly Newsletter Volume II from a spiritual journal came from this book. These entries
are to help people to be more deeply united to God in the Mass. This book is available in English and Spanish with the Church's Imprimatur.
$12
Rosary Meditations for Parents and Children, by Rita Ring, Short Meditations for both parents and children to be used when praying the
rosary. These meditations will help all to know the lives of Jesus and Mary alive in their Hearts. Available in both English and Spanish with
the Church's Imprimatur. $10
God's Blue Book I
Teachings to Lift You Up. Author: Rita Ring. Discerned by: Fr. Edward J. Carter S.J.
$ 10.00 plus postage

God's Blue Book I by Rita Ring. Open Anywhere — This book will change your life. These are beautiful love letters to us from Jesus. A million books have been printed and circulated. Jesus loves us so much — He wants a personal relationship with us — He wants us to go to the Eucharist and be with Him before the tabernacle. $10
God's Blue Book II
The Fire of His Love. Author: Rita Ring. Discerned by Fr. Edward J. Carter S. J.
$ 10.00 plus postage

God's Blue Book II by Rita Ring. Letters from Jesus about His on fire love — Jesus wants this great intimacy with us — On fire love — Personal love letters from Jesus about the love of His Heart — A book on surrender Fr. Carter said! $10
God's Blue Book III
Love God, Love One Another. Author: Rita Ring. Discerned by Fr. Edward J. Carter S.J.
$ 10.00 plus postage

God's Blue Book III by Rita Ring. Fr. Carter's favorite book — It is about loving and forgiving each other — Being pure in heart — A book for unity in family, community, in life!! $10
God's Blue Book 4
The Love of the Hearts of Jesus and Mary Author: Rita Ring
$ 5.00 plus postage

God's Blue Book IV by Rita Ring. This book is about the love Jesus has for Mary and Mary has for Jesus and Jesus and Mary have for us — It is truly the Love of the Two Hearts. Mary appeared every day at the Holy Spirit Center — Fr. Carter was there. Mary's first apparition July 5, 1994. $5
God's Blue Book 5
So Deep Is the Love of His Heart. Author: Rita Ring.
$ 5.00 plus postage

God's Blue Book V by Rita Ring. Jesus wants to be the bridegroom of our soul — He is our beloved — Jesus tells us about pure love — how we are to be pure of heart and love God and love others. It is a must, to hear about love from Jesus — Jesus is love — $5
God's Blue Book 6A by Rita Ring. Rosaries from Their Hearts during apparitions. Jesus and Mary appeared every day and I received rosaries from Them and They were transcribed from a tape. Also messages of love from Jesus on days of January, 1995 — About Baptism — writings from Fr. Carter and the Scriptures. $10
God's Blue Book 6B by Rita Ring. Jesus and Mary appeared every day in February, 1995 — So beautiful — transcribed from a tape — the Stations, 7 Sorrows, prayers in the Prayer Manual, the Holy Spirit Novena Book and the Song Book. Pure love — loving and forgiving — a book about Jesus' love, baptism, grace and Fr. Carter's Newsletter. $10

Rosaries from the Hearts of Jesus and Mary Book 1. Mary appeared in Clearwater December 17, 1996 in rainbow color and these rosaries left the printer the same day from Apparitions of Jesus and Mary — transcribed from a tape. $10
Blue Rosary Book
Rosaries From the Hearts of Jesus and Mary - Volume II
$ 12.00 plus postage

Rosaries from the Hearts of Jesus and Mary Book 2. This is a book of so many rosaries - transcribed from a tape. So many beautiful rosaries. pages $12
Short Rosary Meditations for the Elderly, Ill and Homebound. This book is so important with pictures they can open it and lay it on their laps and pray the rosary. $10
Messages From Jesus
Given by Jesus to His Messenger Author: Rita Ring. Discerned by: Fr. Edward J. Carter S.J.
This book is 8 1/2" by 11" and you can open it up and sit it on your lap.

$ 10.00 plus postage

Messages for the Elderly, Ill and Homebound. This is a big book of loving messages for nursing home people and homebound from Jesus and Mary — Their lives are so important — united to the Mass offering up their suffering, their lives for the souls of this earth. $10
Daily Messages from Heaven. First book of Daily Messages. $10
Color the Lives of Jesus and Mary. Volumes 1 through 7. Coloring books and meditations for grade school children and others on the mysteries of the rosary - really good. $5 each.
| | | |
| --- | --- | --- |
| | | Guiding Light homily series - Reflect on the Word - Cycle B — The Word leaves an impression on our souls. In my thoughts and reflections are born a more tangible understanding of these eternal concepts presented in the Gospels and the readings. Anyone can read a sentence, but not anyone can absorb it's true meaning. Truth, in this day and age, is almost a matter of opinion or individual entitlement. We believe that Christ's truth is our Roman Catholic Church. We, as priests, champion it's teachings; we are ambassadors for the Pope and Christ to those faces looking at us. We are the light by which our congregation reads to reflect upon real truth and we do it hand in hand. $15 |
Guiding Light homily series - Steadfast to the Son - Cycle A — The sunflower is a great example of how we should be steadfastly guided by light. What a powerful thought that this exceptional plant is not stuck in one pose day in and day out, yet adaptable and magnetized to the sun. We feel the same about our Son. Our heads turns to face Christ as each day presents its challenges to find light. We join together like plants in a field and soak up the Son through the pulpit. We are a warm circle of strength using the wind of our breath to carry our priests' words, Christ's words, to new rich soil. $15

Guiding Light - Feed My Soul - Cycle C — In a world rapidly advancing and encouraging personal gain, we are faced with modern problems. There is a challenge to find time in our busy schedules for Sunday Mass or a family meal. We are able to research, shop, bank and even work without hearing one human voice. It is no wonder that we may often feel disconnected and famished at our week's end. In Fr. Joe's third book of homilies from Cycle C, we are reminded of the charity that Christ intended us to show each other. We have a calling to turn the other cheek and be the Good Samaritan to others. We are rewarded with the Father's kingdom and love when we are not worthy. We are not left alone or hungry. $15
| | |
| --- | --- |
| | Guiding Light - Focusing on the Word - Cycle B — At times we may feel that our path to Christ is a bit "out of focus". Like the disciples in the Book of Mark, this ordinary life clouds our vision of Christ's Divinity. We may doubt the practicality or possibility of applying His teachings and example to our modern life. Cycle B's homilies are a "guiding light" to help us realize Jesus' Messianic greatness and His promise of better things to come. $15 |
| | | |
| --- | --- | --- |
| | | Guiding Light - The Word Alive in Our Hearts. - Cycle A (partial) — Homilies by the Reverend Joe Robinson given at St. Boniface Church in Cincinnati, Ohio. It is a tremendous honor Fr. Joe has allowed us to share these great gifts with you – for greater holiness and knowing more and more about God. $10 |
Books written by the founder of Shepherds of Christ Ministries
Response to God's Love by Fr. Edward J. Carter, S.J. In this book Fr. Carter speaks of God as the ultimate mystery. We can meditate on the interior life of the Trinity. Fr. Carter tells us about our uniqueness in the Father's Plan for us, how the individual Christian, the Church and the world are in the state of becoming. Imprimatur. $10

Shepherds of Christ - Selected Writings on Spirituality for all People as Published in Shepherds of Christ Newsletter for Priests. Contains 12 issues of the newsletter from July/August 1994 to May/June 1996. $15

Shepherds of Christ - Volume 2: by Fr. Edward J. Carter, S.J. Contains issues 13-29 of the newsletter (September/October 1996 - Issue 5, 1999) $15

Shepherds of Christ - Volume 3 by Fr. Edward J. Carter, S.J. Contains Newsletter Issues 1 through 4 of 2000 including Fr. Carter's tremendous Overview of the Spiritual Life $10

Tell My People
Messages from Jesus and Mary Author: Fr. Edward J. Carter S.J. Imprimi Potest
$ 10.00 plus postage

Tell My People. Messages from Jesus and Mary (As given to Fr. Edward Carter, S.J.) — One of Fr. Edward Carter, S.J.'s Synopsis of the Spiritual Life — From Jesus to Fr. Carter "On Holy Saturday, 1994, Jesus told me that on the following day, Easter, I would also begin to receive messages for others. Our Lord also told me that some of these were eventually to be published in a book—and here is that book." $10

Spirituality Handbook
Shepherds of Christ Associates Spirituality Handbook - A Way of Spiritual Life
Author: Fr. Edward J. Carter S.J. Imprimi Potest
$ 3.00 plus postage

Spirituality Handbook. Fr. Edward Carter, S.J. did 3 synopsis of the spiritual life. The Spirituality Handbook, the Priestly Newsletter 20he Tell My People book. The way of spiritual life proposed to the members of Shepherds of Christ Associates is centered in consecration to the Hearts of Jesus and Mary. All aspects of the spiritual life discussed below should be viewed as means to help members develop their lives in consecration to Christ, the Sacred Heart, and to Mary, the Immaculate Heart. $3

The Spirituality of Fatima by Fr. Edward J. Carter, S.J. The Fatima apparitions and messages received official Church approval in 1930. In giving her official approval to the Fatima event, the Church tells us that what took place at Fatima involving the three young visionaries is worthy of our belief. $5

Shepherds of Christ Prayer Manual
Shepherds of Christ Associates Prayers
Author: Fr. Edward J. Carter S.J.
$ .50 plus postage

Shepherds of Christ Prayer Manual. The Shepherds of Christ has prayer chapters all over the world praying for the priests, the Church and the world. These prayers that Father Carter compiled in the summer of 1994 began this worldwide network of prayer. Currently the prayers are in eight languages with the Church's Imprimatur. We have prayed daily for the priests, the Church, and the world since 1994. Associates are called to join prayer Chapters and help us circulate the newsletter centered on spreading devotion to the Sacred Heart and Immaculate Heart and helping to renew the Church through greater holiness. Please form a Prayer Chapter & order a Prayer Manual.

Priestly Newsletter - 2000 #1 - CD. - Christ is Our Strength - Fr. Edward Carter, S.J. read it the year he died. It is so beautiful. "This brief passage contains one of the greatest lessons of the spiritual life. As we progress along our spiritual journey, we become increasingly aware of how weak we are in our-selves, but how strong we are in Christ. To experience our weakness involves suffering. The degree and kind of suffering can vary. The suffering can include the experience of the classical dark night of the spirit as described by St. John of the Cross. One of the main purposes of the dark night is to make a person keenly aware of his or her helplessness without God." quote by Fr. Carter from the newsletter $10

Priestly Newsletter 2000 Issue 2
Audio CD - Read by Father Edward J. Carter
$ 10.00 plus postage

Priestly Newsletter - 2000 #2 - CD. - Suffering: A Source of Life - Fr. Edward Carter, S.J. read it the year he died. Fr. Carter knew suffering that year. His voice is so powerful as he read each Newsletter from his heart and soul. "Every man has his own share in the redemption. Each one is also called to share in that suffering through which the redemption was accomplished. He is called to share in that suffering through which all human suffering has also been redeemed. In bringing about the redemption through suffering, Christ has also raised human suffering to the level of the redemption. Thus each man in his suffering can also become a sharer in the redemptive suffering of Christ..." quote by Fr. Carter from the newsletter $10
Lucia's Vision
Giclee Art Print on Canvas by Harold Kellner
$ 150.00 plus shipping
Call Rosie
1-888-211-3041
or
1-727-725-9312

Statues

OL-Guadalupe
w/glass - 28


OL-Grace
w/glass - 24


OL-Mt. Carmel
w/glass - 24


OL-Lourdes
w/glass - 24


IH-Mary
w/glass - 24


IH-Ivory
w/glass - 24


SH-Jesus
w/glass - 24


SH-Blessing
w/glass - 24


Sorrow M
w/glass - 24


Inf.-Prague
w/glass - 24


OL-Lourdes
w/glass - 18

OL-Mt. Carmel
w/glass - 18


I Heart
w/glass - 18

I Heart - Ivory
w/glass - 18

OL-Grace
w/glass - 18

SH-Jesus
w/glass - 18


OL-Guadalupe
w/glass - 12


PV-Fatima
w/glass - 27


PV-Fatima
w/glass - 18


PV-Fatima
w/glass - 15


OL-Fatima
w/glass - 18


PV-Fatima
w/glass - 12


OL-Fatima
w/glass - 11


St. Padre Pio


St. Joseph


St. Therese


St. Francis


St. Anthony


St. Claire


Limpias


St. Jude


Divine Mercy


Holy Family


Angel


St. Philomena


Pieta - Marble


Pieta - Color


Holy Family 12


St. Anthony - 18


St. Francis - 18


St. Joseph - 18


St. Therese - 18


St. Rita - 18


St. Clare - 12


St. Rita - 12


St. Padre Pio - 12


Divine Mercy - 12


St. Michael - 11


Limpias - 8



Shepherds of Christ Ministries
P. O. Box 627
China, IN 47250

Toll free - 1-888-211-3041
Local - 1-812-273-8405
fax - 1-812-273-3182
web: www.sofc.org
e-mail: info@sofc.org


| | | | |
| --- | --- | --- | --- |
| | Size | Price | Quantity |
| Holy Family | 24" | $180 | |
| Limpias | 24" | $125 | |
| St. Anthony | 24" | $125 | |
| St. Claire | 24" | $125 | |
| St. Francis | 24" | $125 | |
| St. Joseph | 24" | $125 | |
| St. Jude | 24" | $125 | |
| St. Padre Pio | 24" | $125 | |
| St. Therese | 24" | $125 | |
| Divine Mercy | 22" | $125 | |
| Angel | 22" | $100 | |
| St. Philomena | 20" | $100 | |
| St. Philomena | 16" | $65 | |
| St. Joseph | 18" | $65 | |
| St. Francis | 18" | $65 | |
| St. Anthony | 18" | $65 | |
| St. Rita | 18" | $65 | |
| St. Therese | 18" | $65 | |
| Pieta - Color | 15" | $125 | |
| Pieta - Marble | 15" | $125 | |
| Holy Family | 12" | $75 | |
| St. Padre Pio - standing | 12" | $100 | |
| St. Padre Pio - sitting | 9" | $100 | |
| St. Michael | 11" | $40 | |
| St. Rita | 12" | $40 | |
| Divine Mercy | 12" | $50 | |
| St. Claire | 12" | $40 | |
| Pieta - Color | 8" | $75 | |
| Pieta - Marble | 8" | $75 | |
| Limpias | 8" | $25 | |
| Our Lady of Guadalupe w/glass | 28" | $500 | |
| Our Lady of Mt. Carmel w/glass | 24" | $500 | |
| Immaculate Heart of Mary w/glass | 24" | $500 | |
| Immaculate Heart - Ivory w/glass | 24" | $500 | |
| Infant of Prague w/glass | 24" | $500 | |
| Our Lady of Grace w/glass | 24" | $500 | |
| Our Lady of Lourdes w/glass | 24" | $500 | |
| Sacred Heart of Jesus w/glass | 24" | $500 | |
| Sacred Heart -Blessing w/glass | 24" | $500 | |
| Sorrowful Mother w/glass | 24" | $500 | |
| Immaculate Heart of Mary w/glass | 18" | $300 | |
| Immaculate Heart - Ivory w/glass | 18" | $300 | |
| Sacred Heart of Jesus w/glass | 18" | $300 | |
| Our Lady of Lourdes w/glass | 18" | $300 | |
| Our Lady of Grace w/glass | 18" | $300 | |
| Our Lady of Mt. Carmel w/glass | 18" | $300 | |
| Our Lady of Guadalupe w/glass | 12" | $200 | |
| Fatima w/glass | 11" | $150 | |
| Fatima w/glass | 18" | $250 | |
| Pilgrim Virgin w/glass | 12" | $160 | |
| Pilgrim Virgin w/glass | 15" | $200 | |
| Pilgrim Virgin w/glass | 18" | $250 | |
| Pilgrim Virgin w/glass | 27" | $450 | |


Call for Shipping Price (1-888-211-3041)


Name


Sub-Total

Address


IN Tax (7%)

City


Shipping

State Zip


Donation

Telephone


Order Total
Call Rosie
1-888-211-3041
or
1-727-725-9312
---
---
---

Copyright © 2012 Shepherds of Christ.
Rights for non-commercial reproduction granted:
May be copied in its entirety, but neither re-typed nor edited.
Translations are welcome but they must be reviewed for moral and
theological accuracy by a source approved by Shepherds of Christ Ministries
before any distribution takes place. Please contact us for more information.
All scripture quotes are from the New Jerusalem Bible, July 1990, published by Doubleday.
Revised: January 1, 2012
URL: http://www.sofc.org
Contact Information for Shepherds of Christ
Email: info@SofC.org
---
Shepherds of Christ Ministries
P.O. Box 627
China, Indiana 47250

Telephone: (toll free) 1-888-211-3041 or (812) 273-8405
FAX: (812) 273-3182