Mary has requested that the daily message be given each day to the world. It is read nightly at the prayer service from her Image Building in Clearwater, Florida, U.S.A. This is according to her request. All attempts will be made to publish this daily message to the world at 11 p.m. Eastern time, U.S.A.

---

We acknowledge that the final authority regarding these messages rests with the Holy See of Rome.

---
---
A Prayer for Intimacy with the Lamb, the Bridegroom of the Soul

Oh Lamb of God, Who take away the sins of the world, come and act on my soul most intimately. I surrender myself, as I ask for the grace to let go, to just be as I exist in You and You act most intimately on my soul. You are the Initiator. I am the soul waiting Your favors as You act in me. I love You. I adore You. I worship You. Come and possess my soul with Your Divine Grace, as I experience You most intimately.
---
Messenger: Include Our Lady of the Holy Spirit Center in 6:20 prayers.
---
Jesus speaks: I am teaching you a lesson.
It is My Movement.
I am teaching you surrender.
Whatever little aspect of the Movement you think you own, let go of it. --
YOU DO NOT OWN IT!!
IT IS MY MOVEMENT. WHEN YOU QUIT OWNING YOUR LITTLE PART OF THE MOVEMENT AND LET ME WORK IN YOU TO ACCOMPLISH WHAT I WANT, HOW I WANT, WHEN I WANT, THEN EVERYTHING WILL WORK AS I DESIRE.
Every person that thinks he owns his little job, stops the plan I wish to accomplish in you.
You have all that you need to do what I want to do through you. When I give My grace and you surrender and walk in My name and not your own, then you will live as a handmaid, a servant of the Lord.
In a million years you could not know or understand as I do, yet you reason and try to control things.
Do you say you believe? Then believe and let Me do the work in you.
The money will come when you obey Me.
I am the Almighty God, I am teaching you patience, surrender. I am drawing you into a deeper union in Myself in the trial you now experience.
I am God. I see the soul. I know the ways you need to grow in humility and truth.
I am God, you are the instrument.
You want to control, you are not allowing My plan to work in you.
Everything depends on My grace and your obedience.
If you do not follow the lines of authority, if you do your own will, if you add up dollars and cents and try to do it yourself, you won't do it anyway you try.
What I want of you is so big, only My might and My plan can accomplish it.
You still think you are doing it, and you are looking for the pat on your back that says, "Well done faithful servant."
I am looking for the one, who consumed with love in his heart is willing to follow in My path, take the persecution I took, take the beatings, crowning, bleed in the garden, carry the cross on his back and then mount it and say, "I am Your servant, Lord, I come to do Your will."
To My death on the cross I did the Father's will.
I rose Victorious on the third day.
I was the Victor. You will be the victor when you know that the victory comes in modeling your life after Me and doing God's will.
The Victory is not a lot of little successes you add up and measure as you blow your breath on your hand, rub your breast and say, "I did it."
You say, "God, I give myself to you, I am the handmaid of the Lord."
The greatest graces are released because of your suffering.
Look at the path I took, so that you would be able to get the grace.
I looked like a loser to the world.
Even Peter denied Me.
I gave Myself to My death on the cross.
I didn't tell My Father, "Take away the cross, I want it now." I took everything He gave Me and I served Him as He willed.
My son, your lesson is endurance and suffering and the victory is in the sharing of My life that you receive.
---
John 10:10
I have come
so that they may have life
and have it to the full.
---
Jesus speaks: Endure the cross, let go of the burden, accept. Your resistance to the gift I send is so much a part of your exceedingly burdensome suffering.
A holy soul knows the value in suffering and accepts God's will.
Death - Resurrection, the Pascal Mystery
---
March 16, 2000 - Second message
Jesus speaks: Like a baby that cries, some people feel so insecure in relationships that they cry to get others to tell them they are there and it is okay.
When babies are not given this healthy interaction in relationships, they grow up with unmet needs, crying their whole lives for what they never received from their young life.
You must know that I am there, and when you are in the state of grace, the Father, Son and Holy Spirit dwell in you in a special way.
Intimate LOVE is not only about receiving love, it is an exchange, a give and take.
It takes the maturity to know that God, the source of all love, really loves you.
I died on the cross for you. I am Jesus, your Brother, your Lover and Spouse -- I love you so much I spread My arms and died for you.
---
Given on March 15, 2000 - Third Message
Jesus speaks: My priests must have a spousal relationship with Me.
They should still have intimate relationships with others. There is a great learning process that takes place in active communication with others
Priests or religious that close themselves off from others (unless they are in the monastic life) while they live in communities are missing the great opportunities to advance in more perfected ways of loving.
A priest or religious can close themselves off from others, building a thick wall around themselves, never opening themselves intimately with others.
A priest or religious can spend lots of time with others, trying to be popular and trying to please others.
A priest and religious must be holy. They must be concerned about their relationship with Me.
If they spend all their time working out other people's problems and on business matters, they do not have time for Me.
I am the Bridegroom, they are My bride. In a special way they chose a celibate life to be especially espoused to Me. How it hurts Me when they are busy, especially after the Eucharist, and they do not spend time with Me. I cry out in pain for the neglect from those I have chosen and from whom I want special love.
The more they work on their relationship with Me, the more they will be as they should be to the people. I want to minister to My people through them.
My Heart is pierced for My unfaithful spouses.
Many have made money their god or the acclaim of the people to make themselves popular. Some have become rescuers, rescuing others with problems and failing to look at themselves.
I am a good God, I call you My espoused. How will the Church operate properly if you do not take time to have a personal relationship with Me?
---
Mary's Message from the Rosary of August 27, 1996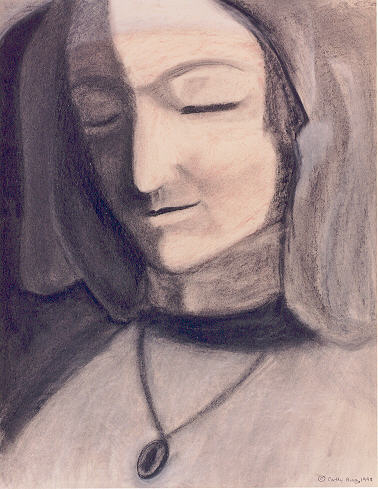 Mary speaks: I stood beneath the cross of my Son, and my Heart was in such pain for I saw Him before my eyes. I saw Him covered with blood. I saw Him die. My Heart, my children, my Heart to watch my Son, but my Heart, my Heart, how I suffered for my little children of the world that give in to this world and give up the love of my Son. O my little children of light, I give you this message. Carry this light into the darkness for your Mother Mary, for I stood beneath the cross and I cried. I cried for the little ones. I cried for the young ones, the ones that do not care and will lose their souls. How do I make you see for you will not listen to me? What can I do? I come. I appear. I beg. I plead. I give you these gifts from my Son, and you reject me. I do not deliver messages very often anymore for I have been ignored. The message is the same. You do not read the messages I have given to you. Please help me. Help the little children. I appear. I appear. I appear, and I am ignored. I stood beneath the cross, and I cried. I cried, and my Heart was in such anguish for my little children, for I am searching for them this day as I searched for the Child Jesus. Please, please help me. I cannot hold back the hand of my Son any longer. I am Mary, your Mother. I ask you to help my children. You are my children of light.

Song: O Lady of Light, shining so bright, be with us this day, guiding our way, O Lady, O Lady of Light.

Mary speaks: I appear to you as Our Mother of Sorrows.
(End of Mary's Message)
---
MY VALENTINE FOR JESUS AND MARY
AND THE WORLD

I give my heart to
You Jesus and Mary on this day
February 14, 2000.
I promise to help spread the devotion to
the Hearts of Jesus and Mary.
---
Question for married couples and others in intimate relationships:
Q: When we suffer trials, how can we share these trials with each other in the greatest love?
---
---
---
Copyright © 2000 Shepherds of Christ.
Rights for non-commercial reproduction granted:
May be copied in its entirety, but neither re-typed nor edited.
Translations are welcome but they must be reviewed for moral and theological accuracy by a source approved by Shepherds of Christ Ministries before any distribution takes place. Please contact us for more information.
All scripture quotes are from the New Jerusalem Bible, July 1990, published by Doubleday.
Revised: March 17, 2000
URL: http://www.SofC.org
Contact Information for Shepherds of Christ
Email: info@SofC.org
---
Shepherds of Christ Ministries
PO Box 193
Morrow, Ohio 45152-0193

Telephone: (toll free) 1-888-211-3041 or (513) 932-4451
FAX: (513) 932-6791