ABOUT the Shepherds of Christ Ministries
I give my heart to Jesus and Mary with you in love —
God is love —
Jesus gave Fr. Carter a message to begin this Movement,
Shepherds of Christ —
Our Mission — two-fold
(1) Priestly Writing
(2) Prayer Chapters
The purpose was to send the Priestly Writing and to
begin prayer chapters praying for the
priests, the Church and the world —
We have sent 15,000,000 Priestly Newsletters in books and loose
in the 17 years we have circulated the Priestly Newsletter —
We have circulated these books at the direction of Jesus —
Fr. Carter had a doctors in theology and authored 20 books on
the spiritual life —
The priest on the front of this book was from a vision I
had long before all these Priestly Newsletters
were circulated —
We were able to get the prayers given to Fr. Carter by Jesus
in 8 languages with the Church's Imprimatur —
God is love and He has asked us to pray for the priests,
the Church and the world with these prayers in the
prayer manual — giving great devotion to His Heart and
Mary's Heart —
As we pray in this network of prayer chapters, praying united
to the Masses going on around the world — through
the powerful intercession of Mary we can help bring
down great grace for the priests, the Church and the world —
We pray one hour daily before the blessed sacrament,
We attend daily Mass and pray united in our hearts in
the Hearts of Jesus and Mary —
We love God so much and we love the souls Jesus died for -
In baptism we receive a special sharing in His life —
As we pray and unite — we as graced, baptized souls can
be great intercessors praying for the priests, the Church
and the world —
Long after we are gone these prayer chapters we begin and
attend can be a network of prayer for the Church, the world
and our priests —
Fr. Carter would always say as St. Ignatius said, "What
have I done for Christ?" "What am I now doing for Christ?"
"What ought I to do for Christ?"
We thank God most abundantly for our priests and the
gifts He gives us —
Blue Books
We have circulated millions of Blue Books telling people
about the love of Jesus in the Blue Books — His letters
of great love — telling all about His true presence in
the Eucharist and His desire that we come to Mass and
receive Him and pray before the tabernacle —
Homilies
My brother's book, Fr. Joe Robinson's homilies
focus on the Word — Last year alone we circulated 38,000
Cycle C books to United States priests alone from donations —
In this gift — the priests can use the book weekly —
The funds we receive help us do this work — We do
this free — priests pay if they order books only — Our
Ministry has circulated these priestly writings free
to priests, We rely on those in prayer chapters and
donors to help us do this —
We love our priests — our focus is love for the priests,
members of the Church and the people Jesus died for —
all in the world —
Rosaries
In giving me these rosaries transcribed from a tape in February, 1995,
Mary and Jesus both appeared daily as we prayed before the
tabernacle and you can see how they tell us about their love for
us and Their desire for us to be people of love, spreading
the love of Jesus to the world —
Retreats
The retreats I give each month — 4 days in Clearwater, Florida
(the Virgin Mary Building - Building of the 2 Hearts) the
2nd to the 5th at 1:30 and 6:20 each day — with a big
prayer session on the 5th at 6:20 —
In China, Indiana, I pray from the 10th to the 13th
each month — There is Mass every day unless the day is
on a Sunday — The big retreat day is the 13th each month
at noon.
Morning Offering
The Mass is a gift — grace is outpoured as we offer up what
we do each day united to the Mass — we have cards for this —
Nursing Homes
We have big books for Nursing Homes to pray the rosary all
day and read the messages of love from Jesus to them —
and a big Morning Offering card and consecration card —
School Rosary Program
We circulate home-made rosaries to all Catholic Schools
in the United States requesting them and consecration cards and
rosary meditations and have since 1995
Apostles of the Eucharistic Heart of Jesus
Here is a message Jesus gave Fr. Carter.
Apostles of the Eucharistic Heart of Jesus
My dear fellow Associate Members,
Jesus is calling special apostles to join a new division of the Shepherds of Christ Movement. Here is a message from Jesus given to Father Carter:
My beloved priest-companion, I am requesting that a new prayer movement be started under the direction of Shepherds of Christ Ministries. I am asking for volunteers who are willing to pray before the Blessed Sacrament for one hour, twice-weekly. Members of the Shepherds of Christ prayer chapters, as well as others, are to be invited to join this movement.
These apostles are to pray for the intentions I am giving you. For part of the hour they are to use the prayers of the Shepherds of Christ Associates Handbook. They may spend the rest of the hour as they so choose.
I will use this new prayer movement within My Shepherds of Christ Ministries in a powerful way to help in the renewal of My Church and the world. I will give great graces to those who join this movement. The name, Apostles of the Eucharistic Heart of Jesus, is to be given to this movement.
I am inviting My beloved Rita Ring to be coordinator for this activity.
I pour out the great love of My Sacred Heart to all. I am Jesus, Chief Shepherd of the flock.
This is indeed a special calling for us to unite in one heart with His Eucharistic Heart and pray for the following intentions:
1. For the spread of the devotion to the Hearts of Jesus and Mary culminating in the reign of the Sacred Heart and the triumph of the Immaculate Heart.
2. For the Pope.
3. For all bishops of the world.
4. For all priests.
5. For all sisters and brothers in the religious life.
6. For all members of the Shepherds of Christ Movement, and for the spread of this movement to the world.
7. For all members of the Catholic Church.
8. For all members of the human family.
9. For all souls in purgatory.
end of excerpt
Junior Shepherds of Christ
Youth and Parents can use this book during the rosary
of the Prayer Chapters — It has the Imprimatur — it
is in Spanish also Parents and Children's Rosary Book
We followed the plan set for us under the guidance of
Fr. Carter who ran the Movement until his death. It was
established when he died.

I, Rita Ring, co-founder, have been running the Shepherds
of Christ Movement with the president, John Weickert and
several priests' guidance these past 11 years since Fr. Carter's death.

Our lives are lived dedicated to praying for the priests, the
Church and the world – in publishing the Spirituality Newsletter
for the priests, praying for this, leading people to the sacraments,
especially the Eucharist, the Word and consecration to the Hearts
of Jesus and Mary, for individuals, churches, schools and families.
March 19, 2011 - Feast of St. Joseph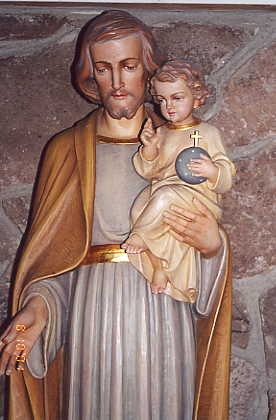 Today's Readings
2 Samuel 7: 4-5, 12-14, 16
But that very night, the word of Yahweh came to Nathan:

'Go and tell my servant David, "Yahweh says this: Are you to build me a temple for me to live in?

And when your days are over and you fall asleep with your ancestors, I shall appoint your heir, your own son to succeed you (and I shall make his sovereignty secure. He will build a temple for my name) and I shall make his royal throne secure for ever. I shall be a father to him and he a son to me; if he does wrong, I shall punish him with a rod such as men use, with blows such as mankind gives.

Your dynasty and your sovereignty will ever stand firm before me and your throne be for ever secure."'
Psalm 89: 2-5, 27, 29
I shall sing the faithful love of Yahweh for ever,
from age to age my lips shall declare your constancy,
for you have said: love is built to last for ever,
you have fixed your constancy firm in the heavens.
'I have made a covenant with my Chosen One,
sworn an oath to my servant David:
I have made your dynasty firm for ever,
built your throne stable age after age.' Pause

The heavens praise your wonders, Yahweh,
your constancy in the gathering of your faithful.

So I shall make him my first-born,
the highest of earthly kings.

I have established his dynasty for ever,
his throne to be as lasting as the heavens.
Romans 4: 13, 16-18, 22
For the promise to Abraham and his descendants that he should inherit the world was not through the Law, but through the uprightness of faith.

That is why the promise is to faith, so that it comes as a free gift and is secure for all the descendants, not only those who rely on the Law but all those others who rely on the faith of Abraham, the ancestor of us all (as scripture says: I have made you the father of many nations). Abraham is our father in the eyes of God, in whom he put his faith, and who brings the dead to life and calls into existence what does not yet exist.

Though there seemed no hope, he hoped and believed that he was to become father of many nations in fulfillment of the promise: Just so will your descendants be.

This is the faith that was reckoned to him as uprightness.
Matthew 1: 16, 18-21, 24a
and Jacob fathered Joseph
the husband of Mary;
of her was born Jesus
who is called Christ.
This is how Jesus Christ came to be born. His mother Mary was betrothed to Joseph; but before they came to live together she was found to be with child through the Holy Spirit. Her husband Joseph, being an upright man and wanting to spare her disgrace, decided to divorce her informally. He had made up his mind to do this when suddenly the angel of the Lord appeared to him in a dream and said, 'Joseph son of David, do not be afraid to take Mary home as your wife, because she has conceived what is in her by the Holy Spirit. She will give birth to a son and you must name him Jesus, because he is the one who is to save his people from their sins.'

When Joseph woke up he did what the angel of the Lord had told him to do: he took his wife to his home;
God wanted His house to be built by Solomon —
In the second reading we talk about faith —
We can talk about faith
We can talk about this, but we must trust God —
Abraham didn't have any idea where
this land was, God was sending him,
Abraham believed and trusted God —
In the Gospel there is the account of our
Divine Savior coming —
Joseph wants to put Mary away privately
But he had a dream and
he had faith —
he trusted in God —
These men didn't know it all —
they believed and trusted God —
Joseph was so loved by God —
because he was entrusted with Mary and Jesus —
Joseph took care of the Mother of
Jesus and he took care of Jesus as His foster father —
The Father loved Jesus so much —
The Father gave the Son of God to Joseph and Mary —
The Father gave Mary to Joseph —
Joseph trusted in God
Joseph believed —
We pray for fathers to model themselves
after Joseph —
We pray for families that they will
model themselves after the
holy family, Joseph, Mary and
Jesus, that they will focus on
living in love as the Father intends —
We pray for families to have faith and
trust in God —
We pray to St. Joseph to be pure
in heart — to reach in love
to be as God wants us to
be relating to others in our
vocation —
St. Joseph cared for Mary —
Help us to have unselfish love —
Joseph was the head of the family —
help men to have this devotion
to Joseph to be husbands,
prolectors and fathers
as God the Father wants
a man to be —
Help men and women to know the
spiritual aspects of marriage —
being one with Jesus in holiness —
Help us to say "yes" to our vocation
as Joseph did to his vocation —
Joseph served God the Father —
Joseph did the Father's will —
Joseph loved the Holy Family —
Joseph is the Patron of the Church —
Dear St. Joseph, we intercede through you
to be holy in our vocation —
as servants, handmaids, apostles,
associates, etc. — in this Ministry
John 17: 20-26

I pray not only for these
but also for those
who through their teaching
will come to believe in me.
May they all be one,
just as, Father, you are in me
and I am in you,
so that they also may be in us,
so that the world may believe
it was you who sent me.
I have given them the glory
you gave to me,
that they may be one as we are one.
With me in them and you in me,
may they be so perfected in unity
that the world will recognise
that it was you who sent me
and that you have loved them
as you have loved me.

Father,
I want those you have given me
to be with me where I am,
so that they may always see my glory
which you have given me
because you loved me
before the foundation of the world.
Father, Upright One,
the world has not known you,
but I have known you,
and these have known
that you have sent me.
I have made your name known to them a
nd will continue to make it known,
so that the love with which you loved me
may be in them,
and so that I may be in them.
The Mystery of God's love —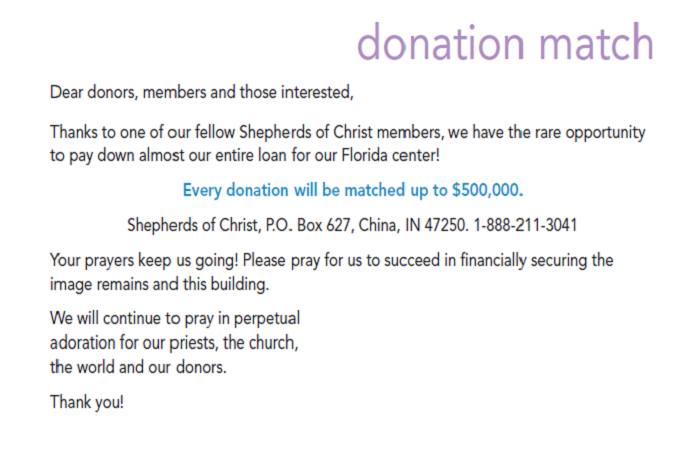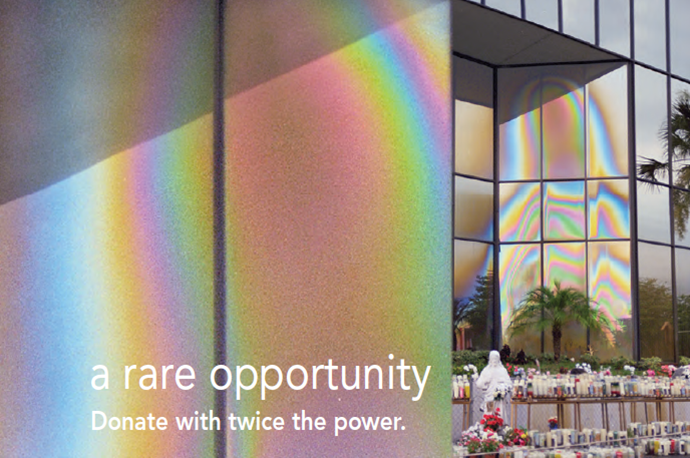 We received a new batch of statues -
Sacred Heart and Immaculate Heart of Mary
Padre Pio, Our Lady of Mt. Carmel,
Our Lady of Lourdes, Infant of Prague and more!
Call Doris
1-888-211-3041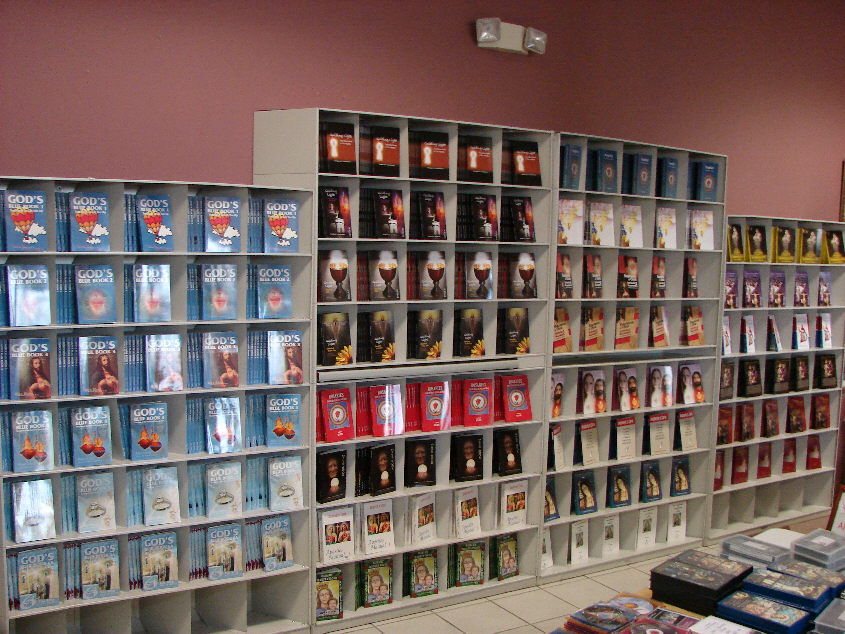 We need to print the
Tiny Tot Rosary Books.
Can anyone please help us with the this?
1-888-211-3041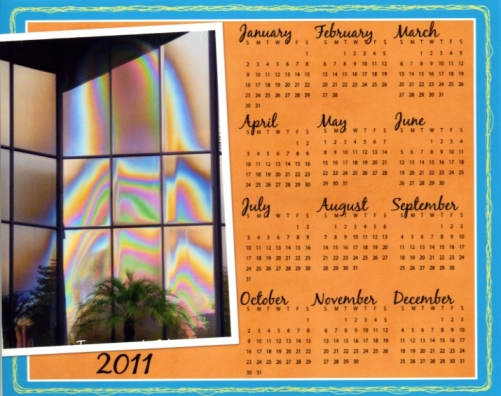 $1.00 plus shipping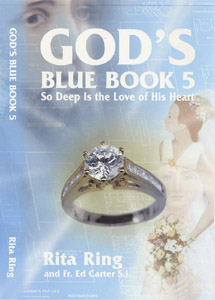 Books written by the cofounder of Shepherds of Christ Ministries

Writings by Rita Ring
Mass Book
A Journey Into the Heart of Jesus - Author: Rita Ring. Discerned by: Fr. Edward J. Carter S.J. Imprimatur
$ 12.00 plus postage
God's Blue Book I
Teachings to Lift You Up. Author: Rita Ring. Discerned by: Fr. Edward J. Carter S.J.
$ 10.00 plus postage
God's Blue Book II
The Fire of His Love. Author: Rita Ring. Discerned by Fr. Edward J. Carter S. J.
$ 10.00 plus postage
God's Blue Book III
Love God, Love One Another. Author: Rita Ring. Discerned by Fr. Edward J. Carter S.J.
$ 10.00 plus postage
God's Blue Book 4
The Love of the Hearts of Jesus and Mary Author: Rita Ring
$ 5.00 plus postage
God's Blue Book 5
So Deep Is the Love of His Heart. Author: Rita Ring.
$ 5.00 plus postage
Blue Rosary Book
Rosaries From the Hearts of Jesus and Mary - Volume II
$ 12.00 plus postage
Messages From Jesus
Given by Jesus to His Messenger Author: Rita Ring. Discerned by: Fr. Edward J. Carter S.J.
This book is 8 1/2" by 11" and you can open it up and sit it on your lap.

$ 10.00 plus postage
Apostle's Manual
Shepherds of Christ Overview: Very carefully discerned by Fr. Edward J. Carter S. J.
$ 20.00

Songs From Jesus
Given by Jesus to His Messenger Author: Rita Ring. Discerned by: Fr. Edward J. Carter S.J.
$ 5.00
Books written by the founder of Shepherds of Christ Ministries
Tell My People
Messages from Jesus and Mary Author: Fr. Edward J. Carter S.J. Imprimi Potest
$ 10.00 plus postage
Spirituality Handbook
Shepherds of Christ Associates Spirituality Handbook - A Way of Spiritual Life
Author: Fr. Edward J. Carter S.J. Imprimi Potest
$ 3.00 plus postage
Get a canvas print of Mary's image
with a sliver of glass and
a little bottle of
Jesus and Mary water.

The glass will be fixed behind the
back of the picture.

Cost — $200.00

Also available

a cup with a Mary's image on it

Cost — $15

Call Doris


1-888-211-3041
or
1-727-725-9312

Rosaries with Mary's Image Available
Aurora Borealis Beads

6mm - $30.00
8mm - $40.00

Call Doris
1-888-211-3041
or
1-727-725-9312

Statues

| | | |
| --- | --- | --- |
| | | |
| Sacred Heart of Jesus w/glass - 18 | Our Lady-Guadalupe w/glass - 12 | Limpias - 8 |
| | | |
| Immaculate Heart w/glass - 18 | I Heart - Ivory w/glass - 18 | Our Lady of Grace w/glass - 18 |
| | | |
| Our Lady-Mt. Carmel w/glass - 18 | Our Lady of Lourdes w/glass - 18 | Infant of Prague w/glass - 24 |
| | | |
| Sacred Heart of Jesus w/glass - 24 | Sacred Heart -Blessing w/glass - 24 | Sorrowful Mother w/glass - 24 |
| | | |
| I Heart - Ivory w/glass - 24 | I Heart of Mary w/glass - 24 | Our Lady of Lourdes w/glass - 24 |
| | | |
| Our Lady-Guadalupe w/glass - 28 | Our Lady of Grace w/glass - 24 | Our Lady-Mt. Carmel w/glass - 24 |
| | | |

| | | |
| --- | --- | --- |
| St. Padre Pio | St. Joseph | St. Therese |
| | | |
| St. Francis | St. Anthony | St. Claire |
| | | |
| Limpias | St. Jude | Divine Mercy |
| | | |
| Holy Family | Angel | St. Philomena |
| | | |
| Pieta - Marble | Pieta - Color | Holy Family |
| | | |
| St. Anthony - 18 | St. Francis - 18 | St. Joseph - 18 |
| | | |
| St. Therese - 18 | St. Rita - 18 | St. Clare - 12 |
| | | |
| | | |

| | | | |
| --- | --- | --- | --- |
| St. Rita - 12 | St. Padre Pio - 12 | Divine Mercy - 12 | St. Michael - 11 |


Shepherds of Christ Ministries
P. O. Box 627
China, IN 47250

Toll free - 1-888-211-3041
Local - 1-812-273-8405
fax - 1-812-273-3182
web: www.sofc.org
e-mail: info@sofc.org


| | | | |
| --- | --- | --- | --- |
| | Size | Price | Quantity |
| Holy Family | 24" | $180 | |
| Limpias | 24" | $125 | |
| St. Anthony | 24" | $125 | |
| St. Claire | 24" | $125 | |
| St. Francis | 24" | $125 | |
| St. Joseph | 24" | $125 | |
| St. Jude | 24" | $125 | |
| St. Padre Pio | 24" | $125 | |
| St. Therese | 24" | $125 | |
| Divine Mercy | 22" | $125 | |
| Angel | 22" | $100 | |
| St. Philomena | 20" | $100 | |
| St. Philomena | 16" | $65 | |
| St. Joseph | 18" | $65 | |
| St. Francis | 18" | $65 | |
| St. Anthony | 18" | $65 | |
| St. Rita | 18" | $65 | |
| St. Therese | 18" | $65 | |
| Pieta - Color | 15" | $75 | |
| Pieta - Marble | 15" | $75 | |
| Holy Family | 12" | $60 | |
| St. Padre Pio - standing | 12" | $40 | |
| St. Padre Pio - sitting | 8" | $50 | |
| St. Michael | 11" | $40 | |
| St. Rita | 12" | $40 | |
| Divine Mercy | 12" | $40 | |
| St. Claire | 12" | $40 | |
| Limpias | 8" | $25 | |
| Our Lady of Guadalupe w/glass | 28" | $500 | |
| Our Lady of Mt. Carmel w/glass | 24" | $500 | |
| Immaculate Heart of Mary w/glass | 24" | $500 | |
| Immaculate Heart - Ivory w/glass | 24" | $500 | |
| Infant of Prague w/glass | 24" | $500 | |
| Our Lady of Grace w/glass | 24" | $500 | |
| Our Lady of Lourdes w/glass | 24" | $500 | |
| Sacred Heart of Jesus w/glass | 24" | $500 | |
| Sacred Heart -Blessing w/glass | 24" | $500 | |
| Sorrowful Mother w/glass | 24" | $500 | |
| Immaculate Heart of Mary w/glass | 18" | $300 | |
| Immaculate Heart - Ivory w/glass | 18" | $300 | |
| Sacred Heart of Jesus w/glass | 18" | $300 | |
| Our Lady of Lourdes w/glass | 18" | $300 | |
| Our Lady of Grace w/glass | 18" | $300 | |
| Our Lady of Mt. Carmel w/glass | 18" | $300 | |
| Our Lady of Guadalupe w/glass | 12" | $200 | |
| Fatima w/glass | 11" | $150 | |
| Fatima w/glass | 18" | $250 | |
| Pilgrim Virgin w/glass | 12" | $160 | |
| Pilgrim Virgin w/glass | 15" | $200 | |
| Pilgrim Virgin w/glass | 18" | $250 | |
| Pilgrim Virgin w/glass | 27" | $450 | |


Call for Shipping Price (1-888-211-3041)


Name

Sub-Total
Address

IN Tax (7%)
City

Shipping
State Zip

Donation
Telephone

Order Total
Call Doris
1-888-211-3041
or
1-727-725-9312



Immaculate Heart and Sacred Heart Pictures Available
with & without frames - different sizes available

Call Doris
1-888-211-3041
or
1-727-725-9312