China Retreat
March 10th - 13th
Please tune in!
March 10th - Retreat begins 9:30am
March 10th - Mass 11:30am
March 12th - Mass 2:30pm
March 13th - Mass 1:00pm

Give a friend a gift for Lent
Blue Books 4 & 5 - $5.00 Total plus shipping
12" Fatima statue with glass $50 off -
normally $160
now $110 plus tax and/or shipping
Also the 24" Our Lady of Fatima Statue
is $50.00 off for a limited time.
Please call Rosie - 1-888-211-3041
Special Sale for Lent


We have been sending out mailings
and we need funds for bills.
Could you please help us with funds?
1-888-211-3041

| | | |
| --- | --- | --- |
| | For a $500 donation we will give you the gift of the 12" Guadalupe Statue with glass from Mary's image face and you will help 500 priests in the United States get Fr. Joe's homily book. | |
In these trying times in the United States preceding the election, Jesus has asked us to circulate the Priestly Writing, Fr. Joe's homily book focusing on the Word and the Eucharist with the Shepherds of Christ prayers in the back of the book. The only thing that will help to renew the Church and the world is following the commandments and the Father's Plan. Please help us send this book to the United States priests.

Call Rosie 1-888-211-3041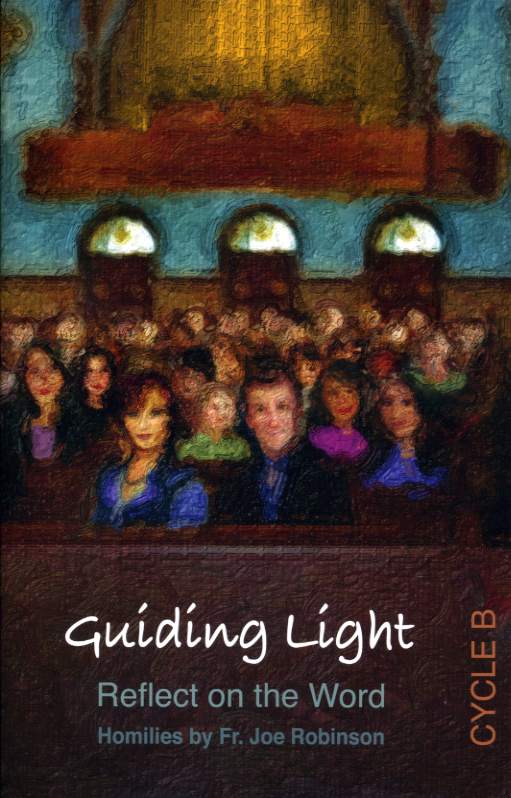 Available $15.00 plus shipping
Call Rosie
1-888-211-3041
The Florida Book Store

Please pray for some special intentions.

Through the intercession of Fr. Carter
and Our Lady of Clearwater
please pray for Dan's healing.

Please pray for Betty, Jimmy &Adeline.
Pray for Hal Wittrock & family

Blue Book 6C is here!
Available for $10.00 plus shipping
Call Rosie
1-888-211-3041
March 9, 2012
Today's Readings
Genesis 37: 3-4, 12-13, 17-28
Jacob loved Joseph more than all his other sons, for he was the son of his old age, and he had a decorated tunic made for him. But his brothers, seeing how much more his father loved him than all his other sons, came to hate him so much that they could not say a civil word to him.

His brothers went to pasture their father's flock at Shechem. Then Israel said to Joseph, 'Your brothers are with the flock at Shechem, aren't they? Come, I am going to send you to them.' 'I am ready,' he replied.

The man answered, 'They have moved on from here; indeed I heard them say, "Let us go to Dothan." ' So Joseph went after his brothers and found them at Dothan.
They saw him in the distance, and before he reached them they made a plot to kill him. 'Here comes that dreamer,' they said to one another. 'Come on, let us kill him now and throw him down one of the storage–wells; we can say that some wild animal has devoured him. Then we shall see what becomes of his dreams.'
But Reuben heard, and he saved him from their clutches. 'We must not take his life,' he said. 'Shed no blood,' said Reuben to them, 'throw him down that well out in the desert, but do not kill him yourselves'—intending to save him from them and to restore him to his father. So, when Joseph reached his brothers, they pulled off his tunic, the decorated tunic which he was wearing, and catching hold of him, threw him into the well. The well was empty, with no water in it. They then sat down to eat.
Looking up, they saw a group of Ishmaelites who were coming from Gilead, their camels laden with gum tragacanth, balsam and resin, which they were taking to Egypt. Then Judah said to his brothers, 'What do we gain by killing our brother and covering up his blood? Come, let us sell him to the Ishmaelites, then we shall not have laid hands on him ourselves. After all, he is our brother, and our own flesh.' His brothers agreed.
Now some Midianite merchants were passing, and they pulled Joseph out of the well. They sold Joseph to the Ishmaelites for twenty shekels of silver, and these men took Joseph to Egypt.

Psalm 105: 16-21

He called down famine on the land,
he took away their food supply;
he sent a man ahead of them,
Joseph, sold as a slave.

So his feet were weighed down with shackles,
his neck was put in irons.
In due time his prophecy was fulfilled,
the word of Yahweh proved him true.

The king sent orders to release him,
the ruler of nations set him free;
he put him in charge of his household,
the ruler of all he possessed,
Matthew 21: 33-43, 45-46
'Listen to another parable. There was a man, a landowner, who planted a vineyard; he fenced it round, dug a winepress in it and built a tower; then he leased it to tenants and went abroad. When vintage time drew near he sent his servants to the tenants to collect his produce. But the tenants seized his servants, thrashed one, killed another and stoned a third. Next he sent some more servants, this time a larger number, and they dealt with them in the same way. Finally he sent his son to them thinking, "They will respect my son." But when the tenants saw the son, they said to each other, "This is the heir. Come on, let us kill him and take over his inheritance." So they seized him and threw him out of the vineyard and killed him. Now when the owner of the vineyard comes, what will he do to those tenants?' They answered, 'He will bring those wretches to a wretched end and lease the vineyard to other tenants who will deliver the produce to him at the proper time.' Jesus said to them, 'Have you never read in the scriptures:

The stone which the builders rejected
has become the cornerstone;
this is the Lord's doing
and we marvel at it?

'I tell you, then, that the kingdom of God will be taken from you and given to a people who will produce its fruit.'
When they heard his parables, the chief priests and the scribes realised he was speaking about them, but though they would have liked to arrest him they were afraid of the crowds, who looked on him as a prophet.
R. Joseph was sold as a slave —
We see what they did to Jesus —
Jesus the suffering servant —
Joseph believed in the one true God —
We see the prospering of Joseph despite
what his brothers did to him —
Joseph was sold for 20 pieces of silver —
Jesus sold for 30 pieces of silver —
Joseph was sold —
A slave!!
Against his father's wishes.
The jealous brothers lied to their
father, Jacob —
The saints and martyrs suffered,
too, to help the Church be
as it is today —
We can take things for granted, the
Church, the Eucharist, baptism,
our sight —
We can take things for granted instead
of thanking God for the gifts God
gives us.
Joseph prayed to the God of his Fathers —
The one true God —
Life for the slaves were tough —
Look at the slaves under Pharaoh at
the time of Moses —
Slaves were treated so disrespectfully —
kicked, whipped, killed — they
really suffered —
The gifts we have came at the price
of so many —
Think of how they suffered our
Fathers in going to the Promised
Land, in being formed into
the people of God —
Think of the sacrifices of Abraham,
Jacob and Joseph and their
people —
Joseph could read —
Joseph was sold against his father's
knowledge —
Joseph's brothers lied to their father.
Whatever Joseph touched prospered —
even though he remained a slave at
first —
The wife of Potiphar tried to seduce
him. She said it was her word against
that of a slave — She was lusting after Joseph —
Joseph would not betray Potiphar's trust and
sin against God.
Then she lied and said he did it
to her —
Potiphar believed Joseph —
There were lots of storms in Ohio
and Indiana and people's houses were
destroyed — some completely — towns
wiped out — Some people died —
One moment everything was okay, then
their houses were destroyed because
of the storm — some lost
their lives. All around Fr. Mike's parish,
all around in Church in China —
Luke 17: 26-37

'As it was in Noah's day, so will it also be in the days of the Son of man. People were eating and drinking, marrying wives and husbands, right up to the day Noah went into the ark, and the Flood came and destroyed them all. It will be the same as it was in Lot's day: people were eating and drinking, buying and selling, planting and building, but the day Lot left Sodom, it rained fire and brimstone from heaven and it destroyed them all. It will be the same when the day comes for the Son of man to be revealed. 'When that Day comes, no one on the housetop, with his possessions in the house, must come down to collect them, nor must anyone in the fields turn back. Remember Lot's wife. Anyone who tries to preserve his life will lose it; and anyone who loses it will keep it safe. I tell you, on that night, when two are in one bed, one will be taken, the other left; when two women are grinding corn together, one will be taken, the other left.' The disciples spoke up and asked, 'Where, Lord?' He said, 'Where the body is, there too will the vultures gather.'
R. Joseph's brothers were so jealous they were
going to kill him — They wanted power
over Joseph —
When Potiphar's wife tried to seduce him
and Joseph would not give in she lied to Potiphar
and wanted Joseph punished to the
letter of the law —
Joseph wanted nothing of her
sin, but she would have Joseph
or turn him in.
In today's Gospel we see again how
evil men can be to the owner,
the heir —
Power over —
The devil first went to Eve —
then Eve tried to convince Adam —
Adam and Eve sinned against God —
There can be a legion of devils operating
against God's law, just authority —
The devil wants to win —
The woman who tried to seduce Joseph
wanted him sentenced to
death —
Potiphar had to do something to Joseph
to save his face — even though
Joseph was not guilty —
Potiphar's wife was evil and didn't want
her evil exposed —
She wanted Joseph killed and
she was evil —
After she sinned, she wanted
Potiphar to be concerned with
her humiliation —
Joseph was truthful —
The wife was a liar and she
wanted more evil done to cover
up her sins —
She wanted to be right when
she was wrong —
The man telling the truth is free —
The liar isn't free he is
enslaved to satan —
God is just —
Heaven is a reward promised
to those who do God's will
and serve Him —
God commands us to love Him —
to love others and to love
ourselves —
God who created the heavens and
earth and us - is love —
He commands us to love —
He will punish the wicked —
Fr. Mike told me about the
Pharisees yesterday — they
were hypocrites —
Jesus forgave sinners sorry for their
sins — prostitutes, but He
called the men who were
phonies and hypocrites
Vipers —
God reads our hearts —
We can't fool God —
A man was called before others to
give an accounting for his love
and unity with the community —
He walked before them and acted
like he was upright, loving
and working in unity, but
in fact he was a hypocrite.
A hypocrite pretends he is something
he isn't. God wants us to be pure at
Mass — the interior disposition pure —
one of truth —
Matthew 5: 21-26

'You have heard how it was said to our ancestors, You shall not kill; and if anyone does kill he must answer for it before the court. But I say this to you, anyone who is angry with a brother will answer for it before the court; anyone who calls a brother "Fool" will answer for it before the Sanhedrin; and anyone who calls him "Traitor" will answer for it in hell fire. So then, if you are bringing your offering to the altar and there remember that your brother has something against you, leave your offering there before the altar, go and be reconciled with your brother first, and then come back and present your offering. Come to terms with your opponent in good time while you are still on the way to the court with him, or he may hand you over to the judge and the judge to the officer, and you will be thrown into prison. In truth I tell you, you will not get out till you have paid the last penny.
R. A person who is a hypocrite,
a phony sits at table and pretends
he is something he isn't —
going to Mass our union should
be loving, truthful — what we
tell to others by our presence
the truth —
The Mass is the sacrifice of Calvary
sacramentally made present —
They stripped Joseph —
They stripped Jesus —
A hypocrite is one who pretends
he is moral and religious,
part of the community —
and he is not at all —
It is a lie —
Joseph's brothers because of their
jealousy and seeking power hated
Joseph —
The devil hates those prophets,
saints, martyrs spreading
God's Word, His love —
The devil acted through men
who put Jesus to death —
the devil acted in Joseph's
brothers — they lied to their
father —
Joseph was chosen by God to continue
in the formation of the Jewish
people —
Jesus is the way, the truth and
the life —
The Jewish people had to be
faithful to the one true God.
Remember the woes to the Pharisees —
They were not practicing what
they preached — they were
teaching about God, but did not
love —
Matthew 23: 13-14
Alas for you, scribes and Pharisees, you hypocrites! You shut up the kingdom of Heaven in people's faces, neither going in yourselves nor allowing others to go who want to.
R. The hypocrites wore the mask —
Jesus: Deception is your game —
before men who want the truth — you
come before to show your
righteousness when in fact
what you do wrong you argue
to prove your innocence —
wash yourselves in your hearts
of your cold hearts, lies and
deceptions —
St. Paul walked in My footprints —
suffering and enduring for the
sake of the Gospel —
White - washed tombs —
Folly, men, who are like the hypocrites
the Pharisees —
Woe to you
For I am love —
Walk in the ways likened to Me —
The Church is to be a strong community —
R. A prayer:
Dear God, I love You
Dear God, I need You —
Dear God, I thank You —
Dear God, You are my Savior and my God —
Dear God, You are my strength in due season,
Dear God, Thou I walk in the valley —
Your hand I hold for You are
forever with me —
Dear God, I worship You!!
I love You, Jesus!!
Good habits — the virtues

Faith
Theological — Hope
Love
Prudence
Cardinal — Justice
Virtues Fortitude
Temperance

Tree of death — Bad habits
anger
cruelty
disobedience
lying
quarreling
murder
indifference
tyranny
dishonesty
lust
theft
pride
impurity
jealousy
envy
greed
cowardice
seeking power for power sake
Sin is an act of the will in which
we turn from God —
our true end and
choose something else more than God for our goal —
A willful thought, word, deed,
omission contrary to the
law of God, the law of love —
Sin is hateful —
Sin degrades us
Sin makes us miserable
Sin is an offense against an infinite, good God
Sin turns from love to hatred
to not love God and others as our self —
Sin weakens our will to continue
sinning
Exodus 20: 2-5
'I am Yahweh your God who brought you out of Egypt, where you lived as slaves.

'You shall have no other gods to rival me.

'You shall not make yourself a carved image or any likeness of anything in heaven above or on earth beneath or in the waters under the earth.

'You shall not bow down to them or serve them. For I, Yahweh your God, am a jealous God and I punish a parent's fault in the children, the grandchildren, and the great–grandchildren among those who hate me;
R. We owe God our love, reverence,
homage and service —
God is Supreme
all - knowing
all - wise
all - powerful
all - good
all - holy
all - just
all - merciful

Joseph was sold into slavery
Joseph had dreams
Joseph interpreted dreams
Joseph was blessed and
he was united with his brothers
and his father in the end!!
Cain hated his brother so
much he killed him —
Jesus called the Apostles to
build up the Church —
Jesus made the Apostles
the hierarchy of the Church and priests of the Church.
Peter the first pope
Noah came from Seth —
The earth had become corrupt
at the time of Noah —
Genesis 9: 8-15
God spoke as follows to Noah and his sons, 'I am now establishing my covenant with you and with your descendants to come, and with every living creature that was with you: birds, cattle and every wild animal with you; everything that came out of the ark, every living thing on earth. And I shall maintain my covenant with you: that never again shall all living things be destroyed by the waters of a flood, nor shall there ever again be a flood to devastate the earth.'

'And this', God said, 'is the sign of the covenant which I now make between myself and you and every living creature with you for all ages to come: I now set my bow in the clouds and it will be the sign of the covenant between me and the earth. When I gather the clouds over the earth and the bow appears in the clouds, I shall recall the covenant between myself and you and every living creature, in a word all living things, and never again will the waters become a flood to destroy all living things.
R. Noah prepared the ark as
God commanded —
Today we are given the Church —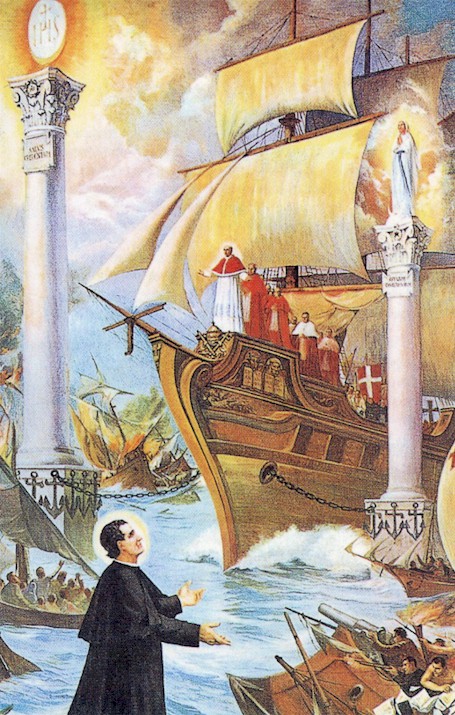 R. Here are pictures I got in
Florida
January 31, 2012
Feast of Don Bosco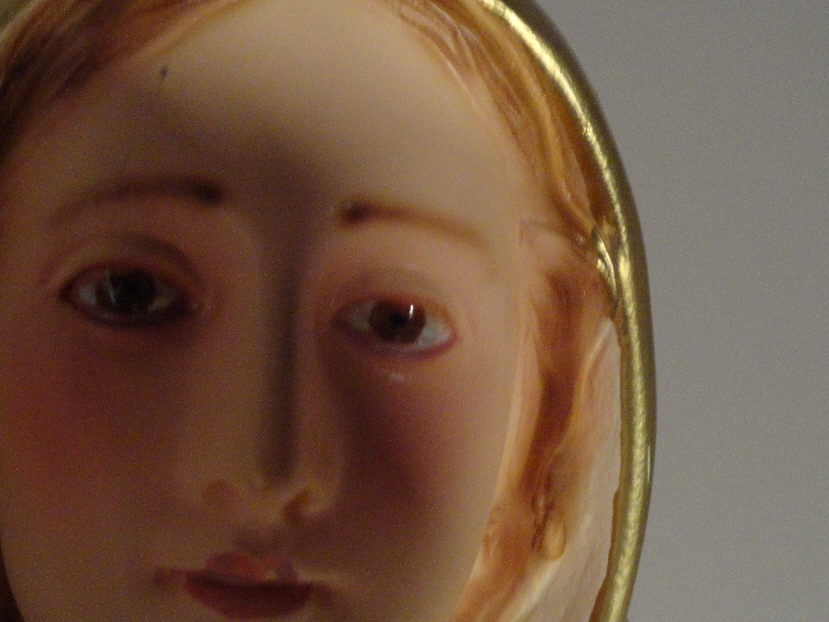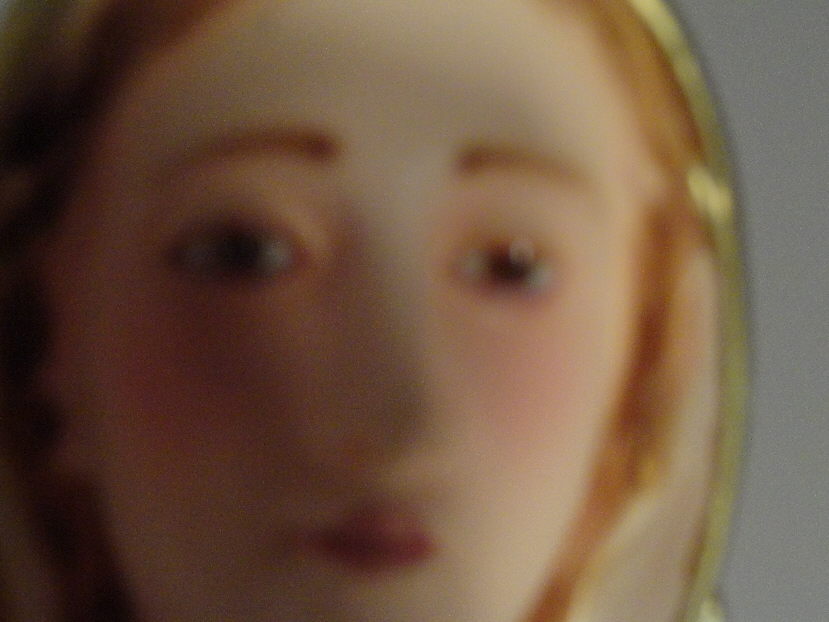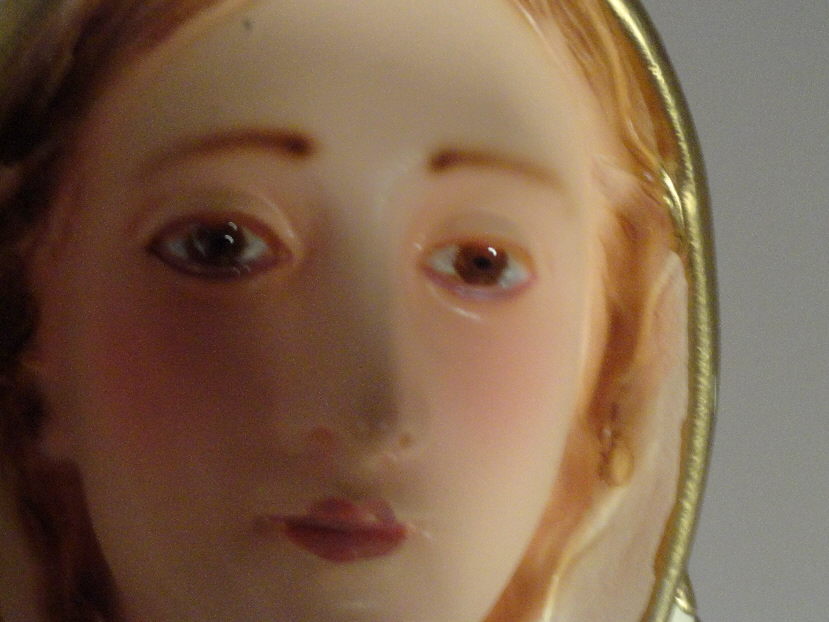 The Archbishop picked February 2, 2007 for us to have
24 hour exposition of the Blessed Sacrament.
Here is how Mary appeared
February 2, 2012 in Clearwater —
(We had been doing 24 hour adoration before the tabernacle since August 13, 2004.)

February 13, 2012 the monstrance in China turned.


Micah 7: 14-15, 18-20
With shepherd's crook
lead your people to pasture,
the flock that is your heritage,
living confined in a forest
with meadow land all round.
Let them graze in Bashan and Gilead
as in the days of old!
As in the days
when you came out of Egypt,
grant us to see wonders!

What god can compare with you
for pardoning guilt
and for overlooking crime?
He does not harbour anger for ever,
since he delights in showing faithful love.
Once more have pity on us,
tread down our faults;
throw all our sins
to the bottom of the sea.
Grant Jacob your faithfulness,
and Abraham your faithful love,
as you swore to our ancestors
from the days of long ago.
Books written by the cofounder of Shepherds of Christ Ministries

Mass Book
A Journey Into the Heart of Jesus - Author: Rita Ring. Discerned by: Fr. Edward J. Carter S.J. Imprimatur
$ 12.00 plus postage

Mass Book, by Rita Ring: Many of the entries in the Priestly Newsletter Volume II from a spiritual journal came from this book. These entries
are to help people to be more deeply united to God in the Mass. This book is available in English and Spanish with the Church's Imprimatur.
$12

Rosary Meditations for Parents and Children, by Rita Ring, Short Meditations for both parents and children to be used when praying the
rosary. These meditations will help all to know the lives of Jesus and Mary alive in their Hearts. Available in both English and Spanish with
the Church's Imprimatur. $10

God's Blue Book I
Teachings to Lift You Up. Author: Rita Ring. Discerned by: Fr. Edward J. Carter S.J.
$ 10.00 plus postage

God's Blue Book I by Rita Ring. Open Anywhere This book will change your life. These are beautiful love letters to us from Jesus. A million books have been printed and circulated. Jesus loves us so much He wants a personal relationship with us He wants us to go to the Eucharist and be with Him before the tabernacle. $10

God's Blue Book II
The Fire of His Love. Author: Rita Ring. Discerned by Fr. Edward J. Carter S. J.
$ 10.00 plus postage

God's Blue Book II by Rita Ring. Letters from Jesus about His on fire love Jesus wants this great intimacy with us On fire love Personal love letters from Jesus about the love of His Heart A book on surrender Fr. Carter said! $10

God's Blue Book III
Love God, Love One Another. Author: Rita Ring. Discerned by Fr. Edward J. Carter S.J.
$ 10.00 plus postage

God's Blue Book III by Rita Ring. Fr. Carter's favorite book It is about loving and forgiving each other Being pure in heart A book for unity in family, community, in life!! $10

God's Blue Book 4
The Love of the Hearts of Jesus and Mary Author: Rita Ring
$ 5.00 plus postage

God's Blue Book IV by Rita Ring. This book is about the love Jesus has for Mary and Mary has for Jesus and Jesus and Mary have for us It is truly the Love of the Two Hearts. Mary appeared every day at the Holy Spirit Center Fr. Carter was there. Mary's first apparition July 5, 1994. $5

God's Blue Book 5
So Deep Is the Love of His Heart. Author: Rita Ring.
$ 5.00 plus postage

God's Blue Book V by Rita Ring. Jesus wants to be the bridegroom of our soul He is our beloved Jesus tells us about pure love how we are to be pure of heart and love God and love others. It is a must, to hear about love from Jesus Jesus is love $5

God's Blue Book 6A by Rita Ring. Rosaries from Their Hearts during apparitions. Jesus and Mary appeared every day and I received rosaries from Them and They were transcribed from a tape. Also messages of love from Jesus on days of January, 1995 About Baptism writings from Fr. Carter and the Scriptures. $10

God's Blue Book 6B by Rita Ring. Jesus and Mary appeared every day in February, 1995 So beautiful transcribed from a tape the Stations, 7 Sorrows, prayers in the Prayer Manual, the Holy Spirit Novena Book and the Song Book. Pure love loving and forgiving a book about Jesus' love, baptism, grace and Fr. Carter's Newsletter. $10

Rosaries from the Hearts of Jesus and Mary Book 1. Mary appeared in Clearwater December 17, 1996 in rainbow color and these rosaries left the printer the same day from Apparitions of Jesus and Mary transcribed from a tape. $10

Blue Rosary Book
Rosaries From the Hearts of Jesus and Mary - Volume II
$ 12.00 plus postage

Rosaries from the Hearts of Jesus and Mary Book 2. This is a book of so many rosaries - transcribed from a tape. So many beautiful rosaries. pages $12

Short Rosary Meditations for the Elderly, Ill and Homebound. This book is so important with pictures they can open it and lay it on their laps and pray the rosary. $10

Messages From Jesus
Given by Jesus to His Messenger Author: Rita Ring. Discerned by: Fr. Edward J. Carter S.J.
This book is 8 1/2" by 11" and you can open it up and sit it on your lap.

$ 10.00 plus postage

Messages for the Elderly, Ill and Homebound. This is a big book of loving messages for nursing home people and homebound from Jesus and Mary Their lives are so important united to the Mass offering up their suffering, their lives for the souls of this earth. $10

Daily Messages from Heaven. First book of Daily Messages. $10

Color the Lives of Jesus and Mary. Volumes 1 through 7. Coloring books and meditations for grade school children and others on the mysteries of the rosary - really good. $5 each.
| | | |
| --- | --- | --- |
| | | Guiding Light homily series - Reflect on the Word - Cycle B The Word leaves an impression on our souls. In my thoughts and reflections are born a more tangible understanding of these eternal concepts presented in the Gospels and the readings. Anyone can read a sentence, but not anyone can absorb it's true meaning. Truth, in this day and age, is almost a matter of opinion or individual entitlement. We believe that Christ's truth is our Roman Catholic Church. We, as priests, champion it's teachings; we are ambassadors for the Pope and Christ to those faces looking at us. We are the light by which our congregation reads to reflect upon real truth and we do it hand in hand. $15 |
Guiding Light homily series - Steadfast to the Son - Cycle A The sunflower is a great example of how we should be steadfastly guided by light. What a powerful thought that this exceptional plant is not stuck in one pose day in and day out, yet adaptable and magnetized to the sun. We feel the same about our Son. Our heads turns to face Christ as each day presents its challenges to find light. We join together like plants in a field and soak up the Son through the pulpit. We are a warm circle of strength using the wind of our breath to carry our priests' words, Christ's words, to new rich soil. $15

Guiding Light - Feed My Soul - Cycle C In a world rapidly advancing and encouraging personal gain, we are faced with modern problems. There is a challenge to find time in our busy schedules for Sunday Mass or a family meal. We are able to research, shop, bank and even work without hearing one human voice. It is no wonder that we may often feel disconnected and famished at our week's end. In Fr. Joe's third book of homilies from Cycle C, we are reminded of the charity that Christ intended us to show each other. We have a calling to turn the other cheek and be the Good Samaritan to others. We are rewarded with the Father's kingdom and love when we are not worthy. We are not left alone or hungry. $15
| | |
| --- | --- |
| | Guiding Light - Focusing on the Word - Cycle B At times we may feel that our path to Christ is a bit "out of focus". Like the disciples in the Book of Mark, this ordinary life clouds our vision of Christ's Divinity. We may doubt the practicality or possibility of applying His teachings and example to our modern life. Cycle B's homilies are a "guiding light" to help us realize Jesus' Messianic greatness and His promise of better things to come. $15 |
| | | |
| --- | --- | --- |
| | | Guiding Light - The Word Alive in Our Hearts. - Cycle A (partial) Homilies by the Reverend Joe Robinson given at St. Boniface Church in Cincinnati, Ohio. It is a tremendous honor Fr. Joe has allowed us to share these great gifts with you – for greater holiness and knowing more and more about God. $10 |
Books written by the founder of Shepherds of Christ Ministries
Response to God's Love by Fr. Edward J. Carter, S.J. In this book Fr. Carter speaks of God as the ultimate mystery. We can meditate on the interior life of the Trinity. Fr. Carter tells us about our uniqueness in the Father's Plan for us, how the individual Christian, the Church and the world are in the state of becoming. Imprimatur. $10

Shepherds of Christ - Selected Writings on Spirituality for all People as Published in Shepherds of Christ Newsletter for Priests. Contains 12 issues of the newsletter from July/August 1994 to May/June 1996. $15

Shepherds of Christ - Volume 2: by Fr. Edward J. Carter, S.J. Contains issues 13-29 of the newsletter (September/October 1996 - Issue 5, 1999) $15

Shepherds of Christ - Volume 3 by Fr. Edward J. Carter, S.J. Contains Newsletter Issues 1 through 4 of 2000 including Fr. Carter's tremendous Overview of the Spiritual Life $10

Tell My People
Messages from Jesus and Mary Author: Fr. Edward J. Carter S.J. Imprimi Potest
$ 10.00 plus postage

Tell My People. Messages from Jesus and Mary (As given to Fr. Edward Carter, S.J.) One of Fr. Edward Carter, S.J.'s Synopsis of the Spiritual Life From Jesus to Fr. Carter "On Holy Saturday, 1994, Jesus told me that on the following day, Easter, I would also begin to receive messages for others. Our Lord also told me that some of these were eventually to be published in a book and here is that book." $10

Spirituality Handbook
Shepherds of Christ Associates Spirituality Handbook - A Way of Spiritual Life
Author: Fr. Edward J. Carter S.J. Imprimi Potest
$ 3.00 plus postage

Spirituality Handbook. Fr. Edward Carter, S.J. did 3 synopsis of the spiritual life. The Spirituality Handbook, the Priestly Newsletter 20he Tell My People book. The way of spiritual life proposed to the members of Shepherds of Christ Associates is centered in consecration to the Hearts of Jesus and Mary. All aspects of the spiritual life discussed below should be viewed as means to help members develop their lives in consecration to Christ, the Sacred Heart, and to Mary, the Immaculate Heart. $3

The Spirituality of Fatima by Fr. Edward J. Carter, S.J. The Fatima apparitions and messages received official Church approval in 1930. In giving her official approval to the Fatima event, the Church tells us that what took place at Fatima involving the three young visionaries is worthy of our belief. $5

Shepherds of Christ Prayer Manual
Shepherds of Christ Associates Prayers
Author: Fr. Edward J. Carter S.J.
$ .50 plus postage

Shepherds of Christ Prayer Manual. The Shepherds of Christ has prayer chapters all over the world praying for the priests, the Church and the world. These prayers that Father Carter compiled in the summer of 1994 began this worldwide network of prayer. Currently the prayers are in eight languages with the Church's Imprimatur. We have prayed daily for the priests, the Church, and the world since 1994. Associates are called to join prayer Chapters and help us circulate the newsletter centered on spreading devotion to the Sacred Heart and Immaculate Heart and helping to renew the Church through greater holiness. Please form a Prayer Chapter & order a Prayer Manual.

Priestly Newsletter - 2000 #1 - CD. - Christ is Our Strength - Fr. Edward Carter, S.J. read it the year he died. It is so beautiful. "This brief passage contains one of the greatest lessons of the spiritual life. As we progress along our spiritual journey, we become increasingly aware of how weak we are in our-selves, but how strong we are in Christ. To experience our weakness involves suffering. The degree and kind of suffering can vary. The suffering can include the experience of the classical dark night of the spirit as described by St. John of the Cross. One of the main purposes of the dark night is to make a person keenly aware of his or her helplessness without God." quote by Fr. Carter from the newsletter $10

Priestly Newsletter 2000 Issue 2
Audio CD - Read by Father Edward J. Carter
$ 10.00 plus postage

Priestly Newsletter - 2000 #2 - CD. - Suffering: A Source of Life - Fr. Edward Carter, S.J. read it the year he died. Fr. Carter knew suffering that year. His voice is so powerful as he read each Newsletter from his heart and soul. "Every man has his own share in the redemption. Each one is also called to share in that suffering through which the redemption was accomplished. He is called to share in that suffering through which all human suffering has also been redeemed. In bringing about the redemption through suffering, Christ has also raised human suffering to the level of the redemption. Thus each man in his suffering can also become a sharer in the redemptive suffering of Christ..." quote by Fr. Carter from the newsletter $10
Light, Happiness, & Peace
Journeying Through Traditional Catholic Spirituality Author: Fr. John J. Pasquini
$ 10.00 plus postage

This book Light, Happiness and Peace is a journey into the spiritual life an awakening of deeper life IN HIM. Here are some of the comments we received from bishops and cardinals about the book. Cardinal – Pontifical Council for Culture – Vatican City "I am sure that this book, Light, Happiness and Peace through a discussion on traditional Catholic Spirituality will contribute in bringing back prayer into the mainstream of life." $10

In Imitation of Two Hearts
Prayers for Consolation, Renewal and Peace in Times of Suffering Author: Fr. John J. Pasquini
$ 10.00 plus postage

In Imitation of Two Hearts - Prayers for Consolation, Renewal and Peace in Times of Suffering Fr. John J. Pasquini leads a suffering soul to the gentle Hearts of Jesus and Mary. In these most loving Hearts - the prayers by Fr. John Pasquini - help the person suffering to know more deeply the pascal mystery of death/resurrection. President of the Pontifical Council for Health $10

Authenticity
Authenticity - Prayers and Meditations Author: Fr. John J. Pasquini
$ 10.00 plus postage

Authenticity, the Yellow Book of prayers by Fr. John Pasquini, can lead the soul into deeper intimacy with the Father, Son, and Holy Spirit, can lead to greater love of Mary which leads to the unitive life and greater holiness. The book of prayers Authenticity by Fr. John J. Pasquini is to help one grow ever deeper in the Unitive life. Apostolic Nuncio – Archbishop – Philippines "With Authenticity, much is gained in prayer, and much is accomplished through prayer. More especially if prayer is directed in behalf of the Church." $10

Medicine of Immortality
Prayers and Meditations for Mass and Eucharistic Adoration Author: Fr. John J. Pasquini
$ 10.00 plus postage

"In Medicine of Immortality, Father John Pasquini offers his readers the richness of Catholic devotional prayer, the wisdom of the Fathers and, most of all, the fruits of his own prayer and meditation before the Blessed Sacrament. I recommend this book to all who wish to grow in their love for the Lord, who sustains the life of His Church through the precious gift of His Body and Blood." Francis Cardinal George, O.M.I., Archbishop of Chicago $10

Ecce Fides
Pillar of Truth - Dedicated to defending Catholic beliefs through reason, Scripture, and the life of the Holy Spirit Author: Fr. John J. Pasquini
$ 10.00 plus postage

Ecce Fides is a work dedicated to defending Catholic beliefs through reason, Scripture, and the life of the Holy Spirit. "It is important that we (as people of God) return to the source of life, our faith, which is usefully exposed in this volume, and take it out to our contemporaries, evangelizing them and their cultures and inculturating the Gospel." Cardinal – Pontifical Council for Culture – Vatican City $10

| | | | |
| --- | --- | --- | --- |
| | | Shepherds of Christ, a book of Spirituality Newsletters, is a compilation of the first nine newsletters from Fr. John J. Pasquini begining in August 2006. The Newsletter has been circulated to the priests and hierarchy spreading devotion to the Sacred Heart and the Immaculate Heart, promoting love for the Eucharist, greater love for the Church, the Priesthood, Mary and the Holy Spirit, the Mass, Prayer, and greater intimate relationship with God. $35 | |

Authenticity Ocean DVD
The Authenticity Prayer Book is read with the Ocean as a backdrop.
$ 10.00 plus postage

DVD - Prayers from the Authenticity Book read by Rita Ring on the ocean it is beautiful. 410

Nursing Home Mass DVD
A special mass by Fr. John J. Pasquini for those in nursing homes or homebound.
$ 10.00 plus postage

DVD - A beautiful Mass was done by Fr. John J. Pasquini for Nursing homes and assisted living. It was done at St. Joseph's magnificent chapel St. Joseph's assisted living in Jupiter, Florida. It last about 33 minutes. We call it the golden Nursing Home Mass from St. Joseph's. $10

Consolation by Fr. John J. Pasquini upon the passing of a loved one. Fr. Pasquini has done a beautiful gift of his most wonderful homily given when someone dear has died. It can be given as a tremendous gift. $10

| | | | |
| --- | --- | --- | --- |
| | | Divine Mercy Chaplet CD. Prayed by Fr. John J. Pasquini $10 | |
Lucia's Vision
Giclee Art Print on Canvas by Harold Kellner
$ 150.00 plus shipping
Call Rosie
1-888-211-3041
or
1-727-725-9312

Statues

OL-Guadalupe
w/glass - 28


OL-Grace
w/glass - 24


OL-Mt. Carmel
w/glass - 24


OL-Lourdes
w/glass - 24


IH-Mary
w/glass - 24


IH-Ivory
w/glass - 24


SH-Jesus
w/glass - 24


SH-Blessing
w/glass - 24


Sorrow M
w/glass - 24


Inf.-Prague
w/glass - 24


OL-Lourdes
w/glass - 18

OL-Mt. Carmel
w/glass - 18


I Heart
w/glass - 18

I Heart - Ivory
w/glass - 18

OL-Grace
w/glass - 18

SH-Jesus
w/glass - 18


OL-Guadalupe
w/glass - 12


PV-Fatima
w/glass - 27


PV-Fatima
w/glass - 18


PV-Fatima
w/glass - 15


OL-Fatima
w/glass - 18


PV-Fatima
w/glass - 12


OL-Fatima
w/glass - 11


St. Padre Pio


St. Joseph


St. Therese


St. Francis


St. Anthony


St. Claire


Limpias


St. Jude


Divine Mercy


Holy Family


Angel


St. Philomena


Pieta - Marble


Pieta - Color


Holy Family 12


St. Anthony - 18


St. Francis - 18


St. Joseph - 18


St. Therese - 18


St. Rita - 18


St. Clare - 12


St. Rita - 12


St. Padre Pio - 12


Divine Mercy - 12


St. Michael - 11


Limpias - 8



Shepherds of Christ Ministries
P. O. Box 627
China, IN 47250

Toll free - 1-888-211-3041
Local - 1-812-273-8405
fax - 1-812-273-3182
web: www.sofc.org
e-mail: info@sofc.org


| | | | |
| --- | --- | --- | --- |
| | Size | Price | Quantity |
| Holy Family | 24" | $180 | |
| Limpias | 24" | $125 | |
| St. Anthony | 24" | $125 | |
| St. Claire | 24" | $125 | |
| St. Francis | 24" | $125 | |
| St. Joseph | 24" | $125 | |
| St. Jude | 24" | $125 | |
| St. Padre Pio | 24" | $125 | |
| St. Therese | 24" | $125 | |
| Divine Mercy | 22" | $125 | |
| Angel | 22" | $100 | |
| St. Philomena | 20" | $100 | |
| St. Philomena | 16" | $65 | |
| St. Joseph | 18" | $65 | |
| St. Francis | 18" | $65 | |
| St. Anthony | 18" | $65 | |
| St. Rita | 18" | $65 | |
| St. Therese | 18" | $65 | |
| Pieta - Color | 15" | $125 | |
| Pieta - Marble | 15" | $125 | |
| Holy Family | 12" | $75 | |
| St. Padre Pio - standing | 12" | $100 | |
| St. Padre Pio - sitting | 9" | $100 | |
| St. Michael | 11" | $40 | |
| St. Rita | 12" | $40 | |
| Divine Mercy | 12" | $50 | |
| St. Claire | 12" | $40 | |
| Pieta - Color | 8" | $75 | |
| Pieta - Marble | 8" | $75 | |
| Limpias | 8" | $25 | |
| Our Lady of Guadalupe w/glass | 28" | $500 | |
| Our Lady of Mt. Carmel w/glass | 24" | $500 | |
| Immaculate Heart of Mary w/glass | 24" | $500 | |
| Immaculate Heart - Ivory w/glass | 24" | $500 | |
| Infant of Prague w/glass | 24" | $500 | |
| Our Lady of Grace w/glass | 24" | $500 | |
| Our Lady of Lourdes w/glass | 24" | $500 | |
| Sacred Heart of Jesus w/glass | 24" | $500 | |
| Sacred Heart -Blessing w/glass | 24" | $500 | |
| Sorrowful Mother w/glass | 24" | $500 | |
| Immaculate Heart of Mary w/glass | 18" | $300 | |
| Immaculate Heart - Ivory w/glass | 18" | $300 | |
| Sacred Heart of Jesus w/glass | 18" | $300 | |
| Our Lady of Lourdes w/glass | 18" | $300 | |
| Our Lady of Grace w/glass | 18" | $300 | |
| Our Lady of Mt. Carmel w/glass | 18" | $300 | |
| Our Lady of Guadalupe w/glass | 12" | $200 | |
| Fatima w/glass | 11" | $150 | |
| Fatima w/glass | 18" | $250 | |
| Pilgrim Virgin w/glass | 12" | $160 | |
| Pilgrim Virgin w/glass | 15" | $200 | |
| Pilgrim Virgin w/glass | 18" | $250 | |
| Pilgrim Virgin w/glass | 27" | $450 | |


Call for Shipping Price (1-888-211-3041)


Name


Sub-Total

Address


IN Tax (7%)

City


Shipping

State Zip


Donation

Telephone


Order Total
Call Rosie
1-888-211-3041
or
1-727-725-9312



Immaculate Heart and Sacred Heart Pictures Available
with & without frames - different sizes available