April 17, 2011
April 18th Holy Spirit Novena
Scripture selection is Day 8 Period I.

The Novena Rosary Mysteries
for April 18th are Joyful.
Rita will do the Sydney Rosary
on Tuesday April 18th at 6:20 PM
Please Tune In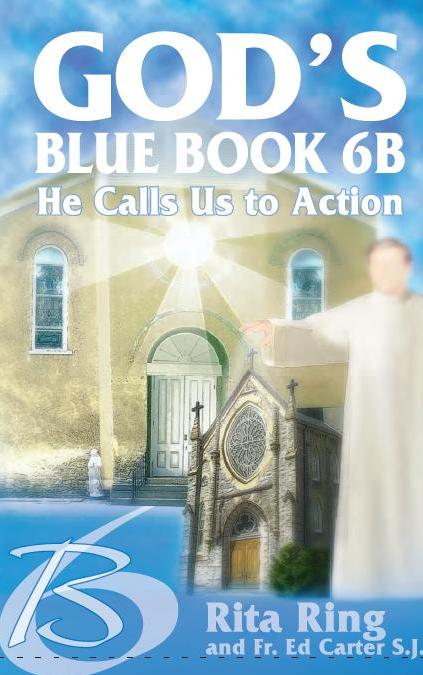 The Blue Book 6B
is Available Now.
New!
Order your copy today!

$15.00 plus shipping
Call Doris
1-888-211-3041
1-812-273-8405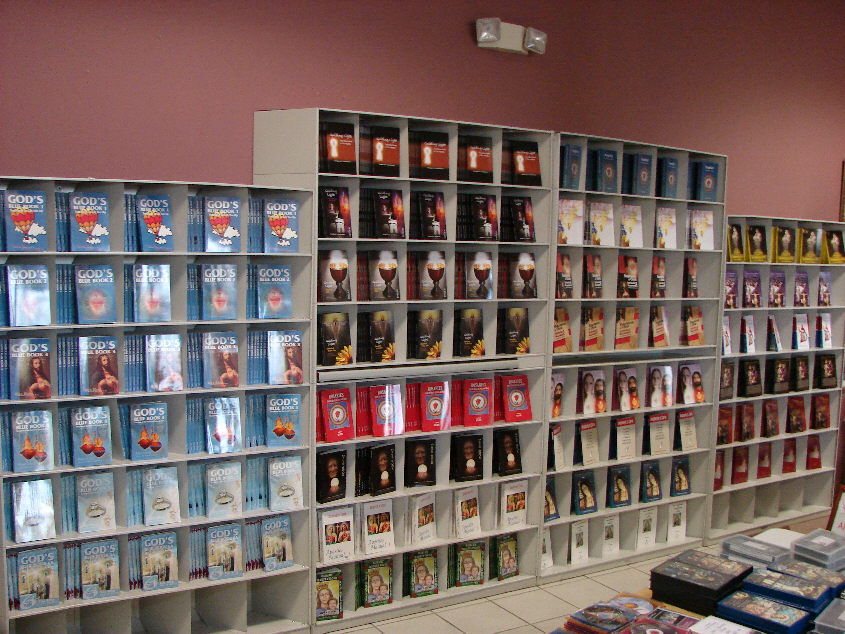 The Florida Book Store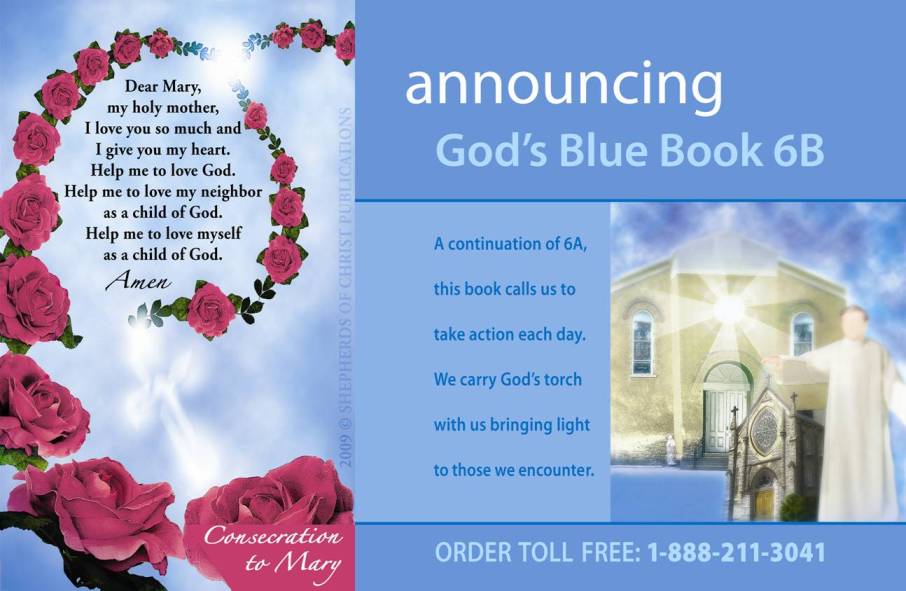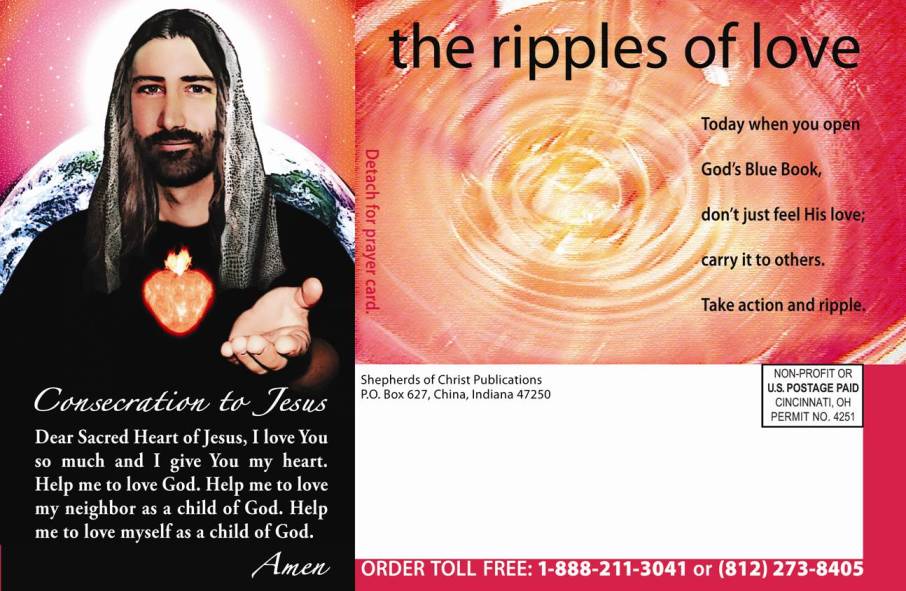 April 17, 2011
R. We become numb to what is happening
in the world — We see blindly —
Old habits of division and old vices of
hate — generationally is acted out
with blind eyes —
We are the Father's family — the
human family — Family — God
the Father wants us one — wants
us harmonious — wants us united —
The devil comes to tear apart —
but countries need to work together,
act like neighbors, act like
brothers
I pray not only for these
but also for those
who through their teaching
will come to believe in me.
May they all be one,
just as, Father, you are in me
and I am in you,
so that they also may be in us,
so that the world may believe
it was you who sent me.
I have given them the glory
you gave to me,
that they may be one as we are one.
With me in them and you in me,
may they be so perfected in unity
that the world will recognise
that it was you who sent me
and that you have loved them
as you have loved me.
R. And Jesus says "and the world
hated them" because they are not
like the world —
The devil is real —
Hell is real
Elements are in disorder because
of the sin of Adam and Eve
Animals in disorder because
of the sin of Adam and Eve —
Brothers turn against brother —
like Joseph's brothers in
Genesis
Cain killed Abel Chapter 4 of
Genesis —
Baptism takes away original sin,
but its tendencies are still there
for the deadly sins —
pride, greed, envy, wrath, lust, gluttony, and sloth
Generational wars — divisions —
tearing apart — blinded —
killing woman and children for
generational anger —
wanting power —
Wars such as World War I and World War II
so brutal —
a struggle for power
inhumanity to man —
I remember a message I got long
ago when there were bad tires
on cars and who was at fault and
the infidelity of leaders —
All day, every moment broadcasting
the news that could have been really
misrepresented and Our Lord said
"I'll give you something to talk
about on your News"
We were so blessed —
We are so blessed —
We are jealous —
We are seeking power —
We can leave God's message of
loving Him and our brothers
be washed down by greed
and seeking power —
generational anger —
Marriages are torn apart once started
in love by the evil one trying
to divide — The married couple divorcing
may have thought lies about
the other and given into selfishness —
We are a world of many failed families,
marriages, where God wanted
the family to be a little Church —
Even the preciousness of babies —
has been opened to the blindness
of killing little babies in
the womb — a violation of the
5th Commandment —
Playing God — killing a baby
God the Father gave life to —
God created a harmonious,
orderly world —
Man sinned —
Our blindness in not loving
is deep rooted —
hidden in generational sins
because of power and
anger and greed, jealousies —
Oh God help us to see
Holy Spirit enlighten us
Holy Spirit enlighten our eyes —
Help us to work and pray for unity
in the Church —
in the Father's family —
Help us to pray the prayers
Jesus gave us — so the
Holy Spirit is the one filling our
hearts —
The Sacred Heart is the King and center of
all men's hearts on this
earth —
At the name of Jesus —
men must bow
Men seek God's will
Men are holy —
Living more and more in the
image and likeness of God
We move rapidly from today to the Passion
This is the servant song —
by Isaiah —

Isaiah 50: 4-7
Lord Yahweh has given me
a disciple's tongue,
for me to know how to give
a word of comfort to the weary.
Morning by morning
he makes my ear alert
to listen like a disciple.
Lord Yahweh has opened my ear
and I have not resisted,
I have not turned away.
I have offered my back
to those who struck me,
my cheeks to those
who plucked my beard;
I have not turned my face away
from insult and spitting.
Lord Yahweh comes to my help,
this is why insult has not touched me,
this is why I have set my face like flint
and know that I shall not
be put to shame.
written 4 or 5 centuries before Jesus —
Psalm 22: 1, 8-9, 16-20, 23-24
My God, my God, why have you forsaken me?

'He trusted himself to Yahweh, let Yahweh set him free!
Let him deliver him, as he took such delight in him.'

It was you who drew me from the womb
and soothed me on my mother's breast.

A pack of dogs surrounds me,
a gang of villains closing in on me
as if to hack off my hands and my feet.
I can count every one of my bones,
while they look on and gloat;
they divide my garments among them
and cast lots for my clothing.

Yahweh, do not hold aloof!
My strength, come quickly to my help,
rescue my soul from the sword,
the one life I have from the grasp of the dog!

'You who fear Yahweh, praise him!
All the race of Jacob, honour him!
Revere him, all the race of Israel!'

For he has not despised
nor disregarded the poverty of the poor,
has not turned away his face,
but has listened to the cry for help.
Philippians 2: 6-11
Who, being in the form of God,
did not count equality with God
something to be grasped.

But he emptied himself,
taking the form of a slave,
becoming as human beings are;
and being in every way
like a human being,
he was humbler yet,
even to accepting death,
death on a cross.

And for this God raised him high,
and gave him the name
which is above all other names;

so that all beings
in the heavens, on earth
and in the underworld,
should bend the knee at the name of Jesus
and that every tongue should acknowledge
Jesus Christ as Lord,
to the glory of God the Father.
R. The Passion according to Matthew
See Jesus and His abandonment
Jesus said "One of you will betray me"
Jesus had enemies who hated Him —
Jesus had enemies who wanted Him dead —
We can forget all that somebody did for us —
when they gave and gave like Jesus and
the devil can press on old wounds to convince
us to hate and be angry at someone who
loved us so much —
When one person gives a lot to another it is
imperfect — to judge another and expect
them to be perfect is to judge them above
what they are capable of giving.
We are imperfect ourselves, what right
do we have to judge others as if
we expect them to serve us and be
perfect in their love when we are
imperfect ourselves —
God grant us Your mercy —
For we are sinners —
We have sinned and
We are sorry —
Jesus paid a precious price for our sins —
Jesus shed His Blood for us —
Jesus was scourged —
Jesus was stripped
Jesus mocked
Jesus crowned with thorns —
Jesus was spit on —
Jesus was pounded on
Jesus carried the cross laden with
our sins —
Jesus was given vinegar and gall —
Jesus was crucified —
Jesus was nailed to the cross —
Jesus breathed His last —
"My God, my God, why have you forsaken me?"
Psalm 22:1
Jesus died
Jesus gave the last drop of His Blood
Jesus gave the last beat of His Heart
The veil of the sanctuary was torn in two
The earth quaked —
Jesus must have felt abandoned by those who were
closest to Him —
Even Mary and Martha were off in the distance —
Jesus came to show us the way to freedom —
To free us from evil —
Jesus is the Savior —
Jesus didn't give up His mission even though
He had to give up His life —
Jesus says whoever doesn't carry His cross
cannot be My disciple —
Take up your cross —
Making it our own —
Enduring it —
Take up means "embrace" your cross —
Love your cross
We are not suffering for the sake of suffering like
a masochist —
Jesus had to be true to Himself —
Jesus had to be true to His Father —
Accepting our cross — we get a deep peace —
God will never let us down —
This is the message of the resurrection —
Dear God
We pray for healing of the family tree —
the human race —
Oh God You shed Your blood for all souls —
Oh God we give ourselves to You —
We love You so very much —
Jesus: Can you even imagine My sorrow in the garden to know
despite My suffering in My passion and death many
souls would go to hell eternally —
Do you know that heartache of being alone, abandoned,
suffering because you feel unloved —
Now focus on the fate of the souls of hell —
Total abandonment — Total hatred in your heart —
not for a day, a month, a year — forever and ever
Can't you listen to My message of how to pray for the souls
of the earth, the souls in purgatory — Do you have to be
so focused on yourself — what others think of you — After
all I have given to you to prove My love for you and
you don't even say thanks to Me — you act as if this
Blue Book 6B is nothing — you are so used to ignoring
My visions, Mary's visions — the souls I asked you
to pray for and think about how you never have
enough — All I have given you, My letters of love
and you ignore Me and look away and listen to
satan tell you — you don't have enough —
How do I reach you — I pour out My gifts, My love and
you think your life is yours to act unloving
and block the Blue Books —
Souls are hungry — many are going to hell today forever —
Mary appeared in rainbow color the day you received
My Red Rosary Book with the rainbow telling of
Mary's apparitions in Cincinnati —
How can I reach you to do the work I called you to
do and quit focusing on yourself —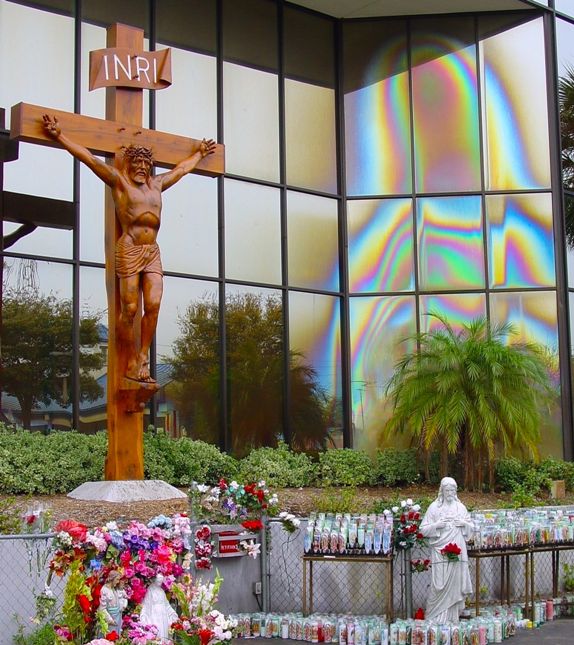 Our Lady of Clearwater
The building payment — oh — you aren't focused
on the fact My Mother appeared there 7 1/'2 years —
you think of yourselves —
Those who use My Jesus water have healings
physical and spiritual — you don't tell them
about the Blue Books and the water — so people
don't get reached —
I have given you Center after Center to do My work —
I have called Associates and Apostles, I have
given you insights into the love of My Heart —
The privilege that Mary appeared over and over again and
I called you — so you get angry and focus on
yourselves and block the message —
Now listen to every word of this message
Mary's Message from the Rosary of August 27, 1996

Mary speaks: I stood beneath the cross of my Son, and my Heart was in such pain for I saw Him before my eyes. I saw Him covered with blood. I saw Him die. My Heart, my children, my Heart to watch my Son, but my Heart, my Heart, how I suffered for my little children of the world that give in to this world and give up the love of my Son. O my little children of light, I give you this message. Carry this light into the darkness for your Mother Mary, for I stood beneath the cross and I cried. I cried for the little ones. I cried for the young ones, the ones that do not care and will lose their souls. How do I make you see for you will not listen to me? What can I do? I come. I appear. I beg. I plead. I give you these gifts from my Son, and you reject me. I do not deliver messages very often anymore for I have been ignored. The message is the same. You do not read the messages I have given to you. Please help me. Help the little children. I appear. I appear. I appear, and I am ignored. I stood beneath the cross, and I cried. I cried, and my Heart was in such anguish for my little children, for I am searching for them this day as I searched for the Child Jesus. Please, please help me. I cannot hold back the hand of my Son any longer. I am Mary, your Mother. I ask you to help my children. You are my children of light.

Song: O Lady of Light, shining so bright, be with us this day, guiding our way, O Lady, O Lady of Light.

Mary speaks: I appear to you as Our Mother of Sorrows.

(End of Mary's Message)
Look at your world —
You contain the Mighty Medicine, but you block it
because satan tells you to be ungrateful,
lethargic — focused on yourselves —
You get steeper and steeper into your rebellion
to the vocation I called you to —
and your lethargy is a sign — you miss the
message the world needs to make the Sacred Heart
the King and Center of their hearts, their families,
their lives —
What more signs could I give you to shake you —
I gave you these prayers to begin prayer
chapters and promised greater holiness
to Fr. Carter to those who pray —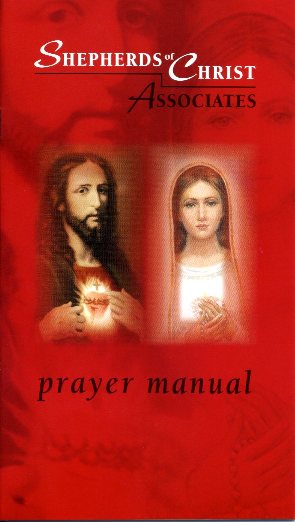 Jesus: Your world will continue to suffer — the Daily
Message of generational healing, healing
of the human family needs to reach those
I send to you in Florida, on the phones,
on the internet — you need to pray as I
have directed the 8 days and the Sidney
Rosary —
You ignore Me and give into satan —
Look at your world — can't you help the souls
I died for by loving your
brothers and giving your heart in love and service
to this mission —
Dead, Dead, Dead but the world is going deeper
and deeper into sin —
the messages in Blue Book 6B are now
16 years old from daily apparitions of
Myself and My Mother —
When you focus on yourselves — you block
My mission and it goes no where —
Men — look at your earth —
These are your brothers —
How can you ignore the broken marriages —
the lack of love — the aborted babies
Do you think My Mother did not appear at
Clearwater —
the Lady of Light —
the Queen of Peace —
The answer is in making Me the King of your
hearts —
If the hearts were loving as I commanded you
Matthew 22: 36-40

'Master, which is the greatest commandment of the Law?' Jesus said to him, 'You must love the Lord your God with all your heart, with all your soul, and with all your mind. This is the greatest and the first commandment. The second resembles it: You must love your neighbour as yourself. On these two commandments hang the whole Law, and the Prophets too.'
Jesus: If you put God first in your life as the 1st Commandment —
If you obeyed the commandments —
If you loved God with your whole heart, your
whole soul, your whole being —
You would be asking for forgiveness for your
own unloving, selfish ways —
Help Me —
This is a Movement God the Father
gave you to help bring this
Message of My writings to this
world
To help begin prayer chapters
that will go on, in these troubled times —
How can you focus on yourselves
and not My mission after
all I gave to you —
Look at the world since I
began these writings
20 years ago —
You are called by God the Father
to spread this mission
Mass Book

, by Rita Ring: Many of the entries in the Priestly Newsletter Volume II from a spiritual journal came from this book. These entries are to help people to be more deeply united to God in the Mass. This book is available in English and Spanish with the Church's Imprimatur. $12

Rosary Meditations for Parents and Children

, by Rita Ring, Short Meditations for both parents and children to be used when praying the rosary. These meditations will help all to know the lives of Jesus and Mary alive in their Hearts. Available in both English and Spanish with the Church's Imprimatur. $10
God's Blue Book I by Rita Ring. Open Anywhere — This book will change your life. These are beautiful love letters to us from Jesus. A million books have been printed and circulated. Jesus loves us so much — He wants a personal relationship with us — He wants us to go to the Eucharist and be with Him before the tabernacle. $10
God's Blue Book II by Rita Ring. Letters from Jesus about His on fire love — Jesus wants this great intimacy with us — On fire love — Personal love letters from Jesus about the love of His Heart — A book on surrender Fr. Carter said!

$10

God's Blue Book III by Rita Ring. Fr. Carter's favorite book — It is about loving and forgiving each other — Being pure in heart — A book for unity in family, community, in life!!

$10

God's Blue Book IV by Rita Ring. This book is about the love Jesus has for Mary and Mary has for Jesus and Jesus and Mary have for us — It is truly the Love of the Two Hearts. Mary appeared every day at the Holy Spirit Center — Fr. Carter was there. Mary's first apparition July 5, 1994. $5
God's Blue Book V by Rita Ring. Jesus wants to be the bridegroom of our soul — He is our beloved — Jesus tells us about pure love — how we are to be pure of heart and love God and love others. It is a must, to hear about love from Jesus — Jesus is love — $5
God's Blue Book 6A by Rita Ring. Rosaries from Their Hearts during apparitions. Jesus and Mary appeared every day and I received rosaries from Them and They were transcribed from a tape. Also messages of love from Jesus on days of January, 1995 — About Baptism — writings from Fr. Carter and the Scriptures. $10
God's Blue Book 6B by Rita Ring. Jesus and Mary appeared every day in February, 1995 — So beautiful — transcribed from a tape — the Stations, 7 Sorrows, prayers in the Prayer Manual, the Holy Spirit Novena Book and the Song Book. Pure love — loving and forgiving — a book about Jesus' love, baptism, grace and Fr. Carter's Newsletter.

$10

Apostles Manual. About the Movement - the structure of the Movement — All Ministries - from the time 3 months before Mary appeared in Clearwater and 3 months after. Rosaries of the 13ths, Fr. Carter's Newsletters. Messages from God the Father — Reaching the priests, the Church, the schools and the world. $20
Rosaries from the Hearts of Jesus and Mary Book 1. Mary appeared in Clearwater December 17, 1996 in rainbow color and these rosaries left the printer the same day from Apparitions of Jesus and Mary — transcribed from a tape. $10
Rosaries from the Hearts of Jesus and Mary Book 2. This is a book of so many rosaries - transcribed from a tape. So many beautiful rosaries. pages $12
Messages for the Elderly, Ill and Homebound. This is a big book of loving messages for nursing home people and homebound from Jesus and Mary — Their lives are so important — united to the Mass offering up their suffering, their lives for the souls of this earth. $10
Short Rosary Meditations for the Elderly, Ill and Homebound. This book is so important with pictures they can open it and lay it on their laps and pray the rosary. $10
Songs from Jesus Songbook. These loving songs were given from Jesus. So beautiful — Love Songs from Jesus of His love - helping us have pure and loving hearts. $3
Daily Messages from Heaven. First book of Daily Messages. $10
Color the Lives of Jesus and Mary. Volumes 1 through 7. Coloring books and meditations for grade school children and others on the mysteries of the rosary - really good. $5 each.

Response to God's Love

by Fr. Edward J. Carter, S.J. In this book Fr. Carter speaks of God as the ultimate mystery. We can meditate on the interior life of the Trinity. Fr. Carter tells us about our uniqueness in the Father's Plan for us, how the individual Christian, the Church and the world are in the state of becoming. Imprimatur. $10

Shepherds of Christ - Selected Writings on Spirituality for all People

as Published in Shepherds of Christ Newsletter for Priests. Contains 12 issues of the newsletter from July/August 1994 to May/June 1996. $15

Shepherds of Christ - Volume 2

: by Fr. Edward J. Carter, S.J. Contains issues 13-29 of the newsletter (September/October 1996 - Issue 5, 1999) $15

Shepherds of Christ - Volume 3

by Fr. Edward J. Carter, S.J. Contains Newsletter Issues 1 through 4 of 2000 including Fr. Carter's tremendous Overview of the Spiritual Life $10

Tell My People.

Messages from Jesus and Mary (As given to Fr. Edward Carter, S.J.) — One of Fr. Edward Carter, S.J.'s Synopsis of the Spiritual Life — From Jesus to Fr. Carter "On Holy Saturday, 1994, Jesus told me that on the following day, Easter, I would also begin to receive messages for others. Our Lord also told me that some of these were eventually to be published in a book—and here is that book." $10
The Spirituality of Fatima by Fr. Edward J. Carter, S.J. The Fatima apparitions and messages received official Church approval in 1930. In giving her official approval to the Fatima event, the Church tells us that what took place at Fatima involving the three young visionaries is worthy of our belief. $5

Shepherds of Christ

, a book of Spirituality Newsletters, is a compilation of the first nine newsletters from Fr. John J. Pasquini begining in August 2006. The Newsletter has been circulated to the priests and hierarchy spreading devotion to the Sacred Heart and the Immaculate Heart, promoting love for the Eucharist, greater love for the Church, the Priesthood, Mary and the Holy Spirit, the Mass, Prayer, and greater intimate relationship with God. $35

This book

Light, Happiness and Peace is a journey into the spiritual life — an awakening of deeper life IN HIM. Here are some of the comments we received from bishops and cardinals about the book. Cardinal – Pontifical Council for Culture – Vatican City "I am sure that this book, Light, Happiness and Peace through a discussion on traditional Catholic Spirituality will contribute in bringing back prayer into the mainstream of life." $10

In Imitation of Two Hearts - Prayers for Consolation, Renewal and Peace in Times of Suffering

Fr. John J. Pasquini leads a suffering soul to the gentle Hearts of Jesus and Mary. In these most loving Hearts - the prayers by Fr. John Pasquini - help the person suffering to know more deeply the pascal mystery of death/resurrection. President of the Pontifical Council for Health $10

Authenticity

, the Yellow Book of prayers by Fr. John Pasquini, can lead the soul into deeper intimacy with the Father, Son, and Holy Spirit, can lead to greater love of Mary which leads to the unitive life and greater holiness. The book of prayers Authenticity by Fr. John J. Pasquini is to help one grow ever deeper in the Unitive life. Apostolic Nuncio – Archbishop – Philippines "With Authenticity, much is gained in prayer, and much is accomplished through prayer. More especially if prayer is directed in behalf of the Church." $10

"In

Medicine of Immortality, Father John Pasquini offers his readers the richness of Catholic devotional prayer, the wisdom of the Fathers and, most of all, the fruits of his own prayer and meditation before the Blessed Sacrament. I recommend this book to all who wish to grow in their love for the Lord, who sustains the life of His Church through the precious gift of His Body and Blood." Francis Cardinal George, O.M.I., Archbishop of Chicago $10

Ecce Fides

is a work dedicated to defending Catholic beliefs through reason, Scripture, and the life of the Holy Spirit. "It is important that we (as people of God) return to the source of life, our faith, which is usefully exposed in this volume, and take it out to our contemporaries, evangelizing them and their cultures and inculturating the Gospel." Cardinal – Pontifical Council for Culture – Vatican City $10
Consolation by Fr. John J. Pasquini — upon the passing of a loved one. Fr. Pasquini has done a beautiful gift of his most wonderful homily given when someone dear has died.

It can be given as a tremendous gift. $10

DVD - A beautiful Mass was done by Fr. John J. Pasquini for Nursing homes and assisted living. It was done at St. Joseph's magnificent chapel — St. Joseph's assisted living in Jupiter, Florida. It last about 33 minutes. We call it the golden Nursing Home Mass from St. Joseph's. $10
DVD - Prayers from the Authenticity Book read by Rita Ring on the ocean — it is beautiful. 410
Divine Mercy Chaplet CD. Prayed by Fr. John J. Pasquini $10
Holy Spirit Novena CD. Prayers and scripture readings from the Holy Spirit Novena Booklet read by Rita Ring. $10
Guiding Light homily series - Steadfast to the Son - Cycle A — The sunflower is a great example of how we should be steadfastly guided by light. What a powerful thought that this exceptional plant is not stuck in one pose day in and day out, yet adaptable and magnetized to the sun. We feel the same about our Son. Our heads turns to face Christ as each day presents its challenges to find light. We join together like plants in a field and soak up the Son through the pulpit. We are a warm circle of strength using the wind of our breath to carry our priests' words, Christ's words, to new rich soil. $15
Guiding Light - Focusing on the Word - Cycle B — At times we may feel that our path to Christ is a bit "out of focus". Like the disciples in the Book of Mark, this ordinary life clouds our vision of Christ's Divinity. We may doubt the practicality or possibility of applying His teachings and example to our modern life. Cycle B's homilies are a "guiding light" to help us realize Jesus' Messianic greatness and His promise of better things to come. $15
Guiding Light - Feed My Soul - Cycle C — In a world rapidly advancing and encouraging personal gain, we are faced with modern problems. There is a challenge to find time in our busy schedules for Sunday Mass or a family meal. We are able to research, shop, bank and even work without hearing one human voice. It is no wonder that we may often feel disconnected and famished at our week's end. In Fr. Joe's third book of homilies from Cycle C, we are reminded of the charity that Christ intended us to show each other. We have a calling to turn the other cheek and be the Good Samaritan to others. We are rewarded with the Father's kingdom and love when we are not worthy. We are not left alone or hungry. $15

Guiding Light - The Word Alive in Our Hearts. - Cycle A (partial) —

Homilies

by the Reverend Joe Robinson given at St. Boniface Church in Cincinnati, Ohio. It is a tremendous honor Fr. Joe has allowed us to share these great gifts with you – for greater holiness and knowing more and more about God. $10

Shepherds of Christ Prayer Manual. The Shepherds of Christ has prayer chapters all over the world praying for the priests, the Church and the world. These prayers that Father Carter compiled in the summer of 1994 began this worldwide network of prayer. Currently the prayers are in eight languages with the Church's Imprimatur. We have prayed daily for the priests, the Church, and the world since 1994. Associates are called to join prayer Chapters and help us circulate the newsletter centered on spreading devotion to the Sacred Heart and Immaculate Heart and helping to renew the Church through greater holiness. Please form a Prayer Chapter & order a Prayer Manual.

Holy Spirit Novena Booklet.

In four languages with the Imprimatur with 18 scripture readings for two complete novenas – this very powerful Holy Spirit Novena has prayers for prayers for Protection by the Blood of Jesus, Healing, Strength and Light, To Be One with God, Father, Son and Holy Spirit, One with Jesus, To Dwell in the Hearts of Jesus and Mary, Prayer for the Holy Spirit and His Gifts, and the Word Alive in Our Hearts. All these prayers take about 10 minutes daily recited out loud. $1

Spirituality Handbook.

Fr. Edward Carter, S.J. did 3 synopsis of the spiritual life.

The

Spirituality Handbook, the

Priestly Newsletter 2000 Issue 3 and the Tell My People book.

The way of spiritual life proposed to the members of Shepherds of Christ Associates is centered in consecration to the Hearts of Jesus and Mary. All aspects of the spiritual life discussed below should be viewed as means to help members develop their lives in consecration to Christ, the Sacred Heart, and to Mary, the Immaculate Heart. $3
Priestly Newsletter - 2000 #1 - CD. - Christ is Our Strength - Fr. Edward Carter, S.J. read it the year he died. It is

so beautiful. "This brief passage contains one of the greatest lessons of the spiritual life. As we progress along our spiritual journey, we become increasingly aware of how weak we are in our-selves, but how strong we are in Christ. To experience our weakness involves suffering. The degree and kind of suffering can vary. The suffering can include the experience of the classical dark night of the spirit as described by St. John of the Cross. One of the main purposes of the dark night is to make a person keenly aware of his or her helplessness without God." quote by Fr. Carter from the newsletter $10

Priestly Newsletter - 2000 #2 - CD. - Suffering: A Source of Life - Fr. Edward Carter, S.J. read it the year he died. Fr. Carter knew suffering that year. His voice is so powerful as he read each Newsletter from his heart and soul. "Every man has his own share in the redemption. Each one is also called to share in that suffering through which the redemption was accomplished. He is called to share in that suffering through which all human suffering has also been redeemed. In bringing about the redemption through suffering, Christ has also raised human suffering to the level of the redemption. Thus each man in his suffering can also become a sharer in the redemptive suffering of Christ..." quote by Fr. Carter from the newsletter $10
We need to print the
Tiny Tot Rosary Books.
Can anyone please help us with the this?
1-888-211-3041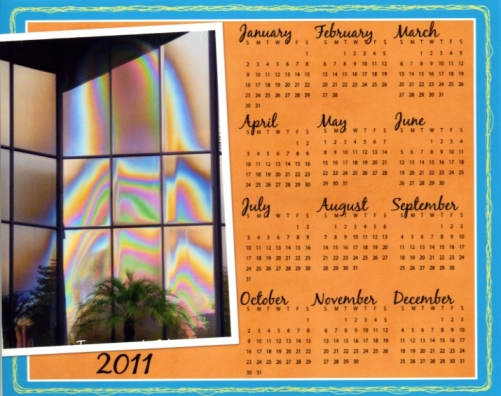 $1.00 plus shipping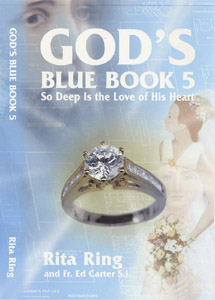 Books written by the cofounder of Shepherds of Christ Ministries

Writings by Rita Ring
Mass Book
A Journey Into the Heart of Jesus - Author: Rita Ring. Discerned by: Fr. Edward J. Carter S.J. Imprimatur
$ 12.00 plus postage
God's Blue Book I
Teachings to Lift You Up. Author: Rita Ring. Discerned by: Fr. Edward J. Carter S.J.
$ 10.00 plus postage
God's Blue Book II
The Fire of His Love. Author: Rita Ring. Discerned by Fr. Edward J. Carter S. J.
$ 10.00 plus postage
God's Blue Book III
Love God, Love One Another. Author: Rita Ring. Discerned by Fr. Edward J. Carter S.J.
$ 10.00 plus postage
God's Blue Book 4
The Love of the Hearts of Jesus and Mary Author: Rita Ring
$ 5.00 plus postage
God's Blue Book 5
So Deep Is the Love of His Heart. Author: Rita Ring.
$ 5.00 plus postage
Blue Rosary Book
Rosaries From the Hearts of Jesus and Mary - Volume II
$ 12.00 plus postage
Messages From Jesus
Given by Jesus to His Messenger Author: Rita Ring. Discerned by: Fr. Edward J. Carter S.J.
This book is 8 1/2" by 11" and you can open it up and sit it on your lap.

$ 10.00 plus postage
Apostle's Manual
Shepherds of Christ Overview: Very carefully discerned by Fr. Edward J. Carter S. J.
$ 20.00

Songs From Jesus
Given by Jesus to His Messenger Author: Rita Ring. Discerned by: Fr. Edward J. Carter S.J.
$ 5.00
Books written by the founder of Shepherds of Christ Ministries
Tell My People
Messages from Jesus and Mary Author: Fr. Edward J. Carter S.J. Imprimi Potest
$ 10.00 plus postage
Spirituality Handbook
Shepherds of Christ Associates Spirituality Handbook - A Way of Spiritual Life
Author: Fr. Edward J. Carter S.J. Imprimi Potest
$ 3.00 plus postage
Get a canvas print of Mary's image
with a sliver of glass and
a little bottle of
Jesus and Mary water.

The glass will be fixed behind the
back of the picture.

Cost — $200.00

Also available

a cup with a Mary's image on it

Cost — $15

Call Doris


1-888-211-3041
or
1-727-725-9312

Rosaries with Mary's Image Available
Aurora Borealis Beads

6mm - $30.00
8mm - $40.00

Call Doris
1-888-211-3041
or
1-727-725-9312

Statues

| | | |
| --- | --- | --- |
| | | |
| Sacred Heart of Jesus w/glass - 18 | Our Lady-Guadalupe w/glass - 12 | Limpias - 8 |
| | | |
| Immaculate Heart w/glass - 18 | I Heart - Ivory w/glass - 18 | Our Lady of Grace w/glass - 18 |
| | | |
| Our Lady-Mt. Carmel w/glass - 18 | Our Lady of Lourdes w/glass - 18 | Infant of Prague w/glass - 24 |
| | | |
| Sacred Heart of Jesus w/glass - 24 | Sacred Heart -Blessing w/glass - 24 | Sorrowful Mother w/glass - 24 |
| | | |
| I Heart - Ivory w/glass - 24 | I Heart of Mary w/glass - 24 | Our Lady of Lourdes w/glass - 24 |
| | | |
| Our Lady-Guadalupe w/glass - 28 | Our Lady of Grace w/glass - 24 | Our Lady-Mt. Carmel w/glass - 24 |
| | | |

| | | |
| --- | --- | --- |
| St. Padre Pio | St. Joseph | St. Therese |
| | | |
| St. Francis | St. Anthony | St. Claire |
| | | |
| Limpias | St. Jude | Divine Mercy |
| | | |
| Holy Family | Angel | St. Philomena |
| | | |
| Pieta - Marble | Pieta - Color | Holy Family |
| | | |
| St. Anthony - 18 | St. Francis - 18 | St. Joseph - 18 |
| | | |
| St. Therese - 18 | St. Rita - 18 | St. Clare - 12 |
| | | |
| | | |

| | | | |
| --- | --- | --- | --- |
| St. Rita - 12 | St. Padre Pio - 12 | Divine Mercy - 12 | St. Michael - 11 |


Shepherds of Christ Ministries
P. O. Box 627
China, IN 47250

Toll free - 1-888-211-3041
Local - 1-812-273-8405
fax - 1-812-273-3182
web: www.sofc.org
e-mail: info@sofc.org


| | | | |
| --- | --- | --- | --- |
| | Size | Price | Quantity |
| Holy Family | 24" | $180 | |
| Limpias | 24" | $125 | |
| St. Anthony | 24" | $125 | |
| St. Claire | 24" | $125 | |
| St. Francis | 24" | $125 | |
| St. Joseph | 24" | $125 | |
| St. Jude | 24" | $125 | |
| St. Padre Pio | 24" | $125 | |
| St. Therese | 24" | $125 | |
| Divine Mercy | 22" | $125 | |
| Angel | 22" | $100 | |
| St. Philomena | 20" | $100 | |
| St. Philomena | 16" | $65 | |
| St. Joseph | 18" | $65 | |
| St. Francis | 18" | $65 | |
| St. Anthony | 18" | $65 | |
| St. Rita | 18" | $65 | |
| St. Therese | 18" | $65 | |
| Pieta - Color | 15" | $75 | |
| Pieta - Marble | 15" | $75 | |
| Holy Family | 12" | $60 | |
| St. Padre Pio - standing | 12" | $40 | |
| St. Padre Pio - sitting | 8" | $50 | |
| St. Michael | 11" | $40 | |
| St. Rita | 12" | $40 | |
| Divine Mercy | 12" | $40 | |
| St. Claire | 12" | $40 | |
| Limpias | 8" | $25 | |
| Our Lady of Guadalupe w/glass | 28" | $500 | |
| Our Lady of Mt. Carmel w/glass | 24" | $500 | |
| Immaculate Heart of Mary w/glass | 24" | $500 | |
| Immaculate Heart - Ivory w/glass | 24" | $500 | |
| Infant of Prague w/glass | 24" | $500 | |
| Our Lady of Grace w/glass | 24" | $500 | |
| Our Lady of Lourdes w/glass | 24" | $500 | |
| Sacred Heart of Jesus w/glass | 24" | $500 | |
| Sacred Heart -Blessing w/glass | 24" | $500 | |
| Sorrowful Mother w/glass | 24" | $500 | |
| Immaculate Heart of Mary w/glass | 18" | $300 | |
| Immaculate Heart - Ivory w/glass | 18" | $300 | |
| Sacred Heart of Jesus w/glass | 18" | $300 | |
| Our Lady of Lourdes w/glass | 18" | $300 | |
| Our Lady of Grace w/glass | 18" | $300 | |
| Our Lady of Mt. Carmel w/glass | 18" | $300 | |
| Our Lady of Guadalupe w/glass | 12" | $200 | |
| Fatima w/glass | 11" | $150 | |
| Fatima w/glass | 18" | $250 | |
| Pilgrim Virgin w/glass | 12" | $160 | |
| Pilgrim Virgin w/glass | 15" | $200 | |
| Pilgrim Virgin w/glass | 18" | $250 | |
| Pilgrim Virgin w/glass | 27" | $450 | |


Call for Shipping Price (1-888-211-3041)


Name

Sub-Total
Address

IN Tax (7%)
City

Shipping
State Zip

Donation
Telephone

Order Total
Call Doris
1-888-211-3041
or
1-727-725-9312



Immaculate Heart and Sacred Heart Pictures Available
with & without frames - different sizes available

Call Doris
1-888-211-3041
or
1-727-725-9312
---
---
---

Copyright © 2011 Shepherds of Christ.
Rights for non-commercial reproduction granted:
May be copied in its entirety, but neither re-typed nor edited.
Translations are welcome but they must be reviewed for moral and
theological accuracy by a source approved by Shepherds of Christ Ministries
before any distribution takes place. Please contact us for more information.
All scripture quotes are from the New Jerusalem Bible, July 1990, published by Doubleday.
Revised: January 1, 2011
URL: http://www.sofc.org
Contact Information for Shepherds of Christ
Email: info@SofC.org
---
Shepherds of Christ Ministries
P.O. Box 627
China, Indiana 47250

Telephone: (toll free) 1-888-211-3041 or (812) 273-8405
FAX: (812) 273-3182