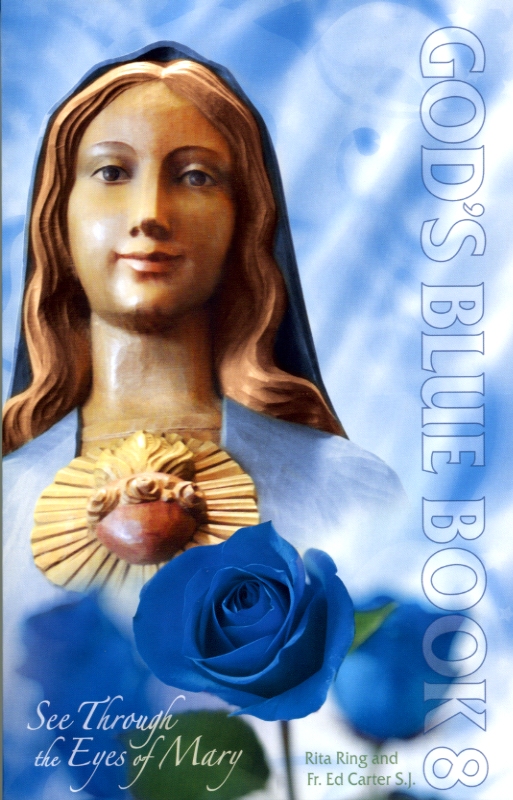 360 pages - large print
Call Rosie 1-888-211-3041
Introductory Offer

Blue Book 8 is $5.00
plus postage
until Pentecost.
It is a gift from Jesus and Mary
Pray for Special Intentions
Pray for Funds
Also Jesus wants us to be alive.

Jesus wants to operate in us,
fill us abundantly with
His life.

So we offer until Pentecost

Blue Book 9, 8, 7, 6C, 6B, 6A, 5 & 4 for $5.00 each plus postage.

| | | | | | | | | |
| --- | --- | --- | --- | --- | --- | --- | --- | --- |
| Blue Book 9 | Blue Book 8 | Blue Book 7 | Blue Book 6C | Blue Book 6B | Blue Book 6A | Blue Book 5 | Blue Book 4 | |

And you can use
a priority envelope and
get 3 books sent
and postage is only
about $6.00 for 3 books.

Give the gift that
keeps on giving –

In May give
Blue Book 8 a wonderful
gift for young mothers,
old mothers,
all mothers
and priests.

It is the month of May –
honor Mary –
April 22, 2013
R. Complete abandonment to God. The
dark night of the soul, but it comes in
light of realizing the presence of God within
our graced baptized soul. Of knowing God's
presence always with us. Of loving God so
much to give Him ourselves despite any distraction
satan may try to inject. A purity of heart,
a commitment to God, a strength of knowing
this reality – not despair as Judas – a
refreshment as martyrs knew of the
reality and presence of God in us in a special
way. A love for all – a pure love – perfect
love casts out fear. God in us – strength for
the weary soul, the tempted one - by satan,
go away satan, my love for my precious Jesus
becomes more and more the love I seek of the
angels and saints, the Madonna, our beloved
handmaid of the Lord.
The love of God and awareness of God's
presence in our graced, baptized soul grows –
the sweetness of knowing God's embrace
against any darkness and so much
love for God and others – love for God's
commandments, love to earnestly unite
myself to the Mass going on around the
world and offering myself to Jesus, as an
offering to My Father, in the Holy Spirit with
all the angels and saints and souls in purgatory.
I am a member of the body of Christ in the
world, Jesus is the head, His pierced Heart
acting as that fountain of His life in the
Church – The altar so richly blessed where
the Mass, the sacrifice of Calvary is sacramentally
made present – Oh fountain of life pouring
out to the Church, out to the world, to all souls,
fountain of grace for the parched desert beyond
and God uses me as an instrument of His
love to the world.
Oh God let my heart be pure, let my faith
be strengthen by You, that I never wobble
in my strength to offer myself fully in
love to You, praying for the priests, the
Church and the world.
Oh Sacred Heart, oh sweet love of mine, Oh
Divine God, I eat Your body and I drink
Your blood and the light shines in the darkness
and I am refreshed at the table of the Lord.
Light enters my heart, warmth and joy
to know the reality of this presence within
me and I am in awe of this precious gift
to me –
Come, oh Divine Love of my soul,
sanctify me and wash me clean to love as
You desire of me – to give of myself
wholly to Your service of doing God's
will in deep love for God and all.
Does anything else even make sense,
but to give oneself in love to God as this.
Total surrender to God's will is found
in quiet embrace of our hearts united
to the Heart of Jesus and dwelling in the
purity of Mary's Heart –
Union is deeply spiritual, a high level
of love's embrace – the embrace of God
who dwells in our graced, baptized soul –
surrender to God's will in love.
Love, Love, Love, the way of the heart.
Love as is seen in the spring of our
life, the sunlit morning of a brisk
fall day – the full sun of a summer
morning with warmth penetrating our
body –
The moon, full, and radiantly
glowing against a star-studded
night – God comes to us in love - in
the Mass – to pour the dew of His grace
copiously from the altar and men
to bathe in its, spiritual gifts of Divine love.
Refreshment for all –
Jesus died for our sins. He rose on the 3rd day –
The Mass is the sacrifice of Calvary
sacramentally made present.
We eat His Body and we drink His
Blood –
Oh Night so richly blessed –
Night of love –
Morning is studded with birds that
sing and bright brilliant light
of a new day –
For Mother's Day & First Communion Day
A Gift that lasts for the Month of May
Special sale statue with glass
Available to sale on the 28th of April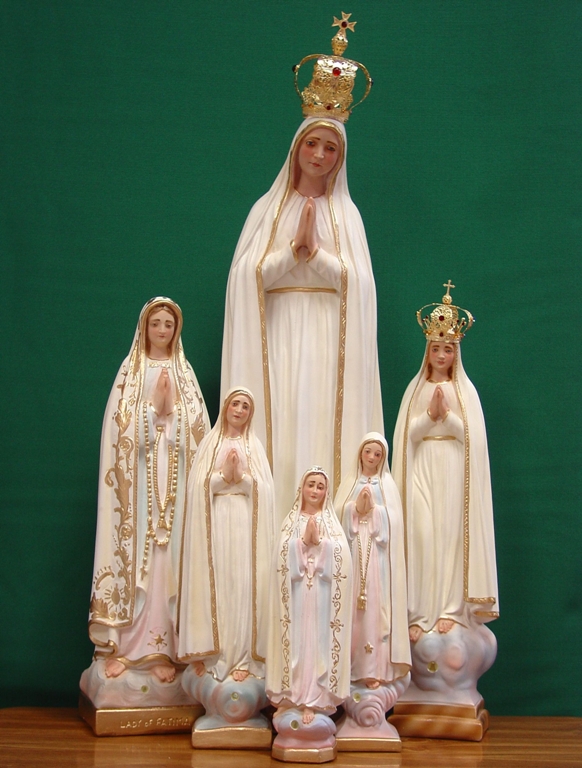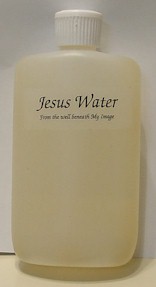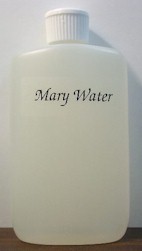 Healings

from

The Building of the Two Hearts

1. A gentleman from Florida called and said since he got the Fatima Statue with glass his life has been transformed. 3/3/2009

2. After using the Jesus water, pain and non-movement (for 3 years) in my fingers was healed instantly. Now fingers are cracking and working and no pain. Has taken x-rays. 10-19-2008

3. Ruptured ACL Ligament and PCL ligament left leg (knee) and damaged meniscus. 3-4 weeks excruciating pain. MRI showed damaged ligaments - went to do surgery and scopes revealed no damage other than meniscus injury. Day before surgery we came here to pray for healing. Wife anointed knee with Jesus water. Were told prior to surgery that would be out of work 3-6 months and surgery would be 4 hours. Surgery was only 40 minutes and recovery time is 1-2 weeks. 8/13/2008

4. My best friend (a couple) was granted a son, which now is my godson. They've been married for a long time but never had a child until they both came to see the Virgin Mary's image. 8/4/2007

5. I just wanted to tell you we have had so many prayers answered most especially since we have had the image statue in our home a few months ago. Prayers being miraculously answered for our children & grandchildren, our daughter's heart has literally almost healed ... she is also pregnant and that is also a miracle that she carried the baby this far, she is so thankful and also her cardiologist can't figure out how she is doing so well, and even agreed with her it must be prayers being said for her. He also told her in her 4th month to abort the baby, maybe he will have a conversion, we hope. Others in my family have changed since we got the statue. They are more understanding and patient and love being a Catholic more than ever before ...We thank Jesus, Mary, Rita and you all. Praise all of heaven. We are also so eager to have many more prayers answered. We are giving our married children a 10 inch statue each for their homes and red prayer manual if they would also like to say the prayers if they so choose to. The statue we know will help them with many graces as they pray before it as it has helped us in our home and lives. Love you all. 8/3/2007

6. Pregnancy. (A long note about how a woman got pregnant after she came to the Virgin Mary Building.) 3/21/2008

7. My mother was diagnosed with Acute Myeloid Leukemia in April 2005. She received the Jesus water of Clearwater that my brother brought to El Salvador. She was treated at Instituto Salvadoreno del Segino Social. She was expected to live 3-6 months. She lived well for 2 years. Now she rests in peace with Lord Jesus and Virgin Mary. She died of Pneumonia March 21, 2007. 4/27/2007

8. The CAT scan showed a dark spot and they thought they would have to remove my right kidney. My family went to the Blessed Mother and asked for prayers and help. They also got the healing water. Well all our prayers were answered. There was no cancer or tumor. Thanks for all your prayers and help, and thanks to the Lord above. 4/18/2007
9. Knees were injured from motorcycle accident July/August 2006. His mom got the water in Florida right after the accident and took it to him and he used it every day and now his knees are completely healed. He knows Jesus water did it. 1/9/2007
10. Suspected blood clot. Pain in leg with swelling. Jesus water was used and pain went away and swelling. 12/31/2006
11. Barretrs -- My husband brought Jesus water to hospital and put on my stomach. Biopsy came back fine. 12/27/06
12. A man from South Carolina came to thank Jesus and Mary for his healing. His brother sent him Jesus' water when he was diagnosed with terminal cancer. Three doctors told him there was nothing they could do for him. He started using Jesus' water and started feeling better (He could hardly walk, he was using a wheelchair a lot). He went back to the doctor and tests showed no more cancer — gone! The doctor told him he never saw this happen before. He is around 70 years old and walks and feels normal. 2006
13. A lady from Egypt wrote asking St. Mary for a baby for 3 years. She helped me and now I have a little daughter. Her name is Mariam after St. Mary name by my language. Thank God and Thank St. Mary. She always remembers me. - Egypt 10/25/2006
14. This woman filled out a healing form at the site. I am so blessed by the Blessed Mother that she has been there for me on more than several occasions. She performed a miracle on all occasions, one in particular was cancer of the right leg. The doctors wanted to cut my leg off the cancer was in the bone. When I returned to New York and went to a plastic surgeon he saw the cat scan and said my chances weren't good. When he did the surgery the cancer was not in the bone. It was superficial. 9/2/2006
15. Stroke. Healed August 2006. 9/2/2006
16. A year ago he went to Orlando for a test on his prostate. It was positive. He came here in May and got some Jesus water out of the trough. He went back to the doctor and he was healed. - Venezuela 8/25/2006
17. Infertility. Conceived and gave birth exactly 9 months after our first visit to Clearwater in August 2000. Our son was born exactly 9 months after our visit (May 20, 2001). I've had surgeries on both ovaries in 1998 and had very little chance of conceiving. Mother Mary gave us our blessing and wish. 7/21/2006
18. Peter was operated on for cancer he had for 10 years on his leg and because the wound was so big, they had to take some skin from another part of his leg to be able to fix it but it did split. So Monday the doctor said that another surgery was needed but thanks to Jesus water on Wednesday on that same week he was healed. - Argentina 7/2/2006
19. Cancer of the lungs. A friend of ours who we visit from Canada. He told us of his illness and we came and prayed at the Virgin Mary's appearance on March 28, 2006. He had Jesus' water put on him the night before his surgery. His surgery was on March 31 and the cancer was gone. Thank you for your blessings. 4/2/2006
20. Lower back muscle strain. After straining my back I used the Jesus water before using pain crθme. After putting on the water I no longer needed the crθme. The strain was gone. 3/16/2006
21. Neuropathy. He had gotten Jesus water a few days ago and went to the doctor yesterday. 3/15/2006
22. Pregnancy. I could not become pregnant. I came here to ask Mary to extend her hands on me, to be able to have a child. The miracle happened. I did not know that other women had become pregnant by asking Mary. My son is 3 years old. I am convinced that he is called to be special in his life, he has a mission. When she went to see the doctor, specialists, they said forget it, she couldn't have a baby, and she went to many different ones. Came here to pray and became pregnant. All the doctors never understood what had happened. They said he is a miracle child. 3/8/2006
23. Pregnancy. Became pregnant of twin girls after we prayed in 2005 and even have a statue of the Virgin Mary in our yard. After 15 years of concubinage Virgin Mary finally blessed us. Thanks. Thanks. Thanks. Jesus water was used to help conceive. 2/2/2006
24. A woman came in today from New York and said she was here last March (2005) and got the Jesus water. Her cousin who was very healthy and had just retired at age 60 suffered a massive stroke. He was taken to the best neurological hospital in New York and the doctors said he had no chance of recovery. He had a blood clot at the base of his brain stem. He was in intensive care and the woman with the other family members were visiting him and she put Jesus water on him and they prayed over him, while he was laying in bed in a fetal position unable to talk was paralyzed. After she had left (only 30 minutes of visitation in Intensive Care) the woman received a call from her cousin's wife saying the man had sat up in bed after they left and was miraculously healed. He is back at home now. The doctors came in and said this was a miracle. This was 2 months ago. 1/24/2006
25. Dermatomyositis (a form of Muscular Dystrophy). I was given 6 months to live. I was really depressed ready to give up when, while being in town for my girlfriends niece's Christmas Party. I heard it on the news. (December 17, 1996) Decided why not let's go, when I got here I was not expecting to see what I saw. I couldn't believe what I saw. Within an hour I put the cane down, slowly but surely got better enough where I wasn't paralyzed or dead. Thank you Jesus and Mary. 12/16/2005
26. Small Bowel Syndrome. Infant acquired surgical intervention at birth. 4 months care at home. Healed completely as of May 2005. 11/24/2005
27. Newborn very sick - 2 lbs. My mother came to visit me. We used to live in the post apartments by Target. I brought my Mother to the Virgin Mary Building in Clearwater and she prayed for my niece, who was in Guatemala. When my Mother returned to Guatemala she took the picture of Virgin Mary and put it in my niece's room. When my niece was born, she needed a tube feeding. She couldn't eat on her own. She was very thin and very sick. Many people told my sister and my mother (including the doctors) that my niece was so sick that she probably would died. Thank to our Lady Virgin Mary, my niece is a healthy gifted 9 year old girl. - Guatemala - Healing was at 6 months old. 11-22-2005
28. My daughter was told she had thyroid cancer, after having one side of the thyroid removed they found the cancer was gone. This had to be due to Mary and Jesus Water and her belief in the Mother and Son. 9/17/2005
29. Virus. He was in Egypt. His relatives came to the site and asked for prayers for healing for him. That same day they were here he was completely healed of his Liver virus. He is a physician. 8/31/2005
30. After waiting about 8 months for the baby to get bigger for the surgery, the doctor checked him and couldn't believe it, but she said, "It just fixed itself." He was 4 months premature and this surgery would have lowered his sperm count significantly and its already been lowered by a double inguinal hernia surgery. 6-14-2005
31. Burst tube with unexpected pregnancy. Was internal bleeding. Doctor told was miracle, surviving from this kind of operation. She (the mother) had come to the site and prayed to God if this Image (Our Lady of Clearwater) was from God to grant her a miracle. Her daughter who was in Lithuania at the time was in the hospital and the above miracle happened during the 2 hours the mother was praying at the site. 5/4/2005
32. Heart failure. He was not breathing. Jesus water was poured on him while praying. He started breathing again. 4/23/2005
33. When I was pregnant, my baby was sick. My baby born was well. Thanks. 4/18/2005
34. Flu. Both sitting in car, praying rosary both sick of flu. He very sick, not getting better. Both used the water, felt pain leave body, didn't say anything, but after few minutes he said "I feel pain is gone." They drove back to tell us that they were healed. 4/18/2005
35. Asthma. Put Jesus water on neck. Breathing much better. 4/17/2005
36. Severe back pain. Have a bad back from laying brick for years and sometimes I bend over and the pain is severe and it takes at least 3 or 4 or more weeks for it to go away. I put Jesus water on it and it went away in 2 days. Alleluia. 4/16/2005
37. I must admit that some days I forget to wash in the water. But I have felt the same feeling once again a few days ago as I did on March 2nd, the first time I applied it to my knees. On the movie that you took, I am walking on the beach without a cane. I don't know if you noticed. I didn't use the cane yesterday, and I have no pain. I'm still slow at climbing the stairs, but I'm seeing a tremendous improvement. I'll keep a journal, and continue updating you I pray a lot, as I'm applying the medicine. Part of my prayer is "If it be your will." Thank you. I'll be in touch soon. 3/11/2005
38. My husband had a good friend and he was diagnosed with cancer and given less than a few weeks to live. Jesus told me to take him the Jesus water. I never really met him, but I went to the hospital. He was so sick. He bounced up and said I knew it - I will be healed. And he lived over two years longer.
39. Leukemia went into remission February 7, 2003. Her doctor can't believe how well she is doing. She has the worse kind of Leukemia there is and she is doing extremely well. He said this does not happen, so soon, we told him its because of all the prayers, everyone is saying for her. The day after we visited the Blessed Mother Building, her blood count was excellent. Thank you so much. As of 11/3/2004 she is still in remission and doing very well, a happy 10 year old little girl. We are all so thankful for all the prayers from everyone, we truly believe, if we hadn't had our faith and by going to the Virgin Mary building so often, we wouldn't have been so fortunate to have her. Prayer is still the most powerful and healing process. Thank you so much. 11/3/2004
40. Spinal Manangitas. December 16th, 2002 we almost lost our little grandson. He was taken flight for life to Madison where they worked on him for hours. They told us he would either be blind - deaf - brain damage, or he might not walk. Today he is a happy - healthy little boy full of life. Thanks to everyone's prayers to our Blessed Virgin and our heavenly Father, without them we would not have him. Thank you. As of this date November 3, 2004 our little grandson is doing very well, a healthy happy little boy, and so full of life, and without any complications. Our prayers and by going to the Virgin Mary building truly helped this little boy. Thanks to everyone for all their prayers. 11/3/2004
41. After my family visited the Virgin Mary and returned to hospital, I showed no sign of having a stroke. Doctors at hospital said I would not recover. 4/2001
For deacons, organist, principals
at school –
give Fr. Joe's homilies –
Tell them to use them weekly –

| | | | | | |
| --- | --- | --- | --- | --- | --- |
| | | | | | |
| Cycle A | Cycle B | Cycle C | Cycle A | Cycle B | Cycle C |
$10.00 each plus postage