February 23, 1996
He Remains with Us, Truly Present (excerpt)
R. I feel His love in the hearts of holy priests. God has given to the priest such a gift and they are another Christ to us. My soul is fed because of His holy priests. I feel fed when a priest loves Jesus so much.
I must see the hearts of men and join with them in one heart, love them deeply in my heart. There will be an era of peace when hearts are one with the Hearts of Jesus and Mary. Jesus and Mary, I give You my heart.
God wants unity among men. I must join in my heart to all, immediately knowing how Jesus loves them and I too want my heart to love as Jesus loves. Seeing their heart as soon as I look at them, I feel Jesus' love in the hearts of holy priests. Jesus has anointed them and they represent another Christ to us.
February 24, 1996
About the Shepherds of Christ Movement for the Convention
R. The Shepherds of Christ Movement is a Movement to help in the renewal of the Church and the world. This Movement is centered in the Consecration to the Hearts of Jesus and Mary. Our primary goal is to pray for the priests.
Fr. Carter is the Spiritual Director for this Movement. Fr. Carter writes a Spirituality Newsletter which presently is being sent to 70,000 priests in the world. He also writes a newsletter for Sisters and Brothers.
We have prayer chapters all over the world, praying for the priests and religious. We have prayer chapters reaching the children, called Junior Shepherds of Christ. These children pray the rosary and consecrate their Hearts to Jesus and Mary.
In this Movement we have started a movement called Apostles of the Eucharistic Heart of Jesus. In this movement people volunteer to spend two hours a week before the tabernacle, praying for the Church, the world, and the Shepherds of Christ Movement from the prayers in the prayer manual that Jesus gave Fr. Carter.
February 25, 1996
R. My most intimate love is Jesus. I know Jesus, all the times we have been alone, the hours and hours spent with Him in such deep love. Jesus is my Divine Lover. No love on this earth can compare to the love given from our Divine God. Jesus fills my being with His presence and I feel deep union with all Three Persons of the Trinity. It is beyond words to describe the presence of My God. I want to be, just to be with Him, alone with Him and spend time with Him, my dates with my beloved Jesus. My day centering around the time I am alone, just Jesus and me in being with each other. These are the greatest moments of my life.
The times I was with my beloved Jesus before the Blessed Sacrament, I scarce can breathe to realize how much God loves me in all my wretchedness and comes inside of my tarnished soul. I want so much to be like Him. Jesus is so beautiful. Jesus Who loved even when He was whipped and beaten at the pillar. I want to love Jesus. It is so hard sometimes. I want Jesus' light to be alive in me so Jesus will live through me and shine as the brightest light in this world to me. I want a soul that is as filled abundantly by Him. I love His fiery Heart. I am so far from the perfection and He still loves me so much. I go to Mary's heart and she takes me to Jesus' Heart on fire for love of me, little me. The Holy Spirit permeates my soul with the fire of God's love, transforming me more and more into the image of Jesus. I love Him so much and I want Him alive in me.
I give myself in total surrender to You, my beautiful God, realizing how dependent I am on You for everything. I am so willful, so afraid, so full of self - the self that wants to rule and not to be ruled, the self that feels the pain and does not love many times as I should, the self that wants human recognition, the self that wants to be satisfied here in so many little things, and does not realize the great gifts and the great love I am given from You, God.
I see my ungratefulness to You for all Your goodness to me. I see my lack of love for so much love You give to me. I see my ungratefulness for the love and kindness given to me from others, through You. I see a little scared child, the little child that stands by the tree in the darkened, rainy night and cries when there is shelter in Your burning Heart. I see and I want to be better but I see my total dependence on You to be sanctified and I beg for Your grace.
Song: I Am Your Sacred Heart
R. Oh, I see the human part of me that needs to be saturated with Your Divine grace. I want to be divinized by You. I want to share in Your life, deeper and deeper. I want You, God. I want oneness with You, to be so merged in You that I am existent totally in You. I know this completeness. I know what I experienced on December 15th. You gave me such a grace and I knew You so intimately. This is my goal, God, to be like this but it takes Your grace. I want this mystical marriage with You, at every second to feel one in You. Mary is the key to dwelling deeply in Your Heart.
Negativism and shaming is not from God. We should be elated to discuss the great gifts You have given us.
How would Jesus handle the problem? How would Jesus treat those who followed Him? How did Jesus speak to the Apostles? Jesus was concerned with their spiritual life.
I want to be filled by the Holy Spirit – to live in vibrancy in God – to do a divine job, it takes Divine assistance. If adoration and time is not spent with Jesus, you get human minds working on a divine plan.
Words can build up, words can tear down. A condemning, shaming remark can tear down a vibrant spirit. The Word of God is so powerful. Anger comes from deep inside; anger surfaces in incidental matters.
If work is done for the love of God, if love is the primary concern, if building of spirits is the main focus of the words spoken, they will be delivered in love, even when they are criticism.
If criticism is delivered with anger, the anger is from a deep-rooted source within. Never could one use ways to provoke anger and control in others. Never should one use passive-aggressive ways to attack passively. Anger comes from deep within the soul. It surfaces in incidental matters. Many times the matters are created to vent the anger built up inside. A person can have an unpeaceful heart and not feel comfortable in groups – so they come to a place where people are at peace, praying, working and start provoking or attacking in passive-aggressive ways.
If in the case of a person: I am angry, you are the reason. I find you guilty, I vent the anger. I am relieved. Three days later it surfaces again. You are responsible again for my anger. It will not go away until the person looks deep inside and owns the anger and gets rid of it.
Alcoholism has generations of angry people. Until the person 'owns' the anger, they will continue to blame others for how they are feeling. As long as they are justified and find a scapegoat to vent it on, they will continue to vent it on that person and the anger can come out in rage. Anger is from deep within – it can be like an anger can which has been sprayed on that family – Perfectionism, stiff, I rule – you get under me – selfishness – unloving, envious, jealousy - centered in pride. It is like a pressure cooker – from generations of angry people.
See diagram - anger - blame somebody – after attack - relieves anger a little – 3-4 days later, anger is back and needs to be relieved - blame somebody for my anger and once this happens, continue to blame them. Anger - relieved.
Three or four days later - never goes away - anger is deep within. Anger keeps surfacing. Anger is relieved. Many people have a bottomless pit of generations of anger. It comes out as hungry dogs in the basement. It subsides for a while and it comes out again.
Must look at the source of the anger. Deep in the person - they must own it and deal with it. Can't blame somebody else for your anger. When you don't feel good inside, you look inside and see why. You don't blame somebody else for angry emotions inside of yourself. This is projection: I don't feel good, it is this other person's fault. If you react with anger instantly, then it can be something in your past you are reacting to.
You must own the anger as within yourself and see what turned on the switch inside that made you angry. Cycles of abuse where a person constantly provokes and gets away with it. God intends us to be responsible and accountable for our actions, we are to operate in love – come and be with people in love – not come to have a fight, challenge, start trouble because of anger inside. You must look at relationships with all significant others in the past. Did my father criticize me - usually the problem is in childhood. Angry parents pass on angry children.
Children watch parents get angry. They learn to be angry. They store up a lot of emotions that were not vented as a child – a lot of needs that were not met.
When a person is violated by another to the point of anger, it is usually something to do with childhood. Anger is stored and continues to build. It is in purifying the heart that we learn to love.
We must go inside our heart and clean out all the debris – not provoke another to get away with our darkness inside of us. We will have peace, if we are at peace with God. God calls us to love. He commands us to love. People challenging those over them to get control or discredit authority are not working under the structure God wants men to work under – God blesses obedience to those over us.
The more we clean out our heart of all that is not like Him, the more He can fill our heart with Hs love. Anger is stored up emotions from the past. It can be a volcano inside to a little anger.
Anger comes out in accordance to how it is built up inside. A person can provoke another, abuse another, in front of others, so they look good and the authority looks discredited. This can happen over and over again – the person comes to discredit those in charge. It is not God's way of love and obedience. Anger can be acted out by passive-aggressive attacks – provoking, lying, challenging and it can be acted out over and over again with no validation to the secret passive-aggressive attacks. This can be called acting-out, where the person is trying to resolve loss of power from their family life and now turn an innocent situation is into a battlefield.
It has nothing to do with the person it is projected at, they are the scapegoat. Once a person finds a scapegoat, they continue to use that person if they get away with it. They genuinely believe it is the other person's fault that they are angry. Until they see anger as their emotion, they continue to blame others for the darkness and unloving hatred inside of them. Division in their soul.
People use alcohol, or other outlets such as work, to relieve the pain from the wounds of childhood. Until they look at the wounds and their relationship with others, they continue to act out their childhood problems on others, trying to once and for all, end the problems deep within. They are trying to resolve unfinished business with others from the past – like loss of power. Until they own their problems with others as their own and quit looking to others for answers, they will continue to have problems with others.
If I have a problem with you, I must look inside and see how I am acting that is causing it. Passive-aggressive ways are hidden.
I should express myself, not promote myself and make myself better than you, but to do God's work, to use the talents He gave me to accomplish His work for me.
We are as the lights on a Christmas tree, if we are plugged in, the whole tree lights up. If it is a single circuited strand of lights, a few may be broken but the tree basically lights up.
God looks to this earth and sees much darkness. Darkness has covered the earth. Mary appears as Our Lady of Light to plug our hearts into her Son. Our hearts are our bulbs that light the tree of God's children. All light flows from the heart and the soul.
Mary has spoken, she has told us how to light this world. It is the burning Heart of her Son. We do not listen to her. The earth remains in darkness. Mary says, "Until a sufficient number of people have consecrated their hearts to the Hearts of Jesus and Mary, we will not have peace in the world." When we have consecrated our hearts to Jesus and Mary, we will light the world.
It is as the Christmas tree – when many lights are shining, the tree is lighted. When many lights are in darkness, the whole tree looks dark, but the few that are lit stand out against the darkness.
We must stay rooted in Him. We must plug our heart into Mary's heart and she will plug us into her Son. Jesus is the power source. Only in Him will the light shine.
Mary, our Mother, I give you my heart. Place it in the Heart of your Son that we will be one body in Him, that we will light up the earth. And the light shone as the brightest light and it covered the earth. The light to this darkened world is the fire of His love.
February 26, 1996
R. Read entry: I knew and loved all of humanity as with His mind, being one with all then in this place where my mind was absorbed, knowing Him – it was as if I could see the mind of Christ. With love! Not Division.
Reflection on December 15th. During all of these mystical experiences, there is not time - time stands still. In a moment I was satisfied. I wanted for nothing. I knew God as I never knew Him before. This is what I aim for in this white center of this union with Him where I unite to the Father.
It is in the lifting of the veil I see and know more as the veil is lifted of love. All of these mystical experiences are experienced when They lift the veil.
I have had such a presence of the Trinity - as in the summer of 1994 in my study room. Someone could have stuck a pin in me and I would not have felt it – where I exist in this way. So one in God.
I should express myself, not promote myself and make myself better than you, but to do God's work, to use the talents He gave me, to accomplish His work for me.
Focused on God!!
February 28, 1996
R. God wants us to love our brothers. I am to help make reparation for my sins and the sins of the whole world. Many of God's children are offending God. God wants us to tell Him we are sorry for the sins of the world. God gives us the Mass the sacrifice of Calvary sacramentally made present. We unite with Jesus, giving ourselves to the Father, in the Holy Spirit, through the intercession of Mary – to help make reparation for our sins and the sins of the world.
We unite with the angels and saints and the souls in purgatory and all at Mass - praying at Mass in reparation for sins, in love to God, in petition and thanksgiving to God and praising God the Almighty. The Mass is giving ourselves in love to God. God opens the flood gates of heaven and outpours His grace to the Church and the world.
Why does God give us these references in the Bible? Why do we have to read them? We are in the Father's "family". We are brothers in Christ.
Adam and Eve sinned. Eve is the mother of all the living; Adam is the father. We have original sin. Jesus is the New Adam, Mary the New Eve.
Exodus 34: 6-7
Then Yahweh passed before him and called out, 'Yahweh, Yahweh, God of tenderness and compassion, slow to anger, rich in faithful love and constancy, maintaining his faithful love to thousands, forgiving fault, crime and sin, yet letting nothing go unchecked, and punishing the parent's fault in the children and in the grandchildren to the third and fourth generation!'
R. I see the family relationship between myself and my neighbor. I deal with my neighbor as a brother. I plead to the Father for my family, my beloved brothers.
I saw through the eyes of God on February 22nd. He gave me clear vision to see His family of creatures. He took me to a little spot. He revealed this to me.
We must pray to see more and more the mystery of God. We pray to be open, not closed down and stiff-necked. If I am having a problem with my brothers, I take the problem to my Papa, to my Mother and give it to my brother Jesus. I put it under His cross. Jesus paid the price for our sins.
I remember before I received messages (before 1991) one Saturday morning, I went to my study and I heard this story: Suppose a little boy was bad and the school was going to expel him for his conduct. His big brother stepped in and said, "Don't expel my brother, let me pay for the offense, expel me instead, give my brother another chance. I love him."
This is what we do to God. We say Papa, this is my brother and I love him. Let me help make reparation for my sins and the sins of my brother, through Jesus. I take my burden to the foot of the cross. I know my brother Jesus paid for our sins.
Mary is the Mother of our Christ-life. I must go to her. I must go to my Father as a little, little child, with all my problems. We are brothers. We tell our Father we are having a problem. We say, "Father, look at what our brother Jesus did for us. We ask You, Father, through Jesus, to have mercy on us and our brothers. We want to help make reparation to You, Father, through the wounded Heart of Jesus." The Father will hear our plea.
Jesus is Divine. Our sins are paid for through His death on the cross. Mary is sinless - we want to help make reparation to the Hearts of Jesus and Mary. We are sinful children. Mary pleads our case to the Father through her sinless heart.
Jesus took me to a place, to let me see more and more clearly through the eyes of God. I pray to know the mind and heart of God. I pray to the Holy Spirit to enlighten me. I could see my relationship with others as my brothers. I know more how God loved us as a family. From this moment on I call Him "Papa", My beloved Father, my beloved Mother, my beloved brothers and sisters in Him. That is why reparation at Communion is so important. It is when I am in the deepest oneness with Jesus, My Divine mediator.
Jesus took me to the inner chamber of His Heart and I knew the love of God as never before. It was there, I united so deeply to the Father, it was there the Spirit of God gave me wisdom and knowledge, understanding and counsel.
I begged for knowledge of God and my dearest friend, the Holy Spirit, gave me an insight into the Divine Mystery of God's love, God's plan for all men. The Father's Plan will unfold, despite all of the willfulness of men.
Thank You God, how I love You, I worship You and I adore You.
Who is My Mother. Who is my brother? Anyone who does the will of my Father. I dwell in the Heart of Jesus. Jesus shed His Blood for the sins of all men. Perfect love casts out fear. We tell God we are sorry for our sins. We must strive to please our heavenly Father. All of a sudden I have such peace for the Father told me His plan will unfold despite our willfulness. We must be in one mind and one heart, pleading our case to the Father, united in the Mass the sacrifice of Calvary sacramentally made present.
Mary said at Fatima, "Unless a sufficient number of people have given their hearts to Jesus and Mary, we will not have peace in the world."
We will have peace when enough are giving their hearts to Jesus and Mary's heart.
There will not be any "bumping of heads" amongst this brethren. Who is my Mother? Who is my brother? Anyone who does the will of the Father.
I look at Jesus on the cross and I know He paid the price for our sins with His Blood. Jesus paid the price. Jesus is the Savior of the world.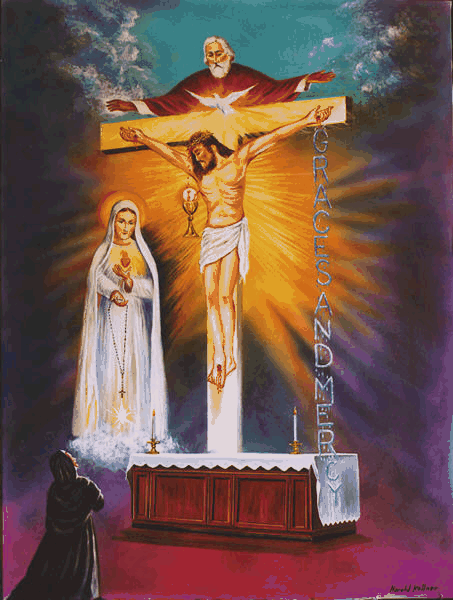 Song: A Song from Jesus
R. I offer myself as a sacrifice with Him to the Father. The sacrifice of Calvary is sacramentally made present now at every Mass. I unite myself to Jesus to plead for mercy from the Father in the Holy Spirit, through the intercession of Mary. My every action is united in union with the Holy Sacrifice of the Mass throughout the world.
The Father sees my offering as a sacrifice offered to Him united to Jesus for my sins and the sins of the whole world. The more I am one in Jesus, the greater my intercessory prayer.
Man has sin; man is sinning. The Father wants us to help make reparation to God, for God is offended by our sins.
God is about to strike the earth. Mary, our Mother pleads and who pays heed? We must go to the Hearts of Jesus and Mary.
Take shelter from the wind and the storm in the Heart of Jesus.
Song: I Am Your Sacred Heart.
If we are not attached to the vine we wither and die. The life of the body is fed through the Heart of Jesus. Jesus gives us His Body and His Blood. They pierced His Heart and what flowed out was blood and water; water, a symbol for Baptism, whereby we are given a sharing in His life, Blood, a symbol of the Eucharist whereby the body is fed.