R. Annunciation celebrated today –
In baptism we were
claimed by God to be a child
of God.
We must go through this time
and prepare for heaven.
God is asking us to trust Him,
put our faith in Him –
in the unseen God and walk on.
God tells us He will be with us.
When we suffer we are to come
before the cross and wait, not
punish others or hurt others,
but to endure as God is
calling us in suffering.
All of our ultimate satisfaction
is in filling the will of God –
We must play our lives
according to the Father's
Plan in love, not rebel
against God's will –
We must be faithful to God, love
and trust God.
We pray for the personal
intentions of all of us.
◊ ◊ ◊ ◊ ◊ ◊ ◊ ◊ ◊ ◊ ◊ ◊ ◊ ◊ ◊ ◊ ◊ ◊ ◊ ◊ ◊ ◊ ◊ ◊ ◊ ◊ ◊ ◊ ◊ ◊ ◊ ◊ ◊ ◊ ◊ ◊ ◊ ◊ ◊ ◊ ◊ ◊

Adam and Eve disobeyed God –
Jesus came and paid the price for our sins.
Our ancestors offended God –
We have original sin on our souls.
Jesus gives us baptism, it takes away original
sin, but we have a wounded human nature –
Because of this there is tension
between men and women.
Man has tendencies toward anger and
jealousy, envy, pride,
covetousness –
If we want to go to heaven we
show God we have developed
virtue –
We were created in the image and likeness
of God
able to go to heaven –
We are here to grow in the
Spirit
Grow in the Spiritual life
Be faithful to the Spirit of God.
Be full of virtue.
OR we don't get the reward – of heaven.
Unrepented mortal sin can take a soul to hell.
Acting in pride, not growing in the
spiritual life, being jealous –
not loving and
Learning to work against love
in unloving ways
can lead us in the wrong direction
away from our heavenly reward.
We were created to love and live
harmoniously with each other.
Not give into tension we may feel
against our brothers.
Peace comes from
having Peace with God
If we don't have Peace with
God – we don't have peace
Peace I leave with you, My peace I give
to you – then He breathed on them
and gave them confession –
So they could confess and have
peace with God –
Jesus had peace on the cross
Tension between men and women –
Pride etc. – giving into the
deadly sins –
means we are going in the
wrong direction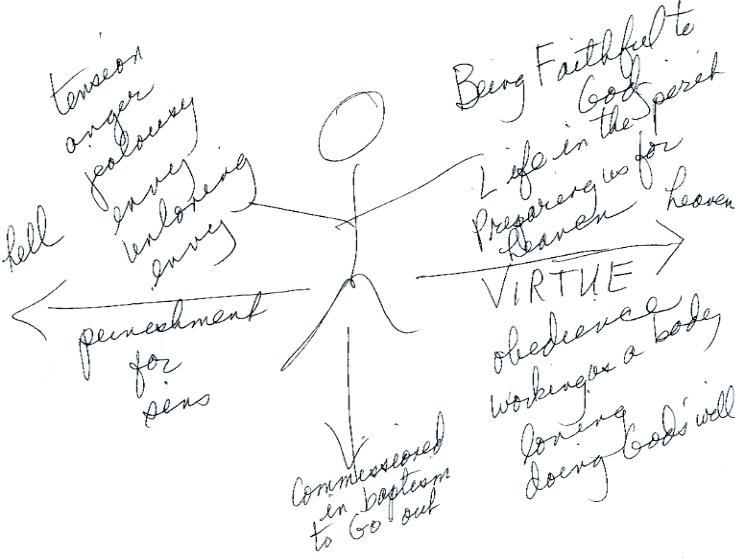 R. We are here to
prepare ourselves
for heaven
Being FAITHFUL
to the Holy Spirit
not being tempted like
Eve to the evil spirit.