April 9, 2013
R. Remember the story of the frog
who when put in a boiling pot
of water will jump out, but if
it happens that the frog is put
in a warm pot like bath water
and the heat turned up to boiling
slowly while he is in the pot,
he will not notice the increase
in temperature and he will
die when he stays in there
and it is boiling.
What has happened when
more and more rules slowly
are rules that oppose the
laws of God. When we are in
the society and laws that are
opposed to the commandments
are enacted and we are forced
to accept these laws which
basically oppose the laws of
love.
God gives us air we need to
breathe, but if the air is
poisoned and permeates our
whole body we can die.
We don't see the air, we
may not smell the gas that
is poisonous.
Do we learn a lesson from
the Gospel of Thomas who did
not want to believe until he
put his fingers in the wounds
of Christ?
Do you see the devil who
can come, like poison, like
he did to Eve in deceptive
thinking, luring her with
pride and the devil can
press on old wounds in our
memory and we project the
anger we feel on innocent
others, when in truth, we
know ourselves we have not
been people of joy and loving
and as Christ really wanted
us to be – growing in the
Christ-life – faithful to the
Spirit of God –
Committed to God's way of
unity and love and forgiveness –
forgiving others and forgiving
ourselves for our own faults,
being accountable and responsible
for our sins.
Jesus said "Peace be with
you, My peace I leave with
you", then He breathed on them
and said "receive the Holy Spirit –
whose sins you forgive,
they are forgiven, whose
sins you shall retain they
are retained" –
We need forgiveness. We need
to admit we aren't perfect.
We need to discern the spirits,
St. Ignatius says, twice
a day!
Take your spiritual pulse –
are we giving into the evil
one who has us gripped in
anger, unfinished business
with old wounds and memories
where we have forced others
to accept punishment for
our age-old angry unforgiving
heart and so we project our
angry heart and unforgiving heart
on others.
Peace comes with having
Peace with God.
God calls us to a vocation,
to help to build the Kingdom of God.
It is wrong to put our anger first as the
reason for why we act, we are to act to
do God's will, not because of our anger –
We are making a choice to
oppose the will of God and
we are accountable when we
say "no" to God and deceive ourselves
by saying
"Oh, I did nothing, I didn't act"
Jesus says: "Envy is wrong" –
being uneasy arising from
others excellence and good
fortune – in which to a degree,
we allow ourselves hatred
and desire to hurt the other,
because we want to see their
failure; it is envious when
another's good fortune saddens us.
The envious person can consider
another person's good fortune or
success a wrong done to him,
a threat to him.
This envy can bring anger
inside of a heart meant for
love. We were meant to give and
work together – Thanking God for
the gifts He has given to me –
the vocation He has called
me to – How big is the Heart?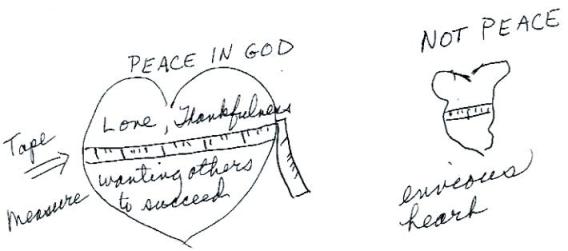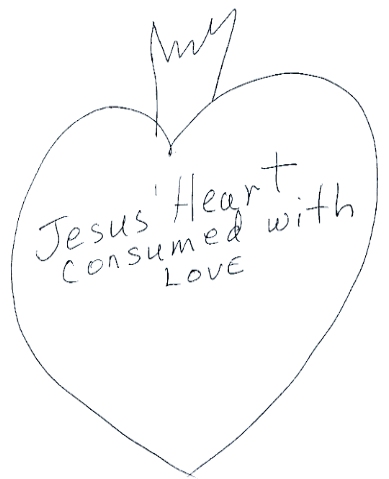 God said, 'Let us make man in our own image, in the likeness of ourselves, and let them be masters of the fish of the sea, the birds of heaven, the cattle, all the wild animals and all the creatures that creep along the ground.'

God created man in the image of himself,
in the image of God he created him,
male and female he created them.
R. But we make a choice when
we give into slothfulness –
being spiritually lazy –
indifference
disorder
deceit
tardiness
procrastination
dishonesty
day-dreaming
neglect of religious duties
We are to love God with our
whole heart, our whole soul,
our whole being –
Not doing what God is calling
us to, is
choosing –
It is making a choice to
not do God's will –
Putting anger before our
duty –
telling God, I'll take
the name with the
position, but I
won't help, I will try to
make it fail because
of my anger –
Pride –
An inordinate love of self –
considering ourselves to
be served more than God –
VAIN GLORY
BOASTING
HYPOCRISY
DISOBEDIENCE
HAUGHTINESS
UNKINDNESS
STUBBORNNESS
COMBATALNESS
(argumentative)
Anger –
Seeing imaginary wrongs
done to us
revenge
hatred
violence
We can see Jesus used the word
covetousness yesterday –
deceit
cheating
hardness of heart
lying
violence
See Through the Eyes of Mary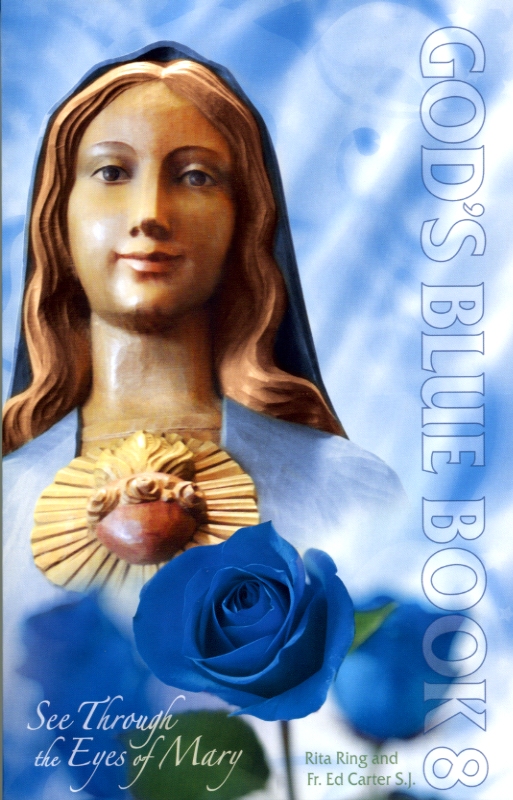 R. Mary appeared over and over
again to me –
These are the messages
she gives
to be a handmaid of
the Lord –
She has appeared for 18
years crying to reach
the children of the Father
with the handmaid of the
Lord's, message –
A message of
Peace –
Peace comes from
being at peace
with God
Love –
God is love –
We were created in
His image and
likeness –
Faithfulness to the calling
God has given to us –
Faithful to the Spirit of God –
Discernment of spirits –
Not faithful to pride,
anger, envy, slothfulness
this is from the evil spirit –
Jesus is the New Adam –
He paid a big price to
give us baptism, a
sharing in His life –
The 7 deadly sins are
pride, greed, envy, wrath,
lust, gluttony, and sloth
Where does the fruit grow –
on a tree rooted in
God –
See through the eyes of
truth –
Not lying to ourselves
about the truth –
Making others a scapegoat
for our age-old anger,
envy, pride, jealousies and misery.

The Resurrection

Sing: Come Holy Spirit

1. Mary: I am Mary your Mother and I appeared here in Clearwater to call you, my precious children to pray the prayers that my Son, Jesus has given to you. For the world is suffering and there is need for these prayers today, devoted to His Heart and to my Immaculate Heart. Ask the Holy Spirit to flood you with the love of God, that you will be strong soldiers in the army of God, that you will be ready for battle, in the world this day. That God will live more and more abundantly in you, as you go into the world and many are changed because of your lives, because of your example. Do not focus on yourselves, for self glory and for selfishness, but focus on the will of God, on serving Him, on letting go, on obedience to the Father's will, on His Might and His Power. I am your Mother Mary and I am with you today. I am appearing to you that you will know how close I truly am to you, and my Son Jesus is here.

2. Mary: Whatever you are asked to do, be faithful my children, for many have given up their jobs, because of the fact, that they were asked, for the suffering that it entailed to do the work that God had called you to. But it is a strong battle and in battle many suffer deeply. God is asking you to come to this spiritual battle, the battle of the souls, for the devil is there, and Jesus has called you to the front line, to be witnesses to Christ Jesus, my Son.

3. Mary: When the night comes, do you abandon the night and run for the light, as if the night should not be there? Realize that God is giving to you many signs in your lives, and the things are the way that they are. You must live by the Father's will and accept it. In this, do not oppose Him, but say "yes", focusing on the Father and His will for you, His love for you, His love for the souls that He created. For He has called you to a special mission. Will you answer the call that I make to you tonight, to spread the devotion to the Heart of Jesus and to my heart? To call the Holy Spirit to come to you, to fill you with the love of God, and thus you will go into the world and others will know, know you, by the love in your heart. God is love and you cease to be like God if you are unloving.

4. Mary: The days of your lives move on in petty pace, and soon they have ended. What a short time when compared to eternity. And you will not come back and relive this day or the other days, in which you may have wasted, the time God gave you, to spread His love to the men that Jesus died for.

5. Mary: This is a serious message from the Lady of Clearwater, that you must ask the Holy Spirit to help to purify your hearts, that your focus will be entirely the will of God, that you will ask the Holy Spirit to fill you more and more with an awareness of spiritual growth, that you will be eager to move ahead, loving God, loving your neighbor, serving God, being faithful to the Spirit and living more deeply as the Spouse of my Son Jesus. I am Mary your Mother and I appear to you because of my great love for you. I am asking you now - will you answer the call that I make to you today, as the Lady of Clearwater? Will you answer the call to ask the Holy Spirit to come to you, to help heal your hearts, to help you to be on fire with the love of God, that you will serve in the world as God intends you to, that your primary focus is God and not yourselves, that you know that the center where your peace and joy lie is in knowing that the Father, Son and Holy Spirit live within your graced baptized soul. I am Mary, the Lady of Clearwater.

6. Mary: And so it is evening, here in Clearwater, Florida. Do you rebel against that, too? Do you rebel against what is clearly before your face? Thinking in a factious way that, you can change the way that things are? Or do you seek to find the truth in God and to know God's will for you, to be that ideal-self that God has created you to be, and to put aside the false-self, asking the Holy Spirit to help you to be all that God wants you to be today in your lives.

7. Hail Mary
8. Hail Mary
9. Hail Mary

10. R. On March 20, 1997, there was so much noise, for a band played on the other side of the wall, and they had moved the statue in which Mary appeared. But despite the noise, the Blessed Mother continued to appear as the Lady of Fatima. She was so big and she was so lighted. And that rosary is in the Apostle Manual. For the message of Fatima is very clear – to spread this devotion to the Hearts of Jesus and Mary, to seek conversion of our souls, that is to grow in the spiritual life. To grow in the spiritual life, we must pray to the Holy Spirit to fill us, and help us to be more and more in that image and likeness of God. When we speak of the resurrection of Jesus, we think of the baptism that God has given to us, this sharing in His life, that Jesus paid a mighty big price for us to have such a gift. And we can think of our ingratitude, in not thanking Him for all that He suffered to bring us this great gift. God deserves our love, our thanks, our faithfulness, our lives surrendered and under Him. Not to be like the rest of the world, many of which who put themselves on the throne. And when they see through their eyes, they see through the eyes of aggression, of trying to win for their own vain glory. God is asking us to be witnesses of the truth, that God is our God and we are under Him.