Mary has requested that the daily message be given each day to the world. It is read nightly at the prayer service from her Image Building in Clearwater, Florida, U.S.A. This is according to her request. All attempts will be made to publish this daily message to the world at 11 p.m. Eastern time, U.S.A.

---

We acknowledge that the final authority regarding these messages rests with the Holy See of Rome.

---
---
A Prayer for Intimacy with the Lamb, the Bridegroom of the Soul

Oh Lamb of God, Who take away the sins of the world, come and act on my soul most intimately. I surrender myself, as I ask for the grace to let go, to just be as I exist in You and You act most intimately on my soul. You are the Initiator. I am the soul waiting Your favors as You act in me. I love You. I adore You. I worship You. Come and possess my soul with Your Divine Grace, as I experience You most intimately.
---
Given May 26, 1999, All Saints Church, 6:30 p.m. prayer service.
Jesus speaks: The sin of this present day and age and the coldness of hearts today contributed to My sweating Blood in the garden.
Messenger: I felt the presence of all the saints and holy ones in this place, including St. Monica, St. Augustine, St. John, St. Paul, St. Peter, St. Matthew, St. Mark, St. Luke, St. John the Baptist, St. Therese the Little Flower, St. Joseph, St. Anthony, St. James, St. Catherine, St. Mary Magdalen, St. Bernadette, Jacinta, Francisco, Blessed Sr. Faustina, Brother Andre, Blessed Padre Pio, St. Margaret Mary, St. Claude la Columbiere, St. Francis Xavier, St. Ignatius, St. Philomena.
I felt the presence of God the Father, Son and Holy Spirit and the Virgin Mary.
I pray to St. Michael and St. Raphael and St. Gabriel.
How can you raise a child close to God and have the devil wipe him away?
Oh how indeed we are surrounded by the enemy.
I was here in All Saints Church. I cried before the Sacred Heart and begged for help for the things being taught in an all-girls Catholic High School in religion class by a sister.
It was here I had the vision of the Sacred Heart of Jesus on December 17, 1991.
Who knew that 5 years later Mary would appear on that same day, December 17, 1996, in Clearwater, Florida.
He saves. He is the Savior of the world.
He came and shed His Blood to save us.
In chapter 12 of Revelation it speaks about conquering "the devil". They conquered him with the Blood of the Lamb.
---
Revelation 12:11
They have triumphed over him by the blood of the Lamb and by the word to which they bore witness, because even in the face of death they did not cling to life.
---
Messenger: It is saving Blood. We must spread it on ourselves and our children to help save them from the devil. We must ask that it is spread on our Church and our world.
I am here in this church tonight. Eight years later, how many have been touched by the fire of His love and Heart, a vision of which I saw that now appears on Blue Book II.
This is the church in which I had the great vision of March 26, 1996.
---
Vision of March 26, 1996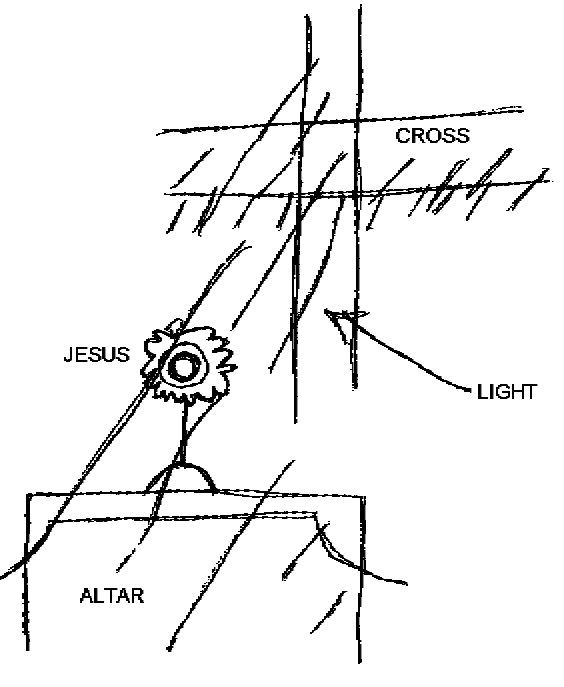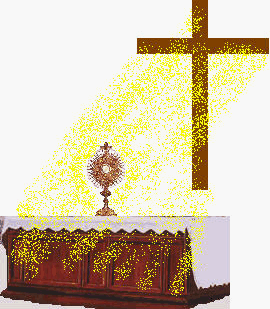 ---
Messenger: See Apostles Manual for message and writing.
I received two of the three main visions in this church.
From my notebook, December 17, 1999:
---
December 17, 1991, His Burning Heart

Messenger: I was alone in All Saints Church after Mass and Communion in front of the tabernacle when I saw the Sacred Heart. It was red around the outside, then a layer of yellow and then the brightest light in the center. I felt heat and it looked like an open furnace.

I thought about it all day and it instantly gave me peace and warmth in my heart. This is the purpose of these letters, to draw hearts to the ardent on-fire love of Jesus. I received the following message that day: Open your heart to the fire of God's love. He is ablaze in your heart. He wants to dwell in you and love you and others through you. Love God, yourself, and one another and experience the fire set aglow in your heart and experience the warmth of His love.
---
Messenger: Another message that really sticks in my mind I received after Communion March 18, 1994 in Blue Book II.
On December 17, 1991, I received the Sacred Heart vision on the right side of the church at the far end of the 1st pew after Communion.
On March 26, 1996, I received the 1st of 3 main visions in this same pew, but toward the center aisle.
I spent many hours before the tabernacle here, and I received visions before the tabernacle of a door and the enclosed tiny dark space with pointy rocks on the walls. I then went through a door and still saw an open space with rocks on the walls, but open and much more lighted.
The vision of the door was a big brown door that looked heavy and thick. It was open only a very tiny amount and a chair was before the door.
Jesus referred to these doors in a message in the Rosary Book, August 11, 1994, "I Watched You".
---
Rosaries from the Heart of Jesus and Mary p. 8-10

August 11, 1994

Jesus speaks: Oh, how I watched you, child. I watched you as I gave you each little sign of My love. I watched you grow in your faith and trust in Me. I watched you suffer and stood so close you could have touched Me, but you didn't know that this suffering would be that which led you to My tender love for you.

I watched you when you surrendered and turned your will over to Me and I watched you cry, knowing this was the most joyous day of your life. I watched you see visions of doors and knew you would want to go through those doors, but they were not the doors you thought, they were the doors I gave you for greater union with Me. I watched you, child, when you wrote down My first letter to you and I saw your confusion and joy, knowing what these letters would do to touch so many hearts.

I watched you, child. I watched you when I showed you My Heart and you were so warmed by this Heart and so awed by its vision, but you didn't know what this vision would mean for many to draw their hearts to My burning love.

I watched you surrender each time as you let go of each little thing, as you were dying to self. I watched you through this surrender grow closer to Me. I watched you grow in this deep love for Me, step by step. I watched our love grow as you gave more of yourself in prayer. I watched you, child, and I loved being ever closer to you.

I watched you struggle in such trials that you thought tomorrow would never come, knowing that this trial was what would give you more freedom and love for Me. I watched you learn each lesson through hard tests and I was so close while you struggled, but did not remove the struggle, knowing you would not learn your lesson if I had.

I watched you, child, through each joy and pain and I loved you silently, always with you, and you never knew how close I truly was to you.

Song: From the day you were born…

From the day you were born, I watched you. Forever by your side, I guarded you, I loved you. I know the most secret desire of your heart far better than you yourself know. I know the Father's plan for you. I know the Father's love for you. I know the love poured on you from the Holy Spirit and how Mary is forever by your side.

I watch you, child, constantly guarding you and your ways and you do not know the love I have for you. You do not know how My Heart burns for love of you. And, someday, My beautiful child, you will know what I have in store for you, My beloved.

Come and be with Me. Grow in your love with Me. I never leave you, My beloved. Remember, I am forever watching you.
---
Messenger: He liked me to read the message and then sing the song "Mary's Song".
Also He liked "See the Eyes that Look at Mary" sung.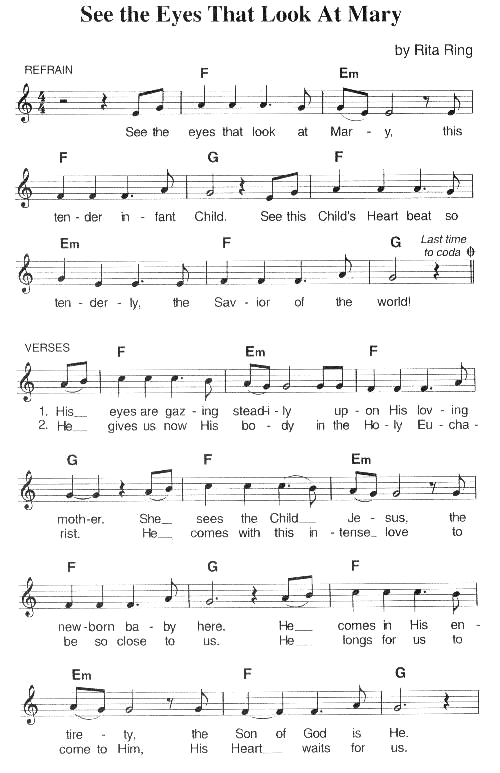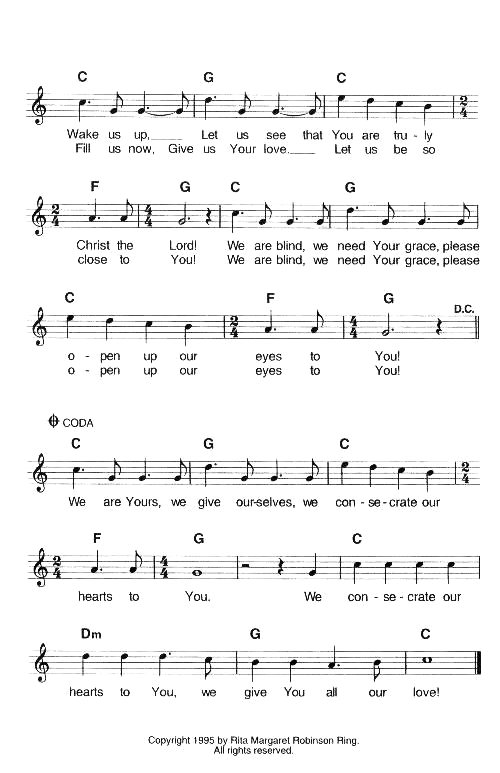 Messenger: I was in this church early on when I gave my will to Him and I cried. I was afraid to do this because of what He might do to me. This was before all this I am sure. I was sitting on the left side of the church about 5 pews back toward the center aisle. I had the 3rd main vision in about the 3rd pew on the left.
Mary speaks: I forever walked by the side of my children and so many would not let me help them go to Jesus.
My children, they worshipped a molten calf.
Do you know the sufferings of my Heart, my children?
I am their Mother, I am Mother of the Church, I am Mother of all priests, many of whom ignore me. They will not pray my rosary, the children's prayer to the Father and Mother. They will not teach my children in the Church about me, their heavenly mother. How will they know if those in authority do not teach the children about their Mother and how to pray the rosary?
My beloved priests, I told Jacinta:
"Jesus wishes His Heart venerated next to Mary's."
---
The Spirituality of Fatima and Medjugorje Book, p.18

Tell everybody that God gives graces through the Immaculate Heart of Mary. Tell them to ask grace from her, and that the Heart of Jesus wishes to be venerated together with the Immaculate Heart of Mary. Ask them to plead for peace from the Immaculate Heart of Mary, for the Lord has confided the peace of the world to her. 19
19Our Lady's Peace Plan, op cit., pp.9-10.
---
Mary speaks: My children go to my churches to find my Son. Do the school children learn about me as their Mother and how to pray the rosary? Do the school children and my children in the Church come away with a love for the Eucharist and an ever-growing intimate love of the precious Heart of my Son, the Sacred Eucharistic Heart of Jesus?
Do my children learn to love His word and the Commandments, or are they confused?
Jesus speaks: The more you give to another in love, the more you suffer when they do not even realize the gift of yourself you give.
I gave Myself to My death and so many do not ever cherish My gift.
I give Myself today in the Eucharist and so many do not cherish My gift.
You know how you give to your family and the people you love. How do you feel when they take you for granted and do not appreciate what you do for them?
Think of how I felt to be abused by those I loved so dearly.
---
May 28, 1999 - Second Message
Messenger: My Jesus,
I see the world and the enemies have closed in on us. Our children think they can interpret the Ten Commandments to fit themselves.
Many of our children feel the rules are established by the people of the world and the final authority is not God. His rules, they say, must be adapted to the people and the times.
Jesus speaks: Oh My child. I ask you to read the Scripture passage about the barren fig tree.
---
Mark 11:9-26
And those who went in front and those who followed were all shouting, 'Hosanna! Blessed is he who is coming in the name of the Lord! Blessed is the coming kingdom of David our father! Hosanna in the highest heavens!' He entered Jerusalem and went into the Temple; and when he had surveyed it all, as it was late by now, he went out to Bethany with the Twelve.
The barren fig tree
Next day as they were leaving Bethany, he felt hungry. Seeing a fig tree in leaf some distance away, he went to see if he could find any fruit on it, but when he came up to it he found nothing but leaves; for it was not the season for figs. And he addressed the fig tree, 'May no one ever eat fruit from you again.' And his disciples heard him say this.
The expulsion of the dealers from the Temple
So they reached Jerusalem and he went into the Temple and began driving out the men selling and buying there; he upset the tables of the money changers and the seats of the dove sellers. Nor would he allow anyone to carry anything through the Temple. And he taught them and said, 'Does not scripture say: My house will be called a house of prayer for all peoples? But you have turned it into a bandits' den. This came to the ears of the chief priests and the scribes, and they tried to find some way of doing away with him; they were afraid of him because the people were carried away by his teaching. And when evening came he went out of the city.
The fig tree withered. Faith and prayer
Next morning, as they passed by, they saw the fig tree withered to the roots. Peter remembered. 'Look, Rabbi,' he said to Jesus, 'the fig tree that you cursed has withered away.' Jesus answered, 'Have faith in God. In truth I tell you, if anyone says to this mountain, "Be pulled up and thrown in to the sea," with no doubt in his heart, but believing that what he says will happen, it will be done for him. I tell you, therefore, everything you ask and pray for, believe that you have it already, and it will be yours. And when you stand in prayer, forgive whatever you have against anybody, so that your Father in heaven may forgive your failings too.'
---
Jesus speaks: My children, your trees are barren. What are your children being taught in the churches and schools? You are to bring forth fruit for My Kingdom.
I ask you to put the 10 Commandments here.
---
The Ten Commandments
I am the Lord thy God; thou shalt not have strange gods before Me.
Thou shalt not take the name of the Lord thy God in vain.
Remember thou keep holy the Sabbath day.
Honor thy father and thy mother.
Thou shalt not kill.
Thou shalt not commit adultery.
Thou shalt not steal.
Thou shalt not bear false witness against thy neighbor.
Thou shalt not covet thy neighbor's wife.
Thou shalt not covet thy neighbor's goods.
---
Jesus speaks: Children of America and of the earth, you must obey the laws of God.
Children are to obey parents, parents are responsible for the spiritual upbringing of their children.
You cannot kill babies.
You cannot lie and cheat and have sex outside of marriage. All this is against My law. You are not permitted to parade nude and other seductive pictures before My young.
The accursedness of the pornography and of so much of the television, the movies, the music, the posters!
I am God. Your sins I have paid for with My Blood. Now you suffer in your world with your own children and their ways.
There is incorrect teaching taking place in schools and churches, and the wrong interpretation and misuse of My word being taught to the young is appalling.
I will cleanse the decks.
I have warned you.
Mary appears in Florida. Where is the fruit for My Kingdom?
You must heed these warnings from heaven.
To ignore them will make your punishment more severe.
These messages are love letters to you from Me, My beloved earth.
I beg you to listen to Me.
I beg you to ask for forgiveness for your world and pray as I have instructed, and I will help you.
---
Question for married couples and others in intimate relationships:
Q: What is most important to me in this relationship with you?
---
---
Copyright © 2000Shepherds of Christ.
Rights for non-commercial reproduction granted:
May be copied in its entirety, but neither re-typed nor edited.
Translations are welcome but they must be reviewed for moral and theological accuracy by a source approved by Shepherds of Christ Ministries before any distribution takes place. Please contact us for more information.
All scripture quotes are from the New Jerusalem Bible, July 1990, published by Doubleday.
Revised: May 28, 1999
URL: http://www.SofC.org
Contact Information for Shepherds of Christ
Email: info@SofC.org
---
Shepherds of Christ Ministries
PO Box 193
Morrow, Ohio 45152-0193

Telephone: (toll free) 1-888-211-3041 or (513) 932-4451
FAX: (513) 932-6791