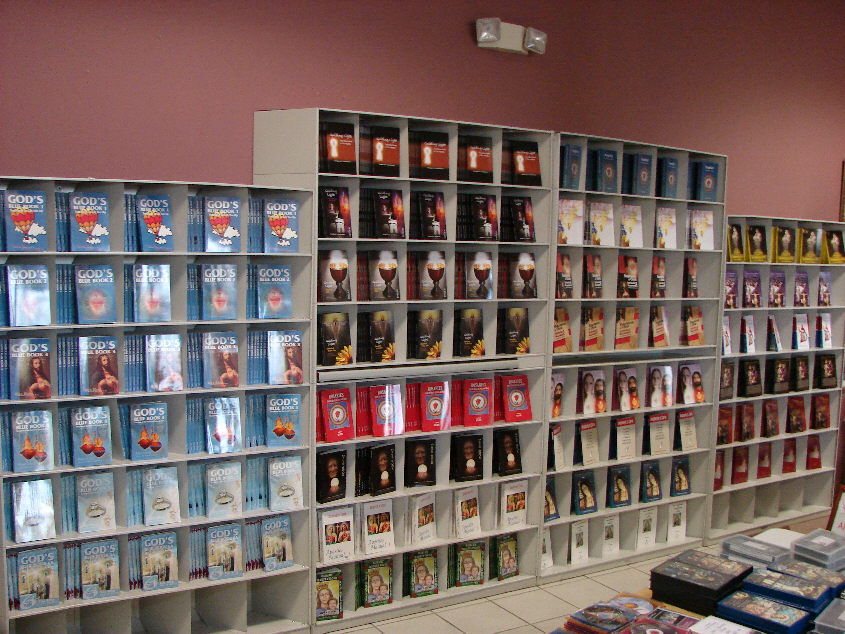 The Florida Book Store
June 19, 2011
R. Give honor to God the Father
United to Jesus —
In Him —
In the Holy Spirit —
Our beloved Father who created
us uniquely —
Who picked us — who wants us —
Father, Father, Father — our love —
we want to do Your will —
To help build the Kingdom of God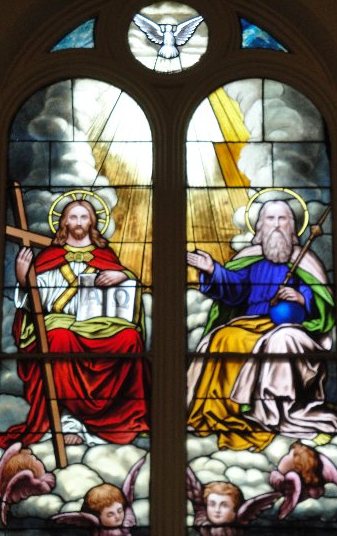 The Our Father
Our Father, Who art in heaven, hallowed be Thy name. Thy Kingdom come, Thy will be done on earth as it is in heaven. Give us this day our daily bread and forgive us our trespasses as we forgive those who trespass against us. And lead us not into temptation, but deliver us from evil. Amen.
R. I only want to be wrapped in Your presence, My God —
My God, My God, Father, Son and Holy Spirit —
One eternal God
Joyful Mysteries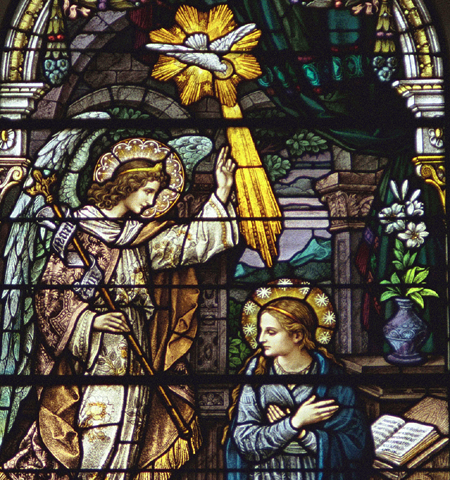 Annunciation
(1) John 3: 16
For this is how God loved the world:
he gave his only Son,
so that everyone who believes in him
may not perish
but may have eternal life.
(2) R. God created an orderly, harmonious world.
(3) R. Adam and Eve sinned —
(4) The Ten Commandments
1. I, the Lord, am your God. You shall not have other gods besides me.
2. You shall not take the name of the Lord, your God, in vain.
3. Remember to keep holy the Sabbath day.
4. Honor your father and your mother.
5. You shall not kill.
6. You shall not commit adultery.
7. You shall not steal.
8. You shall not bear false witness against your neighbor.
9. You shall not covet your neighbor's wife.
10. You shall not covet anything that belongs to your neighbor.
(5) R. What a gift!!
Luke 1: 26-38
In the sixth month the angel Gabriel was sent by God to a town in Galilee called Nazareth, to a virgin betrothed to a man named Joseph, of the House of David; and the virgin's name was Mary. He went in and said to her, 'Rejoice, you who enjoy God's favour! The Lord is with you.' She was deeply disturbed by these words and asked herself what this greeting could mean, but the angel said to her, 'Mary, do not be afraid; you have won God's favour. Look! You are to conceive in your womb and bear a son, and you must name him Jesus. He will be great and will be called Son of the Most High. The Lord God will give him the throne of his ancestor David; he will rule over the House of Jacob for ever and his reign will have no end.' Mary said to the angel, 'But how can this come about, since I have no knowledge of man?' The angel answered, 'The Holy Spirit will come upon you, and the power of the Most High will cover you with its shadow. And so the child will be holy and will be called Son of God. And I tell you this too: your cousin Elizabeth also, in her old age, has conceived a son, and she whom people called barren is now in her sixth month, for nothing is impossible to God.' Mary said, 'You see before you the Lord's servant, let it happen to me as you have said.' And the angel left her.
(6) R. Oh God so loved the world —
Mary loved the Father —
(7) R. Mary was from the first moment
of conception
"conceived without sin"
(8) R. The Christian life is a response
to God's gift of Himself.
God gives us a share in His life
in baptism —
(9) R. We respond in love by giving ourselves
to God and our fellowman, by
dynamically living out this life
of grace, this Christ-life, in
the pattern of death-resurrection.
(10) R. Mary shows us her "yes" to God!!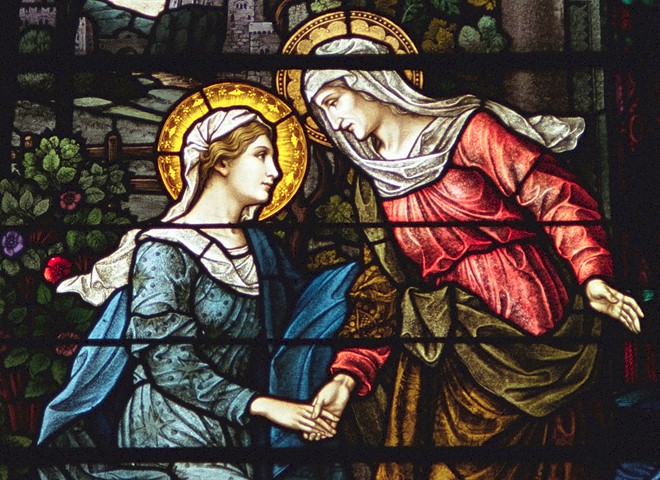 The Visitation
(1) Luke 1: 39-45
Mary set out at that time and went as quickly as she could into the hill country to a town in Judah. She went into Zechariah's house and greeted Elizabeth. Now it happened that as soon as Elizabeth heard Mary's greeting, the child leapt in her womb and Elizabeth was filled with the Holy Spirit. She gave a loud cry and said, 'Of all women you are the most blessed, and blessed is the fruit of your womb. Why should I be honoured with a visit from the mother of my Lord? Look, the moment your greeting reached my ears, the child in my womb leapt for joy. Yes, blessed is she who believed that the promise made her by the Lord would be fulfilled.'
(2) R. Mary and Elizabeth were both
filled with the Holy Spirit —
It shows their self-less-ness
as the Holy Spirit speaks through
them —
They were empty vessels —
not full of self — they
were being all God wanted them
to be —
Elizabeth carrying John —
Mary carrying Jesus —
(3) R. God calls, we respond
The perfect handmaid of the Lord —
Mary shows us her response —
Elizabeth in her old age is not
barren any more, but carrying
John.
(4) R. They are not getting in the way
of the heavenly Father's Plan
for them —
(5) R. In the beginning God said
"Let there be light"
And the command is responded
to "and there was light"
(6) Exodus 14: 13-14
Moses said to the people, 'Do not be afraid! Stand firm, and you will see what Yahweh will do to rescue you today: the Egyptians you see today you will never see again. Yahweh will do the fighting for you; all you need to do is to keep calm.'
R. God blesses us when we
obey Him — He helps us in
battle when we battle for Him —
(7) R. We see all that happened to us
Adam and Eve's descendants because
they disobeyed God —

Exodus 14: 26-31

Then Yahweh said to Moses, 'Stretch out your hand over the sea and let the waters flow back on the Egyptians and on their chariots and their horsemen.' Moses stretched out his hand over the sea and, as day broke, the sea returned to its bed. The fleeing Egyptians ran straight into it, and Yahweh overthrew the Egyptians in the middle of the sea. The returning waters washed right over the chariots and horsemen of Pharaoh's entire army, which had followed the Israelites into the sea; not a single one of them was left. The Israelites, however, had marched through the sea on dry ground, with walls of water to right and left of them. That day, Yahweh rescued Israel from the clutches of the Egyptians, and Israel saw the Egyptians lying dead on the sea–shore. When Israel saw the mighty deed that Yahweh had performed against the Egyptians, the people revered Yahweh and put their faith in Yahweh and in Moses, his servant.
(8) 1 Samuel 15: 22-23
To which, Samuel said:

Is Yahweh pleased by burnt offerings
and sacrifices
or by obedience to Yahweh's voice?
Truly, obedience is better than sacrifice,
submissiveness than the fat of rams.
Rebellion is a sin of sorcery,
presumption a crime of idolatry!

'Since you have rejected Yahweh's word, he has rejected you as king.'
(9) R. Hannah was Samuel's mother —
1 Samuel 1: 9-20
When they had finished eating in the room, Hannah got up and stood before Yahweh. Eli the priest was sitting on his seat by the doorpost of the temple of Yahweh. In the bitterness of her soul she prayed to Yahweh with many tears, and she made this vow, 'Yahweh Sabaoth! Should you condescend to notice the humiliation of your servant and keep her in mind instead of disregarding your servant, and give her a boy, I will give him to Yahweh for the whole of his life and no razor shall ever touch his head.' While she went on praying to Yahweh, Eli was watching her mouth, for Hannah was speaking under her breath; her lips were moving but her voice could not be heard, and Eli thought that she was drunk. Eli said, 'How much longer are you going to stay drunk? Get rid of your wine.' 'No, my lord,' Hannah replied, 'I am a woman in great trouble; I have not been drinking wine or strong drink — I am pouring out my soul before Yahweh. Do not take your servant for a worthless woman; all this time I have been speaking from the depth of my grief and my resentment.' Eli then replied, 'Go in peace, and may the God of Israel grant what you have asked of him.' To which she said, 'May your servant find favour in your sight.' With that, the woman went away; she began eating and was dejected no longer.
They got up early in the morning and, after worshipping Yahweh, set out and went home to Ramah. Elkanah lay with his wife Hannah, and Yahweh remembered her. Hannah conceived and, in due course, gave birth to a son, whom she named Samuel, 'since', she said, 'I asked Yahweh for him.'
(10) R. Hannah's prayer when she conceived:
1 Samuel 2: 1-11
Hannah then prayed as follows: My heart exults in Yahweh, in my God is my strength lifted up, my mouth derides my foes, for I rejoice in your deliverance. There is no Holy One like Yahweh, (indeed, there is none but you) no Rock like our God. Do not keep talking so proudly, let no arrogance come from your mouth, for Yahweh is a wise God, his to weigh up deeds. The bow of the mighty has been broken but those who were tottering are now braced with strength. The full fed are hiring themselves out for bread but the hungry need labour no more; the barren woman bears sevenfold but the mother of many is left desolate. Yahweh gives death and life, brings down to Sheol and draws up; Yahweh makes poor and rich, he humbles and also exalts. He raises the poor from the dust, he lifts the needy from the dunghill to give them a place with princes, to assign them a seat of honour; for to Yahweh belong the pillars of the earth, on these he has poised the world. He safeguards the steps of his faithful but the wicked vanish in darkness (for human strength can win no victories). Yahweh, his enemies are shattered, the Most High thunders in the heavens. Yahweh judges the ends of the earth, he endows his king with power, he raises up the strength of his Anointed. Elkanah then went home to Ramah, but the child stayed in Yahweh's service, in the presence of Eli the priest.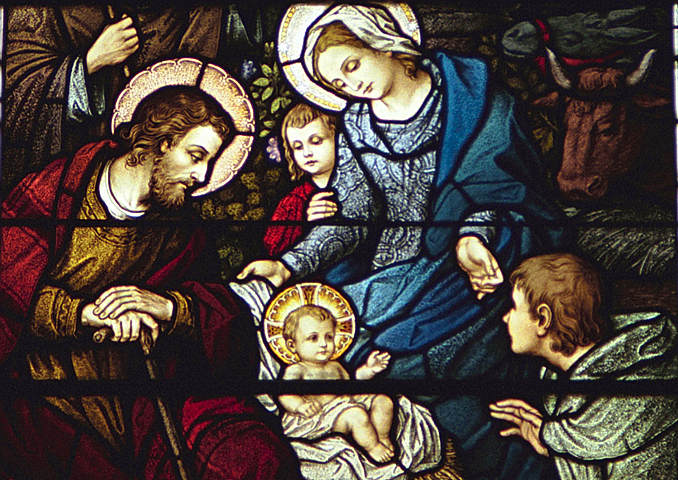 The Birth of Jesus
(1) R. We see the importance of John the
Baptist and he came to barren
Elizabeth —
He jumped in Elizabeth's womb
when Mary came to visit
Elizabeth —
We see how Samuel was given to
Hannah —
We see that Sarah and Abraham could
not conceive, but then conceived Isaac —
We see that Rachel and Jacob had
a problem getting together —
But we see the hand of God —
They had to be patient and wait
on the Lord —
We had to wait according
to the Plan of the Father
until the right time
for Jesus to be born,
for the Messiah to come
(2) R. God has a plan for us —
God the Father created us
from all the possibilities —
He made us unique, we
have a unique contribution to
make —
The time for us to be here,
as the Father intended, is now.
We have a unique contribution to make
God the Father had the purpose for our life, now.
We get caught up in foolish things
in the impurities in us —
the devil tries to drive us
from the 'mark' God
wants
In the depth of union with God —
in ecstasies — we are so
purely responsive —
the empty vessel wanting —
only what God wants —
the Holy Spirit filling us — not being
filled with jealousies, angers,
possessiveness from the evil
spirit trying to take us from
the 'mark' of serving God —
Serving God as God the Father wants
is hitting the 'target' —
Being like the evil one who wants
us to say "I will not serve
God" is missing the 'target'
Fr. Mike says —
"Keeping our focus
on the target"
(3) R. The Tower of Babel — they were
doing their own will —
Noah did what God wanted —
Noah found favor with God —
God knows our heart —
He knows how pure is our
response —
God blesses those who obey Him
and live to serve Him —
Abraham served God
Abraham was faithful to God —
Abraham wanted what God wanted
even though he suffered —
Abraham became the Father of
many nations, descendants
because of his faithfulness —
and the Lord blessed him —
God is the most high —
Satan wants us to disobey God —
not serve God as He wishes —
make ourselves in competition
with God's plan —
Satan is the great deceiver —
Satan is the father of lies —
Jesus is Lord of the truth —
When somebody over us asks us a
question for building God's
Kingdom and we lie or
deceive to get power —
we are acting as satan wants —
not responding in the order
God has ordained for us
to obey and serve and help those
over us to do the job our
Heavenly Father wants —
Let's serve our heavenly Father —
stay connected to the vine —
don't be a barren, disconnected
branch — serving satan and
bearing no fruit —
A saint is one who doesn't ever
want to offend God — they
want no taint of sin on
their soul —
They live to serve God and build
His Kingdom — Response to God's Love
(4) R. Remember the cities of Sodom
and Gomorrah were destroyed
for their wickedness by
fire —
Lot's wife turned into a pillar
of salt for not obeying —
(5) R. Abraham proved his faith by being
willing to offer his own son Isaac as
a sacrifice —
Abraham shows us about obedience,
faithfulness and he had
many descendants —
as numerous as the stars
of the sky.
(6) R. Rebekah and Isaac were
married —
Rebekah was barren for
about 19 years —
Isaac interceded to God —
God grants her conception —
Esau and Jacob
(7) R. Joseph was born son of Jacob
and Rachel —
Joseph was blessed — even
though he suffered —
he was blessed —
(8) R. Moses arrived to the Pharaoh's
daughter in a basket
from the banks of the river —
The Lord appeared to Moses in a
burning bush —
(Jacob had seen a ladder reaching
to heaven) —
Moses was sent to Egypt to
deliver Israel from bondage —
(9) R. Jesus is the Son of God —
Jesus is born in a stable in
Bethlehem —
Jesus the Savior of the world
(10) The Song from Jesus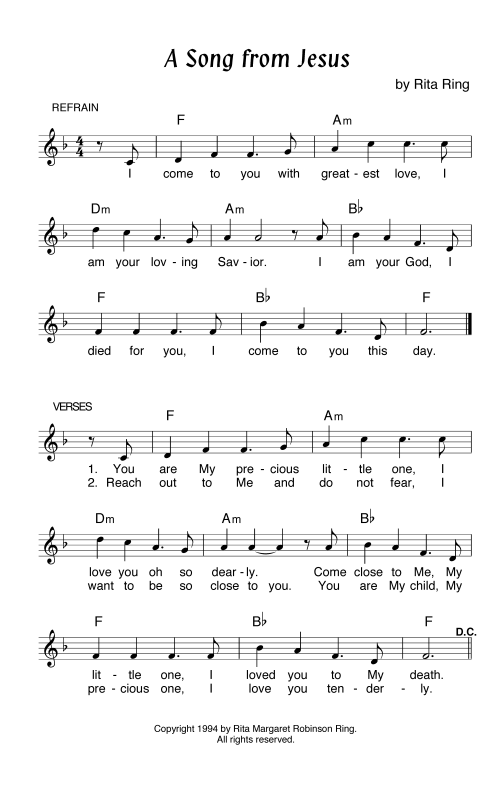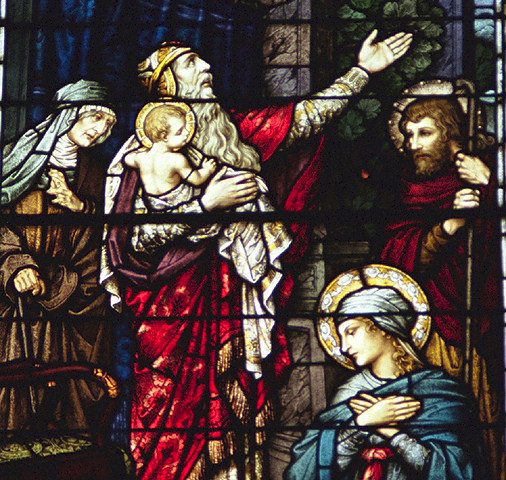 The Presentation of Our Lord in the Temple
(1) Luke 2: 22-35
And when the day came for them to be purified in keeping with the Law of Moses, they took him up to Jerusalem to present him to the Lord—observing what is written in the Law of the Lord: Every first–born male must be consecrated to the Lord—and also to offer in sacrifice, in accordance with what is prescribed in the Law of the Lord, a pair of turtledoves or two young pigeons. Now in Jerusalem there was a man named Simeon. He was an upright and devout man; he looked forward to the restoration of Israel and the Holy Spirit rested on him. It had been revealed to him by the Holy Spirit that he would not see death until he had set eyes on the Christ of the Lord. Prompted by the Spirit he came to the Temple; and when the parents brought in the child Jesus to do for him what the Law required, he took him into his arms and blessed God; and he said:

Now, Master, you are letting
your servant go in peace
as you promised;
for my eyes have seen the salvation
which you have made ready
in the sight of the nations;
a light of revelation for the gentiles
and glory for your people Israel.

As the child's father and mother were wondering at the things that were being said about him, Simeon blessed them and said to Mary his mother, 'Look, he is destined for the fall and for the rise of many in Israel, destined to be a sign that is opposed—and a sword will pierce your soul too—so that the secret thoughts of many may be laid bare.'
(2) R. There is one true God —
We see all through the Old Testament how
they fell into idolatry —
(3) R. King Saul disobeyed God —
So Samuel anointed David King —
Jesus came from the house of
David
(4) R. From the New Cycle "B" Book to be
printed of Fr. Joe's homilies —
Book 5
Jeremiah 23: 1-6
'Disaster for the shepherds who lose and scatter the sheep of my pasture, Yahweh declares. This, therefore, is what Yahweh, God of Israel, says about the shepherds who shepherd my people, "You have scattered my flock, you have driven them away and have not taken care of them. Right, I shall take care of you for your misdeeds, Yahweh declares! But the remnant of my flock I myself shall gather from all the countries where I have driven them, and bring them back to their folds; they will be fruitful and increase in numbers. For them I shall raise up shepherds to shepherd them and pasture them. No fear, no terror for them any more; not one shall be lost, Yahweh declares!


Look, the days are coming,
Yahweh declares,
when I shall raise an upright Branch
for David;
he will reign as king and be wise,
doing what is just and upright
in the country.
In his days Judah will triumph
and Israel live in safety.
And this is the name he will be called,
'Yahweh–is–our–Saving–Justice.' "
Sixteenth Sunday of Ordinary Time
July 19, 2009
HOMILY: There was a man who worked in a museum whose job it was to explain the different exhibits. On one occasion he pointed to the bones of a dinosaur saying the bones were 100 million and 9 years old. Someone asked how they could date those bones so accurately. He said "well, when I started working here, I was told these bones were 100 million years old and I've worked here for nine years."

Today I want to give everyone a little history lesson. I'm not going back to the dinosaurs, but I am going back pretty far – to King David, 1000 years before Christ. When I was in school, I hated history. It wasn't until we studied the history of the Old Testament in the seminary that I began to appreciate it. I cannot cram 1000 years of history into a couple of minutes. I just want to touch on the parts of Jewish history that are mentioned in today's reading. If you want to learn more, read everything in the Old Testament, but be sure you have a commentary to help you. Otherwise, you'll give up in despair because you won't know what it's all about - especially the prophets and the historical books.

When David was king 1000 years before Christ, David wanted to build a house for God, since there was no Temple for God at that time. God did not give David permission to do so, however God promised David through the prophet Nathan that he would bless him and build David a house in the sense that David's kingdom would continue forever and one of his descendants would always rule. This blessing lasted through the reign of David's son, Solomon; but we humans somehow have the ability to sabotage God's blessings. Solomon turned to pagan gods and over-extended the country financially by elaborate building projects and exorbitant taxes, so when Solomon died there was a rebellion and most of Israel broke away from Solomon's successor, David's grandson, Rehoboam. Rehoboam continued to rule over the southern part of Israel, the area we know as Judaea . For 400 years (and this is amazing) the kings of Judaea were descendants of King David. The northern kingdom that rebelled against David's successors suffered under a succession of kings and rebellions. In less than 300 years the northern kingdom was destroyed by the Assyrians, people from northern Iraq. About 100 years after that, the Babylonians from southern Iraq conquered the Assyrians and took control of the entire Middle East. The conquest of the Babylonians brings us up to Jeremiah whom we heard in today's first reading. At the time of Jeremiah, here was the situation: the northern kingdom no longer existed. The southern kingdom, Judaea, was still being ruled by David's descendants but they were not loyal to God or to God's laws. Jeremiah spoke to these kings as they came into power, the last four being: Jehoahaz, Jehoiakim, Jehoikin and Zedekiah. Zedikiah, the last reigning king, died in disgrace. After the Babylonians captured him, his sons were slaughtered before his eyes, he was then blinded and led off to Babylon in chains where he presumably died. You can read how Jeremiah spoke with them in great detail in the book of Jeremiah. He told them exactly what they needed to do to survive the invading forces of Babylon. His messages were ignored. He blames them and their leadership for the destruction that came upon God's people. As we heard in today's first reading, God speaks through Jeremiah: "Woe to the shepherds who mislead and scatter the flock of my pasture." God said he would take over shepherding his people; he would bring them back from exile; he would appoint leaders over them who would serve them well and lead them to peace and security. It took 600 years before God thought the world was ready for this king who would reign and govern wisely, who would do what is just and right in the land.

But then he came, through the announcement of an angel to a virgin who was engaged to a man named Joseph of the house of David, and the virgin's name was Mary. And the angel said to her "Do not be afraid Mary, for you have found favor with God. Behold, you will conceive in your womb and bear a son, and you shall name him Jesus. He will be great and will be called Son of the Most High, and the Lord God will give him the throne of David his father, and he will rule over the house of Jacob forever, and of his Kingdom there will be no end."

In last week's gospel, Jesus sent his apostles out to heal and cast out demons and to call people to repentance. In today's gospel we are told of their return, excited over their experience and tired. Jesus wanted to some time off, but he couldn't. The mission of Jesus and his apostles apparently was so successful that a great crowd caught up with them before they had chance to catch their breath. Mark describes Jesus taking compassion on them (his heart was moved with deep sympathy for them would probably be a better translation). He saw them as sheep without a shepherd, - people without leadership, and he began to teach them.

One of the important messages in today's readings is that in love our Lord leads us, by teaching us and appointing others to teach us. But we need to listen, and we need to keep on listening. We'll never be finished listening and learning as long as our world suffers from injustice, poverty, hunger, discrimination, war, hatred and killing of innocent people. Christ would be put to death before he would stop teaching. It is to our own great loss when we stop listening. That's one of the reasons we are here each weekend, to listen and to learn. We call ourselves disciples. The word disciple means learner. When we've quit learning, we've quit being a disciple.
(5) R. The Israelites suffered —
Many times they would disobey
what God wanted —
Solomon, David's son, also
worshipped false gods
towards the end of his life —
Solomon did not live up to
what God wanted —
He disobeyed God's commandments —
Solomon had about 700 wives and
300 concubines —
they brought their false gods —
Solomon gradually ceased to be
fully devoted to God —
This angered God —
When Solomon died the Kingdom
splits into 2 —
Israel and Judah —
Jeroboam King of Israel
Rehoboam King of Judah —
There is the worshipping of false
gods in Israel at
Bethel and Dan —
Jeroboam stopped religious
ties with Jerusalem —
Judah stopped worshipping
false gods —
Elijah tells of famine
in Israel and
it happened —
Much struggles took place
Struggles, Struggles for power —
(6) R. God sent prophets —
(7) Exodus 16: 2-4, 12-15
And the whole community of Israelites began complaining about Moses and Aaron in the desert and said to them, 'Why did we not die at Yahweh's hand in Egypt, where we used to sit round the flesh pots and could eat to our heart's content! As it is, you have led us into this desert to starve this entire assembly to death!'
Yahweh then said to Moses, 'Look, I shall rain down bread for you from the heavens. Each day the people must go out and collect their ration for the day; I propose to test them in this way to see whether they will follow my law or not.
'I have heard the Israelites' complaints. Speak to them as follows, "At twilight you will eat meat, and in the morning you will have bread to your heart's content, and then you will know that I am Yahweh your God."'
That evening, quails flew in and covered the camp, and next morning there was a layer of dew all round the camp. When the layer of dew lifted, there on the surface of the desert was something fine and granular, as fine as hoarfrost on the ground. As soon as the Israelites saw this, they said to one another, 'What is that?' not knowing what it was. 'That', Moses told them, 'is the food which Yahweh has given you to eat.
R. From the New Cycle "B" Book to be
printed of Fr. Joe's homilies —
Book 5
18th Sunday of Ordinary Time

August 2, 2009
INTRODUCTION: (Ex 16:2-4,12-15; Eph 4:17,20-24; John 6:24-35) The first reading tells us God did not make death. Rather, it came about through the envy of the devil. This is obviously a commentary on the story of Adam and Eve in the garden – how they tried to find their happiness and fulfillment by doing things their way rather than God's way. They didn't trust what God told them. Often we blame Adam and Eve for all the problems in the world and say if they hadn't sinned we would be in much better shape, but we're no different. Too often we chose not to trust God and seek our happiness and fulfillment by doing things our way rather than doing what God tells us we must do. When the reading tells us that those who belong to the company of the devil experience death, it is referring to spiritual death.

The first reading gives us some background for the gospel. It tells how God fed his people with manna 1300 years earlier as Moses led them through the desert to the promised land. In their conversation with Jesus in the gospel, the people refer to this event from the Book of Exodus.
(8) R. We see the sorrows of Jesus and Mary.
Seven Sorrows of Mary

(1) The first sorrow: the prophecy of Simeon
(2) The second sorrow: the flight into Egypt
(3) The third sorrow: the loss of the Child Jesus in the temple
(4) The fourth sorrow: Jesus and Mary meet on the way to the cross
(5) The fifth sorrow: Jesus dies on the cross
(6) The sixth sorrow: Jesus is taken down from the cross and laid in Mary's arms
(7) The seventh sorrow: the burial of Jesus
(9) Song: Little Baby Hands and Feet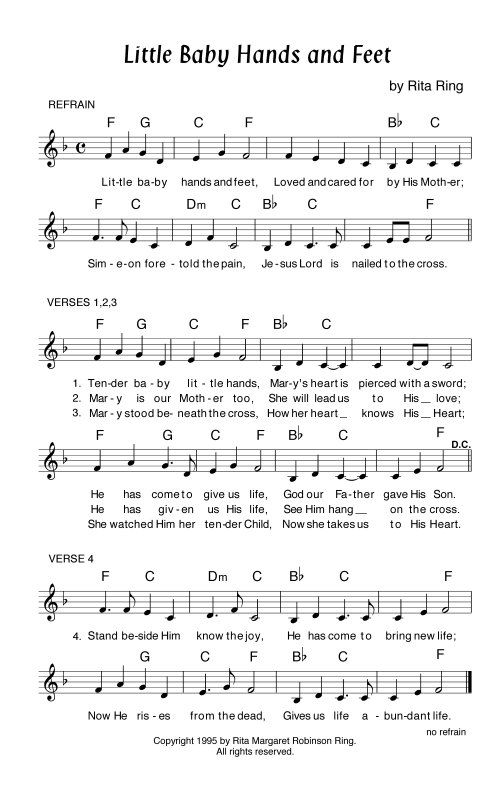 (10) Song: See the Eyes that Look at Mary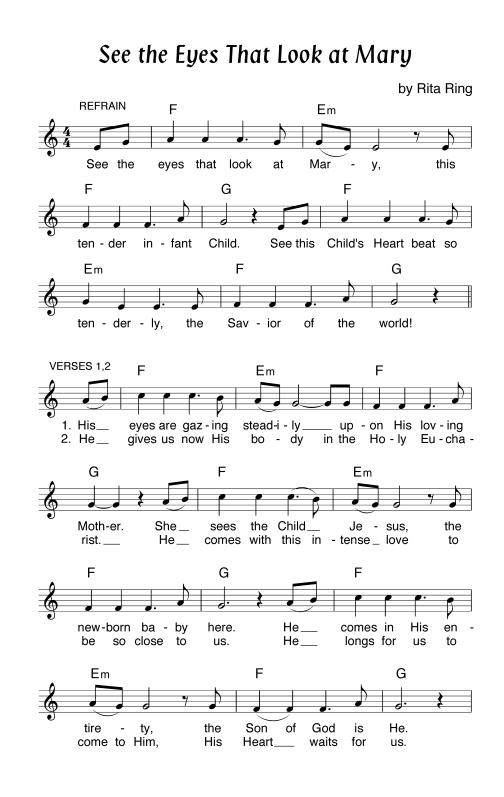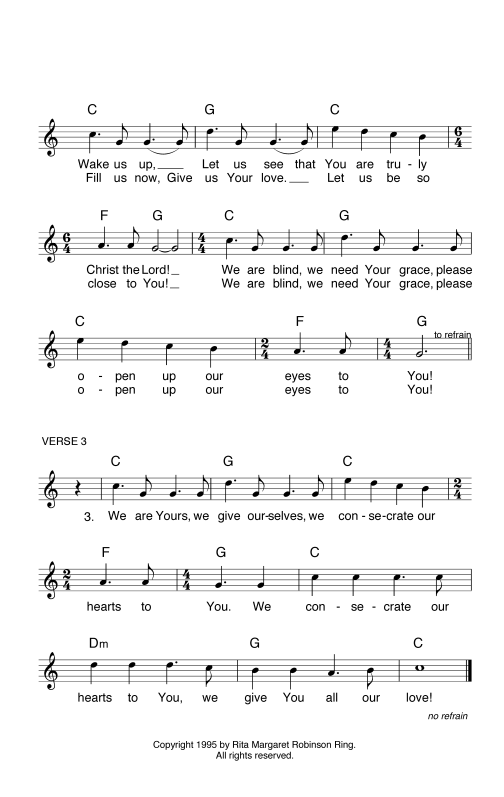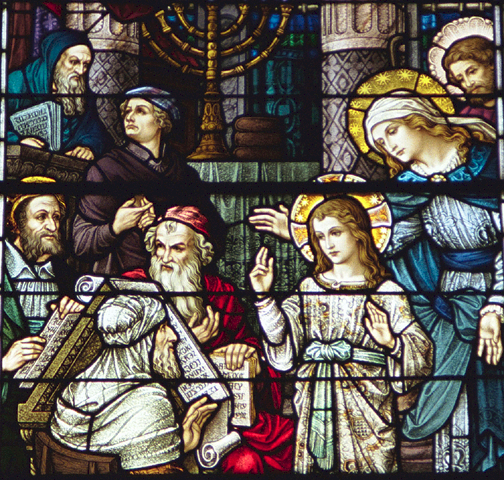 The Finding of the Child Jesus in the Temple
(1) Luke 2: 48-50
They were overcome when they saw him, and his mother said to him, 'My child, why have you done this to us? See how worried your father and I have been, looking for you.' He replied, 'Why were you looking for me? Did you not know that I must be in my Father's house?' But they did not understand what he meant.
(2)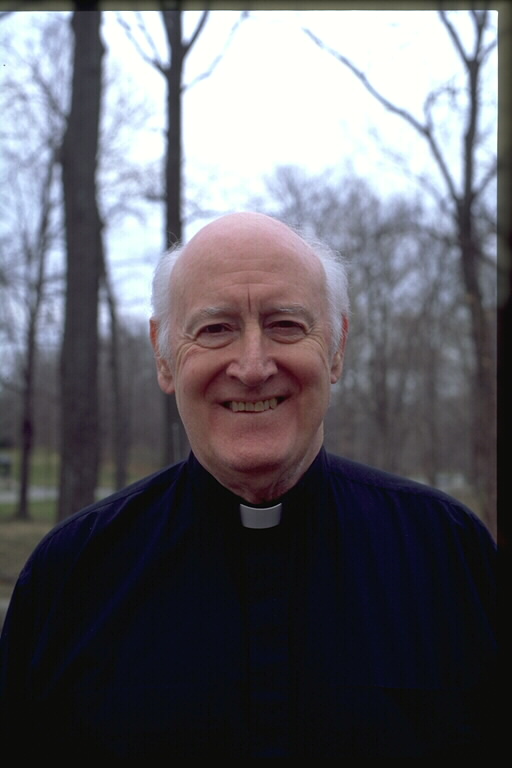 Excerpt from Mother at Our Side, by Fr. Edward Carter, S.J.
four
God's Will—Our Guiding Principle
The above scene describes how Mary and Joseph found Jesus in the temple after having been separated from Him. As they were returning home after the Passover celebration, they realized Jesus was not with them, and returned to Jerusalem to search for Him. The scene has various lessons for us concerning God's will.

With the Holy Family traveling in two separate groups (Mary with one, Joseph with the other, and Jesus with either from time to time), we understand how Mary and Joseph could have received conflicting stories regarding their Son's whereabouts. The Father's will may have been made known to Jesus in such a way that the timing of His response precluded alerting His parents to the change in His plan. Whatever the details were, we can be assured that there was no error made on the parts of Jesus, Mary, or Joseph. We can base our trust in this on what we know through faith—that Jesus would never have been disobedient or thoughtless toward His parents, and that Mary and Joseph could not possibly have been inept parents.

(3) Excerpt from Mother at Our Side, by Fr. Edward Carter, S.J. - chapter 4 continues

Even so, as people who expect certain behaviors of children and parents, we can be unsettled by some unanswered questions presented. Yet, since this event is included in Sacred Scripture, we know it has tremendous value for us as the Word of God. We also know that obedience to God's will always works in the best interests of everyone concerned, even when it is not obvious, even for quite some time.

The scene reminds us of the guiding principle of Jesus' life—loving conformity to His Father's will. Although Mary and Joseph were returning home, in some way Jesus knew He was supposed to remain in the temple at this particular time. His course of action was no different in this instance than it had been in the past and would be in the future. His Father's will was made manifest, and He obeyed; His Father showed the way, and He followed. The Father's will was always Jesus' way, every day, in all matters. As followers of Jesus, His guiding principle must also be ours.

(4) Excerpt from Mother at Our Side, by Fr. Edward Carter, S.J. - chapter 4 continues

This event in Christ's life also demonstrates that conformity to God's will sometimes brings hurt or sorrow to loved ones. Jesus knew that His remaining behind would cause suffering for Mary and Joseph—we can well imagine their anxiety. Jesus was sorry this had to be. He certainly was not insensitive to His parent's feelings, yet He had to do what He did. There can be similar situations in our own lives. Precisely because we are striving to seek out and do God's will, we may be causing hurt to loved ones. We know, however, there is no other course of action if we are to be open to God's designs for us.

The finding of the child Jesus in the temple illustrates still a further point regarding conformity to God's will. Mary and Joseph knew that somehow it was God's will that Jesus remain in Jerusalem as they themselves headed back to Nazareth. Yet they did not comprehend why all this happened. They recognized God's will, but they did not understand it. They accepted this will, however, along with the pain it produced in their lives.

(5) Excerpt from Mother at Our Side, by Fr. Edward Carter, S.J. - chapter 4 continues

The application of this lesson to our own Christian lives is vividly manifest. At times there occurs an incident we do not understand. We realize that somehow this is God's will, at least His permissive will, yet we do not understand why, and our unknowing is part of our pain.

Mary always perfectly conformed herself in love to God's will. It was her joy to so act. Sometimes the doing of God's will caused her considerable suffering, as we see from the above Gospel scene. Later on, the sword of suffering would pierce her even more deeply.

In summary, we can say that Mary always reached out and embraced God's will with the deepest love, whether this was easy or very difficult. Mary has left us these famous words: Behold, I am the handmaid of the Lord. May it be done to me according to your word. (Lk. 1:38). Let us ask our mother to obtain for us the grace to grow in our own conformity to the will of God.
(6)
shipped from the printers
December 17, 1996

Mary appeared
December 17, 1996
From the Red Rosary Book - July 13, 1995 Rosary (excerpt)
The Finding of the Child Jesus in the Temple

1. R. The child Jesus was taken up to the Temple for the feast of Passover. Mary's Heart ached constantly from the prophecy of Simeon. Feel in your heart as Mary felt. She knew ever since the prophecy of Simeon of the suffering to come. There was such a connection between Jesus and Mary, such intimacy between them! We see the Two Hearts beating within her body in the first two mysteries of the rosary. She provides life for Jesus through her milk in the third mystery. She comes to the Temple with the child Jesus in her arms and Simeon tells her of the sufferings to come. Now they take the child Jesus to the Temple. Jesus is separated from Mary and Joseph. Mary and Joseph go on their way and Jesus is left behind. When Mary realizes that the child Jesus was left behind, her Heart is in such sorrow! She returns to find the child Jesus.

2. R. I see all through the mysteries of the rosary the intimacy between Jesus and Mary. This separation was so painful to Mary, for she knew of the separation to come. When she found the child Jesus, she said to Him, "Son, why have you done this to us? Your father and I have been looking for you with great anxiety." In her Heart, she knew the sufferings of Jesus to come. In the windows in this chapel, across from the Finding of Jesus in the Temple, is the Death of Jesus on the Cross. This was a small separation between her and her child. She searched, she knew of the sufferings to come. She knew of a more drastic separation. He would be locked in the tomb. Her Heart was in such sorrow, for she knew far more than what we see.
(7) July 13, 1995 Rosary - The Finding of the Child Jesus in the Temple continues
3. R. Mary carried many things in her Heart. Few times we hear her speak. There was a secret between her and her Son all through Their lives.

4. R. A sword, too, shall pierce your Heart, O Mary. Our eternal life was merited by Christ's life and death on the cross. Water and blood poured forth from His pierced Heart. Life flows through Mary's pierced Heart to us for she is the Mediatrix of all graces. Our Mother, giving to us, dispensing to us this life. As she gave life to the physical body of Jesus, so she dispenses supernatural life to us.
(8) July 13, 1995 Rosary - The Finding of the Child Jesus in the Temple continues
5. R. We are being formed more and more in the spiritual womb of Mary, through the Holy Spirit, to be more and more like Jesus.

6. Mary: My dear little children, I am Mary, your Mother. I ask you to pray as you have never prayed before from your heart for all the little lost children in this world today. I stood under the cross and I watched my Son as He suffered and died. This day, my dear ones, many of my children will be lost forever, for their hearts are willful and they go about their lives in sin. Jesus loves each and every child. I am the Mother of each child. I love each one of my children, your brothers. Will you pray from your hearts, my dear children? Pray for all the little lost children of this world. I am Mary, your Mother, and I am asking you this day to hear my words. I speak to you with this urgent request to pray as you have never prayed before.
(9) July 13, 1995 Rosary - The Finding of the Child Jesus in the Temple continues
7. Mary: My Heart was in such sorrow for the loss of my child! My Heart is sorrowing for the loss of so many this day. My dear little children, pray. Offer your days, each day, to the Father in union with the Holy Sacrifice of the Mass, in the Spirit, with all the angels and saints and souls in purgatory. Offer up all of your actions for the little children of this world who are suffering and in pain.

8. Mary: I am Mary, your Mother. I speak to you. This is an urgent request. Let go and come to the Heart of my Son. He will fill you with such love and you will go into this world. You will spread this love. Pray to the Father. Come to my Heart and dwell in my Heart. For I dwell in the Heart of my Son, and I will place you in the deepest recesses of His Heart. Pray to the Holy Spirit. My dear ones, when you are filled with the love of God, when you come from a place where your hearts are filled with love, you will give love to all in this world. When your hearts are sorrowing and in pain, come to the Almighty God. Spend quiet moments with Him, and let Him fill you with His love. My Son Jesus is waiting and waiting, minute by minute, second by second, for you to come. Come, my little children, to the Heart of my Son.
(10) July 13, 1995 Rosary - The Finding of the Child Jesus in the Temple continues
9. Jesus: Many are called, but few are chosen. You have been called to the house of My Mother to hear this message. I am Jesus, your beloved Savior. I speak to you, My dear ones, with a soft and gentle Heart, always a Heart that is filled with such love! Come to Me and I will give to you all that you need. This world is hurting and in pain, and I am sending you into the world as My soldiers to light the darkness. My dear little ones, this world has turned godless. You must focus on the Almighty God. Do not let Satan talk in your minds to divide you. Do not harbor in your hearts any resentment or anger toward your brothers. Harboring this resentment and anger hurts your union with Me. Only a heart of love can properly unite with My Heart. I call you to holiness. I call you to open up your hearts and let Me enter. I will give to you My divine life and My divine love. I am Jesus. I talk to you gently and sweetly. Do you hear? It is in the quietness that you will hear My gentle voice. I am attentive to your every need, gently caring for each and every one of the tasks that you perform. I love you! I love you! I love you! Surrender, My dear ones, and know that I will never abandon you. I wait by the door of your heart. I wait, I wait, I wait. Will you open your heart and let Me in? Trade any bitterness for My divine love. I am Jesus, your beloved Savior. I gave My life for you. Will you love your hurting brothers for Me?

10. Hail Mary…

R. Mary said to tell you that She has called each and every person here. She wants you to answer this call. The time is urgent and this world is in need of your prayers. Come to her Son in the Eucharist and in front of the Tabernacle. It is there that He will instruct you in the ways He wants you to go. You are loved far beyond your comprehension. It is in Him that you will find peace and joy. He has all the answers for your life. Do not pick up your phones and complain and argue. Come to the Heart of Jesus and feel the peace that He gives to you. Feel the life that He outpours. He is the Almighty God and He has all the power. Amen.

Song: I come to you with greatest love…

The Seven Sorrows of Mary…

R. Jesus said, "I love you! I love you! I love you!" He wants hearts that are on fire for love of Him. He wants to hear from your lips the words of your love. He is waiting and longing and thirsting. He loves you personally. He loves you so much!

end of July 13, 1995 rosary meditations
R. The Mystery of the Trinity we cannot
fully understand here —
We seek the beatific vision —
We take the mystery of the Trinity
on faith —
Jesus said,
"The Father and I are one"
"He who sees Me, sees the Father"
Jesus taught us to pray to God as
"Our Father . . . "
There will be changes in the
words of the Mass —
They are to help us understand
better —
Instead of saying "We believe"
in the Creed — we say
"I believe"
The Creed goes almost back to
time of Apostles —
We will say
"Jesus is consubstantial
with the Father"
This stresses the Divinity
of Christ —
We use the word "incarnate'
instead of
"he was born of the Virgin Mary"
The Trinity is a mystery now —
We will have the beatific vision
in heaven and it will all make
sense.

T

HE EARTH STOPPED AND TOUCHED HEAVEN
I long to unite in the deepest union with Him in the Eucharist. I long for the Mass. I long for Thee, oh God. My every moment, I join as I did to You December 15 under the cross, where I felt Your presence. You whisked me away, and I was totally absorbed in that moment of celestial union with You. For that time, I existed only in You, in the deepest union, and I was in this moment existing in You. The earth stopped, and I touched the heavens, all my bodily cares were existent in You. I existed in Your Divinity, my being was in You. There was no desire or wish or wanting, for in that moment, I had all I wanted in You. I was satisfied and wanted nothing but to remain in that embrace. You were the Being, and my being existed in You, but I was only as I was in You - merged in You, knowing and being in Your Divinity and being so full as to feel complete in myself.

You are so enormous, and You surrounded me in a burning embrace, the presence of red fire. I was not little, or "nothing", but existed in this enormous power and being so complete!

I touched eternity, and in that embrace, I knew all the waiting was worth the glory. You enveloped my being, and I was truly merged in the Divine Presence. I was merged in Your being. I existed IN You, with You, in the highest union with You, although I knew I was still distinct from You.

I was fused and absorbed in You, feeling complete and satisfied. To describe this union is far beyond any work of my pen and paper. I pray for the reader of this page to receive the grace to share this experience with Him, I will now live for this union-to be forever merged In Him, to be One in Him, to reach higher perfection as I exist in Him, for He takes the lowly and gives to them a sharing in Himself. He merges with us and we exist in Him. The word "in" - I could write pages about. I long for the deepest union with Him, where I am swept up in the heavenly embrace of the Divine God, and I am IN Him.

This is heaven on earth: to be merged as one with Divinity, although remaining distinct from God, to take our feeble hearts, our lowly status and to unite ourselves with the Divine, Almighty, powerful God and in this union to be meshed with Him, that His power dominates and our humanity reaches its heights of fulfillment in this union, in this oneness with Him.

The word I have looked for is "oneness." I understand some of the meaning of the words "One in Him." Oneness is the word to describe this union of our humanity with His Divinity. The depth to which we could meditate on oneness with God is incomprehensible. In that moment, the earth stood still, and He, my Divine Lover, the Bridegroom of my soul, took me to Himself, and I knew the embrace of the Divine God.

Nothing on the face of this earth can describe our union with Divinity. Oh, good God, that creatures are so ungrateful regarding Your divine love. I am so sorry. Let me help make reparation to Your adorable Heart. Please unite with me now that I may more deeply love Thee.

Oh, Divine Lover of my soul, let me help make reparation to Your adorable Heart for the neglect and indifference against You.

Song from Jesus: I come to you with greatest love. I am your loving Savior. I am your God. I died for you. I come to you this day.

He allowed me to experience such pain in my heart - wanting Him so badly, so many times-and then on Dec. 15, 1995 - He gave Himself to me in the deepest union.

Nothing satisfies the soul but Him. He wants the nuns and priests to love Him. He chose them to spread His love.

Souls are hungry. They will only be fed with His burning love. Priests need to talk about Jesus' love for us from the pulpit. Priests need hearts burning for love of Jesus. This will feed the hungry souls - lip service love doesn't do it.

He is alive today. He is a Person. He wants us to love Him.

end of December 17, 1995
IN THE DEEPEST RECESSES OF HIS HEART
The place Jesus took me was into the deepest recesses of His Heart. I was enveloped in His burning love. It was a red room with heat and an intense glow. I was swept away in this embrace, and I only existed in Him. The power of the Almighty God enveloped me, and I only existed in Him. There was no fear, for I was existent in this Almighty Being. My heart was wrapped in the eternal embrace of this Supreme Being. The security, the power I know was His deep presence in which I existed.

I knew the room was red and warm. I knew His immenseness, but I felt my own completeness in Him. I did not feel little, as a speck, but elevated and empowered for I existed then in Him in a most special way.

I was overtaken by the love of God. The fire of the Holy Spirit filled me. I was absorbed by the love of the Father, and I existed IN Him and in the deepest recesses of the Heart of Jesus. Our heaven on earth is these inner chambers of His magnificent Heart - the Heart of the Almighty God, with all the power, with omnipotence, with the fire of the love of God. He took me to the deepest chamber of this fiery Heart, and in that moment, I touched eternity, for I knew what it was to be enveloped in the deep furnace of His love. I now want to exist in this chamber of His Heart, swept away in His burning love, absorbed in my every cell with His love.

We do not understand the fire of His love. We do not understand what it is to be absorbed by love itself. He took me to the inner, deepest chamber of His Heart, and I felt the heat and knew the presence of love itself, and there was no fear, only a feeling of completeness, omnipotence, all-embracing, penetrating love - a power indescribable in words, a saturation of my being in the presence of God, and I was as I was created to be - living in Him!

This is how I will forever live my life, saturated with His divine life and love deep within this inner chamber of His burning Heart, living in Him as He possesses my being, and I operate with His power in me.

Little creatures though we are, we are His, His power, His life, flowing through us. In Him, we are as the Father intended: one in Him, each one of us, dwelling in this fiery furnace of His love. With our fears quieted and our hearts empowered by His life, we live forever in Him - in the Heart of Jesus.

Let no man separate what God has joined together. I am wed in the deepest love with my beloved Spouse, wed to the Heart of Jesus. As I am, I am one in Him. I live and I breathe in Him. He, Who is love, He Who is our all, He Who is mighty and without limits, He Who is, He Who is God and as I live, He lives in me in this world.

I am wed to Him, and I shall not fear for He is God - one, complete, loving, God. Heart of Jesus, I place my trust in Thee. As I live, I live in Your most adorable Heart, the furnace of God's love!

end of December 18, 1995
Given June 17, 2011 - Month of Sacred Heart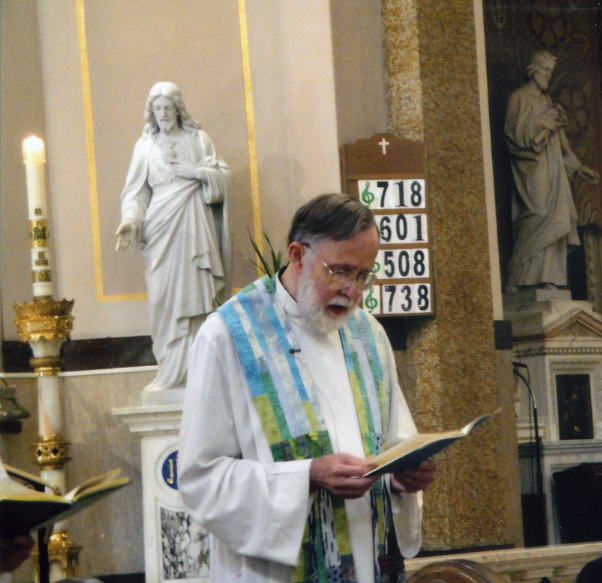 R. We are on a journey to our
heavenly home —
Do you see the journey of
Emmaus —
After Jesus died and rose —
He walked on a journey
explaining the scriptures and
ended with the Breaking of the Bread —
Jesus is the way, the truth and the
life
We are not to be a sad, slothful soul here —
Satan is the Prince of lies —
Jesus the Lord of truth —
A person who wants the truth
doesn't act like they
know something for certain —
when it isn't certain
to them —
They tell the truth —
They let their 'yes' mean 'yes'
and their 'no' mean 'no'
There is not deception in
what they say —
When you're not certain you don't
lie and act like you are —
Proclaim the love of God —
Tell the truth —
Truth is reality —
Things work when people
tell the truth —
work to build the Kingdom
can get done —
We keep on keeping on
IN TRUTH —
We follow in the footsteps
of Jesus in death/resurrection.
Let our minds not be proud
and ever lie about what
is true —
Tell the truth —
The truth according to God
is reality —
We don't bend the truth
in any way according
to our tainted habits!!
The rule of measure of a
man is to tell the truth —
Keep the truth in us —
John 16: 7-15

Still, I am telling you the truth:
it is for your own good that I am going,
because unless I go,
the Paraclete will not come to you;
but if I go,
I will send him to you.
And when he comes,
he will show the world how wrong it was,
about sin,
and about who was in the right,
and about judgement:
about sin:
in that they refuse to believe in me;
about who was in the right:
in that I am going to the Father
and you will see me no more;
about judgement:
in that the prince of this world
is already condemned.
I still have many things to say to you
but they would be too much for you
to bear now.
However, when the Spirit of truth comes
he will lead you to the complete truth,
since he will not be speaking
of his own accord,
but will say only what he has been told;
and he will reveal to you
the things to come.
He will glorify me,
since all he reveals to you
will be taken from what is mine.
Everything the Father has is mine;
that is why I said:
all he reveals to you
will be taken from what is mine.
R. TRUTH IS OUR GUIDE —
NO LIES —
ORDER —
Reality —
Wanting things to work in
purity —
TRUTH is in God —
GOD IS Perfect —
Oh dear Sacred Heart of
Jesus — Your love for
us is real — this is the truth!!
Oh Sacred Heart I am sorry for those who
do not love You — of how often
we forget to love You and thank You and
adore You —
I am sorry for the sins of
the men of this earth —
In Your Heart is Truth !!
Oh Jesus through the
intercession of Our Lady of Clearwater
help us now in our need —
Help us now Sacred Heart of Jesus —
Psalm 25: 4-5
DIRECT me in your ways, Yahweh,
and teach me your paths.

ENCOURAGE me to walk in your truth and teach me
since you are the God who saves me.
Psalm 119: 35, 29
Guide me in the way of your commandments,
for my delight is there.
Keep me far from the way of deceit,
grant me the grace of your Law.
R. Being religious means we
work hard at it —
We can't be lazy
spiritually —
We need self-discipline!!
John 14: 23
Jesus replied:

Anyone who loves me will keep my word,
and my Father will love him,
and we shall come to him
and make a home in him.
R. We must control our will
if we want to grow
spiritually —
We have to work to eliminate
sin and vices and grow
in virtue —
God please increase our
faith, hope and love —
Humility is truth!!
We are all sinners —
If we are humble we
tell the truth about
our faults —
Not lie to make wrong look
right and right look wrong —
We don't want to offend
God we love Him —
so we don't want
to sin —
We don't want to
hurt our relationship with
God in any way —
We must admit our
sins to ourselves say how
grave they are —
mortal sins — go to confession —
We want forgiveness from
God and others for our sins —
We want more grace from God —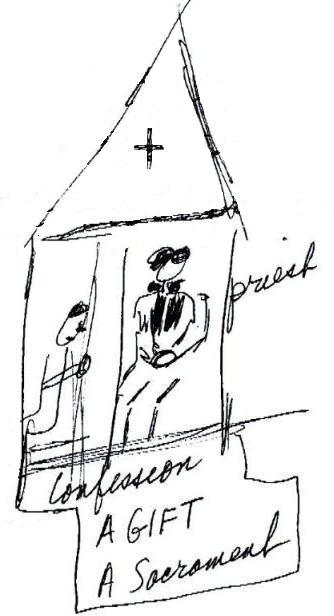 Act of Contrition

"O my God, I am heartily sorry for having offended Thee, and I detest all my sins, because I dread the loss of Heaven and the pains of Hell, but most of all because they offend Thee, my God, Who art all-good and deserving of all my love. I firmly resolve, with the help of Thy grace to confess my sins, to do penance and to amend my life. Amen."
R. Virtue comes from Latin
meaning strong and
courageous
We are responsible and
accountable for
our sins —
'He who does justice will
live in the presence of the
Lord'
Psalm 15: 2-5

Whoever lives blamelessly,
who acts uprightly,
who speaks the truth from the heart,
who keeps the tongue under control,

who does not wrong a comrade,
who casts no discredit on a neighbour,
who looks with scorn on the vile,
but honours those who fear Yahweh,

who stands by an oath at any cost,
who asks no interest on loans,
who takes no bribe to harm the innocent.
No one who so acts can ever be shaken.
R. Pride is the first of the
7 capital sins —
selfish —
Man rebels against God —
He loves himself more than
God
Humility is truth, not
focused on self for
vain glory —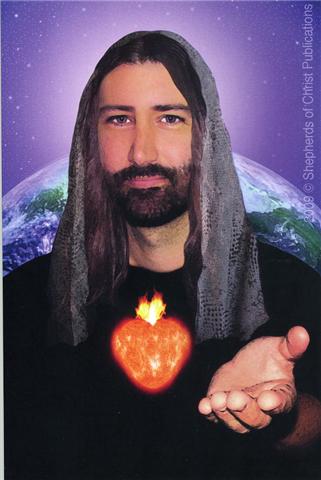 Prayer for Union with Jesus

Come to me, Lord, and possess my soul. Come into my heart and permeate my soul. Help me to sit in silence with You and let You work in my heart.

I am Yours to possess. I am Yours to use. I want to be selfless and only exist in You. Help me to spoon out all that is me and be an empty vessel ready to be filled by You. Help me to die to myself and live only for You. Use me as You will. Let me never draw my attention back to myself. I only want to operate as You do, dwelling within me.

I am Yours, Lord. I want to have my life in You. I want to do the will of the Father. Give me the strength to put aside the world and let You operate my very being. Help me to act as You desire. Strengthen me against the distractions of the devil to take me from Your work.

When I worry, I have taken my focus off of You and placed it on myself. Help me not to give in to the promptings of others to change what in my heart You are making very clear to me. I worship You, I adore You and I love You. Come and dwell in me now.

-God's Blue Book, January 17, 1994
R. Purity — Consecrating one's
self to Jesus and Mary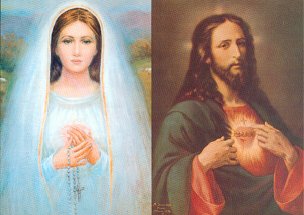 Act of consecration to the Sacred Heart of Jesus


and the Immaculate Heart of Mary.

"Lord Jesus, Chief Shepherd of the flock, I consecrate myself to Your most Sacred Heart. From Your pierced Heart the Church was born, the Church You have called me, as a member of Shepherds of Christ Associates, to serve in a most special way. You reveal Your Heart as a symbol of Your love in all its aspects, including Your most special love for me, whom You have chosen as Your companion in this most important work. Help me to always love You in return. Help me to give myself entirely to You. Help me always to pour out my life in love of God and neighbor! Heart of Jesus, I place my trust in You!

"Dear Blessed Virgin Mary, I consecrate myself to your maternal and Immaculate Heart, this Heart which is symbol of your life of love. You are the Mother of my Savior. You are also my Mother. You love me with a most special love as a member of Shepherds of Christ Associates, a movement created by your Son as a powerful instrument for the renewal of the Church and the world. In a return of love, I give myself entirely to your motherly love and protection. You followed Jesus perfectly. You are His first and perfect disciple. Teach me to imitate you in the putting on of Christ. Be my motherly intercessor so that, through your Immaculate Heart, I may be guided to an ever closer union with the pierced Heart of Jesus, Chief Shepherd of the flock."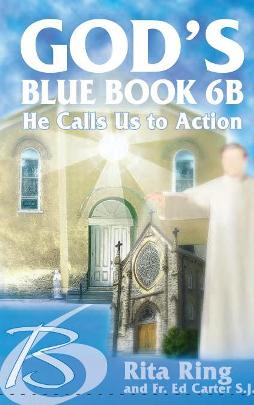 Blue Book 6B Available
Call Rosie
1-888-211-3041
Books Available
Mass Book

, by Rita Ring: Many of the entries in the Priestly Newsletter Volume II from a spiritual journal came from this book. These entries are to help people to be more deeply united to God in the Mass. This book is available in English and Spanish with the Church's Imprimatur. $12

Rosary Meditations for Parents and Children

, by Rita Ring, Short Meditations for both parents and children to be used when praying the rosary. These meditations will help all to know the lives of Jesus and Mary alive in their Hearts. Available in both English and Spanish with the Church's Imprimatur. $10
God's Blue Book I by Rita Ring. Open Anywhere — This book will change your life. These are beautiful love letters to us from Jesus. A million books have been printed and circulated. Jesus loves us so much — He wants a personal relationship with us — He wants us to go to the Eucharist and be with Him before the tabernacle. $10
God's Blue Book II by Rita Ring. Letters from Jesus about His on fire love — Jesus wants this great intimacy with us — On fire love — Personal love letters from Jesus about the love of His Heart — A book on surrender Fr. Carter said!

$10

God's Blue Book III by Rita Ring. Fr. Carter's favorite book — It is about loving and forgiving each other — Being pure in heart — A book for unity in family, community, in life!!

$10

God's Blue Book IV by Rita Ring. This book is about the love Jesus has for Mary and Mary has for Jesus and Jesus and Mary have for us — It is truly the Love of the Two Hearts. Mary appeared every day at the Holy Spirit Center — Fr. Carter was there. Mary's first apparition July 5, 1994. $5
God's Blue Book V by Rita Ring. Jesus wants to be the bridegroom of our soul — He is our beloved — Jesus tells us about pure love — how we are to be pure of heart and love God and love others. It is a must, to hear about love from Jesus — Jesus is love — $5
God's Blue Book 6A by Rita Ring. Rosaries from Their Hearts during apparitions. Jesus and Mary appeared every day and I received rosaries from Them and They were transcribed from a tape. Also messages of love from Jesus on days of January, 1995 — About Baptism — writings from Fr. Carter and the Scriptures. $10
God's Blue Book 6B by Rita Ring. Jesus and Mary appeared every day in February, 1995 — So beautiful — transcribed from a tape — the Stations, 7 Sorrows, prayers in the Prayer Manual, the Holy Spirit Novena Book and the Song Book. Pure love — loving and forgiving — a book about Jesus' love, baptism, grace and Fr. Carter's Newsletter.

$10

Apostles Manual. About the Movement - the structure of the Movement — All Ministries - from the time 3 months before Mary appeared in Clearwater and 3 months after. Rosaries of the 13ths, Fr. Carter's Newsletters. Messages from God the Father — Reaching the priests, the Church, the schools and the world. $20
Rosaries from the Hearts of Jesus and Mary Book 1. Mary appeared in Clearwater December 17, 1996 in rainbow color and these rosaries left the printer the same day from Apparitions of Jesus and Mary — transcribed from a tape. $10
Rosaries from the Hearts of Jesus and Mary Book 2. This is a book of so many rosaries - transcribed from a tape. So many beautiful rosaries. pages $12
Messages for the Elderly, Ill and Homebound. This is a big book of loving messages for nursing home people and homebound from Jesus and Mary — Their lives are so important — united to the Mass offering up their suffering, their lives for the souls of this earth. $10
Short Rosary Meditations for the Elderly, Ill and Homebound. This book is so important with pictures they can open it and lay it on their laps and pray the rosary. $10
Songs from Jesus Songbook. These loving songs were given from Jesus. So beautiful — Love Songs from Jesus of His love - helping us have pure and loving hearts. $3
Daily Messages from Heaven. First book of Daily Messages. $10
Color the Lives of Jesus and Mary. Volumes 1 through 7. Coloring books and meditations for grade school children and others on the mysteries of the rosary - really good. $5 each.

Response to God's Love

by Fr. Edward J. Carter, S.J. In this book Fr. Carter speaks of God as the ultimate mystery. We can meditate on the interior life of the Trinity. Fr. Carter tells us about our uniqueness in the Father's Plan for us, how the individual Christian, the Church and the world are in the state of becoming. Imprimatur. $10

Shepherds of Christ - Selected Writings on Spirituality for all People

as Published in Shepherds of Christ Newsletter for Priests. Contains 12 issues of the newsletter from July/August 1994 to May/June 1996. $15

Shepherds of Christ - Volume 2

: by Fr. Edward J. Carter, S.J. Contains issues 13-29 of the newsletter (September/October 1996 - Issue 5, 1999) $15

Shepherds of Christ - Volume 3

by Fr. Edward J. Carter, S.J. Contains Newsletter Issues 1 through 4 of 2000 including Fr. Carter's tremendous Overview of the Spiritual Life $10

Tell My People.

Messages from Jesus and Mary (As given to Fr. Edward Carter, S.J.) — One of Fr. Edward Carter, S.J.'s Synopsis of the Spiritual Life — From Jesus to Fr. Carter "On Holy Saturday, 1994, Jesus told me that on the following day, Easter, I would also begin to receive messages for others. Our Lord also told me that some of these were eventually to be published in a book—and here is that book." $10
The Spirituality of Fatima by Fr. Edward J. Carter, S.J. The Fatima apparitions and messages received official Church approval in 1930. In giving her official approval to the Fatima event, the Church tells us that what took place at Fatima involving the three young visionaries is worthy of our belief. $5

Shepherds of Christ

, a book of Spirituality Newsletters, is a compilation of the first nine newsletters from Fr. John J. Pasquini begining in August 2006. The Newsletter has been circulated to the priests and hierarchy spreading devotion to the Sacred Heart and the Immaculate Heart, promoting love for the Eucharist, greater love for the Church, the Priesthood, Mary and the Holy Spirit, the Mass, Prayer, and greater intimate relationship with God. $35

This book

Light, Happiness and Peace is a journey into the spiritual life — an awakening of deeper life IN HIM. Here are some of the comments we received from bishops and cardinals about the book. Cardinal – Pontifical Council for Culture – Vatican City "I am sure that this book, Light, Happiness and Peace through a discussion on traditional Catholic Spirituality will contribute in bringing back prayer into the mainstream of life." $10

In Imitation of Two Hearts - Prayers for Consolation, Renewal and Peace in Times of Suffering

Fr. John J. Pasquini leads a suffering soul to the gentle Hearts of Jesus and Mary. In these most loving Hearts - the prayers by Fr. John Pasquini - help the person suffering to know more deeply the pascal mystery of death/resurrection. President of the Pontifical Council for Health $10

Authenticity

, the Yellow Book of prayers by Fr. John Pasquini, can lead the soul into deeper intimacy with the Father, Son, and Holy Spirit, can lead to greater love of Mary which leads to the unitive life and greater holiness. The book of prayers Authenticity by Fr. John J. Pasquini is to help one grow ever deeper in the Unitive life. Apostolic Nuncio – Archbishop – Philippines "With Authenticity, much is gained in prayer, and much is accomplished through prayer. More especially if prayer is directed in behalf of the Church." $10

"In

Medicine of Immortality, Father John Pasquini offers his readers the richness of Catholic devotional prayer, the wisdom of the Fathers and, most of all, the fruits of his own prayer and meditation before the Blessed Sacrament. I recommend this book to all who wish to grow in their love for the Lord, who sustains the life of His Church through the precious gift of His Body and Blood." Francis Cardinal George, O.M.I., Archbishop of Chicago $10

Ecce Fides

is a work dedicated to defending Catholic beliefs through reason, Scripture, and the life of the Holy Spirit. "It is important that we (as people of God) return to the source of life, our faith, which is usefully exposed in this volume, and take it out to our contemporaries, evangelizing them and their cultures and inculturating the Gospel." Cardinal – Pontifical Council for Culture – Vatican City $10
Consolation by Fr. John J. Pasquini — upon the passing of a loved one. Fr. Pasquini has done a beautiful gift of his most wonderful homily given when someone dear has died.

It can be given as a tremendous gift. $10

DVD - A beautiful Mass was done by Fr. John J. Pasquini for Nursing homes and assisted living. It was done at St. Joseph's magnificent chapel — St. Joseph's assisted living in Jupiter, Florida. It last about 33 minutes. We call it the golden Nursing Home Mass from St. Joseph's. $10
DVD - Prayers from the Authenticity Book read by Rita Ring on the ocean — it is beautiful. 410
Divine Mercy Chaplet CD. Prayed by Fr. John J. Pasquini $10
Holy Spirit Novena CD. Prayers and scripture readings from the Holy Spirit Novena Booklet read by Rita Ring. $10
Guiding Light homily series - Steadfast to the Son - Cycle A — The sunflower is a great example of how we should be steadfastly guided by light. What a powerful thought that this exceptional plant is not stuck in one pose day in and day out, yet adaptable and magnetized to the sun. We feel the same about our Son. Our heads turns to face Christ as each day presents its challenges to find light. We join together like plants in a field and soak up the Son through the pulpit. We are a warm circle of strength using the wind of our breath to carry our priests' words, Christ's words, to new rich soil. $15
Guiding Light - Focusing on the Word - Cycle B — At times we may feel that our path to Christ is a bit "out of focus". Like the disciples in the Book of Mark, this ordinary life clouds our vision of Christ's Divinity. We may doubt the practicality or possibility of applying His teachings and example to our modern life. Cycle B's homilies are a "guiding light" to help us realize Jesus' Messianic greatness and His promise of better things to come. $15
Guiding Light - Feed My Soul - Cycle C — In a world rapidly advancing and encouraging personal gain, we are faced with modern problems. There is a challenge to find time in our busy schedules for Sunday Mass or a family meal. We are able to research, shop, bank and even work without hearing one human voice. It is no wonder that we may often feel disconnected and famished at our week's end. In Fr. Joe's third book of homilies from Cycle C, we are reminded of the charity that Christ intended us to show each other. We have a calling to turn the other cheek and be the Good Samaritan to others. We are rewarded with the Father's kingdom and love when we are not worthy. We are not left alone or hungry. $15

Guiding Light - The Word Alive in Our Hearts. - Cycle A (partial) —

Homilies

by the Reverend Joe Robinson given at St. Boniface Church in Cincinnati, Ohio. It is a tremendous honor Fr. Joe has allowed us to share these great gifts with you – for greater holiness and knowing more and more about God. $10

Shepherds of Christ Prayer Manual. The Shepherds of Christ has prayer chapters all over the world praying for the priests, the Church and the world. These prayers that Father Carter compiled in the summer of 1994 began this worldwide network of prayer. Currently the prayers are in eight languages with the Church's Imprimatur. We have prayed daily for the priests, the Church, and the world since 1994. Associates are called to join prayer Chapters and help us circulate the newsletter centered on spreading devotion to the Sacred Heart and Immaculate Heart and helping to renew the Church through greater holiness. Please form a Prayer Chapter & order a Prayer Manual.

Holy Spirit Novena Booklet.

In four languages with the Imprimatur with 18 scripture readings for two complete novenas – this very powerful Holy Spirit Novena has prayers for prayers for Protection by the Blood of Jesus, Healing, Strength and Light, To Be One with God, Father, Son and Holy Spirit, One with Jesus, To Dwell in the Hearts of Jesus and Mary, Prayer for the Holy Spirit and His Gifts, and the Word Alive in Our Hearts. All these prayers take about 10 minutes daily recited out loud. $1

Spirituality Handbook.

Fr. Edward Carter, S.J. did 3 synopsis of the spiritual life.

The

Spirituality Handbook, the

Priestly Newsletter 20he Tell My People book.

The way of spiritual life proposed to the members of Shepherds of Christ Associates is centered in consecration to the Hearts of Jesus and Mary. All aspects of the spiritual life discussed below should be viewed as means to help members develop their lives in consecration to Christ, the Sacred Heart, and to Mary, the Immaculate Heart. $3
Priestly Newsletter - 2000 #1 - CD. - Christ is Our Strength - Fr. Edward Carter, S.J. read it the year he died. It is

so beautiful. "This brief passage contains one of the greatest lessons of the spiritual life. As we progress along our spiritual journey, we become increasingly aware of how weak we are in our-selves, but how strong we are in Christ. To experience our weakness involves suffering. The degree and kind of suffering can vary. The suffering can include the experience of the classical dark night of the spirit as described by St. John of the Cross. One of the main purposes of the dark night is to make a person keenly aware of his or her helplessness without God." quote by Fr. Carter from the newsletter $10

Priestly Newsletter - 2000 #2 - CD. - Suffering: A Source of Life - Fr. Edward Carter, S.J. read it the year he died. Fr. Carter knew suffering that year. His voice is so powerful as he read each Newsletter from his heart and soul. "Every man has his own share in the redemption. Each one is also called to share in that suffering through which the redemption was accomplished. He is called to share in that suffering through which all human suffering has also been redeemed. In bringing about the redemption through suffering, Christ has also raised human suffering to the level of the redemption. Thus each man in his suffering can also become a sharer in the redemptive suffering of Christ..." quote by Fr. Carter from the newsletter $10
We need to print the
Tiny Tot Rosary Books.
Can anyone please help us with the this?
1-888-211-3041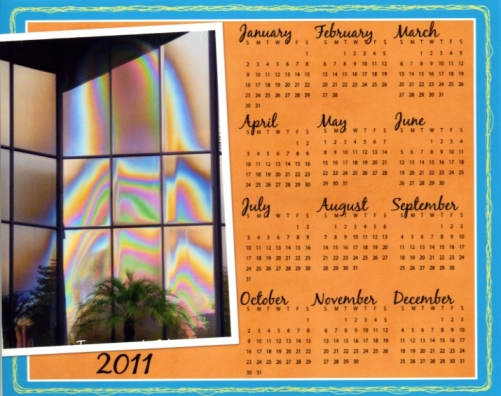 $1.00 plus shipping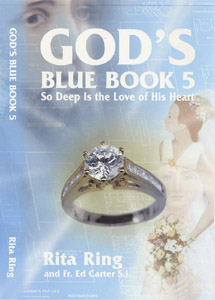 Books written by the cofounder of Shepherds of Christ Ministries

Writings by Rita Ring
Mass Book
A Journey Into the Heart of Jesus - Author: Rita Ring. Discerned by: Fr. Edward J. Carter S.J. Imprimatur
$ 12.00 plus postage
God's Blue Book I
Teachings to Lift You Up. Author: Rita Ring. Discerned by: Fr. Edward J. Carter S.J.
$ 10.00 plus postage
God's Blue Book II
The Fire of His Love. Author: Rita Ring. Discerned by Fr. Edward J. Carter S. J.
$ 10.00 plus postage
God's Blue Book III
Love God, Love One Another. Author: Rita Ring. Discerned by Fr. Edward J. Carter S.J.
$ 10.00 plus postage
God's Blue Book 4
The Love of the Hearts of Jesus and Mary Author: Rita Ring
$ 5.00 plus postage
God's Blue Book 5
So Deep Is the Love of His Heart. Author: Rita Ring.
$ 5.00 plus postage
Blue Rosary Book
Rosaries From the Hearts of Jesus and Mary - Volume II
$ 12.00 plus postage
Messages From Jesus
Given by Jesus to His Messenger Author: Rita Ring. Discerned by: Fr. Edward J. Carter S.J.
This book is 8 1/2" by 11" and you can open it up and sit it on your lap.

$ 10.00 plus postage
Apostle's Manual
Shepherds of Christ Overview: Very carefully discerned by Fr. Edward J. Carter S. J.
$ 20.00

Songs From Jesus
Given by Jesus to His Messenger Author: Rita Ring. Discerned by: Fr. Edward J. Carter S.J.
$ 5.00
Books written by the founder of Shepherds of Christ Ministries
Tell My People
Messages from Jesus and Mary Author: Fr. Edward J. Carter S.J. Imprimi Potest
$ 10.00 plus postage
Spirituality Handbook
Shepherds of Christ Associates Spirituality Handbook - A Way of Spiritual Life
Author: Fr. Edward J. Carter S.J. Imprimi Potest
$ 3.00 plus postage
Get a canvas print of Mary's image
with a sliver of glass and
a little bottle of
Jesus and Mary water.

The glass will be fixed behind the
back of the picture.

Cost — $200.00

Also available

a cup with a Mary's image on it

Cost — $15

Call Doris


1-888-211-3041
or
1-727-725-9312

Rosaries with Mary's Image Available
Aurora Borealis Beads

6mm - $30.00
8mm - $40.00

Call Doris
1-888-211-3041
or
1-727-725-9312

Statues

| | | |
| --- | --- | --- |
| | | |
| Sacred Heart of Jesus w/glass - 18 | Our Lady-Guadalupe w/glass - 12 | Limpias - 8 |
| | | |
| Immaculate Heart w/glass - 18 | I Heart - Ivory w/glass - 18 | Our Lady of Grace w/glass - 18 |
| | | |
| Our Lady-Mt. Carmel w/glass - 18 | Our Lady of Lourdes w/glass - 18 | Infant of Prague w/glass - 24 |
| | | |
| Sacred Heart of Jesus w/glass - 24 | Sacred Heart -Blessing w/glass - 24 | Sorrowful Mother w/glass - 24 |
| | | |
| I Heart - Ivory w/glass - 24 | I Heart of Mary w/glass - 24 | Our Lady of Lourdes w/glass - 24 |
| | | |
| Our Lady-Guadalupe w/glass - 28 | Our Lady of Grace w/glass - 24 | Our Lady-Mt. Carmel w/glass - 24 |
| | | |

| | | |
| --- | --- | --- |
| St. Padre Pio | St. Joseph | St. Therese |
| | | |
| St. Francis | St. Anthony | St. Claire |
| | | |
| Limpias | St. Jude | Divine Mercy |
| | | |
| Holy Family | Angel | St. Philomena |
| | | |
| Pieta - Marble | Pieta - Color | Holy Family |
| | | |
| St. Anthony - 18 | St. Francis - 18 | St. Joseph - 18 |
| | | |
| St. Therese - 18 | St. Rita - 18 | St. Clare - 12 |
| | | |
| | | |

| | | | |
| --- | --- | --- | --- |
| St. Rita - 12 | St. Padre Pio - 12 | Divine Mercy - 12 | St. Michael - 11 |


Shepherds of Christ Ministries
P. O. Box 627
China, IN 47250

Toll free - 1-888-211-3041
Local - 1-812-273-8405
fax - 1-812-273-3182
web: www.sofc.org
e-mail: info@sofc.org


| | | | |
| --- | --- | --- | --- |
| | Size | Price | Quantity |
| Holy Family | 24" | $180 | |
| Limpias | 24" | $125 | |
| St. Anthony | 24" | $125 | |
| St. Claire | 24" | $125 | |
| St. Francis | 24" | $125 | |
| St. Joseph | 24" | $125 | |
| St. Jude | 24" | $125 | |
| St. Padre Pio | 24" | $125 | |
| St. Therese | 24" | $125 | |
| Divine Mercy | 22" | $125 | |
| Angel | 22" | $100 | |
| St. Philomena | 20" | $100 | |
| St. Philomena | 16" | $65 | |
| St. Joseph | 18" | $65 | |
| St. Francis | 18" | $65 | |
| St. Anthony | 18" | $65 | |
| St. Rita | 18" | $65 | |
| St. Therese | 18" | $65 | |
| Pieta - Color | 15" | $75 | |
| Pieta - Marble | 15" | $75 | |
| Holy Family | 12" | $60 | |
| St. Padre Pio - standing | 12" | $40 | |
| St. Padre Pio - sitting | 8" | $50 | |
| St. Michael | 11" | $40 | |
| St. Rita | 12" | $40 | |
| Divine Mercy | 12" | $40 | |
| St. Claire | 12" | $40 | |
| Limpias | 8" | $25 | |
| Our Lady of Guadalupe w/glass | 28" | $500 | |
| Our Lady of Mt. Carmel w/glass | 24" | $500 | |
| Immaculate Heart of Mary w/glass | 24" | $500 | |
| Immaculate Heart - Ivory w/glass | 24" | $500 | |
| Infant of Prague w/glass | 24" | $500 | |
| Our Lady of Grace w/glass | 24" | $500 | |
| Our Lady of Lourdes w/glass | 24" | $500 | |
| Sacred Heart of Jesus w/glass | 24" | $500 | |
| Sacred Heart -Blessing w/glass | 24" | $500 | |
| Sorrowful Mother w/glass | 24" | $500 | |
| Immaculate Heart of Mary w/glass | 18" | $300 | |
| Immaculate Heart - Ivory w/glass | 18" | $300 | |
| Sacred Heart of Jesus w/glass | 18" | $300 | |
| Our Lady of Lourdes w/glass | 18" | $300 | |
| Our Lady of Grace w/glass | 18" | $300 | |
| Our Lady of Mt. Carmel w/glass | 18" | $300 | |
| Our Lady of Guadalupe w/glass | 12" | $200 | |
| Fatima w/glass | 11" | $150 | |
| Fatima w/glass | 18" | $250 | |
| Pilgrim Virgin w/glass | 12" | $160 | |
| Pilgrim Virgin w/glass | 15" | $200 | |
| Pilgrim Virgin w/glass | 18" | $250 | |
| Pilgrim Virgin w/glass | 27" | $450 | |


Call for Shipping Price (1-888-211-3041)


Name

Sub-Total
Address

IN Tax (7%)
City

Shipping
State Zip

Donation
Telephone

Order Total
Call Doris
1-888-211-3041
or
1-727-725-9312



Immaculate Heart and Sacred Heart Pictures Available
with & without frames - different sizes available

Call Doris
1-888-211-3041
or
1-727-725-9312