June 28, 2011
June 29th Holy Spirit Novena
Scripture selection is Day 8 Period I.

The Novena Rosary Mysteries
for June 29th are Glorious.
Please pray for Jimmy.

Pray for everything to do with
Fr. Joe's Cycle B Book.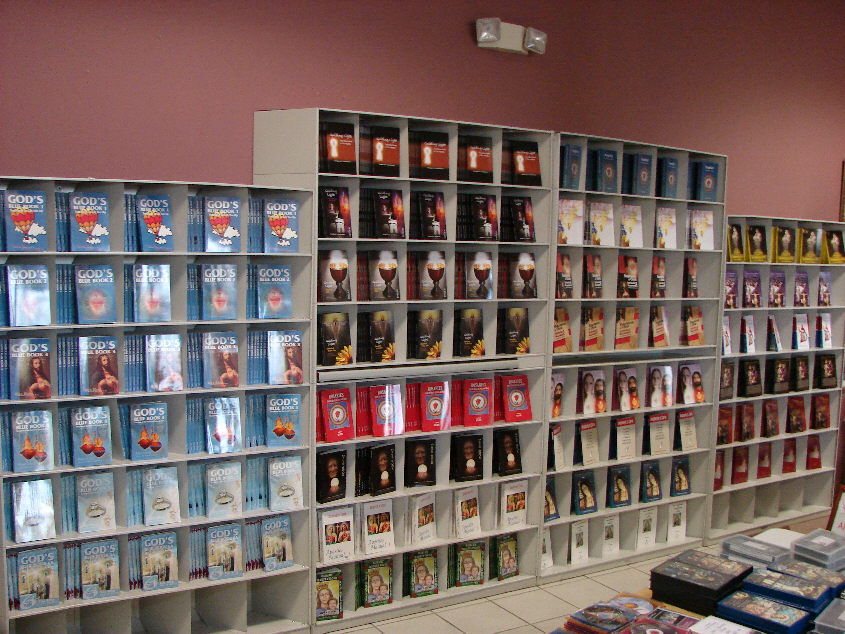 The Florida Book Store
June 28, 2011 - St. Irenaeus Bishop and Martyr
Readings
Genesis 19: 15-29
When dawn broke the angels urged Lot on, "To your feet! Take your wife and your two daughters who are here, or you will be swept away in the punishment of the city."And as he hesitated, the men seized his hand and the hands of his wife and his two daughters — Yahweh being merciful to him — and led him out and left him outside the city.

When they had brought him outside, he was told, "Flee for your life. Do not look behind you or stop anywhere on the plain. Flee to the hills or you will be swept away." "Oh no, my lord!" Lot said to them, "You have already been very good to your servant and shown me even greater love by saving my life, but I cannot flee to the hills, or disaster will overtake me and I shall die.That town over there is near enough to flee to, and is small. Let me flee there — after all it is only a small place — and so survive."He replied, "I grant you this favor too, and will not overthrow the town you speak of. Hurry, flee to that one, for I cannot do anything until you reach it." That is why the town is named Zoar.

The sun rose over the horizon just as Lot was entering Zoar. Then Yahweh rained down on Sodom and Gomorrah brimstone and fire of his own sending. He overthrew those cities and the whole plain, with all the people living in the cities and everything that grew there. But Lot's wife looked back, and was turned into a pillar of salt.

Next morning, Abraham hurried to the place where he had stood before Yahweh, and looking towards Sodom and Gomorrah and the whole area of the plain, he saw the smoke rising from the ground like smoke from a furnace.

Thus it was that, when God destroyed the cities of the plain, he did not forget Abraham and he rescued Lot from the midst of the overthrow, when he overthrew the cities where Lot was living.
Psalm 26: 2-3, 9-12
Probe me, Yahweh, examine me,
Test my heart and my mind in the fire.
For your faithful love is before my eyes,
and I live my life by your truth.

Do not couple me with sinners,
nor my life with men of violence,
whose hands are stained with guilt,
their right hands heavy with bribes.

In innocence I will go on my way;
ransom me, take pity on me.
I take my stand on the right path;
I will bless you, Yahweh, in the assemblies.
Matthew 8: 23-27
Then he got into the boat followed by his disciples. Suddenly a storm broke over the lake, so violent that the boat was being swamped by the waves. But he was asleep. So they went to him and woke him saying, 'Save us, Lord, we are lost!' And he said to them, 'Why are you so frightened, you who have so little faith?' And then he stood up and rebuked the winds and the sea; and there was a great calm. They were astounded and said, 'Whatever kind of man is this, that even the winds and the sea obey him?'
R. St. Irenaeus upheld
truth and peace
Help us to be united —
Help us to live in peace
Paul instructs Timothy
2 Timothy 2: 22-26
Turn away from the passions of youth, concentrate on uprightness, faith, love and peace, in union with all those who call on the Lord with a pure heart. Avoid these foolish and undisciplined speculations, understanding that they only give rise to quarrels; and a servant of the Lord must not engage in quarrels, but must be kind to everyone, a good teacher, and patient. He must be gentle when he corrects people who oppose him, in the hope that God may give them a change of mind so that they recognise the truth and come to their senses, escaping the trap of the devil who made them his captives and subjected them to his will.
Psalm 37: 3-6, 30-31
Bet
Put your trust in Yahweh and do right,
make your home in the land and live secure.
Make Yahweh your joy
and he will give you your heart's desires.

Gimel
Commit your destiny to Yahweh,
be confident in him, and he will act,
making your uprightness clear as daylight,
and the justice of your cause as the noon.
Pe

Wisdom comes from the lips of the upright,
and his tongue speaks what is right;
the law of his God is in his heart,
his foot will never slip.
John 17: 20-26

I pray not only for these
but also for those
who through their teaching
will come to believe in me.
May they all be one,
just as, Father, you are in me
and I am in you,
so that they also may be in us,
so that the world may believe
it was you who sent me.
I have given them the glory
you gave to me,
that they may be one as we are one.
With me in them and you in me,
may they be so perfected in unity
that the world will recognise
that it was you who sent me
and that you have loved them
as you have loved me.

Father,
I want those you have given me
to be with me where I am,
so that they may always see my glory
which you have given me
because you loved me
before the foundation of the world.
Father, Upright One,
the world has not known you,
but I have known you,
and these have known
that you have sent me.
I have made your name known to them a
nd will continue to make it known,
so that the love with which you loved me
may be in them,
and so that I may be in them.
---
R. St. Irenaeus was an early
Church Father —
He was from the 2nd Century —
He died in 202
Given June 20, 2011
Sorrowful Mysteries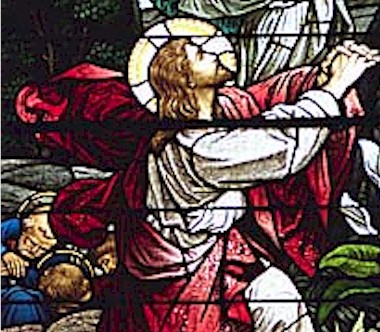 The Agony in the Garden
(1) R. Jesus sweat blood in the garden
His grief was so great —
Beyond anything we could imagine —
(2) R. The Apostles slept
Peter, James and John
Jesus told them to Watch
Jesus told them to Pray
(3) R. Judas was the betrayer —
Jesus told them at supper —
Judas was a betrayer of Jesus, Jesus who
loved Him so much —
(4) R. Jesus was sold for 30 pieces of silver —
Judas kept the purse
(5) R. Jesus in so much anguish He sweat
Blood —
Jesus did not give into His fear —
Jesus did the will of the Father —
(6) R. People have a free will to do God's
will or their own —
Jesus prayed to the Father —
The devil wanted Jesus to give into His fear —
Jesus gave His all in love —
(7) R. Jesus prayed:
Matthew 26: 39

... 'My Father,' he said, 'if it is possible, let this cup pass me by. Nevertheless, let it be as you, not I, would have it.'
(8) John 3: 16
For this is how God loved the world:
he gave his only Son,
so that everyone who believes in him
may not perish
but may have eternal life.
(9) R. The devil wants souls for hell —
Jesus came our Savior —
Jesus is the Savior of the world —
We can resist doing our selfish will against
God's will, if we follow in Jesus'
footprints we serve God the Father —
we do God the Father's will —
We resist temptation —
(10) R. Judas betrayed Jesus
Judas was sneaky —
Judas hid his evil design from
the other Apostles —
Judas betrayed Jesus with a kiss —
Judas betrayed the Son of God with
a kiss —
The Apostles were afraid —
They saw what they did to Jesus —
Do we abandon Jesus for our
selfish disobedience to God's will?
Jesus healed the guy who lost his ear —
Jesus worked miracles —
Jesus told them to put away the
sword —
The man's ear was healed —
When we don't hear, Jesus can
heal our ears —
Jesus was led away like a criminal —
Mary suffered so much —
The Apostles suffered —
The men taking Jesus laughed at Jesus, hit Jesus —
Jesus knew all these whippings
He would get in the garden —
Judas despaired
Judas betrayed the Son of God —
Jesus was whipped, mistreated —
the men were consumed with hatred
who beat Jesus —
They condemned Jesus to death —
Jesus' eye was whipped
Jesus' head was whipped
Jesus' body whipped —
They arrested Jesus —
Jesus was considered a criminal
Jesus was a carpenter —
Mary and Jesus loved each other —
They were in one heart —
Mary took care of Him as a baby —
Mary watched Him learn to walk and talk —
Mary knew He, her beloved Son, was
arrested —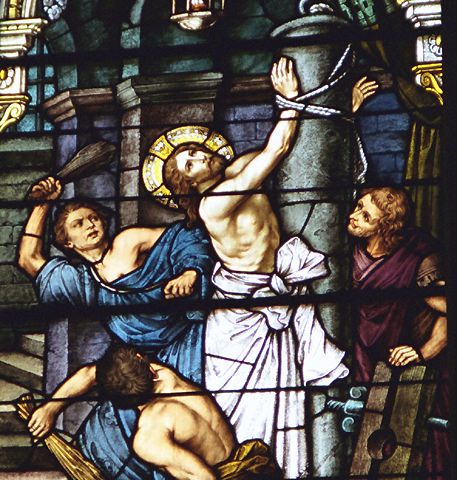 Whipping at the Pillar
(1) R. Oh Jesus we are sorry for our sins —
Oh Jesus we are sorry we offended
You with our sins —
(2) R. They arrested Jesus, the prophet —
They lied about what Jesus said.
Jesus is the King of all Kings —
(3) R. Jesus was the innocent Lamb led
to the slaughter
Jesus was whipped for our sins —
Jesus was the teacher of love and
They hit Jesus —
(4) R. Jesus cured the sick, Jesus drove
out demons — Jesus worked
miracles — Jesus, the King
of the Jews —
(5) R. Jesus was innocent
Jesus is the Son of God
and they whipped Him — They hit
His face —
He bled — Men laughed —
They had no shame —
All God has given to us —
Our life —
Our love — His love for us —
(6) R. We can disobey Him and act as if He
doesn't see our lies, deception,
hurting the Plan of the Father
by disobedience —
like disobedient children —
We say — "no God"
we want to do it our way —
(7) R. Like God doesn't see our
deceiving, selfish hearts —
The devil is the father of lies —
Lies drive us from God —
We become more blinded —
Saints don't want to offend
God because they love God —
Jesus was whipped for our sins —
Jesus wore strips for our lies,
our deception, our hiding
when we wronged God and
then tried to make the wrong
we did appear right —
further offending God —
(8) R. God shed the saving Blood —
Jesus, the Son of God —
Jesus' Blood was spilled
for us —
Watched His blood flow
because of our sins —
(9) R. And He was whipped for
our lies
Judas despaired —
We can't change God's plan
with our willful ways —
We hurt ourselves —
We offend God and
We hurt souls —
Souls Jesus shed His Blood for —
Souls Jesus died for —
(10) R. The devil wants us to despair —
The devil wants us to say no to God's will —
The devil wants us to say "I will not serve"
The devil wants us to hate —
Jesus is love —
If we are like God —
we love —
The devil wants us to be unloving —
They lied about Jesus' teaching —
Jesus the Messiah was
whipped for our sins —
He did not sin —
Gentle Jesus accused of all
these lies!!
He paid for our deception
and lies with beatings,
with His Blood —
His flesh was torn —
Jesus is the King —
Jesus is the King of Heaven and Earth
Jesus is the way, the truth
and the life —
They beat the Lord of truth!
They wanted Barabbas
They passed Jesus to Herod —
They punished the Son of God —
Jesus who restored sight to
the blind —
Jesus who changed water into
wine
Jesus who cast out devils —
Jesus who healed lepers —
Jesus beaten, bloodied, His
flesh torn —
Jesus is crowned with a crown
of thorns —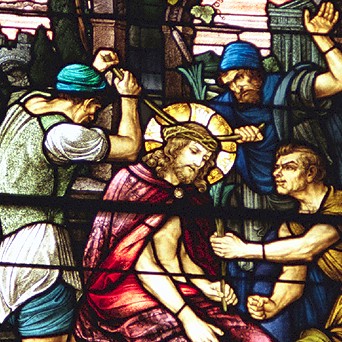 Crowning with Thorns
(1) R. Jesus is the way, the truth and
the life
(2) R. Jesus is the King of all men —
Jesus died so we could live
in Him —
Jesus paid the price for
our sins with His
Blood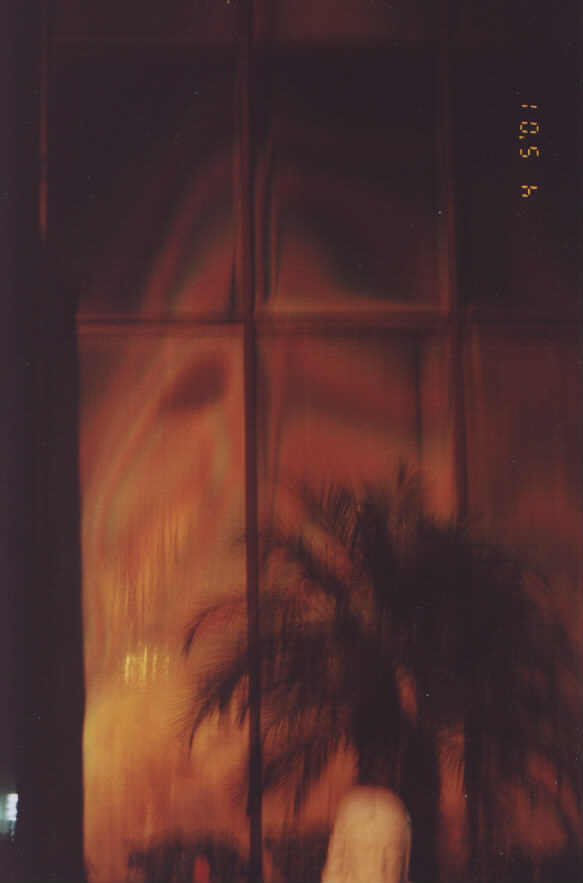 April 5, 2001
From Clearwater

(3) R. Men hide their sins sometimes and
act like God doesn't know —
How foolish!!
(4) R. Men beat the raw back of
Jesus — blow after blow —
tearing His flesh —
beating His back —
Suffering, Suffering, Suffering —
It is 'just' for God to punish us
for our sins — our lies —
God who is all just —
Song: I Am a God of Justice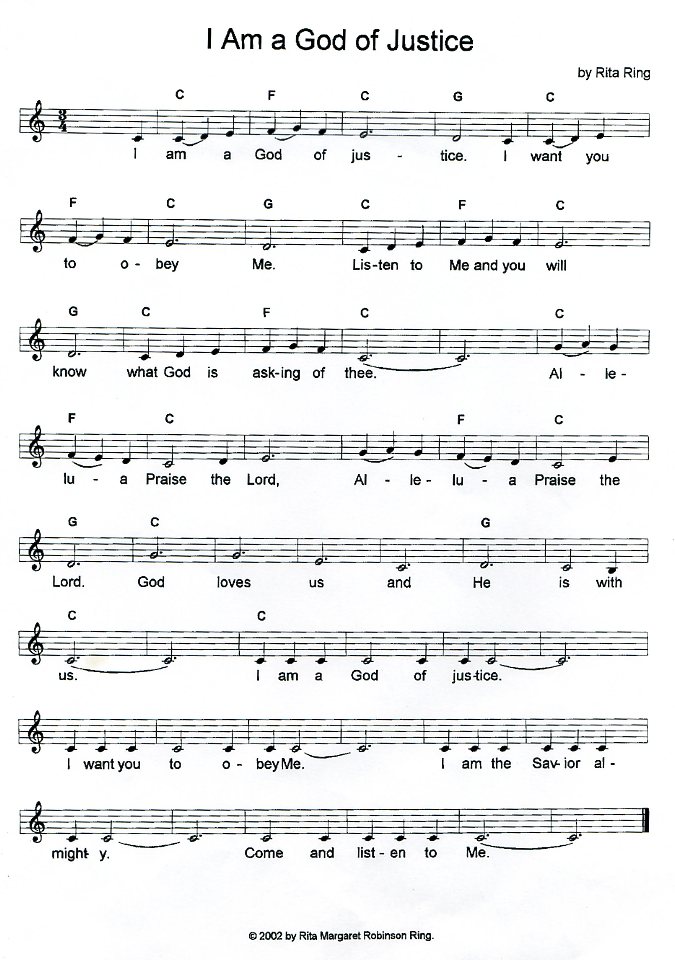 R. They beat Jesus at the pillar —
He stood in a puddle of His
own blood —
His whole body a bloody
bath of open wounds
for our sins
Jesus knows the evil in our
hearts — the deception,
He paid for it
(5) R. When they beat Him so hard —
they beat Him harder —
they beat and beat God —
they laughed and laughed —
Angry men with all their
strengthen and malice —
They beat Jesus raw —
for our sins —
Jesus knows —
They beat His Head —
His hair matted with
clotted blood for
our pride —
His precious Head — crowned
with thorns after beating,
after beating, after beating
tearing His flesh —
Oh God we are sorry for our
lies, pride, anger
seeking dominance for dominance
sake —
gluttony —
giving into our will against
the Father's will —
lust —
luring others into sin —
Jesus bore the stripes for all
we did —
We beat Him at the pillar —
We crowned Him with thorns —
We were unloving —
We were prideful
Blood from His mouth —
teeth in His tongue
What we do to others we do
to Jesus
If we provoke others and laugh —
we are doing it to Jesus —
When we say we know the truth
and we lie — we are lying to
Jesus —
We try to rise above Jesus for
satan —
We whipped Jesus at the pillar —
He was a bloody sponge —
Raw and whipped —
Crowned with our pride —
Obstinacies
(6) R. Crowned for our hatred —
Laughed at for our control,
envy and jealousies —
our hateful ways —
(7) R. Blood, Blood, Blood —
Shed for our deception —
Our raising over others
Our sins
(8) R. The devil wants us to think
we did no wrong —
to be full of vices —
not virtue —
Oh God — You paid for our sins —
Oh God, Oh God, forgive our
sins —
Oh God (Jesus), help us to be holy and
to do this work spreading
love for the most precious
price that You paid for us —
(9) R. "Behold the Man"
Jesus was wrapped in a purple
robe, given a scepter and His
head pounded with thorns —
pounded and bloodied —
His eyes full of blood —
(10) R. God has all the Power —
The Crowd yelled:
"Crucify Him"
"Crucify Him"
"Crucify Him"
Should I crucify your King?
"Crucify Him"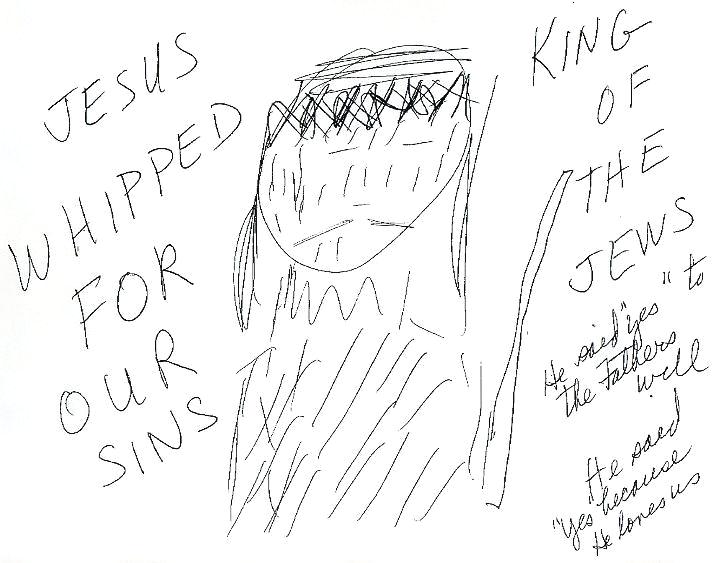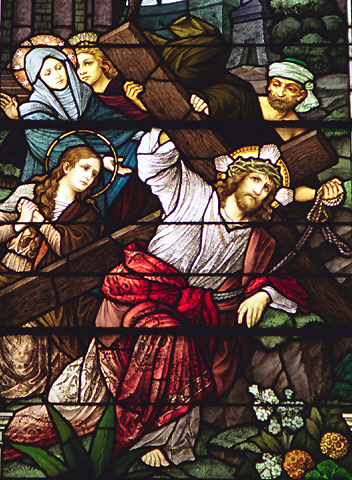 The Carrying of the Cross
(1) August 23, 1993 (excerpt)
On His Passion

Jesus: My dear child,
I was condemned to death, death on a cross. They gave Me a big cross and made Me carry it. They stood around and glared at Me. It weighed on My shoulder and I pulled at it until it finally moved. Every step was almost impossible as I dragged it, weighing so heavily on My shoulders.

My shoulder felt as if the bones inside would crack and the cross would fall through to the ground. I couldn't drag it any more. I tried, I fell. I fell and its weight fell on Me. A guard hit Me with something sharp. It really hurt because he wanted Me to move, and fast! People were watching — on with the show! How dare I fall in the middle of the show! He hit Me again and the blow really stung Me. I got up because it hurt so badly. I tried to walk on.

My Mother was in the crowd. She looked at Me and her face looked red and hurt. Tears rolled down her cheeks like rain and as her eyes met Mine, I was hurt so by her sorrow! She was always by My side, silent and loving. She was My mother of love! She is always there next to you when you suffer.

I fell again and he (the guard) really hit Me. It (the cross) was so heavy that he and I together could barely move it. It seemed as I walked, heavier with the sins of the world heaped on it. My hands were bleeding. Blood ran from the wounds of My thorns and My head throbbed, seeming to make the wounds in My head bleed even more. Some of the Blood was dried, some of it running all over My Body. I had so many cuts and bruises — and people watched and laughed!

I am Jesus, Son of the Living God, and they laughed and mimicked Me! Oh, such hardened hearts! How vile can men's heart become? The devil's grip is paralyzing and crippling.

The walk was so long up a hill and over rocks — the cross had to be lifted over the rocks. My Body was bleeding so badly! My heart was pounding. I knew that the salvation of all men depended on My love. Therefore, I went through such agony.

end of

excerpt
(2) R. They whipped Jesus to get up —
A mob followed Jesus
Mary and John and Mary Magdaline followed —
(3) R. They whipped Him
He fell all full of blood under the
cross
They whipped Him again and again
(4) R. Mary remembered her little boy —
She held Him
She loved Him
She looked into His face —
Now she looked into His bloodied face —
Jesus could hardly go on —
She saw His torn face —
covered with wounds and blood —
His eyes a bloody mess
They whipped Him to move —
(5) R. They didn't give up —
It's like the energy in these
men from the devil to
whip the Son of God —
(6) R. Veronica wiped His face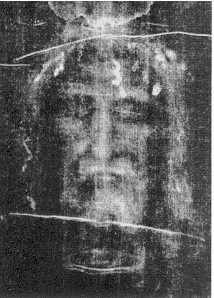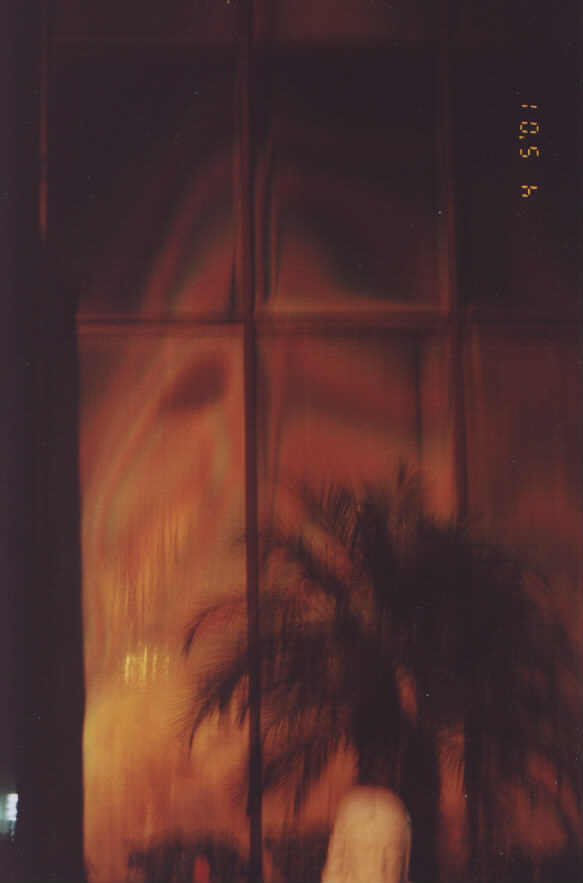 Shroud face April 5, 2001

(7) R. Whipping and whipping Jesus —
They made Simon of
Cyrene help Jesus —
You help Him!! — they said —
"Help Him" —
The 2 of them could hardly carry
the cross
(8) R. Jesus had washed their feet —
Now He was whipped raw —
with this heavy cross
laden with our sins —
Jesus had celebrated the Last Supper
Luke 22: 19-20

Then he took bread, and when he had given thanks, he broke it and gave it to them, saying, 'This is my body given for you; do this in remembrance of me.' He did the same with the cup after supper, and said, 'This cup is the new covenant in my blood poured out for you.
(9) R. The procession to Calvary
was a journey He endured
for our sins — for love
of us —
(10) R. Jesus was stripped —
Jesus was laid on the cross —
Jesus nailed to it by
His hands and feet —
Sing: Little Baby Hands and Feet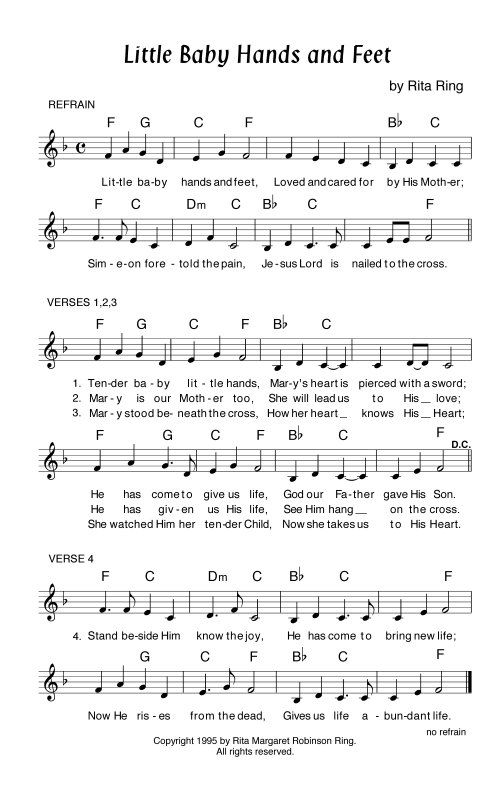 R. In this passion and death Christ
endured extreme suffering —
The people wanted His Blood —
And His Blood He shed —
He was mocked, whipped raw,
crowned with thorns —
Jesus' message:
". . . love your enemies and pray
for those who persecute
you" —
Jesus was abandoned by His
Apostles and friends —
Jesus, the most tender Heart
suffered for us —
Jesus is the Good Shepherd —
Jesus laid down His life for
His sheep —
His whole body torn to
shreds —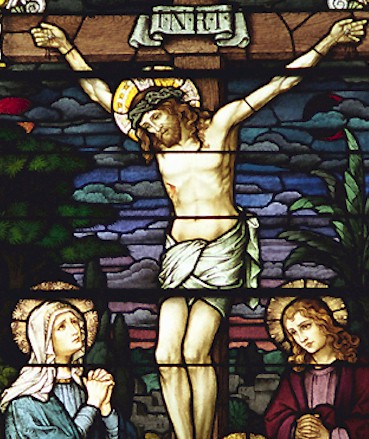 The Crucifixion
(1) June 26, 1995 - The Pain - Naples, Florida
R. He spread His arms, He gave His all, Jesus, the Son of God, the greatest sacrifice, He gave Himself entirely for the good of all men. He opened His arms, He died on the cross.

His arms were covered with blood, His arms so weak and filled with pain, wounded. His arms, the pain shot up His arms and the final blow to each arm a nail through each precious hand.

All the agony He experienced, all the pain, and the crown, to each arm, a nail hammered into the hand.

All the nerves cut and severed by the nail, the pain shooting up His precious arms, the final blow given to His most precious members.

The legs that carried Him, that carried the heavy cross, the legs that were forced and cajoled, that continues to Calvary - the legs weakened, skinned, bleeding, beaten, burned, the legs that knew patience and perseverance, the legs connected to a sore foot that was rubbed and gashed and bleeding, the members of Jesus, filled with such pain and exhaustion, now is crowned with the final glory. The nail that was driven into the foot, the pain shot up this already weakened leg, covered with blood and wounds and pain, the final blow, the nerves severed by the hammered nail.

A blow to each hand, a blow to each foot, a blow to the head, a stamping that pressed down and continued in excruciating pain.

Jesus: They numbered all My bones. They gave Me vinegar and gall to drink. They gave Me a cloth to wipe My blood-covered flesh.

What did they give to Me? Love is giving, My dear ones. How many of you are wounded when you are not given things by your brothers you love?

My members were in such pain, the pain shot up My arms. My legs were so weak I could scarce move them. I was filled with pain within them.

To all who watched, they saw a man, weakened and covered with blood and wounds. They did not see the pain inside that shot up My legs and arms, the nerves inside My body that sent signals of deep pain to My central nervous system. They did not see the nerves inside sending pain signals everywhere.

The final blow being to each hand and foot, the severing of My nerves by the blunt and rusted nails.

An arm extended. A final blow. I beheld a nail pounded into My hand and the pain shot up My arms, unbearable to a human mind.

Do you know of the pain within My body? Signals sending messages of deep pain everywhere. I knew all of these sufferings in the garden. So great were the sufferings to My mind, I sweat blood.

My flesh was covered with wounds. My arms were stretched from their sockets. My body was beaten and bleeding, every inch of My body covered with deep wounds. But, My loved ones, you miss the depth of My love. My wounds were so deep, but the final wound, the pounding of the nails in My hands and feet, a severing of the nerves, an ending of the deepest pain, to experience even deeper pain, beyond your human comprehension, it was done to the Almighty God, a Divine Person, I suffered the final blow to each member.

The pounding in the hands and feet, the crown to each member, and they numbered all My bones. My nerves a network of pain running throughout My entire body.

The pain within the body, the pain recorded in My loving head, the pain sent by a network of nerves in My body, now records the final blows, the nails in the hands and feet, the pain being recorded from every thorn that pierced My skull, every gash to My body, the pain, the pain, the pain - a network of signals and pain, running through My body and the final hour, the pains recorded on the cross, arms outstretched - a surrendering to all pain. I surrendered to a body laden with pain.

You focus on your little problems, your little aches and pains. You discuss them and show the world your pin pricks and sufferings.

Do you want to know holiness and love? They gave Me vinegar mixed with gall. This was their offering. They gave Me a cross. They crowned My head with a crown of thorns.

This, My dear ones, is suffering, My beloved souls, I gave My life for and this is their return.

A severing of My nerves, the final blows to all the aches and pains recorded in My nervous system. This was one of the final blows - the rusted nails pounded into My hands.

You will feel little aches and pains in your hands and feet to remind you of this message. Your understanding of the immense pain within will deepen. What was visible to the eye on My battered body was nothing compared to the pains within. I gave My all. I gave My insides, My mind, My Heart, wounded for the love of men.

All functions in the body were stopped.

The final curtain, blood and water pouring out from My Heart, show that all functions of the body had ended.

R. All signals that carried messages of immense pain had ended, the final act of surrender for God to die to this human body and surrender His flesh.

Jesus: And end, a beginning, the water and blood flowed from My Heart, the beginning of My life in the Church, life flowing into your spirit.

R. Come give me life, abundant life. I thirst to be with Thee.

Jesus: My blood was spent. My human flesh and blood offered as the sacrifice, the sacrifice of Calvary is now made present at every Mass.

An end, a beginning, and the grace and life flow through the sacraments in the Church. My life flows to you in the Mass. Mary, the Mediatrix of all grace, stands by the side of the altar and the grace flows from the Father, through My body offered up as a sacrifice in the Holy Spirit, given through the Mothership of Mary to you in the Church.

You stand under the cross with My Mother and you receive the gift given, My Body, My Blood.

R. Man is reconciled with the Father through the Divine Person, Jesus Christ, and you receive His life poured out to you as Calvary is made present in the unbloody sacrifice of Jesus Christ.

Do you feel the graces poured out to you at this sacrifice of the Son of God at every Mass? Do you feel the presence of the Father, Son and Holy Spirit and Mary, all the angels and saints, and the souls in purgatory? Do you feel united as one at the sacrifice of Calvary sacramentally made present upon the altar through the priest? The priest who now puts on Christ and through Him the dispenser of this life given to man.

Jesus: Oh, My beloved ones, love so dearly your priest. Give him such reverence. He is the chosen instrument of God and you treat him with such ordinariness. You are so blind and so dumb in your ways.

And they numbered all My bones. Each nerve carrying a message of My love of mankind, each member in My Church carrying a special message, all united as one working in harmony according to the Father's will, each carrying a message of love to one another.

The body is many members, you are the messengers of My love. Christ is the head. The message does not flow as it should when some are cut off from the Head.

They nailed My hands and feet and My nerves were severed by the nails, such pain, undescribable in words, the severing of My nerves from the body, the severing of many members from the body of Christ.

My Body given for all on the cross, the network of nerves within carrying the messages of My love to all mankind. My body covered on the outside with blood and wounded, the pain recorded within.

Your Church, covered with blood on the outside, the slaughter of innocent babies, the homosexuality, the sins of the flesh, the members that have severed themselves from the source by their sins, but the pain is carried in the nerves inside. The blood of the Lamb shed for each and every soul, the real pain carried within. The life is weakened in your Church because the love of God is so weak in many members. The messages of love are not being transmitted as they should be. Your body shows the wounds, but your pain within is the root of the problems. The pain is from the messages of love that are not being transmitted.

Unless you seek to fill your priests and sisters with the fire of God's love, fill their hearts with burning love for God, your Church will continue to show the marks of the blood shed without. I give to you these letters as a mighty medicine for this world, directed to make men's hearts burn with love of God and love of one another. The rosaries are meditations and messages given from the Hearts of Jesus and Mary.

These messages will make men's hearts burn with fire for love of God.

You have ignored the importance of these letters.

I send to you the mighty medicine to heal a hurting world.

My priests and religious need these messages. The love of God will be transmitted to the Church from these messages when you circulate these letters.

The devil has blocked the minds of men involved in these messages because of their importance to the world and the Church.

I am speaking to you, the founder, to help to get these messages published and circulated as soon as possible. I give to you a mighty medicine for a sick world.

Read St. Thomas Aquinas about the medicine for the sick Church.

You know what these messages have done for you. I am Jesus. I give to you the mighty medicine for a sick world, for a sick Church, rosaries and letters from the Hearts of Jesus and Mary.

Your Church shows the wounds of bloodshed, abortion, homosexuality, sins of the flesh, murder of little children's minds with sex education in Catholic schools and you hold back the gifts of God's love I am giving to the Church and this world.

My arms were weak and wounded but the final blow as the nail put in My hand. It severed the nerves.

The final blow is the bloodshed in the Church, the slaughtering of children's minds in Catholic schools. My children are pure and innocent. They are not being taught messages of God's love, they are being taught messages of sick sex and coldness.

Men's hearts have turned cold. They have been severed from the life of the body. The body is decaying from within. Only with the love of God enkindled in men's hearts will this bloodshed stop.

I beg you to publish and circulate these messages in the Church. I am Jesus. I am giving you the mighty medicine for the world. Your body wears the marks of the bloodshed, only with messages of My on-fire love will it stop.

Mary leads you to Jesus. Never is she the end. The Father has a plan. Mary's messages have led men and will lead men to Jesus. Satan has tried to stop all efforts to publish and circulate these messages. I am the Almighty God. The funds will come when you circulate and publish these messages and rosaries under the Shepherds of Christ Publishing. I am working with the founder and Rita as messenger to renew the Church and the world. Each messenger has a very vital role in the Father's plan. The significance of these messages are being overlooked. You are not studying the messages as a whole and their content. There are five unpublished Blue Books and more than four Rosary Books which I and My Mother have given to this world in the last 14 months. I have also given 15 songs of My love. I am begging you to see to the recording and publishing of this music. I beg you to listen. This is the mighty medicine for the Church and the world to draw men to the burning love of Jesus. Please harken to My call. I will send you the money. You must study and read these messages. This is a fulfillment of Fatima - these messages were given to bring priests to the burning love of Jesus. I am Jesus, your beloved Savior.

end of June 26, 1995
(2) August 23, 1993 - On His Passion continues
Jesus: I thought of My intense love for you — that many would go to heaven because of My suffering — and I continued to the top of the hill. At the top they laid Me on the cross and with a big hammer nailed My hands to it. It was the worst (suffering) yet. My hands were nailed with big nails and the big hammer. Oh, it was unbelievable! Then, as if that weren't enough, with a big nail they nailed through both feet.

Then they lifted the cross and banged it into (a hole in) the ground. My shoulders ached from how I hung. My head bobbed and My neck ached and they laughed and said, "Now save Yourself." I hurt so much! I suffered this way for hours — which seemed like forever — and they glared at Me and laughed! My Mother watched in such agony.

For love of you, to My death I gave you My Body. My child, I shed My Blood and gave you My life that you might be with Me forever in heaven — not for a day, a month or a year, but forever with Me in heaven.

I am the true Bread come down from heaven. He who eats My Flesh will have life forever. For the drink I give you is My Blood and food you eat is My Body. Who would lay down his life for a friend? I did, for you. I love you this much, child. Forget about those who reject you. You have My life that I gave you and I give you life eternal.

I am the One true God. I am the Light of life. He who abides in Me will have life eternal, for the drink I give is My Blood and the food I give is My Body. Drink and eat and have everlasting life.

My child, that is all you need to know. Love one another and be good that you may enter into My kingdom.
end of excerpt
(3) R. Jesus suffered and He
did it for our sins —
(4) Song: Why do we Hurt the Ones we Love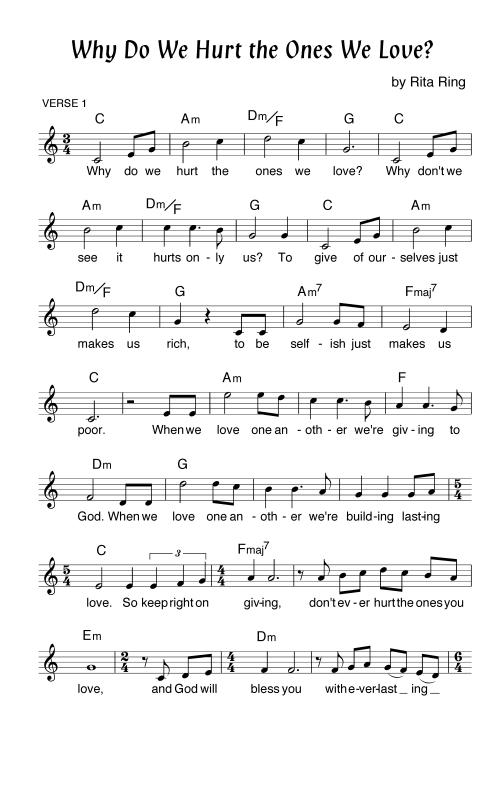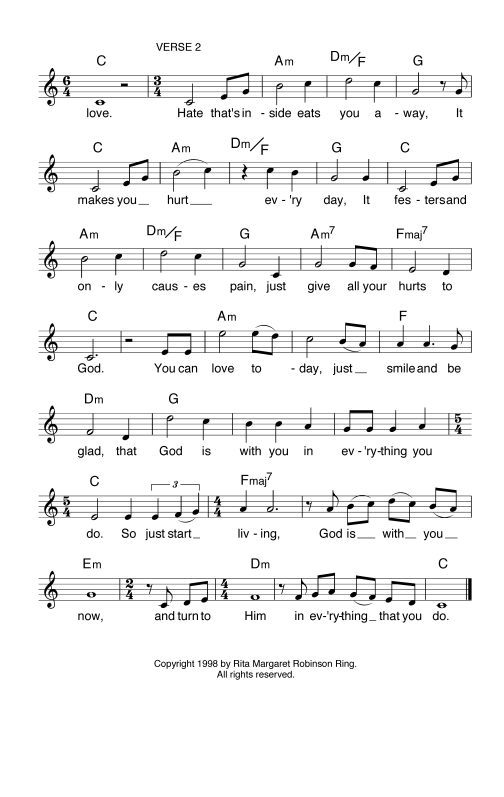 (5) R. Christ suffered and died on
the Cross of Calvary
(6) R. Christ gave us the Eucharist —
(7) R. Christ paid this price for
our sins —
(8) R. Christ gave us the Church —
John 15: 12-13
This is my commandment:
love one another,
as I have loved you.
No one can have greater love
than to lay down his life for his friends.

(9) John 15: 1-8
I am the true vine,
and my Father is the vinedresser.
Every branch in me that bears no fruit
he cuts away,
and every branch that does bear fruit


he prunes
to make it bear even more.
You are clean already,
by means of the word
that I have spoken to you.
Remain in me, as I in you.
As a branch cannot bear fruit all by itself,
unless it remains part of the vine,
neither can you unless you remain in me.
I am the vine,
you are the branches.
Whoever remains in me, with me in him,
bears fruit in plenty;
for cut off from me you can do nothing.
Anyone who does not remain in me
is thrown away like a branch
—and withers;
these branches are collected
and thrown on the fire
and are burnt.
If you remain in me
and my words remain in you,
you may ask for whatever you please
and you will get it.
It is to the glory of my Father
that you should bear much fruit
and be my disciples.

(10) Song: In My Heart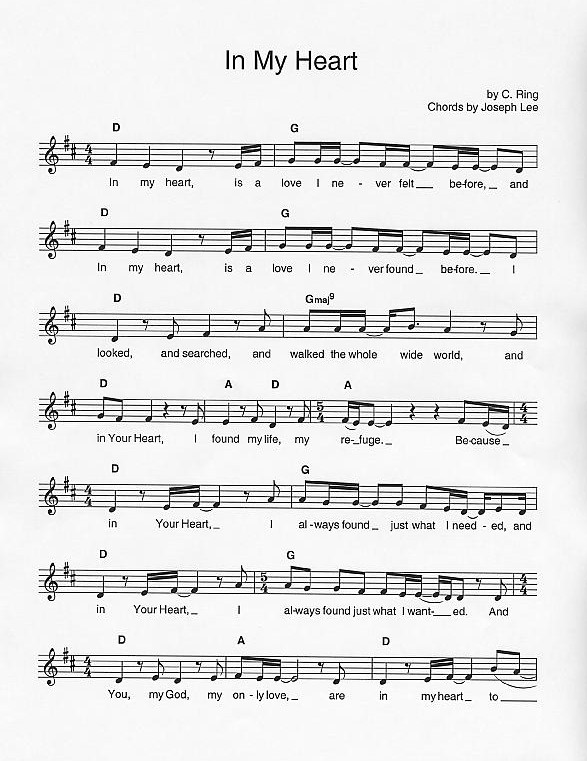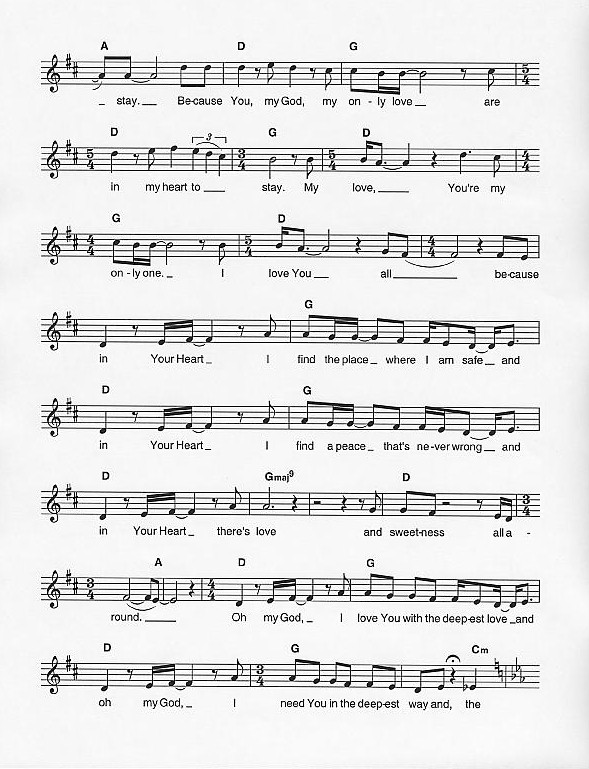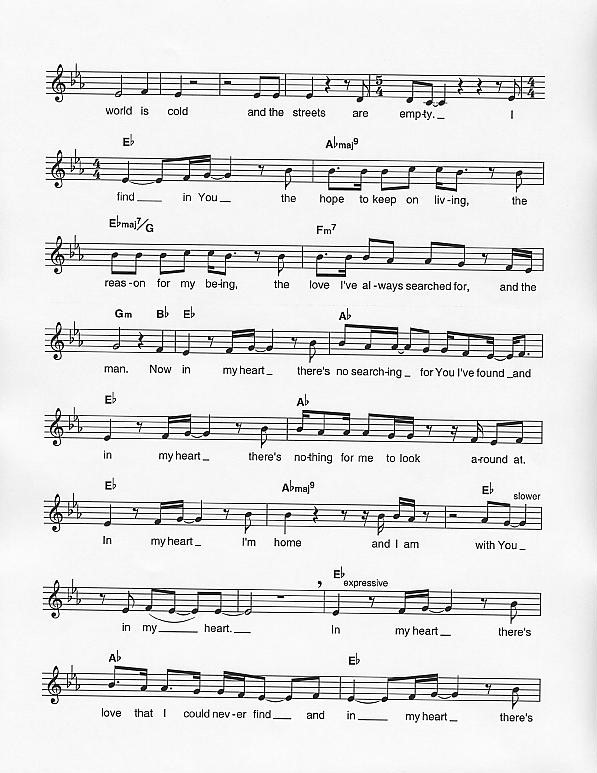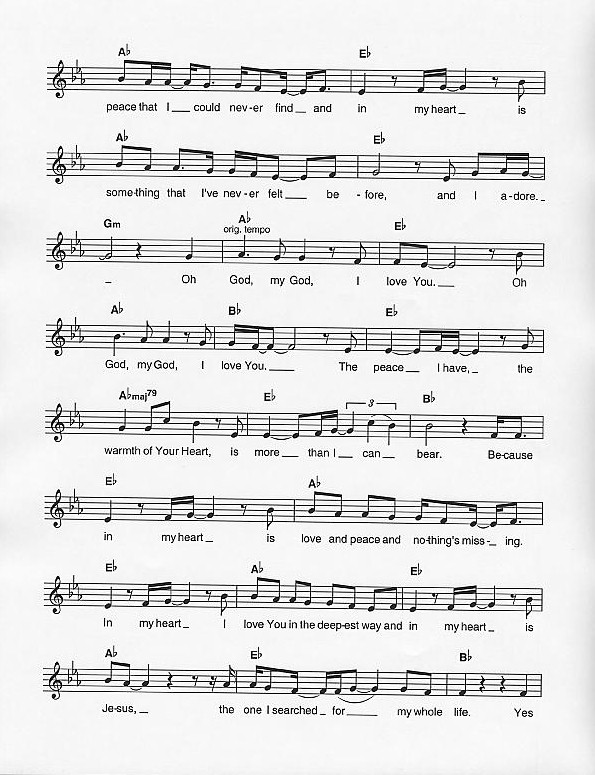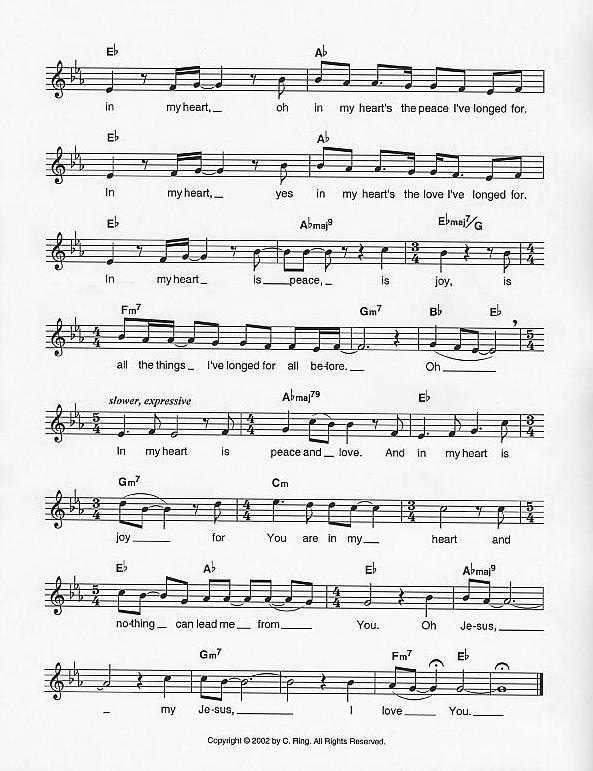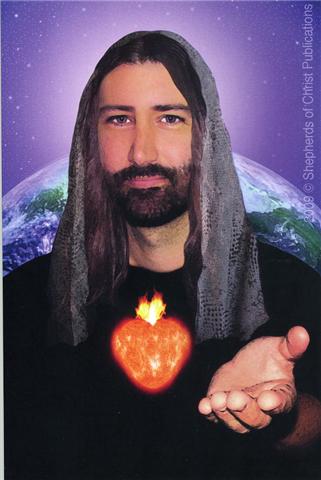 Prayer for Union with Jesus

Come to me, Lord, and possess my soul. Come into my heart and permeate my soul. Help me to sit in silence with You and let You work in my heart.

I am Yours to possess. I am Yours to use. I want to be selfless and only exist in You. Help me to spoon out all that is me and be an empty vessel ready to be filled by You. Help me to die to myself and live only for You. Use me as You will. Let me never draw my attention back to myself. I only want to operate as You do, dwelling within me.

I am Yours, Lord. I want to have my life in You. I want to do the will of the Father. Give me the strength to put aside the world and let You operate my very being. Help me to act as You desire. Strengthen me against the distractions of the devil to take me from Your work.

When I worry, I have taken my focus off of You and placed it on myself. Help me not to give in to the promptings of others to change what in my heart You are making very clear to me. I worship You, I adore You and I love You. Come and dwell in me now.

-God's Blue Book, January 17, 1994
R. Christ really died on the Cross —
Christ hung on the cross for
3 hours —
Jesus asked us to pray
12:00 - 3:00 on Fridays
before the exposed Eucharist in China

From the New Cycle "B" Book
Building the Kingdom of Truth
The Eucharist and the Word is the Bread of Life – In
this world with distorted vision – we spread this book to you
– Focusing on the Word – The Word alive in our Hearts –
Reflecting on the Word – THIS IS TRUTH
The more we live the Word in our lives, the more we
live Jesus' life, death, and resurrection in our lives – the
more we know the truth and see more clearly the vision of
our heavenly Father –
We have been given the Catholic Church – Pillar of
truth – We have been given the Word – We have been
given the Commandments –
Because of original sin we have distorted vision – Living
in the Word . . obeying the Commandments – Living
according to the Church's teachings helps us to live in the
truth – to see more the vision of the Father – We know in
this distorted world – THE TRUTH! !
We pray the Our Father at Mass – We focus on our
Heavenly Father and His Plan for us – We want unity as
children of God
In spreading these homilies and our writings on the
Eucharist – we want men to be fed more and more with the
Bread of Life – We want to live in the truth – We want to
live in greater faith, hope and love – To live in unity –
To date – 17 years – we have circulated 15,000,000
Priestly Newsletters loose and in books from Fr. Carter and
other priests.
We have begun prayer chapters in 8 languages with the
Church's Imprimatur, around the world, so there is a
network of prayer out there praying for our priests, the
Church and the world –
If we have this devotion to the Sacred Heart and
Immaculate Heart, we are helping ourselves to be more
united in the pure and holy Hearts of Jesus and Mary as
Mary asked for at Fatima –
When we die there will be a network of prayer around
the world praying for our beloved priests and the Church –
This to me is the greatest gift I can give to my children
and grandchildren in helping more and more our holy
priests – We hope people love God and others as they dwell
in the Hearts of Jesus and Mary.
We pray people love the Church more and more and
thank God for this precious gift of the Church and the
priest and the Word – We pray people live as strong
members of the mystical body of Christ –
The world is in so much need of prayer and that deep
relationship with Mary, Mother of the Church – The Holy
Spirit works in that Spousal union with Mary helping us to
do God's will –
Thank you for your willingness to answer God's call in
focusing on the Word and praying for the priests, the
Church and the world with us –
May God bless you in your mission of loving and serving
God and helping to build the Kingdom of God.
May the Light of Christ shine on the earth as we live
more holy lives in Him and in His Word –
We should respond enthusiastically to Christ's call to
help build up the Kingdom of truth and love, of justice and
that the peace of Christ is spread on this earth.
The Shepherds of Christ Movement

Co-equal purpose

Ministries
1. PRIMARY MINISTRY - CIRCULATING
PRIESTLY NEWSLETTERS TO PRIESTS ALL OVER
THE WORLD IN ENGLISH AND SPANISH to promote
priestly holiness, Fr. Joe's books and other priests books –
2. PRAYER CHAPTERS praying for the priests and
the renewal of the Church and the world using the prayer
manual (in 8 languages with the Church's Imprimatur).
3. School Rosary Program and Junior Shepherds of Christ Ministry.
4. Nursing Home Ministry.
5. Special retreats and adoration before the Blessed Sacrament.
6. Apostles of the Eucharistic Heart of Jesus.
7. Promoting the rosary to all, rosary meditations.
8. Prison Ministry to promote prayer and spiritual renewal.
9. Handmaids and Servants of the Good Shepherd.
10. Audio/Video Departments (priestly newsletters on tape).
11. Prayer books, newsletters, newsletter books, and other spiritual aids.
John 15: 5-6
I am the vine, you are the branches. Whoever remains in me,
with me in him, bears fruit in plenty; for cut off from me you can
do nothing. Anyone who does not remain in me is thrown away
like a branch –and withers; these branches are collected and
thrown on the fire and are burnt.


We get our life from Jesus – He is the vine – we are the

branches – A branch cannot bear grapes if it is disconnected

from the vine – We cannot do anything without Him

Sing:

Bread of Life

John 17: 21
May they all be one, ...

We want to follow Christ! We are to witness to Christ!
We are to live in the truth!
Oh God send laborers into the harvest — Send those who
will help us spread the Good News. Send us so many young
and eager priests wanting to serve You —
end of excerpt June 16, 2011
R. Mary suffered so
Mary's Message


from the Rosary of August 27, 1996

Mary: I stood beneath the cross of my Son, and my Heart was in such pain for I saw Him before my eyes. I saw Him covered with blood. I saw Him die. My Heart, my children, my Heart to watch my Son, but my Heart, my Heart, how I suffered for my little children of the world that give in to this world and give up the love of my Son. O my little children of light, I give you this message. Carry this light into the darkness for your Mother Mary, for I stood beneath the cross and I cried. I cried for the little ones. I cried for the young ones, the ones that do not care and will lose their souls. How do I make you see for you will not listen to me? What can I do? I come. I appear. I beg. I plead. I give you these gifts from my Son, and you reject me. I do not deliver messages very often anymore for I have been ignored. The message is the same. You do not read the messages I have given to you. Please help me. Help the little children. I appear. I appear. I appear, and I am ignored. I stood beneath the cross, and I cried. I cried, and my Heart was in such anguish for my little children, for I am searching for them this day as I searched for the Child Jesus. Please, please help me. I cannot hold back the hand of my Son any longer. I am Mary, your Mother. I ask you to help my children. You are my children of light.

end of Mary's Message
December 19, 1996

Mary: My dear children, I give to you, my Son, Jesus, born in a stable in Bethlehem on Christmas morn. He is the Almighty God, the Light of the World.

I appear to you, my children, on a (former) bank in Florida. You have made money your god! Do you know how cold are your hearts? You turn away from my Son, Jesus, for your money. Your money is your god.

I am Mary, your Mother. I do not appear as I once appeared to you. I am asking you today to circulate my message given on a tape on the feast of Our Lady of Guadalupe, December 12, 1996. Please circulate this tape now. Give it to as many people as you can. I am Mary, your Mother. Please circulate my Rosary Book.

end of December 19, 1996
R. Jesus is our Savior
Song: A Song from Jesus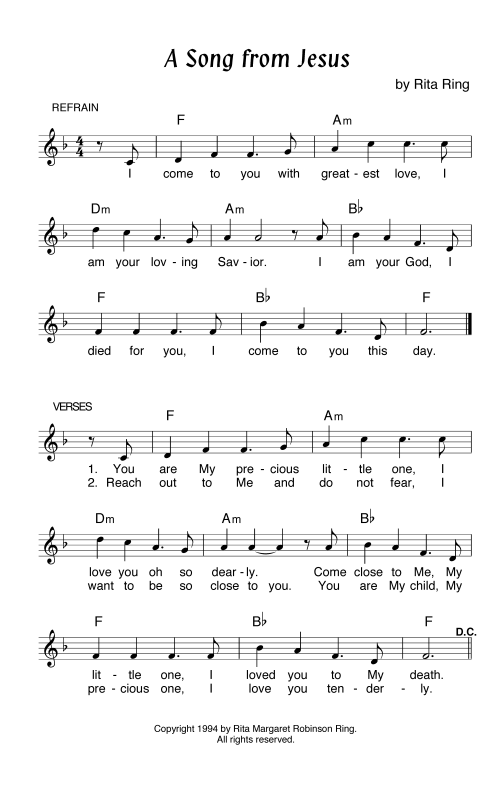 R. We need a Savior
Jesus is love
We are to obey God
Christ came and walked the earth
to teach us —
Christ gave us teaching and miracles —
God gives us grace to be good
if we ask Him and
grace to do what He
asks. We must cooperate
with the grace He gives
us to be good —
We have a free will —
Purgatory and hell are real —
Given June 20, 2011
From The Spiritual Exercises of St. Ignatius,
by Louis J. Puhl, S.J. p. 12
23. FIRST PRINCIPLE AND FOUNDATION
Man is created to praise, reverence and serve God
our Lord, and by this means to save his soul.
R. We were created for a purpose —
We were created in the image and likeness of God —
We have a free will to follow in the footsteps
of Jesus, to obey God and His commandments —
We should do what is the Father's will —
God has given this great gift of the Church to us —
God has given us our beloved priests —
God has called all of us to a vocation and
to be committed to this vocation —
COMMITMENT!!
Friends, intimate friends with God —
We are responsible for our behavior —
We are responsible for loving God and others —
Mary is our Mother —
She appeared in Clearwater to tell us
how important it is to have
this intimate love relationship with
God —
Mary appeared to tell us how important
devotion to Jesus' Sacred Heart and
Mary's Immaculate Heart is —
Mary is Mother of Jesus —
Mary is Mother of the Church —
John 19: 25
Near the cross of Jesus stood his mother and his mother's sister, Mary the wife of Clopas, and Mary of Magdala.
Luke 22: 19
Then he took bread, and when he had given thanks, he broke it and gave it to them, saying, 'This is my body given for you; do this in remembrance of me.'
Hebrews 10: 5-7
and that is why he said, on coming into the world:

You wanted no sacrifice or cereal offering,
but you gave me a body.
You took no pleasure in burnt offering'
or sacrifice for sin;
then I said, 'Here I am, I am coming,'
in the scroll of the book it is written of me,
to do your will, God.
Acts 4: 8-12
Then Peter, filled with the Holy Spirit, addressed them, 'Rulers of the people, and elders! If you are questioning us today about an act of kindness to a cripple and asking us how he was healed, you must know, all of you, and the whole people of Israel, that it is by the name of Jesus Christ the Nazarene, whom you crucified, and God raised from the dead, by this name and by no other that this man stands before you cured. This is the stone which you, the builders, rejected but which has become the cornerstone. Only in him is there salvation; for of all the names in the world given to men, this is the only one by which we can be saved.'
From Fr. Joe's homily new book
Fourth Sunday of Easter
May 3, 2009
INTRODUCTION: Last week I spoke about how Peter and John healed a crippled beggar in the Temple. The healed man jumped up and down and was walking around which caused a great amount of commotion in the Temple. The people wanted to know what happened and how it had happened. Peter gave all the credit to Jesus who, in his risen presence, healed the man through the Apostles. When the Jewish religious leaders, many of whom did not believe in any kind of resurrection, heard Peter's witness, they arrested Peter and John and took them to court. Today we hear a portion of Peter's testimony. The important thing to notice is not only what Peter had to say about Jesus but also his boldness. The court didn't know what to do with Peter and John because all the people were excited about the healing of a man who had been lame for over 40 years. So the court warned the Apostles not to talk about Jesus any more. The Apostles would not be intimidated, however, for they were now filled with the Holy Spirit. [Acts 4, 8-12]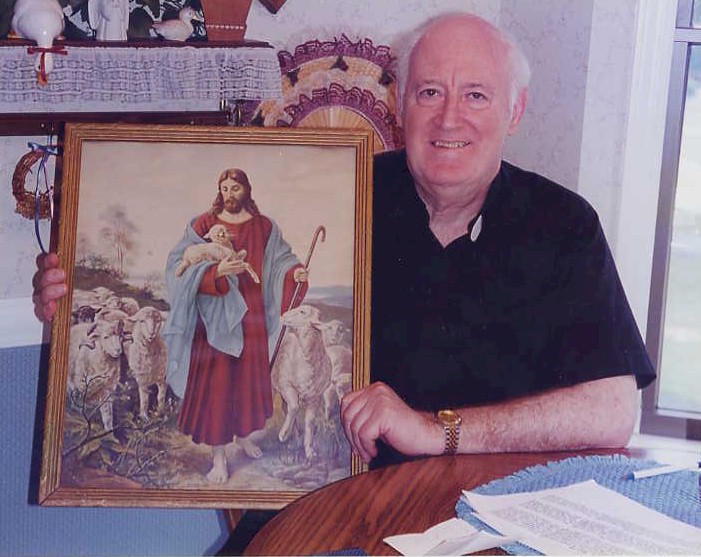 John 10: 11-18

I am the good shepherd:
the good shepherd lays down his life
for his sheep.
The hired man,
since he is not the shepherd
and the sheep do not belong to him,
abandons the sheep
as soon as he sees a wolf coming,
and runs away,
and then the wolf attacks
and scatters the sheep;
he runs away
because he is only a hired man
and has no concern for the sheep.
I am the good shepherd;
I know my own
and my own know me,
just as the Father knows me
and I know the Father;
and I lay down my life for my sheep.
And there are other sheep I have
that are not of this fold,
and I must lead these too.
They too will listen to my voice,
and there will be only one flock,
one shepherd.
The Father loves me,
because I lay down my life
in order to take it up again.
No one takes it from me;
I lay it down of my own free will,
and as I have power to lay it down,
so I have power to take it up again;
and this is the command
I have received from my Father.

From Fr. Joe's homily new book
Fourth Sunday of Easter
May 3, 2009
HOMILY: Jesus tells us: "I am the good shepherd." Today is often called Good Shepherd Sunday because every year on the fourth Sunday of Easter, we hear a passage from St. John's 10th chapter [Jn. 10, 11-18] which is about Jesus as our shepherd.

Today Jesus tells us about two kinds of shepherds. There is the kind of shepherd who owns his or her own sheep and there are shepherds who are hired by a farmer to protect and care for sheep that belong to someone else. The second kind, the hired shepherds, run away when danger comes, while those who own their sheep fight hard to protect what is their own, sometimes getting hurt badly or even getting killed. Jesus is telling us he would be killed to protect and save us, but he would return to life again – which he did. This shows us, first of all, how much he cares for us. He would fight to the bitter end for us. It also shows us how powerful he is that he can lay down his life and take it up again. Peter tells us in today's second reading that Jesus is the only one we can safely follow in order to be saved,.

Jesus tells us something else about shepherds today - they know their sheep and the sheep know their shepherds. It's just the same way we know our pets at home. How do they know one another so well – because they spend a lot of time together. Sheep take a lot of care and the shepherd is with his or her sheep 24 hours a day, seven days a week. Jesus is with us all the time and knows us better than we know ourselves (all the hairs on our heads are numbered – do any of us know ourselves that well?) If we don't know him very well, we need to spend more time with him; and that's called prayer.

When I think of shepherds, I always remember 20 years ago when I climbed Mt. Sinai (I'm glad I did it then, because I couldn't do it any more – it's very rugged and steep) and on the way down, I saw a shepherd and her sheep on a near-by hill. It was just getting dark. She started playing her flute and headed in a direction away from where we were; the sheep just fell in line following her. It was all the sheep trusted her knew how much they depended on her. It was a beautiful scene.

The metaphor is obvious. Christ is our shepherd. He wants us to trust him and follow him. Sometimes following him can get a little frightening; we don't know where he's taking us or what he might ask of us. Sometimes when he takes us through the desert, as shepherds need to do at times when they want to bring their sheep to better grazing ground, we ask why is he doing this to us? That's why he is always telling us we need to have faith in him. That's also why we need to pray - so we will have faith in him. Amen.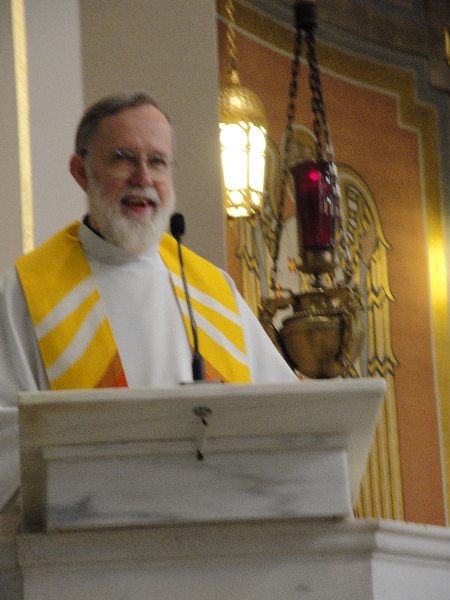 Sing: Valleys of Green
Acts 3: 13-15

It is the God of Abraham, Isaac and Jacob, the God of our ancestors, who has glorified his servant Jesus whom you handed over and then disowned in the presence of Pilate after he had given his verdict to release him. It was you who accused the Holy and Upright One, you who demanded that a murderer should be released to you while you killed the prince of life. God, however, raised him from the dead, and to that fact we are witnesses;
From Fr. Joe's homily new book
Third Sunday of Easter
April 26, 2009
INTRODUCTION: We take so many of our blessings for granted until, God forbid, we lose one. Take for example the ability to walk. We injure a knee or some part wears out and we find it painful or impossible to do many of the things we just took for granted. What if we were lame from birth and could never join in other kids' games because we couldn't run or walk. There used to be a sick joke about a kid like that who wanted to be on the local baseball team, so his buddies let him play and they used him for third base!

A very short time after Jesus' ascension Peter and John were on their way to the Temple to pray. There was a lame man sitting at the Temple entrance. In that culture, it was bad enough to be handicapped, but a person like that was looked down upon because it was everyone's belief that he must have been a great sinner and he was suffering for his sins. The lame man asked Peter and John for a little money as they passed. Peter said, "I don't have any money, but I will give you what I have. In the name of Jesus Christ of Nazareth, get up and walk." Then Peter helped him to his feet and he was healed. He was so excited, he jumped and danced and praised God. Of course, this created quite a commotion and everyone wondered what had happed. Peter took the opportunity to explain. He credits it all to Jesus. Today's first reading is part of his explanation.

1 John 2: 1-5

My children, I am writing this
to prevent you from sinning;
but if anyone does sin,
we have an advocate with the Father,
Jesus Christ, the upright.
He is the sacrifice to expiate our sins,
and not only ours,
but also those of the whole world.

In this way we know
that we have come to know him,
if we keep his commandments.
Whoever says, 'I know him'
without keeping his commandments,
is a liar,
and truth has no place in him.
But anyone who does keep his word,
in such a one
God's love truly reaches its perfection.
This is the proof
that we are in God.
Luke 24: 35-48

Then they told their story of what had happened on the road and how they had recognised him at the breaking of bread.

They were still talking about all this when he himself stood among them and said to them, 'Peace be with you!' In a state of alarm and fright, they thought they were seeing a ghost. But he said, 'Why are you so agitated, and why are these doubts stirring in your hearts? See by my hands and my feet that it is I myself. Touch me and see for yourselves; a ghost has no flesh and bones as you can see I have.' And as he said this he showed them his hands and his feet. Their joy was so great that they still could not believe it, as they were dumbfounded; so he said to them, 'Have you anything here to eat?' And they offered him a piece of grilled fish, which he took and ate before their eyes.

Then he told them, 'This is what I meant when I said, while I was still with you, that everything written about me in the Law of Moses, in the Prophets and in the Psalms, was destined to be fulfilled.' He then opened their minds to understand the scriptures, and he said to them, 'So it is written that the Christ would suffer and on the third day rise from the dead, and that, in his name, repentance for the forgiveness of sins would be preached to all nations, beginning from Jerusalem. You are witnesses to this.

From Fr. Joe's homily new book

Third Sunday of Easter
April 26, 2009
HOMILY: I'm sure most of us have had wonderful life-changing events we could talk about, getting a good job; meeting a wonderful person who changed our life, whether it was a teacher, a friend, or someone who eventually became our spouse; the birth of a dearly loved son or daughter; inheriting a large sum of money; finding a cure for a chronic illness. The lame man I talked about in my introduction, whose healing is described in the third chapter of the Acts of the Apostles, certainly had his life changed dramatically by this encounter with Peter and John.

Today we hear again about the Resurrection of Jesus. Easter is too big a feast to celebrate just one day. We celebrate it for fifty days, and then we continue to celebrate it every Sunday when we gather in faith to meet our risen Lord in the Eucharist. Our gospel today takes us back to Easter Sunday. In the afternoon of Easter Sunday, Jesus appeared to two of his disciples. They were walking away from Jerusalem, discouraged and depressed over Jesus' death. Jesus walked with them, talked to them about the Scriptures, and when he broke bread with them they recognized him. They came running back to the upper room to tell the others. When they got there, they were told Jesus had appeared to Peter and then suddenly Jesus appeared to all of them. In spite of the appearances in the early morning to the women, to the two disciples, and to Peter, Luke tells us the apostles were "terribly frightened." I suppose that would be a normal reaction. Jesus assured them he was very much alive and very well. They could see him and touch him. To give them further proof, he asked for something to eat. He ate something they themselves had prepared to convince them he was real and that they weren't seeing a ghost or seeing him was something out of their own imagination. I have to pause here to tell you something cute. I've told this before so pardon me for repeating it: A mother proudly told her pastor: "My teenage son has finally learned one bible verse. It's Luke 24, verse 41 where Jesus says to his disciples: 'Do you have anything here to eat?'"

Whatever wonderful life-changing events we might think of, the Resurrection of Jesus is the most wonderful life-changing event ever. Because Jesus rose from the dead, our world is a different world. Because Jesus rose from the dead, evil and hatred and suffering have been overpowered. They still hang around inflicting difficulties on us, but their power has been broken by the glory of the Resurrection. Because Jesus rose from the dead, death no longer has the last word over any of us. Death has been overcome by life, eternal life. Even sin will not win out, but forgiveness in Jesus' name will destroy sin. Sin and evil will keep on trying to pull us down and destroy us, but in Christ we are raised up. We must be careful not to give in to sin's destructiveness, John tells us in today's second reading, and the way not to give in is to keep his commandments so his love can be perfected in us. Because Jesus rose from the dead, even fear cannot hold on to us for long, for Jesus came to us offering us peace. Notice that Jesus' first word to the apostles was "peace." Our world is a totally different world now after Jesus' Resurrection. But if it continues to look the same to all of us, with evil and hatred and suffering, maybe we who have been changed by the resurrection are not doing what Jesus said to do. We heard him say at the end of today's gospel: "you are witnesses of these things." This world-changing event has happened and we hope to share in its blessings. It partly depends on us, however, to bring those blessings to the world around us through the witness of our lives, our goodness, our love, our peace and our joy. Let's pause for a moment to ask ourselves how we can witness more fully the Resurrection. Amen.
R. Peter was a fisherman —
He was told he would be fishing for men —
Peter was by the sea —
Peter was strong, but Jesus taught Peter and
the Apostles about being fishermen
for Him — fishers of souls
Jesus forgave men their sins —
Jesus healed men spiritually and physically —
Jesus picked His Apostles —
They gave their life to God —
They followed God —
They said "yes" to their vocation —
Jesus was in Peter's boat
Jesus taught from his boat —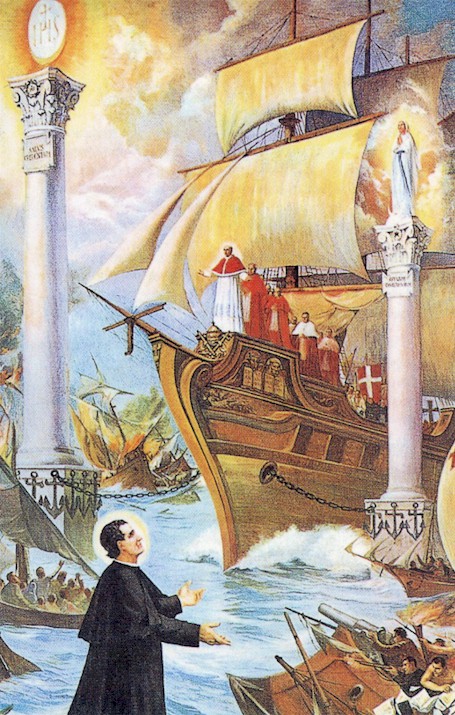 R. Jesus calmed the sea
Jesus walked on the water —
Jesus taught Peter about having faith
in Him —
Jesus taught from the mountains —
Where they could see clearly —
seeing something BIG —
Matthew 16: 17-18
Jesus replied, 'Simon son of Jonah, you are a blessed man! Because it was no human agency that revealed this to you but my Father in heaven. So I now say to you: You are Peter and on this rock I will build my community. And the gates of the underworld can never overpower it.
Acts 10: 34, 37-43
Then Peter addressed them, 'I now really understand', he said, 'that God has no favourites,

You know what happened all over Judaea, how Jesus of Nazareth began in Galilee, after John had been preaching baptism. God had anointed him with the Holy Spirit and with power, and because God was with him, Jesus went about doing good and curing all who had fallen into the power of the devil. Now we are witnesses to everything he did throughout the countryside of Judaea and in Jerusalem itself: and they killed him by hanging him on a tree, yet on the third day God raised him to life and allowed him to be seen, not by the whole people but only by certain witnesses that God had chosen beforehand. Now we are those witnesses—we have eaten and drunk with him after his resurrection from the dead— and he has ordered us to proclaim this to his people and to bear witness that God has appointed him to judge everyone, alive or dead. It is to him that all the prophets bear this witness: that all who believe in Jesus will have their sins forgiven through his name.'
From Fr. Joe's homily new book
Easter
April 12, 2009
HOMILY: ...Our faith tells us one person did indeed rise from the dead, Jesus Christ, and if it weren't for his resurrection we would never have heard of him. He was a good and holy man who was a wise teacher and a powerful healer but, unlike with other religious leaders, if it weren't for Jesus' actual resurrection, his followers would never have had the courage to preach about him to the world. [for Sunday morning: Remember Peter who denied Christ. We hear him preaching with boldness to a pagan audience in today's first reading.] The apostles had nothing to gain in this world from talking about him except rejection and martyrdom. But they had to proclaim him to the world because they had seen him after the resurrection, he sent them out to continue his work, he promised to be with them and they wanted to be with him and these things they couldn't deny.

Their "good news" about the resurrection spread against all odds, persecution, heresy, sinful leadership and a way of life that demanded unselfishness and self-sacrifice. Their promise was a promise of new life, eternal life, to those who heard the "good news" and believed in it. Their promise was a promise of risen life for those who are born again into Christ's life. We hear Paul proclaim this in today's epistle: "we were indeed buried with him through baptism into death, so that just as Christ was raised from the dead by the glory of the Father, we too might live in newness of life." (Rom 6,4 – from Vigil) This is echoed in our epistle for Easter Sunday from Colossians "You have died, and your life is hidden with Christ in God. When Christ your life appears, then you too will appear with him in glory." (Col 3,3-4 – Easter Sunday).

Our bodies will rise again on the last day, but not all will rise to glory. The bible tells us in the book of Daniel: "Many of those whose bodies lie dead and buried will rise up, some to everlasting life and some to shame and everlasting contempt." (Dan. 12,2) It is not our place to decide which group certain of our acquaintances might end up in. We cannot judge anyone's heart, only God can. It's our place to know that we are saved, not by our own power, but through our union with the glorified and risen Christ and to find peace in knowing that God's mercy is offered to all who seek him.

And that is the challenge of the resurrection. Again, quoting the letter to the Colossians: "If then you were raised with Christ, seek what is above, where Christ is seated at the right hand of God. Think of what is above, not of what is on earth." (Col. 3,1-2) If we want to live new life with Christ in eternity, we must live his new life now.

Hopefully, our Easter celebration will inspire us to leave today with a new resolve to praise the Lord (this is what "Alleluia" means) and to rejoice and be glad because this is the day the Lord has made; this is the day that is a source of hope and salvation for us. Amen.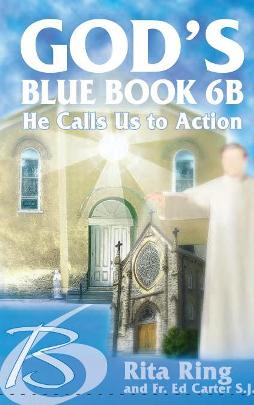 Blue Book 6B Available
Call Rosie
1-888-211-3041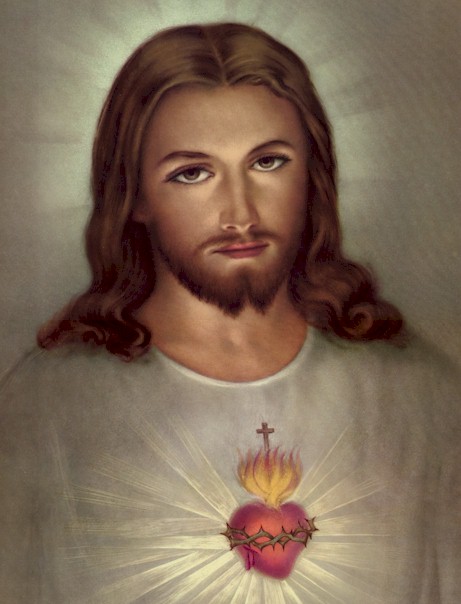 Jesus: This is the picture I want in My messages. When you read these messages, look at My picture and know I love you. These messages are My words of love for each of you.

Open Anywhere
Love Jesus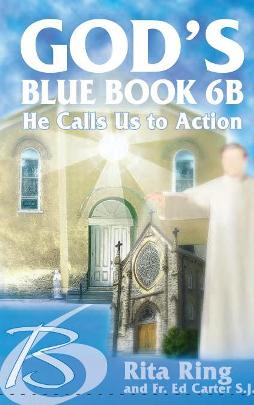 Blue Book 6B Available
Call Rosie
1-888-211-3041

Books Available
Mass Book

, by Rita Ring: Many of the entries in the Priestly Newsletter Volume II from a spiritual journal came from this book. These entries are to help people to be more deeply united to God in the Mass. This book is available in English and Spanish with the Church's Imprimatur. $12

Rosary Meditations for Parents and Children

, by Rita Ring, Short Meditations for both parents and children to be used when praying the rosary. These meditations will help all to know the lives of Jesus and Mary alive in their Hearts. Available in both English and Spanish with the Church's Imprimatur. $10
God's Blue Book I by Rita Ring. Open Anywhere — This book will change your life. These are beautiful love letters to us from Jesus. A million books have been printed and circulated. Jesus loves us so much — He wants a personal relationship with us — He wants us to go to the Eucharist and be with Him before the tabernacle. $10
God's Blue Book II by Rita Ring. Letters from Jesus about His on fire love — Jesus wants this great intimacy with us — On fire love — Personal love letters from Jesus about the love of His Heart — A book on surrender Fr. Carter said!

$10

God's Blue Book III by Rita Ring. Fr. Carter's favorite book — It is about loving and forgiving each other — Being pure in heart — A book for unity in family, community, in life!!

$10

God's Blue Book IV by Rita Ring. This book is about the love Jesus has for Mary and Mary has for Jesus and Jesus and Mary have for us — It is truly the Love of the Two Hearts. Mary appeared every day at the Holy Spirit Center — Fr. Carter was there. Mary's first apparition July 5, 1994. $5
God's Blue Book V by Rita Ring. Jesus wants to be the bridegroom of our soul — He is our beloved — Jesus tells us about pure love — how we are to be pure of heart and love God and love others. It is a must, to hear about love from Jesus — Jesus is love — $5
God's Blue Book 6A by Rita Ring. Rosaries from Their Hearts during apparitions. Jesus and Mary appeared every day and I received rosaries from Them and They were transcribed from a tape. Also messages of love from Jesus on days of January, 1995 — About Baptism — writings from Fr. Carter and the Scriptures. $10
God's Blue Book 6B by Rita Ring. Jesus and Mary appeared every day in February, 1995 — So beautiful — transcribed from a tape — the Stations, 7 Sorrows, prayers in the Prayer Manual, the Holy Spirit Novena Book and the Song Book. Pure love — loving and forgiving — a book about Jesus' love, baptism, grace and Fr. Carter's Newsletter.

$10

Apostles Manual. About the Movement - the structure of the Movement — All Ministries - from the time 3 months before Mary appeared in Clearwater and 3 months after. Rosaries of the 13ths, Fr. Carter's Newsletters. Messages from God the Father — Reaching the priests, the Church, the schools and the world. $20
Rosaries from the Hearts of Jesus and Mary Book 1. Mary appeared in Clearwater December 17, 1996 in rainbow color and these rosaries left the printer the same day from Apparitions of Jesus and Mary — transcribed from a tape. $10
Rosaries from the Hearts of Jesus and Mary Book 2. This is a book of so many rosaries - transcribed from a tape. So many beautiful rosaries. pages $12
Messages for the Elderly, Ill and Homebound. This is a big book of loving messages for nursing home people and homebound from Jesus and Mary — Their lives are so important — united to the Mass offering up their suffering, their lives for the souls of this earth. $10
Short Rosary Meditations for the Elderly, Ill and Homebound. This book is so important with pictures they can open it and lay it on their laps and pray the rosary. $10
Songs from Jesus Songbook. These loving songs were given from Jesus. So beautiful — Love Songs from Jesus of His love - helping us have pure and loving hearts. $3
Daily Messages from Heaven. First book of Daily Messages. $10
Color the Lives of Jesus and Mary. Volumes 1 through 7. Coloring books and meditations for grade school children and others on the mysteries of the rosary - really good. $5 each.

Response to God's Love

by Fr. Edward J. Carter, S.J. In this book Fr. Carter speaks of God as the ultimate mystery. We can meditate on the interior life of the Trinity. Fr. Carter tells us about our uniqueness in the Father's Plan for us, how the individual Christian, the Church and the world are in the state of becoming. Imprimatur. $10

Shepherds of Christ - Selected Writings on Spirituality for all People

as Published in Shepherds of Christ Newsletter for Priests. Contains 12 issues of the newsletter from July/August 1994 to May/June 1996. $15

Shepherds of Christ - Volume 2

: by Fr. Edward J. Carter, S.J. Contains issues 13-29 of the newsletter (September/October 1996 - Issue 5, 1999) $15

Shepherds of Christ - Volume 3

by Fr. Edward J. Carter, S.J. Contains Newsletter Issues 1 through 4 of 2000 including Fr. Carter's tremendous Overview of the Spiritual Life $10

Tell My People.

Messages from Jesus and Mary (As given to Fr. Edward Carter, S.J.) — One of Fr. Edward Carter, S.J.'s Synopsis of the Spiritual Life — From Jesus to Fr. Carter "On Holy Saturday, 1994, Jesus told me that on the following day, Easter, I would also begin to receive messages for others. Our Lord also told me that some of these were eventually to be published in a book—and here is that book." $10
The Spirituality of Fatima by Fr. Edward J. Carter, S.J. The Fatima apparitions and messages received official Church approval in 1930. In giving her official approval to the Fatima event, the Church tells us that what took place at Fatima involving the three young visionaries is worthy of our belief. $5

Shepherds of Christ

, a book of Spirituality Newsletters, is a compilation of the first nine newsletters from Fr. John J. Pasquini begining in August 2006. The Newsletter has been circulated to the priests and hierarchy spreading devotion to the Sacred Heart and the Immaculate Heart, promoting love for the Eucharist, greater love for the Church, the Priesthood, Mary and the Holy Spirit, the Mass, Prayer, and greater intimate relationship with God. $35

This book

Light, Happiness and Peace is a journey into the spiritual life — an awakening of deeper life IN HIM. Here are some of the comments we received from bishops and cardinals about the book. Cardinal – Pontifical Council for Culture – Vatican City "I am sure that this book, Light, Happiness and Peace through a discussion on traditional Catholic Spirituality will contribute in bringing back prayer into the mainstream of life." $10

In Imitation of Two Hearts - Prayers for Consolation, Renewal and Peace in Times of Suffering

Fr. John J. Pasquini leads a suffering soul to the gentle Hearts of Jesus and Mary. In these most loving Hearts - the prayers by Fr. John Pasquini - help the person suffering to know more deeply the pascal mystery of death/resurrection. President of the Pontifical Council for Health $10

Authenticity

, the Yellow Book of prayers by Fr. John Pasquini, can lead the soul into deeper intimacy with the Father, Son, and Holy Spirit, can lead to greater love of Mary which leads to the unitive life and greater holiness. The book of prayers Authenticity by Fr. John J. Pasquini is to help one grow ever deeper in the Unitive life. Apostolic Nuncio – Archbishop – Philippines "With Authenticity, much is gained in prayer, and much is accomplished through prayer. More especially if prayer is directed in behalf of the Church." $10

"In

Medicine of Immortality, Father John Pasquini offers his readers the richness of Catholic devotional prayer, the wisdom of the Fathers and, most of all, the fruits of his own prayer and meditation before the Blessed Sacrament. I recommend this book to all who wish to grow in their love for the Lord, who sustains the life of His Church through the precious gift of His Body and Blood." Francis Cardinal George, O.M.I., Archbishop of Chicago $10

Ecce Fides

is a work dedicated to defending Catholic beliefs through reason, Scripture, and the life of the Holy Spirit. "It is important that we (as people of God) return to the source of life, our faith, which is usefully exposed in this volume, and take it out to our contemporaries, evangelizing them and their cultures and inculturating the Gospel." Cardinal – Pontifical Council for Culture – Vatican City $10
Consolation by Fr. John J. Pasquini — upon the passing of a loved one. Fr. Pasquini has done a beautiful gift of his most wonderful homily given when someone dear has died.

It can be given as a tremendous gift. $10

DVD - A beautiful Mass was done by Fr. John J. Pasquini for Nursing homes and assisted living. It was done at St. Joseph's magnificent chapel — St. Joseph's assisted living in Jupiter, Florida. It last about 33 minutes. We call it the golden Nursing Home Mass from St. Joseph's. $10
DVD - Prayers from the Authenticity Book read by Rita Ring on the ocean — it is beautiful. 410
Divine Mercy Chaplet CD. Prayed by Fr. John J. Pasquini $10
Holy Spirit Novena CD. Prayers and scripture readings from the Holy Spirit Novena Booklet read by Rita Ring. $10
Guiding Light homily series - Steadfast to the Son - Cycle A — The sunflower is a great example of how we should be steadfastly guided by light. What a powerful thought that this exceptional plant is not stuck in one pose day in and day out, yet adaptable and magnetized to the sun. We feel the same about our Son. Our heads turns to face Christ as each day presents its challenges to find light. We join together like plants in a field and soak up the Son through the pulpit. We are a warm circle of strength using the wind of our breath to carry our priests' words, Christ's words, to new rich soil. $15
Guiding Light - Focusing on the Word - Cycle B — At times we may feel that our path to Christ is a bit "out of focus". Like the disciples in the Book of Mark, this ordinary life clouds our vision of Christ's Divinity. We may doubt the practicality or possibility of applying His teachings and example to our modern life. Cycle B's homilies are a "guiding light" to help us realize Jesus' Messianic greatness and His promise of better things to come. $15
Guiding Light - Feed My Soul - Cycle C — In a world rapidly advancing and encouraging personal gain, we are faced with modern problems. There is a challenge to find time in our busy schedules for Sunday Mass or a family meal. We are able to research, shop, bank and even work without hearing one human voice. It is no wonder that we may often feel disconnected and famished at our week's end. In Fr. Joe's third book of homilies from Cycle C, we are reminded of the charity that Christ intended us to show each other. We have a calling to turn the other cheek and be the Good Samaritan to others. We are rewarded with the Father's kingdom and love when we are not worthy. We are not left alone or hungry. $15

Guiding Light - The Word Alive in Our Hearts. - Cycle A (partial) —

Homilies

by the Reverend Joe Robinson given at St. Boniface Church in Cincinnati, Ohio. It is a tremendous honor Fr. Joe has allowed us to share these great gifts with you – for greater holiness and knowing more and more about God. $10

Shepherds of Christ Prayer Manual. The Shepherds of Christ has prayer chapters all over the world praying for the priests, the Church and the world. These prayers that Father Carter compiled in the summer of 1994 began this worldwide network of prayer. Currently the prayers are in eight languages with the Church's Imprimatur. We have prayed daily for the priests, the Church, and the world since 1994. Associates are called to join prayer Chapters and help us circulate the newsletter centered on spreading devotion to the Sacred Heart and Immaculate Heart and helping to renew the Church through greater holiness. Please form a Prayer Chapter & order a Prayer Manual.

Holy Spirit Novena Booklet.

In four languages with the Imprimatur with 18 scripture readings for two complete novenas – this very powerful Holy Spirit Novena has prayers for prayers for Protection by the Blood of Jesus, Healing, Strength and Light, To Be One with God, Father, Son and Holy Spirit, One with Jesus, To Dwell in the Hearts of Jesus and Mary, Prayer for the Holy Spirit and His Gifts, and the Word Alive in Our Hearts. All these prayers take about 10 minutes daily recited out loud. $1

Spirituality Handbook.

Fr. Edward Carter, S.J. did 3 synopsis of the spiritual life.

The

Spirituality Handbook, the

Priestly Newsletter 20he Tell My People book.

The way of spiritual life proposed to the members of Shepherds of Christ Associates is centered in consecration to the Hearts of Jesus and Mary. All aspects of the spiritual life discussed below should be viewed as means to help members develop their lives in consecration to Christ, the Sacred Heart, and to Mary, the Immaculate Heart. $3
Priestly Newsletter - 2000 #1 - CD. - Christ is Our Strength - Fr. Edward Carter, S.J. read it the year he died. It is

so beautiful. "This brief passage contains one of the greatest lessons of the spiritual life. As we progress along our spiritual journey, we become increasingly aware of how weak we are in our-selves, but how strong we are in Christ. To experience our weakness involves suffering. The degree and kind of suffering can vary. The suffering can include the experience of the classical dark night of the spirit as described by St. John of the Cross. One of the main purposes of the dark night is to make a person keenly aware of his or her helplessness without God." quote by Fr. Carter from the newsletter $10

Priestly Newsletter - 2000 #2 - CD. - Suffering: A Source of Life - Fr. Edward Carter, S.J. read it the year he died. Fr. Carter knew suffering that year. His voice is so powerful as he read each Newsletter from his heart and soul. "Every man has his own share in the redemption. Each one is also called to share in that suffering through which the redemption was accomplished. He is called to share in that suffering through which all human suffering has also been redeemed. In bringing about the redemption through suffering, Christ has also raised human suffering to the level of the redemption. Thus each man in his suffering can also become a sharer in the redemptive suffering of Christ..." quote by Fr. Carter from the newsletter $10
We need to print the
Tiny Tot Rosary Books.
Can anyone please help us with the this?
1-888-211-3041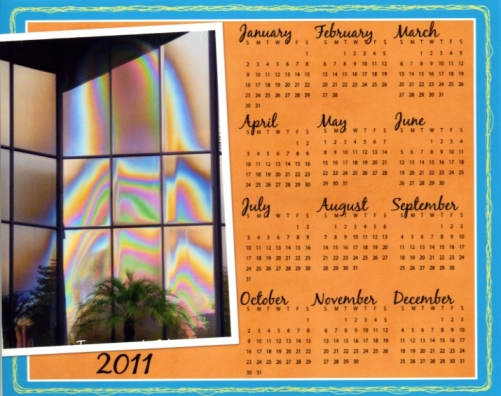 $1.00 plus shipping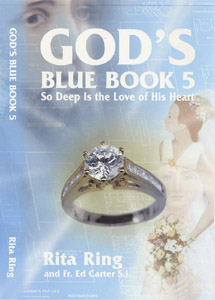 Books written by the cofounder of Shepherds of Christ Ministries

Writings by Rita Ring
Mass Book
A Journey Into the Heart of Jesus - Author: Rita Ring. Discerned by: Fr. Edward J. Carter S.J. Imprimatur
$ 12.00 plus postage
God's Blue Book I
Teachings to Lift You Up. Author: Rita Ring. Discerned by: Fr. Edward J. Carter S.J.
$ 10.00 plus postage
God's Blue Book II
The Fire of His Love. Author: Rita Ring. Discerned by Fr. Edward J. Carter S. J.
$ 10.00 plus postage
God's Blue Book III
Love God, Love One Another. Author: Rita Ring. Discerned by Fr. Edward J. Carter S.J.
$ 10.00 plus postage
God's Blue Book 4
The Love of the Hearts of Jesus and Mary Author: Rita Ring
$ 5.00 plus postage
God's Blue Book 5
So Deep Is the Love of His Heart. Author: Rita Ring.
$ 5.00 plus postage
Blue Rosary Book
Rosaries From the Hearts of Jesus and Mary - Volume II
$ 12.00 plus postage
Messages From Jesus
Given by Jesus to His Messenger Author: Rita Ring. Discerned by: Fr. Edward J. Carter S.J.
This book is 8 1/2" by 11" and you can open it up and sit it on your lap.

$ 10.00 plus postage
Apostle's Manual
Shepherds of Christ Overview: Very carefully discerned by Fr. Edward J. Carter S. J.
$ 20.00

Songs From Jesus
Given by Jesus to His Messenger Author: Rita Ring. Discerned by: Fr. Edward J. Carter S.J.
$ 5.00
Books written by the founder of Shepherds of Christ Ministries
Tell My People
Messages from Jesus and Mary Author: Fr. Edward J. Carter S.J. Imprimi Potest
$ 10.00 plus postage
Spirituality Handbook
Shepherds of Christ Associates Spirituality Handbook - A Way of Spiritual Life
Author: Fr. Edward J. Carter S.J. Imprimi Potest
$ 3.00 plus postage
Get a canvas print of Mary's image
with a sliver of glass and
a little bottle of
Jesus and Mary water.

The glass will be fixed behind the
back of the picture.

Cost — $200.00

Also available

a cup with a Mary's image on it

Cost — $15

Call Doris


1-888-211-3041
or
1-727-725-9312

Rosaries with Mary's Image Available
Aurora Borealis Beads

6mm - $30.00
8mm - $40.00

Call Doris
1-888-211-3041
or
1-727-725-9312

Statues

| | | |
| --- | --- | --- |
| | | |
| Sacred Heart of Jesus w/glass - 18 | Our Lady-Guadalupe w/glass - 12 | Limpias - 8 |
| | | |
| Immaculate Heart w/glass - 18 | I Heart - Ivory w/glass - 18 | Our Lady of Grace w/glass - 18 |
| | | |
| Our Lady-Mt. Carmel w/glass - 18 | Our Lady of Lourdes w/glass - 18 | Infant of Prague w/glass - 24 |
| | | |
| Sacred Heart of Jesus w/glass - 24 | Sacred Heart -Blessing w/glass - 24 | Sorrowful Mother w/glass - 24 |
| | | |
| I Heart - Ivory w/glass - 24 | I Heart of Mary w/glass - 24 | Our Lady of Lourdes w/glass - 24 |
| | | |
| Our Lady-Guadalupe w/glass - 28 | Our Lady of Grace w/glass - 24 | Our Lady-Mt. Carmel w/glass - 24 |
| | | |

| | | |
| --- | --- | --- |
| St. Padre Pio | St. Joseph | St. Therese |
| | | |
| St. Francis | St. Anthony | St. Claire |
| | | |
| Limpias | St. Jude | Divine Mercy |
| | | |
| Holy Family | Angel | St. Philomena |
| | | |
| Pieta - Marble | Pieta - Color | Holy Family |
| | | |
| St. Anthony - 18 | St. Francis - 18 | St. Joseph - 18 |
| | | |
| St. Therese - 18 | St. Rita - 18 | St. Clare - 12 |
| | | |
| | | |

| | | | |
| --- | --- | --- | --- |
| St. Rita - 12 | St. Padre Pio - 12 | Divine Mercy - 12 | St. Michael - 11 |


Shepherds of Christ Ministries
P. O. Box 627
China, IN 47250

Toll free - 1-888-211-3041
Local - 1-812-273-8405
fax - 1-812-273-3182
web: www.sofc.org
e-mail: info@sofc.org


| | | | |
| --- | --- | --- | --- |
| | Size | Price | Quantity |
| Holy Family | 24" | $180 | |
| Limpias | 24" | $125 | |
| St. Anthony | 24" | $125 | |
| St. Claire | 24" | $125 | |
| St. Francis | 24" | $125 | |
| St. Joseph | 24" | $125 | |
| St. Jude | 24" | $125 | |
| St. Padre Pio | 24" | $125 | |
| St. Therese | 24" | $125 | |
| Divine Mercy | 22" | $125 | |
| Angel | 22" | $100 | |
| St. Philomena | 20" | $100 | |
| St. Philomena | 16" | $65 | |
| St. Joseph | 18" | $65 | |
| St. Francis | 18" | $65 | |
| St. Anthony | 18" | $65 | |
| St. Rita | 18" | $65 | |
| St. Therese | 18" | $65 | |
| Pieta - Color | 15" | $75 | |
| Pieta - Marble | 15" | $75 | |
| Holy Family | 12" | $60 | |
| St. Padre Pio - standing | 12" | $40 | |
| St. Padre Pio - sitting | 8" | $50 | |
| St. Michael | 11" | $40 | |
| St. Rita | 12" | $40 | |
| Divine Mercy | 12" | $40 | |
| St. Claire | 12" | $40 | |
| Limpias | 8" | $25 | |
| Our Lady of Guadalupe w/glass | 28" | $500 | |
| Our Lady of Mt. Carmel w/glass | 24" | $500 | |
| Immaculate Heart of Mary w/glass | 24" | $500 | |
| Immaculate Heart - Ivory w/glass | 24" | $500 | |
| Infant of Prague w/glass | 24" | $500 | |
| Our Lady of Grace w/glass | 24" | $500 | |
| Our Lady of Lourdes w/glass | 24" | $500 | |
| Sacred Heart of Jesus w/glass | 24" | $500 | |
| Sacred Heart -Blessing w/glass | 24" | $500 | |
| Sorrowful Mother w/glass | 24" | $500 | |
| Immaculate Heart of Mary w/glass | 18" | $300 | |
| Immaculate Heart - Ivory w/glass | 18" | $300 | |
| Sacred Heart of Jesus w/glass | 18" | $300 | |
| Our Lady of Lourdes w/glass | 18" | $300 | |
| Our Lady of Grace w/glass | 18" | $300 | |
| Our Lady of Mt. Carmel w/glass | 18" | $300 | |
| Our Lady of Guadalupe w/glass | 12" | $200 | |
| Fatima w/glass | 11" | $150 | |
| Fatima w/glass | 18" | $250 | |
| Pilgrim Virgin w/glass | 12" | $160 | |
| Pilgrim Virgin w/glass | 15" | $200 | |
| Pilgrim Virgin w/glass | 18" | $250 | |
| Pilgrim Virgin w/glass | 27" | $450 | |


Call for Shipping Price (1-888-211-3041)


Name

Sub-Total
Address

IN Tax (7%)
City

Shipping
State Zip

Donation
Telephone

Order Total
Call Doris
1-888-211-3041
or
1-727-725-9312



Immaculate Heart and Sacred Heart Pictures Available
with & without frames - different sizes available

Call Doris
1-888-211-3041
or
1-727-725-9312
---
---
---

Copyright © 2011 Shepherds of Christ.
Rights for non-commercial reproduction granted:
May be copied in its entirety, but neither re-typed nor edited.
Translations are welcome but they must be reviewed for moral and
theological accuracy by a source approved by Shepherds of Christ Ministries
before any distribution takes place. Please contact us for more information.
All scripture quotes are from the New Jerusalem Bible, July 1990, published by Doubleday.
Revised: January 1, 2011
URL: http://www.sofc.org
Contact Information for Shepherds of Christ
Email: info@SofC.org
---
Shepherds of Christ Ministries
P.O. Box 627
China, Indiana 47250

Telephone: (toll free) 1-888-211-3041 or (812) 273-8405
FAX: (812) 273-3182