Mary has requested that the daily message be given each day to the world. It is read nightly at the prayer service from her Image Building in Clearwater, Florida, U.S.A. This is according to her request. All attempts will be made to publish this daily message to the world at 11 p.m. Eastern time, U.S.A.

---

We acknowledge that the final authority regarding these messages rests with the Holy See of Rome.

---
---
A Prayer for Intimacy with the Lamb, the Bridegroom of the Soul

Oh Lamb of God, Who take away the sins of the world, come and act on my soul most intimately. I surrender myself, as I ask for the grace to let go, to just be as I exist in You and You act most intimately on my soul. You are the Initiator. I am the soul waiting Your favors as You act in me. I love You. I adore You. I worship You. Come and possess my soul with Your Divine Grace, as I experience You most intimately.
---
Messenger: Include Our Lady of the Holy Spirit Center in 6:20 prayers.
---
---
Mary speaks: I ask the following messages be placed on the Internet today. I ask this book be readily availabe and circulated to all. I will teach my children to pray.
Front cover of Daily Message book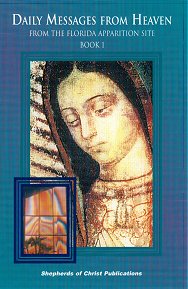 I am Mary the Mother of all. I appear in golden light. Look at the picture on the back cover.
Back cover of Daily Message book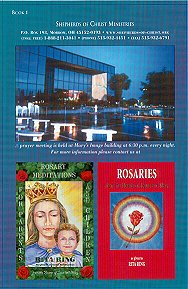 ---
---
---
Will You Help Me Spread My Rosary Book and Messages?

... Help me lead the souls deeply into the Heart of my Son.

It is in Our Hearts you will find the greatest riches. It is in Our Hearts you will find peace. It is in Our Hearts you will be made holy. I call you to consecration. Once again I ask you to greet one another with the line, "I give my heart to Jesus and Mary with you in love."

This will bind you in one heart in Our Hearts in love.

This will help enormously to bring peace and harmony, oneness to the hearts of many.

Have this statement printed on cards and shirts, that people will be reminded to greet one another this way in love.

I come as a Mother to teach my children to love and to obey God.

I give to you the tender messages of my Son found in these writings, they are letters He gives to you that you will know His love. Will you help the world to know how much my Son loves them?

I ask again that rosary tapes of the rosaries be made available from this site and all centers that men will know about the great love my Son has for them.

I ask for these tapes to be made available that I as their Mother may lead them to heartfelt prayer. I want to teach my little children to pray.

Will you come, daily, if possible and pray with us for renewal of the Church and the world?

I say again my children, pray, pray, pray.

God wishes the children of this earth to pray. I appear to teach you my children. I am your Mother. This is the garden to bring forth great fruit on the vine. You are the mothers wailing aloud trying to help me bring forth this fruit for the kingdom. I am Mary your Mother, I appear clothed with the sun wailing aloud as I give birth to a nation that has chosen to ignore their heavenly Mother. I wail aloud in childbirth for this thankless race. You wail with me as you try to lead many home to the Heart of my Son.

Help me my children, please pray the prayers we give you and begin prayer chapters praying the Prayer Manual prayers in churches before the tabernacle.

You should never go against the authority of the Church.

You are permitted by the Church to use all imprimatur material in churches.

The Prayer Manual prayers can be said in churches for they have the imprimatur. The Rosary Aves can be used in churches and schools because they have the imprimatur.

Other messages we give you must at the present time be circulated in public or private setting, not in churches without permission of the priest.

I love you, I am Mary your Mother. Will you help me spread my Rosary Book and messages? A book on the Mass and Children's Rosaries are available for my children.

Please help the Shepherds of Christ Movement. I call you to help me my little children.
---
---
---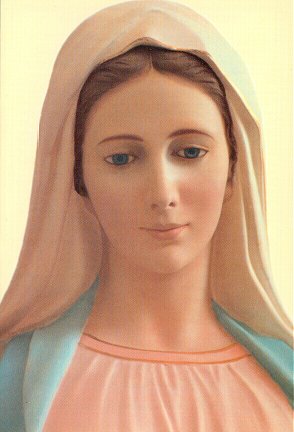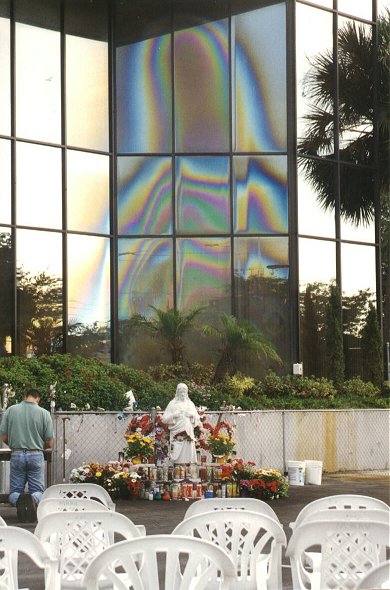 ---
---
---
August 1, 1998 - First Saturday

Mary Is Blasphemed by Her Children

Mary speaks: This is my message for you my holy child,

My children have blasphemed my name. That is why it is so pleasing to me when you recite the Litany to the Blessed Virgin Mary.

My children have dishonored me. Do you know dishonor by your children? You understand my pain under the cross for my children that dishonor me.

Do your children reject and forget you, my children? So many reject me and forget me and they make my Son bleed. I see Him as I stand beneath the cross. They are hard-hearted and cold.

I AM THE MOTHER OF GOD.

My children of the earth disrespect and talk about me without honor. They deny me, some laugh about me.

They are the real losers, my little rough children. They do not act like children at all, they act as the beast teaches them on their T.V. screens. They lack sensitivity and love. I am Mary your Mother, I wish to be honored as your Mother. To dishonor me displeases your heavenly Father.

Messenger: God wants us to honor our Mother. He tells us in the 4th Commandment.

Mary said we must make reparation to Their Hearts. I see now why the Virgin Mary likes us to say the Litany to her and why our Lord said it is so powerful. It is so honoring to Our Lady.

To say the Litany to the Sacred Heart pleases the Sacred Heart so much. It gives Him great honor.

I can see why the Good Shepherd includes them in the prayers of the Good Shepherd for they are so honoring to Them.

I love you Jesus, help me to do Thy holy will.

---

Mary speaks: My dear little children,

I speak to you as your loving Mother. God is just, you do not think that He will punish you for your evil deeds.

God asks you to love God and love one another and so it goes you think, I can do anything, God forgives me, I must be happy.

You cannot do " your own thing." God gives to you the Ten Commandments. God gives to you His word to live by. If you change the Commandments because you feel it does not apply to you, you know that you are not living in the truth.

I speak clearly: what is right is right. What is wrong is wrong. Abortion is against God's will. Homosexual behavior is not acceptable to God.

The Church must teach their children God's way. It is not right for a parent to allow a child to disobey, they must be taught obedience.

God is all merciful, God is all loving, God wishes you to live as the Father wills. Jesus my Son gave His life doing the will of the Father.

In His justice, God has allowed men to suffer. Hell is a reality.

I ask you my children to give to your God the honor that is due Him. I ask you to obey your God.

I ask you to pray the litanies as given by my Son, Jesus (in the Prayer Manual). They are given to honor me as your Mother and honor Jesus as your beloved Sacred Heart.

I am Mary your Mother, I ask you to obey your God.

Please read the 10 Commandments.

I love you, I am your Mother. I appear to teach you my little children.
---
---
---
MARY SPEAKS: WILL YOU HELP ME GET MY Messages to the world- I want to teach them to pray.
---
Mary's Message from the Rosary of August 27, 1996
Mary speaks: I stood beneath the cross of my Son, and my Heart was in such pain for I saw Him before my eyes. I saw Him covered with blood. I saw Him die. My Heart, my children, my Heart to watch my Son, but my Heart, my Heart, how I suffered for my little children of the world that give in to this world and give up the love of my Son. O my little children of light, I give you this message. Carry this light into the darkness for your Mother Mary, for I stood beneath the cross and I cried. I cried for the little ones. I cried for the young ones, the ones that do not care and will lose their souls. How do I make you see for you will not listen to me? What can I do? I come. I appear. I beg. I plead. I give you these gifts from my Son, and you reject me. I do not deliver messages very often anymore for I have been ignored. The message is the same. You do not read the messages I have given to you. Please help me. Help the little children. I appear. I appear. I appear, and I am ignored. I stood beneath the cross, and I cried. I cried, and my Heart was in such anguish for my little children, for I am searching for them this day as I searched for the Child Jesus. Please, please help me. I cannot hold back the hand of my Son any longer. I am Mary, your Mother. I ask you to help my children. You are my children of light.

Song: O Lady of Light, shining so bright, be with us this day, guiding our way, O Lady, O Lady of Light.

Mary speaks: I appear to you as Our Mother of Sorrows.
(End of Mary's Message)
---
MY VALENTINE FOR JESUS AND MARY
AND THE WORLD

I _________________ give my heart to
You Jesus and Mary on this day
_________________
I promise to help spread the devotion to
the Hearts of Jesus and Mary.
---
Question for married couples and others in intimate relationships:
Q: How does my deep connection with Our Lord keep me permanently united to you in my heart even when we are not together or with others?
---
---
---
Copyright © 2000 Shepherds of Christ.
Rights for non-commercial reproduction granted:
May be copied in its entirety, but neither re-typed nor edited.
Translations are welcome but they must be reviewed for moral and theological accuracy by a source approved by Shepherds of Christ Ministries before any distribution takes place. Please contact us for more information.
All scripture quotes are from the New Jerusalem Bible, July 1990, published by Doubleday.
Revised: June 9, 2000
URL: http://www.SofC.org
Contact Information for Shepherds of Christ
Email: info@SofC.org
---
Shepherds of Christ Ministries
PO Box 193
Morrow, Ohio 45152-0193

Telephone: (toll free) 1-888-211-3041 or (513) 932-4451
FAX: (513) 932-6791