June 10th Holy Spirit Novena
Scripture selection is Day 9 Period II.

The Novena Rosary Mysteries
for June 10th are Joyful.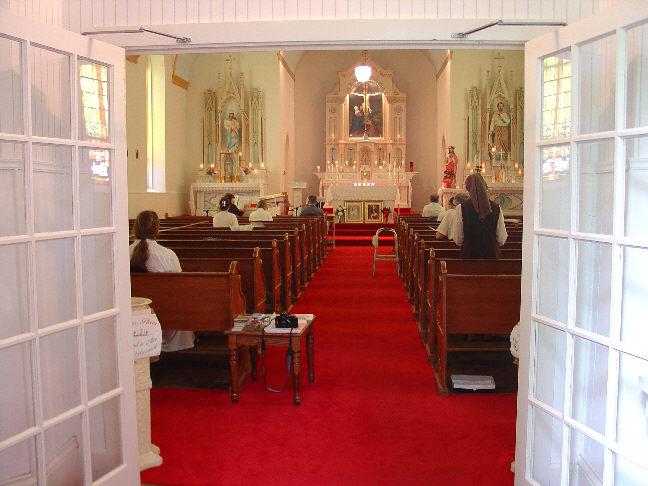 China Retreat
June 10th - 13th

Mass - June 10th - 12 noon
June 11th - 12 noon
June 12th - 12 noon
June 13th - 10:30am
Big Celebration
July 5th, 2013
Clearwater, Florida
Upstairs
Retreat of Reparation
July 3rd to 5th
Jesus wants you to come!
Jesus gave me a message:
I want Blue Book 10 published and the
Parents and Children's Rosary Book reprinted.
The Blue Book 10 and the
Parents and Children's Book
should be presented together as a unit
because they are from January 1st, 1996 to March 31, 1996.
I would like the Parents and Children's Book
in Spanish printed with the Imprimatur.
Pray for Special Intentions
Pray for Funds
Blue Book 9, 8, 7, 6C, 6B, 6A, 5 & 4 for $5.00 each plus postage.
| | | | | | | | | |
| --- | --- | --- | --- | --- | --- | --- | --- | --- |
| Blue Book 9 | Blue Book 8 | Blue Book 7 | Blue Book 6C | Blue Book 6B | Blue Book 6A | Blue Book 5 | Blue Book 4 | |
And you can use a priority envelope and get 4 books sent
and postage is only about $6.00 for 4 books.
Give the gift that keeps on giving –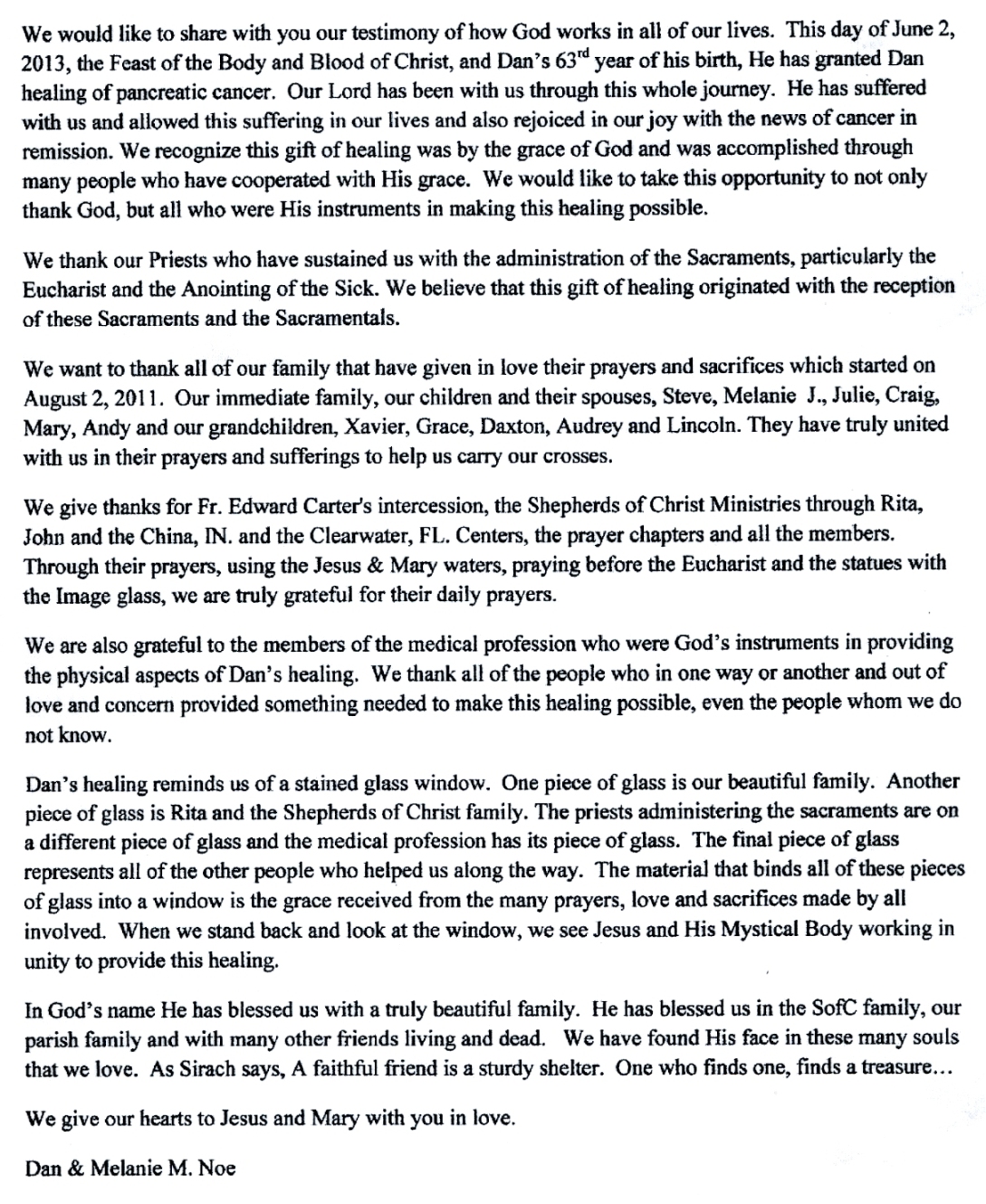 June 9, 2013
R. How could anyone even attempt to
explain love –
God is love and He is the ultimate
mystery
To think one can explain the ways
of love and the heart is to
know insight into the
mystery of God's love –
God is the source of love –
God is the source of life –
We reach to explain the unknown,
the baby conceived in the
womb by the Creator and
the union of a man and woman –
Can you explain this?
Can you explain love of a
pregnant woman for a
child within her womb –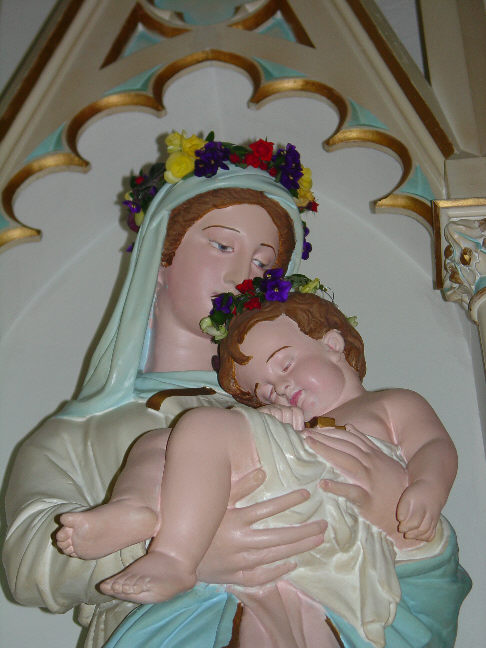 R. Can you explain the love of
that woman for God
who gives her the
beautiful baby when it
is born –
Can you explain her love for
a man who is the father
of the child?
Can you explain disappointment
and selfishness of the wounded
human nature –
Can you explain why God chose
me to write about the
love of the Heart of
Jesus?
Do you think you have a basis
for your answers in
explaining the Love of the
Sacred Heart in your mind slot?
Why wouldn't Jesus, the Divine
God who gives us the
Mass, the Sacrifice of
Calvary, sacramentally
made present –
use my hand & my mouth
to tell us how to love –
How to have relationship with
the Father as a member of
the mystical body of Christ?
How do men know the heart of
man, never satisfied on
this earth, but created
and fit for heaven –
which has not happened yet
to a man living –
How do you expect insight
into the hidden mystery
of God's love?
How does a religious who doesn't
have a child or
spouse know about
intimacy with God –
spiritual intimacy –
How the incarnation goes
on in us –
When the vision is men's
visions for the
Divine Almighty God's
Plan –
Jesus in lavishing love - gives
religious a gift of being
their Spouse –
But so many don't treat Him
as they should.
Do they treat Him like
their Spouse?
Do they seek intimate
spiritual union with
Christ in the Eucharist
of putting on Christ,
becoming Christ as they
eat His body and drink His
blood –
Is the burning Heart of Jesus
shown by God to St. Margaret
Mary and to me outside of
His chest –
red with fire –
with a cross above it –
and thorns around it
to be taken lightly –
Hearts were made for heaven and
we will not be satisfied
on this earth –
What man living could explain
this –
Jesus showed me His Heart –
Open, white in the
center, yellow surrounding
that, I felt heat –
after communion
December 17, 1991 22 years ago
5 years later
December 17, 1996
Mary appeared on the building
in Clearwater
Our lives are about loving
God and loving others –
Eternity is about loving
in a profound union –
Life here is to live united
to the Mass –
God wants us to live united to the
Mass in lavishing love and
relationship all day –
every minute with
Father, Son and Holy Spirit and
others – making reparation –
for the sins of the world –
Why won't you believe God
is telling us how to
be in relationship with
Him in intimate union
in the Mass –
to make reparation to the
Hearts of Jesus and Mary –

| | | | | | |
| --- | --- | --- | --- | --- | --- |
| Blue Book I | Blue Book II | Blue Book III | Blue Book 4 | Blue Book 5 | |
| Blue Book 6A | Blue Book 6B | Blue Book 6C | Blue Book 7 | Blue Book 8 | Blue Book 9 |
| | | | | | |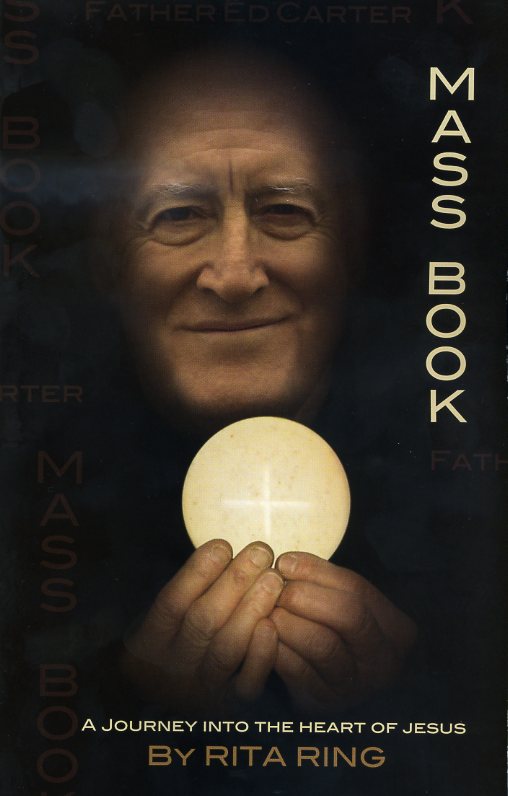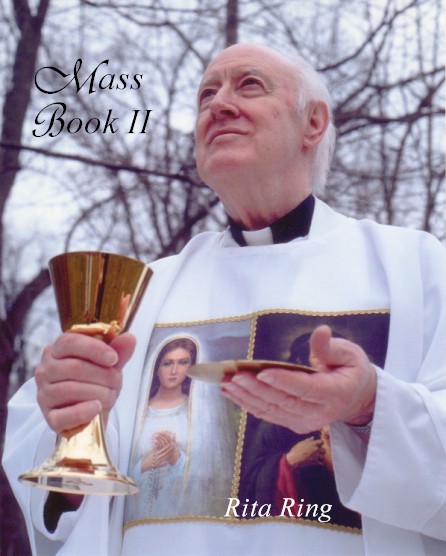 Mass Books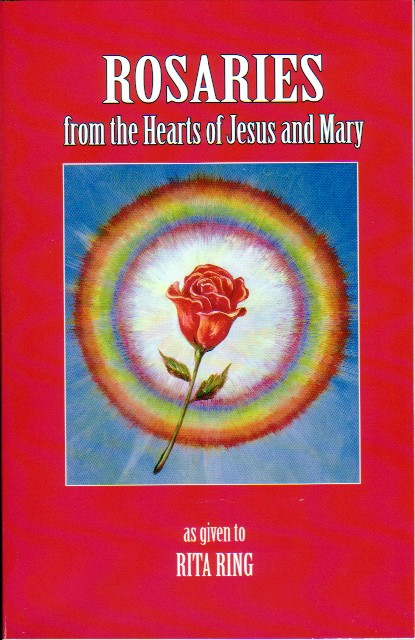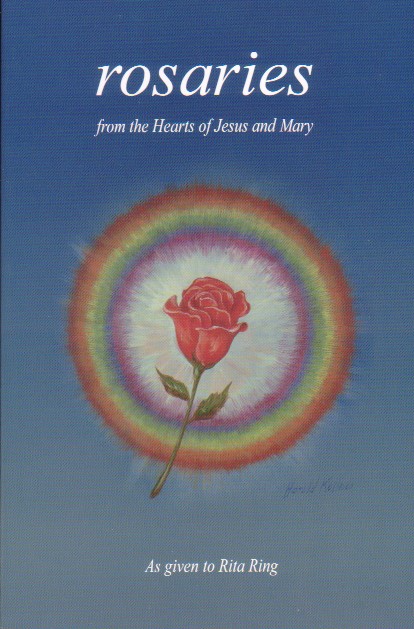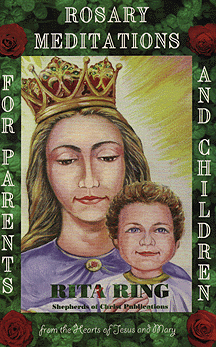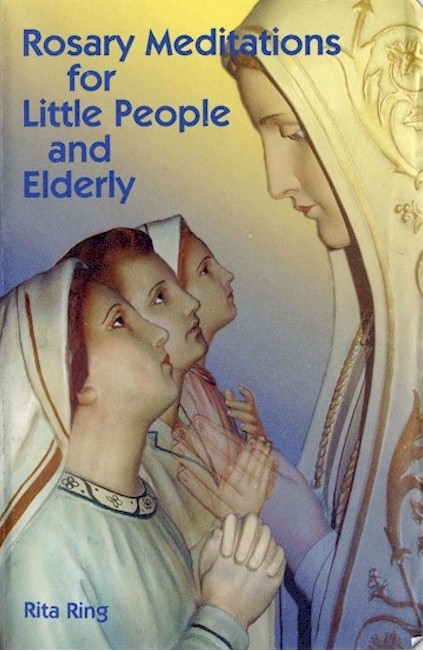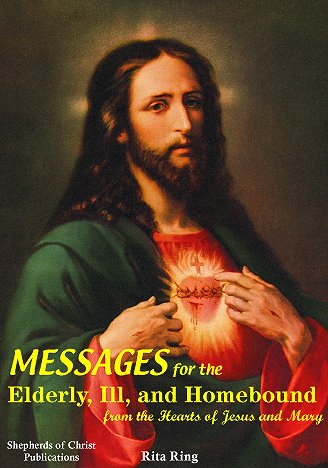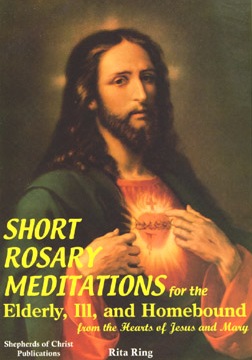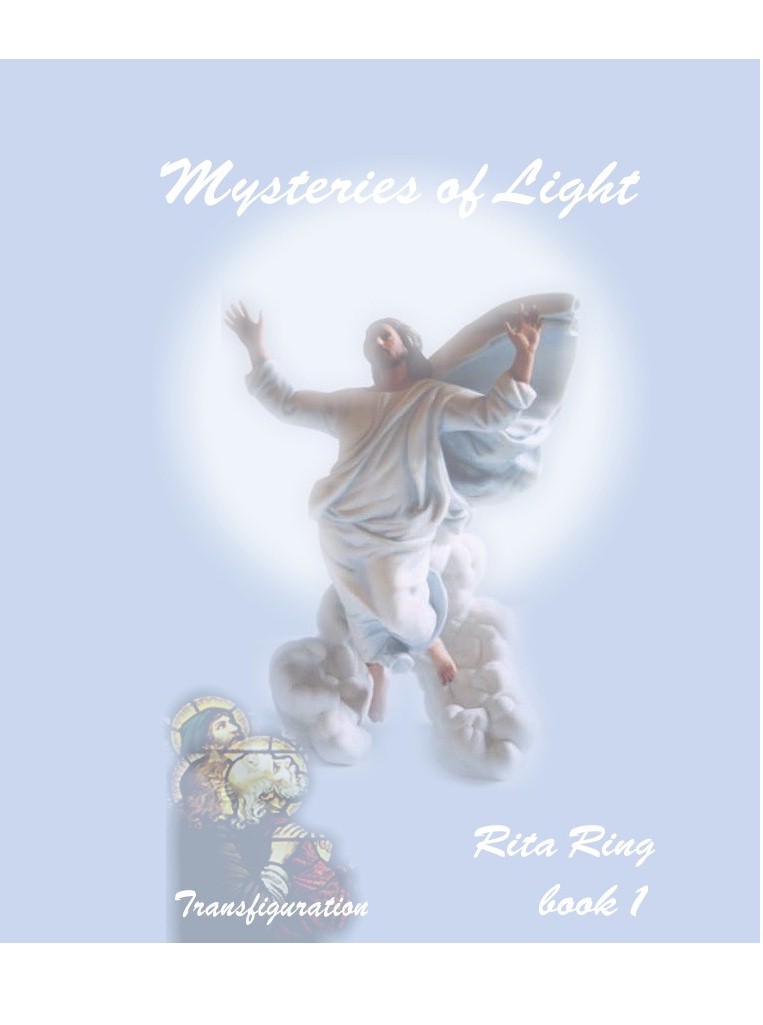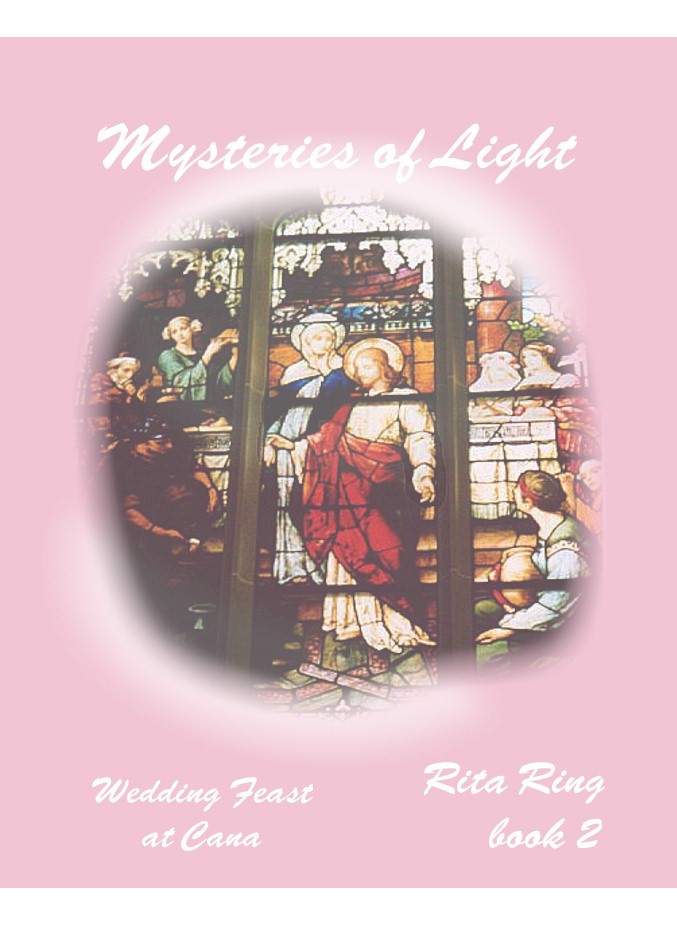 Rosary Books
R. God is love and He is giving
to us the
Mighty Medicine for
the sick world –
I can never live the moments of this day again. When I go to bed tonight they will be gone forever.
I must treasure each moment - I have right now because I can never have it back again.
R. God is giving us insight
into the hidden mysteries

From Blue Book 10
March 26, 1996
The First of 3 Great Visions
Very carefully discerned by Fr. Carter

R. I came to All Saints Church before a beautiful Monstrance of gold that contained Our beloved Savior. He was adorned in light, the altar beneath shone with the brightest light and the cross behind was entirely silhouetted with the same celestial light. I was overwhelmed with the presence of God and cried deeply from the awe of it all.

To be so aware of the Almighty God truly present in His splendor and glory—to know the presence of God, to see the glistening of the gold and the light and reflection of the cross behind Him—my beauteous love—words do not exist to describe the rapture of a heavenly embrace! I cry because of the immense awe within my being to know Him. God truly present in His majesty and glory and oh, God, I behold the presence of a heavenly court. You opened wide the heavens and lifted up the veil and I knew You in Your splendor and glory. I behold God, Father, Son, and Holy Spirit.

"I am the Way, the Truth and the Life." He is the Almighty God. He shows us the celestial lights with which He will light this earth. Many must surrender their hearts to His Heart and Mary's heart. It is in surrendering, the Spirit will move in the hearts of men and the light of God will shine on the darkened earth. Not with a light that you comprehend, but a light that is divinely granted—a light beyond all lights, a vision beyond all visions. It takes the surrender of minds and hearts to God. The Spirit cannot move in us when we are in control. Surrender and give Him our heart and He will make us fishers of men.

We are His apostles in the Shepherds of Christ Movement. He is sending us out into the world to light the hearts with His burning love. We are chosen by Him and He is giving us abundant graces to grow in our union with Him. He will light this world with His burning love. Our hearts must be open. We must surrender and let go and reach beyond the senses, reach with our hearts. Pray for faith, pray for the vision of God.

Note: I cried all through this writing, having the presence of God and being in great ecstasy to behold Him. May God touch your heart and may His Spirit move within you. May you be filled with the grace of God to surrender and let Him accomplish a great work within you.

And I was filled on high with His miraculous light and He reached down and spoke within me. I was filled as never before and knew the presence of God, Father, Son, and Holy Spirit.

Note: As I finished, the bells at All Saints Church rang at 9:00 A.M. As I began to experience the immense splendor, the bells of 8:00 rang. Words do not express anything that I saw or experienced or know from this ecstasy. This was the greatest and the first of three visions, which defined clearly to me our role in the Shepherds of Christ Movement. Jesus defines clearly the role of Fr. Carter in this great mission given to him by the Father.

For Fr. Carter from Jesus:

Jesus: To him who has eyes to see, they will see - not with earthly vision, but with the eyes of faith, and to him who has ears to hear, he will hear with the fluttering of the Spirit moving within him.

I am the Way, the Truth, and the Life. I am the Almighty God. I say to the rocks to fall and they fall and to the grass, grow, and it grows, and to the sun, shine, and it shines. I give to you My love in these letters. Filled with My love, you will conquer this earth, not with weapons and powder or force, but with fires of My love. The fire will wipe out the hatred in the cold hearts and the earth will be covered with My celestial light. The earth will rock and I will appear in the heavens adorned in power and glory and the contrite hearts will be saved. I came to separate the sheep from the goats, the light from the darkness. I come and no one pays Me heed.

To you, My beloved son, Father Carter, I have sent you on a mission to spread this fire that will cover this earth. The hearts of men will turn from their sick and desolate ways to hearts gentle as a little lamb.

There will be one flock and one Shepherd and My staff will rule over all. Hearts consecrated to Our Hearts will lead the light across the earth. This light will be a light of intense brightness, brighter and hotter than any light from a flame. It will be the fire of God's love. The Spirit will move in the hearts of all consecrated to My Heart, and you will know how fire truly spreads, for the love of God is a fire. It is vibrant. It is encompassing. It is smoldering, burning deep within and speedily spreading on the outside. No fire on this earth can ever describe the burning embers that burn from the Sacred Heart of Jesus. No fire burns like the fires coming from My Heart and hearts filled with the love from the Sacred Heart of Jesus.

I have written your name, Fr. Carter, in My Heart, never ever to be blotted out and this earth will be renewed with the fire of God's love through you. You are My beloved priest-son, forever, according to the order of Melchizedek. Most holy and most sacred are your hands that consecrate the Host and write My precious newsletter for My beloved priest-sons. You are never unguarded. You are held within the deepest chamber of My Heart, and you will spread My love to the priest-sons of this earth.

I am Jesus. You will spread My love to all souls on this earth. I love you with the tenderest burning love. I am Jesus, your beloved Savior.
end of excerpt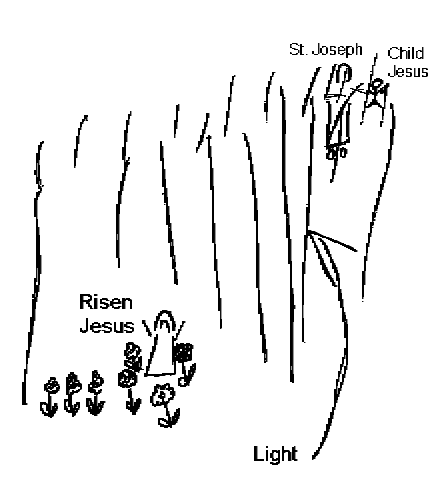 April 6, 1996 - Holy Saturday
R. Saturday (April 6, 1996, Holy Saturday) I saw the whole wall adorned in the brightest light, St. Joseph was surrounded in this thick light, like comes from a fire, like a celestial mirror. I don't know how to describe it, it is as a mirror with light in it, but no light like our human eyes have seen. I looked at St. Joseph and he was pushing the Child Jesus out at us, the Baby coming out glistening in light. The statue of the resurrected Lord was alive. All the flowers were topped with this light. This is how it was and is now at All Saints Church. It is as if heaven has poured its light on the earth and it tops the flowers. All distinct lines are gone. In their place is light. So all I look at has a splendor.
April 9, 1996

Lights Dropping on the Flowers

R. I went to All Saints Church - saw with eyes unveiled- such an aura of celestial light. I went to Communion, had the presence of God, wanted to cry so hard from the awe of it all. I was not feeling good and He wrapped me as only He can do in His heavenly embrace. My soul sang out and the vision began. My eyes now are still seeing with this effect. He, as it were, lifts up the hard, defined lines and I see with a celestial aura. This is what I see when I see a vision. The rocks in the grotto Mary has appeared in glisten and they are sparkling. LINES are not defined, instead they are adorned in light.

Today the vision started as the Eucharist was exposed. I knew it was coming. I had this immense presence. Then the lines began to disappear and became smudged with light.

It is the most glorious occurrence to be in the vision. I can talk and tell someone what I am seeing, but I don't want to, I just want to rest in the celestial occurrence and realize the presence of God.

He lifts the veil and I see with eyes unveiled. This is what Mary said from the Lady of Grace statue at the Holy Spirit Center before all this started. She said there would be miracles around the Eucharist. I didn't think she meant I would experience these.

When I saw her 3 times, she had this same light around her. The last time, I think it lasted an hour (March 10). She was beyond description. March 17 may be when she told me about the Eucharist. I must check my notes.

Then I saw again the celestial lights of heaven. It was as though light was spilled from heaven and landed on the flowers and the corners of everything. The Eucharist took on an immense warmth and I knew God truly present in this room.

I saw with eyes unveiled in my soul and in the room. The room had a celestial aura, it no longer looked defined and clear. It was bathed in a gentle, celestial film and all I saw I wanted to tell to those around me. But I was so caught in His embrace that my mouth did not want to move.

Grace is being spilled on the earth. I have seen this celestial light come upon the altar of sacrifice, the monstrance and the cross. The vision on March 26 (1996) I will never forget as long as I live. The light is so thick and so intense as if the heavens open in these cracks of light and there is a depth far beyond that which any mind can envision.

The sky opened up and it rained down its grace. It opens when hearts are one in the Hearts of Jesus and Mary.
end of excerpts
Excerpt from Response to God's Love by Fr. Edward Carter, S.J.
... In reference to Christianity, God himself is the ultimate mystery. Radically, God is completely other and transcendent, hidden from man in his inner life, unless he chooses to reveal himself. Let us briefly look at this inner life of God.

The Father, in a perfect act of self-expression, in a perfect act of knowing, generates his son. The Son, the Word, is, then, the immanent expression of God's fullness, the reflection of the Father. Likewise, from all eternity, the Father and the Son bring forth the Holy Spirit in a perfect act of loving.

At the destined moment in human history, God's self-expression, the Word, immersed himself into man's world. God's inner self-expression now had also become God's outer self-expression. Consequently, the mystery of God becomes the mystery of Christ. In Christ, God tells us about himself, about his inner life, about his plan of creation and redemption. He tells us how Father, Son, and Holy Spirit desire to dwell within us in the most intimate fashion, how they wish to share with us their own life through grace. All this he has accomplished and does accomplish through Christ. St. Paul tells us: "I became a minister of this Church through the commission
Excerpt from Response in Christ by Fr. Edward Carter, S.J.
e) Relationship with Members of the Church

There is but one true Church of Christ. Yet this one Church has three different states of existence. There is the pilgrim Church, the Church of this world, composed of members who have received the grace of Christ and strive for its development. They have not yet obtained the goal of their efforts, as have the members of the heavenly Church, who enjoy God in eternal happiness. The Church suffering is an intermediate state of existence necessary for those who had not achieved the required purification as members of the pilgrim Church. Although there are these three phases of the Church's existence, there is a profound union existing between all the members. All these members possess the same basic life of grace in Christ, and this common life establishes the most intimate bonds of love. In our preceding chapter, we discussed the pilgrim Church. Let us now consider the Church suffering and the heavenly Church.

The members of the Church suffering are those who have departed from this life in an incomplete state of Christian development. Their development is incomplete in the sense that grace has not fully taken possession of them, and, as a result, they are yet closed in upon themselves to a greater or lesser degree. They as yet cannot open themselves out in complete love to the Triune God in the beatific vision. They must undergo a further purification, a purification which could have been achieved upon earth with merit. Now the purification must be achieved with no merit attached. The pain of this purification is mixed with the certain expectation of achieving the vision of God. We can hasten the advent of this vision for this people by the offering of prayers and other good works. Scripture itself refers to our action on behalf of those in purgatory in Chapter 12 of the Second Book of Maccabees beginning with verse 38.

The members of the heavenly Church are those in whom the life of grace has taken full possession and has reached its completion in the life of glory. Faith now is unnecessary, as the light of glory gives the human intellect a new strength and capacity for seeing God face-to-face. While the Christian was a wayfarer, he received the imprint of the indwelling Trinity as he shared in God's own life. Now in heaven that grace-life and possession of God reaches its completion—the absolute completion is not achieved, however, until the resurrection of the body. The divine persons give Themselves to the beatified in a profound union far surpassing that of the indwelling of the Trinity experienced here below.

This life of heaven is still the Christ-life, for just as we possess a share in Trinitarian life here below as mediated by Christ, and exercise this grace-life as structured by Him, so also in heaven is the mediation of Christ present. In the words of Rahner, "One always sees the Father through Jesus. Just as immediately as this, for the directness of the vision of God is not a denial of the mediatorship of Christ as man."14 And not only does the humanity of Christ unite the blessed to God, but also, in some way, to the whole of creation. This is merely a completion of what is begun here below, namely, the union with Christ in His humanity establishing the Christian in a special relationship with God, with other men, and with the whole of creation. We have a glimpse, therefore, of the fullness of life which members of the heavenly Church possess.

The heavenly Church, as St. Thomas says, is the true Church.15 The Church of this earth and the Church of purgatory are, each in its own way, reaching out in loving hope for the heavenly Jerusalem. Vatican II puts it very simply: "The Church, to which we are called in Christ Jesus, and in which we acquire sanctity through the grace of God, will attain her full perfection only in the glory of heaven."16

The members of the heavenly Church can help us in living our life of grace until we too share its fullness with them. Their power of intercession on our behalf is but another ramification of the communal aspect of Christianity. We are meant to help others grow in Christ. We, in turn, are intended by God to receive aid from others—yes, from members of the heavenly Church, as well as from those with whom we dwell here below.

Not only can we be aided by the saints' intercession, but the example of the canonized saints can also be of great value to us. They have concretely proved that full holiness is possible. Such an inspiration is of real worth when we are tempted to think that Christian sanctity in its higher degrees is impossible of attainment. Moreover, the canonized saints, in their diversity, teach us that there are many authentic versions of Christian holiness. They can be innovators in showing us that there are numerous possibilities in assimilating the mystery of Christ, although the basic assimilation remains the same for all Christians of all times. In the opinion of Rahner this is one of the chief roles the canonized saints exert in the life of the Church.17

---

NOTES:

14Karl Rahner, Theological Investigations, Vol. III (Baltimore: Helicon, 1967), p. 44.
15 Cf. St. Thomas Aquinas, In Ad Ephes., c. 3, Lect. 3.
16Second Vatican Council, Constitution on the Church, No. 48.
17Cf. Karl Rahner, Op. cit., pp. 100-101.
R. Help Me –
All 5ths - Our Lady of Clearwater Florida


July 5, 2000


September 5, 2000


October 5, 2000


November 5, 2000


December 5, 2000
| | | | | |
| --- | --- | --- | --- | --- |
| January 5, 2001 | February 5, 2001 | March 5, 2001 | April 5, 2001 | May 5, 2001 |
| | | | | |
| --- | --- | --- | --- | --- |
| June 5, 2001 | July 5, 2001 | August 5, 2001 | September 5, 2001 | October 5, 2001 |
| | | | | |
| --- | --- | --- | --- | --- |
| November 5, 2001 | December 5, 2001 | January 5, 2002 | February 5, 2002 | March 5, 2002 |
| | | | | |
| --- | --- | --- | --- | --- |
| April 5, 2002 | May 5, 2002 | June 5, 2002 | July 5, 2002 | September 5, 2002 |
| | | | | |
| --- | --- | --- | --- | --- |
| October 5, 2002 | November 5, 2002 | January 5, 2003 | February 5, 2003 | March 5, 2003 |
| | | | | |
| --- | --- | --- | --- | --- |
| April 5, 2003 | May 5, 2003 | July 5, 2003 | August 5, 2003 | September 5, 2003 |
| | | | |
| --- | --- | --- | --- |
| October 5, 2003 | November 5, 2003 | December 5, 2003 | January 5, 2004 |
| | |
| --- | --- |
| February 5, 2004 | March 5, 2004 |

R. Mary appeared December 17, 1996

---
We have been in the Virgin
Mary Building
15 years July 5, 2013
COME
---
Fr. Carter was
ordained
June 10, 1962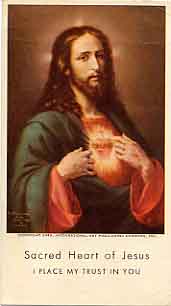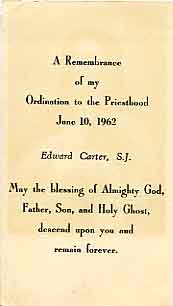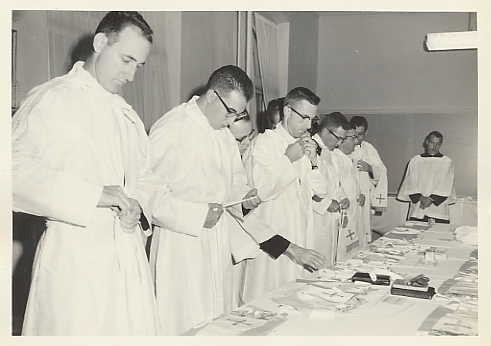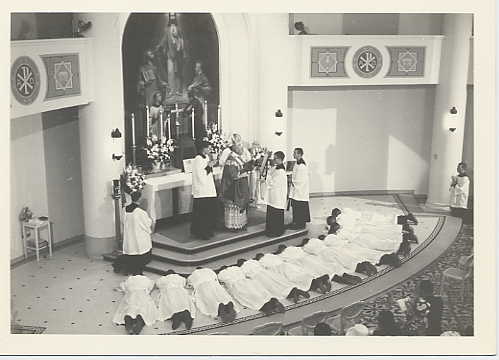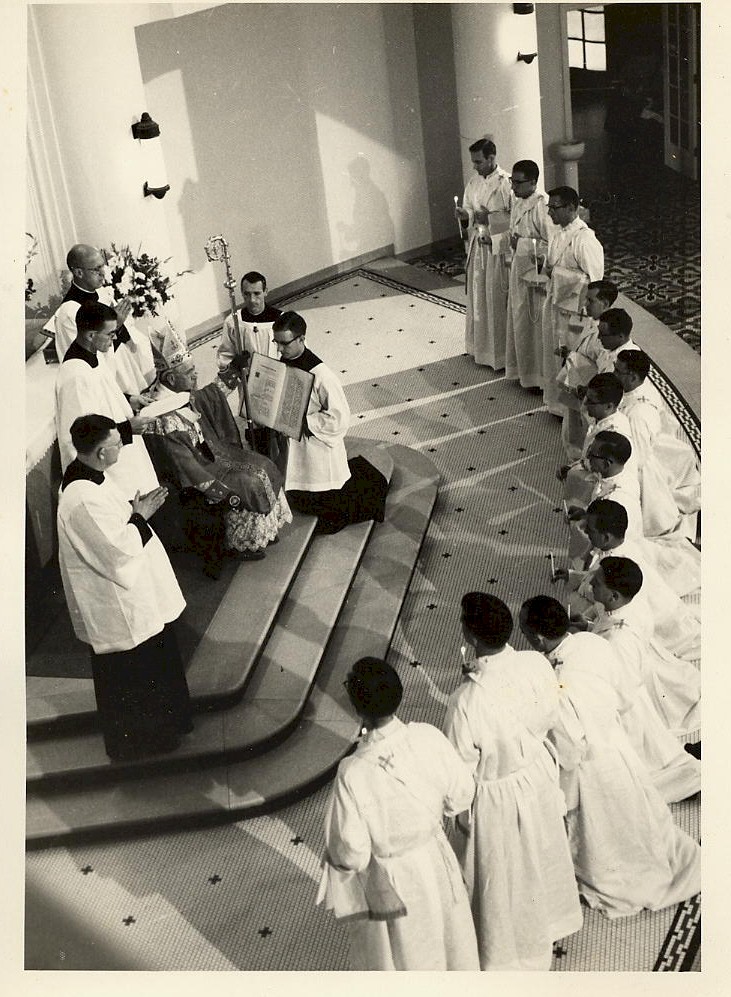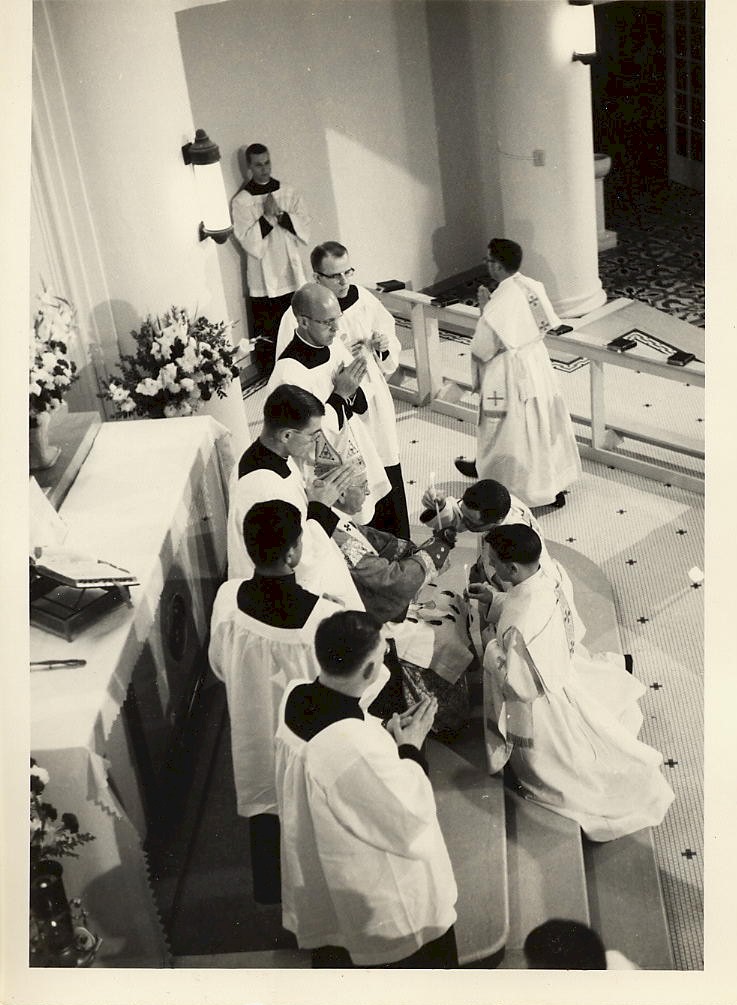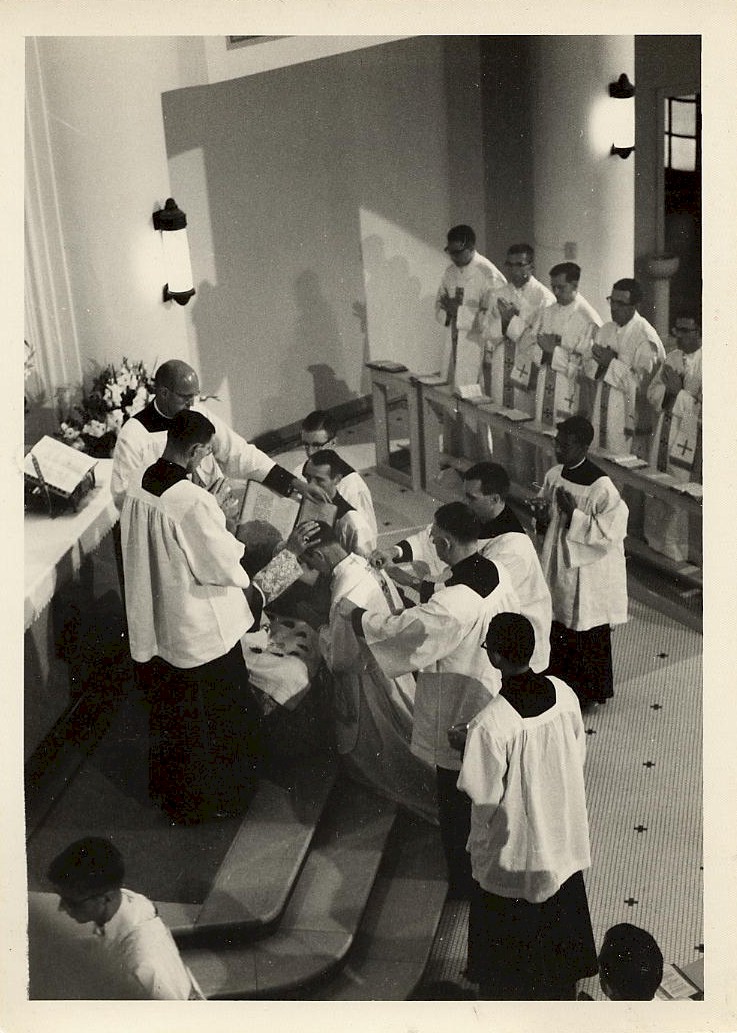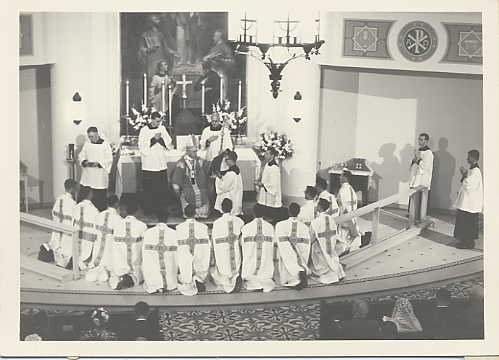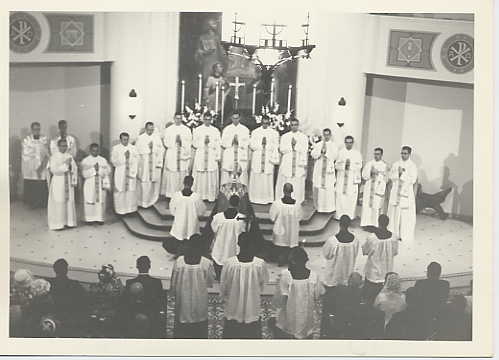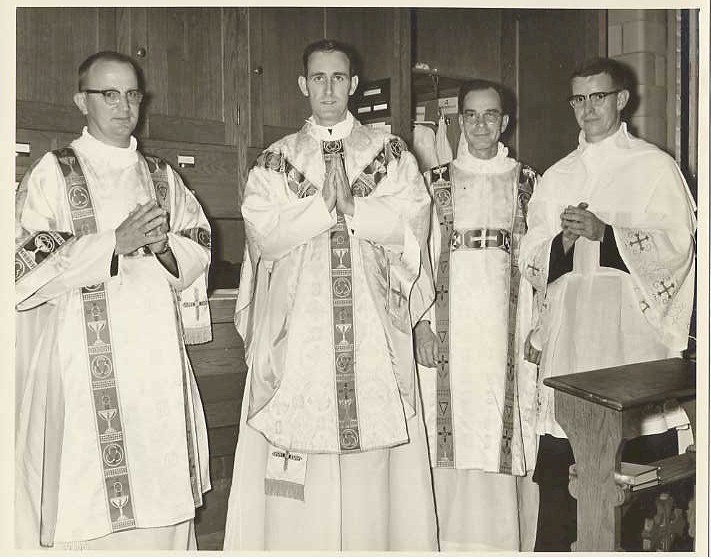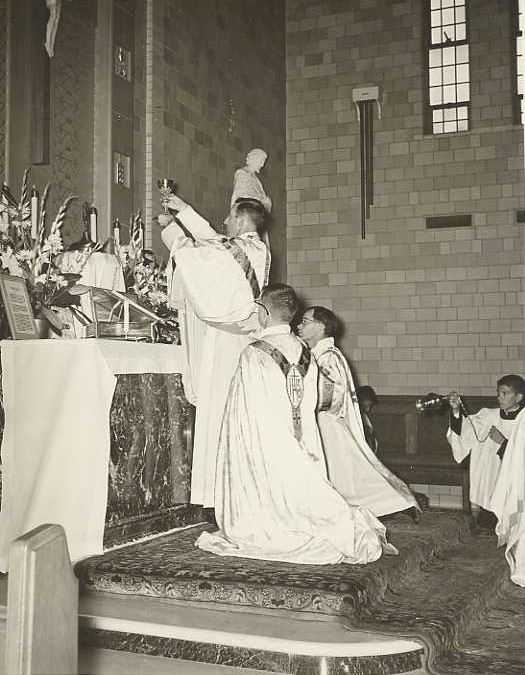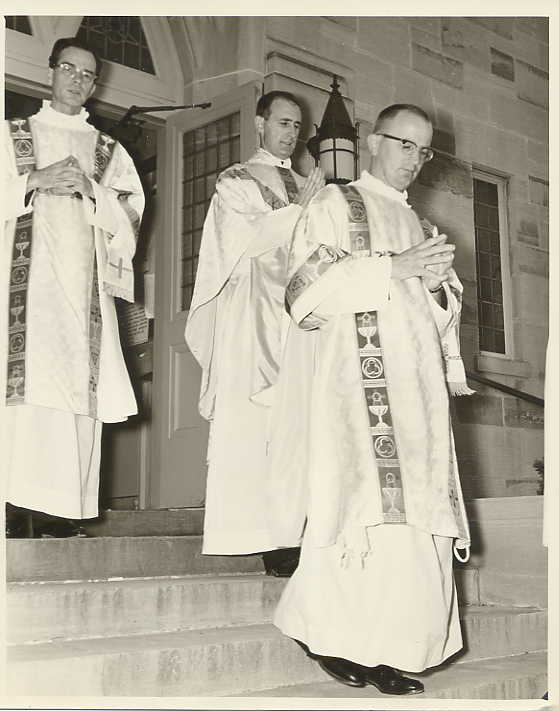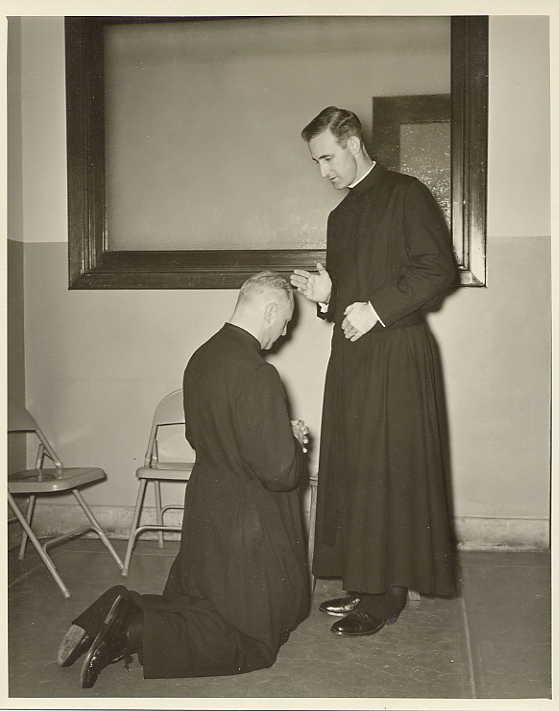 June 3, 2013
About Blue Book 11 - Month of the Sacred Heart
R. The Christian life essentially consists in God's
loving self-communication to us with
our concomitant response to Him in love.
God is the source of life.
God gives to man a sharing in His life
in baptism.
And if man remains in the state of
grace and is baptized the Father,
Son and Holy Spirit live in his
graced baptized soul.
Blue Book 11 is about how God wants
man to dwell most abundantly in
Him.
At the beginning of Blue Book 11 I had
visions of Our Lady of Grace.
Then I had the 3 great visions –
The first vision was at the end of Blue Book 10
March 26, 1996.

R. I also had intellectual visions –
one on Holy Wednesday at Mass –
These visions were all
accompanied by the bell tolling.
On this vision I knew how all of our
joys and sufferings were to be united
to the Holy Sacrifice of the Mass.
(the Sacrifice of Calvary sacramentally
made present) The Mass is
celebrated around the world –

Minute by minute, second by second
whatever we do, we are to offer it
to the Father united to the Mass for
grace to be outpoured for the
salvation of souls.
In this month of the Sacred Heart we need to
realize these intentions of
His Heart –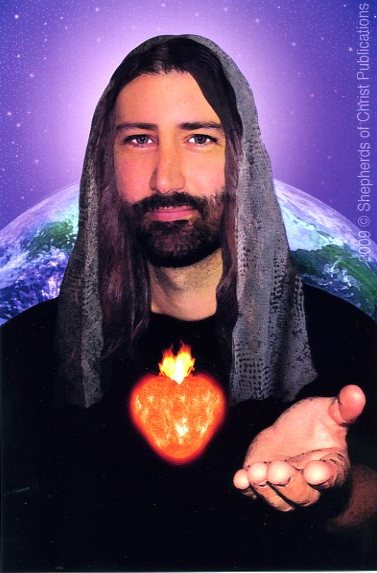 R. Man rejected this self-communication
of God, in original sin.
Yet God's desire to give Himself
to man was not withdrawn.
He determined to save man from
his sinfulness and thereafter
the Divine communication centered
around the promised Redeemer.
Salvation history preceding the advent
of this Redeemer became a preparation
for the Redeemer's coming.
From the time of His coming, salvation
history was and is the establishment
and continuation of His redemptive
work.
end of excerpt
R. Living life as God wants us to be –
A father, sister, brother, priest –
living united to Christ in every
aspect of our vocation –
Living the Pascal Mystery of death/resurrection –
We die to our own will – we rise in
our life of grace –
We offer ourselves united to Christ to the
Father in the Holy Spirit –
The Father gives us Christ back in Communion.
The Father accepts the sacrifice as most
pleasing and
He gives us Jesus in Communion in
lavishing love –
We are to unite our whole lives to the
Mass –
We are always offering up our lives
to the Father, united to the Masses
going on around the world –
We must die to the ways not like
Christ – control ourselves –
die to actions not in the Father's
will
If they are not controlled the
life of grace cannot dominate –
the life of grace is living
the life of resurrection –
the two go hand-in-hand;
our Christ-life is the way
we rise to new life
This asceticism means growing in
selflessness – going away from
self centeredness.
As we grow in the Christian life – the
life of resurrection our focus is
more Christ and others;
loving Christ and men.
The more a man goes out of himself –
the more he becomes himself –
the ideal self as God wants
him to be –
dying to self and rising in Him!
The person really growing in that
Christ-life is living the
Christian virtues of
FAITH, HOPE and LOVE
There is a deep meaningful relationship
with God and with men and
the rest of creation.
Our life in Him is in knowing and loving
God more and more – This takes prayer,
time in relationship with God
particularly the Eucharist –
being united to the Mass all day.
We can never sell ourselves short in
being open to God's magnificent
outpouring of His grace in the
Eucharist at Mass and in adoration –
God abundantly outpours His
grace to us – WOW –
His life abundantly fills us –
Song: I Love You Jesus
Our life of grace is centered in Trinitarian
life of knowing and loving God –
of knowing the Mystery of God –
It is from this love relationship
with God – He operates in
us in the world.
We are to be involved in the becoming
of the individual Christian,
the Church and the world.
We are to be Christ to those
He sends into our lives.
end of excerpt