18th Sunday in Ordinary Time
August 2, 2009
INTRODUCTION
– (Ex 16:2-4, 12-15; Eph 4:17, 20-24; John 6:24-35) The first reading tells us God did not make death. Rather, it came about through the envy of the devil. This is obviously a commentary on the story of Adam and Eve in the garden – how they tried to find their happiness and fulfillment by doing things their way rather than God's way. They didn't trust what God told them. Often we blame Adam and Eve for all the problems in the world and say if they hadn't sinned we would be in much better shape, but we're no different. Too often we chose not to trust God and seek our happiness and fulfillment by doing things our way rather than doing what God tells us we must do. When the reading tells us that those who belong to the company of the devil experience death, it is referring to spiritual death.
The first reading gives us some background for the gospel. It tells how God fed his people with manna 1300 years earlier as Moses led them through the desert to the promised land. In their conversation with Jesus in the gospel, the people refer to this event from the Book of Exodus.
HOMILY
– Last Sunday we heard how Jesus fed a great crowd in a miraculous way and how the people wanted to make him a king. Today's gospel is something of a surprise in that we hear how the crowd challenged him to give them a sign in order for them to believe in him. They believed in him enough to want him for their king, but now they seem to take a different attitude toward Jesus. It doesn't seem to make sense. We know crowd's can be erratic and fickle, but I think there's more to the story than this.
What I think is going on here is that Jesus wanted the people to take him on his terms while the people were willing to take Jesus on their terms but not on his. I will explain. The people were approaching Jesus on a material, worldly level. Jesus said, "you are looking for me not because you saw signs but because you ate the loaves." It wasn't just a free fish dinner they were seeking; they wanted a king to free them from the power of Rome and to establish their independence. Jesus was trying to lift their thinking from a worldly, material level to a more spiritual level. He told them he fed them as a sign that he wanted to feed them with bread that comes from heaven, from God himself, bread that would nourish them for eternal life. But Jesus said they didn't see the meaning of the sign that he had worked. There was much more to the sign than a free meal. There was much more to the sign than the possibility that he could be the long awaited king who would restore independence to their nation. We can't be too hard on them for not recognizing the profound meaning of this sign – how could they have figured it out by themselves. They needed Jesus to explain to them the meaning behind what he had done. That's exactly what Jesus planned to do as he continued teaching them.
An important part of his teaching was when he told them not to work for food that perishes but for food that endures for eternal life. Is Jesus saying people do not need to work for the food they need each day and for the other things they need, like clothing and shelter and security? Should we all just sit around and pray or watch TV all day and depend on the government to take care of us? That's not what Jesus is saying. He himself worked at skilled labor for almost all of his life: ("Is not this the carpenter?" they ask in Mark 6:3 when Jesus began his work as a teacher and healer). Even the apostle Paul said to the Thessalonians: "When we were with you, we instructed you, that if anyone was unwilling to work, neither should that one eat." (2 Thes. 3:10). Jesus is not being impractical when he tells us not to work for perishable food. He is being more than practical in that he is telling us this world is not all we have to worry about. He is more than practical in telling us we have to look beyond devoting our time and energy only to our immediate needs. We must also look to the future, not just in this life but also to our eternal future. Fr. Pedro Arrupe, former Superior General of Jesuits throughout the world said: "Nothing is more practical than finding God…What you are in love with, what seized your imagination, will affect everything. It will decide what will get you out of bed in the morning, what you will do with your evenings, how you will spend your weekends, what you read, who you know, what breaks your heart, and what amazes you with joy and gratitude. Fall in love, stay in love, and it will decide everything." (
My Life with the Saints
, James Martin, S.J. pg 119)
The way to that love, that eternal future, that all absorbing preoccupation with the eternal and infinite God, Jesus tells us is himself. When the people ask, "What can we do to accomplish the works of God?" it sounds as if they are looking for some simple task they can do and be done with it. As Jesus tells us, doing the works of God is to believe in the one he sent - Jesus himself. "I am the bread of life; whoever comes to me will never hunger, and whoever believes in me will never thirst." The people begin to see that Jesus is asking for total commitment to himself, so it's not surprising that they ask for another sign. Although Jesus is asking for a lot and he desires to give us a lot, he's asking us to accept him on his terms and not to try to take him and follow him on our terms. Doing the works of God is work because we have to die to ourselves and our own selfishness and live the life he has shown us how to live. A lot of people I know would say it's not hard to believe in Jesus, because they take him on their terms, agree with what they like about him and ignore what they don't like.
Although we might say that believing in Jesus and following him is work, when we do give our lives over to him completely, believing in him and following him comes easier. Until we do give ourselves to him in every way, we will continue to hunger in our hearts and will not know what it is we hunger for; for only he can satisfy us. Amen.
Please pray for Doris, the whole family

Please pray for Kenneth, Gene, Dan, Bethie,
Amanda, Betty, Adeline, Jimmy, Ginny,
Andrew and Monsignor.
July Sale
14th Anniversary of when we
purchased the Clearwater building -
24" Pilgrim Virgin Fatima Statue without crown
w/glass from image face - $250

Mary Statue w/glass in your home
Call Rosie 1-888-211-3041.
Special sale statue with glass

12" Our Lady of Lourdes - $70
12" Sacred Heart & Infant of Prague statues - $100
Holy Family statue is $125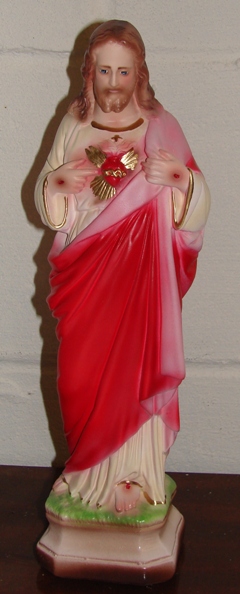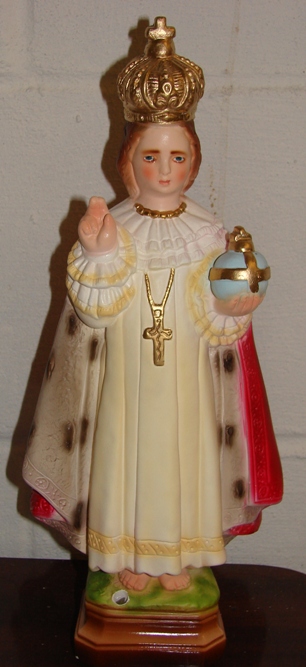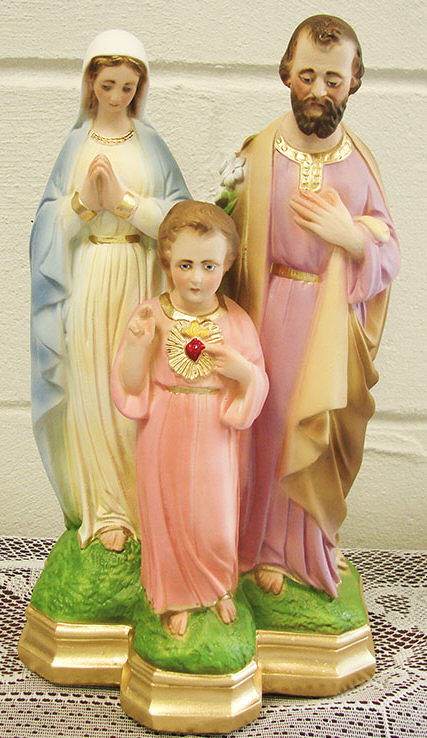 11" Our Lady of Fatima
15" Pilgrim Virgin Fatima
12" Our Lady of Guadalupe
$50 plus shipping