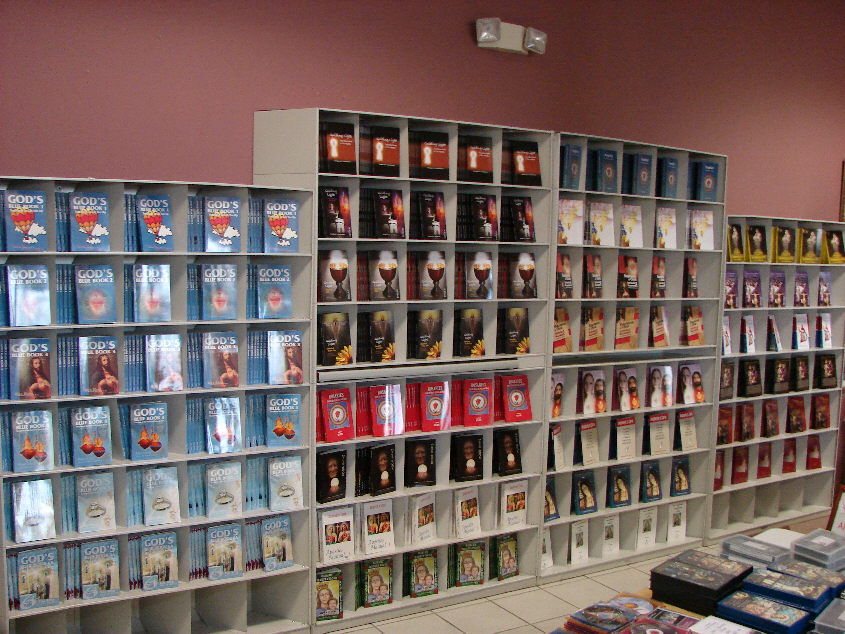 The Florida Book Store
July 3, 2011
Readings Today
Zechariah 9: 9-10
Rejoice heart and soul, daughter of Zion!
Shout for joy, daughter of Jerusalem!
Look, your king is approaching,
he is vindicated and victorious,
humble and riding on a donkey,
on a colt, the foal of a donkey.
He will banish chariots from Ephraim
and horses from Jerusalem;
the bow of war will be banished.
He will proclaim peace to the nations,
his empire will stretch from sea to sea,
from the River to the limits of the earth.
Psalm 145: 1-2, 8-11, 13-14
Hymn of Praise Of David

Aleph

I shall praise you to the heights, God my King,
I shall bless your name for ever and ever.

Bet
Day after day I shall bless you,
I shall praise your name for ever and ever.

Het
Yahweh is tenderness and pity,
slow to anger, full of faithful love.

Tet
Yahweh is generous to all,
his tenderness embraces all his creatures.

Yod
All your creatures shall thank you, Yahweh,
and your faithful shall bless you.

Kaph
They shall speak of the glory of your kingship
and tell of your might,

Mem
Your kingship is a kingship for ever,
your reign lasts from age to age.

(Nun)
Yahweh is trustworthy in all his words,
and upright in all his deeds.

Samek
Yahweh supports all who stumble,
lifts up those who are bowed down.

Romans 8: 9, 11-13
You, however, live not by your natural inclinations, but by the Spirit, since the Spirit of God has made a home in you. Indeed, anyone who does not have the Spirit of Christ does not belong to him.

and if the Spirit of him who raised Jesus from the dead has made his home in you, then he who raised Christ Jesus from the dead will give life to your own mortal bodies through his Spirit living in you.

So then, my brothers, we have no obligation to human nature to be dominated by it. If you do live in that way, you are doomed to die; but if by the Spirit you put to death the habits originating in the body, you will have life.
Matthew 11: 25-30
At that time Jesus exclaimed, 'I bless you, Father, Lord of heaven and of earth, for hiding these things from the learned and the clever and revealing them to little children. Yes, Father, for that is what it pleased you to do. Everything has been entrusted to me by my Father; and no one knows the Son except the Father, just as no one knows the Father except the Son and those to whom the Son chooses to reveal him.

'Come to me, all you who labour and are overburdened, and I will give you rest. Shoulder my yoke and learn from me, for I am gentle and humble in heart, and you will find rest for your souls. Yes, my yoke is easy and my burden light.'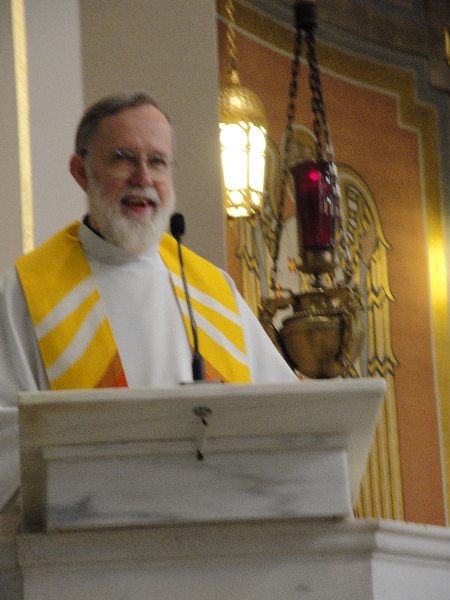 Fr. Joe said:
14th Sunday in Ordinary Time
July 6, 2008
INTRODUCTION
– (Zechariah 9: 9-10, Romans 8: 9, 11-13, Matthew 11: 25-30) Three hundred years is a long time. In our nation, three hundred years would take us back to before George Washington was born and long before our Declaration of Independence. In our first reading we hear from Zechariah the prophet. For those who first heard Zechariah's words, there would have been the realization that it had been three hundred years since their country had a king and had known independence. They could recall their sad history that three hundred years earlier their homes and lands, their city and their Temple had been destroyed and they were exiled to Babylon and became Babylonian slaves. Then the Persians conquered the Babylonians, allowed the Jews to return home, but continued to rule them and to collect taxes from those they ruled. Then came the Greeks who conquered Israel and who eventually bitterly persecuted Jews who would not give up their faith and their traditions. So when the prophet Zechariah tells God's people, "Rejoice!" many of them probably thought he had been out in the sun far too long. But God's prophet has reason to be full of joy. The role of a prophet is to see clearly what others cannot see. He could see a time when there would be no more war, or exile, destruction or conquest. He could see that one day they would have their own king, a king who would bring peace. That is the symbol of the donkey in the first reading. Horses were weapons of war, used by warriors and conquerors. Horses, chariots, warriors' bows and other instruments of war would be outlawed in his kingdom. The people of Jerusalem remembered this prophecy when Jesus came riding into Jerusalem on a donkey on Palm Sunday. We're not at Palm Sunday yet. But we hear in today's gospel Jesus reveals himself as a man of peace who is meek and humble of heart. That's why the passage from Zechariah was chosen for our first reading. Someday after we learn to better follow Jesus, the man of peace, maybe we will then see Zechariah's prophecy of peace fully fulfilled.

R. God Bless You —

Best Country on the face of the earth —

The fact we can go to Church here —

We are free
Matthew 11: 29

Shoulder my yoke and learn from me, for I am gentle and humble in heart, and you will find rest for your souls.
R. We have images of the Sacred Heart—

Jesus had a human heart, just like we do —
Jesus had a heart like us — loving,
We see the statue of the Sacred Heart and
the flames of the Sacred Heart show us His
burning love for us —

God is love — Jesus told
St. Margaret Mary to give great love —
to bring great devotion to His Sacred Heart —
Jesus has a crown of thorns around
His Heart —
He wants this intense love
He wants this burning love and
yet He is treated with such
little love —
Jesus says — Come to Me —
We have to take time to pray —
To forgive others —
Matthew 11: 30
Yes, my yoke is easy and my burden light.'
Jesus said we will carry the cross
if we follow Him —
It's a lot easier to carry the
cross, if we have Jesus in
our lives —
Matthew 11: 28
'Come to me, all you who labour and are overburdened, and I will give you rest.
Joyful Mysteries
Sacred Heart Rosary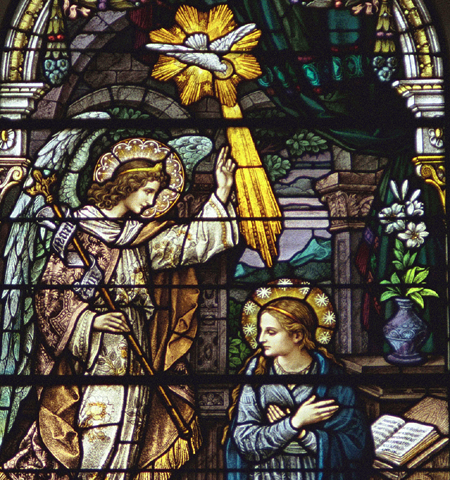 The Annunciation
(1) R. Jesus the Sacred Heart was conceived in the womb of Mary —
(2) R. Jesus' little human Heart was formed —
(3) R. We too were formed in a woman —
a little heart made for love —
a little heart made for our body —
(4) R. We can see that formation of our heart in
holiness being formed in
Mary's Immaculate Heart, her spiritual
womb through the power of the Holy Spirit —
(5) R. The evil one is working in our world —
in children —
in the movies —
to make little hearts that can be insensitive,
combatal, not meek like the Heart of Jesus —
(6) R. Jesus' Heart is tender —
We need moms and dads showing love and relationship
to these little hearts —
stability —
showing peace and security —
not competition and unloving ways —
like the world is their end —
(7) R. Spending time in love teaching children
about God — The world focuses on learning,
perfection in sports —
God wants us to learn to love, to get along —
(8) R. Come Lord Jesus, little King, help us to live
as children of the Father — serving You.
Matthew 11: 25

At that time Jesus exclaimed, 'I bless you, Father, Lord of heaven and earth, for hiding these things from the learned and the clever and revealing them to little children.
(9) R. Jesus is the Light of the World —
God is love —
(10) R. We can get sick and get cancer, a deadly
disease —
We should be grateful for every day we
have to spread the Kingdom of God —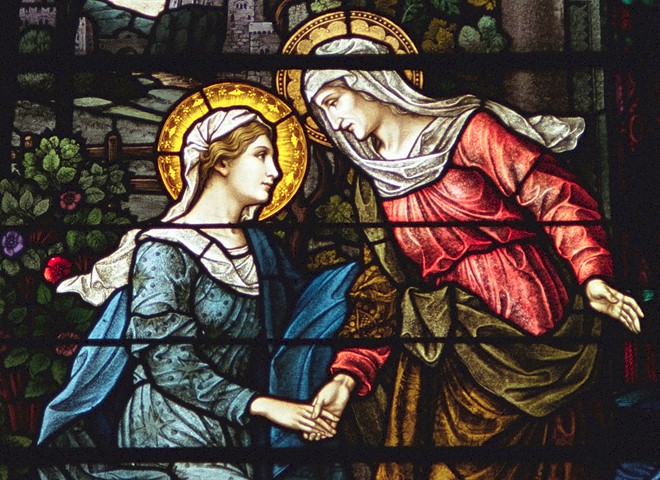 The Visitation
(1) Luke 1: 39-45
Mary set out at that time and went as quickly as she could into the hill country to a town in Judah. She went into Zechariah's house and greeted Elizabeth. Now it happened that as soon as Elizabeth heard Mary's greeting, the child leapt in her womb and Elizabeth was filled with the Holy Spirit. She gave a loud cry and said, 'Of all women you are the most blessed, and blessed is the fruit of your womb. Why should I be honoured with a visit from the mother of my Lord? Look, the moment your greeting reached my ears, the child in my womb leapt for joy. Yes, blessed is she who believed that the promise made her by the Lord would be fulfilled.' Yes, blessed is she who believed that the promise made her by the Lord would be fulfilled.'
(2) R. Jesus was in Mary's womb —
His little Sacred Heart was being formed
in Mary's womb —
(3) Mary: I am the Immaculate Conception.
(4) Mary: I am your spiritual Mother —
(5) Mary: I want you to love Jesus, now
let go, surrender to God — give Him
what He wants —
(6) Mary: My heart is a heart of love —
My children you must love
to please your heavenly
Father and seek oneness —
(7) Mary: A cradle is used for the baby —
When you are afraid know
I cradle you in my Motherly
Heart —
Do not give into fear —
Pray for courage to know
God more and trust Him
abundantly.
(8) Mary: I am your heavenly Mother —
God the Father allowed me
to appear at Clearwater
to tell you the importance
of the Devotion to our
2 Hearts —
Devotion means you are
showing love —
God wants devotion to
our 2 Hearts
I am Mary your Mother.
(9) Mary: John the Baptist jumped
in Elizabeth's womb —
My children jump for joy —
God loves you so-ooo much.
(10) October 5, 1992 - 3:30am
R. Dear Jesus, Give me Your hand to write this book for you. I am your servant. I want to be Your hand to this world. If you, Lord Jesus, would write a book, what would you say?

Jesus: My dear children,

Today I come to deliver a message to each of you. I want to tell you of each person's dignity, of their beauty and their self-worth. Each child is, oh, so uniquely precious to My Most Sacred Heart. Each child is full of the talents I have given to them. Each person is divinely created by God and given all these gifts to be happy and love one another.

The problem comes when you feel you will be left out. That you will be left by another who has trodden on you and will do it again. I see you all as My most precious children. I watch your every move and know all pain and anguish in your heart. My Heart aches, you have insecure feelings about yourself. I came to this earth I died for you. I felt cold, hungry, lonely on this earth. You need not worry that no one knows the pain and anguish in your heart. God created you with such special gifts and talents. It is important for you to raise above your wound and forgive those who hurt you.

You need only turn your will and your life over to Me and I will guide you in all your ways. I have all the Power. Many are not of My ways. The key to life is to recognize your faults, but still know you are this precious gift of My Father a gift to this world. This world is in need of your strength. Running yourself down, blaming others hurting them can cause you misery and pain. At this very moment, you are the precious creation of God!! You must operate with Me in your heart.

You need not run yourself down. I am with you every day guiding your ways, lest your foot stumble and you lose your way. You will not wander far from your path if every day you keep bringing your focus back to Me. If you dare let Me be at the helm, if you dare to really let Me run your life, I will do with you such wonders that you yourself would be amazed. But you will know with such ease when you did these things that you did not do them alone. You will know My power, moving the mountain, My power chipping at the stone, My power working on your hardest problem and you will be set free.

Oh yes, you will be set free and know a serenity that only comes from letting go and letting Me run your life. To you, My child, I have given all that is good. I made you My holy soldier, My warrior in a world of pain and hatred. You are the light that shines in the darkness, you are the coat to a cold child, you are the smile that warms a troubled and lonely heart. You are the comfort for everyone you meet, because My most precious Heart powers you, smiles through you, understands and loves through you.

Love your fellows for Me. There are so many troubled hearts that need to know My love. I can love through you if you let Me, I can be their friend through you if you let Me. I am He who comforts you and you are he who comforts them. My power is endless, it never runs out, there is not a power failure EVER. In your darkest hour, My light shines in the darkness and I say to you, "Oh blessed of My Father, look at yourself with awe, you are My creation, you are indeed so precious to Me, you are My light to this world, you are My hands and My feet and most of all My Heart."

Oh, you are My loving Heart, to those who are bowed down, to those who are lost in the darkness, you carry My smile and wear My armor in a world that is trying to tear one another down with hate and ugliness. There is gentleness, there is love, there is hope in you, if you open yourself up to Me. Be My knight to the world, wear My armor. I am your God and I will protect you from the darkness. Plug into My power, be not afraid, I go before you always and you can rest in My arms when you feel weary. You can put your head in My lap and weep, you will know, I am truly with you and you are My light to this world. I created you so special - to cast out fear in the darkness, to clothe the naked, to give hope to the oppressed, to be as I live in you and love through you and you are My smile and I touch My hurting ones through your love.

You are he who loves this world. You must stay plugged into My power-source. This world is hungry for My love. It needs My love, I give to them through you. I am your God and I made you as a gift to the world. You are filled.

Focus on Me and your life will be abundant and whole, joy in suffering, freedom — but you can take the knocks because you will know you do not go it alone, but with Me. I love you My precious child.
end of October 5, 1992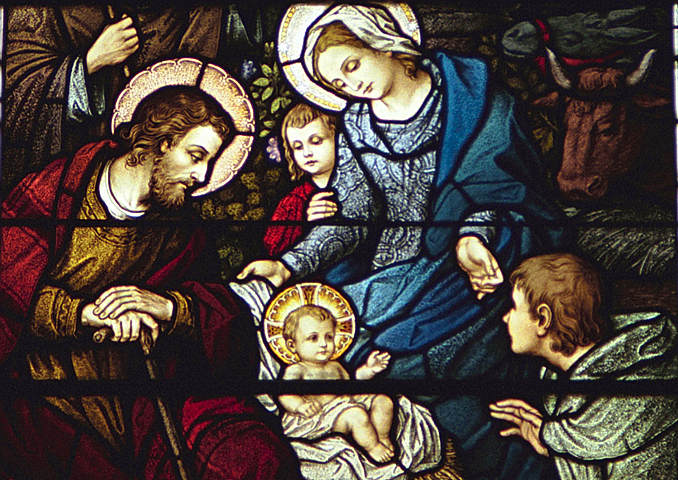 The Birth of Jesus
(1) Mary: Christmas is a time to celebrate
the birth of Jesus —
(2) Mary: The angels sang over the
stable —
"Glory to God in the Highest
and peace to His people
on earth"
(3) Mary: I am Mary, your Mother —
focus on the baby Heart
of Jesus —
Jesus, the Son of God
Jesus' Heart of love —
(4) Mary: Rock a bye baby —
Oh children God gently
loves you —
(5) R. Above the stable —
God the Father gave a sign
to this earth with
the magnificat star —
(6) R. The Kings brought Jesus
gold, frankincense and myrrh.
(7) R. The little sheep surrounded
Jesus, the Chief Shepherd
of the Flock.
(8) Sing: Valleys of Green
(9) Sing: Like a Shepherd
(10) Sing: A Song from Jesus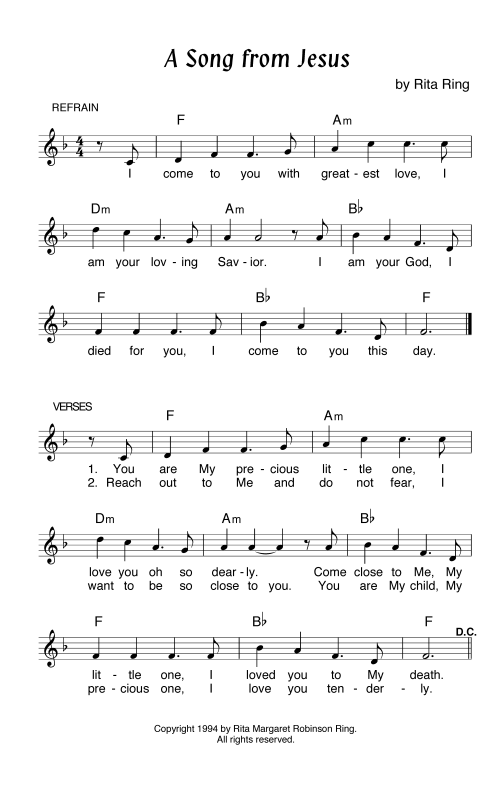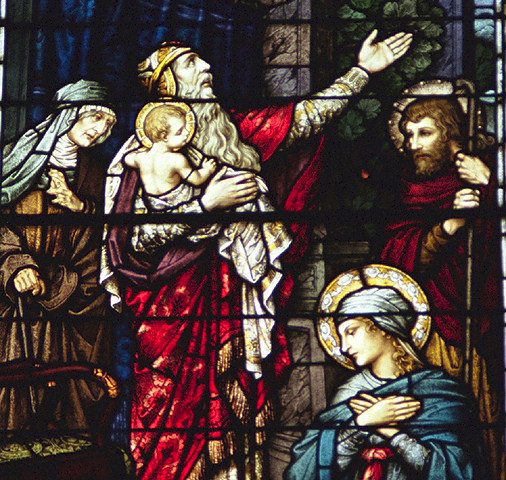 The Presentation
(1) Luke 2: 25-34
Now in Jerusalem there was a man named Simeon. He was an upright and devout man; he looked forward to the restoration of Israel and the Holy Spirit rested on him. It had been revealed to him by the Holy Spirit that he would not see death until he had set eyes on the Christ of the Lord. Prompted by the Spirit he came to the Temple; and when the parents brought in the child Jesus to do for him what the Law required, he took him into his arms and blessed God; and he said:

Now, Master, you are letting
your servant go in peace
as you promised;
for my eyes have seen the salvation
which you have made ready
in the sight of the nations;
a light of revelation for the gentiles
and glory for your people Israel.

As the child's father and mother were wondering at the things that were being said about him, Simeon blessed them and said to Mary his mother, 'Look, he is destined for the fall and for the rise of many in Israel, destined to be a sign that is opposed—
(2) Sing: Little Baby Hands and Feet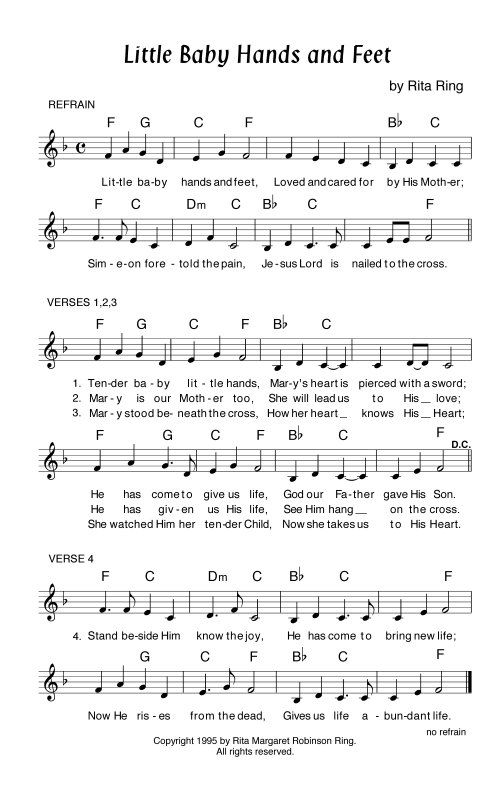 (3) From the Red Rosary Book -- February 22, 1995
The Seven Sorrows of the Blessed Virgin Mary - The First Sorrow
1. The Prophecy of Simeon
Mary, Joseph and the child Jesus went to the temple. Simeon, the prophet, inspired by the Holy Spirit, met them and told Joseph and Mary of the great sufferings of Jesus and Mary. He told Mary that a sword would pierce her heart. From that point on, Mary ever remembered the prophecy of Simeon whenever she beheld her child. When she looked at His little body, even as an infant, she knew He would suffer. Every time she clothed Him and watched Him at play, her heart was torn in her chest as she knew what He would suffer. And a sword, too, shall pierce your Heart, O Mary!
(4) The Second Sorrow
2. The Flight into Egypt
Joseph was told by the angel to flee. Joseph, Mary and the child Jesus had to flee because of what might happen to Jesus. They had to pack for a long stay. The child Jesus was so small! They left on their journey, hearts full of fear, trying to protect Jesus. They were forced to flee into Egypt.



(5) The Third Sorrow
3. Jesus Is Lost, In the Temple
Imagine the sufferings in Mary's heart when she realized the child Jesus was not with them. Think of how it would be to lose your child and not know where he was or if anything happened to him. With sorrow in their hearts, Mary and Joseph returned to Jerusalem to look for the child Jesus. And a sword, too, shall pierce your heart, O Mary!
(6) The Fourth Sorrow
4. Jesus Carries His Cross
Song: See the eyes that look at Mary, her tender infant child. See the child's Heart beat so tenderly, the Savior of the world!
See the eyes of Jesus and Mary as they met on Calvary. Mary's Heart knew Jesus' Heart so well! From the first moment of conception and throughout His life, Mary was so connected with Jesus and now she peered into His eyes. The crown of thorns adorned His Head! Blood ran down His face! A heavy cross on His back! Wounded, His whole body covered with bleeding wounds! And her whole life flashed before her, the life that she had spent with Jesus. This was the beloved child that she had held in her arms when Simeon told Mary that 'a sword, too, shall pierce your Heart, O Mary!'
(7) The Fifth Sorrow
5. Jesus Dies on the Cross
Mary stood under Jesus' cross as He was put to death. The child that she had held in her arms as Simeon prophesied, And a sword, too, shall pierce your Heart, O Mary! Now Jesus is dead on the cross! He gave His flesh, He gave His blood so that we might be with Him forever in heaven. He held not back. He gave His all. He calls out to us this day to see through the eyes of His mother as she appears and calls out with a Heart of great love, "Return to the love of my Son! He is with you this day. He remains with you, no less present than the day that He hung on the cross, in the Eucharist. He longs for you to come and be with Him. He is in your brother. How can you not love your brother when Jesus died for your brother?"

Her Heart was pierced with a sword. His Heart was pierced with a lance. What came forth was blood and water, the sacramental life of the church. He lives with us this day in the Church. He gives to us His sacraments, the source of His life! He gives to us the Sacrament of Penance whereby any sin that we commit can be taken away through the priest. He wants us to be so close to Him! He gives us everything to be close to Him. But we see with such limited vision only those things that are right before our face, when the true reality is that which we don't see with our eyes, the reality of the invisible divinity of Jesus Christ, the Son of God, in the consecrated Host! This is reality! This is our life! This is our power! This is God! And a sword, too, shall pierce your Heart, O Mary!
(8) The Sixth Sorrow
6. Jesus Is Taken Down from the Cross
If we ever doubted for one second that we were loved, we could visualize the picture of Mary as she sat beneath the cross with the lifeless, battered, bruised and bloodied body of her Son in her arms, the same child that she held when Simeon prophesied her suffering. He gave His last breath. He gave the last beat of His Heart. He gave His all! This is the way He complied with the Will of the Father. He came to show us the way. He died in perfect peace. To His death He was in peace because He knew the Father's love. The Father loves us so much that He gave His only begotten Son for love of us! The Spirit descended upon the Virgin Mary and the Word was made flesh! The love of the Two Hearts! Such immense love beating for us!

In all love there is suffering. Her Heart was pierced with a sword. His Heart was pierced with a lance. And a sword, too, shall pierce your Heart, O Mary!
(9) The Seventh Sorrow
7. Jesus Is Locked in the Tomb
And now Jesus, His body lifeless, is locked in a tomb! What cold reality for Mary to realize that His body is now gone! A stone separated her from her Son!

He gave His last breath! He gave the last beat of His Heart for love of each one of us! And she comes to us this day with her sweet, beautiful voice and she asks us to go to her Son and love Him! How can we refuse Jesus who spread His arms and gave His life for each and every one of us? How can we not trust Him when He loved us so much that He allowed them to tear His flesh, to crown Him with piercing thorns and, lastly, to hang Him on a cross? He truly gave His life for us! He, truly God, is with us this day, the same as the day He died on the cross, in the tabernacle! And we take it so lightly! Death has no power over Him! Locked in the tomb for three days, He rose triumphant on the third day as He had foretold. He comes to give us life. He gives us the sacrament of Baptism that initiates us into His life, that makes us children of God and heirs of heaven if we remain in the state of grace. He asks two things: love of God and love of one another! He came to show us the way and His way is love. To His death on the cross He loved each one of us! He calls out to each one of us here today to be His soldiers, to march on a world that has forgotten God, that has forgotten what it is like to love! It is a battle to live in this world. But the battle is won with hearts that are filled with His love, empowered by the grace and might that He pours out in the Eucharist. He calls out for us to come to the Eucharist and to the tabernacle and be fed with His very flesh and blood. To feed on Divine Life, the greatest nourishment, the Body and Blood of Jesus Christ, the Son of God! This is the love He gives. This is the love He asks us to share.
(10) Amen —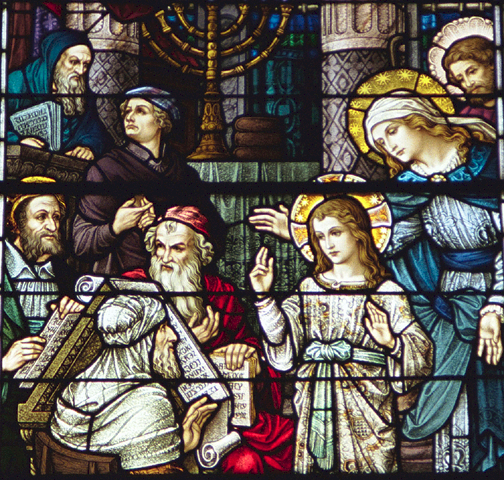 Finding in the Temple
(1) Luke 2: 41-52
Every year his parents used to go to Jerusalem for the feast of the Passover. When he was twelve years old, they went up for the feast as usual. When the days of the feast were over and they set off home, the boy Jesus stayed behind in Jerusalem without his parents knowing it. They assumed he was somewhere in the party, and it was only after a day's journey that they went to look for him among their relations and acquaintances. When they failed to find him they went back to Jerusalem looking for him everywhere.

It happened that, three days later, they found him in the Temple, sitting among the teachers, listening to them, and asking them questions; and all those who heard him were astounded at his intelligence and his replies. They were overcome when they saw him, and his mother said to him, 'My child, why have you done this to us? See how worried your father and I have been, looking for you.' He replied, 'Why were you looking for me? Did you not know that I must be in my Father's house?' But they did not understand what he meant. He went down with them then and came to Nazareth and lived under their authority. His mother stored up all these things in her heart. And Jesus increased in wisdom, in stature, and in favour with God and with people.
(2) From Mother at Our Side by Fr. Edward J. Carter, S.J.
Mary And Our Personal Uniqueness - three
"Of the essence of motherhood is the fact that it concerns the person. Motherhood always establishes a unique and unrepeatable relationship between two people: between mother and child and between child and mother. Even when the same woman is the mother of many children, her personal relationship with each one of them is of the very essence of motherhood. . .

"It can be said that motherhood 'in the order of grace' preserves the analogy with what 'in the order of nature' characterizes the union between mother and child." (Pope John Paul II).6

6. Pope John Paul II, The Mother of the Redeemer (Redemptoris Mater) (Washington: United States Catholic Conference, 1987), No. 45.