Mary has requested that the daily message be given each day to the world. It is read nightly at the prayer service from her Image Building in Clearwater, Florida, U.S.A. This is according to her request. All attempts will be made to publish this daily message to the world at 11 p.m. Eastern time, U.S.A.

---

We acknowledge that the final authority regarding these messages rests with the Holy See of Rome.

---
---
A Prayer for Intimacy with the Lamb, the Bridegroom of the Soul

Oh Lamb of God, Who take away the sins of the world, come and act on my soul most intimately. I surrender myself, as I ask for the grace to let go, to just be as I exist in You and You act most intimately on my soul. You are the Initiator. I am the soul waiting Your favors as You act in me. I love You. I adore You. I worship You. Come and possess my soul with Your Divine Grace, as I experience You most intimately.
---
Messenger: Include Our Lady of the Holy Spirit Center in 6:20 prayers.
---
Messenger: My dear shepherds,
I give my heart to Jesus and Mary with you in love. My dear brothers, Mary has told me to pray for our children, pray with all your hearts for those God has called to lead the world. Our children are being taught so many untruths and they do not believe in the Church as they should or the Ten Commandments and His Word.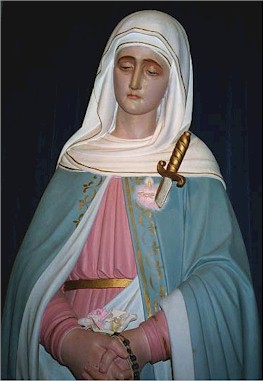 Mary speaks: Oh my beloved children pray, do not waiver in the mission my Son, Jesus, has implanted on your hearts. My children, I appear because this is so serious. My children, many are willful, many have made other things their gods. Many think that they do not have to obey God. Many have made themselves the authority. Oh my children, I cry to you to pray, do not lose fervor, continue trying to reach them. You do not know how mixed up they are in their thinking. Oh my children, I cry to you. I am Mary your Mother, please spread my School Rosary Program to the schools. I love you, Mary.
Thank you for responding to my call. My children, I cry, please help me. Live by the Ten Commandments. Many children do not even believe in them or the Word of God. My Son's name is dishonored, many of my children do not even realize they must be under their God. They think they can do what they want. HELP ME PLEASE, PRAY, MY CHILDREN, PRAY FOR MY CHILDREN and YOURS. I love you. I am Mary your Mother. Please pray for the original Junior Shepherds of Christ members. Pray for 6 people in particular and Fernando, Mike and Vickie. Pray fervently for Mike and Vickie. Please pray for the blocks to be removed by praying your rosary daily. Stay united as a body praying during this visit of my messengers and president to Florida. I need you to pray, my children. Do not lose heart. Pray for Perry. Oh, children, help me. Stay united as a body, praying united to the Mass. Your Father asks me to speak to you today. Please pray, my children.
I love you,
I am Mary your Mother.
---
July 4, 2000 - Second Message
Messenger: Men are one way one day, and very often a different way the next.
God never changes. GOD IS.
Men make mistakes, God is perfect.
God is the same always. God is without error.
God is Divine. He is Supreme. We are human persons.
God is a Supreme Being. There are three Persons in one God.
The devil has been working more and more to contaminate the little shoots (little children). The devil works in well-meaning teachers, ministers, priests. All are human persons, all can make mistakes. The pope has been given special grace from God to run the Church in His name. He has special gifts.
There has been such a deterioration of morals in society that we do not even know the far reaching effects of the media as teacher of the people and what the television, music, movies, plays, any form of public "entertainment" and various forms of communication have done to the minds of all people, including children, to teach them untruths and lead them away from God as Creator and Ruler.
Mary has appeared to tell us that we must pray. Only His grace can change the world in the state it is in. How the world is, is how the babies will be exposed to be taught, unless we can keep them so isolated from the outside world, and this is not God's intentions, nor is it possible.
Mary speaks: My children, this is a message from me today.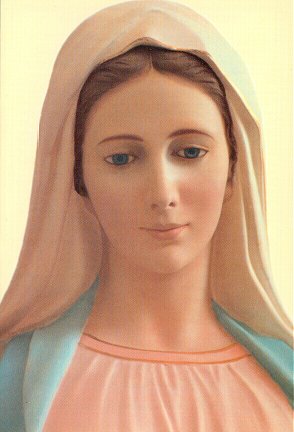 Mary speaks: I beg for you to pray for my children. Pray as my Son Jesus has instructed using the Shepherds of Christ Prayer Manual, consecrating your Hearts and uniting to the Mass. I beg you to pray the rosary. I beg you to teach children to pray the rosary. Teach them in schools to pray the rosary and wear the scapular. Oh, my children, you must pray to your God and recognize Him. Recognize the Father as your Father and as Supreme. You are under His feet. All power comes from God. Oh, the devil is twisting the minds of the young and I cry to you, I cry BLOODY TEARS. I appear with this message. Please help me. My Son's Movement is His Movement to help bring to completion my mission begun at Fatima. Jesus' Heart is on fire for love of souls. Jesus is the Savior of the world. Listen to His song.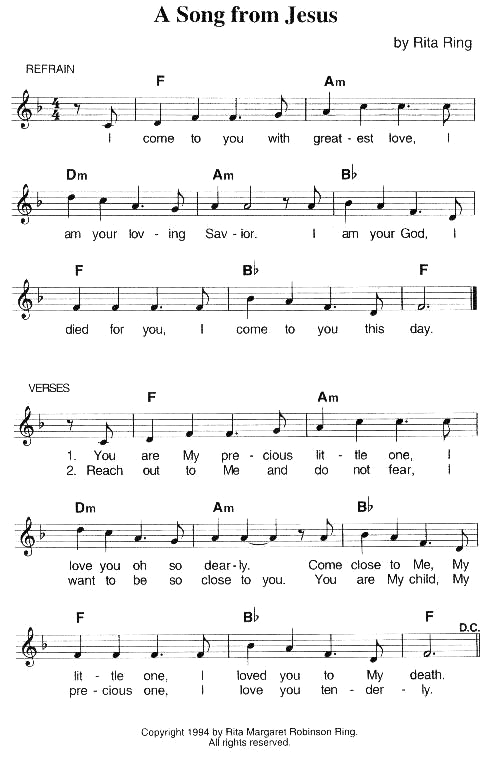 Mary speaks: My children, on this day July 4, in 1994, my messenger was told to go to Our Lady of the Holy Spirit Center with her two children. They prayed before my statue of Our Lady of Grace. She was told to come and pray again the next evening, that she would be praying at the time 6:30. She came at 6:20. I began appearing July 5, 1994, and appeared daily for 14 months. My message to spread my rosaries and meditations from the Hearts of Jesus and Mary were blocked. On Dec. 17, 1996, my first book of rosaries was released from the publisher. On Dec. 17, 1996, I appeared on the building in rainbow color to match my rainbow on my book.
Mary speaks: I am Our Lady of Fatima in the Americas.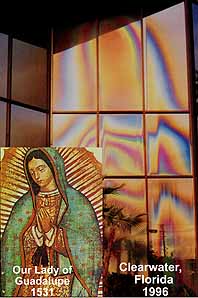 Mary speaks: Please help me reach my children.
Please help me reach my children with the consecration and the rosary.
Please pray the prayers as my Son Jesus requests.
Oh, please help us reach the priests with the newsletter and the consecration.
---
John 14: 21-31
Whoever holds to my commandments
and keeps them
is the one who loves me;
and whoever loves me
will be loved by my Father,
and I shall love him
and reveal myself to him.'

Judas—not Judas Iscariot—said to him, 'Lord, what has happened, that you intend to show yourself to us and not to the world?' Jesus replied:

Anyone who loves me will keep my word,
and my Father will love him,
and we shall come to him
and make a home in him.
Anyone who does not love me
does not keep my words.
And the word that you hear
is not my own:
it is the word of the Father who sent me.
I have said these things to you
while still with you;
but the Paraclete, the Holy Spirit,
whom the Father will send in my name,
will teach you everything
and remind you of all I have said to you.
Peace I bequeath to you,
my own peace I give you,
a peace which the world cannot give,
this is my gift to you.
Do not let your hearts be troubled
or afraid.
You heard me say:
I am going away and shall return.
If you loved me you would be glad
that I am going to the Father,
for the Father is greater than I.
I have told you this now,
before it happens,
so that when it does happen
you may believe.
I shall not talk to you much longer,
because the prince of this world
is on his way.
He has no power over me,
but the world must recognise
that I love the Father
and that I act
just as the Father commanded.
Come now, let us go.
---
Mary's Message from the Rosary of August 27, 1996
Mary speaks: I stood beneath the cross of my Son, and my Heart was in such pain for I saw Him before my eyes. I saw Him covered with blood. I saw Him die. My Heart, my children, my Heart to watch my Son, but my Heart, my Heart, how I suffered for my little children of the world that give in to this world and give up the love of my Son. O my little children of light, I give you this message. Carry this light into the darkness for your Mother Mary, for I stood beneath the cross and I cried. I cried for the little ones. I cried for the young ones, the ones that do not care and will lose their souls. How do I make you see for you will not listen to me? What can I do? I come. I appear. I beg. I plead. I give you these gifts from my Son, and you reject me. I do not deliver messages very often anymore for I have been ignored. The message is the same. You do not read the messages I have given to you. Please help me. Help the little children. I appear. I appear. I appear, and I am ignored. I stood beneath the cross, and I cried. I cried, and my Heart was in such anguish for my little children, for I am searching for them this day as I searched for the Child Jesus. Please, please help me. I cannot hold back the hand of my Son any longer. I am Mary, your Mother. I ask you to help my children. You are my children of light.

Song: O Lady of Light, shining so bright, be with us this day, guiding our way, O Lady, O Lady of Light.

Mary speaks: I appear to you as Our Mother of Sorrows.
(End of Mary's Message)
---
MY VALENTINE FOR JESUS AND MARY
AND THE WORLD

I _________________ give my heart to
You Jesus and Mary on this day
_________________
I promise to help spread the devotion to
the Hearts of Jesus and Mary.
---
Question for married couples and others in intimate relationships:
Q: How do you feel when we are united deeply in our hearts, but not together?
---
---
---
Copyright © 2000 Shepherds of Christ.
Rights for non-commercial reproduction granted:
May be copied in its entirety, but neither re-typed nor edited.
Translations are welcome but they must be reviewed for moral and theological accuracy by a source approved by Shepherds of Christ Ministries before any distribution takes place. Please contact us for more information.
All scripture quotes are from the New Jerusalem Bible, July 1990, published by Doubleday.
Revised: July 4, 2000
URL: http://www.SofC.org
Contact Information for Shepherds of Christ
Email: info@SofC.org
---
Shepherds of Christ Ministries
PO Box 193
Morrow, Ohio 45152-0193

Telephone: (toll free) 1-888-211-3041 or (513) 932-4451
FAX: (513) 932-6791