August 2nd Holy Spirit Novena
Scripture selection is Day 8 Period II.

The Novena Rosary Mysteries
for August 2nd are Joyful.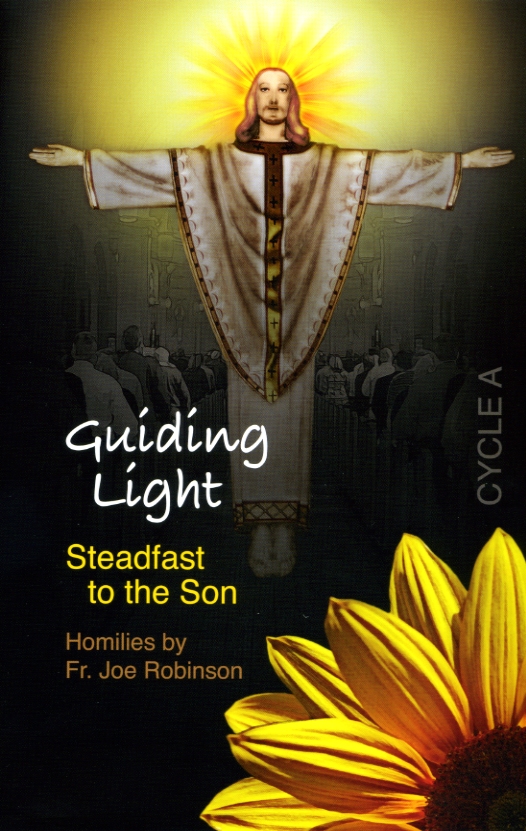 We need $1,300 for postage
for mailing the Homily Book
to Deacons.
Can anyone help us with a donation?
Florida Retreat
August 2nd - 5th
1:30pm & 6:20pm.
Please Come or Tune in!
We are working on Fr. Joe's new Homily Books.
Please pray for Mike A., Gary, Dan, Melanie,
Catherine, Andrew, Beth, Amanda, Betty,
Adeline, Jimmy, Monsignor & all of us.
From Blue Book 11
April 22, 1996

Jesus: I have spoken to you on the 22nd of the month concerning the Center and the Shepherds of Christ Movement. The Center will light up the darkened world. I ask you to spread the messages of My love in God's Blue Book. I am a burning fire filled with such love for men. My light will shine when hearts are joined in deepest love with My Heart. You will unite in one mind and one heart when all are consecrated in their hearts and are fervently loving My Heart and My Mother's heart.
Jesus gave me a message:
I want Blue Book 10 published and the
Parents and Children's Rosary Book reprinted.
The Blue Book 10 and the
Parents and Children's Book
should be presented together as a unit
because they are from January 1st, 1996 to March 31, 1996.
I would like the Parents and Children's Book
in Spanish printed with the Imprimatur.
Pray for Special Intentions
Pray for Funds
Dan called and gave the report to me, when I hung up I saw this rainbow and took a picture for him.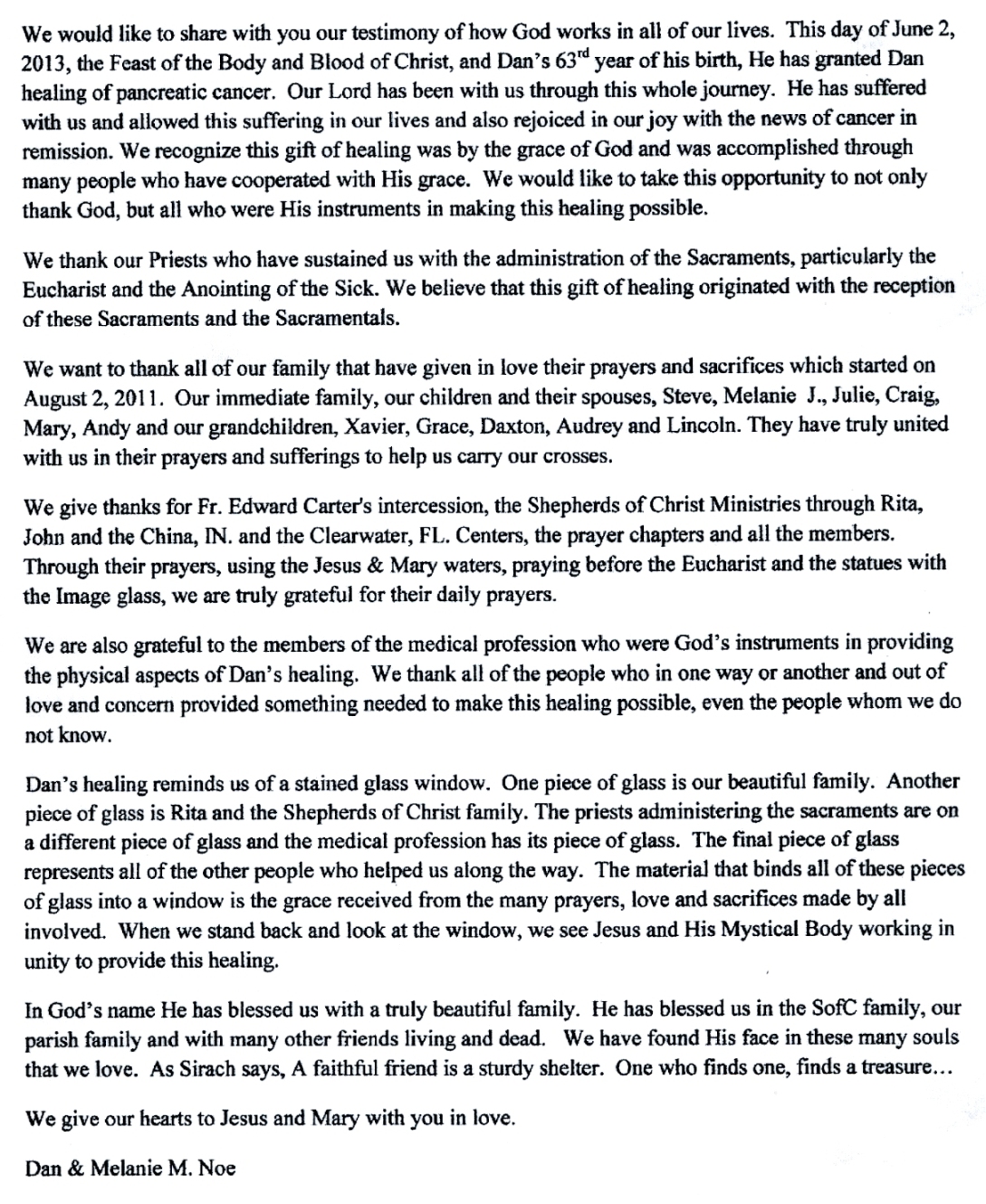 August 1, 2013
Jesus: People grow up in family systems
where rules are taught,
through practice.
If the rules are dysfunctional,
a child, a baby learned these
rules from their first breathe.
Not only this, family relatives
helped enforce these rules
many times –
What may be very abnormal
was taught as normal,
accepted, and practiced
in the dysfunctional home.
When one leaves a place where
they learned survival tactics
at home, where there was
favorite children, punishment,
a merry-go-round called
denial where needs may not
have been met for
support of one's self-esteem
and worth –
A person in an attempt to stay safe –
long after the dysfunctional family
in denial is gone – may think
relationships with others,
trusting others,
opening up to be united to others,
is unsafe.
A person can stay locked up in
a survival mode – they create
now to live in the familiar
that once depraved them of
the needed emotional support.
So they can act-out their old behavior
patterns to create the familiar
life they once knew that was
destructive to building unity
and love and trust.
It can be a place of doing little
or no work of building My Kingdom,
as the person, hides their
weaknesses and forces others
to live their system which
is dysfunctional.
I have called you to grow more and more
in My image and likeness.
From the time of Adam and Eve – men
have lived with a wounded
human nature.
Woe to the man and those who try
to interact with him who
grew up in great dysfunction
and is in denial of the bad
patterned behavior they
engage in forcing others to
live as if they were perfect –
when in fact they seek the
familiar, which is dysfunction,
and resist change because it is
hard to change bad habits from
generations past – so they use any
means to force their way on others.
Partners in marriages cannot barely
tolerate the dysfunction forced
on them, sometimes, and for their own
safety can be forced to leave.
You were created to grow out of
dysfunction – to change your
bad behaviors, not to force
others to put up with your
childish, selfish, isolated
ways.
I have called this Movement to
lead into the era of Peace
Mary promised at Fatima –
Mary is the New Eve –
I am the New Adam –
Only in seeking the goal of
conversion and living as a
Christian - more and more in
My image and likeness will
men unite and bring forth
fruit for My Kingdom.
When people fight in churches,
families, institutions so
all want their own way and
act-out their dysfunction
people cannot grow –
they serve satan –
and what comes in is
pandemonium where satan
rules through willful
disobedience, lack of
order and
soon the place destroys
itself in some form –
Growth is nil –
Satan is operating in willfulness and
the problems are self
inflected letting satan control.
Controlling against authority
that is just authority –
forcing dominion from
those under authority
are working against
what God is calling you
to do.
I work in order –
The Church is ordered –
The angels ordered –
The animals ordered –
The universe ordered –
The life in the ocean ordered –
Then man in his pride because
of pompousness –
comes in and wants to inflict
his ways on others so he
doesn't have to change.
You will bring down blessings
when you obey just authority –
satan wants you to oppose just
authority and
to work in opposition to the
Father's plan
Romans 8:5-9
Those who are living by their natural inclinations have their minds on the things human nature desires; those who live in the Spirit have their minds on spiritual things. And human nature has nothing to look forward to but death, while the Spirit looks forward to life and peace, because the outlook of disordered human nature is opposed to God, since it does not submit to God's Law, and indeed it cannot, and those who live by their natural inclinations can never be pleasing to God. You, however, live not by your natural inclinations, but by the Spirit, since the Spirit of God has made a home in you. Indeed, anyone who does not have the Spirit of Christ does not belong to him.
Give a Gift that lasts
Special sale statue with glass
15" Pilgrim Virgin Fatima
12" Infant of Prague
11" Our Lady of Fatima
12" Our Lady of Guadalupe
$50 plus shipping
18" Pilgrim Virgin Fatima
$75 plus shipping
Through the month of June
while supplies last
12" Our Lady of Lourdes - $70
12" Sacred Heart of Jesus - $100
Holy Family statue is $125
27" Statue of Our Lady of Fatima
$175 plus postage
Call Rosie 1-888-211-3041.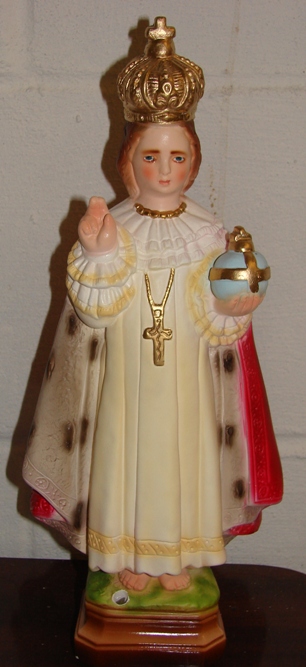 Books written by the cofounder of Shepherds of Christ Ministries
Mass Book
A Journey Into the Heart of Jesus - Author: Rita Ring. Discerned by: Fr. Edward J. Carter S.J. Imprimatur
$ 12.00 plus postage

Mass Book, by Rita Ring: Many of the entries in the Priestly Newsletter Volume II from a spiritual journal came from this book. These entries
are to help people to be more deeply united to God in the Mass. This book is available in English and Spanish with the Church's Imprimatur.
$12
Rosary Meditations for Parents and Children, by Rita Ring, Short Meditations for both parents and children to be used when praying the
rosary. These meditations will help all to know the lives of Jesus and Mary alive in their Hearts. Available in both English and Spanish with
the Church's Imprimatur. $10
God's Blue Book I
Teachings to Lift You Up. Author: Rita Ring. Discerned by: Fr. Edward J. Carter S.J.
$ 10.00 plus postage

God's Blue Book I by Rita Ring. Open Anywhere — This book will change your life. These are beautiful love letters to us from Jesus. A million books have been printed and circulated. Jesus loves us so much — He wants a personal relationship with us — He wants us to go to the Eucharist and be with Him before the tabernacle. $10
God's Blue Book II
The Fire of His Love. Author: Rita Ring. Discerned by Fr. Edward J. Carter S. J.
$ 10.00 plus postage

God's Blue Book II by Rita Ring. Letters from Jesus about His on fire love — Jesus wants this great intimacy with us — On fire love — Personal love letters from Jesus about the love of His Heart — A book on surrender Fr. Carter said! $10
God's Blue Book III
Love God, Love One Another. Author: Rita Ring. Discerned by Fr. Edward J. Carter S.J.
$ 10.00 plus postage

God's Blue Book III by Rita Ring. Fr. Carter's favorite book — It is about loving and forgiving each other — Being pure in heart — A book for unity in family, community, in life!! $10
God's Blue Book 4
The Love of the Hearts of Jesus and Mary Author: Rita Ring
$ 5.00 plus postage

God's Blue Book IV by Rita Ring. This book is about the love Jesus has for Mary and Mary has for Jesus and Jesus and Mary have for us — It is truly the Love of the Two Hearts. Mary appeared every day at the Holy Spirit Center — Fr. Carter was there. Mary's first apparition July 5, 1994. $5
God's Blue Book 5
So Deep Is the Love of His Heart. Author: Rita Ring.
$ 5.00 plus postage

God's Blue Book V by Rita Ring. Jesus wants to be the bridegroom of our soul — He is our beloved — Jesus tells us about pure love — how we are to be pure of heart and love God and love others. It is a must, to hear about love from Jesus — Jesus is love — $5
God's Blue Book 6A by Rita Ring. Rosaries from Their Hearts during apparitions. Jesus and Mary appeared every day and I received rosaries from Them and They were transcribed from a tape. Also messages of love from Jesus on days of January, 1995 — About Baptism — writings from Fr. Carter and the Scriptures. $10
God's Blue Book 6B by Rita Ring. Jesus and Mary appeared every day in February, 1995 — So beautiful — transcribed from a tape — the Stations, 7 Sorrows, prayers in the Prayer Manual, the Holy Spirit Novena Book and the Song Book. Pure love — loving and forgiving — a book about Jesus' love, baptism, grace and Fr. Carter's Newsletter. $10

Rosaries from the Hearts of Jesus and Mary Book 1. Mary appeared in Clearwater December 17, 1996 in rainbow color and these rosaries left the printer the same day from Apparitions of Jesus and Mary — transcribed from a tape. $10
Blue Rosary Book
Rosaries From the Hearts of Jesus and Mary - Volume II
$ 12.00 plus postage

Rosaries from the Hearts of Jesus and Mary Book 2. This is a book of so many rosaries - transcribed from a tape. So many beautiful rosaries. pages $12
Short Rosary Meditations for the Elderly, Ill and Homebound. This book is so important with pictures they can open it and lay it on their laps and pray the rosary. $10
Messages From Jesus
Given by Jesus to His Messenger Author: Rita Ring. Discerned by: Fr. Edward J. Carter S.J.
This book is 8 1/2" by 11" and you can open it up and sit it on your lap.

$ 10.00 plus postage

Messages for the Elderly, Ill and Homebound. This is a big book of loving messages for nursing home people and homebound from Jesus and Mary — Their lives are so important — united to the Mass offering up their suffering, their lives for the souls of this earth. $10
Daily Messages from Heaven. First book of Daily Messages. $10
Color the Lives of Jesus and Mary. Volumes 1 through 7. Coloring books and meditations for grade school children and others on the mysteries of the rosary - really good. $5 each.