August 14, 2011

Judges 2: 11-19
The Israelites then did what is evil in Yahweh's eyes and served the Baals. They deserted Yahweh, God of their ancestors, who had brought them out of Egypt, and they followed other gods, from those of the surrounding peoples. They bowed down to these; they provoked Yahweh; they deserted Yahweh to serve Baal and Astartes. Then Yahweh's anger grew hot against Israel. He handed them over to pillagers who plundered them; he delivered them to the enemies surrounding them, and they were no longer able to resist their enemies. Whenever they mounted an expedition, Yahweh's hand was there to foil them, as Yahweh had told them and as Yahweh had sworn to them, so that they were in dire distress.

Yahweh then appointed them judges, who rescued them from the hands of their plunderers. But even to their judges they refused to listen. They prostituted themselves to other gods and bowed down before these. Very quickly they left the path which their ancestors had trodden in obedience to the orders of Yahweh; they did not follow their example. When Yahweh appointed judges for them, Yahweh was with the judge and rescued them from the hands of their enemies as long as the judge lived, since Yahweh relented at their groans under their persecutors and oppressors. But once the judge was dead, they relapsed into even worse corruption than their ancestors. They followed other gods; they served them and bowed before them and would not give up the practices and stubborn ways of their ancestors at all.
R. The Israelites promise they will
be faithful and they still end up
worshipping false gods —
The same cycle
We see that they abandon the Lord —
The Lord punishes them —
The Israelites repent —
God forgives them —
Then they do it again

Psalm 106: 34-37, 39-40, 43-44
They did not destroy the nations,
as Yahweh had told them to do,
but intermarried with them,
and adopted their ways.

They worshipped those nations' false gods,
till they found themselves entrapped,
and sacrificed their own sons
and their daughters to demons.

They defiled themselves by such actions,
their behaviour was that of a harlot.
Yahweh's anger blazed out at his people,
his own heritage filled him with disgust.

Time and again he rescued them,
but they still defied him deliberately,
and sank ever deeper in their guilt;
even so he took pity on their distress,
as soon as he heard them cry out.
R. The Lord called Gideon to deliver
the people —
Judges 6: 11-24
The Angel of Yahweh came and sat under the terebinth at Ophrah which belonged to Joash of Abiezer. Gideon his son was threshing wheat inside the wine'press, to keep it hidden from Midian, and the Angel of Yahweh appeared to him and said, 'Yahweh is with you, valiant warrior!' Gideon replied, 'Excuse me, my lord, but if Yahweh is with us, why is all this happening to us? And where are all his miracles which our ancestors used to tell us about when they said, 'Did not Yahweh bring us out of Egypt?' But now Yahweh has deserted us; he has abandoned us to Midian.'

At this, Yahweh turned to him and said, 'Go in this strength of yours, and you will rescue Israel from the power of Midian. Am I not sending you myself?' Gideon replied, 'Forgive me, my lord, but how can I deliver Israel? My clan is the weakest in Manasseh and I am the least important of my father's family.' Yahweh replied, 'I shall be with you and you will crush Midian as though it were one man.' Gideon said, 'If I have found favour in your sight, give me a sign that you are speaking to me. Please do not go away from here until I come back to you, bringing you my offering and laying it before you.' And he replied, 'I shall stay until you come back.'

Gideon went away, he prepared a young goat and from an ephah of flour he made unleavened cakes. He put the meat into a basket and the broth into a pot, then brought it all to him under the terebinth. As he approached, the Angel of Yahweh said to him, 'Take the meat and unleavened cakes, put them on this rock and pour the broth over them.' Gideon did so. The Angel of Yahweh then stretched out the tip of the staff which he was carrying, and touched the meat and unleavened cakes. Fire sprang from the rock and consumed the meat and unleavened cakes, and the Angel of Yahweh vanished before his eyes. Gideon then knew that this was the Angel of Yahweh, and he said, 'Alas, my Lord Yahweh! Now I have seen the Angel of Yahweh face to face!' Yahweh answered, 'Peace be with you; have no fear; you will not die.' Gideon built an altar there to Yahweh and called it Yahweh' Peace. This altar stands in our own day at Ophrah of Abiezer.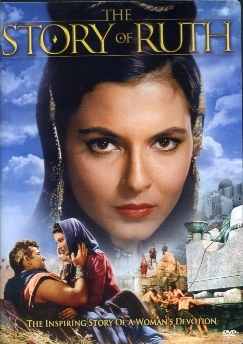 Available for $15.00
Call Rosie
Ruth 1: 1, 3-6, 14-16, 22
In the days when the Judges were governing, a famine occurred in the country and a certain man from Bethlehem of Judah went—he, his wife and his two sons—to live in the Plains of Moab.

Elimelech, Naomi's husband, died, and she and her two sons were left. These married Moabite women: one was called Orpah and the other Ruth. They lived there for about ten years. Mahlon and Chilion then both died too, and Naomi was thus bereft of her two sons and her husband. She then decided to come back from the Plains of Moab with her daughters–in–law, having heard in the Plains of Moab that God had visited his people and given them food.

They started weeping loudly all over again; Orpah then kissed her mother–in–law and went back to her people. But Ruth stayed with her.

Naomi then said, 'Look, your sister–in–law has gone back to her people and to her god. Go home, too; follow your sister–in–law.'

But Ruth said, 'Do not press me to leave you and to stop going with you, for
wherever you go, I shall go,
wherever you live, I shall live.
Your people will be my people,
and your God will be my God.

This was how Naomi came home with her daughter–in–law, Ruth the Moabitess, on returning from the Plains of Moab. They arrived in Bethlehem at the beginning of the barley harvest.
R. Boaz saw Ruth and her fidelity —
He took Ruth as his wife —
Boaz and Ruth had Obed —
Obed was grandson of Naomi —
Obed was the father of Jesse,
Jesse the father of David

Our theme offering salvation
to all people —
Today's Psalm refrain
"O God, let all the nations praise you"
Salvation is offered to us by Jesus Christ
In the 1st Century it was
a major battle about
Gentiles being offered
what was just in Church
and worshipping
in the temple —
500 years before Christ by Isaiah —
Isaiah 56: 1, 6-7
Thus says Yahweh: Make fair judgement your concern, act with justice, for soon my salvation will come and my saving justice be manifest.

As for foreigners who adhere to Yahweh to serve him, to love Yahweh's name and become his servants, all who observe the Sabbath, not profaning it, and cling to my covenant: these I shall lead to my holy mountain and make them joyful in my house of prayer. Their burnt offerings and sacrifices will be accepted on my altar, for my house will be called a house of prayer for all peoples.
R. The foreigners referred to
in the 1st reading are the Gentiles
Psalm 67: 2-3, 5, 6, 8
Then the earth will acknowledge your ways,
and all nations your power to save.

Let the nations praise you,
God, let all the nations praise you.

Let the nations praise you, God,
let all the nations praise you.

The earth has yielded its produce;
God, our God has blessed us.

the earth rocked, Pause
the heavens pelted down rain at the presence of God,
at the presence of God, the God of Israel.
Romans 11: 13-15, 29-32
Let me say then to you gentiles that, as far as I am an apostle to the gentiles, I take pride in this work of service; and I want it to be the means of rousing to envy the people who are my own blood-relations and so of saving some of them. Since their rejection meant the reconciliation of the world, do you know what their re-acceptance will mean? Nothing less than life from the dead!

There is no change of mind on God's part about the gifts he has made or of his choice.

Just as you were in the past disobedient to God but now you have been shown mercy, through their disobedience; so in the same way they are disobedient now, so that through the mercy shown to you they too will receive mercy. God has imprisoned all human beings in their own disobedience only to show mercy to them all.
Matthew 15: 21-28
The daughter of the Canaanite woman healed
Jesus left that place and withdrew to the region of Tyre and Sidon. And suddenly out came a Canaanite woman from that district and started shouting, 'Lord, Son of David, take pity on me. My daughter is tormented by a devil.' But he said not a word in answer to her. And his disciples went and pleaded with him, saying, 'Give her what she wants, because she keeps shouting after us.' He said in reply, 'I was sent only to the lost sheep of the House of Israel.' But the woman had come up and was bowing low before him. 'Lord,' she said, 'help me.' He replied, 'It is not fair to take the children's food and throw it to little dogs.' She retorted, 'Ah yes, Lord; but even little dogs eat the scraps that fall from their masters' table.' Then Jesus answered her, 'Woman, you have great faith. Let your desire be granted.' And from that moment her daughter was well again.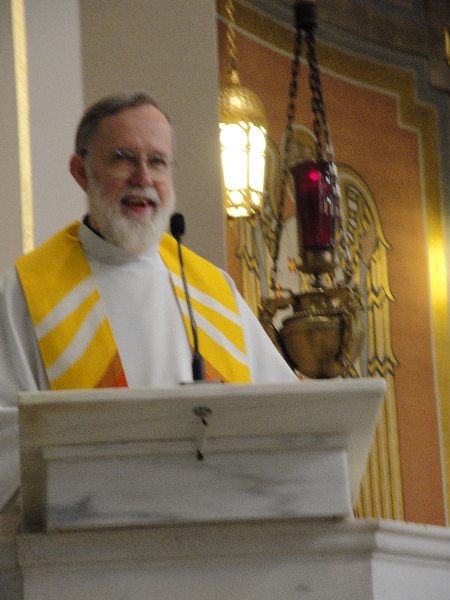 R. Fr. Joe said —
2 different words — close in
meaning, can insight different
reactions —
The story about this woman
is a clever story —
Fr. Joe said he can't think
of Jesus ever being so
harsh —
The dogs were referring to
the Gentiles —
Gentiles were considered
unclean by the Jews —
If the word was birds instead
of dogs — it wouldn't
sound so bad —
If they said puppy instead
of dog would it be offensive
The woman accepted Jesus'
comment —
she was not in a huff —
The primary concern of the
story was not the healing
of the woman's daughter —
It was the conversation
going on —
We see the importance of
perseverance in prayer —
not getting mad or
frustrated
Salvation is for all
people —
The story of the Canaanite
woman helps us to
see salvation is open
to all people —
Every Sunday we come to
celebrate God's love
He has for us and
all people —
]