We are working on Fr. Joe's new Homily Books.
Please pray for Mike A., Gary, Dan, Melanie,
Catherine, Andrew, Beth, Amanda, Betty,
Adeline, Jimmy, Monsignor & all of us.
From Blue Book 11
April 22, 1996

Jesus: I have spoken to you on the 22nd of the month concerning the Center and the Shepherds of Christ Movement. The Center will light up the darkened world. I ask you to spread the messages of My love in God's Blue Book. I am a burning fire filled with such love for men. My light will shine when hearts are joined in deepest love with My Heart. You will unite in one mind and one heart when all are consecrated in their hearts and are fervently loving My Heart and My Mother's heart.
Jesus gave me a message:
I want Blue Book 10 published and the
Parents and Children's Rosary Book reprinted.
The Blue Book 10 and the
Parents and Children's Book
should be presented together as a unit
because they are from January 1st, 1996 to March 31, 1996.
I would like the Parents and Children's Book
in Spanish printed with the Imprimatur.
Pray for Special Intentions
Pray for Funds
Dan called and gave the report to me, when I hung up I saw this rainbow and took a picture for him.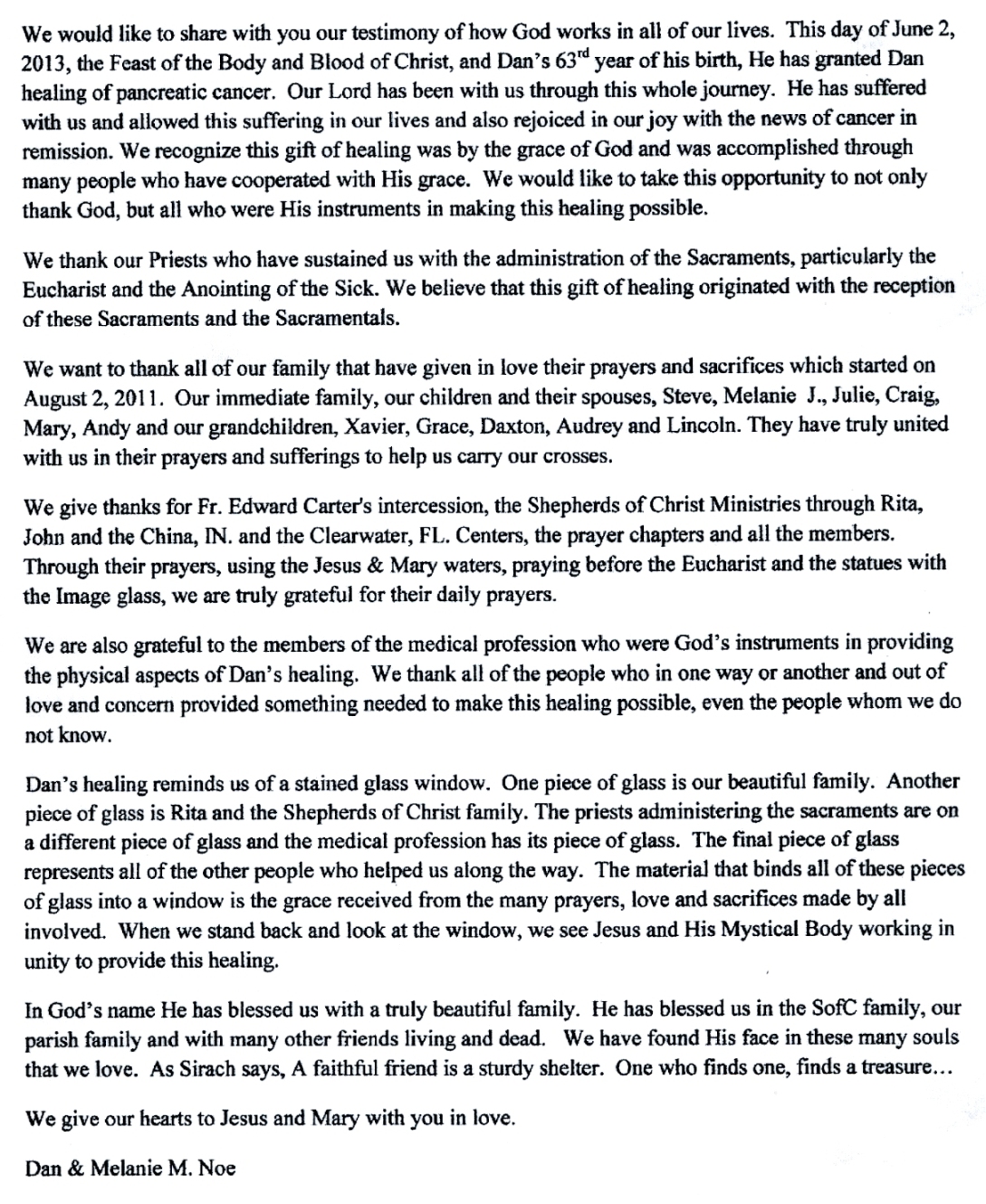 August 23, 2013
20 Years Ago

August 23, 1993
On His Passion
Jesus: My dear child,
I was condemned to death, death on a cross. They gave Me a big cross and made Me carry it. They stood around and glared at Me. It weighed on My shoulder and I pulled at it until it finally moved. Every step was almost impossible as I dragged it, weighing so heavily on My shoulders.
My shoulder felt as if the bones inside would crack and the cross would fall through to the ground. I couldn't drag it any more. I tried, I fell. I fell and its weight fell on Me. A guard hit Me with something sharp. It really hurt because he wanted Me to move, and fast! People were watching

—on with the show! How dare I fall in the middle of the show! He hit Me again and the blow really stung Me. I got up because it hurt so badly. I tried to walk on.

My Mother was in the crowd. She looked at Me and her face looked red and hurt. Tears rolled down her cheeks like rain and as her eyes met Mine, I was hurt so by her sorrow! She was always by My side, silent and loving. She was My mother of love! She is always there next to you when you suffer.

I fell again and he (the guard) really hit Me. It (the cross) was so heavy that he and I together could barely move it. It seemed as I walked, heavier with the sins of the world heaped on it. My hands were bleeding. Blood ran from the wounds of My thorns and My head throbbed, seeming to make the wounds in My head bleed even more. Some of the Blood was dried, some of it running all over My Body. I had so many cuts and bruises

—and people watched and laughed!

I am Jesus, Son of the Living God, and they laughed and mimicked Me! Oh, such hardened hearts! How vile can men's heart become? The devil's grip is paralyzing and crippling.

The walk was so long up a hill and over rocks

—the cross had to be lifted over the rocks. My Body was bleeding so badly! My heart was pounding. I knew that the salvation of all men depended on My love. Therefore, I went through such agony.

I thought of My intense love for you

—that many would go to heaven because of My suffering—and I continued to the top of the hill. At the top they laid Me on the cross and with a big hammer nailed My hands to it. It was the worst (suffering) yet. My hands were nailed with big nails and the big hammer. Oh, it was unbelievable! Then, as if that weren't enough, with a big nail they nailed through both feet.

Then they lifted the cross and banged it into (a hole in) the ground. My shoulders ached from how I hung. My head bobbed and My neck ached and they laughed and said, "Now save Yourself." I hurt so much! I suffered this way for hours

—which seemed like forever—and they glared at Me and laughed! My Mother watched in such agony.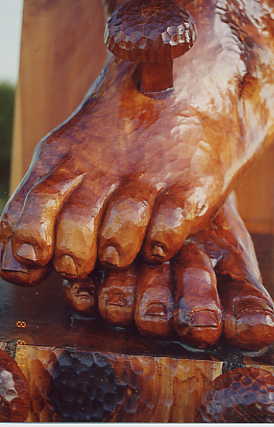 For love of you, to My death I gave you My Body. My child, I shed My Blood and gave you My life that you might be with Me forever in heaven

—not for a day, a month or a year, but forever with Me in heaven.

I am the true Bread come down from heaven. He who eats My Flesh will have life forever. For the drink I give you is My Blood and food you eat is My Body. Who would lay down his life for a friend? I did, for you. I love you this much, child. Forget about those who reject you. You have My life that I gave you and I give you life eternal.

I am the One true God. I am the Light of life. He who abides in Me will have life eternal, for the drink I give is My Blood and the food I give is My Body. Drink and eat and have everlasting life.

My child, that is all you need to know. Love one another and be good that you may enter into My kingdom.

end of August 23, 1993