Mary has requested that the daily message be given each day to the world. It is read nightly at the prayer service from her Image Building in Clearwater, Florida, U.S.A. This is according to her request. All attempts will be made to publish this daily message to the world at 11 p.m. Eastern time, U.S.A.

---

We acknowledge that the final authority regarding these messages rests with the Holy See of Rome.

---
---
A Prayer for Intimacy with the Lamb, the Bridegroom of the Soul

Oh Lamb of God, Who take away the sins of the world, come and act on my soul most intimately. I surrender myself, as I ask for the grace to let go, to just be as I exist in You and You act most intimately on my soul. You are the Initiator. I am the soul waiting Your favors as You act in me. I love You. I adore You. I worship You. Come and possess my soul with Your Divine Grace, as I experience You most intimately.
---
Messenger: Include Our Lady of the Holy Spirit Center in 6:20 prayers.
---
Messenger: He looked unusually beautiful today and my heart felt so connected to Him as I gazed on the exposed Holy Eucharist.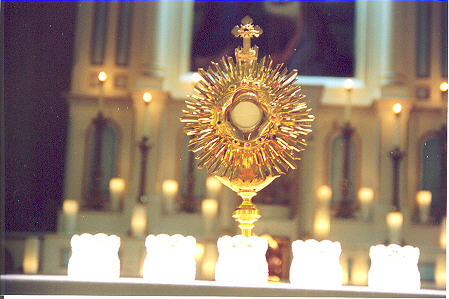 Messenger: All through the Mass I wanted to cry at the awe of it all and love Him so much.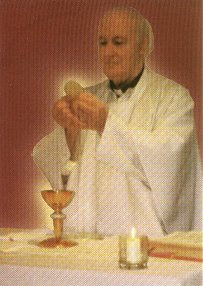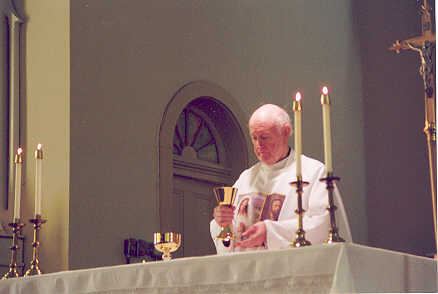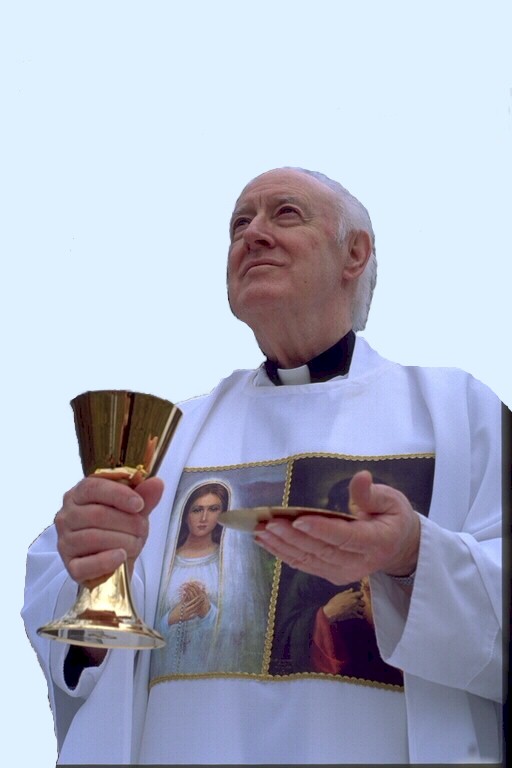 THROUGH HIM, WITH HIM AND IN HIM
Jesus speaks: I ask the Mass Book be given to priests and sisters, to ones devout about going to daily Mass.
| | | | |
| --- | --- | --- | --- |
| | December 17, 1995 | Mary appeared on December 17, 1999, at night, she appeared in gold. Mary appeared on the building December 17, 1996. | |
---
December 17, 1995 (from Mass Book)
I touched eternity, and in that embrace, I knew all the waiting was worth the glory. You enveloped my being, and I was truly merged in the Divine Presence. I was merged in Your being. I existed IN You, with You, in the highest union with You, although I knew I was still distinct from You.
---
Messenger: August 26, 1997, was the first Mass celebrated in China, Indiana, by our founder.
August 27, 1996, Mary's Message.
August 30, 1994, 1st meeting of the core chapter of Shepherds of Christ Movement at Our Lady of the Holy Spirit Center.
The following dates were noted as important dates in the Apostles Manual, p. 171-173.
---
December 13, 1996 - the Vision, the Plan Unfolds

September-

October, 1991:

"Feed the Hungry" for six weeks

October, 1991:

Jesus: "Go to the ends of the earth, I have all
the power".

December 17, 1991

Shows me His Heart, tells me the mission to
spread His burning love to the world

May 13, 1993:

First message for God's Blue Book I

May 13, 1993

-March 31, 1994:

God's Blue Book I and II

March 22, 1994:

He is ignored - Building at Center, wing fell
off.

July 5, 1994 -

Sept. 5, 1995:

Mary appears almost daily. We receive
rosaries from the Hearts of Jesus and Mary.

July 5, 1994 -

Oct. 5, 1996:

Mary appeared every 5th of the month.


August 13, 1996:

St. Michael appears at the Farm. There is a
blue light over John Weickert's head. Mary
gives important messages.

August 27, 1996:

Mary pleads - she cries out. She is so
sorrowful. She cannot hold back the hand of
her Son anymore.

October 5, 1996:

Mary says she cannot hold back the hand of
her Son anymore. It is struck with power.

October 13, 1996:

Mary appears as Our Lady of the Rosary.

October 13, 1996:

Jesus calls us to the Farm at 12:00 noon.

Oct. 16, Oct. 21,

Oct. 30, Nov. 3:

Strong messages from Jesus. Tell us He is
calling us on the 13th. He is very displeased
that we are taking this so lightly. This is a
major part of the completion of the Fatima
message.

October 30, 1996:

Jesus: "I have spoken. You are not dealing
with My messenger any longer. To persecute
her is to persecute Me and I will take action.
I have spoken and delays will displease Me."

December 5, 1996:

Jesus appears on the crucifix. His mouth
moves for 20 minutes. Mary did not appear.
Jesus is handling it. He is speaking in the
rosaries and in the Blue Book messages.

December 6, 1996

First Friday:

Message from Jesus how the Shepherds of
Christ Movement will majorly assist in bringing
about the completion of the Fatima message in
carrying out Mary's peace plan given at
Fatima.

December 7, 1996

First Saturday

Revelation on light


December 19, 1996:

Strong message from Jesus and Mary

December 22, 1996:

Strong message from Jesus

December 29, 1996:

Very strong message from Jesus - Jesus
outlines the message that follow

January 5, 1997

Neither Jesus nor Mary appeared

January 11, 1997:

Message from God the Father

January 18, 1997:

Message from God the Father

February 5, 1997:

After receiving rosaries for two years and
seven months, I was sick and could not pray
the rosary, so the apostles played a live rosary
tape.

February 6, 1997:

Jesus wants the chapters to gather for a
candlelight rosary with the live rosary tapes.
He promises special graces.
(End of December 13, 1996 message)
---

To The Reader
Messenger: Jesus wants to share His love with you. He comes in these letters to tell you how you can be in intimate union with Him.

All of us possess everything we need to have an intimate union with Him. He has written to me since October of 1991. For at least a year I sat in front of the tabernacle and begged him to talk to me. I wanted words. I prayed to the Holy Spirit and begged and begged Him to baptize me. After a long and seemingly endless search, trying to hear God, He told me to "feed the hungry." For six weeks this was all I heard. I thought maybe I wasn't feeding my children well or eating well enough myself. What a long wait for three words! At long last one day, as I was writing to Jesus, I received a letter back. He told me, "I am Jesus, Son of the Living God." I did not want to write this but it kept coming-and so many other messages. I knew nothing of anyone getting messages. I wrote them, reluctantly, and hid my notebooks. The letters kept coming-a lot in the night-and I would be awakened by long letters which I felt compelled to get up and write down. I read these letters privately and my life began to change. I felt a new life within me.
---
From my notebook:

September 14, 1991

R.

I dreamed Jesus put His arm around me
and I felt so secure.

Feed the hungry, I have been getting this for
the last 6 weeks.

October 28, 1991

Letter to Jesus

R.

I played at Mass yesterday and I heard
everyone singing and praising God - I was
thrilled at all of them praising You. I kept
playing from the heart. I felt Your presence
and I felt it last week in Communion -
like a pressure on my chest knowing You are
this close to me. I know You are with me.

Jesus, help me to find Your light deep inside
me, a light only You can give. I can flounder
around inside for years in darkness, but
You can turn the light on and fill me
with your peace, only You can fill me with
Your peace.

God speaks:

Peace, I leave My peace, I give
peace to you.

R.

Peace for me? Lamb of God, You take
away the sins of the world, grant us peace.

Breathe in the richness, the fullness
of God, the richness, the fullness of God.

Psalm 91: 2

saying to Yahweh, 'My refuge, my
fortress, my God in whom I trust!'

R.

Jesus, here is my heart, please put on Your
spiritual bandages. And as You place a
spiritual bandage on each scar, the scar
is healed by the power of Your grace and the
bandage disappears.

Psalm 91: 2

saying to Yahweh, 'My refuge, my
fortress, my God in whom I trust!'

R.

And You are here, Lord. You stand
across the room from me and You come
close to me clothed in white. Your body
is surrounded by a beautiful light
and You come near me with Your power
and Your love. Your strong but gentle
hand You place on my head and through
my body is a feeling of warmth,
joy and peace, and I know I am
touched by Your ever present love.

October 29, 1991

Jesus:

I have sent a shower of grace healing and nourishing you.

You are My child and you are precious in My eyes, I love you.

Breathe in the goodness, the richness of God.

R.

I will not cease praising Him, my God.

Matthew 11: 28-30

'Come to me, all you who labour and are overburdened, and I will give you rest. Shoulder my yoke and learn from me, for I am gentle and humble in heart, and you will find rest for your souls. Yes, my yoke is easy and my burden light.'

R.

Glory and praise to You, Oh Lord Jesus Christ.

Psalm 66: 1-2

Acclaim God, all the earth,
sing psalms to the glory of his name,
glorify him with your praises,

R.

You have touched our hearts and now we listen to Your word.

My heart is on fire with Your love deep within me.

Fill me, LORD.

Oh, Spirit of God, guide my going out and my coming in - for You have touched my heart and You will show me the way of the Lord.

With a contrite heart for my sins I beg of You to shower Your grace deep in my soul.

I don't want to leave, I want this peace and love to linger and be there with me all day, I want this warmth inside to continue with You Lord Jesus and Holy Spirit and God the Father. My Father, Who made me special, my Father, You created me as Your child.

I have a divine lineage. My Father is God. I am His precious child.

God speaks:

I have healed you and you will be set free - go in the mercy of God.

R.

Permeate my heart with Your love so I may know You more and more.

As a child of God, I have dignity, I am somebody - what would God not do for His child?

November 8, 1991 - 4:00 a.m.

Jesus:

From this day forward, you will have love, peace and joy.

You are drawn to Me like a magnet - come home to Me and feel the inner joy in your heart.

I am with you always to the ends of the earth.

I am your God and you shall not have other gods besides Me.

I will be with you - that is My promise. I will be with you forever more. Cling to Me for I am strong.

Do not be afraid, for I will gently show you the way of the Lord.

Matthew 11: 28-30

'Come to me, all you who labour and are overburdened, and I will give you rest. Shoulder my yoke and learn from me, for I am gentle and humble in heart, and you will find rest for your souls. Yes, my yoke is easy and my burden light.'

R.

Jesus, save me from the snare of the devil, from his seed. Plant me on solid ground so I can prosper and be full and follow the ways of the Lord.

For You have gently touched my heart and I am warm and cuddly inside.

Your wish is my command. I must follow the ways of the Lord in all things and follow His path, doing His will.

You will show me this path, if I am open to You. All I need do is ask, and I will be answered.

Open my heart and my will to Your direction, Lord Jesus. You are with me in the night, in the rising of the sun and during the day. In all my trials, You are there. Open up my heart to Your word.

The spirit is willing, but the flesh is weak. Give me Your direction so I might know what path You want me to take.

If I open my heart and listen, all will be revealed to me in His time. For the honor and glory of You Jesus Christ I ask these things in Your name and open my heart to Your

direction.

Please help me to put aside the ways of the flesh and follow Your direction, Lord Jesus, this day and always to dwell in the house of the Lord.

Song:

All My Days

R.

Today is one of those days. Sing praise to God our Father, Jesus, His Son, and the Holy Spirit. Honor and glory to You, GOD.

Thanks for this letter, You wake me from my sleep. I thought I heard a noise, but it was You waking me to talk to me. All honor be Yours for Your direction. It came from God and I

must heed these words.

God speaks:

Put your anger aside, and make room in your heart for Jesus' love I pour into you right now. Replenish yourself with My love and My grace and be still, for I am with you this day. I will watch over you, and comfort you, and bring you into the land flowing with milk and honey. Listen to My word and be glad so that all might see your good works and praise your Father Who is in heaven.

I bless you and keep you ever in My Heart. Be ready to do My will and be blessed by Me. Listen and be glad, for I am with you.

Go now and live My word, My child. I love you.

Jesus:

In the midst of confusion, be the light shining in the darkness, be life to those who are down-hearted. I have the power to do all things and I am within you, so you have the power to be My light to the world.

You are plugged into an undying source. I am there. I want to love, I want to give, I want to comfort and strengthen. I will do these things to My brethren through you, if you let Me.

Love your family, I have given them as gifts to you, to love and care for.
---

To The Reader (Continued)
Messenger: He taught me of His fervent love and how truly present He was. He taught me how precious I was to Him. Over and over again He would call me His precious child and tell me how He loved me, how He clothed me with dignity and honor. He told me over and over how He was right by my side always. He is teaching me to give up all fear and to trust in Him. He is teaching me to let go of myself and let Him run my life. I am trying every day to do His will.

He is also telling you in your heart all you need to know. He has all the answers for you there in your heart. You must be silent and go to Him so you can hear His words for you.

Sit in front of the tabernacle and be with Him. Sit and be open and just be with Him. Read these letters there. These are Jesus' love letters to you. Sit in front of the tabernacle and let Him talk to you. Sit silent awhile. Read these letters part of the time. Open any page and He will talk to you. Do not read this like a book, cover to cover. Just open to a page and read that page. That is the way He speaks to you.
---
Messenger: On October 5, 1992, I asked Him to use my hand, I said something like, "If you would write a book for the world, Jesus, what would you write? Use my hand."
---
Messenger: On August 16, 1993, He gave me the following message--
---
Message given August 16, 1993
Messenger: Dear Jesus, Please come to me and write to me now, I really need to be alone with You and hear Your words, please talk to me.

Jesus speaks: My dear child, put your fear and anxiety aside. You are coming for My truth. I am the Truth. I live in you and you are watered by My words of truth. Deception is very troublesome to you when you live in My truth. On any scale deception is not at all funny. I know you cannot watch a movie anymore, it is not of God. Do not give in to the ways of this world. Feed yourself with only that which is of Me. Turn your entire life over to Me, trust in My ways and make them your own. Read and reread each letter, go back to your old letters, know them by heart so My words and thinking will become engraved in you. You must speak from My truth. You must be filled with My wisdom. You must not falter or wonder, but be confident in these words I write to you. My work for you is to speak My truths. You must study them and know all I have taught you. Those are your lessons. All that is not of Me will become so foreign, you will want only to choose My way, but you must teach yourself with My letters. I am the WAY, the TRUTH and the LIFE and he who abides in Me will have the light of life. The life I give you is not of this world. It is rooted in My words and My truth. Only I can teach you My truths. This world is so full of error. Unless you keep constant in My teachings by reading My words, you will go astray. My words are the food by which you are nourished and fed. My words are your drink, they are your food, they are your all. You will run and not grow weary, you will fly like an eagle. Joy will abound in your heart and you will know that true joy comes only from Me. All other joy is momentary. My joy is everlasting and full to the brim, You, My child, can have this joy if you stay fixed in My words. Savor them and decipher all their meanings for you, this is your truth, this is your victory over Satan's lies. This is how you will help others to know Me. Your instructions are very clear, My child. STUDY each letter and try to understand all of its contents. They are words meant for you so you can speak these truths to others. It is not by chance you were chosen by Me, My child. You are a teacher, you are convincing in all you believe in. Believe in these letters and memorize My teachings until they flow from you as from your very soul. You must put aside your doubts now. Keep these letters by your side. Your life here will be always put into perspective. You will not get caught up in foolishness, or worry for any reason. I AM HE, I AM here. Your work is clear, study and learn My words so they become engraved in you. Speak of My words to all. I am the Way, the Truth and the Life and you are My messenger. I speak the truth to you that you will speak the truth to all. No time to wait, time is so short. Be busy studying My teachings now. Keep them in your purse, underline and read them again and again. These are not just for you, they are teachings of My love for all My children. Each child needs to be told about My love. Reach as many as possible through your speech. I am by your side, giving you what you need. The crooked ways are made straight, the weary are sent away in rest. Your voice will be My tool to reach many. Make yourself like jello. I will form you into what I want you to be. You must remain formless and be molded by Me. I am this close to you, My child. You will take some knocks, but you will be the key to unlock many doors. Use you I will, let all busy things behind. Focus on Me at every moment. This is My desire for you to speak My truth. I will be with you, little one, do not be afraid. I will tell you the way.

Messenger: Oh my Jesus, how You want me to do this I do not know. Show me how it is to come about or put me somewhere and I will now study Your words for me. For He made me humble and taught me His ways, which are the only ways to go. All other ways are not of any account. His way is the way to victory, the cross that leads us to glory, joy and peace in this life and glory and salvation in the world to come. He bound up my foolish ways and taught me His truths. My tongue was made clean, and my heart was full of His love. He cast away my doubts and fears and filled me with the gifts of the Spirit. His light He shined deep into my soul and He washed me in His Blood and I was made ready to do His work, an honor that I do not deserve, but long to fulfill for Him, my God, my All, my Jesus. Him I love and He has bestowed on me a great dignity. With love and respect He clothed me and made my broken heart and soul whole in Him. I am the fortunate one to know this one, true magnificent God. I bow in awe at all His greatness.

I am in awe at His love for us all. In our lowliness and sin He reached out and clothed us with dignity and showered us with His love and we were like the flowers after the rain, blessed by Him in His greatness. We are His children, Alleluia, Alleluia. Praise the Lord. Amen.
(End of Message given August 16, 1993)
---
Messenger: Today we give you these writings from God and Mary.
---
Blue Book I

May 13, 1993 to
December 31, 1993

Blue Book II

January 1, 1994 to
March 31, 1994

Blue Book III

April 1, 1994 to
June 30, 1994
---
Rosaries from the Hearts of Jesus and Mary
Red Rosary Book

July 5, 1994 to
September 5, 1995

Parents & Children Rosaries

November 2, 1995 to
March 20, 1997

Mass Book

September 1, 1995 to
December 31, 1995,
December 1996 and some
January 1997
---
Apostles Manual

October 13, 1996 to
April 1, 1997

Daily Message Book I

July 8, 1998 to
August 31, 1998

Internet Messages

July 8, 1998 to
August 25, 2000
---
August 25, 2000 - Second Message
This is a note for the apostles of the Sacred Heart of Jesus.
Messenger: My dear apostles,
I give my heart to Jesus and Mary with you in love.
Jesus speaks: You do not live in a vacuum. All the people around you can affect things that you might do. Take charge, you are in control of yourself and your emotions. You must learn to handle the cross, to know many times you are asked to endure and suffer. Be loving, be kind, you are judged by how you chose to love or gave in to the temptation to hurt others. One person affects another. I give you a free will. You must pray for grace, I will give it to you, but you are asked to endure many irritating things in your lives and not pass the irritation on to others.
Remember this, pray hourly, that will help you, it will keep you connected to Me. Even if you pray only a short prayer, pray. I am with you, I am with you. Trust in me, I am there. Satan will have others focus on yourself. Just because someone asks you a question from the outside does not mean that you have to answer him. Because I am giving you messages does not mean you have to reveal the personal history of My messenger or your personal life. You have been called to spread My message I give to the world. Others that do not respect that and think they have right to questions you may not (people from the outside). Your job is to deliver My messages. I want you to guard My mission and My Movement, love it, do not discredit it in any way, stand up for it - I gave it to you to promote it. I called you to this. It won't feel good in your heart when you talk about each other or My Movement. I am not telling you to hide big problems, but Satan has created a lot of problems that could be averted if you read the messages and write your feelings in a letter to me rather than picking up the phone and complaining. Hold your tongue, it is the doorway by which I enter your body. Keep it HOLY. Satan wants you insecure and full of fear. This is My mission. I, Jesus Christ, have called you to it, that is a gift. My Mother has asked you to help her.
Look to heaven, do not give in to traps set by Satan to avert you from your job to plant good seeds and do good things and pray. Prayer is the answer. I will help you, you must trust Me.
Messenger: Pray for Perry, pray for an urgent intention, pray the Blood of Jesus is on all involved, cast the devil out, consecrate their hearts, ask for the coming of the Holy Spirit. Do this for everyone in the Movement, all apostles, servants, handmaids, and associates. Pray for 3 other special intentions - one very urgent - Pray for grace and money, Father's newsletter and Sheila, all internet messages.
Dear Father, Help me to control my tongue, to speak when You will it and to be quiet when You will it.
If you desire reference, September 3, 1995, Mass Book, click on.
---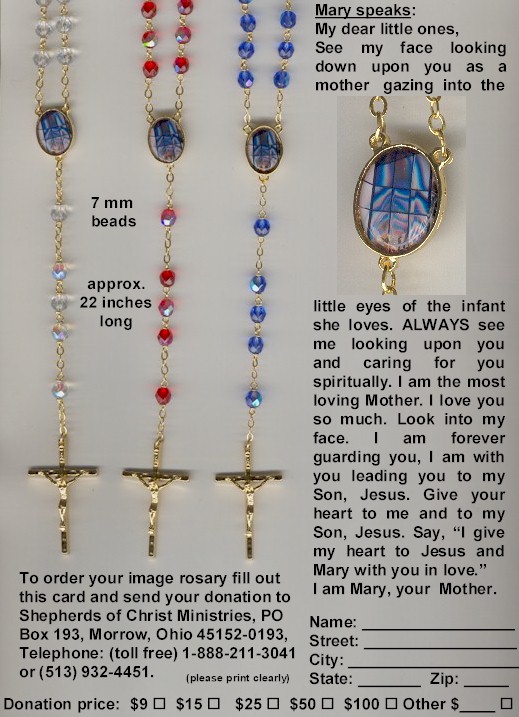 (Please copy and pass out to family and friends.)
---
Mary's Message from the Rosary of August 27, 1996
Mary speaks: I stood beneath the cross of my Son, and my Heart was in such pain for I saw Him before my eyes. I saw Him covered with blood. I saw Him die. My Heart, my children, my Heart to watch my Son, but my Heart, my Heart, how I suffered for my little children of the world that give in to this world and give up the love of my Son. O my little children of light, I give you this message. Carry this light into the darkness for your Mother Mary, for I stood beneath the cross and I cried. I cried for the little ones. I cried for the young ones, the ones that do not care and will lose their souls. How do I make you see for you will not listen to me? What can I do? I come. I appear. I beg. I plead. I give you these gifts from my Son, and you reject me. I do not deliver messages very often anymore for I have been ignored. The message is the same. You do not read the messages I have given to you. Please help me. Help the little children. I appear. I appear. I appear, and I am ignored. I stood beneath the cross, and I cried. I cried, and my Heart was in such anguish for my little children, for I am searching for them this day as I searched for the Child Jesus. Please, please help me. I cannot hold back the hand of my Son any longer. I am Mary, your Mother. I ask you to help my children. You are my children of light.

Song: O Lady of Light, shining so bright, be with us this day, guiding our way, O Lady, O Lady of Light.

Mary speaks: I appear to you as Our Mother of Sorrows.
(End of Mary's Message)
---
MY VALENTINE FOR JESUS AND MARY
AND THE WORLD

I _________________ give my heart to
You Jesus and Mary on this day
_________________
I promise to help spread the devotion to
the Hearts of Jesus and Mary.
---
Question for married couples and others in intimate relationships:
Q: How do I feel I can help create harmony by spending more time writing my feelings to Jesus in a feeling letter and reading His letter back to me from God's Blue Book?
---
---
---
Copyright © 2000 Shepherds of Christ.
Rights for non-commercial reproduction granted:
May be copied in its entirety, but neither re-typed nor edited.
Translations are welcome but they must be reviewed for moral and theological accuracy by a source approved by Shepherds of Christ Ministries before any distribution takes place. Please contact us for more information.
All scripture quotes are from the New Jerusalem Bible, July 1990, published by Doubleday.
Revised: August 25, 2000
URL: http://www.SofC.org
Contact Information for Shepherds of Christ
Email: info@SofC.org
---
Shepherds of Christ Ministries
PO Box 193
Morrow, Ohio 45152-0193

Telephone: (toll free) 1-888-211-3041 or (513) 932-4451
FAX: (513) 932-6791