Homily delivered by Father Carter
in China, Indiana
September 8, 2000
Matthew 1:18-23
Joseph adopts Jesus as his son
This is how Jesus Christ came to be born. His mother Mary was betrothed to Joseph; but before they came to live together she was found to be with child through the Holy Spirit. Her husband Joseph, being an upright man and wanting to spare her disgrace, decided to divorce her informally. He had made up his mind to do this when suddenly the angel of the Lord appeared to him in a dream and said, 'Joseph son of David, do not be afraid to take Mary home as your wife, because she has conceived what is in her by the Holy Spirit. She will give birth to a son and you must name him Jesus, because he is the one who is to save his people from their sins.' Now all this took place to fulfil what the Lord had spoken through the prophet:
Look! the virgin is with child
and will give birth to a son
whom they will call Immanuel,
a name which means 'God–is–with–us'.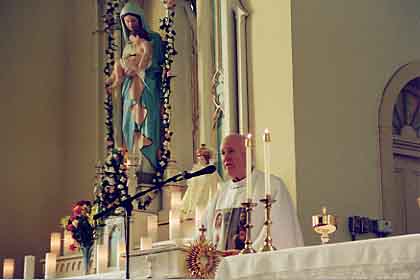 Father Carter's homily
We notice that the Church in Her liturgy for the celebration of the birthday, the Birth of Mary, immediately puts her with Jesus:
"She will give birth to a son and you must name him Jesus, because he is the one who is to save his people from their sins." (Mt 1:21) – words from today's Gospel.
And so the Church reminds us that Mary was born for the sake of Jesus. Again, in celebrating her birth, the Church links her very, very directly with Jesus. Yes, this is the reason for her birth: to be Mother of Jesus, and in doing that, everything else about her takes its proper place.
And just as Mary was dedicated entirely to Jesus and to His cause, we in giving her a birthday present of the highest value can only promise her, "Mary, as you were completely dedicated to Jesus, help me be completely dedicated to Him. You were His first and perfect disciple. Teach me to imitate you in the putting on of Christ."
end of Father Carter's homily
---
In the world today – we see the
attack on marriage by the
devil –
Marriage is one of the 7 sacraments –
It is sacred in the eyes of God –
Even though there may be some
situations in which
annulments are granted –
Marriage is important in
the eyes of the Church –
In the eyes of God –
Marriage is sacred –
God gives grace in marriage
---
God is showing us that He
uses marriage to prorogate
the species
A sacrament is an external sign
instituted by Christ –
to signify and confer grace.
Christ instituted marriage
as a sacrament –
The devil wants people to
write their own rules and
to try to enforce those
rules against God's rules –
The devil tries to get men to
use force to discredit authority,
structure, rule.
Marriage implies contract –
A Catholic must be married
properly or he is not married
at all – even though there
was a marriage ceremony –
The devil attacks contracts
that are valid Godly
contracts –
The devil wants priests, religious
to abandon their vows,
married people to go against
their marriage vows –
The devil wants men to
lose their souls –
he wants them to give bad
example to
oppose and rebel against God –
so others see the confusion,
the disrespect, the disorder –
The devil wants people to rise
over authority and do whatever
they want –
When many under God
oppose just authority and
they are doing what they
want – there is destruction
collapse, disorder –
The devil is all about
power - over –
God is telling us about
obedience to the Father's
will

The Our Father
Our Father, Who art in heaven, hallowed be Thy name. Thy Kingdom come, Thy will be done on earth as it is in heaven. Give us this day our daily bread and forgive us our trespasses as we forgive those who trespass against us. And lead us not into temptation, but deliver us from evil. Amen.
R. The devil appeals to what is especially
weak in a person's wounded human
nature.
Who is the Master –

Genesis 4:2-7
She gave birth to a second child, Abel, the brother of Cain. Now Abel became a shepherd and kept flocks, while Cain tilled the soil. Time passed and Cain brought some of the produce of the soil as an offering for Yahweh, while Abel for his part brought the first-born of his flock and some of their fat as well. Yahweh looked with favour on Abel and his offering. But he did not look with favour on Cain and his offering, and Cain was very angry and downcast. Yahweh asked Cain, 'Why are you angry and downcast? If you are doing right, surely you ought to hold your head high! But if you are not doing right, Sin is crouching at the door hungry to get you. You can still master him.'
R. If a person does things for
their own selves,
against God's will,
for their convenience,
then they are not putting
God first – it is for
their own vain glory –
The devil wants souls dead
in sin –
The devil comes in disorder
and it is against
God's will –
From the Shepherds of Christ Priestly Newsletter 2000 Issue 3

Pope John Paul II instructs us: "The Church, as a reconciled and reconciling community, cannot forget that at the source of her gift and mission of reconciliation is the initiative, full of compassionate love and mercy, of that God who is love (see 1 John 4:8) and who out of love created human beings (see Wisdom 11:23-26; Genesis 1:27: Psalms 8:4-8)…He created them so that they might live in friendship with Him and in communion with one another.

"God is faithful to His eternal plan even when man, under the impulse of the evil one (see Wisdom 2:24) and carried away by his own pride, abuses the freedom given to him in order to love and generously seek what is good, and (instead) refuses to obey his Lord and Father. God is faithful even when man, instead of responding with love to God's love, opposes Him and treats Him like a rival, deluding himself and relying on his own power, with the resulting break of relationship with the One who created him. In spite of this transgression on man's part, God remains faithful in love.

"It is certainly true that the story of the Garden of Eden makes us think about the tragic consequences of rejecting the Father, which becomes evident in man's inner disorder and in the breakdown of harmony between man and woman, brother and brother (see Genesis 3:12 ff; 4:1-16). Also significant is the Gospel parable of the two brothers (the parable of the 'prodigal son'; see Luke 15:11-32) who, in different ways, distance themselves from their father and cause a rift between them. Refusal of God's fatherly love and of His loving gifts is always at the root of humanity's divisions.

"But we know that God…like the father in the parable (of the prodigal son), does not close His heart to any of His children. He waits for them, looks for them, goes to meet them at the place where the refusal of communion imprisons them in isolation and division. He calls them to gather about His table in the joy of the feast of forgiveness and reconciliation.

"This initiative on God's part is made concrete and manifest in the redemptive act of Christ, which radiates through the world by means of the ministry of the Church."
13
13. Pope John Paul II, as in Celebrate 2000!, Servant Publications, pp. 140-141.
R. The more one opposes God,
rebels against God's
will – the more he
moves away from grace



R. Am I ready to ask God's
forgiveness of my mistakes
and how I have hurt others –
Do I forgive myself and
admit the truth so I am
not acting like a wounded
denying soldier
We were created to be united –
We were created to have relationships –
Matthew 22: 36-40

'Master, which is the greatest commandment of the Law?' Jesus said to him, 'You must love the Lord your God with all your heart, with all your soul, and with all your mind. This is the greatest and the first commandment. The second resembles it: You must love your neighbour as yourself. On these two commandments hang the whole Law, and the Prophets too.'
R. There are feelings of grief and loss
that can make people
rigid and not trust others
or work on relationships.
Not loving, not having relationship
is opposing doing what
God made us for.
Many can wear a mask and dull
the emotions needed in really
being alive in their hearts.
Some people stuff feelings because
they don't want anyone to know –
if they feel it will let the lid
off all they are controlling
in their hearts.
It can be like a can of rubber
bands in a stuffed can –
A person who has stuffed feelings
for years, are careful not to
let that lid come off and the
rubber bands go all over –
God intended us to love and trust
and have feelings, if we
wear a mask of armor
not to feel –
what is worse than the pain
is the loss we impose
now of losing life
and living life because of
the mask and rigidity we
could impose now –
Healing from losses must be
a time of recovery –
not hiding the truth about
losses, and hurt, living in
denial and using addictions to
handle our stuffed feelings.
Am I powerless over my grief
or losses –
have I healed or am
I trying to control it?
Do I control myself so I never
lose control?
Do I trust others – a
certain really good
friend –
How can I trust God if
I never trust anyone else?
Do I open my heart or hold
it locked up like a vault?
Jesus appeared rubbing His Heart!
There are others who have suffered –
we must realize we are
never alone –
We are called by God to be honest
with ourselves – to be honest
about losses and seek healing.
If some people are locked in hurt
and anger – when anger builds
up in them – they can try to provoke
others – to make an emotional
dependence on them for their
anger and hurt –
Some become so sealed in not expressing
feelings, which is God's way
for us, that a person sealed up
can project their anger and hurt on
others when the fact they express
nothing, but control rises up.
Jesus: Some people never lived in the
present – they can project anger
on innocent others and play
endless games. Recovery is
vital.
October 5, 1992 - 3:30am

R. Dear Jesus, Give me Your hand to write this book for you. I am your servant. I want to be Your hand to this world. If you, Lord Jesus, would write a book, what would you say?

Jesus: My dear children,

Today I come to deliver a message to each of you. I want to tell you of each person's dignity, of their beauty and their self-worth. Each child is, oh, so uniquely precious to My Most Sacred Heart. Each child is full of the talents I have given to them. Each person is divinely created by God and given all these gifts to be happy and love one another.

The problem comes when you feel you will be left out. That you will be left by another who has trodden on you and will do it again. I see you all as My most precious children. I watch your every move and know all pain and anguish in your heart. My Heart aches, you have insecure feelings about yourself. I came to this earth I died for you. I felt cold, hungry, lonely on this earth. You need not worry that no one knows the pain and anguish in your heart. God created you with such special gifts and talents. It is important for you to raise above your wound and forgive those who hurt you.

You need only turn your will and your life over to Me and I will guide you in all your ways. I have all the Power. Many are not of My ways. The key to life is to recognize your faults, but still know you are this precious gift of My Father a gift to this world. This world is in need of your strength. Running yourself down, blaming others hurting them can cause you misery and pain. At this very moment, you are the precious creation of God!! You must operate with Me in your heart.

You need not run yourself down. I am with you every day guiding your ways, lest your foot stumble and you lose your way. You will not wander far from your path if every day you keep bringing your focus back to Me. If you dare let Me be at the helm, if you dare to really let Me run your life, I will do with you such wonders that you yourself would be amazed. But you will know with such ease when you did these things that you did not do them alone. You will know My power, moving the mountain, My power chipping at the stone, My power working on your hardest problem and you will be set free.

Oh yes, you will be set free and know a serenity that only comes from letting go and letting Me run your life. To you, My child, I have given all that is good. I made you My holy soldier, My warrior in a world of pain and hatred. You are the light that shines in the darkness, you are the coat to a cold child, you are the smile that warms a troubled and lonely heart. You are the comfort for everyone you meet, because My most precious Heart powers you, smiles through you, understands and loves through you.

Love your fellows for Me. There are so many troubled hearts that need to know My love. I can love through you if you let Me, I can be their friend through you if you let Me. I am He who comforts you and you are he who comforts them. My power is endless, it never runs out, there is not a power failure EVER. In your darkest hour, My light shines in the darkness and I say to you, "Oh blessed of My Father, look at yourself with awe, you are My creation, you are indeed so precious to Me, you are My light to this world, you are My hands and My feet and most of all My Heart."

Oh, you are My loving Heart, to those who are bowed down, to those who are lost in the darkness, you carry My smile and wear My armor in a world that is trying to tear one another down with hate and ugliness. There is gentleness, there is love, there is hope in you, if you open yourself up to Me. Be My knight to the world, wear My armor. I am your God and I will protect you from the darkness. Plug into My power, be not afraid, I go before you always and you can rest in My arms when you feel weary. You can put your head in My lap and weep, you will know, I am truly with you and you are My light to this world. I created you so special - to cast out fear in the darkness, to clothe the naked, to give hope to the oppressed, to be as I live in you and love through you and you are My smile and I touch My hurting ones through your love.

You are he who loves this world. You must stay plugged into My power-source. This world is hungry for My love. It needs My love, I give to them through you. I am your God and I made you as a gift to the world. You are filled.

Focus on Me and your life will be abundant and whole, joy in suffering, freedom — but you can take the knocks because you will know you do not go it alone, but with Me. I love you My precious child.
end of October 5, 1992
R. Jesus says one must be
accepting responsibility for their
actions and bad example
and being accountable
for the damage done by their
actions.
Jesus says
Passive-aggressive games to force one's
abuse on others is wrong!
Jesus: A person projecting bad behavior
on others, playing games
to act out hurt feelings
in the past and
anger stuffed and acted out
on innocent others, must
ask themselves if they want
to heal and take off their mask –
Are they willing to surrender
and change their bad
behavior and the way they try to
make others responsible
for their emotional abuse?
You are to be honest with
yourselves and live to
change to be more and more
likened to Me.
If a person uses force or games
to try to control others
with money or materials
they are playing emotional
control games to act
out their own problems
that need to be addressed.
Ask yourself the question –
What would Jesus do?
Force is used to implement
evil –
Look at World War II –
People can try to force others by using
money, things needed for living,
to get them emotionally immersed
in their emotional abuse and
their rigidity and masks –
Do you have good and loving self-
esteem?
Do you love yourself –
really love what God
created you to be and are
free to do the work I called
you to?
You are to live every day and to
advance in the spiritual
life –
You are to have joy in your
hearts and not unhappiness –
You are to be truthful and make
amends to those you
have hurt.

THE TWELVE STEPS OF AA
Here are the steps we took, which are suggested as a program of recovery:

1. We admitted we were powerless over alcohol,
that our lives had become unmanageable.

2. Came to believe that a Power greater than
ourselves could restore us to sanity.

3. Made a decision to turn our will and our lives
over to the care of God as we understood Him.

4. Made a searching and fearless moral inventory of ourselves.

5. Admitted to God, to ourselves, and to another human
being the exact nature of our wrongs.

6. Were entirely ready to have God remove all
these defects of character.

7. Humbly asked Him to remove our shortcomings.

8. Made a list of all persons we had harmed,
and became willing to make amends to them all.

9. Made direct amends to such people wherever possible,
except when to do so would injure them or others.

10. Continued to take personal inventory and when we
were wrong promptly admitted it.

11. Sought through prayer and meditation to improve our
conscious contact with God as we understood Him,
praying only for knowledge of His will for us and
the power to carry that out.

12. Having had a spiritual awakening as the result of these steps,
we tried to carry this message to alcoholics,
and to practice these principles in all our affairs.
R. Hitler advanced over Europe
so many millions were
killed –
War games –
Death camps –
Other countries tried to
end the catastrophe –
Evil spreads –
Children, babies were
murdered –
millions and millions –
gassed – shot –
killed naked, starved –
The devil is acting through
men who are disobeying
the will of God.