Parable of the ten wedding attendants
Then the kingdom of Heaven will be like this: Ten wedding attendants took their lamps and went to meet the bridegroom. Five of them were foolish and five were sensible: the foolish ones, though they took their lamps, took no oil with them, whereas the sensible ones took flasks of oil as well as their lamps. The bridegroom was late, and they all grew drowsy and fell asleep. But at midnight there was a cry, "Look! The bridegroom! Go out and meet him." Then all those wedding attendants woke up and trimmed their lamps, and the foolish ones said to the sensible ones, "Give us some of your oil: our lamps are going out." But they replied, "There may not be enough for us and for you; you had better go to those who sell it and buy some for yourselves." They had gone off to buy it when the bridegroom arrived. Those who were ready went in with him to the wedding hall and the door was closed. The other attendants arrived later. "Lord, Lord," they said, "open the door for us." But he replied, "In truth I tell you, I do not know you." So stay awake, because you do not know either the day or the hour.
R. Paul is writing to Thessalonians —
telling them not to be immoral —
In Leviticus — God says
Leviticus 19: 2

..."Be holy, for I, Yahweh your God, am holy.
R. Holy Means set apart —
not like the crowd —
Parable of the 10 virgins
Bridegroom would go
to the house of the
bride —
Oil is symbol of something
you can't give to
somebody else —
Like somebody who studies in school —
they have to take their own test —
they can't give knowledge on
a test to somebody else
Jesus says — we have to be ready —
preparing is what God
calls us to, a lot —
preparing for a wedding is
something we prepare for —
We are always ready —
preparing for the day
when this life ends —
always preparing to be
ready to meet Him,
when He comes —
We need God's help in our
lives —
We pray for the Church leaders —
For all of us so we are
ready to stand before
the Lord —
For those facing diseases and
praying for God's
healing touch —
Praying for those in the path
of Irene —
Praying for those with cancer
and terminal illness—
Oh God give us the grace
to humbly say we are
sorry and
not add sin to sin by
seeing ourselves as unable
to ever admit we sinned
and hurting our soul
Jesus says: Lift up your hearts —
R. God we thank You for Your gifts
God we love You —
God we adore You —
By the Precious Body and Blood of Jesus we are saved —
Help us to be prepared to meet You —
Help us to prepare by seeing our
sins and having real sorrow
for offending You —
Not lie about how our sins
offend You —
Not act like we have not sinned
when we sin —
Not be disobedient to those
over us
Not be jealous of those over
us when God has blessed
us through them and we need
to be grateful, not heap
sin upon sin because
of our prideful hearts —
The Our Father
Our Father, Who art in heaven, hallowed be Thy name. Thy Kingdom come, Thy will be done on earth as it is in heaven. Give us this day our daily bread and forgive us our trespasses as we forgive those who trespass against us. And lead us not into temptation, but deliver us from evil. Amen.
Lamb of God
Lamb of God, Who takes away the sins of the world, have mercy on us.
Lamb of God, Who takes away the sins of the world, have mercy on us.
Lamb of God, Who takes away the sins of the world, grant us peace.
Song: A Song from Jesus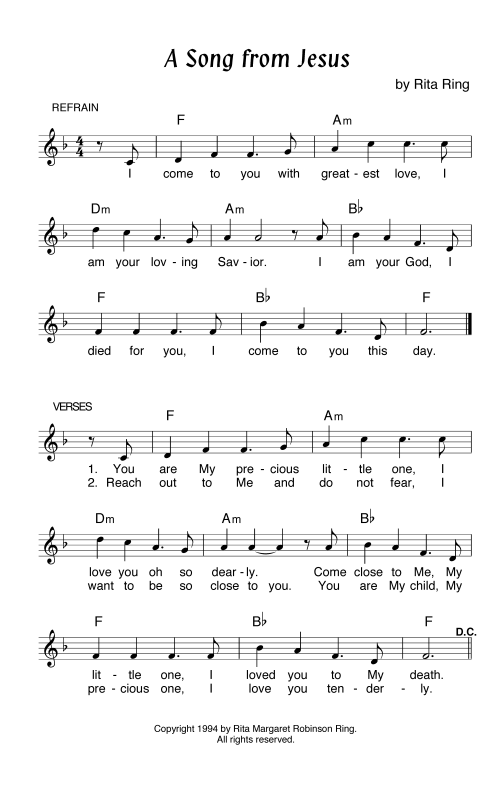 R. Jesus is the Savior and we need
to be saved — we are
all sinners —
God knows our sins!!
Jesus suffered for our sins!!
Jesus: To be filled up with unforgiveness,
anger and pride means you have
to be rigid to control yourselves and
show everyone your 'perfect
image' —
controlling the 'pot of anger' —
if you do something wrong
rather than quickly asking
for forgiveness —
You are more angry —
It goes to your core —
that you were shown otherwise;
not being able to stand before others looking weak —
So you strike out in anger,
punishment, wrath,
You are your god —
The humble man wants
unity — he has not raised
himself to such
perfect heights and the
humble man is genuinely sorry when
he sins — thoughtful of others —
not thoughtless or
focused on themselves
The humble man asks for forgiveness
wanting to repent and restore the relationship.
Love is about relationship —
Love is about mending the fence —
not tearing down the whole
fence because of anger —
When I call will you be prepared.
In love you lose a loved one,
But they come home to an
eternal reward far greater
than you know for those
who loved and served the Lord
Love is giving with a heart
of love — not to prove you
are great and when you fail
you pull the rug out from
the person you gave to —
Give to serve Me, not yourself —
not for your vain glory —
Love because you are likened
to Me — I gave My all —
I died for your sins —
I was crowned with thorns
for your pride
Now babies are taught obedience —
to obey rules — to admit
they are imperfect human
beings — to say they are
sorry — to love after they
sin because they repent and
are restored in love in their
relationship with Me and others —
Love is giving —
Humility is truth —
A dog was wounded and when the
vet came — the dog
wanted to bite him —
Those who are wounded and
filled up with darkness —
want to strike out at
others —
Love is giving for the sake
of building the Kingdom —
doing God's will —
Being obedient —
Being meek —
Not a pot ready to go off —
because it is full —
Jesus: You try to judge Me and what love
is by your hard imperfect
hearts — like the men who made me
stand trial and put me to death —
If you do, you don't really learn
about the tenderness of
God's love
A man who doesn't
work in loving relationships
may learn very little
about giving and taking and
when I sweat blood in
the garden —
You cannot ever comprehend
what the love of My
Heart in such purity
endured for love of
you and your sins and
your stilted heart —
Instead of learning
more about My love —
you can punish, provoke and
abuse others when you
are jealousy and angry
in your heart, lustful,
prideful and acting in
your impurities —
Your anger pierced My
Heart — Your division
made Me bleed and when
I tried to teach you about
the unity I want with
Me and your brothers
you fought Me to prove
your jealous divided
heart is right — and it is not —
You hurt others with
your divided ways
then justify your
hatred, anger and
sin —
I am love —
These hard hearts
are not like
My Heart of love
Song: Give Me Your Heart oh Jesus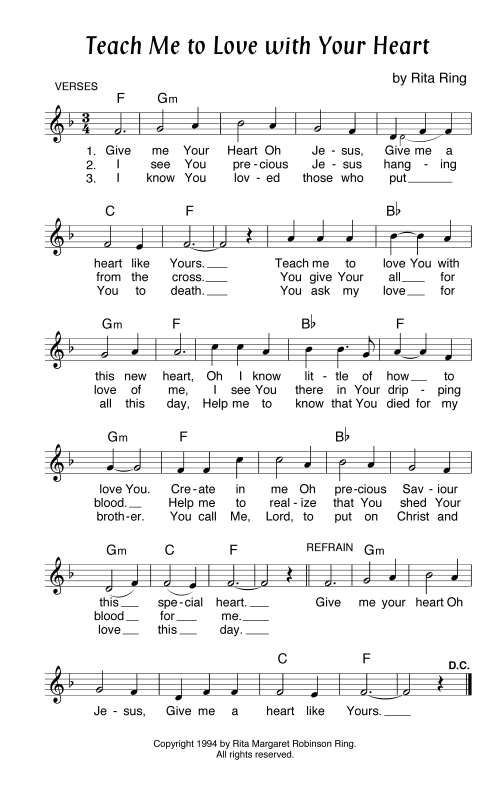 Jesus: Don't justify your
abuse —
To wish to have forgiveness of
sin, means you are
sorry for your
sins
You do not justify yourself for sinning —
Lies —
Satan is the father of lies —
These sins you commit,
your lies divide
you from Me and others
That is the truth —
No matter how many
lies you tell yourself and
abuse to convince
somebody of your
lies — sin is sin —
repentance is what will
make you close to Me —
Saying you are sorry —
means you are
sorry —
Not trying to justify yourself
for sinning
A man killing someone
can give you a reason —
but he sinned —
A woman killing a baby
in abortion had
a reason, but she
sinned mortally —
Sinning is sinning and
you are to have sorrow
for sin and repent
Some want to be right
in their evil —
This is not from God
Lord we have sinned
against You and we
are sorry —
help us to be one in
mind and heart


R. Union with the will of God
makes us free,
When we act against God's
will we make ourselves
a slave of satan —
Unity is the purpose of our
lives —
The devil attacks unity —
Our will should be one with
the will of God —
What is important is the will
of God —
God controls the sun and
the stars —
God controls the air we
breathe —
God controls the universe —
The very hairs of our head are
numbered —
God knows what will happen
tomorrow and when we
are one in Him we
live to do His will,
with His might —
in unity —
If we excuse ourselves
when we have spoken against
His will —
It is like Saul —
He did not obey and he
made excuses why
he was right to
not kill as he was
told, so Saul offered sacrifice
instead of obeying
because he further
would not wait for
Samuel as Samuel
told him —
God wants us to do His will —
God wants us to love, and when we
sin to be sorry for
the offenses we did to
God —
Satan wants us to sin and
tell ourselves what we
did was right —
Satan lies to turn right to
wrong and wrong to right —
Satan is the father of lies —
Our lives are to be lived doing
God's will in a good
disposition.
We control ourselves —
Fr. Carter talks of asceticism
Fr. Carter talks of discipline —
St. Ignatius speaks of discernment
of spirits
We are to make God's will our
will —
God is the Creator —
God is all good —
God is all loving
God is all powerful —
Our freedom lies in
telling the truth —
God wants us to live actively —
being one in Him —
in the present moment —
We are to stay focused on Jesus —
How Mary and Jesus lived the
Father's will —
How the Father's will is
the rule of heaven —
Follow in the footsteps of Jesus,
Not following the way of the world,
Not doing things to please others,
Jesus calls us to live in
the moment — not to
be rigid, guarded, defending ourselves
because we have to be right —
Union doing the will of God makes
us free —
We see Jesus, beaten, bloodied,
torn, crowned with thorns,
doing the will of God in love —
God corrects us by those over us —
God gives us a conscience —
God gives us the commandments
as our moral guide —
God calls us to do good and
avoid evil —
We can have a true or correct
conscience if we make
judgments that are true and correct —
A false conscience can occur
if we fail to see sin
where sin actually exists —
the conscience is lax —
Also a false conscience can
find sin where there
is none —
We seek to have a true
conscience — one rooted
in truth — correct judgments
We can choose an action —
We should choose by
our conscience and
want to follow
God's commandments
with our whole heart
making good judgments —
We are to examine our conscience —
examining our conscience
at least once a day —
twice if we are a religious,
or want to follow God —
See how God has blessed us —
Thank Him for His blessings
See if we are in desolation —
---
An infant does not have
the age of reason — etc.
---
We should seek a certain conscience,
not lax, not false,
but true —
Laws are how God formed
the rules of nature —
We act by God's will to be
more and more likened to
Him —
God has elevated our human nature
in baptism —
An act to be good, must
be good in its nature —
It's purpose
A husband loving his wife is a good
act —
People dealing with those they
live with are to be
loving, kind, not try to
provoke, treat people cold and
make them mad or disrespect
and abuse them
Hating a person by nature
is bad.
Going to Mass to love God is
good —
If we go and we are trying
to look holy before men,
or make people see how
angry we are —
it is bad —
A doctor is to try to help
a person get well —
A spiritual person to help others
to grow spiritually —
The circumstances for an act
are to be good —
We are to have a good intention
toward others for why
we act —
Once baptized,
We want to stay in the state
of grace —
To get to heaven we must
love and follow God's rule —
Matthew 22: 36-40

'Master, which is the greatest commandment of the Law?' Jesus said to him, 'You must love the Lord your God with all your heart, with all your soul, and with all your mind. This is the greatest and the first commandment. The second resembles it: You must love your neighbour as yourself. On these two commandments hang the whole Law, and the Prophets too.'
R. Faith — to see God's Plan
to believe God
Hope we trust God's promises —
we act to try to
get to heaven
Charity — There by how we
are one in God
God is love
1 Corinthians 13: 8

Love never comes to an end. But if there are prophecies, they will be done away with; if tongues, they will fall silent; and if knowledge, it will be done away with.

R. Prudence — to judge rightly —
what will be an advantage
to our soul —
Justice — giving others what
is their do —
God first
(1) adoration
(2) gratitude
(3) love
(4) reverence
(5) reparation
(6) enthusiasm for what
He calls us to do —
(7) honesty
(8) constancy —
(9) cheerfulness
(10) truthfulness
(11) order
(12) courtesy sincerity
Obedience — loyalty
doing God's will
Fortitude — strong to do
good when others are
sinning — constancy,
courage,
endurance, faithfulness,
reliance
forgiveness
Temperance
moderation when it
comes to pleasures —
sound reason —
Humility — truth
Meekness — mildness
not combatal —
self-mastery —
tact
kindness
---
Deadly Sins
Anger — quarreling, fighting
hatred etc.
Gluttony — giving into food
liking food more than God —
drunkenness
We need moderation and temperance
Envy — discontent
uneasiness because of others'
accomplishments and
good fortune
even hatred
desire to have equal
what friend has
Sadness and acting out
on another who
has talents and good
fortune
Envy leads to hatred and other
sins —
Envy is because of
selfishness, pride
God wants a loving heart,
brotherly love
Slothfulness — laziness —
Neglects one's duties
We should be diligent in
our duties for God —
---
Pride — love of self over God —
serving ourselves more
than God
God calls us to humility —
Covetousness —
Jealousy towards others'
goods
discontent
lying
violence
We offend God by the smallest
sin to lie to ourselves
about our sins —
hurts us the most —
our union with God
God wants us to be united
NOT DIVIDED
Exodus 20: 2-5
'I am Yahweh your God who brought you out of Egypt, where you lived as slaves.

'You shall have no other gods to rival me.

'You shall not make yourself a carved image or any likeness of anything in heaven above or on earth beneath or in the waters under the earth.

'You shall not bow down to them or serve them. For I, Yahweh your God, am a jealous God and I punish a parent's fault in the children, the grandchildren, and the great–grandchildren among those who hate me;
1 Corinthians 10: 12
Everyone, no matter how firmly he thinks he is standing, must be careful he does not fall.
R. God is love
God gave us gifts at
baptism —
elevating our knowing
and loving capacity —
God gives us a
sharing in His
life at baptism
God outpours His grace
in the sacraments
VIRTUES — Good habits
VICES — Bad habits
John 3: 16
For this is how God loved the world:
he gave his only Son,
so that everyone who believes in him
may not perish
but may have eternal life.
Apostles Creed
I believe in God, the Father Almighty, Creator of heaven and earth; and in Jesus Christ, His only Son, our Lord; who was conceived by the Holy Spirit, born of the Virgin Mary, suffered under Pontius Pilate, was crucified, died and was buried. He descended into hell; the third day he arose again from the dead; he ascended into heaven; sits at the right hand of God the Father Almighty; from thence he shall come to judge the living and the dead. I believe in the Holy Spirit, the Holy Catholic Church, the communion of Saints, the forgiveness of sins, the resurrection of the body, and life everlasting. Amen.
Holy Spirit Prayer
Come, Holy Spirit, almighty Sanctifier, God of love, who filled the Virgin Mary with grace, who wonderfully changed the hearts of the apostles, who endowed all Your martyrs with miraculous courage, come and sanctify us. Enlighten our minds, strengthen our wills, purify our consciences, rectify our judgment, set our hearts on fire, and preserve us from the misfortunes of resisting Your inspirations. Amen.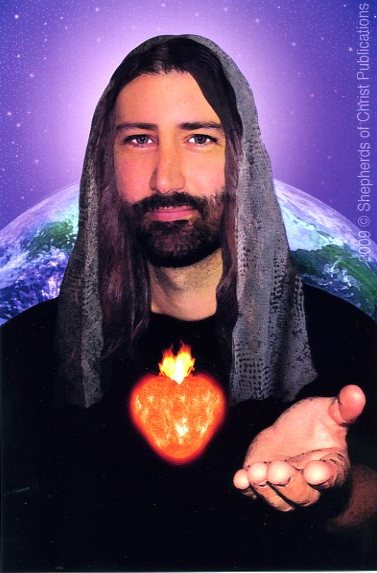 Prayer for Union with Jesus

Come to me, Lord, and possess my soul. Come into my heart and permeate my soul. Help me to sit in silence with You and let You work in my heart.

I am Yours to possess. I am Yours to use. I want to be selfless and only exist in You. Help me to spoon out all that is me and be an empty vessel ready to be filled by You. Help me to die to myself and live only for You. Use me as You will. Let me never draw my attention back to myself. I only want to operate as You do, dwelling within me.

I am Yours, Lord. I want to have my life in You. I want to do the will of the Father. Give me the strength to put aside the world and let You operate my very being. Help me to act as You desire. Strengthen me against the distractions of the devil to take me from Your work.

When I worry, I have taken my focus off of You and placed it on myself. Help me not to give in to the promptings of others to change what in my heart You are making very clear to me. I worship You, I adore You and I love You. Come and dwell in me now.

-God's Blue Book, January 17, 1994
From the Priestly Newsletter Book III - 2000 Issue 3 p. 44-45


Pope John Paul II instructs us: "The Church, as a reconciled and reconciling community, cannot forget that at the source of her gift and mission of reconciliation is the initiative, full of compassionate love and mercy, of that God who is love (see 1 John 4:8) and who out of love created human beings (see Wisdom 11:23-26; Genesis 1:27: Psalms 8:4-8)…He created them so that they might live in friendship with Him and in communion with one another.

"God is faithful to His eternal plan even when man, under the impulse of the evil one (see Wisdom 2:24) and carried away by his own pride, abuses the freedom given to him in order to love and generously seek what is good, and (instead) refuses to obey his Lord and Father. God is faithful even when man, instead of responding with love to God's love, opposes Him and treats Him like a rival, deluding himself and relying on his own power, with the resulting break of relationship with the One who created him. In spite of this transgression on man's part, God remains faithful in love.

"It is certainly true that the story of the Garden of Eden makes us think about the tragic consequences of rejecting the Father, which becomes evident in man's inner disorder and in the breakdown of harmony between man and woman, brother and brother (see Genesis 3:12 ff; 4:1-16). Also significant is the Gospel parable of the two brothers (the parable of the 'prodigal son'; see Luke 15:11-32) who, in different ways, distance themselves from their father and cause a rift between them. Refusal of God's fatherly love and of His loving gifts is always at the root of humanity's divisions.

"But we know that God…like the father in the parable (of the prodigal son), does not close His heart to any of His children. He waits for them, looks for them, goes to meet them at the place where the refusal of communion imprisons them in isolation and division. He calls them to gather about His table in the joy of the feast of forgiveness and reconciliation.

"This initiative on God's part is made concrete and manifest in the redemptive act of Christ, which radiates through the world by means of the ministry of the Church." 13
___________
13. Pope John Paul II, as in Celebrate 2000!, Servant Publications, pp. 140-141.
R. Unity with God's will
makes us free —
harmony with God
Psalm 145: 17
Upright in all that he does,
Yahweh acts only in faithful love.
John 3: 27
John replied:

'No one can have anything
except what is given him from heaven.
Jesus:

ABANDON YOURSELF
TO MY WILL

R. Be what God wants —
Jesus desires husbands
to love their wives,
their children —

Jesus desires religious
to love Him MOST —
to love and be kind
to others in
community

Baruch 3: 14
Learn where knowledge is,
where strength,
where understanding, and so learn
where length of days is, where life,
where the light of the eyes
and where peace.
Tobit 14: 10
As soon as you have buried your mother next to me, go the same day, whenever it may be, and do not linger in this country where I see wickedness and perfidy unashamedly triumphant. Consider, my child, all the things done by Nadab to his foster-father Ahikar. Was not Ahikar forced to go underground, though still a living man? But God made the criminal pay for his outrage before his victim's eyes, since Ahikar came back to the light of day, while Nadab went down to everlasting darkness in punishment for plotting against Ahikar's life. Because of his good works Ahikar escaped the deadly snare Nadab had laid for him, and Nadab fell into it to his own ruin.
R. What does God want of
me?
From The Spiritual Exercises of St. Ignatius,
by Louis J. Puhl, S.J. p. 12
23. FIRST PRINCIPLE AND FOUNDATION
Man is created to praise, reverence and serve God
our Lord, and by this means to save his soul.
Galatians 2: 19-20

...I have been crucified with Christ and yet I am alive; yet it is no longer I, but Christ living in me.
Jesus: Imitate Me in all you do!
Do your daily duty —
Do your daily duty in love —
Cheerful, willingly
Ephesians 5: 2
and follow Christ by loving as he loved you, giving himself up for us