Mary has requested that the daily message be given each day to the world. It is read nightly at the prayer service from her Image Building in Clearwater, Florida, U.S.A. This is according to her request. All attempts will be made to publish this daily message to the world at 11 p.m. Eastern time, U.S.A.

---

We acknowledge that the final authority regarding these messages rests with the Holy See of Rome.

---
---
A Prayer for Intimacy with the Lamb, the Bridegroom of the Soul

Oh Lamb of God, Who take away the sins of the world, come and act on my soul most intimately. I surrender myself, as I ask for the grace to let go, to just be as I exist in You and You act most intimately on my soul. You are the Initiator. I am the soul waiting Your favors as You act in me. I love You. I adore You. I worship You. Come and possess my soul with Your Divine Grace, as I experience You most intimately.
---
Messenger: Include Our Lady of the Holy Spirit Center in 6:20 prayers.
---
Messenger: THIS PICTURE WAS TAKEN ON JULY 5, 2000, during the special service Mary has called on the 5th of the month since July 5, 1994, when she first appeared to me.
This was the 6th year anniversary of that first apparition.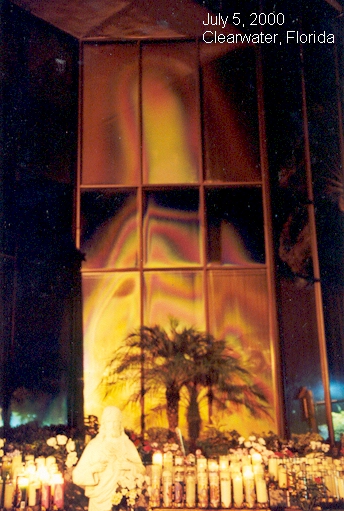 (Taken July 5, 2000)
---
From yesterday's daily message:
Messenger: As we prayed the rosary Mary was visible and turned splendidly gold as she has many months this year; January 5, 2000; April 5, 2000; May 5, 2000; June 5, 2000; July 5, 2000.
The first time she became visible to me at night was on December 17, 1999, on the 3rd anniversary of her appearance.
Then Mary became visible to me and turned gold in January, 2000.
She began to become more splendidly golden on these 5ths: April, May, June, July.
Many there saw her visibly and saw her golden tone.
No one was able to get a picture of this.
On July 5, 2000, our President went there and took the following pictures.
Usually as we sing in the 4th mystery, she becomes very visible and increasingly turns gold as we sing to her.
---
August 3, 2000
Jesus speaks: My dear children,
Here is the message I wish to be given on the 5th of August from Me.
The fifths of the month are very important to Me and My Mother.
Jesus speaks: I ask you fervently to join your hearts and sing the songs that I have asked you to sing this day. My child, it was a cold and blustery day and the people fought the elements as they went about the busy schedule and yet they did not know that I was so close to them, with them, watching them, knowing their every thought, knowing the disposition of their hearts, knowing their anxiety, being so focused on so many things. You are here upon this earth that you will grow more and more in My image and likeness, that you will mature more fully in your ways of loving that for all eternity you will love your God. And you are learning here those ways of loving. And it is a maturation process. The seed is planted and if nurtured and cared for it springs forth in brilliant beauty and flowers. And some bring forth great fruit for the earth and the cycle begins to wind down and the plant withers and dies. All around you you see the cycle repeated in the grass and the trees. The life-giving cycle of your God to those things of the earth, and yet I have elevated you to the highest heights My child. And I breathe into your body a soul that you will go on forever and ever. My child, why are they so blinded that they do not see with their eyes? And I came a little Baby in the womb of My Mother, the Son of God. Even the Son of God comes a Babe and grows to be a young Man. And yet what is so sad is that in those years of prime time the men of this earth have tried to make time an end in itself. And they do not see. Their vision is blurred where their eyes are crusted over. And yet the cycle goes on all around. The seed is planted. If nurtured and cared for, it grows and flowers at that time of bountiful harvest, and then goes into the period where it withers and dies. And yet you have people here who in those late years want to preserve their life forever on this earth. And they want the elderly to be as the young. And the young to be as the old. And yet the way and the will of the Father is perfect. And they do not see that even the Son of God came as a Baby, one from the womb. And He grows to be a young Man. Why do they not see that there is so much more beyond? That God has given such gifts to the men, for they have a soul, one that will go on for ever and ever. Learn the way of your God from the things of the Creator. For the tree buds forth in the spring. And in the autumn of life his life was taken from him. It is a natural process. And I give to you this gift of everlasting life and you hold onto so many things of the earth. Oh tell them, do they not see the cycle and how it goes? A tree flowers and brings forth fruit. Soon it too, withers and dies, and its life yields to the darkness. And the darkness is overtaken by the sun that steals across the sky and brings forth a bright sunny day. It is so simple, but you are so blind. Within My hand I hold the earth and your life is so precious to Me that the very hairs of your head are numbered. And I see you, your anxiousness and your fretting and your fuming. And I say, "Little one, little one, little one, you do not understand yet, for I am leaning over you and watching you as you stumble on your way." And I say to you, "Trust in Me, for I am a God of justice and right but one that loves you so that I gave My life for you on the cross." Oh My child,...precious indeed you are and I love you. I know your ways. I study you, My child, for it is you I want with Me for all eternity. And I want you to stretch and to grow, to be patient, to be more perfected as your heavenly Father is perfect. And I give you the ways that will help lead you into greater holiness. The very hairs of your head are indeed numbered. I am a God of justice and right. I am One that gave His life for each and every soul. I am Savior. Oh come to Me, come to My Heart and know the love of your God, truly present and with you in the Blessed Sacrament, giving Himself to you in the Holy Eucharist. Let your shoulders drop, let your hands be nimble, focus on the presence of God with you. Everything is in it's place now, My child. I watch, I am the One that never slumbers or sleeps. I am the Eternal God. My ways are not your ways. You want so many things of this earth and I want your soul to be more perfected. I want you to grow more in your spiritual ways. The Incarnation goes on in you, My child, and you are formed more and more into My ways like little babies at the breast of their mothers. You receive the milk and yet you do not see beyond. You guzzle up the milk and run out to play. And there are so many gifts given in the tender touch of the One that gives milk to you. And you miss the hand of God as it caresses your gentle cheek and fingers your curly hair. And I hear you cry, a brutal cry for want. What more would you want than your God truly present and with you today?
Song: A Song from Jesus
Jesus speaks: Meditate on the words, Savior, Savior. For all eternity the souls of the faithful will be with Me for ever in paradise, if they loved and served their God. Savior, I am the Savior of the World.
---
Excerpt from July 27, 2000 Daily Message
Messenger: I went to a funeral.
---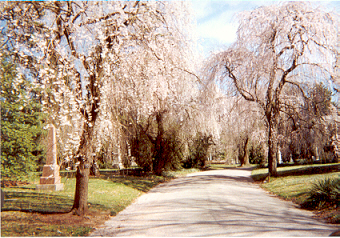 ---
Messenger: As I stood at the grave site and the priest read the prayers, I experienced Jesus standing by the hole into which the coffin would be lowered. He was tall and dressed in white with His brown hair. I felt His presence as He stood next to the priest and I saw the picture of the open tomb from the message a few days ago.
I saw the family which were relatives of my family and I saw like I saw at Emily's grandfather's funeral. A beautiful family, sons and daughters of this man, 94 years old. His grandchildren and great grandchildren were there. His body would be laid in the ground next to his wife's grave.
All through the Mass I saw him healthy and smiling, for he was with us on many holidays, Thanksgivings and Christmases.
It became so clear to me how natural is this process of being born, living and dying, and I felt so close to heaven at the funeral and cried to God to help us in this mission to help save souls. Our mission is so important. Life here on earth is just temporary.
Oh, the seasons pass and one year turns into another and soon that day comes when our bodies are laid to rest in a hole in the earth.
And I heard the priest say, "Because God has chosen to call our brother Harry from this life to himself, we commit his body to its resting place, for we are dust and unto dust we shall return."
And then he said, "For our brother Harry, let us pray to our Lord Jesus Christ who said, 'I am the resurrection and the life. Whoever believes in Me shall live even in death and whoever lives and believes in Me shall never die.'"
(Taken from a prayer pamphlet compliments of the Cincinnati Catholic Cemetery Society.)
---
Messenger: A seed is planted. If it is watered and cared for, it grows. It has a beginning, it has a prime time of greatest beauty or a time of bearing great fruit, and then it begins to wither and die. It is all in the natural process.
But He breathed in us a human soul and our souls never die. He gives us a sharing in His divine life in a special way in Baptism.
He is the first-fruits. Jesus is the first born of the dead.
John stood beneath the cross with Mary.
We partake in that heavenly sacrifice.
Sometimes we may be like Mary Magdalene, and yet we can be changed in our hearts to love Him so passionately. He is the God of fire and light. He is the Sacred Heart of Jesus.
He is worthy of praise and love and thanksgiving.
He controls our breath, our heartbeat.
He calls us each by name. He knew our name as He hung on the cross. He saw us in the garden. The love for us swelled up in His Sacred Heart and He gave Himself for us.
Oh, God, help us to realize more Your love for us and through our lives spread the message of Your love to all souls.
A little mark on the arm one day, a leg that gives in, and then the curtain of life comes down on the troubled soul.
We aren't here on this earth forever. Jesus wept at the death of Lazarus his dear friend. Mary and Jesus weep for the souls that die and condemn themselves to hell.
---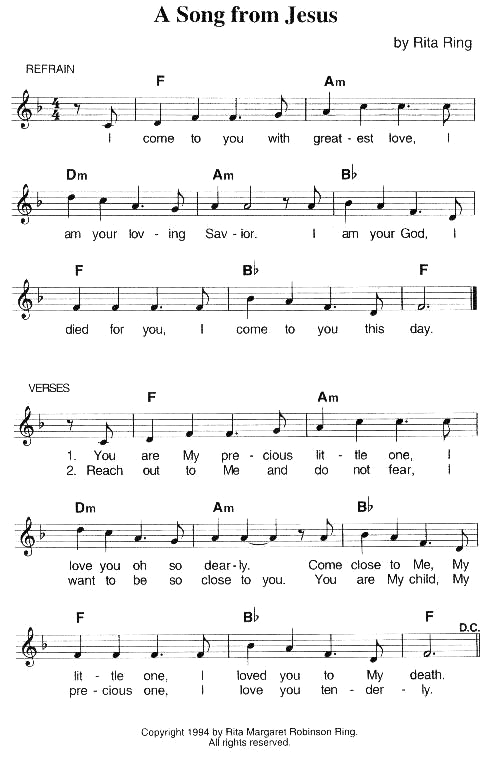 ---
Messenger: HE IS SAVIOR.
GOD THE VICTOR
HE ROSE VICTORIOUS.
He has stood at the grave of His friends, while others gazed on in a daze. They didn't yet see the miracle of a seed. When nurtured it grows into a mighty oak, but a tornado can rip it from its roots.
HE CAME TO GIVE US LIFE TO THE FULL.
---
Excerpt from December 7, 1998, Daily Message
Mary speaks: It was a cold blustery day. After two weeks of falling because his knees gave out, Oscar entered the doctor's office and began tests. By the end of the week he found out his body was filled with cancer and he had only a few months to live. He was a big businessman with lots of clients and a busy schedule. He really didn't have a lot of time for the family and love. Much time was spent in making contacts for his business. It took many hours for social connections. He played a lot of golf at the country club. He took long trips, half pleasure, half business, to make the right connections. He had built a very secure castle for his life here below. He was fixed with insurance and financial security. It never dawned on him how temporary everything really was here on the earth. He was in good health, or so he thought. He had his check-ups regularly. He tried to exercise and eat right. He told himself that what counted was his name and his money. He was very concerned with what others thought of him and centered his life on creating an image among men. He wanted to be accepted by men.

My children, I loved Scotty and Oscar, I tried to reach them. Many prayed for Oscar, but few prayed for Scotty. Many souls do not have anyone to pray for them.
(End of excerpt from December 7, 1998, Daily Message)
---
A Message from Mary - July 27, 2000
Mary speaks: In the spring of life, many souls found the days of autumn come and in the winter they died a pitiable death.
The day was sunny and bright outside the funeral home, and inside Oscar's family mourned for his passing.
(End of excerpt from July 27, 2000 Daily Message)
---
Jesus speaks: Please pray for all Shepherds of Christ intentions.
There is a meeting in China, Indiana, August 12 - August 14, 2000, a mini retreat. A special rosary is given at 12:00 noon China time August 13. A big body of people gather to pray from 12:00 - 5:00 August 13.
---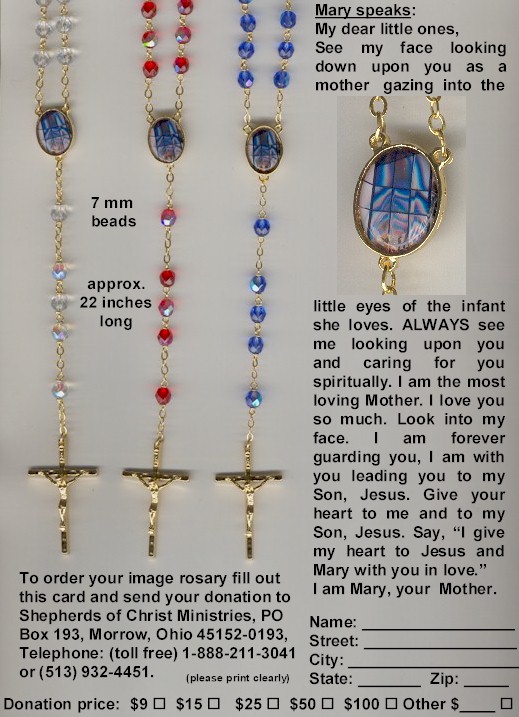 (Please copy and pass out to family and friends.)
---
Mary's Message from the Rosary of August 27, 1996
Mary speaks: I stood beneath the cross of my Son, and my Heart was in such pain for I saw Him before my eyes. I saw Him covered with blood. I saw Him die. My Heart, my children, my Heart to watch my Son, but my Heart, my Heart, how I suffered for my little children of the world that give in to this world and give up the love of my Son. O my little children of light, I give you this message. Carry this light into the darkness for your Mother Mary, for I stood beneath the cross and I cried. I cried for the little ones. I cried for the young ones, the ones that do not care and will lose their souls. How do I make you see for you will not listen to me? What can I do? I come. I appear. I beg. I plead. I give you these gifts from my Son, and you reject me. I do not deliver messages very often anymore for I have been ignored. The message is the same. You do not read the messages I have given to you. Please help me. Help the little children. I appear. I appear. I appear, and I am ignored. I stood beneath the cross, and I cried. I cried, and my Heart was in such anguish for my little children, for I am searching for them this day as I searched for the Child Jesus. Please, please help me. I cannot hold back the hand of my Son any longer. I am Mary, your Mother. I ask you to help my children. You are my children of light.

Song: O Lady of Light, shining so bright, be with us this day, guiding our way, O Lady, O Lady of Light.

Mary speaks: I appear to you as Our Mother of Sorrows.
(End of Mary's Message)
---
MY VALENTINE FOR JESUS AND MARY
AND THE WORLD
I _________________ give my heart to
You Jesus and Mary on this day
_________________
I promise to help spread the devotion to
the Hearts of Jesus and Mary.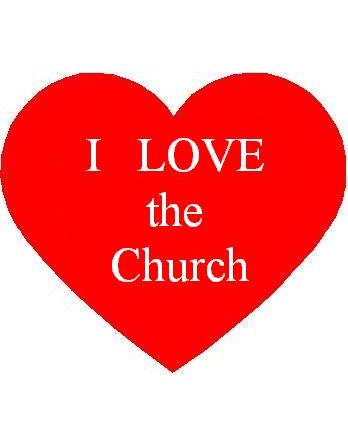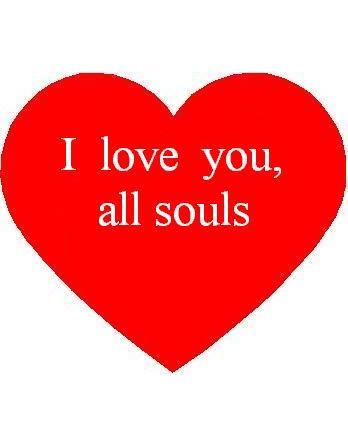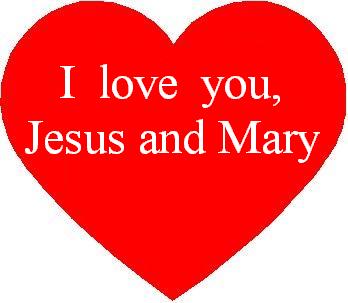 ---
Question for married couples and others in intimate relationships:
Q: How can I help Mary and Jesus in the Shepherds of Christ?
How can our praying as a couple and trying to reach the people and the world with the messages Mary and Jesus give help my family and the human family?
---
---
---
Copyright © 2000 Shepherds of Christ.
Rights for non-commercial reproduction granted:
May be copied in its entirety, but neither re-typed nor edited.
Translations are welcome but they must be reviewed for moral and theological accuracy by a source approved by Shepherds of Christ Ministries before any distribution takes place. Please contact us for more information.
All scripture quotes are from the New Jerusalem Bible, July 1990, published by Doubleday.
Revised: August 3, 2000
URL: http://www.SofC.org
Contact Information for Shepherds of Christ
Email: info@SofC.org
---
Shepherds of Christ Ministries
PO Box 193
Morrow, Ohio 45152-0193

Telephone: (toll free) 1-888-211-3041 or (513) 932-4451
FAX: (513) 932-6791