Mary has requested that the daily message be given each day to the world. It is read nightly at the prayer service from her Image Building in Clearwater, Florida, U.S.A. This is according to her request. All attempts will be made to publish this daily message to the world at 11 p.m. Eastern time, U.S.A.

---

We acknowledge that the final authority regarding these messages rests with the Holy See of Rome.

---
---
A Prayer for Intimacy with the Lamb, the Bridegroom of the Soul

Oh Lamb of God, Who take away the sins of the world, come and act on my soul most intimately. I surrender myself, as I ask for the grace to let go, to just be as I exist in You and You act most intimately on my soul. You are the Initiator. I am the soul waiting Your favors as You act in me. I love You. I adore You. I worship You. Come and possess my soul with Your Divine Grace, as I experience You most intimately.
---
Messenger: Include Our Lady of the Holy Spirit Center in 6:20 prayers.
---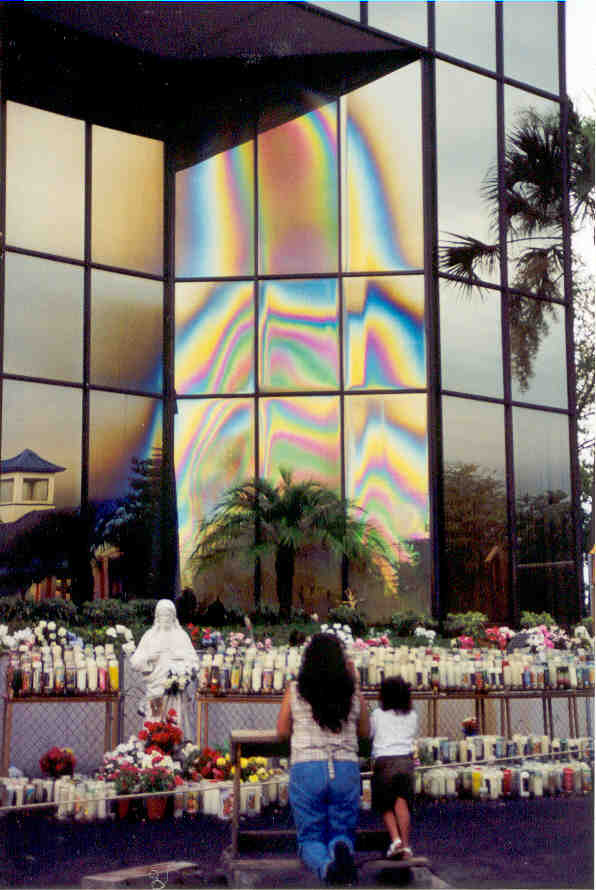 Mary speaks: I want you to pray as I have instructed and my Son has instructed. Only God's grace will help heal your troubled souls.
There are so many devils prowling the earth, planting weeds among the good seed.
I cry to you to pray, oh you say, "It isn't that bad."
Oh my children, it is that bad. You need only turn on the television and listen to the talk shows and what is in the hearts of men.
When you yourselves sin in different measures, it also affects the other souls around you, and you are not contributing in building up the body, of helping your family, the human race by your prayers.
So much can happen by your prayers, you do not understand the power of prayer.
My mothers and fathers, join together and pray for your children and the children of the earth, united to the Mass, offering up your whole day to your God.
Prayer my children, prayer is the answer, you are all one in the world. There are many different faiths, surely you agree that you need to unite in prayer for my children. Oh, please, pray for the human race, you are a family. You need to pray.
Many wives and husbands have tried to change the other, many children have been so willful and led themselves into a state of sin and destruction.
You cannot join the "pack", you cannot follow the leaders when they are going down the wrong road.
In every action you are affecting your brothers. The disposition of your heart affects all. If your heart is filled with love of God and love of one another then your prayers, your lives offered as a sacrifice for souls can affect the whole world.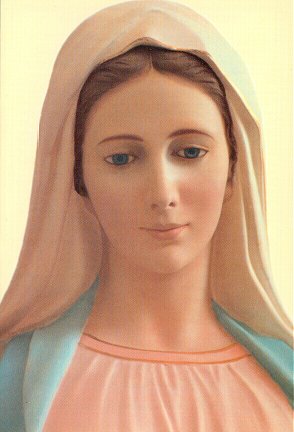 My message is this. Be pure of heart. Live to do God's will. Pray for yourselves and your children. Offer your lives as a sacrifice united to the Mass for the priests, the Church and the world.
Oh pray, my little babies, please pray, the devil wants to take my young ones and carry them off to hell. He is a serpent, one who wants to steal their hearts. He plants weeds in the night while you sleep. Amongst the good seed, he uses all he can to do his bidding. He is evil, he wants souls for hell for all eternity.
You are a family, you must pray for the human race, give glory to your God, praise Him, love Him, worship Him.
If you help me with my children, I will help you with your children.
Pray the rosary.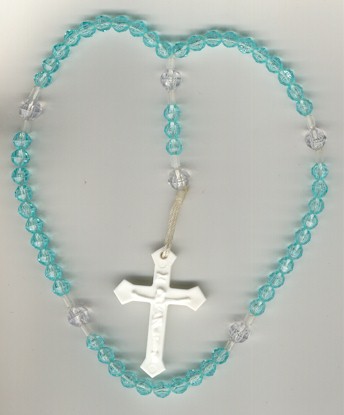 Mary speaks: My heel will crush the devil's head.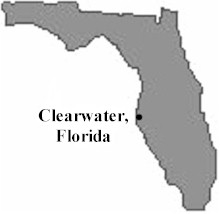 Mary speaks: You see my place in Florida, I appear in the heel of the state to lead my troubled souls to greater prayer from the heart.
What do you do when you suffer? You pray my children, you pray, pray the rosary.
My heel will crush the head of the serpent. You must pray the rosary, it is a powerful weapon against Satan. He wants to carry off the young shoots.
You say

HAIL MARY...

HAIL MARY...

OUR FATHER...
Your Father listens to your prayer.
Pray to me to help you fight off the evil one.
Be patient in situations in which you cannot control, and pray. Your God has all the power. I am your Mother, I will help you.
Do you see blackouts?
God has all the power and His might is endless.
Do you see the withered vines, the fruit trees wiped out? Oh, you say, what a disaster.
What of the withered trees that bear no fruit.
You were put here to bear fruit for the Kingdom.
How do I get your attention?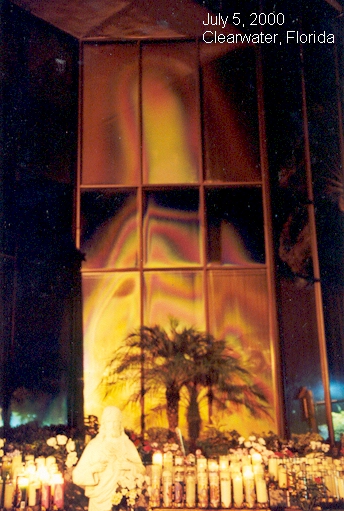 Picture taken July 5, 2000.
Mary speaks: HELP ME, MY CHILDREN.
PRAY!!!
---
August 4, 2000 - Second Message
Mary speaks: My children are dying.
In the mountains of this life, where there are so many good things that my children can have, many live their lives reaching for pleasures that keep them addicted to things outside themselves. Some are in the habit of trying to relieve the symptom the second they have a problem by using drugs and over-the-counter medicines which can lead to addictions. Some live to indulge to relieve themselves of their pain inside. The devil can take over a person that is addicted to alcohol. He always is in a cycle of drinking or coming out of the drink and waiting for the next drink.
Your body tells you that it doesn't feel good when you abuse it.
The body is the key, when you wake with a hangover what do you do. You take more or something else to relieve the discomfort.
The Lord, your God, is always with you. The devil wants to control your body through substances if he can. Some need to take medicine for certain ills.
I am sorry for the children that learn at a young age from adults that it is permissible to take substances that control the body, mood altering substances and other chemicals.
I speak as a Mother to her children. The Lord, your God, does not wish you wrongfully to use outside substances to control your bodies. Many young use alcohol, drugs, pot to alleviate pain from within. Some just fall into the habit because of peer pressure. Addictions to sex can be a real problem and carries with it devastating problems for those addicted to sexual pleasure and those living with them.
My children need to know that God is watching you and He loves you. You must pray for the children that are influenced by the devil, who is majorly sowing seeds in the young and the old through addictions.
My Son Jesus came and He suffered. My children, the actions of others not obeying God's will bring pain to all of God's children.
You are a family, if one man sins he affects his brothers. The attitude "what I do is my business and my business alone" is not true.
Every action performed according to God's will affects the other persons of the earth.
You are here to bear fruit for the Kingdom. The devil wants to control men's lives however he can. The man who lives his life as one that lives from fix to fix and drink to drink affects the whole body of people on the earth. You are brothers, you need to pray for one another and give glory to God.
You have a responsibility to show others by your actions that you are obeying the Commandments, that God is your Master, that you recognize you are a child of God.
Every action, every word spoken should be one that your Father desires. It causes an effect on all those around you.
You are a family. It isn't that you can sin in the dark and it doesn't affect others.
The one who shows others that he abuses himself with drugs or alcohol teaches a mighty strong lesson to the young around him.
While he continues to drink and be driven by the drink, the young find it harder and harder to stay pure because of the attitude of the drinker. Many do not like to drink alone, they want everyone to party and coax others to give in to themselves and indulge.
They tell the other, it is a fun thing to do.
It isn't fun when you are addicted to anything.
My Son Jesus gives you Himself in the Eucharist.
What is life? Life is life in Him. Jesus is the Bread of Life.
Please spread the second Blue Book, it has helped change many lives. Please help me and my Son to get the newsletter in the hands of my beloved priest-sons.
---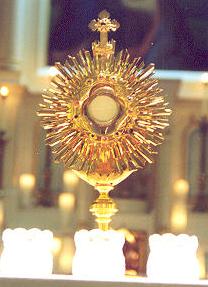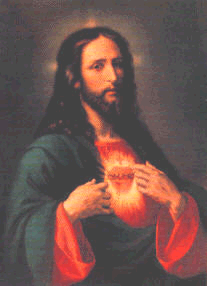 Jesus speaks: Please pray for all Shepherds of Christ intentions.
There is a meeting in China, Indiana, August 12 - August 14, 2000, a mini retreat. A special rosary is given at 12:00 noon China time August 13. A big body of people gather to pray from 12:00 - 5:00 August 13.
---
Jesus speaks: Come to Morrow, China or Florida for August 5.
---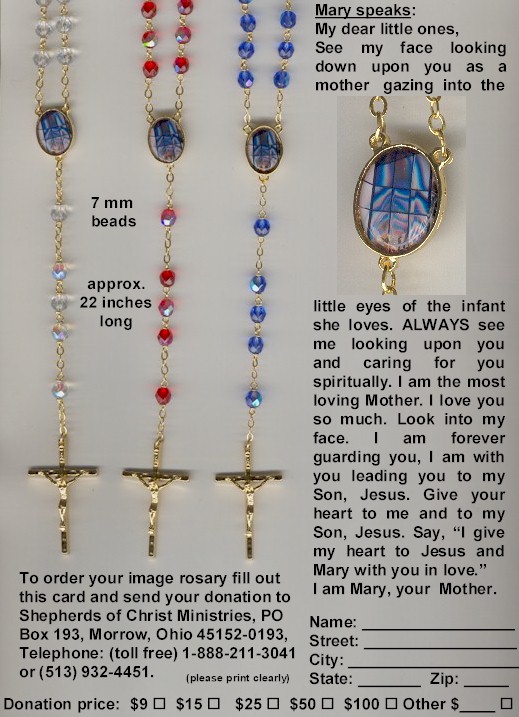 (Please copy and pass out to family and friends.)
---
Mary's Message from the Rosary of August 27, 1996
Mary speaks: I stood beneath the cross of my Son, and my Heart was in such pain for I saw Him before my eyes. I saw Him covered with blood. I saw Him die. My Heart, my children, my Heart to watch my Son, but my Heart, my Heart, how I suffered for my little children of the world that give in to this world and give up the love of my Son. O my little children of light, I give you this message. Carry this light into the darkness for your Mother Mary, for I stood beneath the cross and I cried. I cried for the little ones. I cried for the young ones, the ones that do not care and will lose their souls. How do I make you see for you will not listen to me? What can I do? I come. I appear. I beg. I plead. I give you these gifts from my Son, and you reject me. I do not deliver messages very often anymore for I have been ignored. The message is the same. You do not read the messages I have given to you. Please help me. Help the little children. I appear. I appear. I appear, and I am ignored. I stood beneath the cross, and I cried. I cried, and my Heart was in such anguish for my little children, for I am searching for them this day as I searched for the Child Jesus. Please, please help me. I cannot hold back the hand of my Son any longer. I am Mary, your Mother. I ask you to help my children. You are my children of light.

Song: O Lady of Light, shining so bright, be with us this day, guiding our way, O Lady, O Lady of Light.

Mary speaks: I appear to you as Our Mother of Sorrows.
(End of Mary's Message)
---
MY VALENTINE FOR JESUS AND MARY
AND THE WORLD

I _________________ give my heart to
You Jesus and Mary on this day
_________________
I promise to help spread the devotion to
the Hearts of Jesus and Mary.
---
Question for married couples and others in intimate relationships:
Q: How can I communicate my feelings about our children so we can come to a solution God wants?
If you do not have children:
How can I communicate my feelings to you in these letters every day?
Jesus speaks: My children, use feeling words! "I feel tired, I feel happy, I feel sad, I feel afraid..."
---
---
---
Copyright © 2000 Shepherds of Christ.
Rights for non-commercial reproduction granted:
May be copied in its entirety, but neither re-typed nor edited.
Translations are welcome but they must be reviewed for moral and theological accuracy by a source approved by Shepherds of Christ Ministries before any distribution takes place. Please contact us for more information.
All scripture quotes are from the New Jerusalem Bible, July 1990, published by Doubleday.
Revised: August 4, 2000
URL: http://www.SofC.org
Contact Information for Shepherds of Christ
Email: info@SofC.org
---
Shepherds of Christ Ministries
PO Box 193
Morrow, Ohio 45152-0193

Telephone: (toll free) 1-888-211-3041 or (513) 932-4451
FAX: (513) 932-6791