Sidney Rosary for healing
September 24, 2013 - Tuesday 6:20pm
Please come or tune in!

Pray for Fr. Joe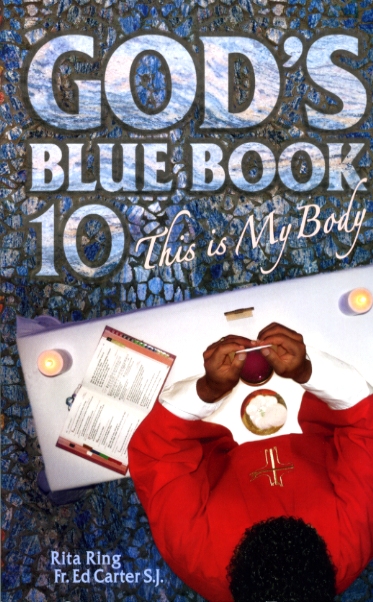 Introductory Price $5.00 plus postage

September 24, 2013
Jesus: I call you to work as one
in relationships. I gave husbands
to wives and wives to husbands
to work as one and to form
a family of love. And the children
will be as olive plants around
the table.
Because of original sin
there is disorder. I want unity.
The Church to operate united
as a body.
I have put over religious
superiors and they are to work
in obedience and work in
unity.
You are to learn to love one
another. Your life is to be
lived learning to be consistent
in giving and taking, in trusting,
in relationships.
What can you say, you have
learned in trusting those I have
put in your life to work with.
You can say, I never trusted
anybody outside my family,
my original family I came
from. So therefore I didn't
really operate in unity because
if I was called to a relationship
I was like a roller coaster
going up and down and in
and out –
Love and hate relationships –
If I called you to do something –
you can be the problem rather
than part of any solution –
You make a problem to not
be united.
How can you learn to trust
God whom you do not see when
you won't trust anyone you
are to work with because you
only trust your original family
because one person wounded you
in a relationship.
The greatest commandment
calls you to love God first
and love others as yourselves,
but you have built walls
ten feet thick and if things
start to work - create a problem
to distance yourself –
You are like a roller - coaster,
in and out and you can control
your life – in and out - up and
down.
Do you say the Our Father –
What about the part –
Thy will be done on earth as
it is in heaven –
Did you never judge what
you did by doing God's
will, just making your
own problems by how you
chose to do things.
I call you to truth – to living
My will – to trusting others
you are to work with –
For priests to be obedient to
their bishops, and bishops
those over them and
cardinals under the pope.
I call you to develop trust
so you know trust and
love with Me –
Because of being betrayed and
untrustworthy people in
your past - you can judge
all your actions by
making sure you never
trust again –
Because there is a hurricane
that tears off one's roof -
a person doesn't throw
out the whole house –
The will of God is you form
relationships and you
love according to God's
will – you trust those in
your vocation I have called
over you, I have called you
to work with –
You are part of the solution –
Not every time you are afraid
of trusting someone –
you make a problem to
take control –
I am Jesus –
I call you to unity –
not disunity
I have put people in your life
to trust and work with –
If the roof blows off –
only a fool would throw
everything away.
This is the school to learn
about God. You were
created to know, love and
serve God.
To live your life in dysfunction,
disorder, isolation, disunity
is like the man with all
the talents who buried them –
A courageous man prays the
prayer I gave, the
"Our Father"
and lives by this prayer.
If you say the Our Father
and make your judgments
based on never trusting
anyone outside your
original family - you
haven't done the will of God.
I call you to trust –
I am the way, the truth and the
life –
A man who never trusts
anyone outside the original
boat is a man on a
sea - all alone –
When they fished they received
so many fish their nets
were breaking –
I call you to fish for men –
To be other focused –
To live to do God's will –
A man was called to make
a journey and because
he wanted control –
he stirred up problem,
after problem, after
problem before he
left. Will he be
focused on the journey
and its goal –
No he was addicted to
making problems to
sabotage his calling –
Even the light responded –
God called
"Let there be Light"
And there was light –
Call – Response –
I call you –
you have a free will –
you can do God's will in
love and trust –
you can manufacture
an urgent need to
get you off the boat
you were called by God
to sail –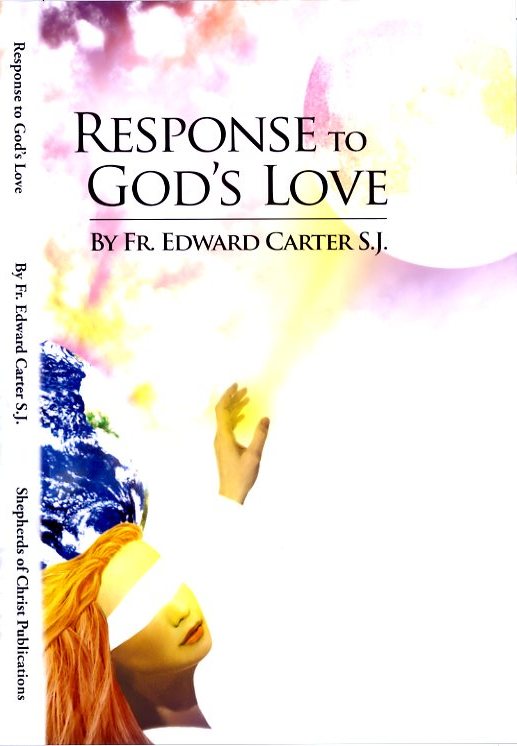 Response to God's Love
Jesus: A man went into a candy store
planning a party with
his boss –
he was told 5 things to
buy - specific to
the occasion –
He bought all kinds of
other things that was
too much for what
the boss needed and
posed a distraction –
If I ask for this –
why do you stop what
was so simple –
to do 3 other things that
block the Plan of God –
Why do you zig when
it was easy to zag
and I called for a zag?
Then you become part of
the problem - you make
problems rather than
making a solution to a
simple thing asked for
according to God's will –
I ask you to serve Me –
You can go alone because you
want to live not trusting
anyone and
block the very thing you
are needed to do –
When a man was called to
help - he did 5 other
things – Did he help the
work the Master called for?
What of an important
contact I called you to –
I wanted made –
When I prompted you, I
told you in a special
way –
you based your solution
on making sure you
didn't have to trust
anyone –
It became a habit –
a stumbling block –
to every plan I wanted –
I operate in unity –
I operate in relationships,
but you blocked My work
and buried the talents –
your faith was weak
and you never trusted
those I sent you to
guide My Plan –
Pride is a foolish thing –
look at Eve in the garden –
She wanted to be equal to God –
If you don't trust those I
send to guide you –
you don't trust Me –
Trust is developed –
a step at a time for
those who were betrayed –
If you never look at
your bad habits you
get adapt at them
and forcing your way
brings you down the steps
and you take others with
you, when you were to
rise to the top working
and trusting those I sent
you.
A man went out to build a
house and one worker
came and he sent him away,
he wasn't right he said –
Another man came and he sent
him away too
he wasn't right he said –
this went on for five men –
At last he was so frustrated
doing it himself – he
cried to Me –
Why have you abandoned
me, Lord –
And I told him –
I sent him 5 workers
and he sent them all
away –
In God you must trust –
A man full of fear and wanting
to be alone –
creates his own problems –
he makes himself alone.
I am the way, the truth and
the life –
The other man who fails is
the one who just does
things fast to be in
control and still ignores
the one I send as the
guide –
Both are fools that make problems
for they want control –
not to serve as they were called.
You are to be accountable and
responsible for your actions.
Padre Pio said to examine your
conscience twice a day.
Fr. Carter said to examine your
conscience twice a day.
This is taking your spiritual pulse
to see if you are acting in God's will.
Decisions are not made because
of radical impulses without
discernment. All things are to
be done according to the Father's
will. Why should men be forced
to operate by another man's fear
of trusting any one –
Why should a man seeking to do
God's will be forced to deal with
a mess another man made in
pride, and anger and fear
not love.
1 John 4: 17-21
Love comes to its perfection in us
when we can face
the Day of Judgement fearlessly,
because even in this world
we have become as he is.
In love there is no room for fear,
but perfect love drives out fear,
because fear implies punishment
and no one who is afraid
has come to perfection in love.
Let us love, then,
because he first loved us.
Anyone who says 'I love God'
and hates his brother,
is a liar,
since whoever does not love the brother
whom he can see
cannot love God whom he has not seen.
Indeed this is the commandment
we have received from him,
that whoever loves God,
must also love his brother.
Jesus: Why pray for guidance and then
have big red buttons
in your life where you
take over and do radical
things – not God's will because
you were enveloped in fear
and lack trust.
Growing in the spiritual
life means you are consistent.
The devil wants people addicted
to excitement, ruled by unhealed
hurts, fear of abandonment,
fear of being hurt, wanting
control over situations that
are not yours to control, but
you can force your way by
running and leaving someone
else with the mess –
Every time you are trusted –
you can revert back to
showing how trustworthy
you are –
Consistency –
Confession is being accountable
for the wrong doings
you did to others and
trying to make amends
for that wrong –
with the intention of
not doing it again.
A person wanting control can
force others to step around their
mess by creating little fires –
all along the way –
This blocks My work –
The work of reaching souls –
The work of prayer chapters –
The work of focusing on love –
The work of spreading the
devotion to the 2 Hearts –
If satan makes enough distraction
through a person, side
swiping the real work
they are called to –
satan can help to stop or slow
down the work I am calling
to be accomplished –
Little men, with a plan that
is a good idea –
that keeps them busy –
that would throw out the
baby with the bath-water
to not have anyone
tell them what to do.
NO TRUST
NO TALK
NO FEEL

the mark
of the
dysfunction
Satan wants a surprise attack –
the constant roller coaster
Life is not life –
it's based on a single
person's dysfunction
that wants to rule
others to be under them.
I am the way, the truth and
the life.
Life is rooted in Me and
the Father's will –
Run as fast as you can
down the wrong road and
you are never
happy
Your goal must be God –
Only God makes you really
happy –
The man consumed with
fear –
runs and runs and
does not love or
trust –
He is like a man on wheels.
A man rooted in Me is like
the front of Blue Book 9.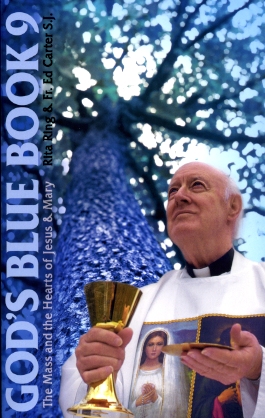 Jesus: I call men to build
My Kingdom like it says
in the Our Father.
Why say the words and
not mean what you
say –
praying is surrendering
to God –
The man controlling His
life does his own
will – he can be led
by his fear –
Where one doing God's will
is always trying to be
surrendering and wanting
God's will –
The man consumed in fear
is not sitting down –
he is running from his fear –
he is running from his life –
A man doing God's will is rooted
in God –
He is seeking God's will –
He is open –
He is turning His life over
to God.
Sing: Take Lord Receive
Prayer of St. Ignatius
Soul of Christ

Soul of Christ, sanctify me
Body of Christ, save me
Blood of Christ, inebriate me
Water from the side of Christ wash me
Passion of Christ, strengthen me
O good Jesus, hear me
Within Thy wounds hide me
Permit me not to be separated from Thee
From the wicked foe defend me
at the hour of my death call me
and bid me come to Thee
That with Thy saints I may praise Thee
For ever and ever. Amen.
Give a beautiful gift to a friend
| | | | |
| --- | --- | --- | --- |
| Blue Book 1 | Blue Book 2 | Blue Book 3 | Blue Book 4 |
| Blue Book 5 | Blue Book 6A | Blue Book 6B | Blue Book 6C |
| Blue Book 7 | Blue Book 8 | Blue Book 9 | Blue Book 10 |
God's Blue Book Sale in honor of
15th year anniversary in Florida
Jesus' Letters of Love

and 15 years of Daily Writings
and Mary's 19 years of Apparitions

God's Blue Book 1, 2 and 3 - $25 plus postage
God's Blue Book 4 and 5 - $8.00 plus postage
God's Blue Book 6A, 6B, 6C - $13.00 plus postage
God's Blue Book 7, 8, and 9 - $13.00 plus postage
CD's - $2.00 plus postage
Give a beautiful gift to a family
Special sale statue with glass
15" Pilgrim Virgin Fatima
12" Infant of Prague
11" Our Lady of Fatima
12" Our Lady of Guadalupe
$50 plus shipping
18" Pilgrim Virgin Fatima
$75 plus shipping
Through the month of June
while supplies last
12" Our Lady of Lourdes - $70
12" Sacred Heart of Jesus - $100
Holy Family statue is $125
27" Statue of Our Lady of Fatima
$175 plus postage
Call Rosie 1-888-211-3041.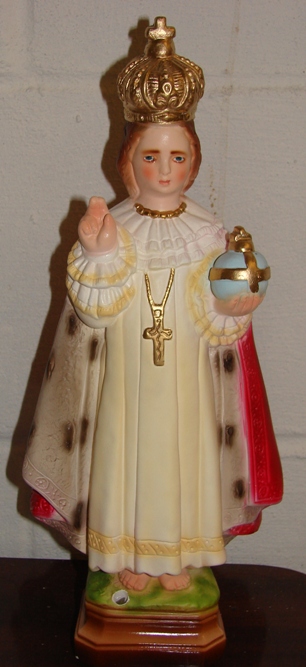 Dan called and gave the report to me, when I hung up I saw this rainbow and took a picture for him.